Amanda Sleep mattresses come in two different models. These two models are Rubiflex and Amanda Smart. Both these models comprise five and four special layers respectively. Methodological collection of layers and material utilized in both Amanda's types are destined to offer you excellent and intelligent sleep solutions. The first type, Rubiflex model is designed with the aim of offering you a perfect combination of soft sleep and firm support. While the second one combines comfort with intelligence and offers all in one sleeping solution.
Amanda Sleep is best for you if you
Want a perfect combination of firmness and comfort
Prefer sleeping with maximum support
Prefer mattress to gets the shape of your body
Wants to keep your body temperature maintained
Want to have bug-free sleep
Prefer to sleep in the hygienic and dry atmosphere
Amanda Sleep isn't best for you if you
Are a person with excessively heavy weight
Want to share with your partner
Key Characteristics
The Amanda Sleep Mattresses come in different sizes that let you sleep comfortably through its high quality and long-lasting support. Both models are designed to meet all the requirements you have once wished for.
Through its latest techniques and excessively thick foams, Amanda Sleep Mattresses make sure to sort out your back pain problems. It helps significantly in reducing chronic as well as other types of severe pains and discomfort.
The Amanda Sleep Mattresses come with Rubiflex Technology. It is one of the latest technologies introduced in the industry. Through Rubiflex memory foam, you'll get a peaceful sleep every night by adjusting foam shape according to your body shape, posture, and figure.
It also contains an ability to decrease body stiffness and avoiding increment of pressure points. In this way, it simply structures your body and makes itself suitable for all types of sleepers either you are a side sleeper or back sleeper
Construction
The two different models are built with slightly different construction. Both these models are made up of four or five different layers that give you a perfect sleeping experience through the amazing arrangement and material of its layers.
[wpsm_list type="bullet"]
Rubiflex Sleeping Mattress
The Rubiflex consists of these following four layers:
A 2-inch Pneumatic Visco-gel layer increases the comfort while regulating the temperature.
A RUBIFLEX pedic foam layer maintains the body temperature.
A 2-inch High-Density support foam layer aligns your body.
A 4-inch Indispensable support foam layer provides a strong
Above all these layers, there is a breathable quilted cover that is made up of natural Bamboo fiber, and it provides anti-bug quality to your mattress and unusual cool feelings. Under the quilted cover, the pneumatic Visco-gel layer and RUBIFLEX pedic foam layer regulates the temperature and dissipates your excessive body heat while offering soft and comfort feelings. The last two support foam layers not only contour your body shape while decreasing pressure, but also give a quite strong base that has an ability to serve you for decades.
[wpsm_list type="bullet"]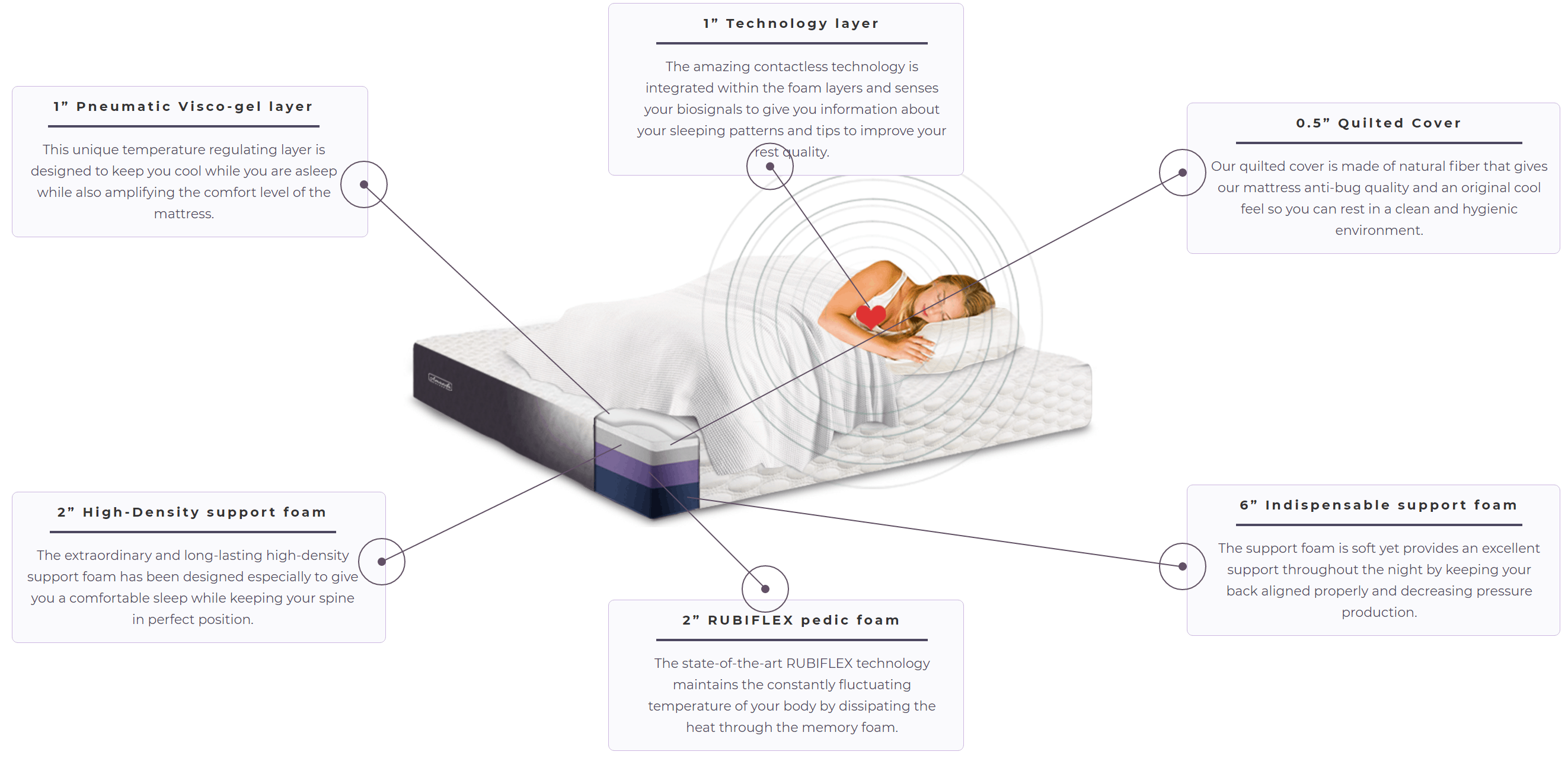 The Amanda Smart model consists of the following five layers:
A 1-inch Technology layer to sense biosignals.
A 1-inch Pneumatic Visco-gel layer to give comfort and regulating body temperature.
A 2-inch High-Density support foam layer to give comfortable sleep.
A 2-inch RUBIFLEX pedic foam layer to maintain fluctuating temperature.
A 6-inch Indispensable support foam layer to offer excellent support.
On the top of all these layers, there are 0.5 inches Quilted Cover comprises of natural material to give anti-bug quality to your mattress and clean hygienic sleeping atmosphere to you. The uppermost technology layer of this incorporates technology sensors and captures your biosignals. Through using your smart device, you can get the benefit of this technology by getting your sleep pattern, tips, and advice to enhance your peaceful sleep.
The pneumatic visco-gel layer and RUBIFLEX technology work together to maintain an optimum temperature of your mattress while offering comfort. The two support layers not only align your body to reduce backaches and contour your body shape, but also give very sturdy support to offer you maximum support throughout the night.
Firmness

The firmness of any foam decides how much fresh you would feel on waking up. If the model lacks firmness, it will make your body unaligned and sink inside the foam. In this way, you will be all tried and aching after sleeping even 10 hours a day.
On the other hand, if the mattress is excessively firm, it will be too hard for you to sleep comfortably. Therefore, it comes with the feature of offering you perfect combination of firmness and comfort. Its firmness comes under the average category, meaning that its mid-level firmness helps all types of sleepers in having peaceful nights.
Comfort
The Amanda Sleep Mattresses can be listed as highly comfortable among the whole industry. It also offers you an ability to track your sleeping comfort through its smart technology in Amanda Smart model. The dedicated visco-gel layer makes it super comfortable along with its top quilted cover.
Support
The Amanda Sleep Mattresses offer maximum support through its maximum industry. The density and thickness that these two models offer are hard to get from other products. Not only it offers dense supportive layer at the bottom, but it comes with two layers present at the lower part to support your mattress properly.
Due to this extreme support, it keeps your foam in proper shape without making it uneven through sagging. It also keeps your body in proper position and supports body pressure because of this feature.
Value for money
Both models of the Amanda Sleep Mattress are furnished with the latest techniques and outclass preparation methods that ensure the ideal sleeping experience for its customers. Not only they offer temperature regulation and give a cooling effect, but also give perfect firmness and comfort for a sleeper.
Aligning body shape and relieving pressure points are other benefits. Also, the case of Amanda Smart Mattress is unique through having additional technology layer. By considering all these exceptional characteristics, the Amanda Mattresses price range completely values your money.
The price ranges are different for both models and for various sizes, as these are available in different sizes.
[wpsm_list type="bullet"]
Rubiflex Sleeping Mattress
Size  Price
Twin                       $500
Twin XL                  $600
Full                          $800
Queen                    $900
King                        $1,000
California King      $1,100
[wpsm_list type="bullet"]
Size  Price
Twin                       $650
Twin XL                  $750
Full                          $950
Queen                    $1,100
King                        $1,200
California King      $1,200
Don't Sleep Hot
The Amanda Sleep Mattresses make sure to give you cool and fresh feeling during the whole night. Its three different layers work collectively to maintain the normal body temperature and prevent you from getting excessive heat. Both models are equipped with these three layers. The top quilt cover through its natural material makes you feel cool and clean.
After that, visco-gel and RUBIFLEX pedic foam layers make sure to regulate the optimum body temperature by dissipating excessive body heat out of the foam. It is hard to get such specific layers for controlling the temperature in other foams.
Motion Transfer
An important characteristic of a good mattress is that it should be able to reduce the motion effects. Amanda mattresses ensure this feature by giving maximum support and adequate firmness. As it comes with the ability to completely hold your body, it won't let you sink or transfer motion till the weight capacity of 250lbs.
Smell
The Amanda Sleep Mattress also makes sure to keep your odor-free and fresh firstly through its top organic quilted cover. Other than this, its memory foam, and RUBIFLEX technology, the visco-gel layer keeps your foam smell free through dissipating excessive heat and preventing you from sweating.
Durability & Longevity
The thick supportive layer present at the bottom of both models of Amanda Sleep mattress gives extensive durability and support. The great thickness and high density make your mattress able to offer great support, firmness, and sturdiness for decades.
Other than the base layer, the topmost quilted cover is made up of durable organic material that keeps your foam in perfect quality for a long period of time.
Shipping
If you're ready to avail the benefit of getting super comfy and highly supportive mattress, then the company gives free shipping to your home. You will get your order within a few working days.
Warranty/Return Policy
It comes with all features and characteristics that can give you peaceful sleeping experience for years. But still, if you are in doubt about getting properly adjusted to these mattresses, you can take the benefit of 365 Trial days. Other than this, the company gives 25 years warranty about its manufacturing and materials. After ordering these mattresses, if you change your mind about requirements, then you can simply return it without any surcharges.
Eco-Friendliness
The manufacturer of Amanda guarantees to develop the mattresses by using high-quality and safe materials that meet the international quality standards. The manufacturing rules and quality are in compliance with CertiPUR-US international certification. Other than this, it also comes certified from Oeko-tex Standards because of using organic fiber and being safe for babies.
Highlight
Both Amanda models come with great supportive technology and high comfort feelings. They also guarantee to make you sleep dry, cool and properly aligned. The Amanda Smart model also gives technology integration that monitors your sleep pattern throughout your sleeping time and makes you adjust your sleeping pattern in healthy ways through giving worthy advice.

Additional advantage
The additional benefits include the availability in a variety of sizes. In this way, you can avail the opportunity of getting a perfect mattress for your bed, no matter what bed size you have. The available sizes include twin, twin XL, full, queen, king size and California king size for both models.
Furthermore, you can also adjust the Amanda Sleep mattresses on different types of frames and platforms. The bases where these foam can be adjusted include box spring, foundation, slatted base, platform bed, and adjustable support.
Comparison of the Two Models
The basic aim of both Amanda models is to offer you sound sleep by decreasing your back pain and giving an ideal mixture of firmness and comfort. Both models Rubiflex Sleeping Mattress and Amanda Smart Mattress are the products of the same manufacturing brand. Therefore, all quality materials and craftsman skills used in both are the same. However, both these models depict slight differences in its few characteristics.

These features are given below:
The Amanda Smart Mattress is designed with a bio-sensing technology layer that is not present in RUBIFLEX model.
The price range of Rubiflex mattresses is significantly low as compared to Amanda smart model.
The lowest Indispensable Support foam layer in the Smart Mattress is 6 inches thick, whereas it is 4 inches thick in Rubiflex model.
Rubiflex model aims at offering a great combo of firm support and soft sleep. On the other hand, the Smart model aims to incorporate all into one sleep solution.
Amanda smart sleep model allows you to connect with an app which captures the biosignals and track your sleep quality. This feature is not available with the Rubiflex model.
Final Verdict
The Amanda Sleep Mattresses are your perfect sleeping solution. It comes with great eminent features that make them stand among all other mattresses of the industry. Amanda Sleep understands all your body requirement during sleeping and then accommodates them with its unique features.
Not only it offers great support, firmness, comfort, odor-free, and bug-free sleeping experience, but also gives technology integration in its models. This technology can monitor your sleeping pattern to make you aware of healthy habits that you need to take for having a healthy sleep.