Prepare to sleep in the luxurious splendor of 100% Egyptian cotton made from long staple cotton. If you haven't slept on Egyptian cotton sheets, you're in for a real treat.
What is Egyptian Cotton?
Egyptian cotton is known for having longer strands in its raw form than other types of cotton. The extra length makes the threads made from Egyptian cotton stronger than threads made from cottons with shorter strands.
Why is Egyptian Cotton a Good Style for Sheets?
The added strength of Egyptian cotton threads makes Egyptian cotton sheets highly durable yet soft. Although Egyptian cotton sheets cost more than sheets made from shorter strands of cotton, their added durability makes up for it as you won't have to buy new sheets as often.
10 Best Egyptian Cotton Sheets in 2022
#1. Best Overall: Eluxury Sheet
Sateen sheets are softer than percale, but they won't have the same durability. It is a trade-off between the two. Is softness or durability more important to you? For me, the answer is softness. Sateen sheets will last for years and a luxurious feeling bed is worth a lot.
The winner of the "Best Overall" 100% Egyptian cotton sheets award this year is also the winner of the "Best American Made," eLuxury sheets. Best overall is the best quality at a reasonable price. With satisfaction guaranteed, you can rest assured that your choice will be one you'll be happy you made. Read more about these sheets in our section on the Best American Made sheets.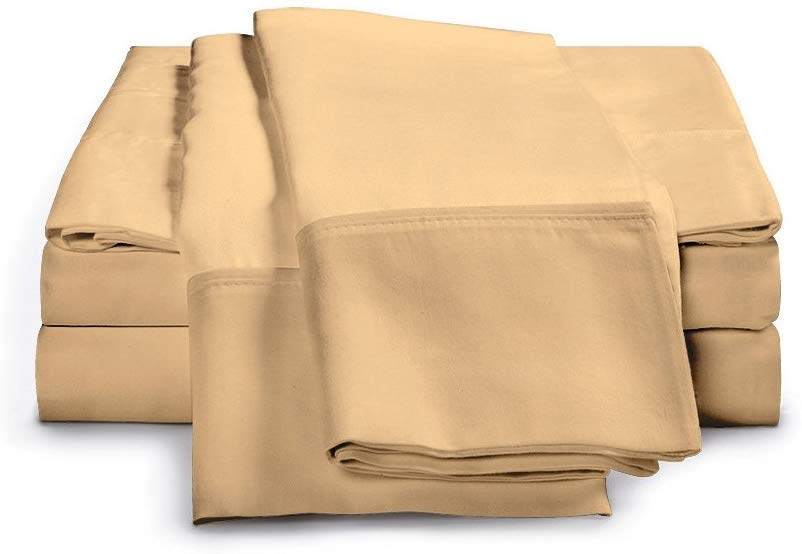 #2. Best OEKO-TEX® 100 Certified: Premium Club Linen
OEKO-TEX® certification is a standardized set of criteria that serves to assure consumers that every aspect of the product complies with the strict OEKO-TEX® criteria and has been approved by independent testing centers to meet the requirements. The OEKO-TEX® standards are the same around the world so products produced anywhere in the world with the OEKO-TEX® label meet the requirements. As a consumer, you can verify the OEKO-TEX® label by looking up the OEKO-TEX® number on your product to see that it is an officially certified manufacturer.
Making the final decision on which OEKO-TEX® 100 Certified sheets were the best was difficult after we narrowed it down to the three finalists. Premium Club Linen was eliminated from the number one slot only because they are relatively new. They were in the running because their reviews were all great and they offer a complete satisfaction guarantee.
That left URBANHUT and Thread Spread True Luxury which were neck and neck. URBANHUT won because they use green energy (windmills) to power their factory.
URBANHUT's Egyptian Cotton Sheets Set is modestly priced ($$) and fits mattresses up to 18" deep. The soft and silky sateen weave will envelop you in softness from the first wash. Their eco-friendly production is impressive. They offer a 100% satisfaction guarantee to all their customers. Their proprietary method of producing cotton uses just water without chemicals. Their process uses less water and less energy than common production methods. Imported from India. 99% of the water they use is purified and recycled.
These sheets won't pill, fade, or wear out quickly.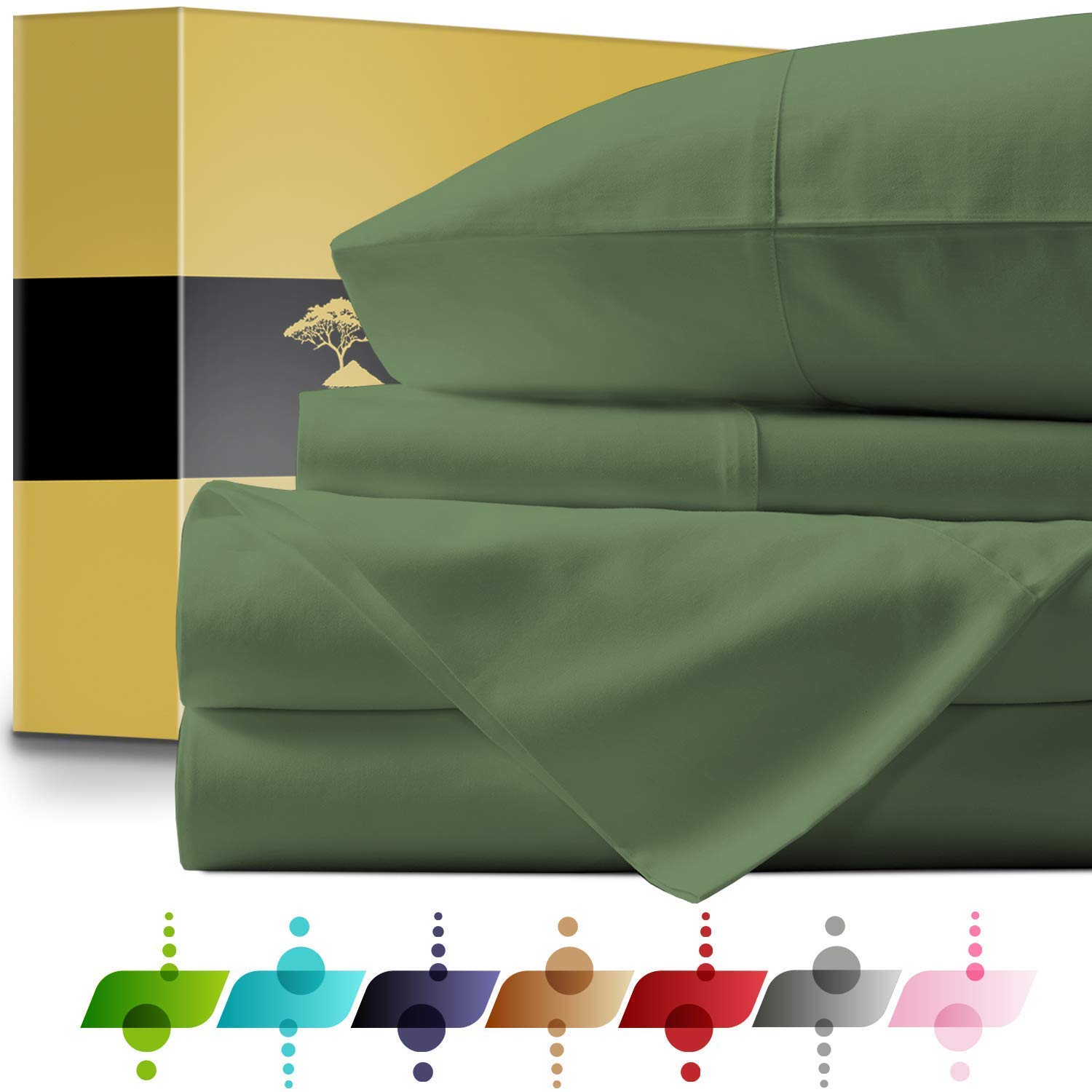 #3. Best Organic: PlushBeds Egyptian cotton sheets
In order to become GOTS certified, a manufacturer has to meet strict requirements and submit to on-site inspections of their manufacturing process by independent accredited inspectors that maintain the integrity of the GOTS certification.
GOTS certification requires a minimum of 70% organic fibers. Additionally, GMO, toxic heavy metals, formaldehyde, and aromatic solvents are banned. All other chemicals must meet established standards on toxicity and biodegradability.
GOTS certification also means that the manufacturer meets social responsibility goals that help you sleep well knowing that the people who made the sheets you're resting upon were treated humanely. The list of prohibited and required social requirements is lengthy. You can view the entire list on the GOTS website. The criteria include equal pay requirements, non-discrimination, prohibitions against forced and child labor, harsh and inhumane treatment, and other safeguards.
PlushBeds Egyptian cotton sheets meet these high standards. These buttery soft organic Egyptian cotton sheets fit mattresses up to 13" deep. They're hypoallergenic. They are finished with garment quality French seams and offered for a reasonable price given the guaranteed quality. Unfortunately, the sheets may not be returned once you've opened them and return shipping is not free. The packaging is biodegradable.
More: Best Luxury Sheets
#4. Best Percale: Peru Pima Cotton Sheet
Percale sheets have a crisp, cool feel and will be highly durable. Most hotel sheets are percale. We searched for a good quality percale weave that was made from Egyptian cotton, but we couldn't find one we felt comfortable recommending. We did find seller's describing sheet's as hotel style but when we dug into the details, they were sateen, not percale which made their description inaccurate.
Because we don't want to disappoint readers who want percale sheets made with long staple cotton, our winner for best percale sheets goes to a set made with long staple Peruvian cotton which is almost as long as Egyptian cotton.
These Peru Pima cotton Percale sheets have a thread count of 415 and they are OEKO-TEX® 100 certified. They are breathable and great for people who tend to sleep hot. The cotton is grown in coastal valleys in Peru that receive enough sunlight to create long-strand cotton. Percale has a matte finish unlike the shinier finish you'll see on sateen sheets.
They can be returned for a full refund during the first 30 days. The long staple cotton produces a soft and durable sheet that softens with each wash.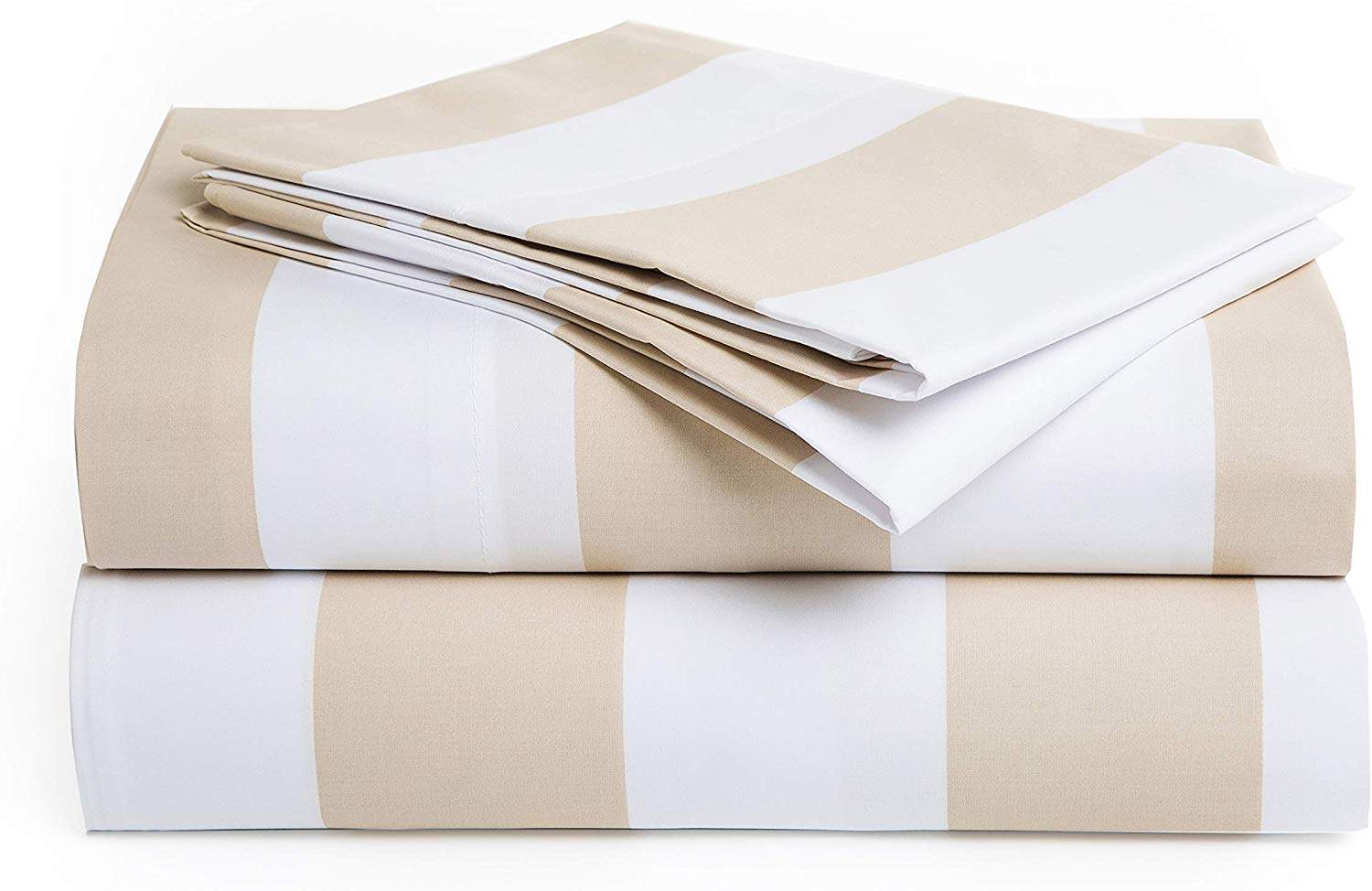 #5. Most affordable: Pinzon
These very modestly priced Pinzon 400-Thread-Count Egyptian Cotton Pleated Hem Sheets are OEKO-TEX®100 certified and make your bed look elegant with the multiple pleat detailing on the pillowcases and sheets. If you don't take them out of the dryer right away, you may need to run an iron over this detailing, but it wouldn't take more than a minute. It's easier to just remove them from the dryer as soon as they are dry. Made from 100% Egyptian cotton, they are easy care at an affordable price. The sateen finish ensures it is ultra-soft and smooth. With your eyes closed, you may mistake them for satin. They'll hug a mattress up to 17" deep.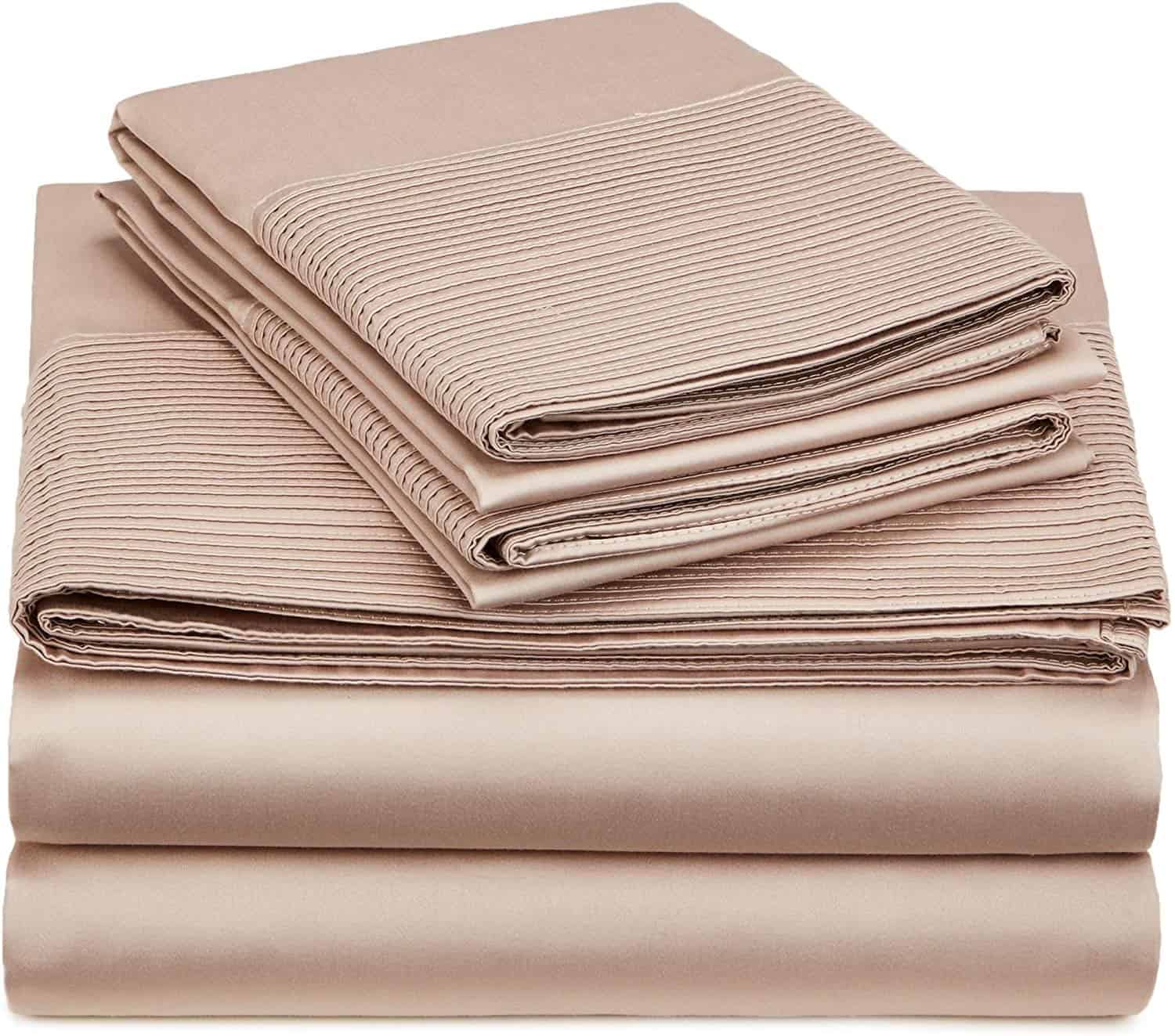 #6. Best with Italian Finish: Bluemoon Homes Luxurious
Italian finished sheets are considered the best in the world by people who enjoy the finer things in life. These Bluemoon Homes Luxurious 1,000 thread count Italian finish sheets are a surprisingly good find for a modest price. They will make custom sizes if you have a bed that is not a standard size. These sheets stay secure on mattresses with up to an 18" depth. They don't specify a return policy but one customer who didn't like the color reported they treated her return very well and mentioned she wouldn't hesitate to buy from the company again.
#7. Best American Made: Eluxury
We already introduced our "Best Overall" winner, eLuxury sheets. They are made in America with Egyptian cotton grown in the Nile River basin. eLuxury is determined to satisfy their customers by providing luxurious products and offering a money back guarantee with no questions asked if you're not 100% satisfied with their sheets. They make these sheets in Indiana with single ply long staple Egyptian cotton in a sateen weave that makes them feel extra luxurious. They're machine washable with 1,000 thread count to ensure durability. The bold colors are fade resistant.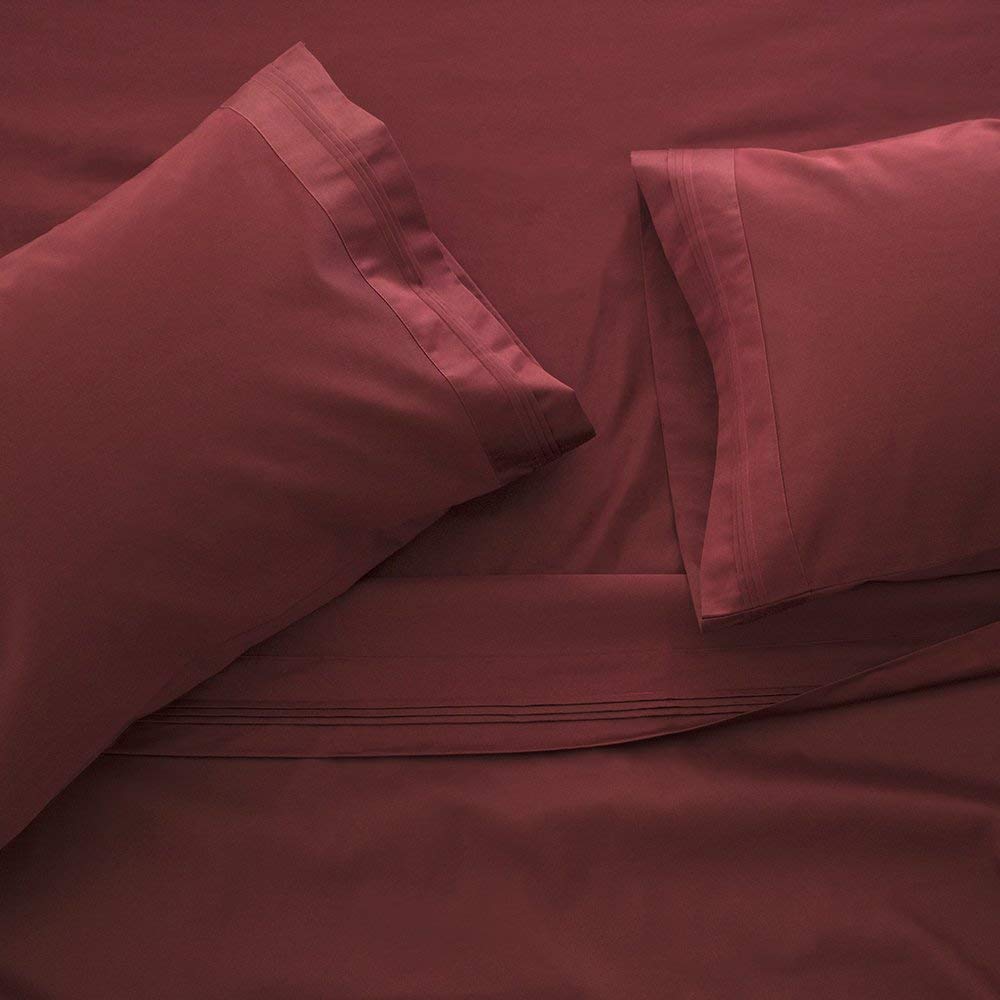 #8. Best Warranty: Cotton Home Luxury Collection
Warranties and return policies on Egyptian cotton sheets vary widely. Buying sheets you can't feel with your own hands first is always a bit tricky but Cotton Home Luxury Collection takes the risk away with their 100% Satisfaction Guarantee and their goal to provide "the absolute best customer service in the industry" which is how they won their spot as the Egyptian cotton sheet with the best warranty.
Their 620 thread count 100% Egyptian cotton sateen sheets are modestly priced and will work on mattresses up to 16" deep. These sheets are silky, fade resistant, and durable. They are also hypoallergenic and breathable, so you won't sleep too hot. They're easy to care for in the washer and dryer.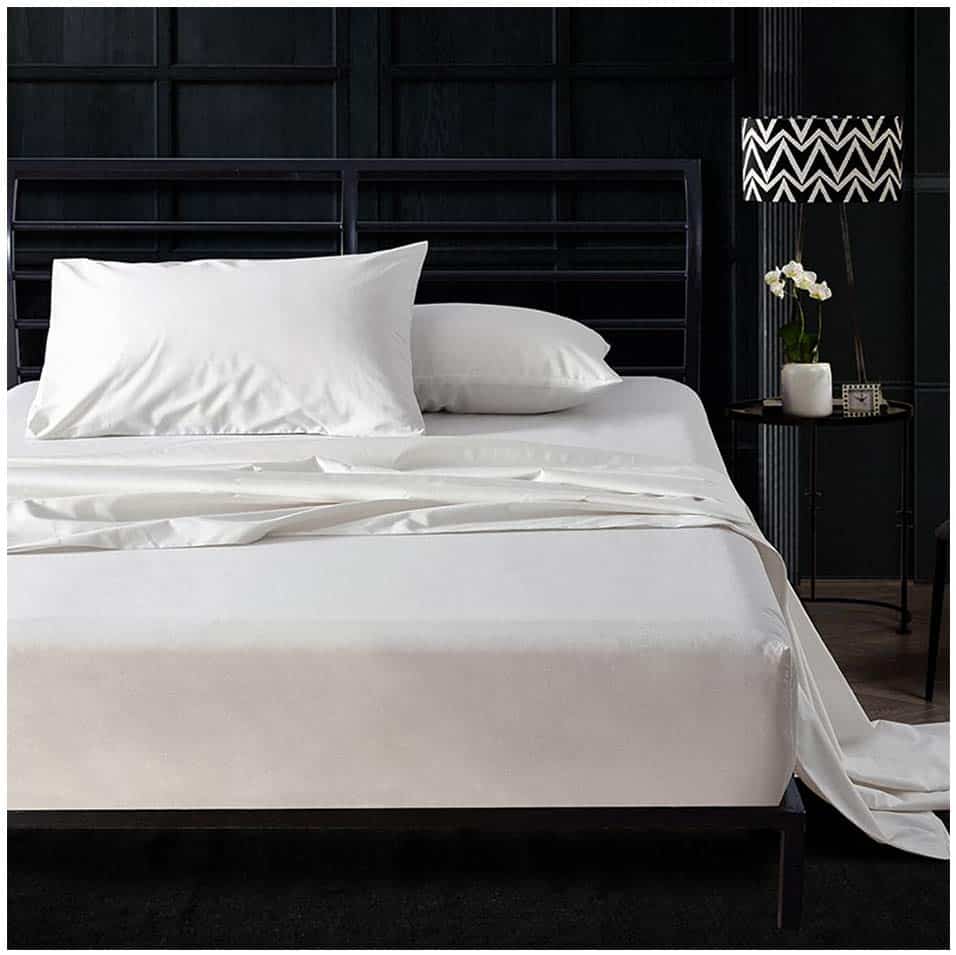 #9. Best Value: Kemberly Home Collection
Kemberly Home Collection's 100% pure Egyptian cotton sheets are made with long staple cotton in a sateen weave that makes them cozy and soft. The very reasonable price makes these sheets an excellent value. When we evaluate the value of a product, we compare the cost and features of similar products and the best value is the one that provides the best features for the price. The best value winner isn't the best product in the category – it is the one that gives you the most for the money. The price of these sheets is 40% lower than many of the Egyptian cotton sheets featured in this article which is why they provide so much value for the price. They are able to do this by eliminating the middleman and selling directly to the consumer. They will fit a mattress up to 18" deep. They also guarantee satisfaction which is essential in a best value product. The worst value is the product that no one stands behind to make things right if something goes wrong.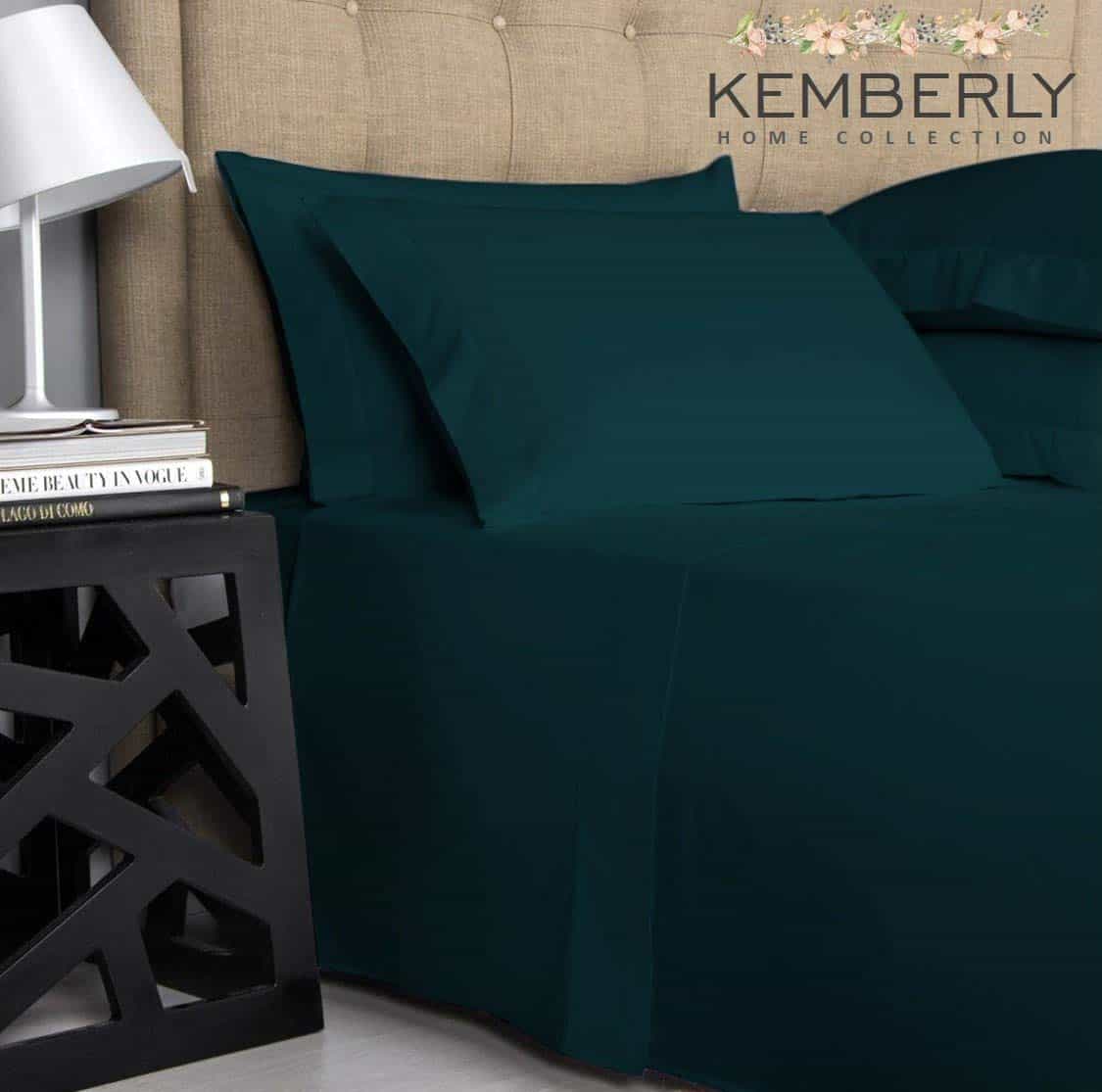 #10. Best Paisley: Paisley Bedding
Paisley patterns seem to elicit love or hate. I love the way many colors can be mixed together harmoniously in a paisley pattern without seeming untidy or too busy. These sheets by Paisley Bedding are made from 100% Egyptian cotton and backed up by a 100% money back quality guarantee. They have an 800 thread count and fit mattresses up to 16.5 inches deep. The fitted sheet is solid golden khaki and the fitted sheet is paisley. These sheets won't pill and will remain colorfast with appropriate care in your washer and dryer.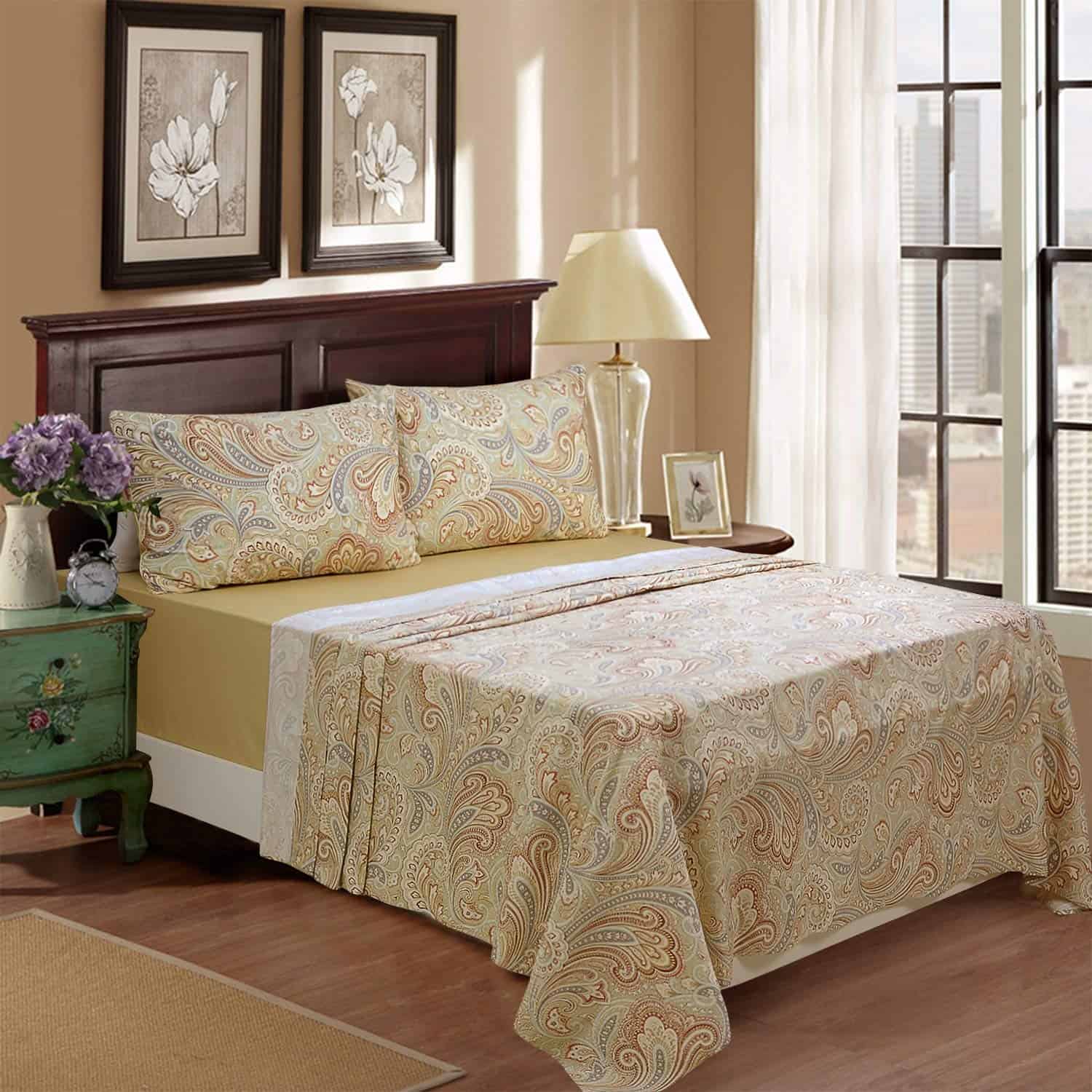 Prettiest Color Selections for Your Egyptian Cotton Sheets
Sometimes the hardest thing about shopping for sheets is finding a set that goes with your carefully selected bedroom décor. These Comfy Sheets provide the quality and comfort of 100% Egyptian cotton sheets with 1,000 thread count together with a beautiful assortment of colors to choose from to complement your décor. They'll fit your bed, up to 18" deep, well. The sateen weave assures they'll be comfy as soon as you slip into bed.
The beautiful colors are fade resistant, resistant to piling or shrinking. Offered with a 100% satisfaction guarantee, you can rest easy knowing there's no risk.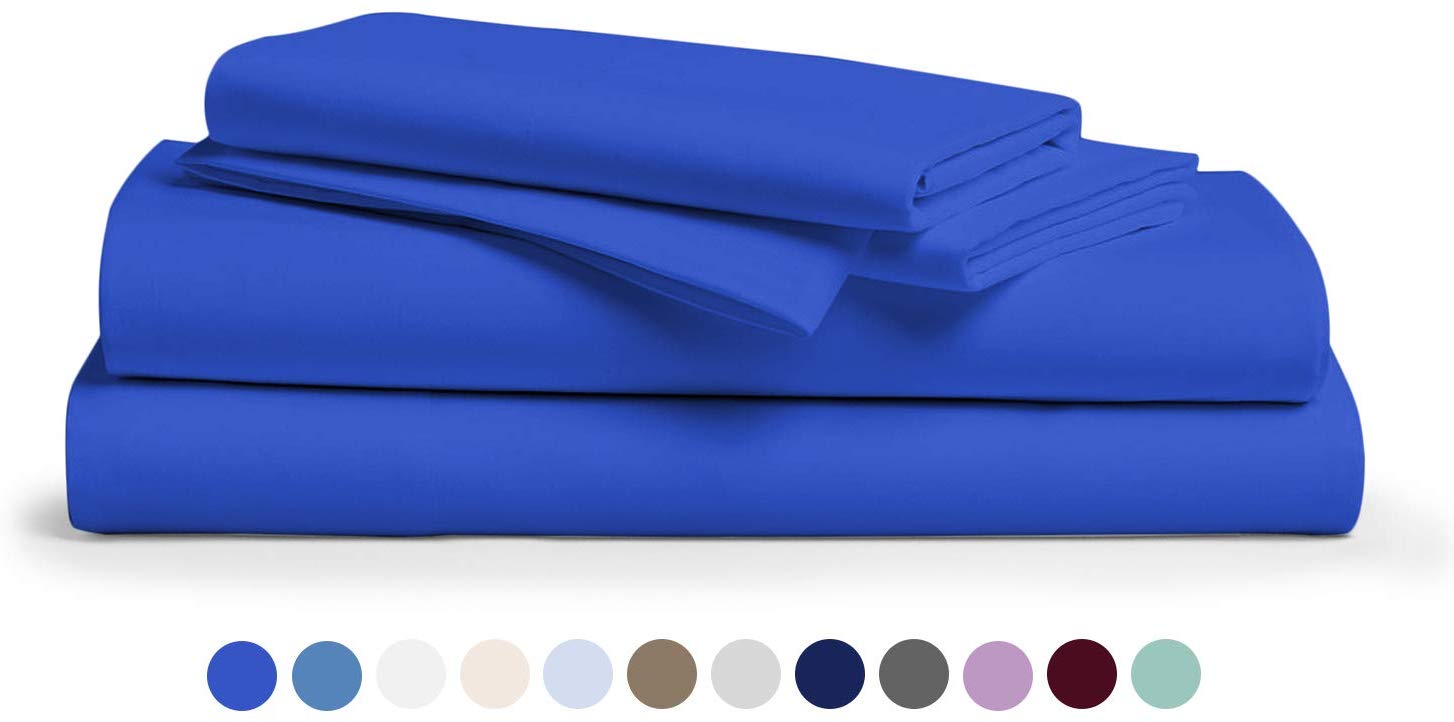 Pillowcases with Flaps
Adding flaps to keep your pillow inside the pillowcase is a feature we're beginning to see on upscale pillowcases like these from Ce Casa Esencia. This feature helps keep your pillow inside the case and not poking out on the end where it can be soiled. The fitted sheet is deep enough to cover a 16" deep mattress. The price is still reasonable for these luxurious sheets. The 100% Egyptian cotton is woven in India to be breathable.
These sheets are durable which helps justify the price. They won't be spoiled by pilling. The sateen weave keeps them soft and cozy and gives them a lustrous look.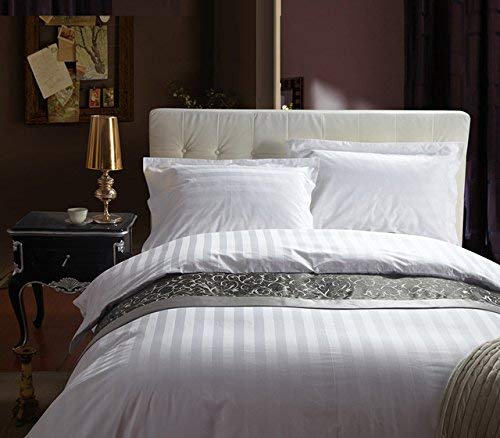 Bonus Pillowcases
Bonus pillowcases is a feature that I really appreciate as a side sleeper. I always use at least two pillows so extra pillowcases allow both my pillows to match my sheets. Ravley Home provides four pillowcases with their Queen and King 100% Egyptian cotton sheet sets.
Sets with bonus sheets almost always provide four pillowcases at a lower price point than buying two extra pillow cases. These luxurious 1,000 thread count sheets are supported by a satisfaction guarantee. The breathable sateen weave is great for night sweats. The organic dyes won't irritate your sensitive skin. OEKO-TEX® certified so you know they're organic and non-toxic as well as constructed in environmentally friendly facilities and socially responsible work places. They're also resistant to fading, stains, and pilling.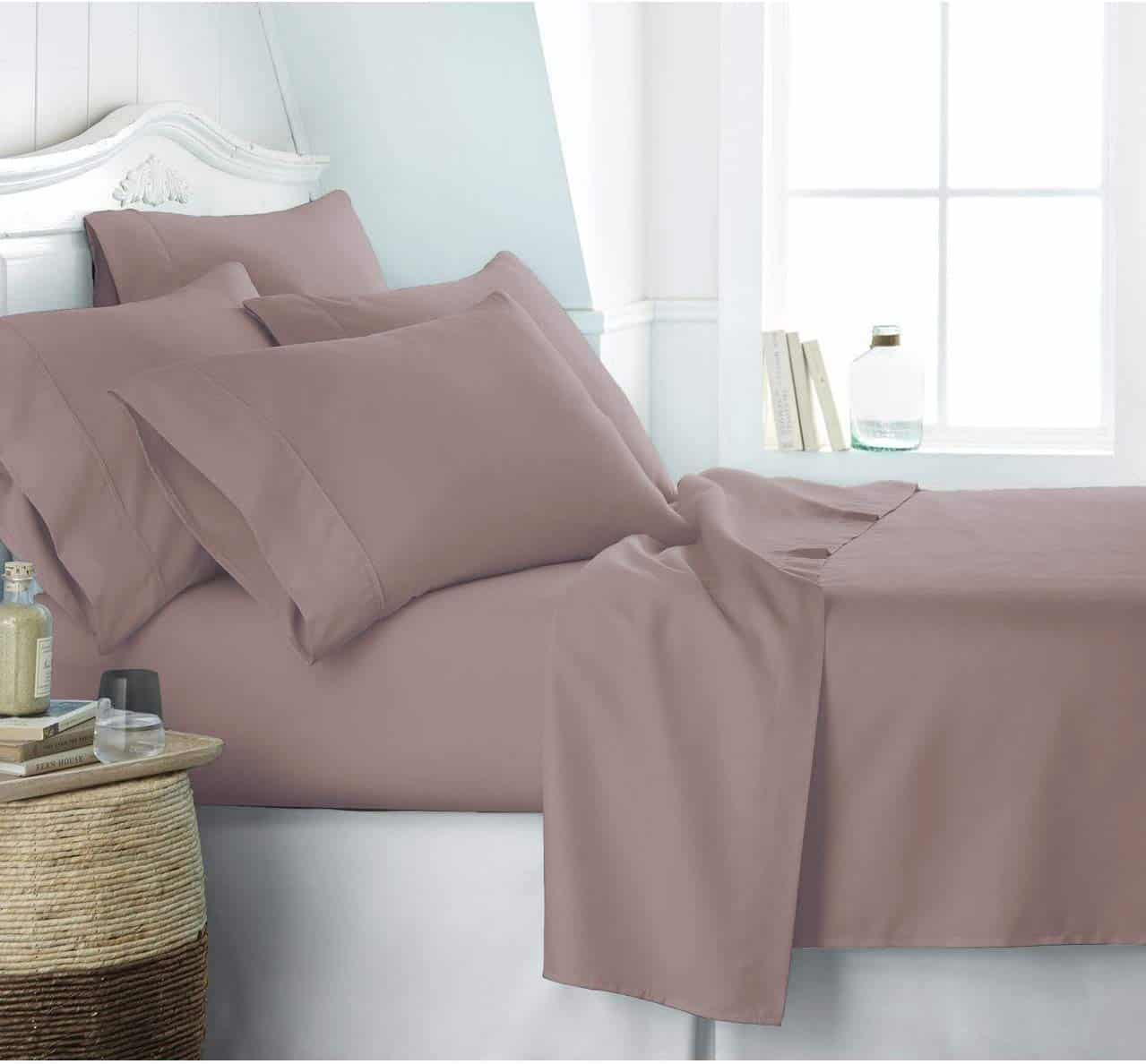 Differences between Types of Egyptian Cotton Sheets
Weave
The way the fabric is woven makes a difference to its durability, softness, sheen, and thread count. Egyptian cotton has longer strands than other types of cotton which is why it is such a great choice for sheets.
In a percale weave, the maximum thread count is about 410 threads per inch. Each thread is a single ply strand. The strands that go across (lengthwise or horizontal) are referred to as warp yarns. When the sheet is woven, these strands are stationery and the machine adds vertical yarns which are referred to as weft.
Thread Count
Other weaves use multiple strand threads instead of a single ply. Marketing departments began referring to the thread count with an inflated number by counting each ply of the thread. So, for example, if three threads are twisted or bonded together, each one was counted separately. In 2005, the Federal Trade Commission ruled that this is an unacceptable practice because it is misleading.
When high quality cotton is used to create high-quality threads, it isn't necessary to use multi-ply threads to create high quality sheets.
Some internet-based companies that pop-up overnight and disappear just as quickly continue to inflate thread counts by counting each ply separately. This problem heightens the importance of the reputation of the company as an important consideration when you choose which sheets to purchase.
Egyptian cotton sheets with thread counts of 400 or above are considered good quality. The type of thread used to create the sheets is more important than the thread count.
 Pocket Depth
Pocket depth refers to the thickness of the mattress the fitted sheet is made to curve around. Mattress depts vary considerably, from 6-inches to over 20-inches. The pocket depth should be at least as deep as the depth of your mattress. This will help the fitted sheet stay securely in place and not pop off when you sleep or move around on the mattress.
Colors
You can find sheets in just about any color or pattern you can imagine. Solids in a wide array of colors are easy to find. Plaids, paisley, and florals are also available. If you have sensitive skin, you may want to opt for white sheets as the dyes used to create the magnificent color selections available today can be hard on sensitive skin. You will want to wash your sheets before you sleep on them, especially if they are a darker color.
Finishing
Many people consider Italian finishing to be the best finishing in the world. The Italian finishing does create a high-quality sheet.
Size
Sheets in appropriate sizes for every standard-sized bed are readily available. Many sheet manufacturers are happy to make sheets in custom sizes. You can also use straps under the fitted sheet to hold them in place.