Nest Bedding, a string of mattress stores that creates and designs not only comfortable mattresses, but also beddings and other sleep products. Moreover, they have an objective to create organic, natural and non-toxic products, making them an eco-friendly company and the best part being, at a fair and reasonable price for all shoppers.
One of the best products of the Nest Bedding is the Love Bed Mattress, a great introduction with great price value and ingenious design offering three choices for one to choose from; firm, soft and medium firm.
Structure and Design
Nest bedding does an excellent job in production detailing as this love bed mattress is constructed with 4 layers of foam of different thickness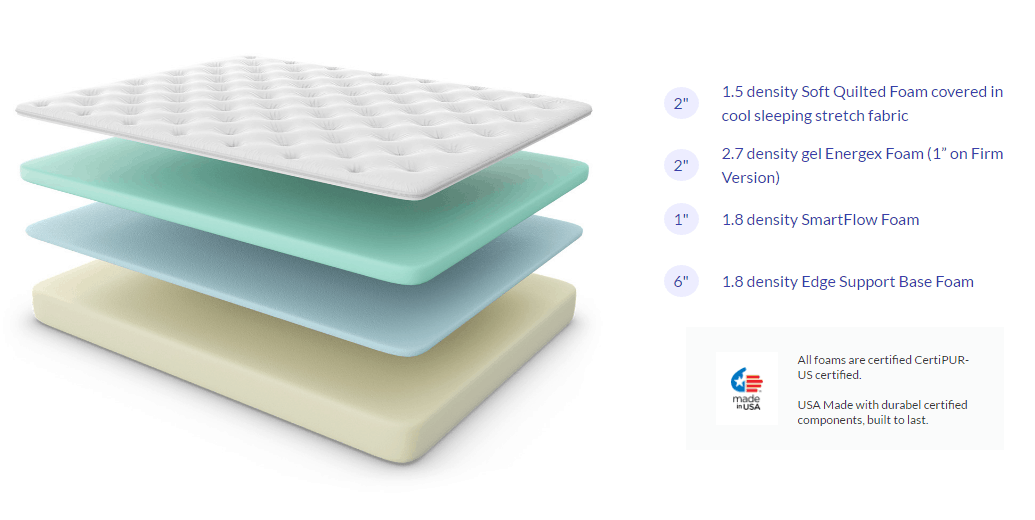 The top layer includes a 2", 1.5 pounds per cubic foot (PCF) in density, soft Quilted Foam enclosed in a sleeping stretch fabric that provides padding and comfort in addition to suppleness and a classic look.
The second layer contains a 2", 2.7 PCF in density, Energex Foam. This foam is similar in characteristic comparison to latex and offers both comfort and extra comfort and additionally great bounce and fast response.
A 3rd transitional support layer of 1", 1.8 PCF in density SmartFlow Foam (transitional foam). A layer between the comfort and base layer mostly providing transitional support. This layer compensates for heavier sleepers who require deeper compression support.
Base layer or the foundation layer is 6" of 1.8 PCF in density, Edge Support Base Foam. This high-density foam serves as a foundational support for the love bed mattress.
The cover itself is quilted polyester ingrained with bamboo fibers. This design naturally expands moisture from your body and sleeping surface, offering improved cooling. It also has a soft and stretchy feel to it.
When it comes to sex and lovemaking, a good mattress is the key to a happier and eagerly awaited session. However, not all mattresses fill the shoes, certain criteria have to be met, while purchasing for a mattress that not only provides quality sleep but is also great for sex and lovemaking.
Criteria Rating For Love Making Mattress
Most definitely people won't go to a store asking "what mattress is the best for sex?" the aim for this article is to save you the trouble and point you to tips for a good mattress for your needs. In mattresses matters, there is 'requirements conflict'. This means, certain things you require for sleep are different from what you require during sex, for example, when one is sleeping they don't move around much in contrast to sex.

So, what should be considered in purchasing a mattress for sex?
Bounce and Responsiveness
With Nest Bedding Love mattress, two attributes are more pronounced, bounce and responsiveness. These are directly driven by the 2nd layer of Energex foam.
The bounce provides a nice sleeping experience and of course extremely enjoyable for sex. The love bed mattress Energex foam quickly adapts to movement changes bringing out its responsive nature.
Support
This mattress, in every sleeping position, it provides good support. What about during sex? Certain sex positions involve the use of mattress edges and this is improved if the edges are stable and strong. The edges shouldn't collapse under pressure.
Comfort
A mattress should not create pressure points during sex, if this is the case it limits ones desire to be there in the first place.
Durability
Sex and love-making activities are often used to test the durability of a mattress.
Noise
Noise is a factor that should be considered; therefore a good mattress should be quiet.
Why choose Nest Bedding Love Bed mattress?
It goes without saying that, majority of our sexual and love making activities take place in the bedroom and to be precise on our bed. Nest Bedding took into consideration and designed the Love Bed Mattress.
Nest Bedding Love Bed mattress is designed for sex. The Energex Foam layer provides push back; much like a coil mattress but without the coils and is breathable for those heat-filled passionate nights. Energex being a latex foam, it meets all the criteria; bounce, comfort, responsiveness and cooling, all designed for a night of passion.
This mattress is designed for great sex, alright but how? Here is how.
Having sex isn't something people are eager to beat the drum for, even if it's only the indiscreet squeaks the bed makes and although most foam mattresses are quiet, some are known to be loud but Love Bed mattress is designed specifically to be stealthy, which of course is helpful in a house with a nuclear or extended family.
Sex is an activity much like exercise, one tends to moves around much, and the mattress should make it easier, Love Bed mattress, with its adaptive ability to movement changes, demonstrates its responsiveness, the faster the response the better.
Love Bed mattress layering enables its edges to be firm and not collapse under pressure during certain positions, this simply implies that you and your partner can have sex on any side of the mattress without worry.
Another aspect is bounciness, a bouncy mattress like Love Bed mattress, the kinetic energy is not absorbed it rebounds back, shunning the "dead" feeling and rocking you into a love-making trance.
Being a comfortable mattress, this relieves pressure points during sex where often one partner is in most position.
Love Bed mattress also is durable, standing up to years of constant love-making.
Why recommend Love Bed mattress?
The Love Bed may not be for everyone, but this is a better option foam mattress designed for mostly sleep and sex, but not limited to; you can also watch TV from it, work from it and much more non-sleep or sexual activities.
With the four layers offering comfort and support its ideal for; those who don't want a mattress containing innersprings, no excessive noise but still comfortable and enjoyable.
Its eco-friendly and relatively inexpensive, choose Love Bed mattresses for better sleep and sex!