Overview: Tomorrow Sleep mattress is not just another bed in a box. It is a complete sleep solution with its premium hybrid build and sleeps technology and gadgets accompanying it.

Tomorrow Sleep mattress is a great buy if you:
Want a hypoallergenic, eco-friendly mattress – The high-density memory foam used in Tomorrow Sleep is hypoallergenic and CertiPUR-US approved.
Want a hybrid mattress – This mattress combines the best of the two worlds, memory foam and coils.
Like a smart mattress – The creators of Tomorrow Sleep came up with a SleepTracker Monitor which you can buy at an additional cost and place it on your mattress to get lots of cool data on your sleep and personalize your sleep preferences.
Want a cool mattress – This mattress makes a perfect choice for people who tend to sleep cool.
Don't have a fixed sleeping position – This mattress comes with dual firmness options, a medium-soft and a medium-firm. This makes it ideal if you have no fixed position, as it can accommodate for any type of sleeper.
If you are a couple and seek for undisturbed sleep – If you and your partner tend to toss and turn during the night, then this is a great mattress for you as it will leave little movement escape to the other side of the bed.
Tomorrow Sleep mattress is not the ideal choice if you:
Are on a budget – At $ 990 for a Queen, this is not what you would call a great low-cost option. You can reference some cheaper options like Costco or Ikea.
Enjoy a plush feel on a mattress – This will not make the ideal choice for you if you prefer plush, soft feeling mattresses.
Prefer Latex – This is a latex-free mattress. Take a look at the top 5 best latex mattresses we picked up for you.
Company
If you are wondering who is behind Tomorrow Sleep, then you will be glad to hear this mattress comes with over 100 years of experience in the industry. This is because Tomorrow Sleep is powered by Serta Simmons Bedding, which is one of the most renowned mattress manufacturers and distributors in North America.
The brand made a strategic decision two years ago, to start selling directly to consumers, and created a premium mattress in a box that contains the latest sleep technology.
Construction
So, what is the Tomorrow Sleep Mattress made of?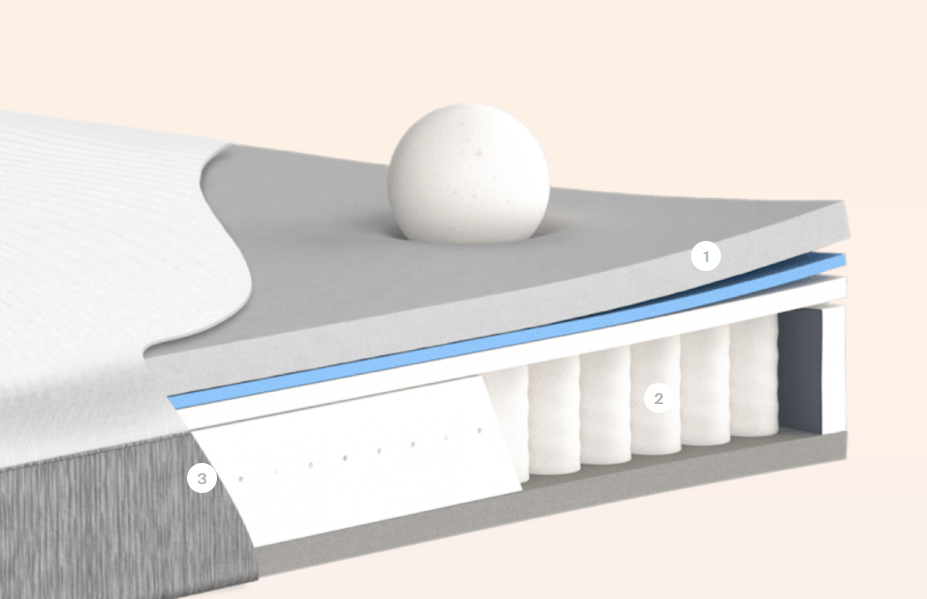 This is a 10 inches hybrid mattress and consists of:
Non-removable cover – you can buy the mattress protector which is waterproof, made with Instacool™ material and will act together with the cooling top fabric to keep you cool.
The first layer of high-density Tomorrow Cool Memory Foam. This is appropriate for body contouring and relief.
The second layer of Tomorrow Airy Comfort Memory Foam for enhanced comfort and improved airflow.
The third layer of Tomorrow Bounce Foam which promotes good bounce and works as the transitional layer between memory foam and the coils.
The mattress features a Tomorrow Ventilated Foam Rail System on the sides which helps
The bottom layer is made of Tomorrow Pocketed Coil Network System for extreme support, good airflow and minimizes motion transfer. These individually wrapped coils that flex independently to help with spinal alignment and support.
Highlight: In case you are tech savvy or conscious about your sleep, you might want to take advantage of the Sleep Tracker Technology offered by Tomorrow Sleep
Coming as a response to the trend for smart mattresses, The Sleeptracker® Monitor will make the ideal addition to your gadgets and use an application in your smartphone, it enables a variety of functions, including but not limited to sleep cycle patterns, breathing rate, heart rate and movement, so you can customize your sleep accordingly. It even has a wake-up function which will work only when you are ready to wake up based on monitoring of your sleep cycle. Cool, right?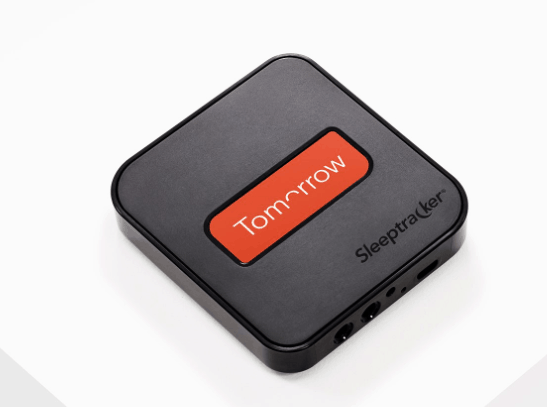 You can sync the iOS/Android Sleeptracker® Monitor app with Alexa for smart home integration and get tips on how to improve your sleep based on the feedback for your metrics.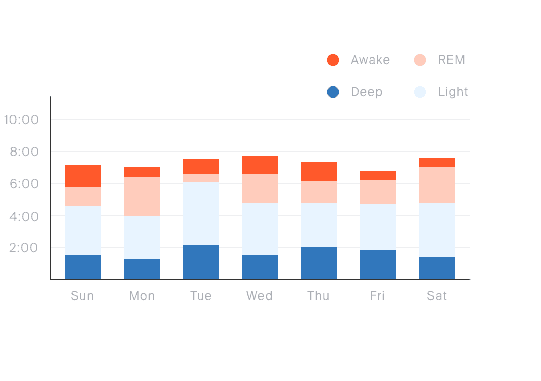 It also comes with the potential for sleep analysis for two, if you are a couple. However, this comes at an additional cost of $149 for one person, and $199 for two persons.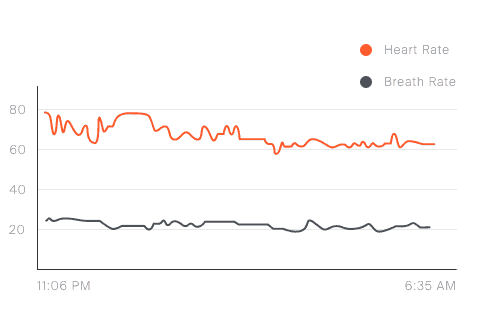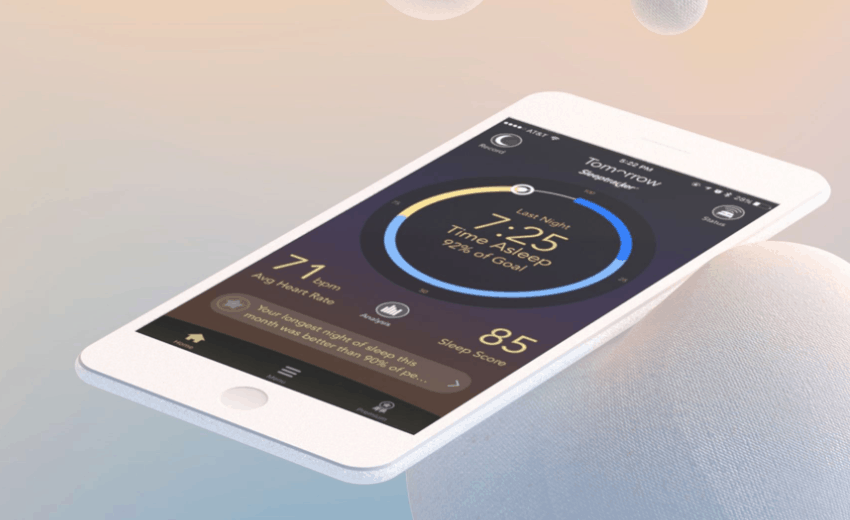 Durability
This mattress is made of durable and lasting materials. Both the memory foam used is high density and complies with all industry standards for safety and regulations to be environmentally friendly. As this is a new mattress, there are no consumer data to show an estimate of its durability. So, we base our opinion on the construction alone.
Firmness
An advantage of this mattress is how it comes with dual firmness options. You can choose between Medium Firm and Medium Soft in a Tomorrow Sleep mattress, the Medium Soft version provides more of a hugging feel when you lay on it, with substantial contouring for your body's curves and angles. The medium-soft seems to be great for side sleepers, as it will not add pressure on them.
When considering the firmness scale, the Medium Soft version is a 4 and the Medium Firm is a 6 out of 10.
On the other hand, the Medium Firm version is a more solid, yet still comforting enough sleeping surface. Stomach sleepers and back sleepers will probably benefit the most from it, however, it seems that 70% of users prefer the Medium Firm than the Medium Soft, so it is a preferred choice as this mattress.
Both firmness options have a similar structure, with the high-density memory foam and individually wrapped coils offering a balanced feel of comfort and support. The difference is you will sense these materials are slightly firmer in the Firm version. Overall, this makes the mattress ideal for all types of sleepers.
Support
The creators of the Tomorrow Sleep mattress ensured you receive plenty of support and comfort when sleeping on this mattress. The individually wrapped coils create a sturdy surface and will evenly distribute body weight, while each coil flexes to support all areas of your body. The high-density memory foam contours to your body's natural curves and provides proper neutral spine alignment and pressure relief.

Based on its edge rail system, we think this construction makes the Tomorrow Sleep a mattress which will provide better than average edge support. This means you can tie your shoes or use the mattress for intimate activities, without worrying you will fall off.
Doesn't sleep hot
One thing you don't need to worry about is sleeping hot with this mattress. There is plenty of strategic design behind sleeping cool. In particular for Tomorrow Sleep mattress, the secret for sleeping cool comes from working:
A Phase Change material which regulates temperature so it sends heat away from the body.
The patented ventilated rail system helps pull away from the heat from both sides and so you sleep restfully cool.
The individually wrapped coils promote enhanced airflow and further contribute to a breathable sleep surface.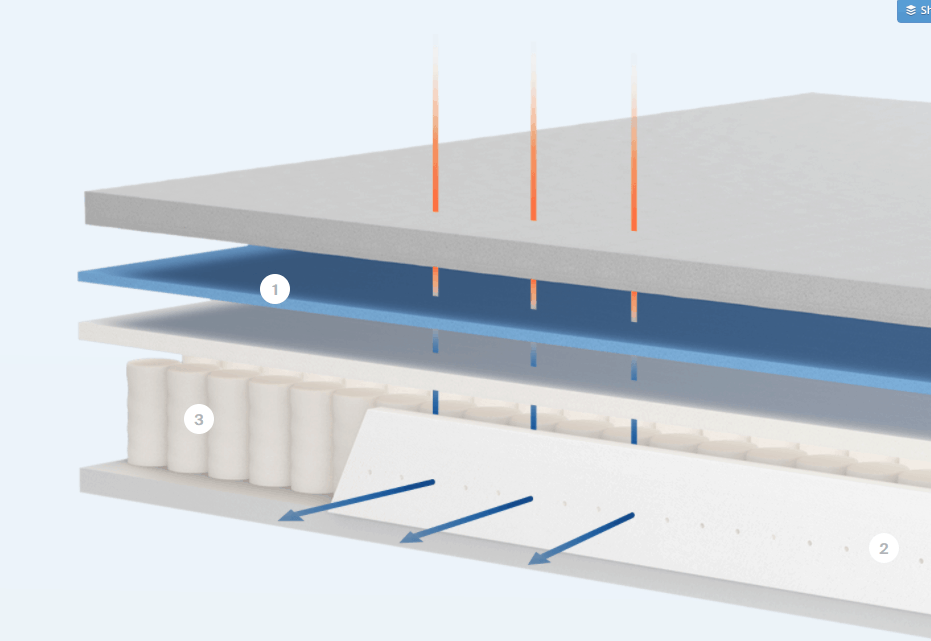 Motion isolation
This mattress will make the perfect solution to your restless nights as it seems to offer a truly undisturbed sleep. There is minimal motion transfer exhibited, as a result of the individually wrapped coils used in its sturdy build. This makes Tomorrow Sleep as a great choice if you are a couple as you won't be disturbed.
Smell
There is a slight odor when you unpack the Tomorrow Sleep mattress. This comes as no surprise since it features memory foam in its construction. However, the mattress is safe both for people and the environment, as it is CertiPUR-US approved so there is no risk of harmful chemicals and off-gassing.
To avoid any disturbance from the smell, it is better to air the mattress for a while before using it.
Value for money
Tomorrow Sleep comes at a reasonable price for what it offers. Given its premium build, you will not be disappointed by what you get, still, if you want to buy the accessories that come with the pack, you should be prepared to spend a substantial amount of money.
Special offer, for orders over $495, we can use code
GBM100 
to get $100 OFF
| Size | Price |
| --- | --- |
| Twin 38″ x 74.5″ x 10″ H | $550 |
| Twin XL 38″ x 79.5″ x 10″ H | $600 |
| Full 53″ x 74.5″ x 10″ H | $800 |
| Queen 60″ x 79.5″ x 10″ H | $990 |
| King 76″ x 79.5″ x 10″ H | $1200 |
| California King 72″ x 83.5″ x 10″ H | $1250 |
Shipping
This mattress will ship to your location anywhere in the US free of charge via UPS Ground within 2-3 days. You will receive your mattress rolled and packed in a box sized 19.5" x 19.5" x 41", except from the Cal King one, which comes at a 19.5" x 19.5" x 42" package. Returns are also at no cost.

Return policy/warranty
Tomorrow Sleep backs up their product and trusts you will like your new mattress. The company offers a 10-year limited warranty, which is similar to industry standards.
In case you are not pleased with your new mattress, you can choose to return it free of charge and claim a full refund, within 100 days of purchase. This trial is normal for most mattresses and is pretty sufficient to help decide whether you like your mattress or not. In any case, there is no real risk as you can easily return it, no questions asked.
Final Verdict
There has been much fuss about this mattress and we think it's not a vein. This is overall a great mattress that will deliver a cool and comfortable sleeping experience. It features some great materials which are hypoallergenic and eco-friendly, whereas you can add to its comfort and luxury by choosing between one or all of its accessories, including a sleep tracker, pillows, sheets, comforter, a mattress protector or drapes.
Tomorrow Sleep would make a great addition to your bedroom if you tend to sleep hot, and if you toss and turn, as it comes enhanced with temperature regulating technology, cool and breathable materials, while the individually wrapped coils will help you sleep sound and undisturbed. A favorable and reasonably priced mattress all around.