When considering a new mattress, whether it's a regular one or one meant for the sleeper sofa, there are many factors to consider, and the characteristics you were looking for in a regular mattress don't necessarily apply when buying a sofa bed mattress.   Hopefully, after reading this article, you'll have a clearer understanding of the differences between these two mattresses.
Before jumping in, just wanted to underline that a regular mattress can't be used in a sleeper sofa, first of all, because a regular mattress isn't designed to be folded repeatedly. In addition, they won't fit in the sofa bed structure, either, as they're usually much thicker than a sleeper sofa mattress (more on this below), which also means that when the sofa bed isn't being used, a regular mattress wouldn't be able to stay tucked inside.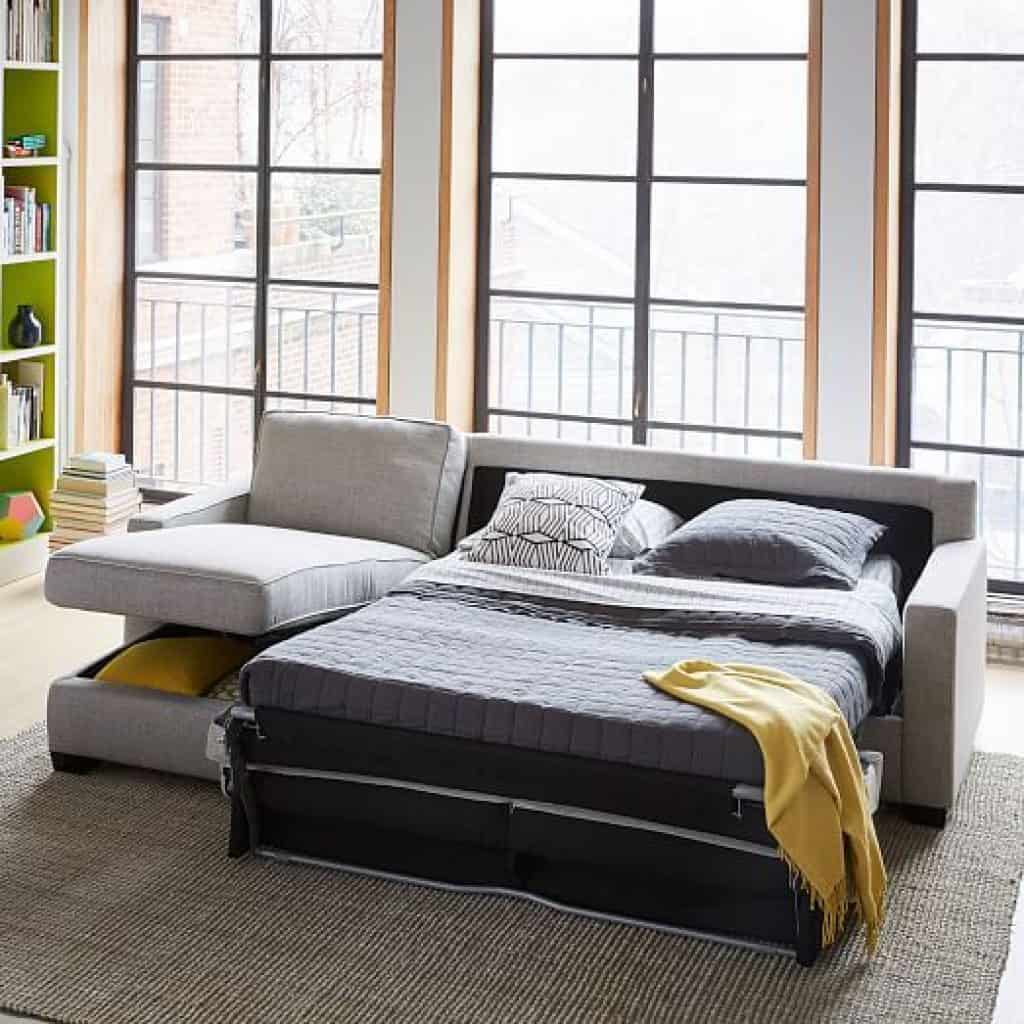 Thickness
A sofa bed mattress is much thinner than a regular mattress, as it can only be between 4"-5" (compared to the 10"-20" of regular mattresses). If it's too thick, it won't fold properly and will become damaged over time (apart from potentially damaging the sofa bed mechanism as well) because it will be compressed too firmly into the sofa bed. To find the maximum thickness for your sofa bed replacement mattress, measure the distance between the top and the bottom of the folded structure of the sofa bed at the crease, with your old mattress still inside, and divide the distance by two. The result is the maximum thickness that your replacement hide a bed mattress can be.
Mattress Types
Although these days, there are several options for regular mattress fill types, when you're choosing a type of sofa bed mattress, your choices are a bit more limited. Sofa mattresses are approximately half as thick as regular mattresses, so inner materials like memory foam and innerspring aren't suitable.
For example, innerspring regular mattresses are thick enough to be able to contain quality springs, with a higher number of coils and which float before they fully compress. In sleeper sofa mattresses top quality springs are out of the question, as there isn't a lot of room for springs to float before they compress fully, thus making innerspring hide a bed mattresses quite uncomfortable.
Also, memory foam mattresses are great as regular mattresses but not sofa bed mattresses.  Memory foam mattresses contain a layer of memory foam, which needs to be at least 2" thick in order to give that plush feeling they are renowned for.  A 2" memory foam layer in a sofa bed mattress leaves just 2-3 inches of support material, which simply isn't enough for comfortable sleeping, chances being that the mattress will bottom out quite quickly.
So if springs and memory foam don't work in a sofa replacement mattress, what material is suitable? The answer is foam. Foam mattresses are best for sleeper sofas. However, in this case as well, there are several characteristics to consider in order to buy a quality mattress, namely:
Be sure to pick out a mattress that's made of high-density resilient foam that has a minimum 1.8 lbs per cubic foot. This means that there will be more foam between you and the bar, in order for you to get the most comfortable sleeping experience.
Also look for one with high firmness factor, measured in IFD (Indentation Force Deflection). This way the mattress core will not reach full compression when someone who weighs more than 250 pounds lays down on it. The firmer the mattress is, the less likely it is that sleepers will feel the bar that's under it. Of course, this means that sofa bed mattresses are usually firmer than regular mattresses. When looking for a regular mattress a softer mattress might be preferable for some, but with sofa beds, the priority is for the sleeper not to feel the bar and a firmer mattress is the only way to go.
Size
While one can usually choose between twin, full, queen, and king mattresses for typical beds, and hide a bed mattresses have standard sizes as well, there may be some sleeper sofa mattresses that need to be custom-made, especially if you're replacing one in an RV for instance. If you're not sure what the size should be, measure the interior length and width of your sofa bed frame and round down to the nearest inch for each measurement.
Availability
Another major difference is availability concerns. Although typical mattresses are widely available at different stores, most of the time it's better to purchase a sofa replacement mattress online, as the selection will be a bit wider than what you would find at a store. In such cases, be sure also to check the online store's return policy to make sure you can send it back or get a refund if you don't like it or it doesn't fit properly.
Happy shopping!