When your midnight meditation fails you and you just can't stomach another cup of chamomile tea, how will you get to sleep? Our best magnesium supplement for sleep countdown list could help – it's way better than counting sheep!
But losing sleep, whether you have trouble traveling to dreamland, trouble sleeping restfully, or trouble sleeping the whole night through, is no joking matter. Sleep deprivation and insomnia leave you feeling terrible and can have further consequences for your physical and mental health.
This is where magnesium can help. Did you know that magnesium deficiency causes a whole host of sleep troubles? Almost 50% of people in the USA are not getting the required daily amount of magnesium from their diet.
If you want to find out how magnesium could help you sleep and discover the top 5 best supplements available in 2022, this is the article for you.
Discover the best supplements now or scroll down to read our helpful guide to understanding and selecting magnesium supplements.
Magnesium Supplements – Should You Take Them?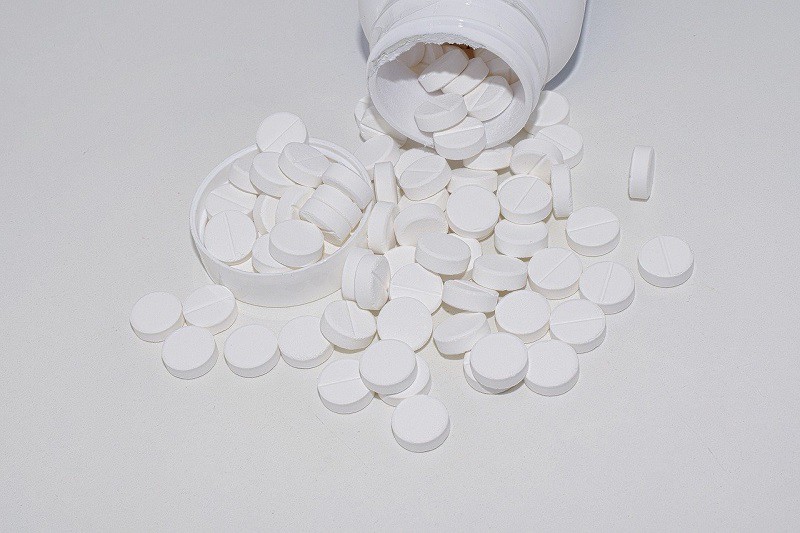 Before you think about taking magnesium at night, there are simpler (and cheaper) methods you should try first to help you sleep.
Reduce caffeine intake, particularly in the afternoon/evening.
Limit screen time and reduce harsh/blue lights right before bedtime.
Solving the roots of your problem, e.g. stress or anxiety about work that's preventing you from sleeping.
If you follow all the above and are still having sleep troubles, magnesium could be your answer. Those with diabetes and digestive issues might be naturally low in magnesium, in which case taking supplements will help your overall health as well as sleep quality.
Magnesium Supplement WARNINGS:
As for dangers and side effects of taking magnesium supplements for sleep, these are minimal as long as you take less than 350mg per day – follow the instructions on your chosen magnesium supplement carefully to ensure you don't take more than is needed. If you take too much, you might experience cramps, nausea, and diarrhea. It will be unpleasant but not deadly!
Magnesium supplements can interfere with antibiotics, muscle relaxers, and medication prescribed for blood pressure problems, so we highly recommend talking to your doctor before you begin taking the supplements.
Summary – The Top 5 Best Magnesium Supplements
Pure Encapsulations- Best Overall
Doctor's Best – Best Budget
Magnesium glycinate/lycinate capsules
Chelated formula is easy on your stomach
Best value for money
Natural Vitality Calm – Best Powder
Magnesium citrate powder
Easy to consume with flavor options/recipe compatibility
Large number of servings per container
Nobi Nutrition – Best High Dose
Magnesium citrate and magnesium oxide capsules
500mg of magnesium per capsule
Great for muscle/bone health as well as sleep
Triple Calm – Best Home-Grown
Magnesium taurate, glycinate, and marate capsules
Ingredients grown/sourced and processed within the US
Extra gentle on your stomach and for digestion
Best Overall: Pure Encapsulations Magnesium Glycinate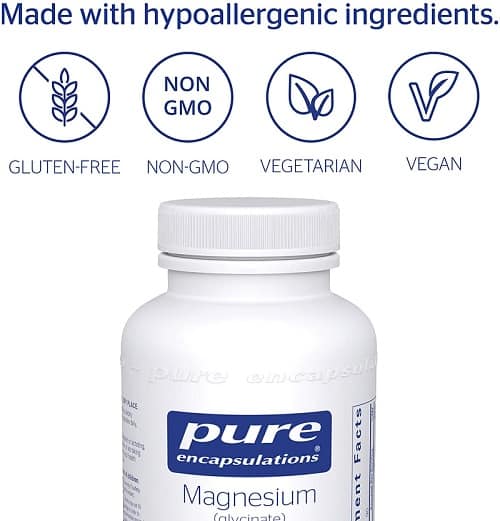 The best magnesium for sleep is Pure Encapsulations' magnesium glycinate supplement. Not only is this the best type of magnesium (read our guide to learn about the different types) but it's also one of the higher-quality supplements available.
Unlike many magnesium supplements, Pure Encapsulations don't use magnesium stearate or other filler ingredients – these are components that bulk out the pills, reducing the amount of elemental magnesium per capsule.
Many customers praise these pills for helping them sleep, reducing anxiety, calming restless leg syndrome, and even reducing seizure frequency and intensity. As supplements aren't FDA regulated, any claims like these are not verified. Instead, judge this supplement based on the ingredients list and quality of ingredients. Not only are these supplements pure and honest, with few fillers, they're also completely vegan and hypoallergenic.
You can take 1 to 4 capsules per day, so there's a lot of flexibility with this magnesium supplement. If you already have a good source of magnesium from your diet, you can take a single 120mg magnesium capsule before bed. If you're deficient, you have the choice to up your dose by taking more capsules throughout the day. This is not something you'd be able to do with higher dose magnesium supplement brands!
There are 90 capsules in the Pure Encapsulations container, which could last you between 90 and 22 days.
Pure Encapsulations Magnesium Supplement Key Features:
Simple magnesium glycinate capsules containing just under a third of your daily magnesium intake.
These capsules are suitable for vegans, gluten-free, non-GMO and are also hypoallergenic.
Not filled with magnesium stearate or other filler ingredients.
Great value for money for an efficient, reliable product!
Note:
Small doses mean taking more pills throughout the day.
Contains ascorbyl palmitate, which is derived from corn (certain allergies) and vegetable oil (often forest-destroying palm oil).
Best Budget: Doctor's Best High Absorption Magnesium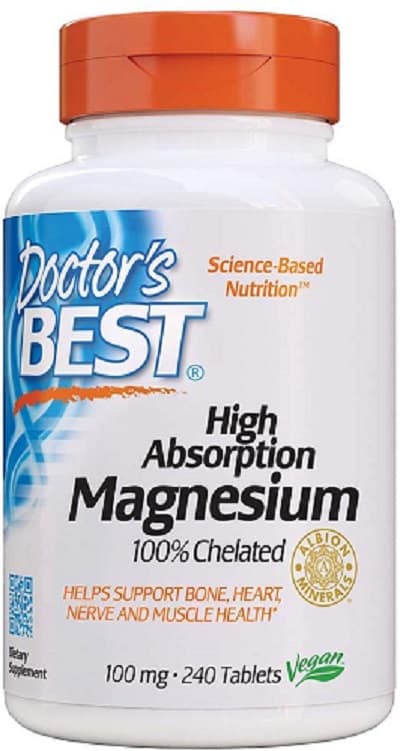 If you need a quick dose of magnesium before bed to help you sleep on nights when you're feeling anxious or restless, then Doctor's Best is a good choice. Even though their pills are on the cheap side, and are filled with magnesium stearate, they have a high elemental magnesium dose and are specially designed for relaxing your body and mind for sleep.
Glycine and lysine are both essential amino acids that improve a variety of functions in your body. In our guide below, we'll cover in detail how glycine promotes sleep. It's the lysine that we're particularly excited about! Besides treating cold sores and encouraging your body to produce antibodies to fight infection, lysine also affects hormones in your body and can block stress receptors to reduce anxiety. It's not a common ingredient in magnesium supplements and it works very well with glycinate to treat sleep troubles.
This tub of magnesium supplements contains 240 capsules, each containing 200mg of magnesium, which is enough dosage for 120 days (3 months) if you take 2 a day to completely meet your magnesium requirements.
Doctor's Best Magnesium Supplement Key Features:
Medium-dose magnesium glycinate lysinate capsules to take twice a day.
High elemental magnesium dose to absorb compared to other brands.
Unique chelated process ensures better/faster absorption without being harsh on your stomach.
Vegan ingredients (most brands are vegetarian) are soy-free, gluten-free and non-GMO.
Note:
Capsule sizes are quite large and may be difficult to swallow.
Low price due to bulked-out ingredients list.
Best Powder: Natural Vitality Calm Magnesium Citrate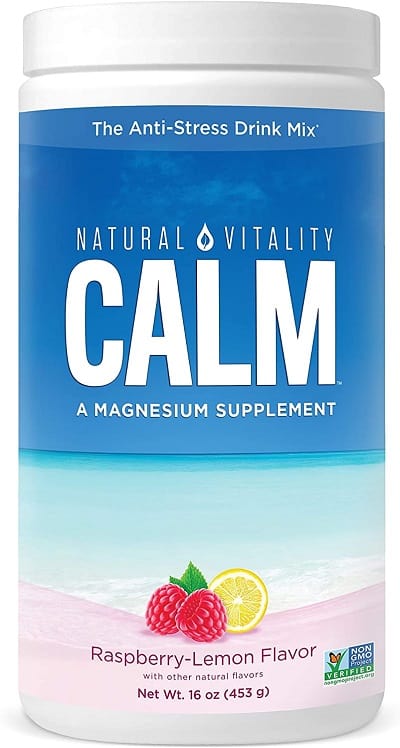 If you need magnesium to help sleep come a little easier, but you aren't fond of swallowing supplement capsules, you'll love trying magnesium powders.
Natural Calm's magnesium supplement is a combination of citric acid and magnesium carbonate, which fizz together (in layman's terms) when added to water to create magnesium citrate. Even though it's not the best type of magnesium for sleep, it is still the best magnesium powder supplement available. It was formulated especially for treating anxiety-related problems, which can help you reduce stress and get a better night's sleep.
Not only are there different flavors available, but you can also use this powder to create different recipes. Freeze it into ice pops or add a scoop to your smoothie. The added flavorings are natural and organic. Just remember to be careful with the dose. Capsule supplements are very precise with the amount of magnesium they contain, but with a powder, it's up to you to make sure you only take as much as needed.
The best way to use this powder is to weigh it to ensure you're getting just the right amount, especially for children who need smaller doses than adults.
If you take the full 2 teaspoons (4g) of powder per day, as recommended for a healthy adult, a single 16oz container will last you approximately 113 days – just under 4 months. 8oz container sizes are also available.
Product Title Key Features:
A tub of magnesium citrate powder made from citric acid and magnesium carbonate.
Variety of flavors available, including raspberry/lemon, cherry, orange and unflavored.
Designed to relax your muscles and calm your mind for a restful night's sleep.
Lasts longer, with 113 servings providing 325mg of magnesium per day.
Note:
Imprecise doses, unless you go to the trouble of carefully weighing out 4g of powder.
Sourcing magnesium from uncontrolled sources (in this case, the Pacific Ocean) can lead to other compounds being present, such as arsenic. As Natural Calm explains, the levels of these other compounds are so small that they're not a problem… but it's still worth taking into account, in our opinion.
Best High Dose: Nobi Nutrition Premium Magnesium Complex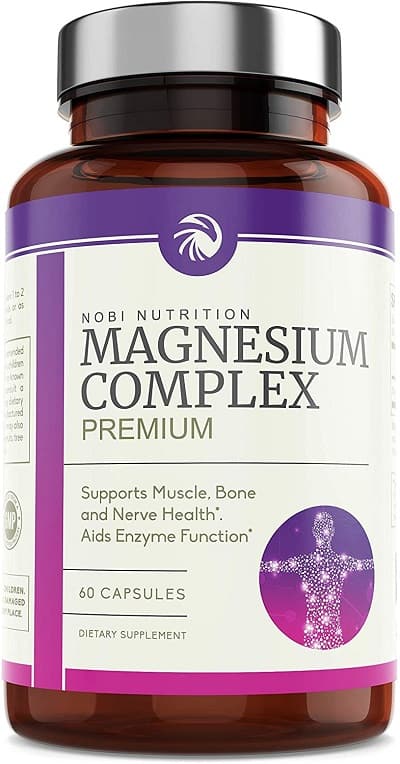 If you are severely deficient in magnesium and need to take a supplement as ordered by your doctor, you're probably looking for a high dose magnesium sleep aid. Forget taking hundreds of tiny pills all day. Nobi Nutrition has created a 500mg magnesium capsule that you can take once a day to get the whole business over with.
The magnesium in this capsule is a combination of magnesium citrate and magnesium oxide. You might have heard that magnesium oxide takes the longest to absorb into your body, which is true, but it's also one of the cheapest forms of magnesium which is why it's used so frequently. The extra citrate in Nobi Nutrition Magnesium Supplements helps to speed up the absorption of magnesium oxide without making the price rocket sky high.
The 60 capsules inside the bottle will last you for 2 months or less if you take more than 1 capsule per day. With 500mg of magnesium per capsule, we really wouldn't recommend taking more than 1 per day! Having high doses of magnesium above the daily recommended limit can have some embarrassing side effects, including diarrhea… which will interrupt your sleep pattern.
Nobi Nutrition Magnesium Complex Key Features:
Capsules contain a combination of magnesium citrate and magnesium oxide.
Quicker absorption than taking plain magnesium oxide, thanks to the citrate.
Good option for those with restless legs, muscle cramps, and trouble sleeping/recovering after exercise.
Money-back program, in case they don't work for you.
Note:
500mg of magnesium per capsule is above the daily recommended limit.
Magnesium types are not the best for sleep and could have laxative effects.
Best Home-Grown Supplement: Triple Calm Magnesium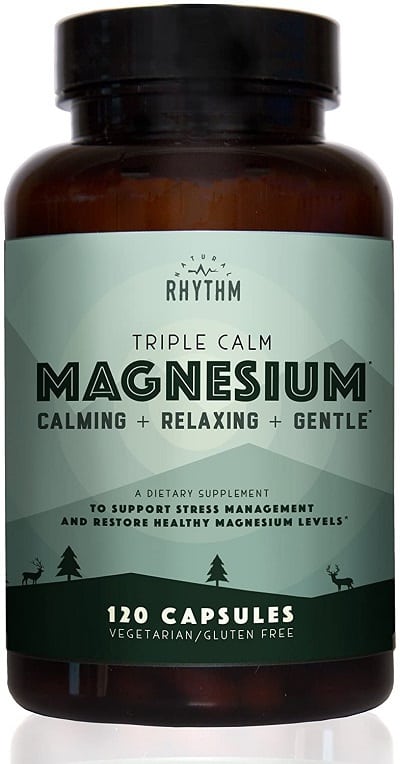 Triple Calm contains targeted magnesium for sleep and anxiety. By that, we mean that Triple Calm has chosen chelated magnesium types that work best for reducing stress and improving sleep quality.
Magnesium glycinate is regarded as the best magnesium for sleep by promoting relaxation and calmness in your mind. Meanwhile, the magnesium taurate is used for cardiovascular support, e.g. keeping your heartbeat calm and smooth while you sleep. Magnesium marate supports your muscles and nerves, so if you're feeling twitchy or muscle aches are keeping you up at night, this magnesium supplement will also relax your body.
We were also impressed with the sourcing of ingredients for this magnesium supplement. The ingredients are grown/harvested within the USA and processed in an FDA-approved laboratory.
The bottle contains 120 capsules, so that's a 2-month supply if you take the recommended 2 per day. Each capsule contains 75mg of magnesium total – 25mg of each magnesium type.
Triple Calm Key Features:
Mix of 3 magnesium types: taurate, glycinate, and marate.
Designed to be easy on your stomach and gentle when digested.
Made from US grown ingredients and processed in an FDA-certified lab within the country.
Only non-GMO, gluten-free and vegetarian-friendly ingredients.
Note:
Works best when eaten with food.
Low dose per pill.
How to Choose a Magnesium Supplement for Sleep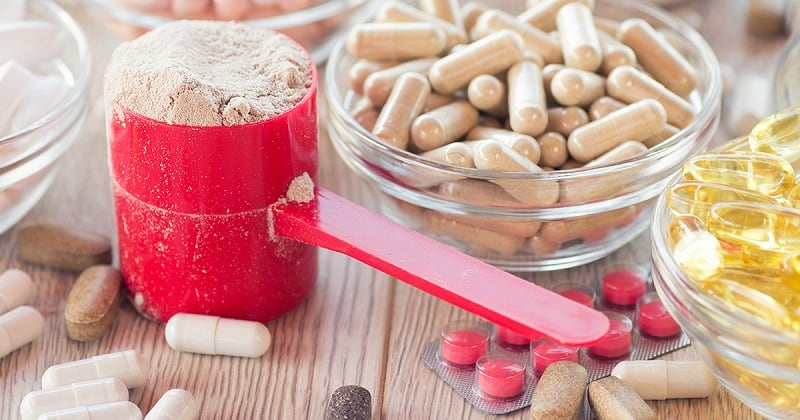 Magnesium supplements are great for sleep, whether you know you're deficient in magnesium or not. This essential metal is more frequently being used as a night-time supplement for all kinds of sleep problems, from broken and restless sleep to insomnia and other anxiety-related issues that stop you snoozing comfortably. If a glass of warm milk or chamomile tea doesn't seem to be doing the trick, you can easily pick a magnesium supplement instead.
There are various types of magnesium supplements available, which is why this guide was created! The magnesium itself is linked to stress-reduction and calmer moods, as it monitors neurotransmitters and increases natural amino acid GABA which is proven to aid relaxation and sleep. You'll find many studies and evidence to support these health benefits of magnesium. But the elements that the magnesium is bonded to (chelated) can have benefits as well.
Types of Magnesium Supplements
Magnesium Glycinate – this is the best type of magnesium for sleep, in our opinion, as glycerin is also a natural neurotransmitter relaxant and it doesn't have the same laxative effects as some other forms of magnesium!
Magnesium Citrate – magnesium citrate forms a larger molecule than other magnesium forms, meaning there's often less magnesium per capsule. Magnesium citrate is the best type for those that have digestive problems as well as sleep troubles.
Magnesium Oxide – this type of magnesium supplement is one of the slowest to absorb into your body, so you should look for pills with large doses so you can take very few but still reach the recommended magnesium intake.
Magnesium Chloride – one of the most popular magnesium supplement types, magnesium chloride will still help you sleep (although we still prefer magnesium glycinate for treating sleep troubles) and increase chloride levels in your body – which it's also possible to be deficient in.
Before you buy your magnesium supplement, you should always read the label. We've done the hard work for you on our 5 best magnesium supplements for sleep, but if you find another brand that you want to try, make sure you know what you're buying.
Make a note of how much magnesium is included in each pill, tablet or spoon of powder/liquid, and what the recommended dose is. You should also look at the type of magnesium and how often you can take the magnesium. The FDA has some more advice on choosing dietary supplements. However, as the FDA doesn't have the authority to regulate dietary supplements, you can give up looking for FDA-approved magnesium supplements. You need to do the assessing and regulating for yourself!
More FAQs on Magnesium for Sleep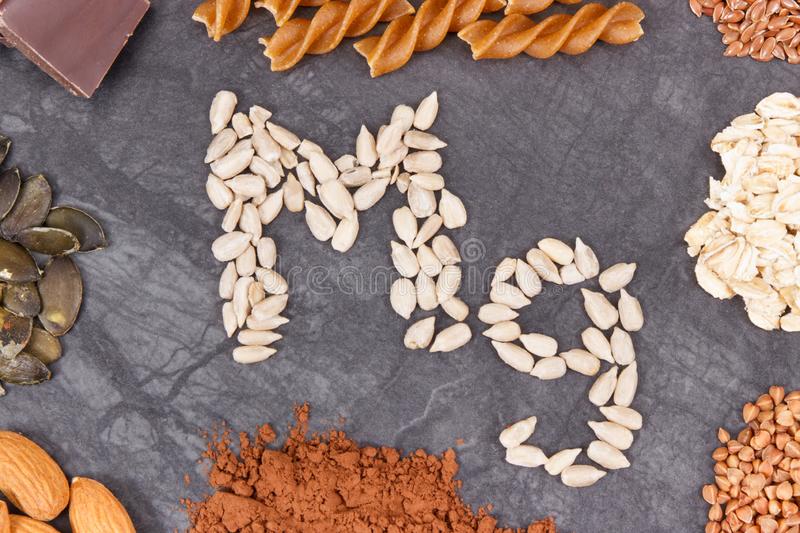 Here are some of the most frequently asked questions that we've found on magnesium supplements when they're intended to treat sleep concerns.
Which type of magnesium is best for sleep?
Magnesium glycinate is the best for sleep as both magnesium and glycinate work to relax and calm your body. This type of magnesium supplement has less of a laxative effect compared to other types of magnesium too.
How much magnesium should I take?
The recommended magnesium for sleep dosage depends on your age and health – if you currently take medication that magnesium will interfere with, your doctor might advise against taking a supplement OR recommend a smaller dose.
According to the National Institute of Health, adult men should consume no more than 420mg per day, and 320mg for adult women. That includes the magnesium you'd naturally consume in food and drink.
More: Best Foods to Eat Before Bed for Better Sleep
Is magnesium good for insomnia?
Yes, particularly as some cases of insomnia can be caused by magnesium deficiency. Magnesium also boosts renin and melatonin hormones, which regulates sleep, and can settle/calm mood disorders to an extent, which could be linked to your insomnia too.
Does magnesium affect blood pressure?
Yes, large doses of magnesium can lower your blood pressure.  If you have naturally low blood pressure, you should consult your doctor before taking magnesium supplements.
Should I take magnesium supplements for anxiety?
Although taking magnesium for sleep and anxiety can help, there may be better ways to target anxiety alone. If your anxiety and sleep troubles are linked, then magnesium is worth a try. If not, other supplements or medications that you can take throughout the day – or coping techniques – may be more appropriate. As always, we recommend talking to your doctor about it!
More: How To Deal With Sleep Anxiety
Can kids take magnesium supplements for sleep?
It's safe for kids to take magnesium – but in much smaller doses than for adults. It's best to find supplements that are designed for children to take, as they will be formulated to contain the right amount of magnesium. Before you jump to supplements, however, it's best to take your kid to a pediatrician if they are having regular sleep troubles.
3 Other Magnesium Supplements We Considered
To be honest, choosing the best brand magnesium for sleep was no easy task. Even when we'd narrowed it down to our top 5, we still had a few more magnesium supplements that we thought were pretty good. Here are 3 more that you can check out and a quick explanation of why they didn't make the top of the list.
If you're looking for a magnesium supplement for kids, this is a good one to choose. The magnesium glycinate powder is easy to add to food and drinks for your kids as it's completely tasteless. However, it doesn't make the top 5 because the price is high and it's not good value for money. Considering the notably smaller dose that kids have compared to adults, thus resulting in much smaller magnesium content in this powder, the price seems disproportionate.
We were enticed by the natural features of this magnesium supplement. It's non-GMO, lactose-free, gluten-free and suitable for vegetarians. However, it's marketed more for bone and muscle health as it's a magnesium oxide supplement rather than magnesium glycinate. If supporting your bones and muscles is as important to you, these magnesium pills for sleep should be considered.
Containing a mix of magnesium oxide and citrate, we liked the look of this magnesium supplement but didn't feel overly confident in it. There simply aren't enough reviews for us to say for definite that it is an excellent supplement to recommend! It's not the most effective form of magnesium for sleep, and it also contains very high doses – 500mg per capsule – which is above the recommended daily intake and could cause diarrhea. Nonetheless, the minimal feedback we've received so far is positive.