You must know by now the importance of a good night's sleep. Sleep is the most valuable means to revive you mentally, psychologically and physically.
It is often the best medicine; whether it is to get our mood fixed and help us get through the day as it revitalizes us, or to relieve from any pain, we all seek a full night of rest.
To ensure the latter, one choice would be to buy a new mattress. However, perhaps you do not want to switch to a new one quite yet, due to a number of reasons, including the cost.
If so, you might consider though getting one of the best memory mattress toppers delivered right to your doorstep.
A mattress topper is a cheaper alternative used almost exclusively to improve comfort. It can be easily attached to your existing bed, offering a refreshing feeling and eliminate the aches and sore feeling that often comes with older mattresses. It will add a luxury twist to your mattress making it also the most comfortable one ever!
Now, there are basically 5 types of toppers: memory foam, fiber, feather, latex, and wool. Compared to the other types, memory foam topper can provide the best comfort and motion isolation, together with above-average lifespan and support.
In this sense, our recommendation would be to opt for a memory foam mattress topper. To make your life slightly easier, we took the time to compare and find out, which ones stand out from the rest. Here's what you need to know:
What are the uses of a mattress topper and why do we need it?
Nobody enjoys sleeping on a lumpy stiff bed, right? If you don't want or can't afford to spend too much money on an expensive new mattress, we would recommend that you buy a topper to compensate for a low-quality bed.
However, not all of them are the same and do vary in terms of their size, shape, and comfort level. There are however some key common features why it's worth investing on a topper as it is explained below.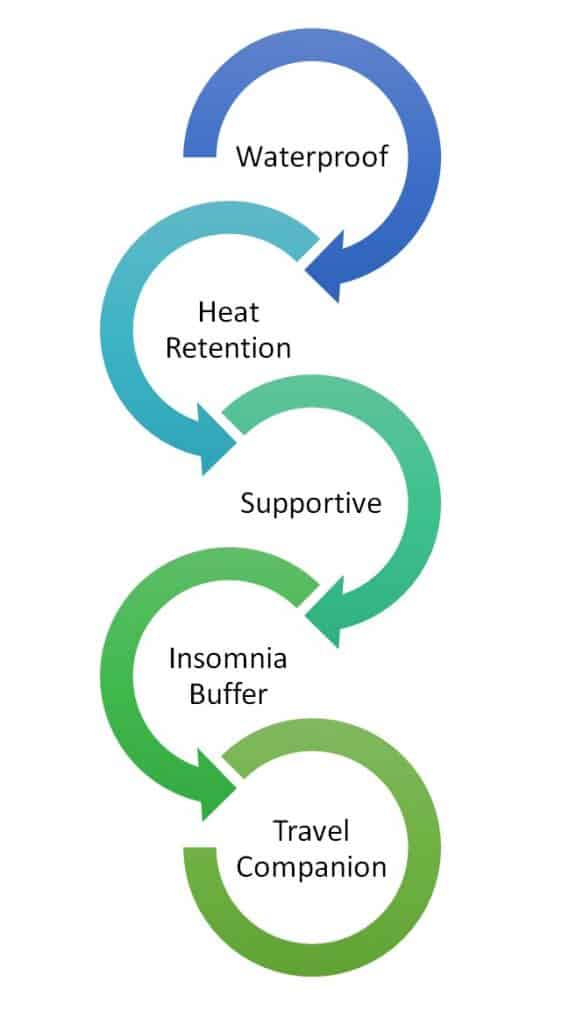 WATERPROOF
Most toppers or protectors, come with waterproof capabilities. This is great to protect an expensive mattress preserve it, while this cool feature comes handy especially for children's beds when they wet their bed.
 HEAT RESISTANT
Even if you have a good mattress, consider a one which can maintain heat and cool effectively as this will enable a comfortable and resting sleep.
SUPPORTIVE
A good model can add to the support for your body while sleeping, and relieve aching joints and bones.
INSOMNIA BUFFER
If sleeping easily is not your best point, then having an extra layer of comfort can work magic for you. Mattress toppers could help you overcome those frustrating insomnia nights by molding to your body's contour.
TRAVEL COMPANION
If you suffer from constant muscular or joint pain though you love traveling, then a topper is the perfect addition to your road trips. You could even use it at a hotel bed if you fear that these mattresses are not supportive enough.
Why getting a memory foam mattress topper: pros and cons
A memory foam mattress topper seems to be the most popular choice for a topper. Invented in the 1970s, it became widely available in 1990s and consists of polyurethane with additional chemicals to increase density. The foam has millions of spherical shaped, open cells and what distinguishes it from other types of materials used for mattresses and toppers is its temperature and weight sensitivity.
PROS:
Keeps a balanced temperature
Highly effective at improving a comforting feeling
Available in different varieties to accommodate individual needs
Minimal motion transfer –great for a couple
Durable – will last for years
CONS:
Initial off gassing odor
Possible heat trap
Potential squishy feeling
Somewhat difficult to move on /get up off
Relatively heavy
Why is a memory foam mattress topper ideal for a college student?
Avoid sleeping on a used mattress, with possible unhygienic stains or one that is quite firm, with not enough support
Instead, use a memory foam topper made of a visco-elastic material which is temperature sensitive and will enable it to react to body heat, soften and warm certain areas to offer complete pressure relief.
No more tossing and turning during the night, facilitating a more restful sleep.
Add a layer of luxury and comfort to your child's sleep.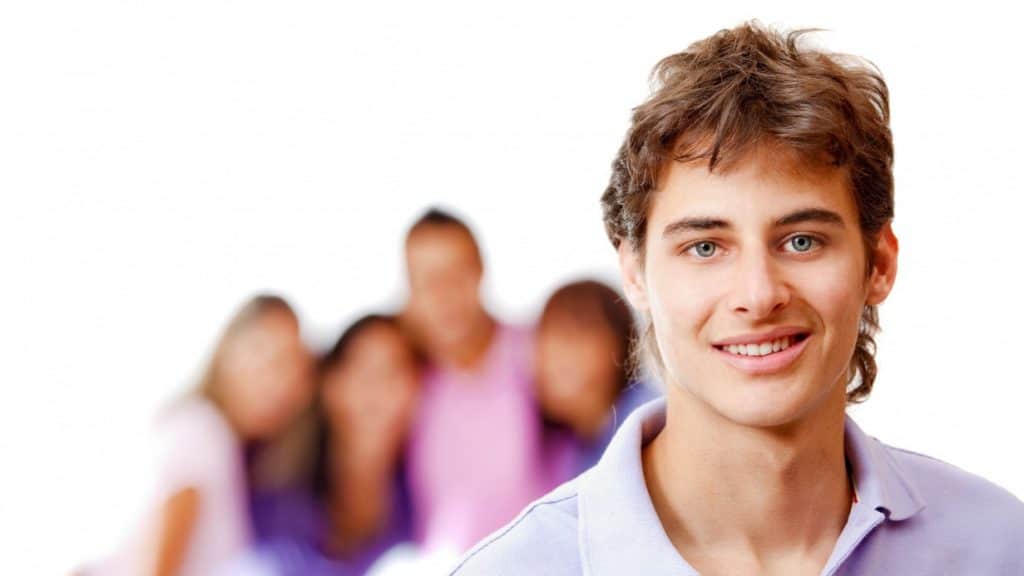 Factors to consider before buying memory foam mattress  topper
So you have made up your mind you want to get a new one? There are a few key elements which are critical and we'd like to share with you to make the best possible option. Figure below shows how you must beware of density, off-gassing and odor, warranty coverage, longevity, and heat retention.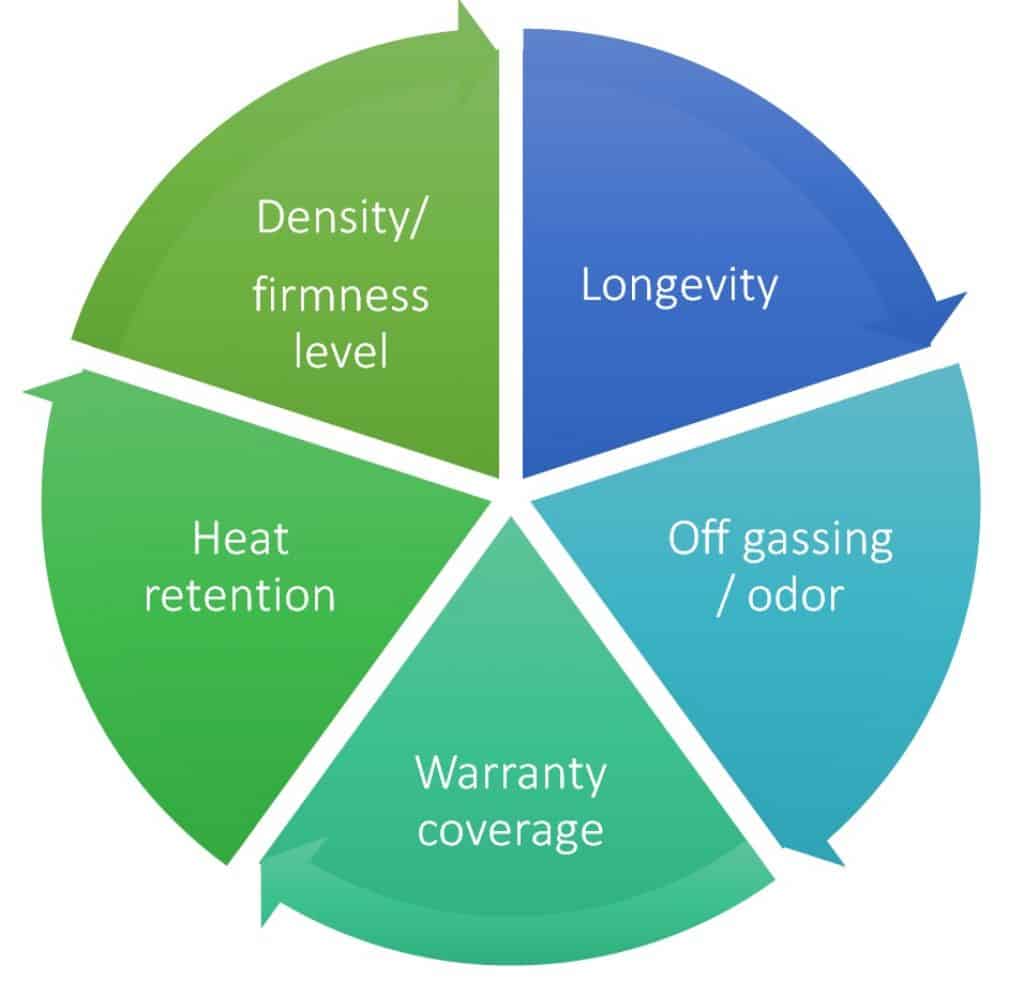 Warranty Coverage
Typically you will notice memory foam toppers have between 2-5 years warranty length. It is best to choose a product which provides with at least 3 years warranty. However, don't place too much emphasis on warranty coverage before shopping since it is proven that it is rather unlikely to win a warranty claim based on owner experience data.
Memory Foam Topper Longevity
It's more likely to last somewhere between 3-4 years with regular use. A mattress with higher density foam (4 lbs/ft or more), may last a bit longer than those with lower density foam (3 lbs/ft or less).
Topper's age and wear when they lose their resiliency and support, while they can even discolor and tear.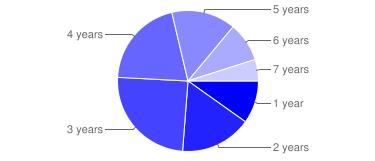 Off-Gassing/ Odor
Unpacking your topper can reveal a sense of gas or odor which can last from a couple of hours and up to a few weeks. In fact, off-gassing is the most critical concern and complaint among memory foam topper owners. For some, it can be even unbearable, while others don't mind.
Off-Gassing By Thickness
There is often the correlation between off-gassing and topper thickness, as it seems by owners' reports. It appears that the higher the thickness, the more the odor.

Tips to get rid of odor:
Airing it out – Place it outdoors for a few hours (remove the plastic packaging first)
Baking soda – Sprinkle directly all over the topper for a few hours and clean it using a vacuum
Keep it clean – Try to keep it clean, air it out before wasting time
Room refresher – Use vinegar as a deodorizing agent to absorb the smells
Patience – Wait a couple of days and the smell will wear off eventually

Heat retention
A common problem with the toppers is how their topper sleeps hot, or to be more precise, it fails to disperse body heat.
Thicker memory foam toppers tend to have more heat-related complaints than thinner ones. It seems that the reason is that when the sleeper sinks deeper into thicker toppers, there is less air circulation. High-density foam toppers also increase the potential for heat retention.
Gel-infused memory foam appears to facilitate a 25% cooler sleep in comparison to regular memory foam.

Quick solutions for a Cooler Sleep
Avoid Alcohol, Caffeine and Spicy Foods close to bedtime
Drink plenty of water throughout the day
Avoid eating 2-3 hours before bedtime
Sleep in an air-conditioned room or add a fan
Relax before you go to sleep
Density / firmness level
Keep in mind that memory foam is manufactured based on density. Typically, the higher the density, the firmer the topper. A higher density is also linked to a better rebound time of the foam and the more heat it retains.
High density, in addition, improves the longevity of your topper with an increased level of comfort and pressure relief.
The lower the density of your mattress, the softer it will be. Normally, a lighter density one is best for light-weighted people as a high-density one may feel too firm for certain body types.
6 best memory foam mattress toppers 2022
1. Simmons Beautyrest 3-inch Gel Memory Foam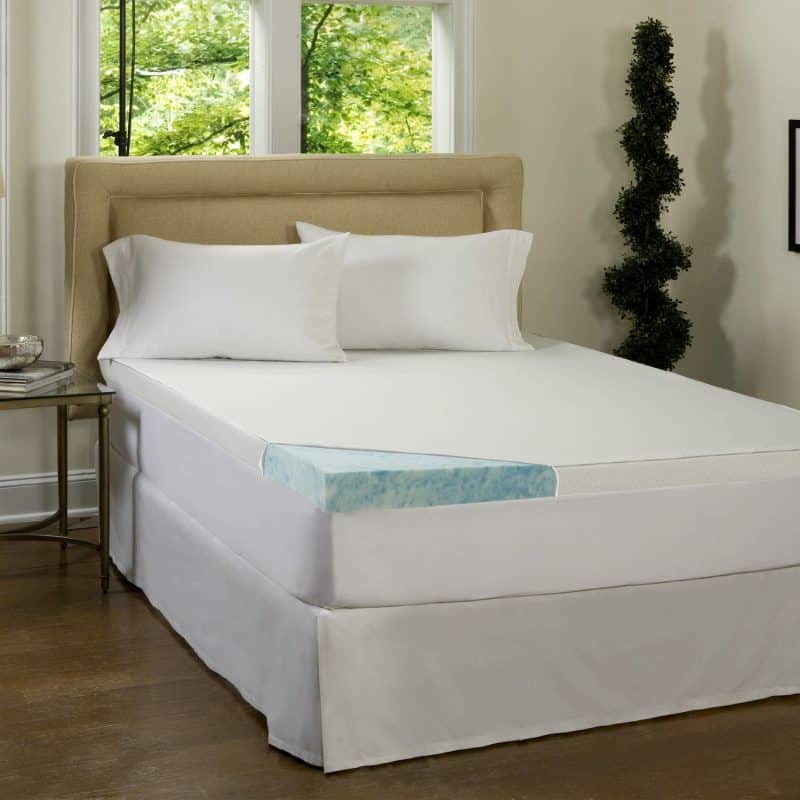 This is the second-best seller among mattress toppers on Amazon.
Specifications:
3 inches
Simmons Curv Flat Gel
2 pounds foam density
Comes with a 5-year limited warranty
Using a Simmons Curv Flat Gel rather than any other material makes Simmons Beautyrest excel as gel alleviates pressure and channels heat away, preventing excessive heat build-up that causes sleep disturbances.
Having a thicker density (3.2 pounds) makes it appropriate for both back sleepers and side sleepers.
Being a 3 inches memory foam mattress topper means it is suitable for average-weight people.
Simmons Beautyrest is designed and built in the USA, it is CertiPUR certified and offers 5 years limited Manufacturer warranty.
Added advantage:
Not usual for mattress toppers, Simmons Beautyrest features a Waterproof cover – great if you spill something over or for kids who wet their beds. Plus, the hypoallergenic polyester fiberfill provides extra comfort.
PROS:
Cool design
Waterproof cover
Gel mattress
Prevents heat build-up
Absorbs pressure
CONS:
Not ideal for overweight people
2. Sleep Innovations 4-Inch Dual Layer
Overview: 
This is a premium product at a great price manufactured by one of the most reliable manufacturers in the industry.
Specifications:
4 inches
2 inches 4 pounds gel memory foam and 2 inches fluffy fiber-fill
3 pounds density
SureTemp gel infused memory foam technology
100% cotton cover
Uses and benefits:
Sleep Innovations offers a great combination of 2 layers: the upper layer is 2 inches of plush down alternative pillow top and the lower is 2 inches memory foam to ensure a comfy and restful sleep.
The 4 inches contour to the curves of the body as well as eliminate the pressure of sensitive points.
Although the foam layer is just 2 inches, the density is very high (3 pounds), so it will bring soft feelings as well. Plus, it works perfect no matter if you are back sleepers, side sleepers or front sleepers.
The on-top layer with the cover made from 100% cotton provides softness and silky feeling while it is made of dust mites and allergen resistant materials.
Sleep Innovations is made in the USA and offers 10 years warranty.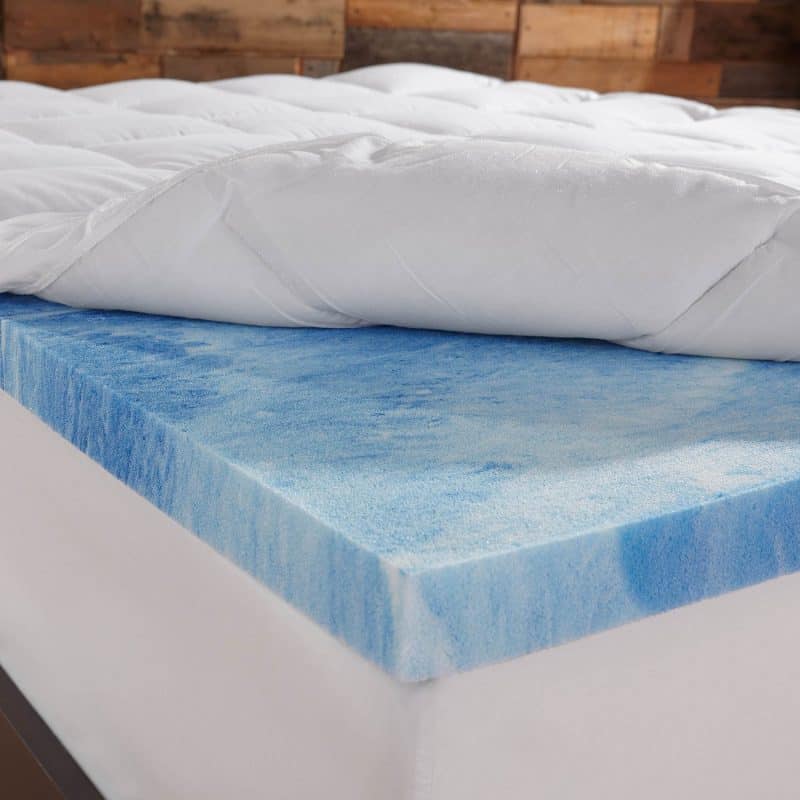 Added advantages:
Using SureTemp gel infused memory foam, one of the latest memory foam technology, Sleep Innovations provides a most comfortable feeling while it relieves physical pains and relaxes joints.
Importantly enough, this technology provides with a medium-soft level firmness which helps avoid sagging too deep into the pad.
In addition, Gel Swirl component offers unique therapeutic comfort, which relieves back pain, while supports the hips and the entire body.
PROS:
Cool design with two separated layers of two different materials ensuring extra softness
The fiber-filled cover can be thrown off for machine washing
Combines best of both worlds
High density
Soft and comfortable feel
Sure-Temp gel infused memory foam for extra comfort and pain relief
CONS:
The gel pad does not fit with your king-size mattress when you first lay it out
Perhaps a bit too soft so you need to have a firm bed to add this topper
Emits slight odor
3. Ultra Premium Visco Elastic Memory Foam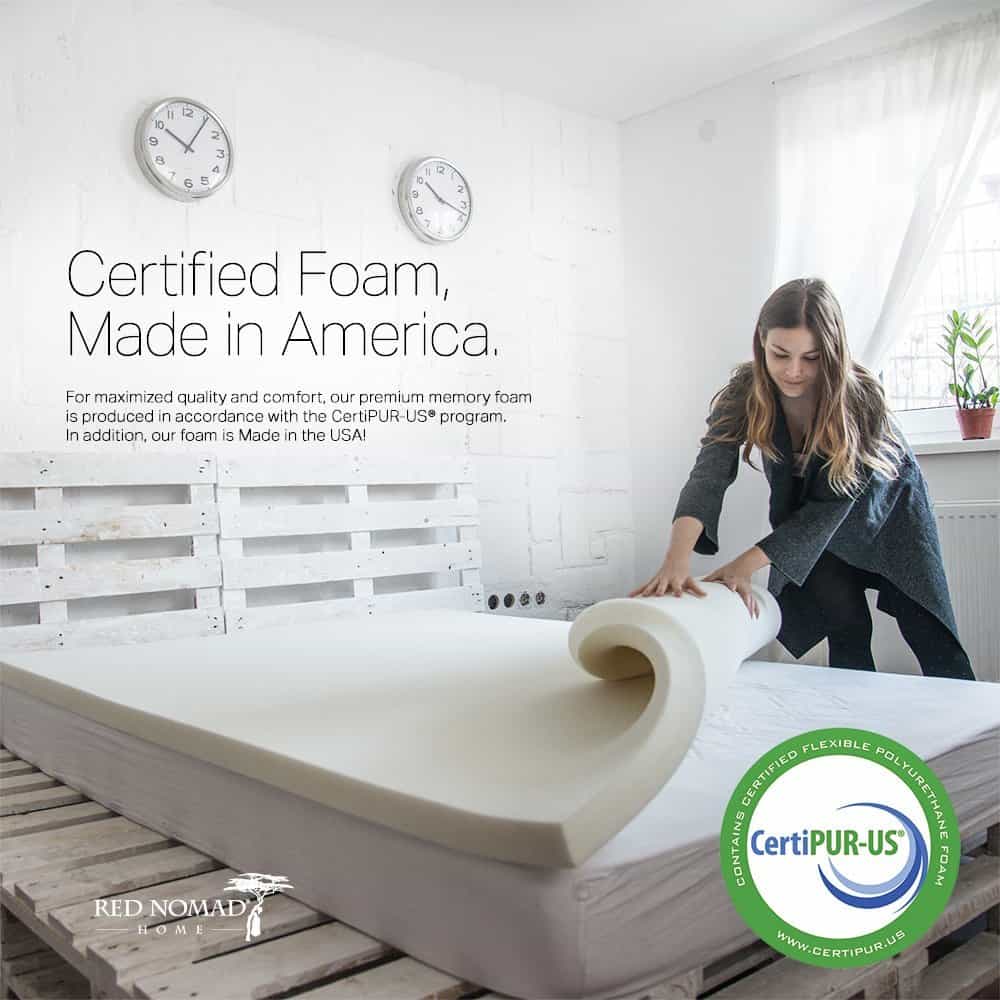 This product from Red Nomad is the third best seller on Amazon for mattress toppers.
Specifications:
2 inches memory foam
7 pounds density
CoolFlowTM polymer design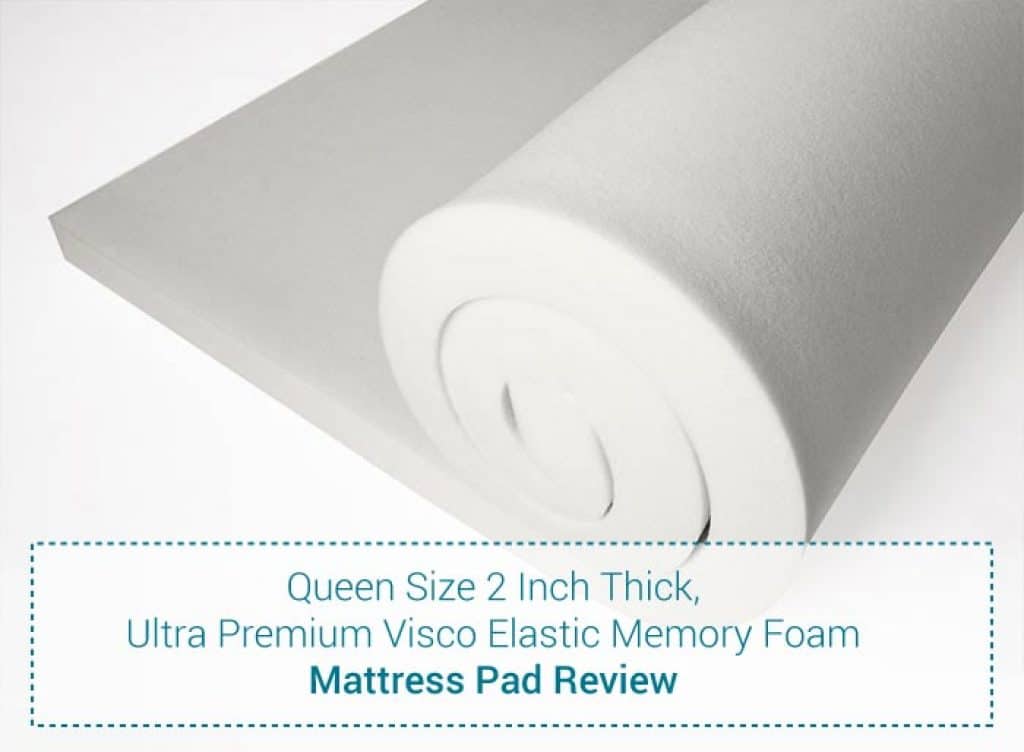 Uses and benefits:
This topper is a high competitor among mattress toppers and one of your best choices at 2 inches thick.
Of its benefits, is how Red Nomad's visco-elastic memory foam is odorless.
Overall, you will notice that this mattress reduces pressure points which means less tossing and turning, resulting in a more quality sleep altogether.
Being only 2 inches with 2.7 pounds memory foam, it is appropriate for light and medium weight people.
This product is made in the USA, it is CertiPUR and PURGreen certified. It comes with 3 years warranty.
Added advantage:
The topper is made with CoolFlowTM polymer design which minimizes stiffness and comes with an open cell structure that improves air flow and alleviates heat.
PROS:
CoolFlowTM polymer design promotes air circulation and heat retention
Offers comfort and pain relief
Great price
Odorless
CONS:
No cover
Not good for overweight people
4. Night Therapy Memory Foam 4 Inch Pressure Relief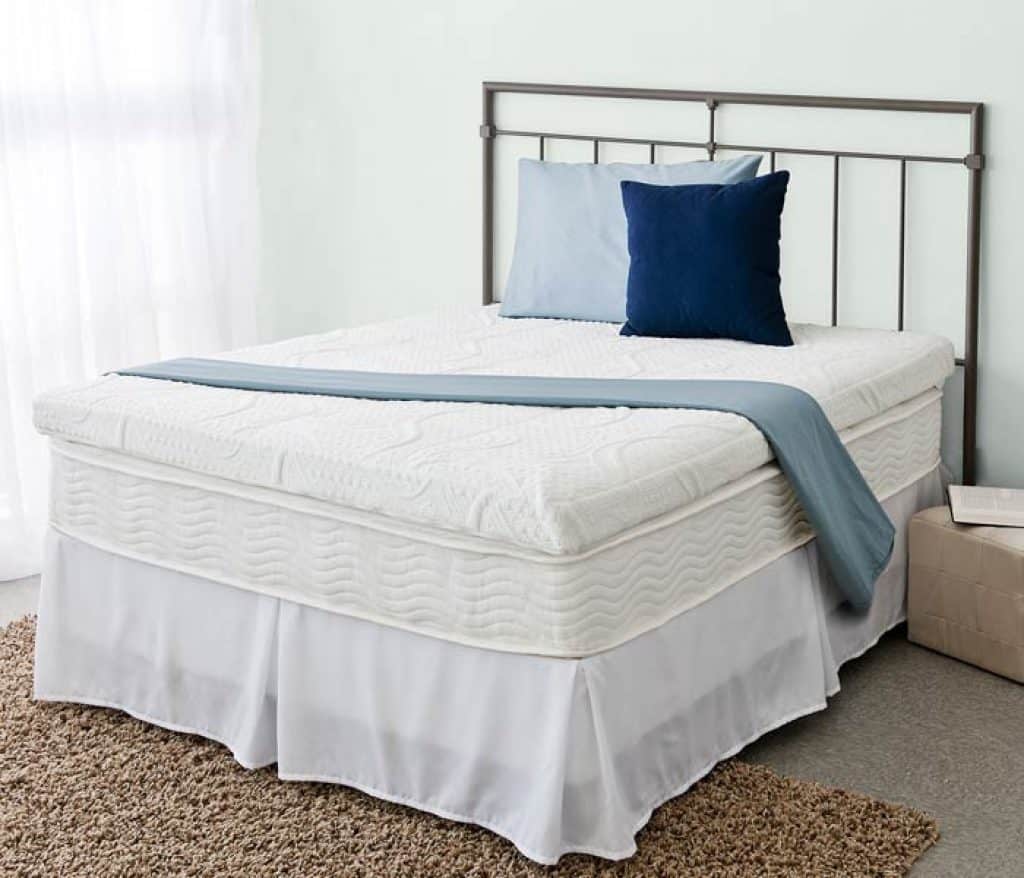 Night Therapy is one of the most cutting-edge products on the market.
Specifications:
4 inches
3 layers, including 2 layers of memory foam and a fiber layer covering the top
The second layer is 2 inches heat sensitive 4 lbs memory Bio-foam
Third layer of 1 1/2″ pressure relief foam
Uses and benefits:
It features some great innovative memory foam technology in 2 out of the 3 layers it contains.
Unlike other toppers, there is an added top layer of fiber which can be removed for washing. The top layer can increase the breathability which facilitates air circulation. It also allows to cool down the body heat.
The jacquard cover on top is made of premium super soft bamboo rayon for a soothing feeling. It is sewn with beautiful quilting and designed with elegant colors and luxurious patterns.
The second layer of 2″ heat sensitive 4l b. is made of Bio Foam, the latest evolution of memory foam which  provides comfort while also replaces some of the traditional petroleum oils with Green Tea, Charcoal, and Natural Castor Oil working to remove chemical odors and to minimize the growth of bacteria in a natural way. Bio Foam also helps absorb moisture and keep the it fresh.
Pressure Relieving Comfort Foam is the base layer of 1 ½ inches and aims to eliminate pressure points.
Night Therapy is made in the USA and offers a full warranty of 5 years.
This topper comes with revolutionary base foam layer to relieve pressure points on the head, shoulder, hips, and feet. The essence was to design the Night Therapy Pressure Relief Sleep System keeping in mind idea of "Sleep Green".
This refers to sleeping on mattress topper surrounded with ingredients which are safe for humans and the environment. The natural extracts of Green Tea used in the Bio-Foam are considered as a natural odor protectant which helps sleeper relax.
The high density can contour and conform to the curves of your body.
PROS:
Top fiber layer removable for washing
Bio Foam to avoid use of petroleum oils, chemical odors and bacteria
Offers pressure relief with its innovative Pressure Relieving Comfort Foam
Cool cover design made of premium soft bamboo rayon for a smooth feeling
5. 4 Pound Density Visco Elastic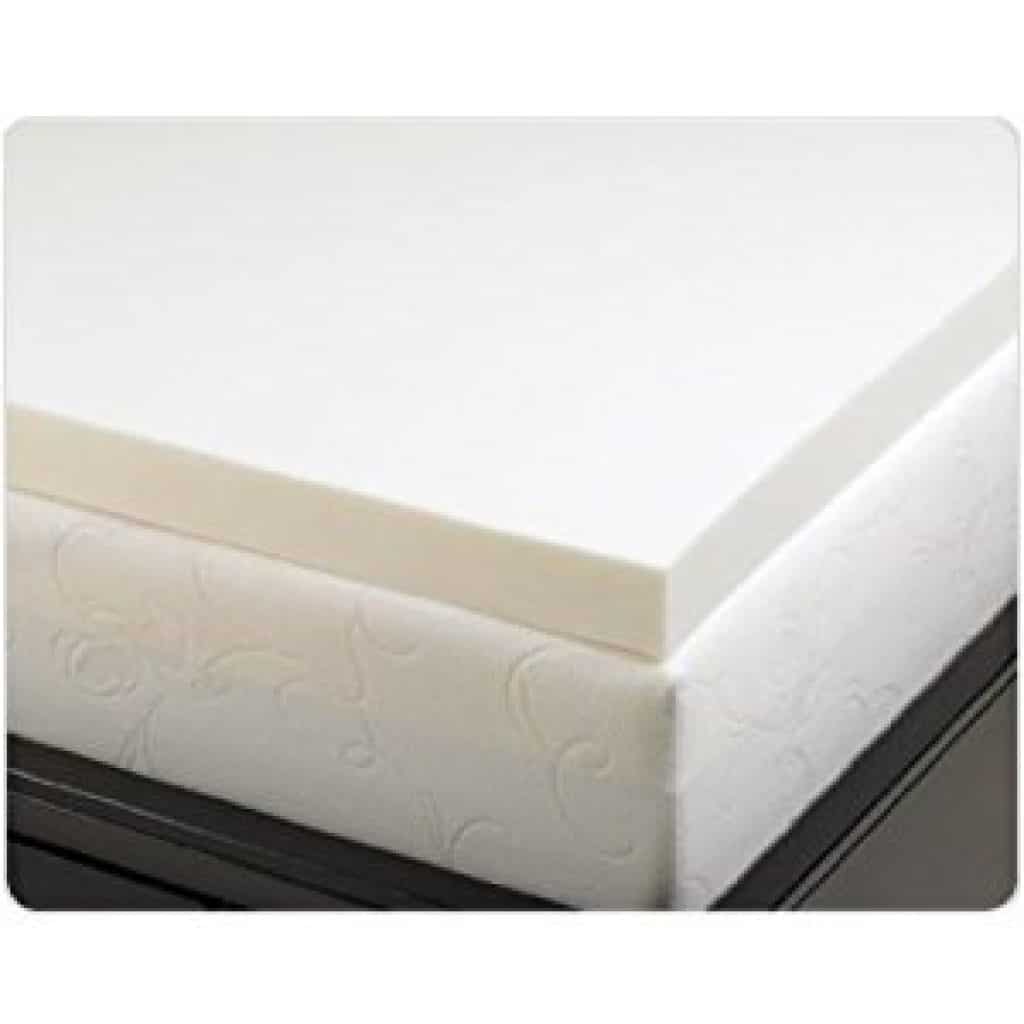 This product is the #1 Best Seller mattress topper on Amazon, and one of the best choices on the market.
Specifications:
3 inches memory foam
4 pounds density
Contours to body shape and reflects heat
PURGreen certification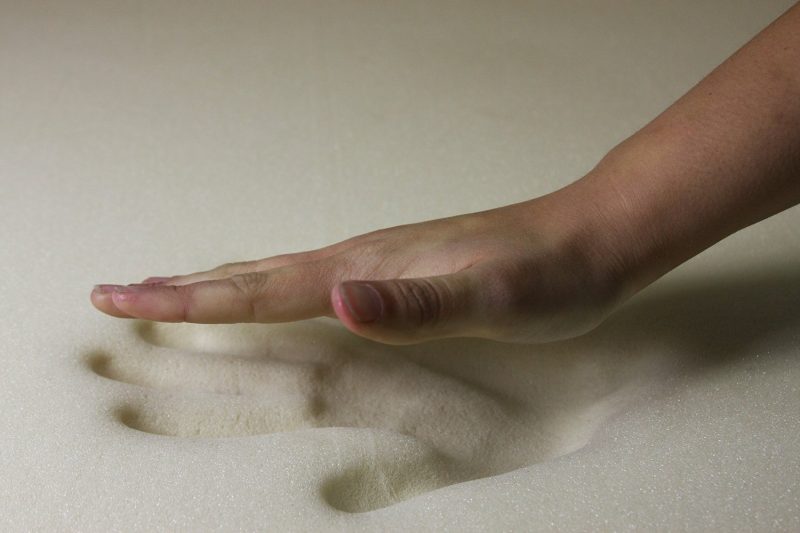 Uses and benefits:
A great topper at 3 inches thick, with 4 pounds density (more than average), altogether offering endless benefits.
Among them, is how it provides with such comfort and support that it reduces the pressure points and the related problems to enhance your sleeping experience. This topper will do extremely well even if your mattress is sagging so you may want to consider it as it will save you money and trouble.
Importantly, this topper has earned PURGreen certification. Being made in the USA, this topper complies with EPA and CSPC standards and is absolutely safe and free from harmful chemicals.
It comes with a 3 years warranty.
Added advantage:
This topper is a great addition to your mattress if you are looking for a topper that will transform your sleep into a more restful, comfortable experience, while also works magic with supporting even sagging areas.
In addition, if you are living in a cold country, this topper is just the perfect solution since it reflects heat as it contours to your body shape and does not depend on outside temperature. You will enjoy a cozy sleep on Visco Elastic Memory.
Of its highlights, is how this topper is extremely light so it is easily portable and you can move it around for instance during the summer months to put it in your backyard and delve into its softness.
The silky structure also adds a feeling of luxury and wonderful sense on your skin.
PROS:
Offers rest, comfort and pain relief
Provides with great support even for sagging spots
Contours to the shape of the body and reflects heat
It is very light so it can be handled by anyone
PURGreen certification
CONS:
6. LUCID 3 Inch Ventilated Memory Foam Mattress Topper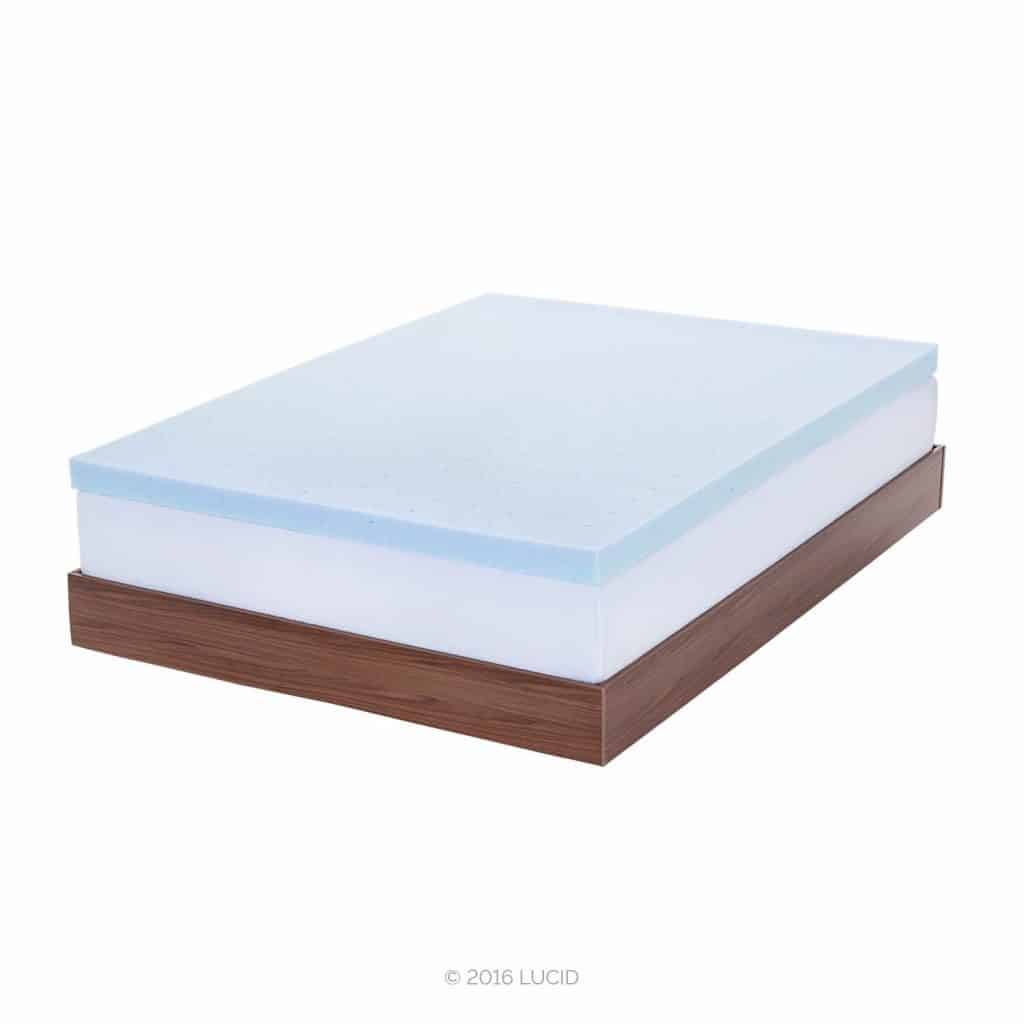 This topper is one of the best mattress toppers for back pain.
Specifications:
3 inches memory foam
Available in various sizes and thicknesses
Open Cell technology – Ventilation holes
CertiPUR-US certified
Uses and benefits:
It comes with several cool features such as:
Open Cell Technology:
This is designed using Open Cell Technology. The latter yields a longer lasting, more resilient foam and prevents from body impressions on the mattress surface as it continually exerts pressure. This features improves durability and ensures a longer life.
Versatility:
This product is available in 7 different sizes (Twin, XL sizes, King sizes, Queen and Olympic queen sizes) and thicknesses (2 -4 inches) and you can customize your choice to suit your needs.
Memory Foam Composition:
It comes with a premium 100% memory foam construction and is structured to provide for ventilation and airflow while targets the pressure points which further helps in relieving body aches and pains in the neck, back and shoulder.
Hypoallergenic:
Lucid is hypoallergenic and therefore it is ideal if you have any allergies and asthma problems. Plus, its Open Cell structure allows the air to pass through and prevent the formation of dust mites, bacteria, and mold.
Lucid comes with a 3 years warranty.
Added advantage:
This topper comes with Open Cell Technology to prevent body impressions on the surface. It is also strategically designed with ventilated foam layer consisting of holes to improve air circulation for more breathable comfort.
PROS:
Optimum support
Open Cell Technology prevents body impressions on the surface
Offers comfort and pain relief
The ventilation holes keep it clean and tidy while promoting air circulation
CONS:
Difficult getting used to the firmness of the topper
No side locks to keep the topper in place, so could be slipping off your bed
No cover
Final verdict
The following table summarizes our assessment. This useful breakdown can give you heads up on each of these top quality toppers, comparing different features. Don't just let great sleep pass you by, make it luxury with a memory foam mattress topper to your preference.
If you found this post of value, Appreciate it if you could provide feedback and share. Best of luck with your buy!
| | SIMMONS BEAUTYREST | SLEEP INNOVATIONS | ULTRA PREMIUM VISCOELASTIC | NIGHT THERAPY | 4 POUND DENSITY VISCOELASTIC | LUCID |
| --- | --- | --- | --- | --- | --- | --- |
| Owner satisfaction | Second best seller on Amazon | Premium product –reliable manufacturer | Third best seller on Amazon | Cutting edge product | Bestseller on Amazon | Best for back pain |
| Thickness | 3 inches | 4 inches | 2 inches | 4 inches | 3 inches | 3 inches |
| Density | 3.2 pounds | 3 pounds | 2.7 pounds | 4 pounds | 4 pounds | Varies |
| Gel-infused | Simmons Curv Flat Gel mattress topper | SureTemp gel infused memory foam | NO | NO | NO | NO |
| CertiPUR-US certified | YES | YES | YES | YES | NO | YES |
| Warranty | 5 years | 10 years | 3 years | 5 years | 3 years | 3 years |
| Cover | YES | YES | NO | YES | NO | NO |
| Added advantage | Waterproof cover | SureTemp gel infused memory foam | CoolFlowTM polymer design | Bio Foam and Pressure Relieving Comfort Foam | Contours to body shape and reflects heat | Open cell technology – Ventilation holes |