For everyone living in a busy street or neighborhood, falling asleep early in the night looks like a mission impossible. There are always cars, teenagers hanging out until late at night, or someone's child simply refuses to go to bed. If getting a white noise machine doesn't cut it for you, we might have a solution that will help you sleep easier at night.
Product summary:

Best Overall: HoomBand Wireless – These extremely comfortable and cool headbands will help you sleep like a baby, even if you're boarding a busy plane moving to the other continent.
Runner Up: AcousticSheep SleepPhones – The state-of-art wireless headband will take your quiet slumber to the next level.
Best Budget: EverPlus Sleep Headphones – This is the option you want to consider if you want to save up an extra buck.
Headphones and music became our day-to-day accessory. Many people listen to music or a podcast while exercising, studying, working, or just traveling from one location to another. That being said, why can't we use headphone bands to have an easier time falling asleep to a cheerful, yet serene jam or melody?
If you already tried sleeping with headphones but gave up because you felt uncomfortable wearing them, you need to know that not all types of headphones are made with sleeping intend.
That's why in this article, we'll take a look at the best sleeping headphone bands that will make your night rest more restful and peaceful. The market is full of different options that will satisfy the needs of different people, but it's important to know that not every headphone will work for you.
Determining which headphones you'll use also depends on the kind of music you listen to. Whether you plan to listen to something easy, classical music, or just a melody that is associated with white noise like thunderstorms and ocean waves will determine the kind of headphones you need.
Sleeping headphones are mostly considered safe. However, it's not advisable to listen to aggressive music and keep the volume too high, as it could damage your ears. What's more, sleeping headphones and headbands help non-ventilated patients at ICU, according to a study.
Factors To Consider When Shopping For Best Sleeping Headphone Bands
Shopping for the best sleeping headphones is not easy. It's a piece of electronics, so it's often hard to understand which unit stands for what, how much frequency there should be, what is bass, and how much dB your headphones should have.
But, given that these are headphones suited explicitly for sleeping, there are also other factors that you will want to consider before getting headphones for yourself, like fit, style, comfort, safety, and others. Finding the right headphones may be challenging, but we created a buying guide that will educate you on choosing the right model.
If you'll still find it difficult to find the right sleeping headphones, you should check our list of the best picks for each category which you'll find below.
Wires
You may already know that headphones can be wired or wireless, where the connection usually goes through Bluetooth or NFC technologies. Bluetooth technology is the most prominent, while some more high-end headphones use NFC too with NFC-enabled devices like smartphones.
The Bluetooth technology should be newer and boast at least Bluetooth 5.x tech. With Bluetooth, the headphone should also have a wireless audio codec that works with Bluetooth technology like APT-X which cleans and improves the sound via the wireless headphones.
Besides Bluetooth, there are also wired headphones that come with a wire that is built into the headphones. Most headphones use the 3.5mm connector, but some more professional and audiophile headphones come with an aux cable that is plated in gold for better quality.
Wired headphones can also come with a detachable cable, which makes storage easier, and is useful for people who want headphones that are both wired and wireless.
They are generally safe for people who sleep peacefully, in one position, usually the back. Otherwise, if you toss and turn often during the night headphones with wires will just make things more complicated and uncomfortable for you.
Furthermore, wired headphones pose a risk of strangulation if you toss often and have a long cable, so it's not the most recommended option unless you want to risk your life.
Of course, it all comes down to your preferences and what you want to get out of a pair of headphones. Some models have a shorter cable so it won't pose too much risk, but it's better than sorry.
The Quality Of Soundstage
Connectivity, style, comfort, fit, and other criteria don't mean much if the sound quality is below average. We only reviewed headphones with impeccable quality. Still, you may need to know what to focus on when choosing.
People generally want headphones that have a rich soundstage, that is detail and you can distinguish the middle stage and highs. However, the story is a little different if you want to use headphones for sleeping. Dynamic bass plays a great role in choosing your best model. It should be deep and prominent, but not ground-shaking as that could potentially cause hearing problems.
Bass is important in sleeping headphones because of the different melodies that have added depth when more bass is registered and produced by the headphones, especially if you want to sleep to the sounds of the fireplace, rain, thunderstorm, or tidal waves.
Headphones that support both strong bass and soundstage are expensive and less approachable as opposed to the ones that sacrifice one for the other. We're sure that you can find a good pair of headphones that balances both and won't rip you off.
Some sleepers who prefer having rich bass in the headphones report that they feel like the bass vibrations massage them and help them fall asleep easier.
Noise Cancellation
Choosing sleeping headphones also means choosing headphones that can block the external noise and give you a peaceful and silent ambient that will make more room for your music to be played. It's important to note that there are two types of noise cancellation:
Active noise cancellation can often be found in wireless headphones, as the feature is closely related to Bluetooth technology. However, it uses the powers of microphones and speakers inside the headphones to digitally block out the noise that is reaching out the headphones, which is why it's called active noise cancelation.
On the other hand, we also have passive noise cancelation, which is also known as noise insulation or noise isolation. There's no hidden tech or electronics like it's the case with the aforementioned technology.
The passive noise cancelation, also known as the noise insulation can mostly be found in over-ear, on-ear and in-ear headphones. They are equipped with plugs which are enriched in insulating materials that help with blocking out the noise naturally.
What is the level of insulation on headphone bands depends on the material they're made of. Certainly, a good model can be found with cushiony band that will not only keep your head feeling comfortable and not too hot, but also prevent the noise from entering your headphones.
This feature is especially helpful when it comes to noisy neighborhoods. Some people may not be able to sleep because they're not calm enough
You'll likely find active noise cancelation in wired headphones too, but they're most common on wireless pairs. Also, although insulation may isolate your ears from the noise, it's not 100% effective and it can even make you feel hot because of the synthetic materials that make the cushions.
Comfort
Comfort is another feature to consider when getting sleeping headphones. People can easily get distracted from the music or the headband on their head, which is why it's important to use materials that will add to your comfort.
Like mentioned earlier, some on-ear and over-ear headphones may come with extra thick cushions that will prevent the band from causing headaches on top of your head. Additionally, those cushions help protect you from hearing the unnecessary noise that is connected with your outer surroundings.
It's important to use natural materials that act as insulators for heat or add gel foam that will cool your ears when wearing the headphones for an extended time. Eco-skin is also a good option, although your ears could get hot and start itching.
Weight
When we sleep, we always want to ensure that we're wearing comfortable clothes, that the room is either cool or warm, depending on the season, and that our sheets are comfy too. Wearing uncomfortable clothes can cause you to heat up or become sleep-deprived.
In the same way, if headphones are too heavy, you may experience feeling too heavy and tense to the point you can't sleep. If you're worried about the weight of the headband affecting your sleep, you should go for earbuds.
Fit
Headband headphones are usually easy to fit. That's because they're made out of versatile and elastic materials that can stretch and conform to the shape of your head. Still, to ensure the perfect fit, many manufacturers focus on making different sizes like S, M, and L to ensure to respond well to the demands of the broad market.
If you're worried that your headphone band won't fit, it's a good idea to try headphones out in-store. If that's an option, reading the specification sheet and dimensions should make your shopping experience easier.
Finally, don't forget to look for an adjustable headset so that even if it's not an absolute fit, you can adjust it to fit better.
Sleep Position
Getting your headphones also depends on your sleeping style and whether you're a peaceful sleeper or restless.
Over-ear and on-ear headphones will mostly work on people who sleep on their back and eventually their stomach. Sleeping with such headphones on the side can be painful and uncomfortable.
Buds and headbands are more versatile and will allow you to easily change position when you need to. However, if they don't fit right, they might come loose or fall out.
Restless sleepers can have difficult times holding their headphones on when sleeping and can even risk breaking the headphones and injuring themselves.
Warranty
While warranty may not be a determining factor, it's good to know that there are headphones that offer a lifetime warranty, especially if they're more expensive. Other models range from 1 to 2 years, with no warranty at all.
Best Sleeping Headphone Band: Detailed Reviews
Now that we counted all the important features found in headphones for sleeping, without further ado, let's look at the most popular and best quality options.
Best Overall: HoomBand Wireless
Connectivity: Wireless
Battery: 10 hours
Sleep positions: All
Warranty: 100 days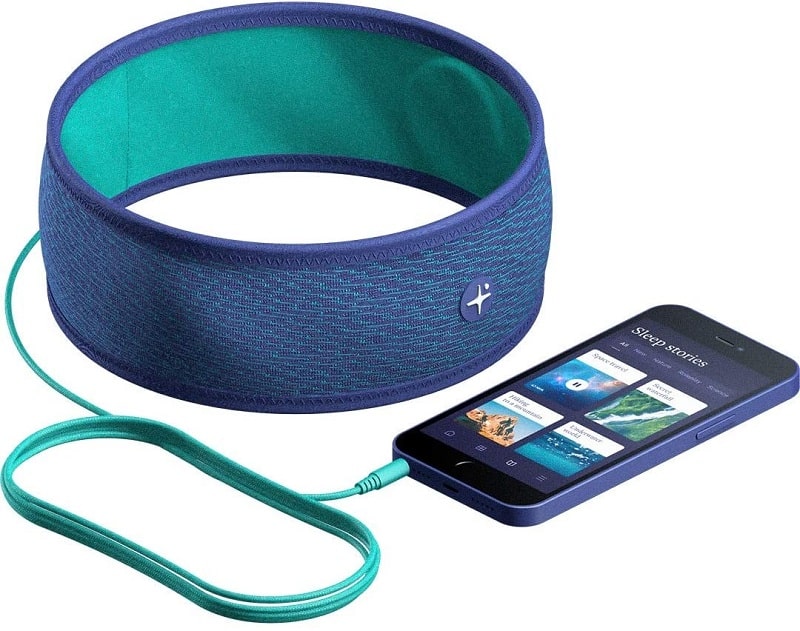 Traveling long lengths can often leave you longing for a peaceful environment, or allow you to immerse into the ambient with other people surrounding you on the plane or bus. That is difficult, which is why we found the headband headphones that will help you enjoy traveling while listening to stellar music and listening to enchanting stories.
They are also our favorite because not only they can help you travel with ease, they can replace hot and noisy nights with relaxing and peaceful slumber.
HoomBand comes with an app that can work offline and tell you different stories like the Orient Express and even older. There are also meditation exercises that would help you relax even when you're disconnected from the internet, allowing you to fall asleep fast and stay asleep in the deep sleep.
It uses comfortable and thermoformed foam so you won't have to worry about heating up. The bass is deep and dynamic, while the soundstage is stellar and calming. It is also good for other applications like fitness and exercising apps and others. It uses Bluetooth 5.0 codec for better sound quality and a deeper connection to your device.
Editor's notes: Unfortunately, there is no information about the warranty. The headphones are in the mid-range position so they're neither too expensive nor cheap. Nevertheless, for the price they are, it'd be good to include a warranty that would allow the support for one to two years. Nevertheless, there's a 100-day trial, which can help you get to know them better.
Runner Up: AcousticSheep SleepPhones Wireless
Connectivity: Wireless
Battery: 10 hours
Sleep positions: All
Warranty: 1 year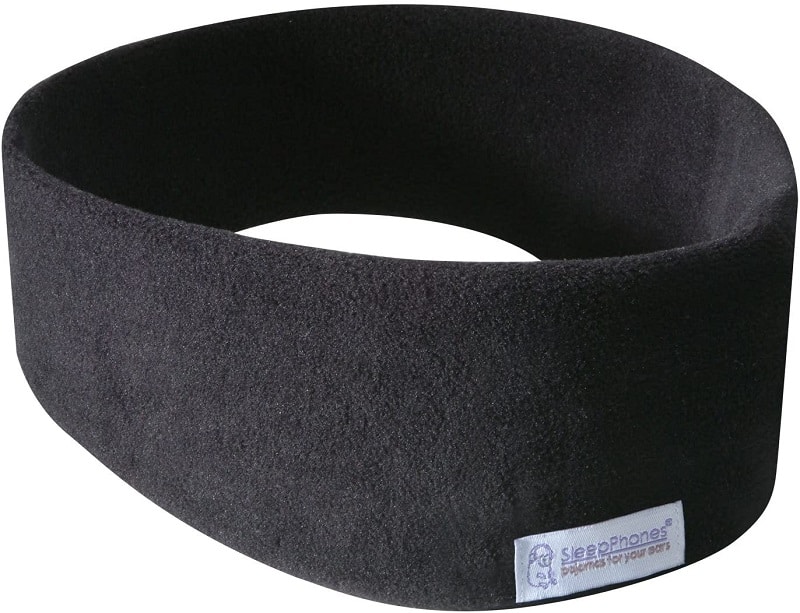 SleepPhones are some of the most comfortable and breezy headphone bands for sleeping. They're made of comfortable materials and have drivers that are conveniently installed. Thanks to their ultra-thin design, they'll also help you fall asleep easier, and won't heat you during the night.
The Bluetooth connectivity and high-end audio codec allow you to listen to the music seamlessly. Still, you can fall asleep to audiobooks, white and pink noise, as well as podcasts. The Bluetooth connectivity is modest in terms of battery, with a battery lasting over 10 hours to accompany you even during long nights and trips.
They are also comfortable because they come in various sizes, so if it doesn't fit you properly you can replace it with an option that will offer you more comfort. The fabric is lightweight and won't heat you during hot summer nights.
They also come with a one-year warranty, but you won't need them because they're sturdy, robust, durable, and are guaranteed to last you for a long time.
Editor's notes: What we may notice is that the warranty lasts only one year. Also, after 18 feet, the Bluetooth connectivity starts to break off and distort the sound from your phone or other broadcasting devices. Make sure to keep your phone relatively close to the device.
Best Budget: EverPlus Sleep Headphones
Connectivity: Wireless
Battery: 10 hours
Sleep positions: Back and stomach
Warranty: 1 year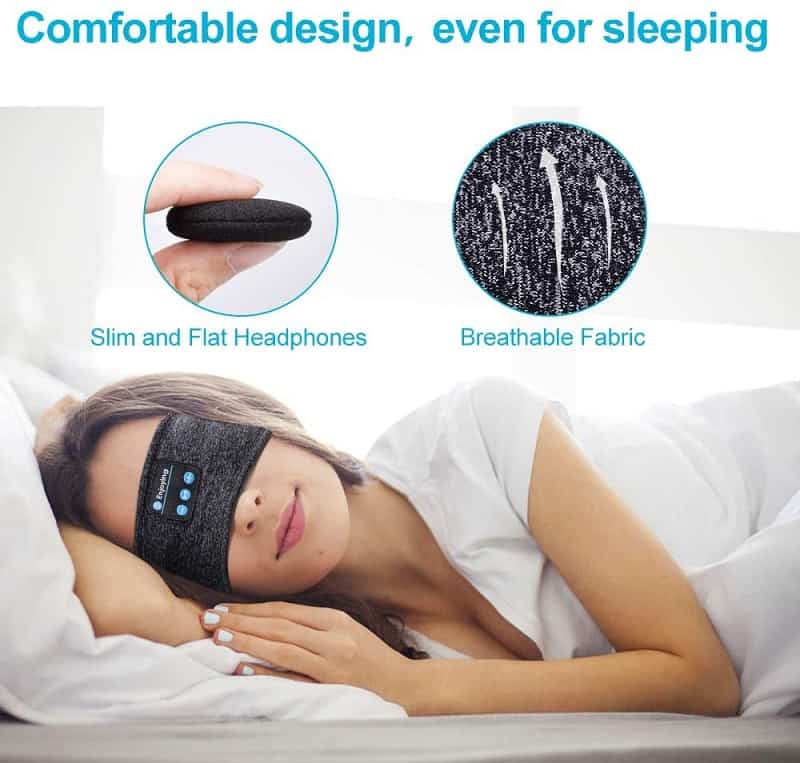 Headband headphones don't have to be crazily expensive. The EverPlus sleep headphones act as 3-in-1 headphones that can be used as a sleep mask, sleep headphones, and sports headphones. The headphones are surrounded by two tiny disks that fit perfectly on the headphones and isolate the external surroundings.
They are audiophile headphones that run with Bluetooth-compatible devices, with stereo speakers and an inline microphone that work wonders when it comes to isolation. Also, the 45 feet range means that you don't have to place your phone or source of connection too close to you.
The battery lasts 10 hours, which is enough to get through the night, or a lengthy trip that would require you to sleep through. They are portable and won't feel too heavy on your head. What we also wanted to add is that it's a breezy and comfortable material that you can easily wash as soon as you remove the speakers from them.
Editor's notes: Given that they're more budget-friendly, the sound may occasionally seem distorted and like it's leaking off the speakers. Keeping the music too loud can potentially lessen the quality of the bass output.
Best for Side-Sleepers: Fulext Sleep Headphones Headband
Connectivity: Wireless and wired
Battery: 9-10 hours
Sleep positions: All (Especially sleeping on the side)
Warranty: Limited Lifetime Warranty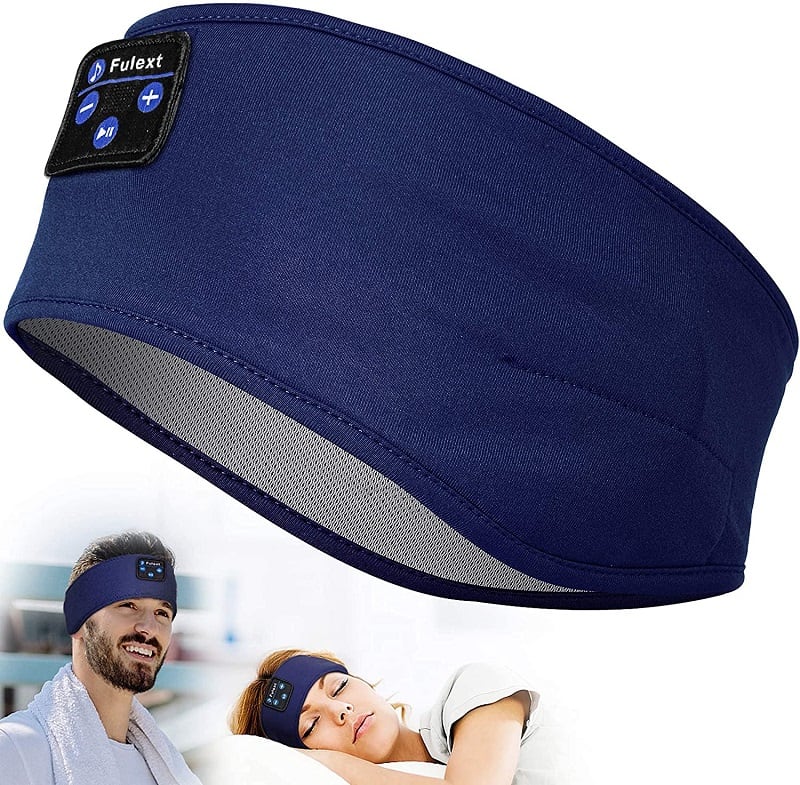 If you're looking for affordable headband headphones, Fulext has exactly what you need. It's ideal for side sleepers and is made of a soft and conforming material that will allow you to turn and sleep on your side without an effort. All you need to do is put the headband over your ears and let the magic happen.
They use Bluetooth connectivity with active noise-cancelation. Say goodbye to noisy neighborhood kids and everything that can disturb your sleeping cycle. The control panel is on the front and it allows you to change the song, as well as change the volume that would suit you better.
The material is elastic and won't cause you to have headaches. What's more, if you remove the control panel, you can easily wash and clean them to be used again. This feature is especially helpful for people who struggle with allergies and dust mites.
The battery takes only two hours to charge, while Bluetooth allows you to get away by 33 feet without compromising the sound quality. It also comes in multiple colors so you can choose the option that looks the best on you.
Editor's notes: Even though the warranty is lifetime, it can get difficult to contact the company in case the headphones stop working or get damaged.
Best for Children: CozyPhones
Connectivity: Wired
Battery: /
Sleep positions: All
Warranty: NA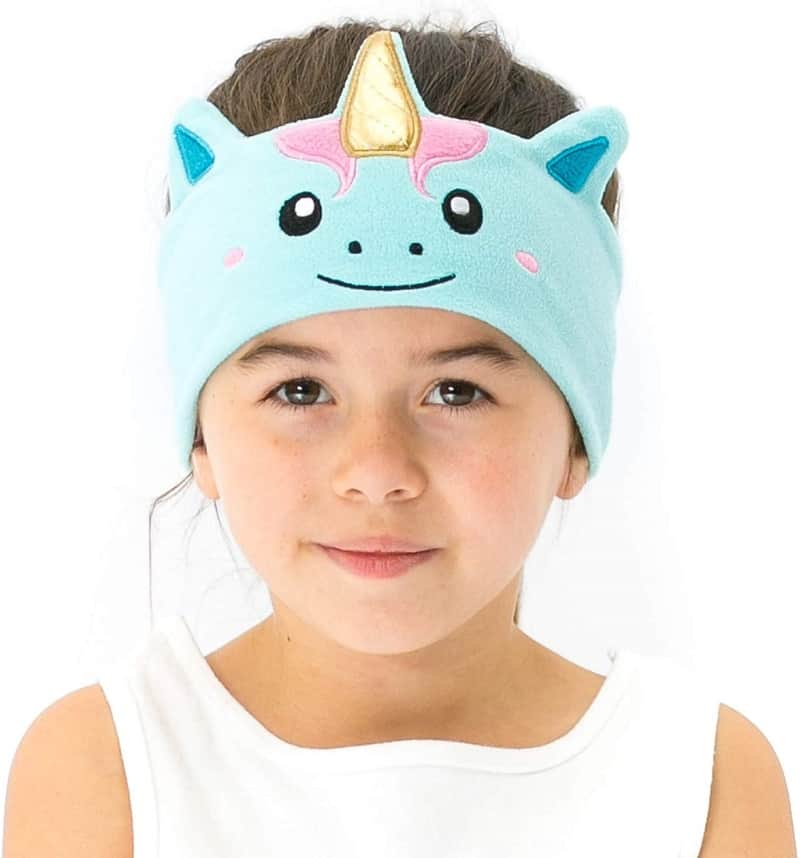 Night terrors are commonplace in children, especially those afraid of the dark and raging street noise. Over-ear headphones and earbuds are not the best solutions for children because their ears are either too small, or the headphones are too bulky. Cozyphones are not only cozy and comfortable with great child symbols, but they are also great in aiding your child through night sleep.
The soft headband comes with soft removable speakers with a 90dB limitation which is ideal for protecting children from noise. The headband is machine-washable so if they get dirty, you can easily clean them and not have to worry about dust mites and other dust allergens.
The headband is also stretchy, which means it's adjustable for everyone's head. If your child is going on a school trip or excursion, this headband will help them fall asleep while on the bus or plane and have an easier time falling asleep at night.
Lastly, the headband can also be pulled down over the eyes and used as a face mask. This is ideal for children who have problems with light or falling asleep for the afternoon nap.
Editor's notes: Depending on how old your child is, getting a wired headphone may be problematic because there is a risk that the headphones will twist and wrap around the neck. Nevertheless, the 52-inch-long cable can be quite safe if you lay it out properly.
Best Sleep Mask: Lightunnel Sleep Headphones
Connectivity: Wireless
Battery: 8
Sleep positions: All
Warranty: 90-day warranty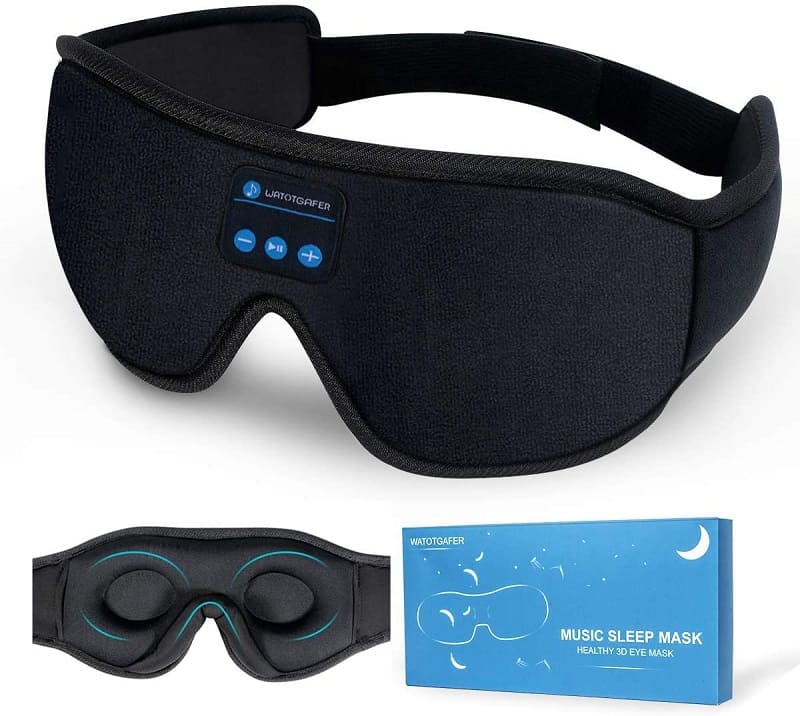 Sometimes, blocking the sound alone is not good enough. That's why you need a sleep mask such as Lightunnel Sleep Headphones to block out the ambient light while providing seamless and stellar audio output. Using 3D ergonomic technology, they can block 100% of light, immersing you in a whole new world.
It's equipped with Bluetooth 5.0 technology that contributes to strong pairing and connectivity, as well as stellar output. They are adjustable, robust, and durable thanks to high-end speakers with strong bass and accented soundstage. If you take out the wires and Bluetooth connector, you can even wash the mask off and keep it tidied up and clean for your beauty sleep.
The playback of the battery is 8 hours, with 2 to 2.5 hours to charge up. We like every aspect of these headphones, especially because the material is soft, hypoallergenic, and won't keep you hot at the night.
Editor's notes: The battery weakens significantly after a few months, with a reported longer charging time and less juice than before.
Alternative Headphones For Sleeping
Some people find headband headphones the only option when it comes to sleeping. Still, there are a few more models of in-ear and on-ear designs that can provide just as good performance. They'll make your slumber long and restful, so you won't wake up with headaches and hot ears.
Best On-Ear: Moonbow (Dublabs) Bedphones
Connectivity: Wireless and wired
Battery: 13h
Sleep positions: All
Warranty: 1 year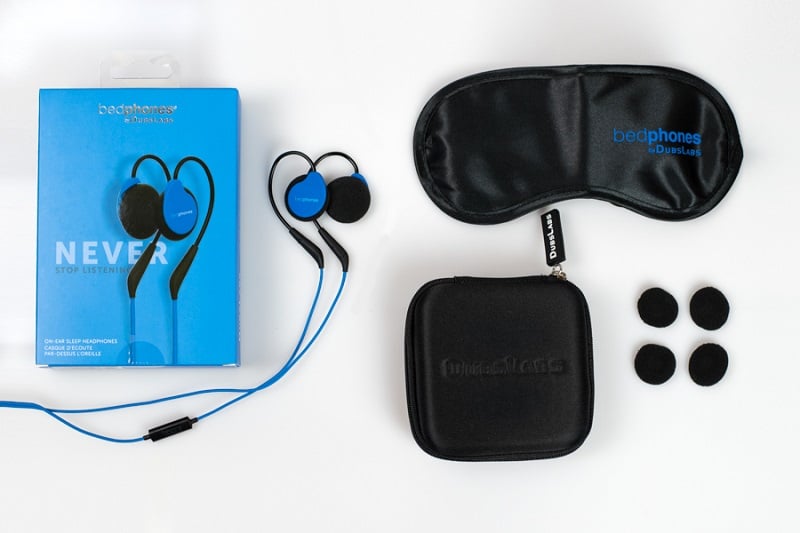 When choosing the best sleeping headphone band with an on-ear design, we wanted to focus on its versatility, ease of use, and great soundstage that will help you easily sail into the dreamland. Moonbow, also known as Dublabs bedphones, besides their exciting name, carry a lot of great features.
It comes with both wireless and wired technology. When visiting the website, you can customize your order so that it will fit your needs. It boasts an on-ear design, but unlike other on-ear headphones which can get uncomfortable for sleep, this model introduces two hooks that attach the headphones, making them suitable for any sleep position.
They have a smooth layer of foam that doesn't extend beyond, making your ears sweat and get hot. They lay flat so you won't notice them even when you sleep on the side. Additionally, small 23mm drivers won't prevent you from enjoying your favorite music and melodies while trying to flow into the peaceful slumber.
Everything on the earphones is completely adjustable and will help aid you through sleep. Additionally, there's an inline microphone so you won't have to worry about excess noise. Headphones also boast a convenient 30-day trial period and 1-year warranty support.
Editor's notes: The headphones are super thin, comfortable, and adjustable. However, we noticed that there's only a one-year warranty. Given the price of the headphones, that's not the best warranty option.
Best In-ear: QuietOn 3 Sleep Earbuds
Connectivity: Wireless
Battery: 28h
Sleep positions: All
Warranty: 1 year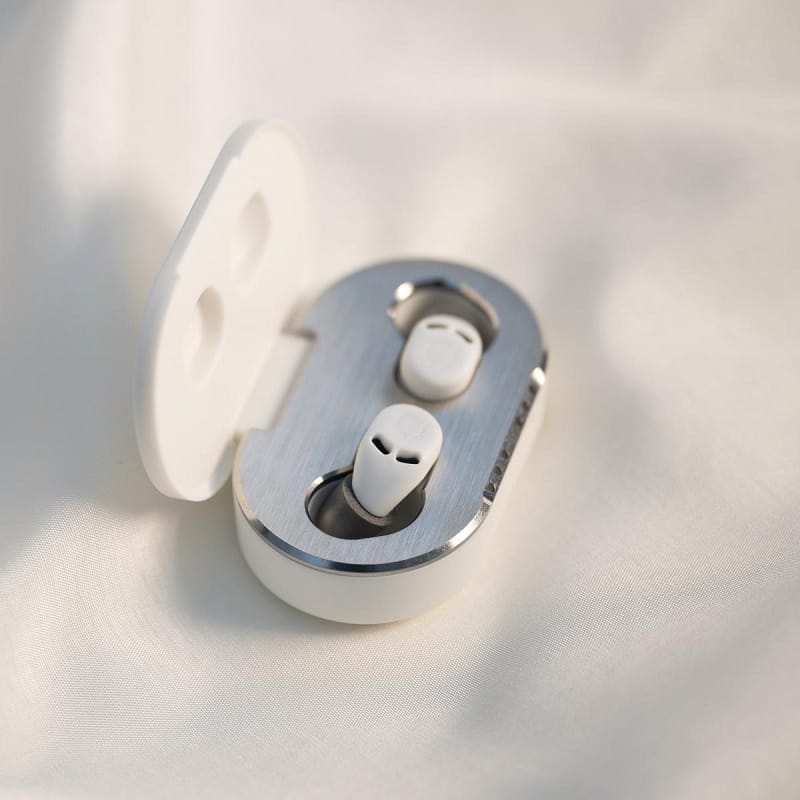 If you don't want to risk with on-ear design, and you think it could fall out easily, meet the QuietOn 3, like Apple AirPods, but for sleeping. These earbuds will immerse you into the depth of peaceful slumber and elevate you to the softest of clouds.
QuietOn is the leader in designing wireless headphones, especially those that boast the famous Active Noise-Cancelation (ANC.) It has an impeccable design that looks minimalistic, yet luxurious. There are a lot of things about them that we liked, first is the noise-cancellation that will ensure you won't have to deal with noisy neighbor parties and trucks in the middle of the night, as well as powerful wireless connectivity with great audio output.
What we also like is that the battery life can extend beyond 20 hours and up to 28 hours, which is ideal for someone who travels a lot, especially on the other side of the world, and wants to spend their trip meditating, relaxing, or sleeping.
They also boast an ergonomic design with 4 different foam ear tips that don't get warm. That said, you can adjust the size of your earbud to ergonomically and comfortably fit in your room. You can test them for 14 days and you get one-year warranty support.
Editor's notes: While the headphones are great and luxurious, they're significantly more expensive than our first option. The warranty also lasts only one year, and shipping may take too long to get executed.