An unofficial mascot of the 90s college dorm room, bean bag chairs have been a mainstay in the American way of life for several decades now.
From dorms to kids' rooms to the home relaxation spot, these unique chairs have been serving as a worthy, and arguably comfier alternative to the traditional sofa.
Take a closer look at a well-produced bean bag chair, and you will quickly understand how they have gained such strong roots in our lifestyle. Unlike your typical rigid sofa, bean bag chairs bend and conform to your frame, creating personalized support that you won't get anywhere else.
However, while the bean bag chair has only risen to fame in the last few decades, this dorm staple has its roots in the Swinging Sixties. The first commercially available bean bag chair, the Zanotta Sacco, was designed by Zanotta, an Italian company, in 1969.
Designers Cesare Paolini, Piero Gatti, and Franco Teodoro made the Sacco as a comfy alternative for staff to sit on during cigarette and coffee breaks. While this original bean bag chair featured a leather shell with styrofoam fillings, today's bean bags can feature a variety of materials that include polyester, suede, and corduroy.
In this guide, we will walk you through the process of selecting the perfect bean bag chair, all the features to watch out for, and the pros and cons of getting a bean bag.
6 Best Bean Bag Chair 2022: Detailed Reviews
1. Best Overall Bean Bag Chair: The Big Joe Aloha Chair
If you need a comfy, stylish, and reliable bean bag chair you can trust, this masterpiece is the one for you. Bean bags like this are why Big Joe has all but got the market cornered, and the Big Joe Aloha chair will be an excellent addition to any home.
The Aloha chair brings all the softness and snuggles of a topnotch bean bag in the familiar format of a regular chair. With most bean bag chairs, you have to support yourself by tensing your core if you want to sit upright, but not with this Big Joe bean bag. The traditional chair shape of this bean bag helps to keep you sitting upright without much effort and reduces the amount of energy you need when getting up.
However, don't let the familiar shape deceive you. Despite the traditional chair format, the Big Joe Aloha chair is one of the comfiest of them all. The chair is gentle on your skin, and the Ultimax chair filling contours around your body nicely to guarantee supple comfort.
The proprietary UltimaX beans used with this bag is one of the best on the market so you shouldn't have any issues with comfiness. Furthermore, the covers are removable, and you can easily refill your chair when you need to with the refill UltimaX beans sold by Big Joe. The safety lock on the zippers is also a big plus as it is a great feature to have, especially in a home with small kids.
Also, if you are big on eco-consciousness, this chair is the one for you. This Big Joe chair is made fully recyclable, and each unit includes up to 80% recycled materials. Furthermore, the company donates at least 10% of profits to charity, which is a big plus in our books.
However, since with the Aloha chair you are dealing with recycled polystyrene, you may have to refill the bag sooner than you expect. Hence, we recommend you pick up a bag of refill UltimaX beans during your initial purchase as well.
The Big Joe Aloha Chair is an excellent option for your lounge room, playroom, as extra seating room in your living space, a unique decor piece, or even for use outdoors. The distinctive shape of this bean bag makes it a perfect choice for when you want to relax but still stay upright enough to use a laptop, TV, or book without much struggling with balance.
The Big Joe Aloha chair is designed and filled in the USA, and it comes with a full 90 days manufacturer's warranty
Pros
Offers more support than most bean bag chairs
Traditional chair like design adds more functionality
Hold its shape well
Build with eco-friendly material
With carrying handle
90-day warranty
Cons
Cannot support larger adults
Needs regular refills
Best Budget Bean Bag Chairs
2. Best Budget Bean Bag Chair: Bed Bath & Beyond Microsuede Bean Bag Chair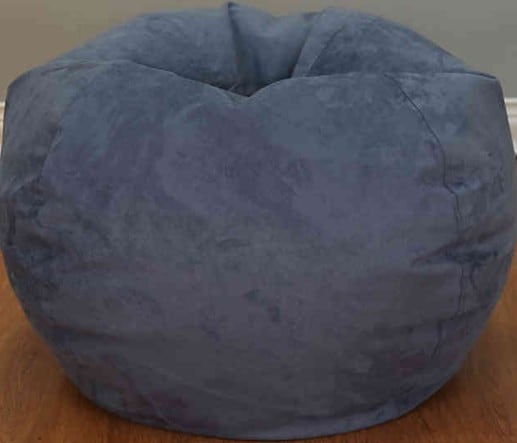 Chic upholstery for your home does not have to cost an arm and a leg, and the vast array of bean bag chair options on the market is a testament to that fact. However, even amongst bean bags, some units like the Bed Bath & Beyond Chair take the "budget" tag one step further.
At a price tag of under $40, this Microsuede bean bag chair offers some of the best value for money you will find in this category. The chair's quality chassis, paired with its elegant look, ensures that it easily comes out on top of our budget option rankings.
In terms of appearance, the Bed Bath & Beyond Microsuede Chair is your stereotypical bean bag chair. It is a formless, super soft, and cuddly mass that invites you to jump in for supreme comfiness.
This bean bag is large enough to fit a small to average-sized adult yet compact enough that it is suitable for most children. Furthermore, thanks to its inexpensive price tag, the Bed Bath & Beyond Microsuede Chair is one you can let your kids rough handle.
Even more reassuring is the fact that the Microsuede cover on this chair is as sturdy as you can get for a bean bag this cheap. However, since the cover is not removable, you will have to rely on spot cleaning for all your maintenance efforts.
However, one area where you get the full premium experience is in the looks of the chair. With the finish in five different colors, you can pick a unit to match any aesthetic. Need a bean bag for your children's playroom, and the bright colors will do just fine.
Pros
Excellent pricing costs half as much as the competition
Available in five different colors
Microsuede cover is resistant to wear
An excellent choice for kids
Cons
Too small for some adults
3. Best Deluxe Bean Bag Chair: Tuft & Needle Pouch Bean Bag Chair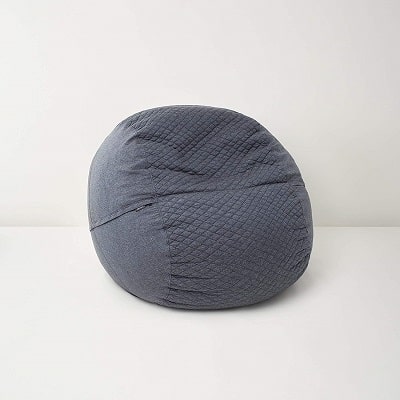 Tired of low-quality bean bags that fade, tear, or flatten out after only a few months? The Tuft & Needle Pouch bean bag is a new kid on the block that is here to the rescue. Made from only the highest quality materials and complete with a meticulously and skillfully constructed build, this bean bag from Tuft & Needle is one to rule them all.
However, quality does not come cheap, as this bean bag features a substantial price tag is at least twice as much as the other top options on the market. Nevertheless, with an impressive spec sheet on paper, and raving reviews to match, this Tuft & Needle Pouch has all the oomph to back its head-turning price.
This bean bag ditches all the gimmicky microbeads or PVC pellets used by other brands and instead features regular foam. The Tuft and Needle adaptive foam in this bean bag chair guaranteed its sturdiness as it is the same one the company uses in its high-end mattresses and pillows. Furthermore, in the Tuft & Needle Pouch, the foam is laced with recycled polyester fibers that ensure the chair stays fluffy and comfortable.
The outer shell is equally as good, and it is all premium materials. The top cover is an ornate quilted fabric that is soft against the skin and tough enough to withstand anything you throw at it (as long as it's not a chainsaw, chainsaws kill everything.) That's not all. Under this shell, there is a reinforced interior sack that keeps the foam in place while providing even more protection.
The manufacturers ensured that wear is one thing you don't have to worry about with this Pouch. Tuft & Needle guarantees that this bean bag will serve you for years on end, and their three-year warranty on the products shows you that they mean what they say. Furthermore, you get a money-back guarantee for the first 100 days from purchase, no questions asked.
Whether for your kids' bedroom, a dorm, or as extra seating for your man cave, Tuft & Needle Pouch bean bag is one that works in every room. The chair is large enough to fit a couple when things are getting hot and heavy. It also works well to provide superior comfort and comfiness for one. You choose.
Pros
High-end build with quality materials through and through
Ornate quilted fabric exterior is both plush and durable
Sturdy and comfy adaptive foam
With reinforced interior sack
Large build
Available in three unique colors
Three-year warranty with a 100-day full money-back guarantee
Cons
Massive price tag
Best Bean Bag Chair for Kids
4. Best Bean Bag for Kids: GoMojo Emoji Bean Bag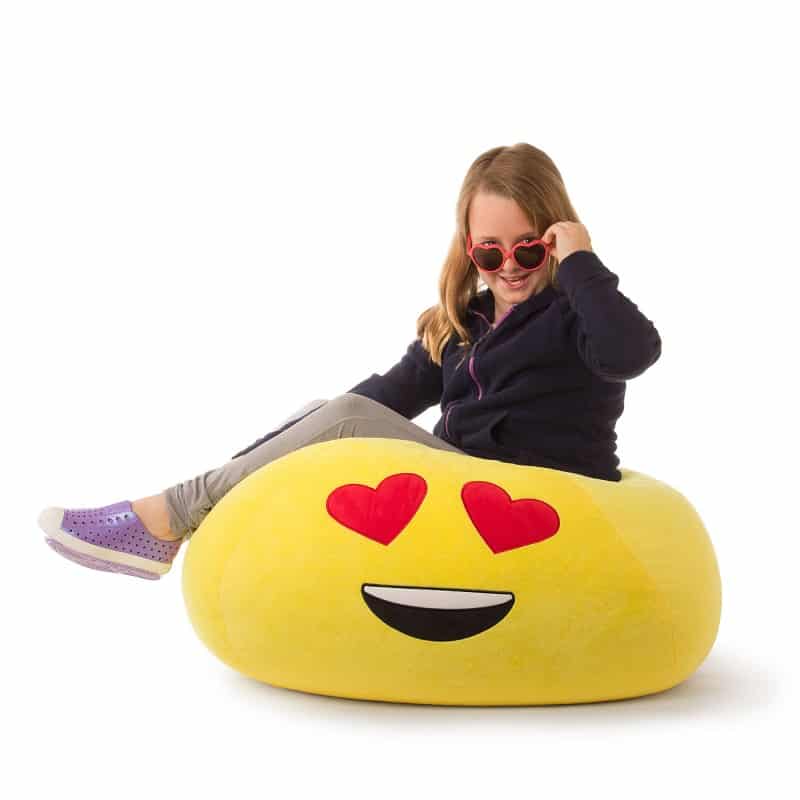 Planning to get a bean bag as extra seating space for your kids' playroom? Why not go all the way and get them one that will catch their eye, become a plaything as well, and add to the fun? The GoMojo Emoji bean bag is all that wrapped in one spectacular package.
Kids these days are all about the internet, and yes, emojis. This vivid bean bag for kids taps into this pleasure by featuring a heart of eyes print that immediately beckons on your child to give it some love. The expressive face is an instant hit with most kids, while the bright yellow color makes the chair one beautiful piece that is sure to impress.
Thanks to its exciting looks, many reviews report that this whimsical decor piece works not just as a chair but as an excellent addition to your child's game time. Plus, at a price tag of under $30, this emoji bean bag chair is cheap enough that you don't have to worry too much about it getting beat up.
The bean bag is soft and cuddly thanks to housing a max load of polystyrene beads that will conform to your kid's body and keep them comfortable in every position.
At a weight of under five pounds, the GoMojo Emoji bean bag gets maximum points for portability. Bring this charming bean bag chair into any room, and the fun begins immediately.
An excellent gift for kids in Elementary school, this bright, warm bean bag is sure to become your child's new favorite seat.
Pros
Inch-perfect fit for kids in elementary
Aesthetic design
Doubles as a play toy
An instant hit with kids
Lightweight and portable
Soft and cuddly
Decent pricing
Cons
5. Best Bean Bag for Toddlers: ECR4Kids Classic Toddler Chair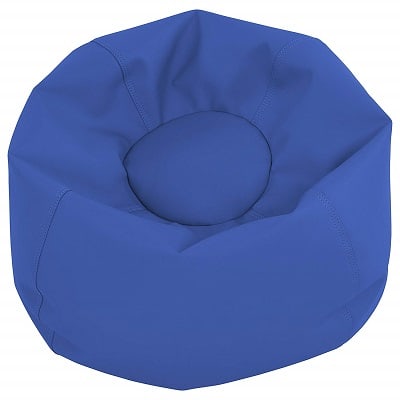 Need a bean bag chair for even smaller kids? Like adults, your young tots need comfy chairs too, and the ECR4Kids classic bean bag chair is the perfect option for toddlers two years and older. With a diameter that is only 22 inches, this bean bag is the ideal receptacle for your toddler, allowing them to sit, climb, and play without any risk of discomfort or asphyxiation.
For any bean bag marketed at kids, durability is one of the top factors to consider, and here the ECR4Kids Classic delivers. Made with a sturdy polyurethane cover, finished with double zippers and dual-stitched seams, this bean bag chair is tough enough to handle anything your kids can throw at it.
Also, the faux leather cover is spill and stain-resistant, and it is easy to wipe down, making your cleaning job more manageable. Furthermore, the double zippers are fully kid-proof, so you never have to worry about your kids getting ahold of the tiny polystyrene beads on the inside.
ECR4Kids Classic Toddler Chair is available in 4 color variants: red, blue, green, and assorted to match your tot's stuff while adding to your home decor. This lively bean bag chair is excellent for every room, whether at daycare or class, home, or office, as the perfect growing companion for your kid.
Pros
Ample 26-inch build for toddlers
Durable polyurethane shell
Double stitching on all seams
Child-proof dual zippers
Easy to clean
Cons
Not suitable for larger kids
Best Oversized Bean Bag Chairs
6. Best Extra Large Bean Bag: David Faux Suede 8-Feet Lounger Bean Bag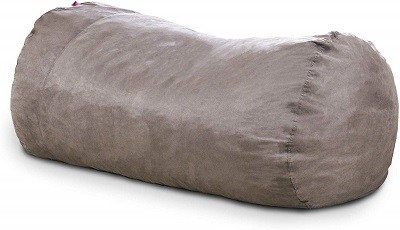 Sometimes you have to throw portability out of the window and aim for maximum comfort, and that is where the David 8-feet Lounger Bean Bag shines. At a massive 8 feet across and 6 feet width, this lounger is a full-on couch replacement that promises the highest possible level of comfiness for all parties involved.
This massive bean bag contains soft recycled foam filling that is good for both your torso and the environment. However, while the faux suede microfiber cover is smooth as milk to touch, it is reinforced to provide wear and tear resistance.
Furthermore, to complete the solid build, the chassis features a dual zipper design that ensures the beads stay locked in at all times.
Whether you need a movie time pad to snuggle with your kids or significant other, or a luxury lounger that can convert into a makeshift bed, the David Faux Suede 8-Feet Lounger Bean Bag is all you need.
Pros
Massive 8-feet by 6-feet build guarantees comfort on all sides
Faux suede microfiber shell is sturdy yet smooth to touch
Dual zippers for enhanced durability and safety
Cons
Some reviews report that the zip breaking
Pros of Bean Bag Chairs
Superior Comfort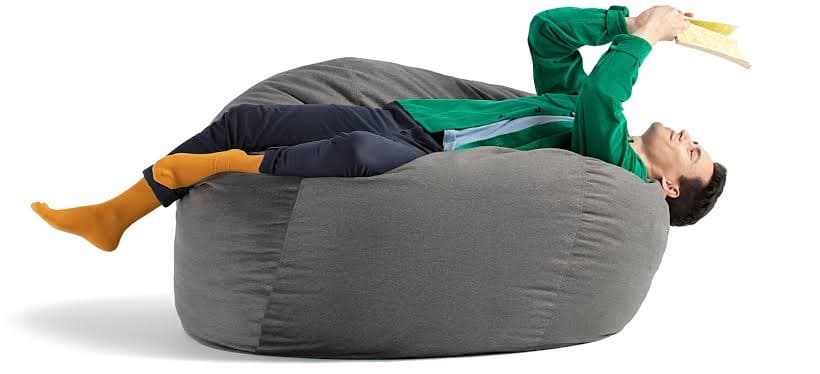 The whole point of getting a bean bag chair is the supreme comfort that their unique design affords. Bean bags ditch the typical hard build of regular chairs for a soft, squishy build that you can remold to match your body shape to provide maximal support.
This adjustability also means that bean bag chairs can be super comfy in several different positions. Whether you are sitting, lying down, or any other pose in between, a good bean bag chair will adjust to conform with your body correctly.
Hence, with the right bean bag chair, you are guaranteed to get superior comfort to most sofas and chairs. That is why it is no surprise that bean bag chairs often appear in locations where relaxation is of the utmost priority, like in lounge rooms, TV areas, and of course, college dorms.
Bean bag chairs are also an excellent fit for people like pregnant women, the elderly, or people with joint or back pain who need extra support. Even if you are lying on your stomach or your side, or sitting with your legs crossed, a bean bag is one of the best ways to guarantee optimal spine support.
Baby-specific bean bag chairs also exist that help placates babies suffering from colic or flat head syndrome.
Affordability
Another reason why bean bag chairs seem to exist in every dorm room is their relative affordability. Compared to most full-feature sofa or furniture sets, bean bags offer a more affordable way to add extra seating room.
If you are on a tight budget, a bean bag chair is often a comparably better choice than a couch or an armchair. For the price of an average piece of upholstery, you could pick up a solid bean bag chair that will immediately enhance your space.
Furthermore, thanks to their relative affordability, bean bag chairs make for excellent choices for temporary living spaces like dorms or teenage bedrooms where buying forever furniture would be overreaching.
However, don't let their budget price fool you. With the right pick, you do not have to compromise on quality, and a solid bean bag chair will last you a lifetime.
Portability and Convenience
Almost everyone has had to live through the pain of trying to get an oversized sofa into your relatively tight living space. Getting unyielding sofas around the corners of your home can easily result in situations where you nick your paint, mess up the walls, or have to remove windows or doors.
However, you can avoid all these issues with bean bag chairs. One of the most significant selling points of these squishy chairs is their portability.
Compared to standard sofas and armchairs, bean bags are soft, super lightweight, and easy to move around. These chairs won't dent your flooring or walls, and you never have to make structural changes to your home to get them around.
The portability of these chairs also adds to their versatility as you can quickly move them around to match different seating configurations, move them from room to room when the need arises, or even use them outdoors by the pool for some comfy sunbathing.
Bean bag chairs are also easy to store away when not in use.
Style
While you can get several colorful and stylish sofas at the high end of the price spectrum, in the medium to low price brackets, you are often almost stuck with all the dull, generic shades of white, black, grey, or some mixture of the trio.
However, with bean bag chairs, this problem is a thing of the past. Bean bags are available in a wide range of colors, shapes, and sizes.
With bean bags chairs, your potential choices are endless. Consequently, these soft chairs are one excellent way to add some personality to any room.
Ease of Maintenance
Spills are an inevitable cleaning issue in every home, and dealing with them is another area where bean bag chairs come out on top.
Many bean bags feature removable covers that you can unzip and throw in the washer whenever it is required. Hence, these soft bags are significantly more practical than other forms of upholstery like sofas, where often, your only option is spot cleaning.
Even bean bag chairs with non-removable cover require less effort to clean than most sofas. With these types, you can scrub the chair down and leave it in the sun to dry as the filling of the bean bag is water-repellant.
Another maintenance quirk is that you can easily refill your bean bag chair when it begins to sag. With sofas, however, your only option may be the most expensive one: getting a new set.
Cons of Bean Bag Chairs
Down Easy, Up Hard
While bean bags are some of the comfiest seating gear you can own, they can and often do pose some difficulty when you try to get up from them. Since these chairs are soft and usually low height, they typically do not provide enough firm support for your hands or body when you try to get up.
For most healthy individuals, this minor inconvenience won't pose much of an issue. However, for less mobile people like pregnant women, the elderly, or people with arthritis, it could quickly become a significant issue.
Health Hazard for Toddlers
The same softness and soft contouring that make bean bag chair cozy and super comfortable can also make them a health hazard for small babies.
Standard safety recommendations prescribe that babies should always sleep on firm surfaces to prevent the risk of asphyxiation. Hence, bean bags are a no-no for toddlers under a year old.
The polystyrene or vinyl filling of most bean bags could also pose a significant health risk for young children if swallowed.
Disposability and Eco-friendliness
The two most popular materials used as bean bag chair fillings are polystyrene balls and vinyl. In addition to being a potential health hazard if inhaled or swallowed, polystyrene is not biodegradable. Hence, this material is not the most eco-friendly option, except if it is recyclable in your location.
For vinyl, ensure that the option you pick is lead-free for both safety and environmental reasons.
Durability Issues
Many bean bag chair manufacturers do not maintain a quality standard as high as you would get with sofas and other forms of upholstery. One area where many manufacturers cut costs is in opting for less durable covers, which can fade after extended use.
It is also common for your bean bags to flatten over time. Hence, you may need to refill them occasionally, which can add to the cumulative cost of owning a bean bag chair.
Choosing Best Bean Bag Chairs: What to Consider?
Size
The most crucial element in choosing the perfect bean bag chair is selecting the right size for your needs.
Unlike sofas, with bean bags, you get a wide variety of size options. Here, the available alternatives range from tiny baby-sized bean bag chairs to extensive options that can seat four adults at once.
Factors that will influence your sizing preferences include how much space you can allot to the bag and which members of your home will use the chair. For both safety and comfort, children are better off with an appropriately sized small bean bag chair.
Child-safe bean bags are usually three feet or under, while adult-sized standard bean bag chairs can reach up to seven feet.
Style
When done right, bean bag chairs can significantly accentuate your home aesthetic. One big positive with bean bags is that the color options and patterns available to you are endless. Hence, irrespective of your current home decor, you can always find something that fits or stands out, if that is the look you wish to achieve.
With bean bag chairs, their shape is also a variable. While you could stay with the traditional round bean bag, you can also select from a wide variety of forms that include cubes, loungers, gaming bean bags that taper forward at the top, or flat pillow-shaped options.
Filling Type
Most modern bean bags use polystyrene beads fillings. These beads are lightweight, easy to carry, fire retardant, and have a high resistance to compression.
While these fillings are not the most eco-friendly option, their lightweight and superb conforming ability make them an excellent material for bean bag chairs. Polystyrene can hold its form for much longer than other filling types.
Alternatively, you can opt for bean bags that contain shredded memory foam. Shredded foam is significantly more dense than polystyrene. Hence, with foam, you get more heavy bean bag chairs. However, memory foam chairs are typically more comfortable than their polystyrene counterparts, thanks to the added heft.
Nevertheless, one issue with memory foam in bean bag chairs is that it can form irregular foam chunks over time. When this happens, to get your chair back to its comfortable best, you must break up the pieces thoroughly.
Durability
When considering the long term durability of your bean bag chair, keep your attention on the covers. For maximum durability, choose bean bags with sheets made from sturdy materials that are tear and bleach resistant like cotton, vinyl, polyester, or microsuede.
Another component to look out for is the zippers on units with removable covers. Ensure that the zipper is top quality. Some manufacturers even use a dual zipper system that provides extra protection and keeps the cover from accidentally sliding open.
On average, memory foam bean bags will longer than polystyrene options, which you have to refill more often. Furthermore, with polystyrene balls, recycled materials have an even shorter lifespan.
Maintenance
Bean bag chairs are often a recipient of frequent abuse, especially from children. Hence, to ensure that you can keep your chair in top condition, select one that is easy to maintain. Here, removable covers are a huge positive.
For materials like cotton or microsuede that are machine washable, removable covers are a must-have. When opting for non-removable options, you are better off with polyester or vinyl covers that are more friendly to spot cleaning.
Warranty
Not sure about the potential durability of your new purchase? Then get a bean bag chair with sufficient warranty cover.
Special Features
Bean bag chairs have come a long way from when they just an everyday round bag with some filling. Today, you can get bean bags with extra features like armrests, handles, storage pockets that can significantly enhance the user experience.
Some recently manufactured bean bags even feature body massagers and USB ports.