When you say 'sleep pod' you might have a different product in mind, depending on who you are and what is your intended function for a sleep pod. For example, if you're a corporate worker and you spend a lot of time in the office, a sleep pod might be a nap pod (nap lounge chair) for you. Or, if you're a mother of a baby, a sleep pod maybe a sleeping crib reducer you will buy for your baby to sleep. Sleep pods can be a lot of different things and products. However, they all have one thing in common; providing a great sleeping environment for you and your loved ones.
Therefore, in the following paragraphs, we are going to take a look at the best sleep pods in regards to the potential users and their needs. So, if you're looking for a specific sleep pod, you're at the right place. Let's get started!
The Best Sleep Pods and Nests for Babies
Sleep pods or nests for babies are essentially small, narrow mattresses that have padded sides. These pods are created with the intention of providing a safe, crib-like environment where the baby can sleep.
The sleep pods are portable and perfect for naps, where the parent can ensure the baby is safe and comfortable, as well as close to the parent. Baby sleep pods or nests are becoming more popular because they enable the parents to supervise the baby when it is asleep without checking the nursery or the crib numerous times. The baby is in the sleep pod and can be placed or carried anywhere.
Are baby sleep pods or nests safe?
Here's the deal with baby sleep pods and nests. They are generally considered as not safe for babies under the age of 1.
According to The Lullaby Trust (a UK organization that provides safety guidelines in regards to safe baby sleep and raises awareness of SIDS – sudden infant death syndrome), babies need to sleep on specific surfaces and specific environments.
So, in order to avoid SIDS and other possible problems caused by the inappropriate sleeping environment for the baby, make sure not to use sleep pods for babies under at least 6 months.
Even though there are no recorded cases of SIDS in regards to sleep pods, you still need to bear in mind the age of the baby, as well as the quality and surface of the sleep pod.
Read More: Are SIDS and Sleep Apnea Related?
How to ensure safety when using sleep pods for babies?
In order to avoid SIDS and sleep problems in babies, there are rules each parent has to follow. For example, the sleeping surface for a baby needs to be flat, firm and waterproof.
Any surface that deviates from the standard and the norms is not considered safe for the baby. So, here's how you can ensure that the sleep pod you purchase is safe for your baby;
The sleep pod or nest needs to be firm – when purchasing a sleep pod or nest make sure that the mattress is firm and not soft. The way to detect a firm mattress is by seeing how much it sinks under pressure; a firm mattress should not sink more than a few millimeters. A soft mattress sinks completely and increases the risk of SIDS and sleeping problems in babies.
When placed in a sleep pod, the baby needs constant supervision – a baby sleeping in a sleep pod needs constant supervision. It is recommended to leave babies in sleep pods for shorter naps. Babies should not sleep in sleep pods overnight, especially if they're under the age of 1.
When placed in a sleep pod, the baby should not be overheating or moving from side to side – if the baby is overheating, or moving between the paddings of the pod, it may increase the risk of SIDS. If you notice the baby being restless or overheating, make sure to take the baby out of the pod immediately.
The Best Baby Sleep Pods or Nests -Detail Reviews
#1 SleepyHead Baby Sleep Pod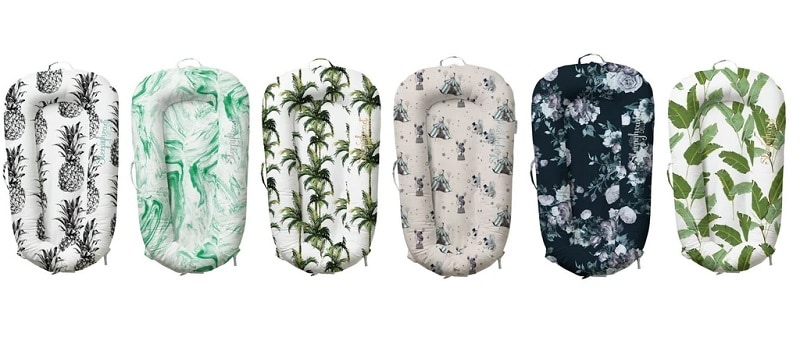 Features
Recommended use from 8 to 12 months max
Lightweight and portable (only 1.7kg)
Ideal for short naps
Ideal as a play or changing area
Removable cover
100% cotton, anti-microbial material
Excellent for tummy time and babies who only sleep when being held
Retails at £130.00 or $161.00
Advantages 
Sleepyhead is a product from Sweden, created to provide a baby with not only a sleeping pod but also a lounging, resting and snuggling area. The product is created with strict safety rules, with emphasis on design, comfort, and quality.
Sleepyhead is created from 100% cotton and provides a firm, high-quality, comfortable mattress and padding. It has a cocoon-like design, created to keep the baby protected as well as to prevent the baby from moving over to the tummy.
You can get the Sleepyhead baby sleep pod in different sizes; the Grand and the Deluxe, depending on the age of the baby. Sleepyhead is recommended to be used from 8 up to 12 months max. The product is fully compliant with the U.S. Consumer Product Safety Commission standards.
Disadvantages
This baby sleep pod is rather expensive, especially when you consider the amount of time it will be useful to you and your baby. It can extend on one side to give more length, but you will need to get the size Grande for that, which is even more expensive.
The removable cover is supposed to be additionally purchased. Moreover, they can be really hard to put on and to remove. It can be a bit annoying to deal with the covers while you have a crying baby you have to take care of.
#2 Mokee Baby Sleep Mini Pod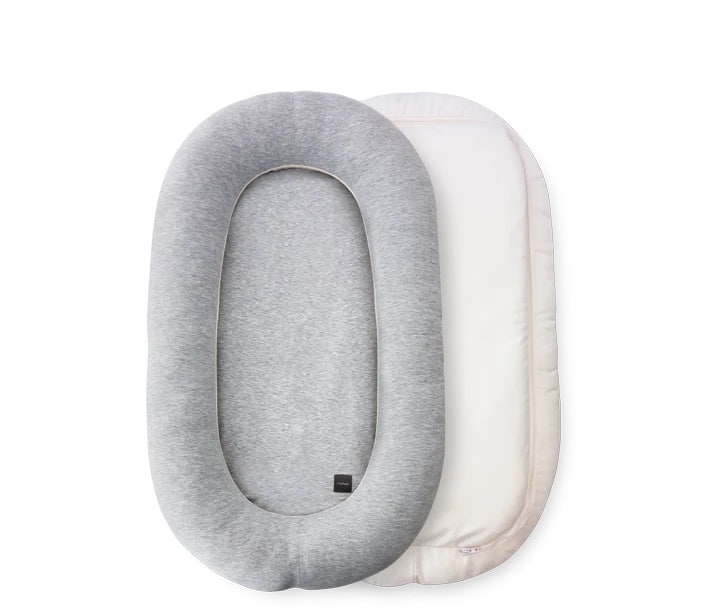 Features 
Recommended use from 6 to 12 months max
Lightweight and portable
Ideal for short naps
100% cotton, anti-microbial material
Excellent for tummy time and babies who like short naps
Retails at £69.95 or $86.60
Advantages
The Mokee baby sleep pod is created to serve as a sleeping area for babies up to 1 year of age. It is designed to be comfortable, yet firm and supportive of a baby. The pod is also soft enough for a baby to be comfortable, especially when it's lying on the tummy.
The Mokee baby sleep pod is made from grey jersey (cotton with elastane), an easy-wash, removable fabric that is anti-microbial and air permeable. The pod also contains hypoallergenic fabrics and silicone balls that will prevent allergies, germs, and dust from gathering on the pod and harm the baby by causing allergies or allergic reactions.
If you're worried about the Mokee baby sleep pod safety, you should know that this sleep pod meets all the safety norms and is compatible with the U.S. Consumer Product Safety Commission standards.
Disadvantages
You might have a little trouble with the removable cover, as it can be hard to take off and put on after it's being washed. The material could shrink a little bit, but with time it stretches enough again.
#3 Voksi Baby Nest Premium – EDITOR'S CHOICE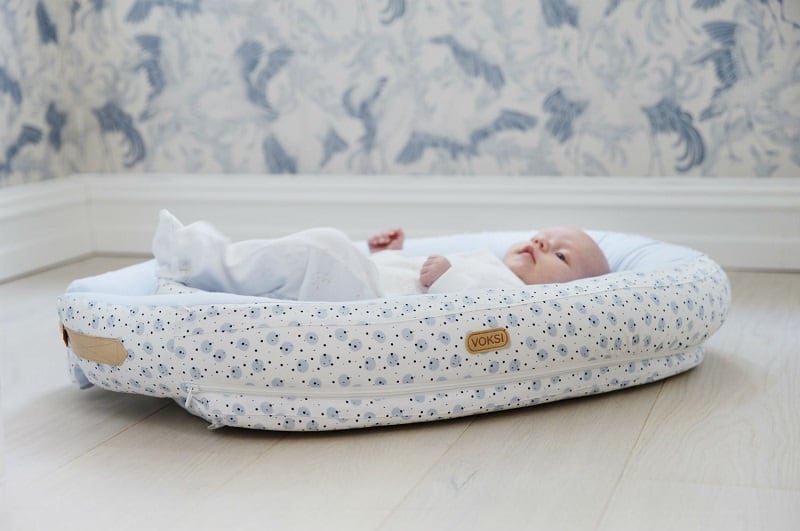 Features
Recommended use up to 9 months max
Lightweight and easy to travel with
Ideal for short naps
100% cotton, anti-microbial material
Excellent for tummy time and traveling (comes with a traveling bag)
Retails at £99.00 or $122.00
Advantages
The Voksi baby nest is a perfect sleeping area for babies up to 9 months. It is made from 100% cotton material, ensuring that the nest is free from harmful chemicals and allergens. The mattress of the nest is firm, yet soft and comfortable, ensuring that the baby's neck and back are properly aligned without any pressure.
Unlike other sleep pods, Voksi is designed to grow with the child. Because babies grow quickly, the Voksi sleep nest features a belt and an extension part that can be folded out when necessary. This makes the Voksi baby nest completely worthy of investment, as it will provide comfort and safety for your baby longer than any other sleeping pod.
The Voksi baby nest is considered to be one of the safest on the market. It features a firm mattress and padding that will prevent the baby from rolling over or out of the pod. Moreover, the pod has undergone numerous safety tests and risk assessments, like the SGS France assessment (world's leading inspection, testing, and verification provider).
Disadvantages
Like any other baby sleep pod, the Voksi sleep nest might also cause you some trouble with the cover. It might be harder to remove and fit back onto the pod. Moreover, you will have to follow special washing instructions in order to avoid possible chemicals or allergens occurrence on the pod.
More Resources Related to Babies: 10 Best Breathable Crib Mattress
The Best Sleep Pod Hug Sleep Swaddles
A sleep pod/sleep swaddle is a special material that resembles the shape of a thinner, stretchy sleeping bag. It is intended to replace weighted blankets, and act as a comforting hug that will improve sleep quality.
The sleep pod is made to provide a sense of comfort for the entire body, stimulating the feeling of being hugged. It is also made from a special material that stretches and does not trap heat. The pod is completely washable and extremely easy to care for.
The sleep pod hug sleep swaddle is made to endure the strength of the body when it turns during the sleep and is extremely durable.
What are the benefits of the Sleep Pod Hug sleep swaddles?
Sleep pods are beneficial for numerous reasons, some of them being;
A great solution for sleeping problems – sleep pods like the Hug Sleep swaddle are shown to have a therapeutic effect on people struggling with sleep problems like sleep anxiety or insomnia. They have also shown to lower sleep anxiety by 63% and people usually prefer them more than the regular blankets and covers.
A great source of comfort and coziness – sleep pods are also known to provide light pressure on the entire body, which can have a calming effect. The effect resembles a hug, which has proved to reduce anxiety and help people fall asleep. The pod also provides comfort and coziness, resulting in improved sleep quality and a better sleeping experience overall.
The Best Sleep Pod Sleep Swaddle – Review
#4 Hug Sleep – Sleep Pod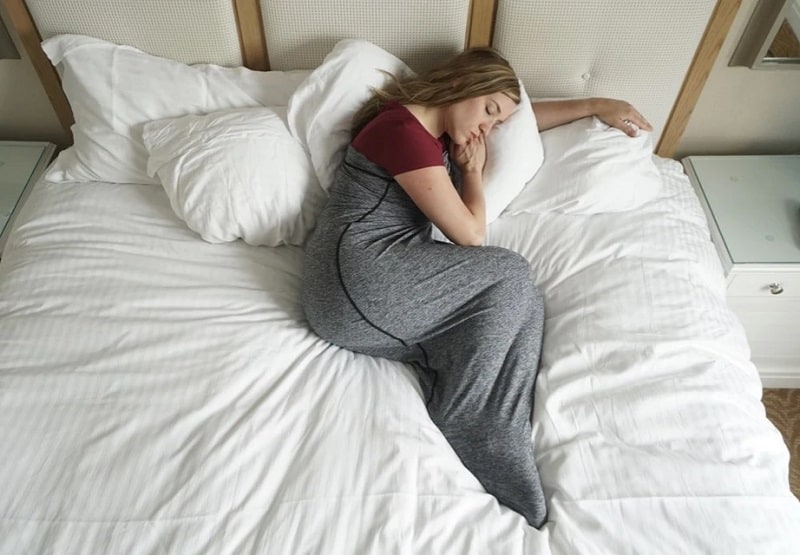 Features
Comes in two sizes; medium and large
Made from luxurious 4-way stretch material
Breathable and doesn't trap heat
Retails at $99.99
Advantages
Deep Touch Pressure Therapy – the sleep pod ensures the feeling of weighted blanket or pressure therapy. The pressure therapy reduces anxiety and helps your body prepare for sleep. This helps you fall and stay asleep throughout the night. The sleep pod pressure therapy is especially beneficial for people who deal with sleep anxiety, insomnia, and other sleep problems/disorders.
Light Weight and Breathable – the sleep pod is very light, but weighs enough to be able to provide the pressure therapy effect. Moreover, the pod is made from a luxurious stretch material, that is breathable and doesn't trap heat inside. So, you will be warm and comfortable throughout the night.
Light Contraption – the deal with this sleep pod is that it is stretchy and provides only light contraption. The sleep pod doesn't feel too tight around the body, and there is plenty of room for you to sleep in your favorite position.
Disadvantages
Possible size issue – probably the only disadvantage with the sleep pod is that it may not fit your body size. Even though there are specific size measurements, people have complained about the sleep pod being too small or too big. This can affect the sleep pod's main function of providing gentle pressure and the 'hug' effect. So, make sure to check the size measurements carefully and compare them to your height and width.
Related: 10 Best Sleep Bra 2022
The Best Sleep Nap Pods for Home and Office
Sleep nap pods (or napping pods) are specialized areas that have the structure of a lounge chair. The sleep nap pods can be used in the office, corporate environment, universities and other similar areas where people are allowed to nap or work in a more comfortable position.
For example, companies like Google, or companies in Silicon Valley are known for having sleep nap pods provided for the workers and staff. It is believed that having sleep nap pods increases the productivity of the workers and makes them more relaxed, stress-free and generally healthy.
There are also sleep nap pods you can purchase for the home environment; these sleep pods have a more domestic design and are more customizable.
How do Sleep Nap Pods look like?
Sleep nap pods are a relatively new occurrence on the market. With the rise of the 'sleepiness' problem at work, manufacturers of the sleep naps pods have come to an idea of making incredibly comfortable chairs.
These chairs would remove a person from all distractions in their environment, providing a unique napping experience.
A standard sleep nap pod appears as a lounge chair, with a special area above the head, that can feature gentle music and innovative technology for a more custom nap.
The sleep nap pod has an extended area for elevating the legs and relaxing the lower back.
What are the benefits of Sleep Nap Pods?
There are numerous benefits of the sleep nap pods, but here are the most important ones;
Increased productivity – by providing a comfortable, cozy and customizable napping area, the sleep nap pods help increase productivity in the office, at the university or at home. A 15- to 20-minute nap can provide rest, relaxation and can help your brain restore energy for further adventures at work or university.
Decreased stress and anxiety – it is believed that by being able to nap at work/university, workers and students are less stressed and anxious, which definitely affects their mental health and overall mood. Sleep nap pods can help people deal with stress at work or in a class by providing a great nap area, away from stress and distractions.
The Best Sleep Nap Pods – Reviews
#5 The EnergyPod by Metronaps – The Sleep Pod – Best High-End Sleep Nap Pod
Features
A perfect, ergonomic design
Incredibly comfortable, zero gravity position
Privacy visor
Interface console
Created for offices and corporate environment
Retails at $18,695
Advantages
Ergonomic design – this sleep pod is designed to conform to the curvatures of the body, as well as to relieve the pressure off the body's pressure points, like feet or lower back. The sleep pod has a design of a lounge chair, with elevated feet area and a rotating privacy visor.
Comfort – the EnergyPod is incredibly comfortable. It features medium form high-quality synthetic leather upholstery, which makes the lying area perfect for cozy and comfortable naps. The sleep pod has a zero-gravity position, which is a great concept commended by companies and workers around the world.
Interface console – the sleep pod features modern technology for the interface console. For example, you have the option of setting the timer for your nap, having a pre-programmed nap, built-in music, noise-canceling technology, or you can use the headphones to cancel out any distractions.
Disadvantages
Very expensive – of course, the EnergyPod is a luxury product intended for a company or corporate use. It is rather expensive, but considering all the features, design, delivery and installation options, the product's cost can be somewhat justified.
#6 Alvantor Tent Sleep Nap Pod – Best Indoor Privacy Tent Sleep Pod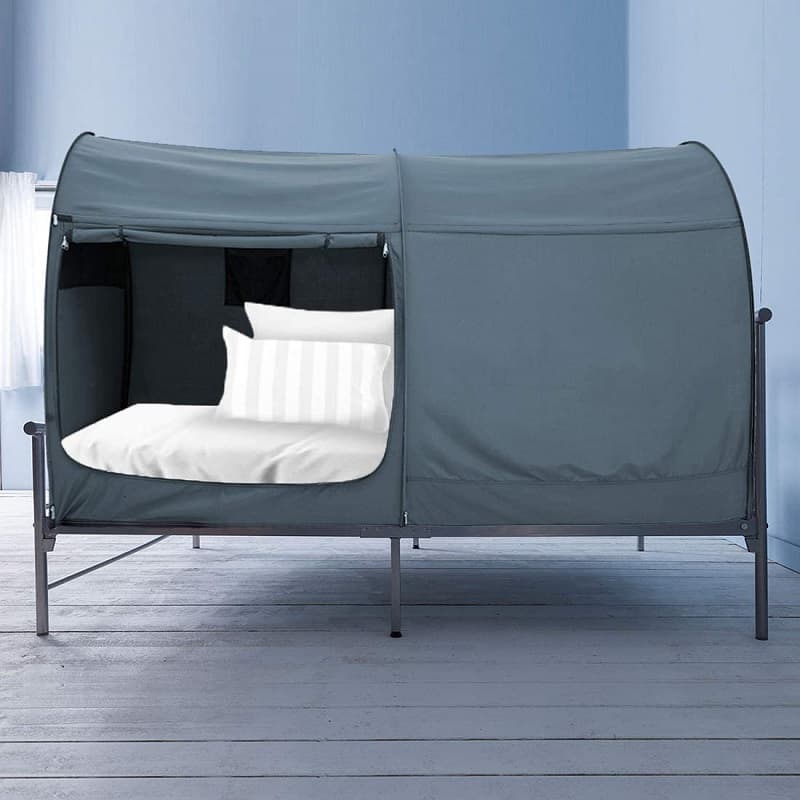 Features
Comfortable, double side-door design
High-quality material
Easy set up and take down
Versatile usage; can be used at home, in office, at uni, etc.
Retails from $79.99 to $119.99
Advantages
Innovative design – tent sleep pods have always looked awkward and completely unstable. However, the Alvantor tent sleep pod features innovative and modern design; it has double side-doors, pop-up flexible ribs and weighs only 7.5lbs. It provides the necessary privacy for a quick nap or overnight sleep anywhere you wish.
Easy set up and take down – the tent sleep pod has a pop-up frame and poles that are super easy to set up and take down whenever you need to. The whole construction is also incredibly lightweight, so it is safe for children as well. Moreover, you can also wash the pod by unzipping it and removing the material from the frame.
Versatile function – the tent sleep pod can be used anywhere, as it can turn any space into a private area. It can be used indoors, in your house when there are guests but no free rooms, for children and their playtime, for naps, outdoors during camping, etc. The versatility of this tent sleep pod is incredible.
Disadvantages
May be cold – users have commonly complained that the tent sleep pod doesn't retain heat inside the pod. You might be a bit cold without additional covers, so make sure to bear that in mind before purchasing.
May not be as durable – the Alvantor tent sleep pod is created to be durable, but because it is lightweight and easily set up, it doesn't give off the trusting durability feeling like other similar sleep pods might. It is also incredibly affordable, unlike other sleep pods, which cost several thousand dollars on average.
#7 1970s Vintage Eggs Chair and Ottoman Sleep Pod – Best Unique Sleep Pod for Home – EDITOR'S CHOICE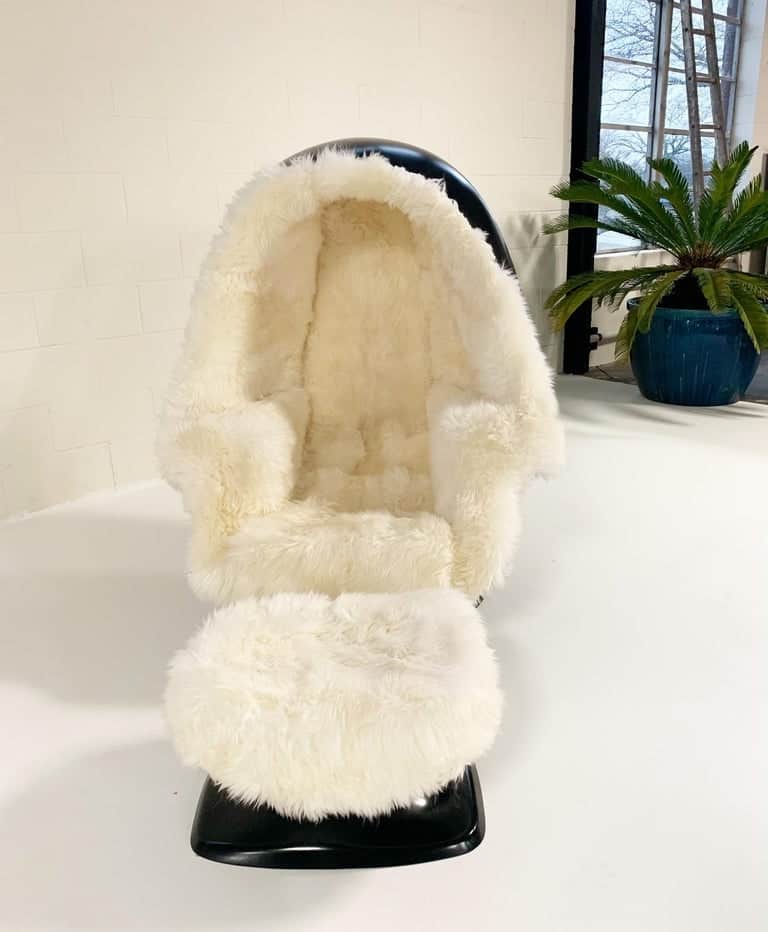 Features
A unique, designer's piece
A vintage, 2-set piece originating from the 1970s
Materials used are sheepskin and fiberglass
Buyer protection guarantee
Retails at $8,400
Advantages
Original, designer's piece – this sleep pod, or egg chair is an original 1970s Lee West Alpha Chamber Stereo piece, which is an incredible addition to every home. It will make any dull space absolutely modern and unique because the design of this piece is timeless and fits into any type of interior design.
High-quality material – the egg chair sleep pod is made from fiberglass exterior, as well as the ottoman. The inside of the piece features sheepskin upholstery, which makes the pod incredibly soft and cozy; perfect for afternoon naps. The sheepskin will keep you warm during the wintertime and will cool you down during the summer.
Bluetooth speaker – the pod originally featured a stereo, which had to be fixed and reconstructed. So now, this unique piece comes with a Bluetooth stereo which you can use to play some gentle, relaxing music during your nap.
Disadvantages
Quite expensive – this wonderful egg chair sleep pod is a one of a kind piece, which makes it rather expensive. It is, however, nothing like the EnergyPod, or other high-end pieces, but it sure is costly when compared to the low-grade sleep pod tents or sleep swaddles.
Read More: 6 Best Bean Bag Chair 2022