Are you one of the ladies that cannot leave the house without putting on a bra? Or do you belong to the group that cannot sleep without one? For many of us, wearing a bra is a necessity. After all, not many of us are comfortable mingling with others while our nipples bed for attention.
Nonetheless, sleeping with a bra is a different ballgame. This is especially true if you are clueless about choosing the best sleep bra. If you are into sleeping with your bra, you need to invest in a special kind. The special ones offer the comfort and support you desire. Sleep bras are customized in such a way that they support all sides of your breast will still providing comfort. This means that even if you have bigger breasts, you can still find one that matches your size.
However, before running to the nearest lingerie retail store or clicking for order online, you need to ensure that you know the right criteria for landing the best one.
Here are some of the factors you should consider when shopping for the best sleeping bra:
Wire-free and lightweight – After a long and busy day of having to grapple with an underwire bra, many women look forward to freeing their breast. As much as you hate putting on an underwired bra, you should deprive yourself of a sleeping bra. It is possible to find a quality sleep bra that is wire-free and lightweight.
Softness – Sleep bras are unique mainly because of their softness. Regardless of your preferred sleeping position, your bra should not cause an interruption in sleep. The softer a bra is the better and more comfortable your sleep will be.
Size – Using a tape measure, you can get your bust and band size. When getting the band size, ensure you measure it around the ribs area right beneath your breasts.
Is there any harm if I sleep with my bra?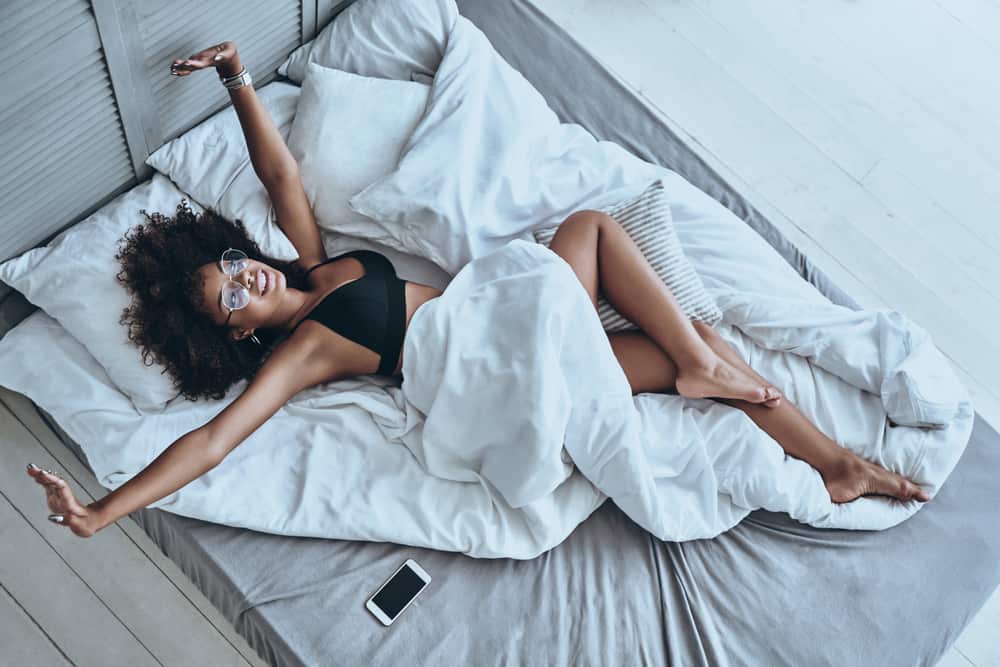 There is no harm in wearing a bra as you sleep. Provided you are comfortable, you should not have to worry about it. Contrary to popular opinion, sleeping in a bra does not make your breasts perkier. Moreover, it does not prevent them from getting saggy. The other misconception is that sleeping with a bra can cause breast cancer. That is completely untrue!
Some women just want to put on a bra to bed since it feels comfortable to them. If you are to do it, it is prudent to choose a lightweight bra that does not have underwire. Alternatively, you can choose the camisole-style pajama tops that come with an in-built bra. The one you settle for should not be too tight. Additionally, it should not have parts that dig in.
An uncomfortable bra not only irritates your breasts, but it also makes it hard for you to sleep.
Top Bra Mistakes You Are Making Right Now
There is so much that entails buying a new bra. Buying them is anxiety-inducing. On top of that, washing them is time-consuming. Finally, laying them right under clothes can sometimes be aggravatingly impossible.
Most women are making many mistakes from buying to maintaining their bras. The following are some of the top bra mistakes you might be making and how to avoid them:
Choosing your bra by cup size
Surprised that you should not be choosing your bra by cup size? Yes, you should not. Instead, the best place to start is with the numerical band size. What you need to know is that cup sizes, which are related to band size, are not standard. Letting go of a cup size allows you to explore and land the best-fitting bra.
Fastening on the tightest hooks
When measuring the band size, do so based on the outermost set not the innermost set of hooks. Remember that bras usually stretch roughly 3 inches in their lifetime. When they do, that is when you should consider going to the next set of hooks. It is prudent to purchase a bra that snugly fits on its last set of hooks. Avoid using the tighter hooks only until later.
Allowing the band to ride up on the back
Wearing a small bra
The identities of most women are tied in their cup sizes. This makes them resistant to going for higher cup size. Regardless of the reason, you should avoid putting on a smaller bra because of these reasons.
10 Best Sleep Bra in 2022
1. Hofish 3-Pack Nursing Maternity Bras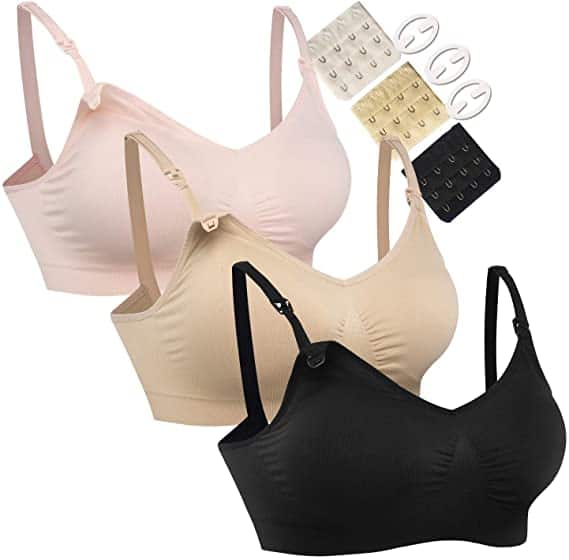 Top on this list is Hofish 3-Pack Nursing Maternity Bras. This pack delivers a super snug fit to accommodate women who are nursing. As such, you feel comfortable in it whether you are sleeping or taking a walk. The compression fit design of these bras limits motion while enhancing support.
Its shoulder straps are adjustable so you can customize the size you need. There is a wide side of the triangle cup designed to hold your cups. Even better, you can shop your size – pick between S, M, L, and XL. Picking the right size will make it easy for you to sleep in your bra or nurse for nursing mothers.
These bras are easy to mold. They feature molded foam cups that you can easily remove. The material of the bra feels soft. It is a blend of nylon and spandex to create a 100-per cent breathable material that is comfortable to sleep in. This is an ideal sleep-in bra, especially for nursing moms. If it gets defective, even after washing and wearing, you can always ask for a replacement.
Pros
Great price
Soft and offers a snug fit
Breathable fabric
Cons
Might lose elasticity after repeated use
2. Hanes Women's Cozy Wire-Free Seamless Bra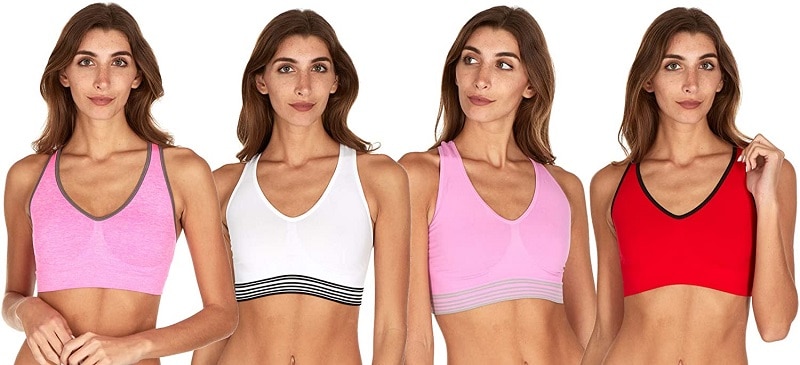 The Hanes Women's Cozy bra is simple and cozy. It features a blend of nylon and spandex, which not only feels soft on your skin but also is also highly breathable to keep you cool all night. For more comfort, the bra is clasp free. Each bra features wide shoulder straps, with a V-neckline, and a racerback to offer a supportive fit. Again, the bra sports a stretch pad and center gore. Its wire-free design gives it a smooth and impressive look. All the features of this bra are meant to provide support and maintain the shape of your breasts when you sleep. They are easy to hand-wash. Better yet, you can pick the size that matches the size of your breasts.
Pros
Super soft material for comfort
A breathable blend of nylon and spandex for a cool night
Price relatively great
Several sizes to choose from with a sizing chart
Cons
Some users might find the bra too thin
3. Bravado Designs Silk Nursing Bra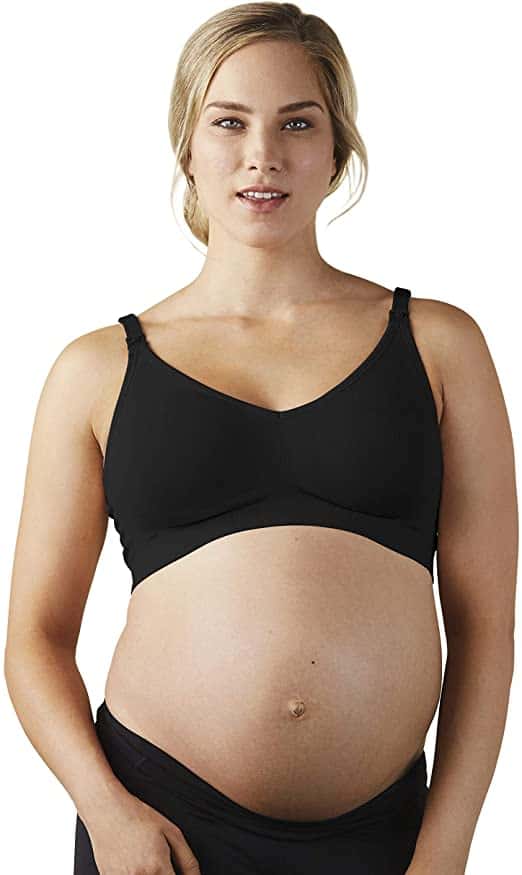 If you need a bra that supports you and allows you to nurse your baby at night, this might be a viable choice. Besides the soft and comfortable nature of this bra, there are lots of features that enhance its performance when used at night.
For starters, the bra sports a simple design that looks more like a normal bra to offer a familiar but luxurious experience. This way, you can use the bra during the day and you can also sleep in it. Its four-way stretch silk fabric is designed to mold to changing the shape of your breasts when you are sleeping. The fabric hugs your breasts snugly to limit movement and to mold to their shapes.
The bras feature simple one-hand clips that make it easy for you to open and close the bras with ease. Each bra comes with molded cups coupled with removable inserts to provide shape when you are sleeping. On purchase of this bra, you are offered a conversion kit that you can use to convert your bra into a standard bra for use during the day.
Pros
Easy to open and close with one hand
Conversion kit lets you convert the bra for day use
Four-way stretch fabric provides shape
The material of the bra feels comfortable
Cons
Might be too expensive for some users
4. Kindred Bravery Racerback Sleep Bra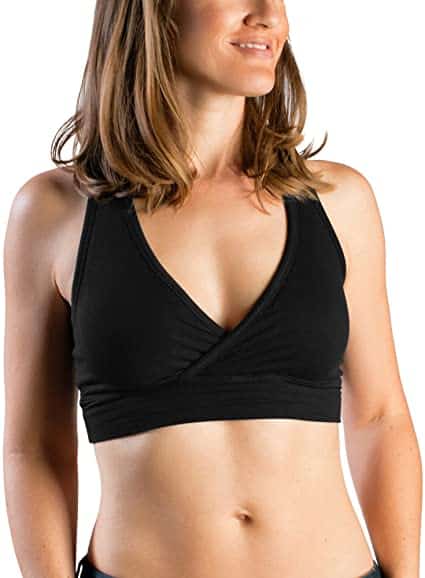 Like other sleep bras on this list, the Kindred Bravery French Terry bra features an ultra-soft and comfortable fabric. It also does not have underwire allowing a snug fit all day and night. It is made of a blend of soft bamboo and spandex, which is breathable.
The bra sports a simple crossover front design. With its stretchy fabric and one-handed design, the bra is easy to put on and remove at any time. This bra will fit a wide range of cup sizes and is even an excellent choice if you are breastfeeding.
Below the cups, the bra features an elastic chest band that provides more support when you are sleeping. Even better, the bra will keep your breasts in place all night to provide shape. You can pick any size that meets your needs from XS to XXL. The bra material is hand and machine washable. If you note a defect on the bra, you can return it within 30 days and get a replacement. The manufacturer offers these bras at a relatively inexpensive price.
Pros
Comfortable material not to irritate a sensitive skin
The bra does not lose its shape even after repeated washing and using
Easy to open and close
Cons
Its fabric feels thin and may not be luxurious for some users
5. Leading Lady Plus Size Sleep Cotton Bra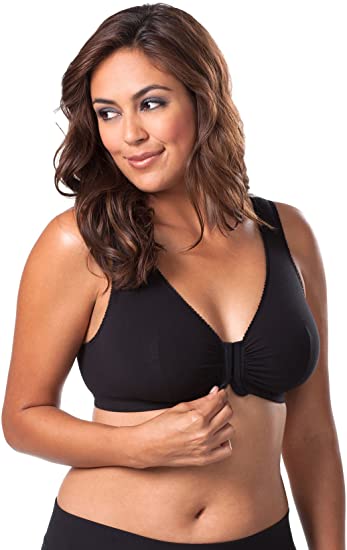 This bra offers you versatility; you can use it as a sleep bra, you can use it during the day, and you can use it when you are nursing (especially if you are a rookie mom). Its cotton and spandex construction ensures it is soft and 100-per cent breathable making it very comfortable for use at night.
It features wide padded straps that will not slip off your shoulders when you are sleeping. The bra maintains its shape to provide shape. Under the cups is a stretchy elastic band that offers enough support and ensures the cups are fully covered. These features ensure that this bra is great to sleep in.
If you are nursing, you will enjoy the stretchy cups. The sups can accommodate two-cup sizes. If you experience breastfeeding fluctuations, you are sure the bra will accommodate your needs. The bra is hand washable and it comes as a great addition to your day and night bras.
Pros
Cotton and spandex materials feel soft and comfortable
Its elastic band offers gentle support and full cup coverage
Breathable fabric lets you sleep cool
Cons
Cup size might feel small for some users
6. Cakye 3-Pack Bra for Sleep and Breastfeeding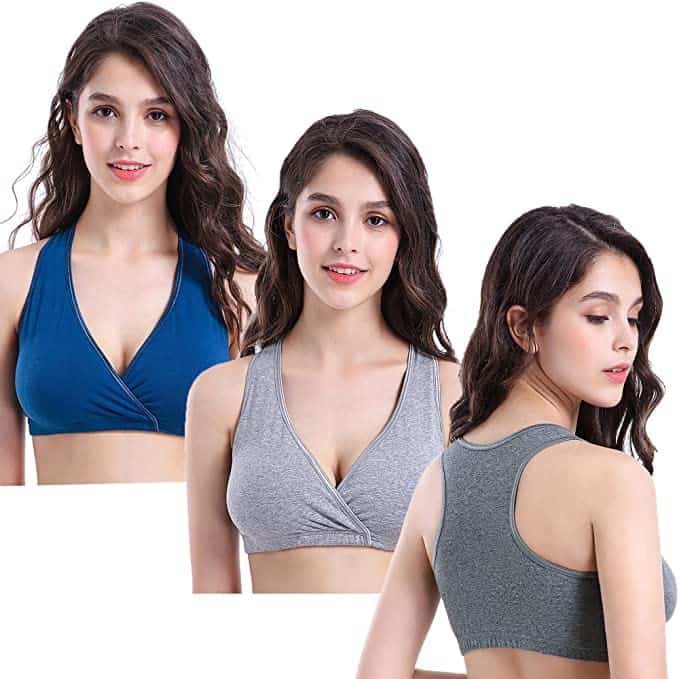 Sporting a versatile design, this bra is great for day use, for sleeping, and also breastfeeding. It is also a great choice if you are recovering from surgery and any other time you need a light, supportive, and comfy bra.
The cotton and spandex blend that makes this bra feels soft all night long and is 100-per cent breathable letting you sleep cool. Under the cups, there are no wires. Again, there are no clasps further making the bra comfortable for use at night. The bra offers full cups coverage with enough support. Each bra sports a simple crossover front design with one-handed drop-down cups for easy feeding. The bra also comes with a U-back design relieves your shoulders and back of pressure to keep you relaxed and comfortable.
When sleeping on this bra, it stretches to mold to your cup shapes to offer you support even when you are experiencing fluctuations in breastfeeding. Its hyperplastic design allows it to accommodate all breast sizes. There is an in-built bag on the bra where you can store your breast pad. However, you will have to buy the breast pads separately.
Pros
Material stretches to provide shape to your breasts
Soft, breathable and comfortable fabric
Great fit to accommodate a wide range of cup sizes
Easy to wash with hands
Cons
The bra cannot be put in the dryer after washing
7. La Leche League Women V-Neck Nursing Bra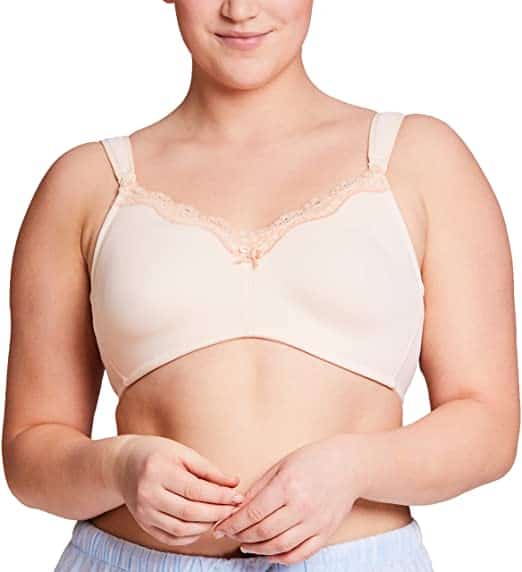 The La Leche League bra is another versatile brand – you can sleep on it, use it when you are nursing, and you can have it on any other time you need a comfortable bra. Its pullover design makes it easy to put on and remove and also ideal if you are nursing. The bra does not come with underwire. As such, there is no pressure on your milk ducts or interruptions when you are sleeping.
To enhance the softness and comfort of the bra fabric, La Leche League blended cotton, poly, and spandex. Its cups are therefore smooth and do not irritate sensitive skin. If you choose to wear this bra during the day, you will love its feminine satin trim that makes the bra stylish. You can shop for this bra in plus sizes besides the standard S, M, L, and XL. Ensure that you do not place this bra in the dryer after washing as it will shrink instantly.
Pros
100-per cent breathable fabric
Soft and comfortable material
Easy to wear, remove and wash
Cons
Some users feel the bra is relatively less supportive
8. Bravado Designs Original Full Cup Breastfeeding and Sleeping Bra
Bravado Designs created this bra to accommodate all modern moms. The bra is easy to sleep on and great if you are breastfeeding. You can wear it when staying at home or when you are taking a walk – either way, it feels comfortable.
One thing that makes this bra is great is the cotton fabric that is soft and breathable. This fabric is very soft and does not irritate even the most sensitive skin. Even better, this nursing sleeping bra is easy to use. It one-handed design along with the nursing clips ensures that you can breastfeed any time of the night.
For moms who are breastfeeding, the full drop away design of the cup ensures full skin contact. Its wide bottom band coupled with its racerback style with no back closure ensures the bra is easy to sleep on. There is no underwire and you can choose your size from S to XL. Its wrap style and V-neckline ensure the bra offers enough support for nursing moms.
Pros
Soft, breathable and comfortable cotton fabric
Offers enough cleavage and cups coverage
Easy to use for moms who are breastfeeding
Cons
The nipple padding on the bra may not be enough for some users
9. PRETTYWELL Women Sleep Bra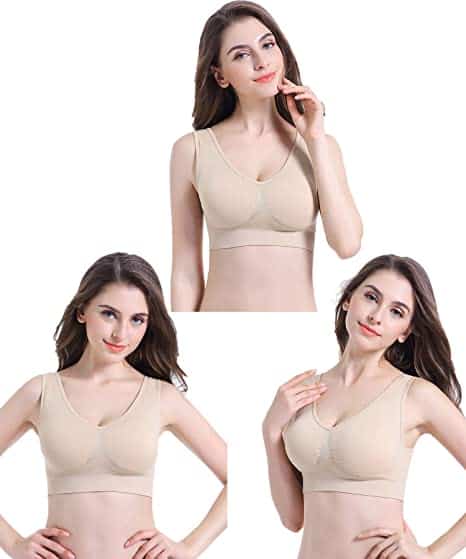 PRETTYWELL designed this bra to feel comfortable no matter when you use it. The bra is clasp free making it soft and comfortable for daytime and nighttime use. The bra sports a wide stretch band beneath the cups. It is also wire-free to enhance the feel and look of the bra. Its design ensures there is no pressure around the chests and shoulders for a comfortable night. This stretchy band coupled with the stretchy fabric makes this bra an ideal choice for nursing moms.
Besides sleeping in this bra, you can use it for light sports such as yoga, gym, and jogging. This versatility makes the bra great.
The softness and breathability of this bra ensure you sleep comfortable and cool. Better yet, you can remove the bra pads for more comfort. You can pick from a selection of different sizes and nine colors. Before shopping, check the sizing chart to get the right size for you.
Pros
Comfortable and supportive construction
Offers great cleavage and cups coverage
Pads are removable to customize the comfort of the bra
Cons
Bra colors may fade with repeated washing
10. Fruit and Loom Cotton Pullover Sport Bra for Women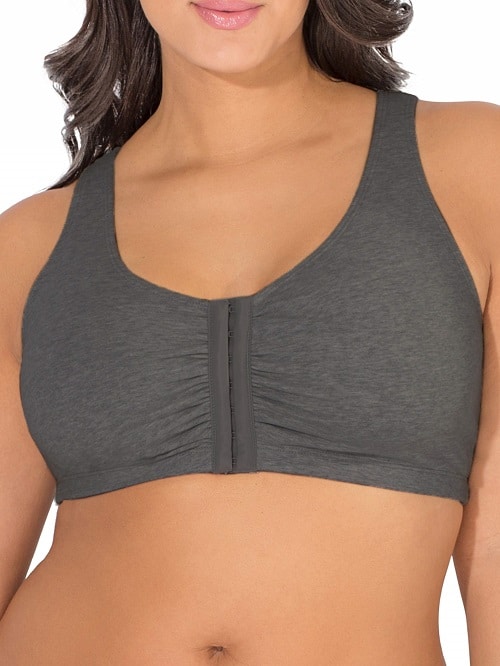 The Fruit and Loom Sports bra is designed to feel comfortable whether you are sleeping, sitting, walking, or you are engaged in sports. This way, the bra feels comfortable during turns and tosses at night. It is made of a bland of 95-per cent cotton and 5-per cent spandex. This makes it soft, breathable, and comfortable. Again, this blend of fabric is easy to wash with hands or in a washing machine. On purchase, you are offered a set of three bras and a set of pads.
Each bra features solid construction to last long. The bra is stylish and comfortable and features tag-free labels. The spaghetti straps make the bra more stylish. If you love a sports bra style, this might be a great choice for you. It functions great when you need a bra that complements tanks and undershirts.
Pros
Versatile design – can be worn during the day and at night
Soft and breathable fabric
Relatively affordable
Cons
Bras straps are not adjustable