This is a mattress that offers you the best of both worlds — a cutting-edge foam technology together with a well-proven coil spring mode.
A hybrid mattress is actually a much better option compared to the all memory-foam mattress.
It is however not a requirement for a hybrid mattress to have the memory foam layer, because there are many other materials available, but a hybrid mattress without the memory foam layer will not offer you the superior comfort you seek in order to have a restorative sleep.
"Springs" are mostly considered old technology, but, as the adage goes "old is gold." Springs usually offer more significant support compared to the modern foam mattresses in the market today. If you are old school, then you remember just how comfortable your mattress used to be.
Think about the tires on a car. Since time immemorial, tires are made of rubber, and they are round, but you cannot compare modern day tires to those of say, 50 years ago. Times have changed. They may look the same and have the same shape, but the performance is way different.
That is how you should think of the springs in a hybrid mattress. They look the same, but they do not work the same, neither do they feel the same way.
So, if you have always wanted to own a memory foam mattress, but are just not sure about the benefits it has to offer, a good hybrid mattress would be the best option for you, because, with it, you get the best of both worlds. A high-quality spring mattress, and memory foam as well.
You may be tempted to think that this is an extremely expensive mattress, but that is not the case. It is actually less costly compared to a pure memory foam mattress.
Support:
This mattress has the same number of coils as an innerspring mattress, and the foam is added for extra contouring and support.
The coils allow the mattress to retain its bounciness and also gives it gives it a traditional shape and feel which is what most people enjoy from the innerspring model.
The layers of memory foam go a step further in providing users an enveloping embrace every time you get into your bed because it is very soft.
What layers are found in a hybrid mattress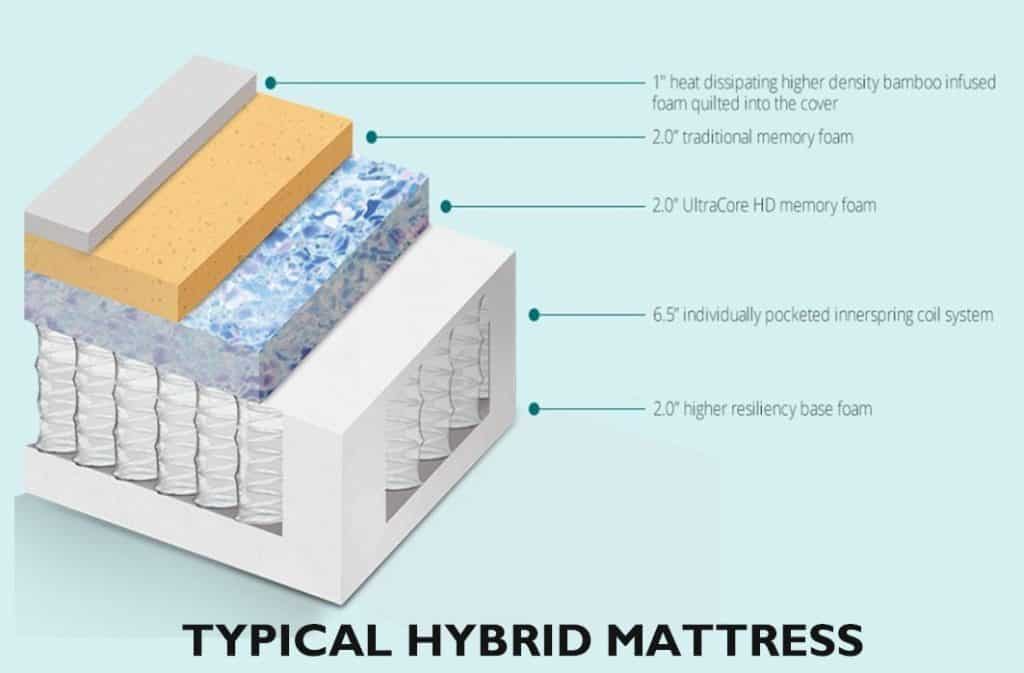 Now, the materials in a hybrid mattress can vary greatly depending on the manufacturer. But typically, they include the following layers;
A coil support system:
As mentioned above, this is a mattress that features the traditional coil system. Some of the best hybrid mattresses will have coils that are wrapped individually, which can be able to move independently and hence, motion transfer is significantly reduced.
What this means is that, if you sleep with a partner, the motions and movements of your partner are never felt in this mattress. It makes it seem like you are sleeping alone, and if they are troublesome sleepers who have been giving you sleepless nights, you can now rest easy and free from disturbances.
You will also find some with tempered steel coils that offer a base support layer, and yet another layer of coils that are individually wrapped.
What the coil does is to provide a superior spine alignment, which you need in order to have a restorative good night sleep, regardless of the sleeping position.
Comfort layer:
This layer is usually made of either memory foam, polyfoam, latex, or any other type of foam. Of course, this depends on the manufacturer, but the memory foam tends to be the best option in this case, as it has been proven to offer the most significant benefits and features.
The memory foam can adjust to your natural curves while you sleep and offer you the kind of comfort you have only been dreaming about.
Cooling materials:
This will either be graphite copper or gel. These are materials which are low conductors of heat, and what they do is to slow down the transfer of body warmth on to the mattress. It's usually part of the comfort layer.
You desperately need this layer in your bed, because it will offer you a temperature-controlled sleeping environment that has no distractions. If you have noticed what makes you wake up in the middle of the night, most of the times its usually excessive heat.
When the temperature is well controlled, you will sleep soundly like a baby, with very few disruptions and interruptions.
Pillow top:
This provides additional cushioning. Pillow tops are standard with European style mattresses, and they offer a lot of comforts. They are mostly made of wool, cotton, foam or even a fiberfill.
How does a hybrid mattress feel?
The feel of this mattress is not universal, because it will mostly depend on what the manufacturer has decided to include in the layers.
But what we know for sure is that it will have a remarkably different feel from what you are used to, that is; the traditional and standard mattresses, or even the real memory foam mattress.
Initially when you buy it, you will experience a super soft feeling, which is standard with memory foam, but besides, you will also feel the additional reinforced support from the coils. These will make it easier for you to move around and even change the sleeping positions as night. You will not sink into the mattress, as you would with a normal one. It will make you feel buoyant and elevated.
In addition to all these feelings and experiences, this is a mattress that is much cooler. As mentioned above, it has a cooling system that will ensure your bed is always the right temperature to facilitate a good night sleep.
Additional benefits of a hybrid mattress:
Hypoallergenic: This mattress also offers hypoallergenic features. It is dust mites and allergens resistant, which means that the little particles in the air that are usually trapped in the mattress making it difficult for you to breathe at night are eliminated.
For people who suffer from asthmatic attacks and other breathing related disorders would greatly benefit from having this type of mattress.
Alignment: Now, one of the main reasons why people suffer from back related pains, is as a result of poor alignment especially while sleeping. You need to be in the correct posture even at night, to alleviate these pains.
A good hybrid mattress properly aligns your spine and also distributes your weight evenly, and this makes your neck and shoulders to be well positioned for easier breathing and better sleep.
People with breathing conditions such as sleep apnea would greatly benefit from this kind of alignment, and they will end up having fewer breathing issues.
Better priced: This mattress is actually much more affordable than the memory foam mattress. It is perfect for someone working with a budget.
Who should buy a hybrid mattress?
According to the points we have outlined above, this is a mattress for anyone who appreciates a good night sleep, but it is most suitable for the following people:
Side sleepers: Side sleepers have difficulty sleeping throughout the night, and they tend to toss and turn all night long looking for a comfortable position. This is very uncomfortable, and it leads to fatigue, back pains, and even shoulder pains. Sometimes you may also find it hard to wake up and go to work because you are too exhausted.
With this mattress, it ensures you have the perfect position at night if you are a tosser, and the comfort that is provided by the memory foam ensures you sleep soundly all night long.
People who have insomnia: If you cannot sleep at night, chances are that you have a lousy mattress that is not facilitating sleep.
With a good quality mattress, sleep is almost always guaranteed, because this is a mattress that is designed to deal with sleep-related problems, and insomnia is one of them. You need to be in the highest level of comfort for you to find sleep easily. A hybrid mattress can help with this.
Back sleepers: These are people who sleep on their backs.
Back sleepers require a lot of support because when you sleep on your back, you are overstretching your spine. You need a mattress that can handle this kind of task and one that will align you properly to relieve pressure on the spine and allow you to sleep well throughout the night.
When you use a poor-quality mattress, you will wake up with severe back pain.
Pregnant women can also fit into this category, especially because they are mostly unable to find a comfortable sleeping position.
The old: Old people have been known to have trouble sleeping because in most cases their bodies are full of pain. They need a mattress that can correctly align their spines and relieve their pressure points, so their muscles and veins can also relax.
If you have a parent with sleeping problems, try getting them this mattress for better sleep.
Final thoughts:
They say that you should sleep at least 6-8 hours each day, in order to become more productive. If you think about it, this is a lot of time spent sleeping, and you must ensure that you are in the most comfortable position to achieve the benefits that sleep has to offer.
A hybrid mattress is one of the best mattresses in the market today, and also one that is extremely technologically advanced.
So, if you were wondering what a hybrid mattress is, we hope we have answered the question in details and helped you make the right decision.