Must you have heard about such a thing called the hybrid car, right? It seems that the hybrid trend is not only a thing of the future and does not restrain itself on cars and appliances alone. There are also hybrid mattresses, which are vastly becoming more and more popular amongst consumers.
A hybrid mattress is thought to combine the best of the two worlds, traditional innerspring and memory foam or other kinds of foam. This makes for a very supportive sleeping surface which seems to appeal to more kind of sleepers.
According to experts, it is good to replace your mattress every 8 years or so, therefore the next time you want to change your mattress, it is good to know of your options. We suggest thinking of one of the top hybrid mattresses listed here, as your possible choices for ensuring a restful sleep.
Check out what we have installed for you:
7 Best Hybrid Mattresses 2022
1. Dreamcloud Premier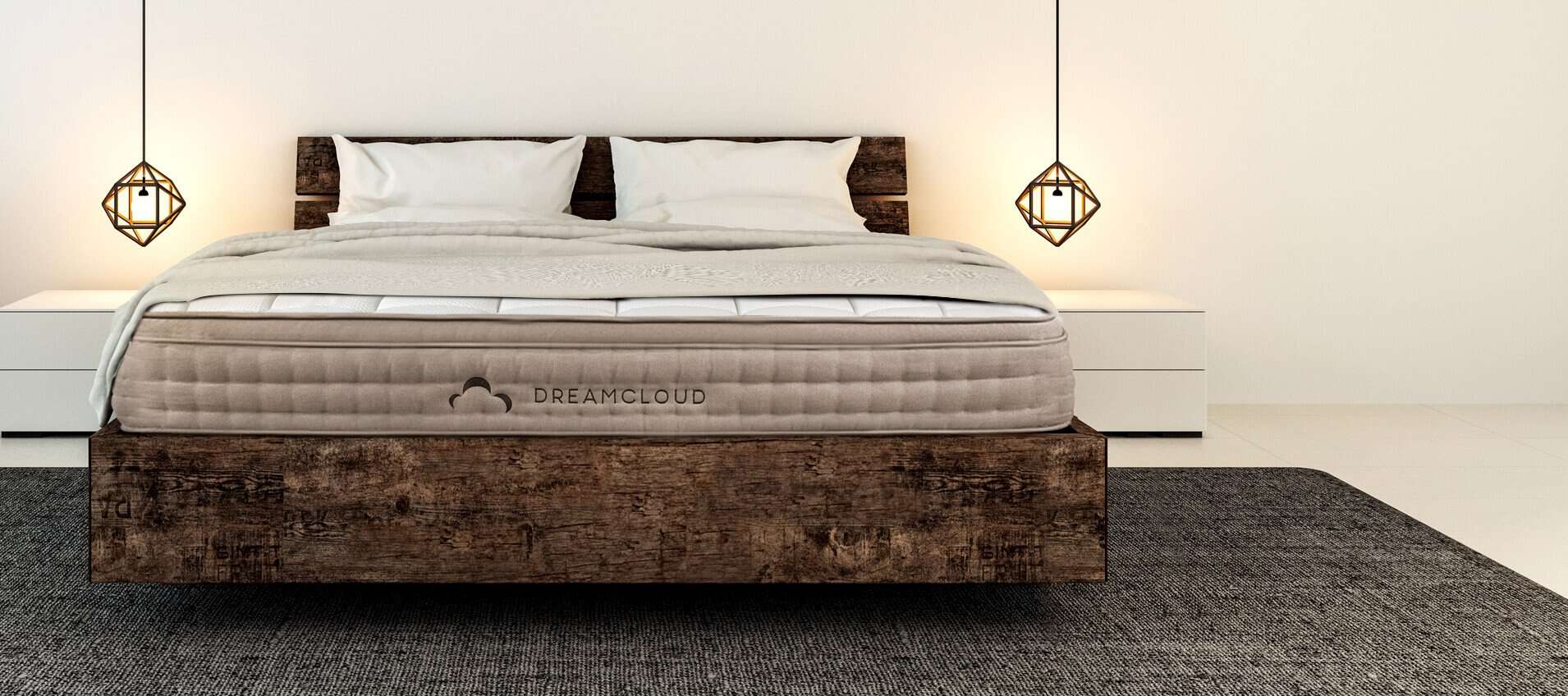 Love the plush side of your life and bring the DreamCloud which is a name of comfort and luxury. It is the best hybrid mattress which combines latex, memory, tufting and coiling technology for your ultimate sleep desires.
If you are tired of tossing and restless nights due to a non-supportive or uncomfortable mattress, then grab this one for yourself which is of the top picks in the market. Its qualities and specifications are as follows:
The DreamCloud Premier is an excellent example of a hybrid mattress which is a combo of latex, memory, tufting and coiling system. Its 8 layers system guarantees you plenty of comfortable sleep. First layer tufting cashmere top gives you a feeling like sleeping on the clouds by its soft, breathable and exclusive hand-tufting quality. The company regards your sleeping needs and so has integrated a gel infused built-in cooling system as the next layer which maintains the perfect temperature through the whole night.
Having a quilted memory foam as a 3rd layer and natural latex foam as 4th gives the best-balanced support and bounce for your every night's peaceful sleep. Its 5th dream plush foam adds in to further comfort.
The super dense memory foam as the next layer offers cutting-edge technology for the perfect contouring and alignment of your body thus reducing stress on your body as you sleep and upon waking up. The 7th layer of encased coils compression system gives the best support from head to toe combined with the last layer of high-density memory foam. The high-density latex foam gives the most luxurious feeling and you wake up fresh. It further adds to the durability and comfort of the mattress.
With the free 365 night trial, warranty and free shipping and return policy, the DreamCloud Premier gives you a complete satisfaction for your purchase. So, go and purchase your next dream of sleep.
PROS:
This product is a great healer for those having insurmountable back pain.
The combination of springs and foam makes it a truly comfortable mattress.
The mattress is certified for its safety upon usage of latex foam and is hypoallergenic.
It has lower than the price the premium mattresses on the market (the same features).
It feels cooler in summers and warmer in winters by its gel-infused technology.
Its 8 layers construction increases its durability.
The company offers 6 months low payment.
CONS:
It can take up to 5 days to get delivered.
Costs more than others in this list
2. AWARA

AWARA is a 13" latex hybrid mattress designed to provide a healthy, eco-friendly mattress for sleepers who enjoy sleeping in any position.
Key features
5-zone spring coil construction
The cover is made of materials that naturally keep you cool and wick away moisture: 100% organic cotton and wool.
Medium-Firm feel which satisfies most sleepers
AWARA rests on 9" individually wrapped pocketed coils that provide zoned support to help keep your back aligned without causing pressure points for side sleepers.
The 4" layer of natural Dunlop latex is a traditional healthy material used in mattress construction for many decades. Made from the sap of rubber trees, latex is a renewable resource that provides income and discourages deforestation in the equatorial region of the planet.
Designed to provide the support and comfort needed for side, back, and stomach sleepers to sleep well all night long, AWARA provides a healthy option that is surprisingly affordable given its eco-friendly construction. The combination of latex, which doesn't sleep hot the way foams can, and coils that allow airflow, you won't sleep too hot on this mattress.
PROS:
Natural Dunlop latex, 100% organic cotton, and natural wool
Appropriate firmness options for any type of sleeper
You'll sleep cool and comfortable
The best sleep trial in the industry: 365-nights
An astounding lifetime warranty and comfort guarantee
The motion isolation allows you to sleep undisturbed
CONS:
You can't remove the cover
Natural materials are more expensive than foam
3. Bear Mattress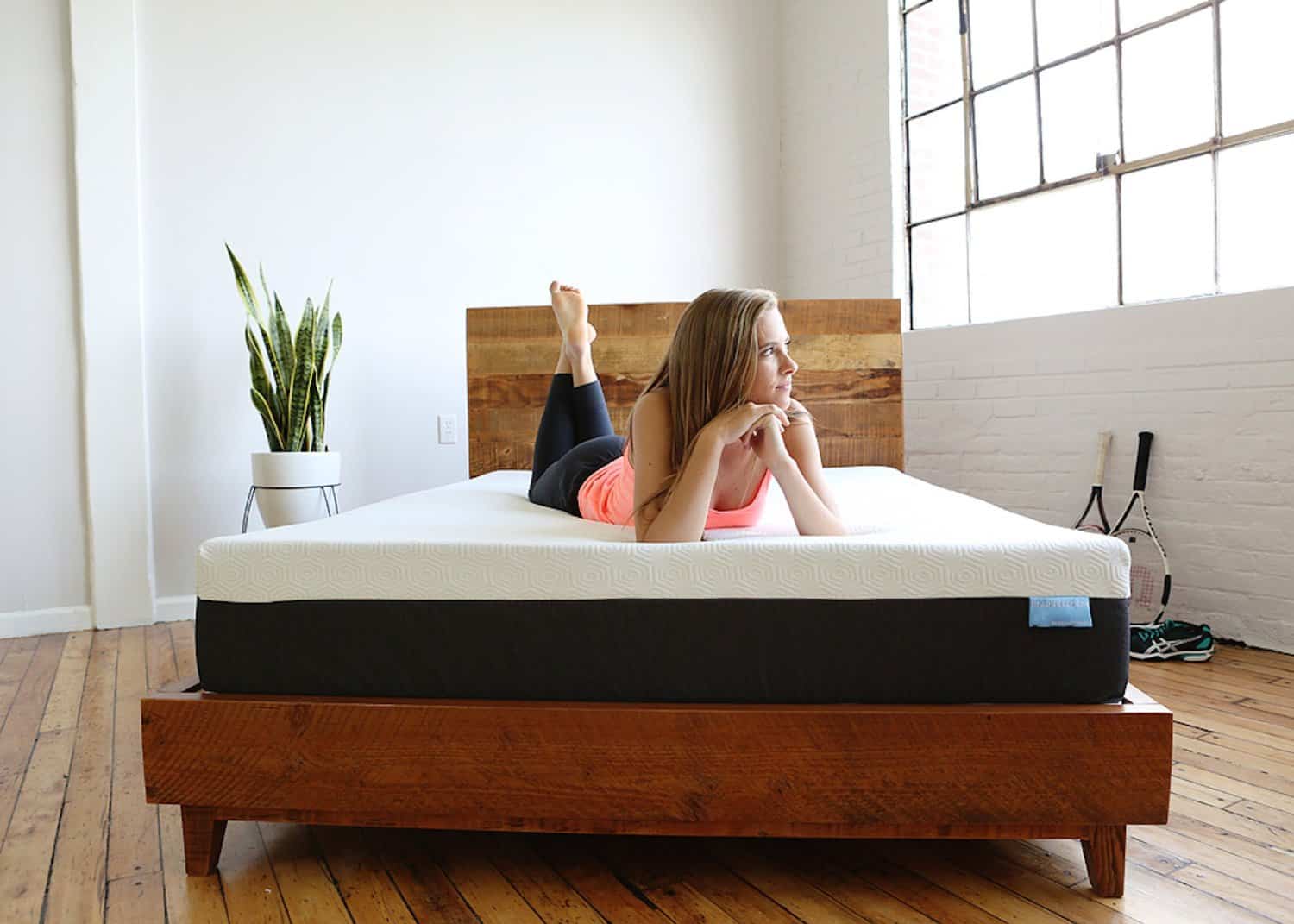 This is a foam and coil hybrid mattress that will deliver an exceptional result for an athlete or anyone with an active lifestyle.
Single firmness – medium, so it is best suited for any type of sleepers, perhaps except stomach sleepers
Includes Celliant® technology, for a cool sleep and faster recovery from intense activity
The Bear mattress is a unique 15" bed in terms of its special attention to cater for athletes and anyone who lives a demanding life.
It is made of premium materials like Graphite-Gel Infused Memory Foam, which is a material with qualities like sleeping cool and providing great contouring, while the Bear mattress also features a Quick Response Memory Foam making for a bouncy and responsive surface, whereas it also features a breathable supportive foam. However, it doesn't have the bounce of a latex mattress.
Backed by the Celliant® technology, it performs exceptionally well as far as heat retention and there is enhanced airflow and relieves any pressure on sensitive joints.
The mattress offers a medium firm feel which is appropriate for most sleepers, apart from stomach sleepers perhaps who might prefer something firmer, while the mattress is also ideal for overweight individuals.
Overall, a top performing mattress at a great value for the money.bear
PROS:
Exceptional pressure relief, fast recovery, and enhanced airflow
Sleeps exceptionally cool thanks to its gel infused and Celliant® technology
Great customer support
Good value for the money
Suitable for heavier people and athletes
Offers 1% of every sale to Good Sports, an organization with the mission of making sports accessible to all children
CONS:
The cover cannot be removed for washing
Perhaps not the kind of bounce you get with latex
4. Avocado Gwen

This green mattress is your ultimate luxury destination for an organic mattress that delivers big on all aspects and doesn't cost a fortune.
Avocado Green has a premium build of only organic materials
It has a sturdy and durable structure, and it is quite resilient
You have the option to choose between two firmness types
You can add an optional Euro Pillow Top of 2 inches thick to make it softer
The Avocado Green is an exceptional green mattress. It is 13 inches thick with the optional pillow top. Constructed entirely out of organic Dunlop latex, Pure Joma New Zealand Wool, recycled steel support coils and GOTS certified organic cotton. This eco-friendly build is held together without glue using handmade button tufting..
The basic model has 11" inches of comfort. You easily get an extra layer of comfort on your Avocado Green with the latex Euro pillow top. Overall, the level of support and comfort is amazing with this mattress.
It is also a great choice for a couples since it features a quite bouncy and responsive sleeping surface. It is also ideal if you tend to sleep hot since it is made with natural, non-toxic and breathable materials.
The mattress has been designed to offer a medium-firm level of firmness, which is probably firmer than you would expect, with minimal sinking. It has earned awards for its supreme support of the body.
You should rest assured that you are getting a top-quality healthy mattress, which surprisingly doesn't cost as much as its competitors who offer similar quality products. So, trust us if you want one of the best organic mattresses the world has to offer!
PROS:
All-natural premium construction
An optional Vegan version without wool is available
Sleeps quite cool
Ad the Euro Pillow Top to soften the mattress
Handcrafted design and highest quality
Good bounce and responsiveness
CONS:
It is rather expensive, although it is reasonably priced for its premium build
5. Amore
Amore Beds mattress is probably one of the most affordable options you will find for a high-quality hybrid mattress, offering a plush mattress with distinct qualities.
An eco-friendly solution for a hypoallergenic mattress made of organic cotton cover, New Zealand organic wool and graphite infused memory foam.
Three firmness options to choose from and a convenient dual firmness split option as well.
Balanced comfort and support with the 4'' pocketed coils which also keep you sleeping cool.
You can benefit as well from the copper ion fabric option for a cover if you choose that.
The Amore is not your typical hybrid mattress, as it performs well above average in different fields and is able to produce exceptional results. It is a mattress which has been designed with special attention to firmness options for its customers.
Choose between three personalized options: either soft, medium or firm, as well as there is also the possibility for dual firmness split option, depending on your preference.
This flexibility makes for a supportive and comfortable mattress regardless of your weight, so you can enjoy its perks whether you are a lighter or heavier sleeper equally.
It is also specifically designed like that to address the needs of any type of sleeper, whether it is back, stomach or side sleeper.
The hybrid construction, matching specialty foams with pocketed coils makes for the optimum sleeping surface for proper spine alignment and strong edge support. It also sleeps exceptionally cool, whereas the cover is hypoallergenic and together with the organic wool used, makes for a breathable and eco-friendly sleeping surface.
The only problem identified with the Amore Beds is the slight smell, which will dissipate rather quickly though if you air the mattress before use.
A great bargain really for what you get.
PROS:
Flexibility to choose between 3 firmness options
Thicker than industry standards
Special 4 layers design
Sleeps really cool
Hypoallergenic cover and eco-friendly organic wool structure
Can accommodate for both lighter and heavier sleepers
Suitable for any type of sleeping position
Above industry standards of 20 years warranty
Quite affordable
CONS:
6. Aviya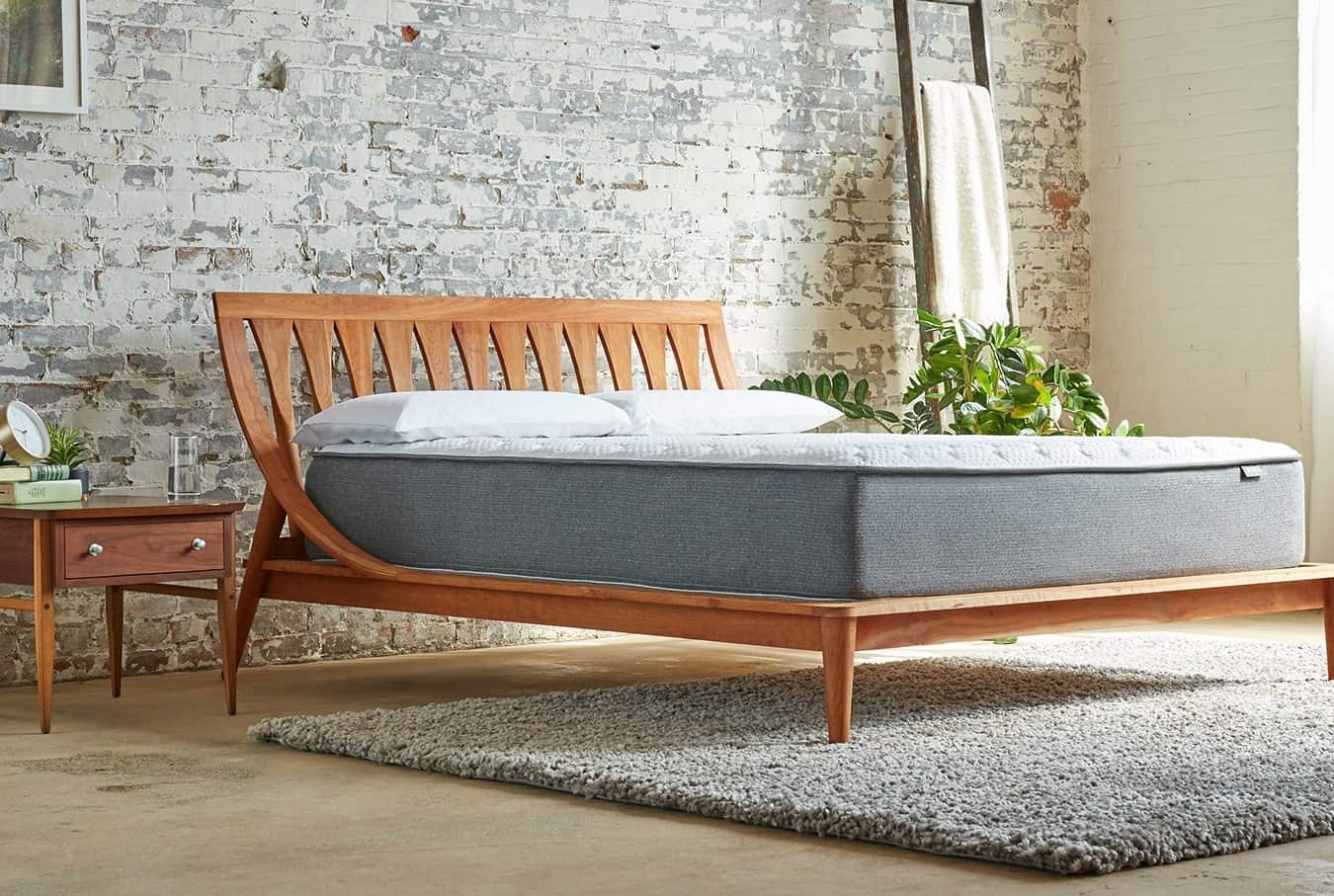 One of a kind mattress, considering its premium built and such an affordable cost.
Key specs:
Aviya offers a supreme edge support system, 3 inches thick across the mattress
It features 12 inches thickness so it is more durable and resilient than common mattresses
Choose between Firm, Luxury Firm, Plush/Soft
Offers a breathable and cool sleeping surface
Aviya is the kind of hybrid mattress that comes packed with nice features which you will particularly enjoy. Its special Cooling Comfort Foam facilitates a cool sleep, whereas the HD poly foam is what makes for a supportive and sturdy surface.
You can also benefit from its individually wrapped coils and the 3 inches strong edge support system so that you sense well supported. The Aviya will ensure you get enhanced lumbar alignment especially if you sleep on your stomach.
You will be happy to hear that the Aviya does not produce any distinct smell and so it makes a great solution if you are sensitive to smells. Further to this, its special foams are CertiPUR-US approved so there is no risk of harmful chemicals.
PROS:
Aviya sleeps quite cool with its cooling comfort foam
It features a unique 5 layered structure
Durable and resilient
Offers 3 firmness options
Supreme edge support
Reinforced lumbar alignment
CertiPUR-US Certified, non-toxic
Great price
CONS:
Somewhat late delivery
Normal 10 year warranty and free trial
7. Alexander Signature Hybrid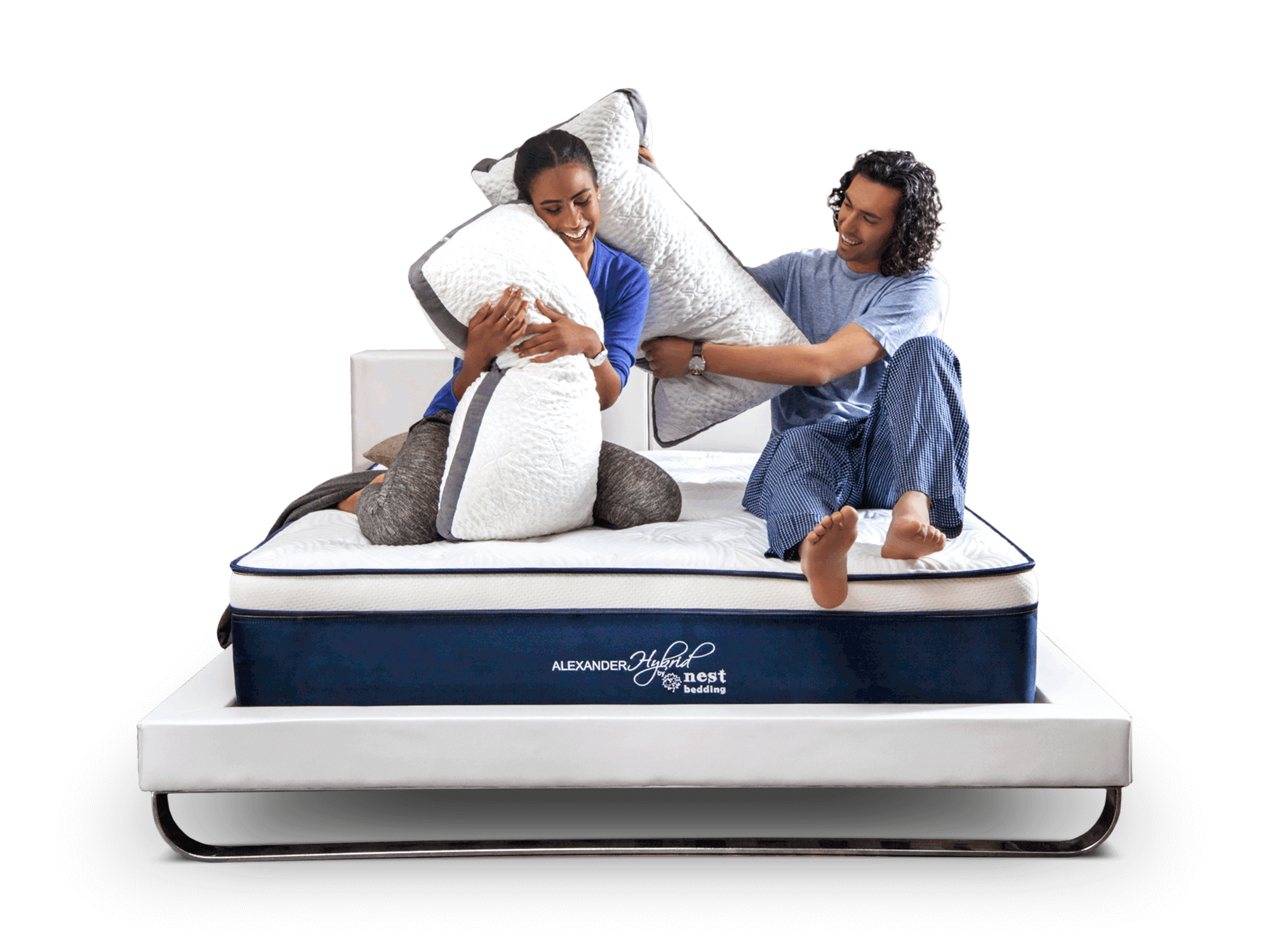 This is a top preference for a hybrid mattress offered by Nest Bedding, rated extremely high in terms of consumers' satisfaction and performance.
Enhanced with a copper infused foam – you can spot this material used also in Layla mattress. This helps to maintain a cool temperature and is also antibacterial.
The mattress features also extra edge support pocket coils so you will not fall off easily
We particularly appreciate the top comfort layers, made of specialty foams, including the Quilted Foam, Copper-Infused Gel Foam, and SmartFlow Foam which come with attributes that keep you cool and well rested.
The bottom layer comes with 7" thick 5 Zoned Edge Support Pocket Coils which facilitate for a stronger edge support, overall stability and also allows to customize the two firmness options offered by the manufacturers; Medium and Luxury Firm. In any case, whichever firmness level you choose, it is appropriate for any sleeping position and can handle even overweight sleepers.
The structure of the Alexander Hybrid is such that it feels more like a foam mattress, whereas it sleeps really comfortably and can conform to your body's natural curves and hugs you substantially.
Among the highlights is also how it comes with excellent bounce, making it ideal for couples and also quick response time, in contrast to other memory foam mattresses. It also shows minimal to none off-gassing, unlike other foam beds, however, this is not surprising, given that it's made with CertiPUR-US approved foams.
Overall, this supreme mattress checks all of our elements so it is absolutely recommended, at just under $1000.
PROS:
Sleep extremely cool thanks to the advanced technologies and breathable foams used
Does not allow motion transfer
Offers great edge support with its 5 Zoned system, which also allows customizing the level of firmness to suit your taste
Leaves no trace of smell or off-gassing
Made with CertiPUR-US approved foams which are non-toxic
The copper-infused has natural antibacterial qualities
Excellent bounce and responsiveness
Good contouring and hugging
Appropriate for any sleeping position and any weight
CONS:
Quite big so it is hard to easily move around
Comes with a non-removable cover so you cannot machine wash it
Shows some motion transfer, however not substantial
What is a hybrid bed?
A relatively recent buzz word, the hybrid comes in many forms and types of devices, but generally means one thing: the combination of sorts to offer the best of two worlds. Taking the example of hybrid mattresses, which is of interest in this post, a hybrid one is the most advanced form of sleep technology, combining two or more types of material to create a sleeping surface.
Over the years, the sleep industry has seen some important changes in terms of the technology used to construct a mattress, and the different kinds of materials used to manufacture a great mattress, moving on from springs to memory foam and latex, or even water.
The most recent trend which has taken the industry by storm has been hybrid mattresses. These combine the use of traditional innerspring with one or more foams. The confusing element though is that most innerspring mattresses always used a layer of foam on top for comfort. So, what's the big difference and what makes it really hybrid? The short answer is foam.
In order for a mattress to be called the hybrid, it must have some kind of specialty foam used with a high-quality innerspring system, probably featuring something like a wrapped coil system. However, it can also be a combination of two or more different kinds of foams, for instance, combining latex and memory foam.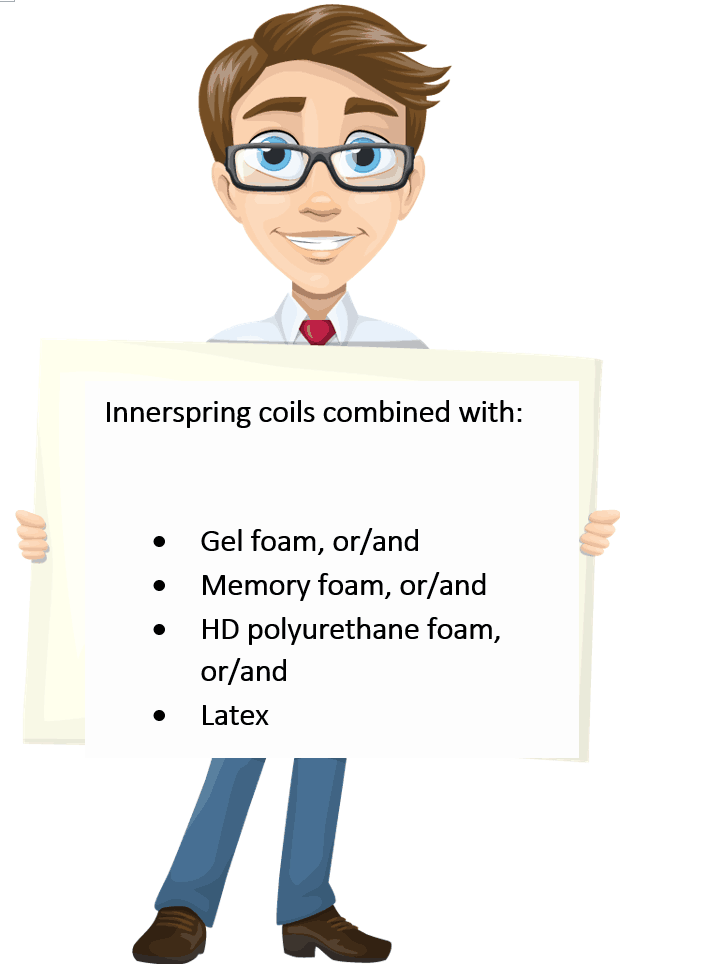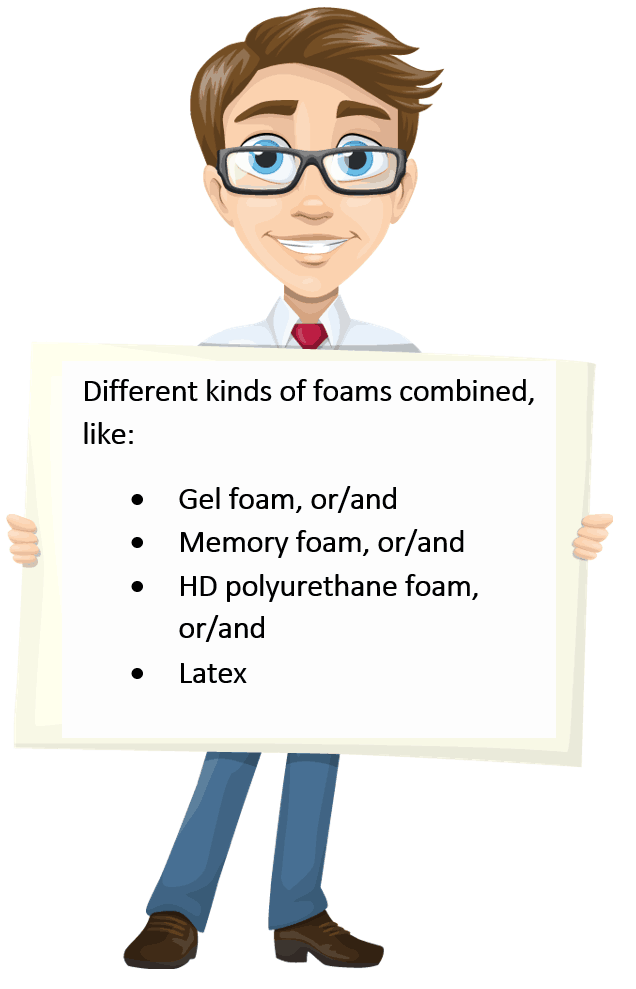 What is a hybrid mattress made of?
The difference in quality between the kinds of foams used is obvious in terms of comfort, benefits, attributes and overall feel. Specialty foams are distinct from conventional foams that you get in an innerspring model.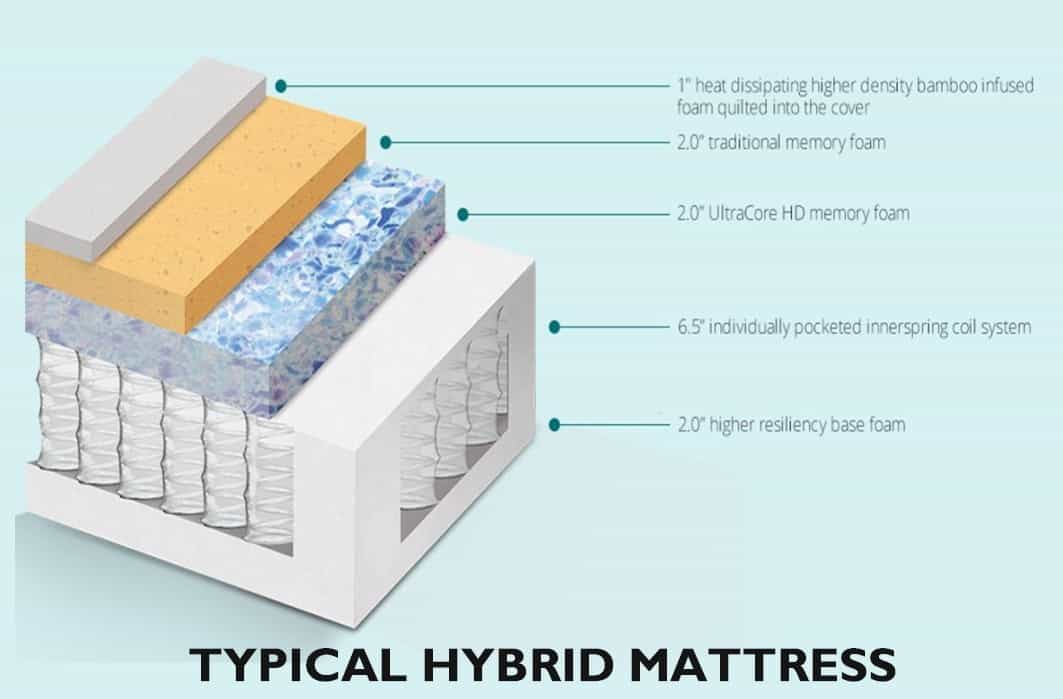 Of course, there are many variations of hybrid mattresses, yet there are certain commonalities that help you distinguish hybrid. But what are the real benefits of having a hybrid mattress? Why we need that?
Benefits of hybrid mattresses
So, is it really the best of both worlds? Beyond any marketing trick, there are indeed significant benefits in getting a hybrid mattress. For instance, you will still sense the supportive feel of innerspring. In addition, you get to benefit from a responsive sleep surface that pushes back to support your body. This attribute is not possible with most memory foam mattresses.
However, you do get the comfort of memory foam or any other specialty foam used to create the perfect balance between comfort and support. The specialty foam also offers a luxurious feeling comfortable surface and high standard contouring support with way above average pressure relief. This is great for your sensitive areas and joints.
The overall feel of a hybrid mattress is something in between the slow-response of an all-foam and the substantial bounce of a regular innerspring mattress. Regardless of the type of firmness you prefer, this sort of feel makes for an ideal option for more types of sleepers, since it can accommodate the preferences of both sleepers who enjoy foam and those who like more of a traditional innerspring feel.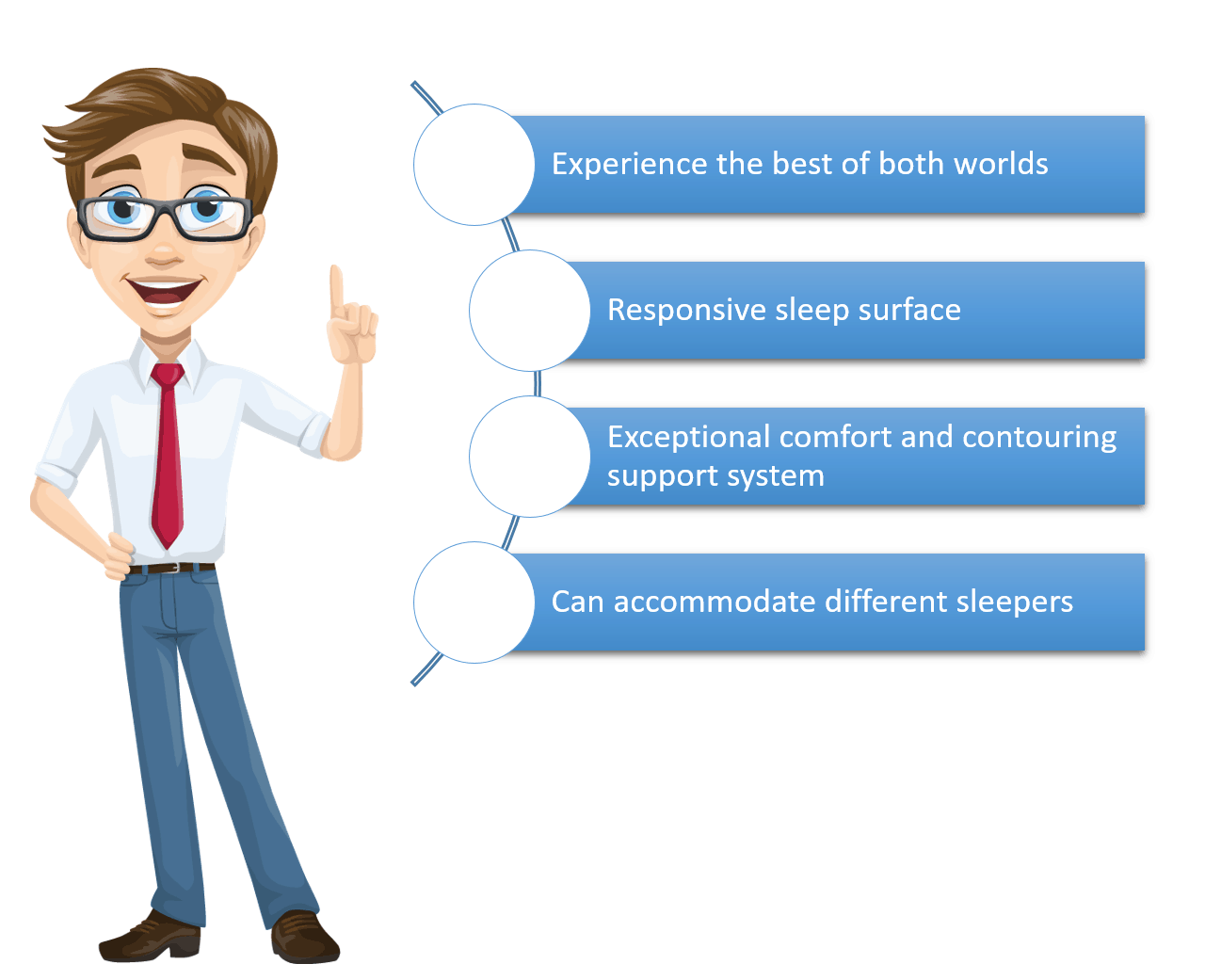 Key takeaway
There is nothing wrong with investing in a traditional innerspring or all-foam mattress. However, in case you are open to trying out something different, and potentially beneficial for your health and sleep, then a quality hybrid mattress is probably one of the best buys you will find.
Since hybrid mattresses are now flooding the market, you will find yourself facing an array of options that can be overwhelming. For this reason, we have prepared this list featured above to help narrow down your choices to the very best mattresses out there, based on our personal testing and research of the market.
Consider your options carefully, taking into perspective the different factors which should influence your decision on the best mattress for you, which you can find in our mattress guide. Whatever you decide, after all, remember that a hybrid mattress is a great buy, as long as you are not too determined to have either the straight foam or innerspring feel. We think you will be very pleased with your new mattress and wish you the best of periods of sleep!