In compact homes, having guests staying over can present a lot of challenges, the most prominent of which is often sleeping space. In such situations, a trundle bed can prove to be some of the most functional pieces of furniture you can get.
With trundle beds, you get a lower roll-out bed that seats underneath the main bed frame, providing extra space when you need it yet stays neatly tucked out of sight when you don't.
Consequently, trundle beds provide some of the most space savings of any bed type, making them a perfect fit for smaller apartments like studios or a great addition to kids' rooms and guest bedrooms. However, trundle beds do not come without their own problems, the most prominent of which is the hassle of finding the right mattress.
Since trundle beds have to fit under the main bed frame, you can only use a mattress that matches or is lower than the available space between the frame and the trundle. This size limit for trundle beds can place a significant constraint on your possible choices and make it harder to find the perfect mattress.
Note: Most trundle beds have a 10-inch or lower limit for the pull-out mattress. Some can even be as low as only 6 inches. In terms of dimensions, most trundle bed frames will fit twin mattresses. You can also find trundle bed frames for full-size beds, but queen-size or higher are harder to find.
4 Best Mattress for a Trundle Bed
If you require a slim yet comfy mattress that works with your trundle set, we have crunched the numbers to bring you the best of the best.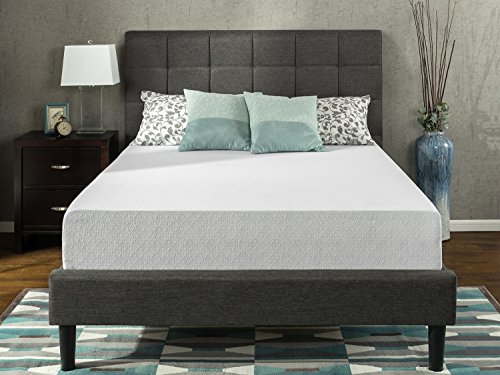 Our top-rated pick, the Zinus Memory Foam Green Tea Mattress, is an excellent mattress that packs exceptional support, thanks to its foam construction, in a slim profile that will fit right into most trundle beds. This odor-repelling mattress offers the best body-conforming and olfactory experience of any mattress with this height profile.
Durable build
Intense support
For all sleeping positions
Supporting spring base
Premium look cover
Excellent heat management
Solid value for money
Superior pressure relief
Robust edge support
#1 Our Top Pick: Zinus Memory Foam Green Tea Mattress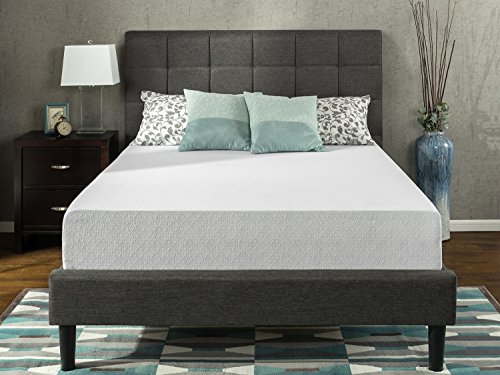 If you are looking for a mattress for your trundle bed that checks all the boxes for comfort, durability, and features, you can't go wrong with the Zinus Memory Foam Green Tea Mattress.
The main USP of this mattress is its unique setup that features memory foam infused with castor seed oil and green tea extract. This mix of aromatic compounds helps to rid the product of that notorious memory foam smell and ensures the unit stays smelling fresh even after prolonged storage.
This addition is especially important when using the Zinus Green Tea mattress with a trundle, as in most homes, the bottom bed may stay stowed away for extended periods.
Furthermore, thanks to the antimicrobial properties of castor oil, you can rest assured that your mattress will stay free of bacteria build-up. Consequently, with this unique memory foam mattress, you get a great-smelling bed that promises a great sleeping experience whenever you need it.
Plus, the Zinus Green Tea mattress is no pushover when it comes to the build of the bed, either.
With the Zinus, you get a 6-inch mattress that features 5 inches of high-density foam as its base layer and a 1-inch memory foam layer that conforms to your body and brings supreme comfort. The high-density foam packs enough full-body support to make you forget that the mattress is only 6 inches thick.
The goodness of this mattress is not limited to 6 inches alone. You can also get 8-inch, 10-inch, and 12-inch versions of this mattress, if your trundle bed can take it.
Plus, the cover is soft fabric-knitted jacquard, which is plush to the touch, and completes the comfortable experience.
Another big plus with the Zinus Memory Foam Green Tea Mattress is its decent pricing. You can get the Zinus Green Tea Mattress for under $200, which is significantly more competitive than most other memory foam mattresses of this caliber. Nevertheless, you get an impressive 100-night risk-free trial and a 10-year warranty from the manufacturer on purchase.
Straight out the box, you get the product, which is compressed and rolled into a box to facilitate a smooth delivery. On receipt, you should remove the mattress from its package within three days, and allow it air out for about 48 hours to allow it to expand to its full size.
Zinus Green Tea mattress also featured in
Key Features
Memory foam mattress infused with natural green tea oil and castor oils that make the unit odor repellent and bacteria resistant
5-inch high-density foam brings intense support and increased durability
Conforming 1-inch memory foam layer for superior comfort and pressure relief
With CertiPUR-US certification for quality and environmental friendliness
Plush Jacquard fabric cover adds a soft touch and a premium look
Comfy medium firmness
Decent pricing
Available in both twin and full sizing options
Impressive 100-night risk-free trial and a 10-year warranty
#2 Best support: eLuxurySupply 10-inch Gel Memory Foam Mattress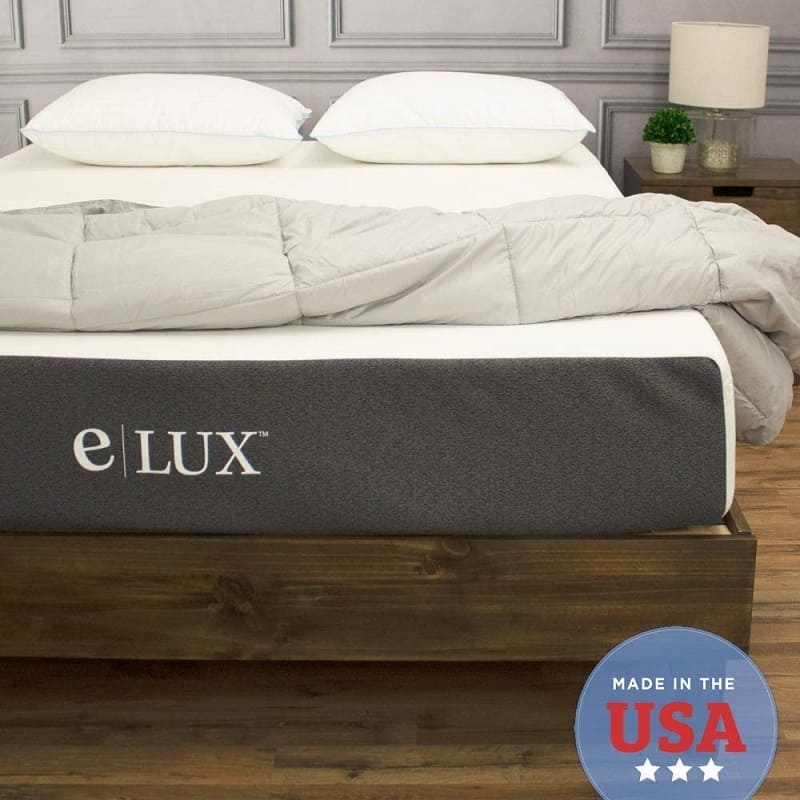 If you have a trundle bed with a bit more room for a higher mattress, one of the best options you get for full-body support is the eLuxurySupply Gel Memory Foam Mattress.
While the eLuxurySupply mattress does not come with any unique bells and whistles, what it gives you is an all-round solid mattress that packs a slew of high-end build materials in a slim 10-inch profile.
Plus, eLuxurySupply, the parent company, operates and runs its entire manufacturing process here in the United States without any outsourcing, which is a huge attraction for us. The outfit is veteran-owned and operates out of Evansville, Indiana.
Like many other mattresses in this height category, the eLuxurySupply Gel Memory Foam Mattress uses a dual-layer setup. The base layer is a 7-inch thick slab of polyurethane support foam that brings all the toughness needed to provide more support than your regular trundle bed.
Plus, the base layer is a 3-inch sheet of gel-infused memory foam that brings just enough softness to guarantee full body contouring and intense pressure relief, without leaving you feeling stuck.
Since you don't sink in as much as you would with other memory foam mattresses, sleeping on the eLuxurySupply gel mattress won't exert undue pressure on your lower back. Hence, this mattress also makes an excellent pick if you want one that can accommodate people with back pain or joint issues.
Furthermore, this bed also provides faster response times than your regular memory foam mattress, allowing you to change positions with ease through the night.
Thanks to the generous thickness of both the support and soft top layer on the eLuxurySupply mattress, the bed lands at a medium firmness level, which provides decent support and comfort to sleepers in all sleeping positions.
Out of the box, you get the mattresses in a vacuum-sealed setup, and you should allow it to breathe for 48 hours to allow it to expand fully.
The eLuxurySupply Gel Memory Foam Mattress ships with a 120-day trial period that lets you return the mattress risk-free, and like with most beds in this price range, you also get a 10-year warranty.
Key Features
7-inch polyurethane support foam provides more support than most trundle bed options
Gel-infused memory foam top layer brings full body contouring and intense pressure relief
Some of the best build quality you will find at this price point
Suitable for all sleeping positions
Medium firmness
Extended 120-day trial period and 10-year warranty
#3 Best Spring Option: Zinus 6-inch Spring Mattress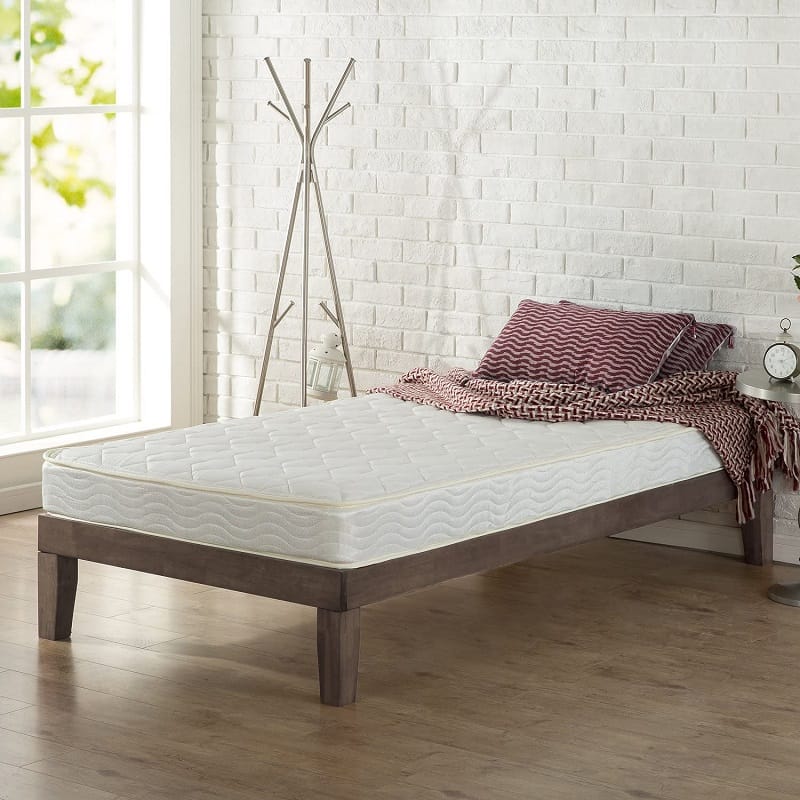 When choosing trundle beds, you are often limited to using mattresses with slimmer height profiles, and one of the biggest problems you will encounter is finding an option that provides as much support as you need to stay comfortable.
One potential solution to solving this problem is opting for a spring mattress, and few options can beat the value you get with the Zinus 6-inch Spring Mattress.
When it comes to portable mattresses for bunk beds, day beds, and trundle beds, Zinus has all but got the market cornered, and their petite spring mattress is yet another superior option you should consider for your trundle bed set.
As with the Zinus Memory Foam Green Tea Mattress, their spring mattress option also features a 6-inch thickness that includes a 5-inch support layer. However, with this bed, the core is a row of heavy-duty steel springs that provide as much support as any high-end foam mattress, while adding some bounce for increased responsiveness.
This sturdy spring base brings a much-welcomed toughness to the mattresses that promise enhanced durability even with frequent usage.
However, unlike with the Zinus Memory Foam Green Tea Mattress, with this bed, the manufacturer split the 1-inch top layer into two sublayers—a thin half-inch layer of comfort foam and another half-inch layer of high-density foam underneath.
While you won't get a super soft mattress with this setup, the high-density foam is just enough to keep the springs from poking through, while the comfort foam adds a vital touch of comfiness. Plus, to wrap things up, the entire structure sits snugly inside a microfiber-quilted jacquard cover that adds a plush feel and makes the bed even cozier.
Thanks to a great deal of thought put into the construction of this bed; you end up with a firm mattress that provides ample support and excellent response but falters on motion isolation. However, since the chances are that this bed will only sleep one, that shouldn't be much of an issue.
Nevertheless, if you are getting a spring mattress, you should already know that it will be louder than your regular bed.
However, on the plus side, spring mattresses offer some of the best heat regulation on the market, and here, the Zinus 6-inch Spring Mattress is a star. Since it is free from that notorious smothering feel of memory foam, with this spring mattress, you never have to worry about heat build-up.
If you are not sold yet, we are sure that the pricing of this bed will seal the deal. With the mattresses retailing for around 80 bucks apiece, you can get two of this for your trundle bed set at a total price that is far less than what you would pay for many subpar options.
Zinus manages to achieve this competitive pricing scheme by shipping the products directly without any distributors or intermediaries. Out of the box, you get a compressed mattress that will take about 48 hours to expand and air out completely.
However, the Zinus 6-inch Spring Mattress does not retail with a trial period, which can be a deal-breaker for some. Nevertheless, with each purchase, you get a 10-year warranty like with other similar market offerings.
If you require quality low-profiled fixes for your bunk beds or trundle beds, the Zinus 6-inch Spring Mattress is one of the best options out there. However, like with most mattresses in this category, for the best experience, consider using this as an occasional add-on bed space instead of a full-on bed replacement.
Nevertheless, for most kids, due to their little weight, the mattress could make an excellent long term solution.
Read More: 5 Best Innerspring Mattress 2022
Key Features
Heavy-duty steel spring base provides intense support, increased response, and enhanced sturdiness
Microfiber-quilted jacquard cover adds a premium look and a plush feel
Streamlined construction eliminates heat build-up
Competitive pricing model
10-year warranty coverage
#4 Best Bang For Your Buck: Linenspa Hybrid Mattress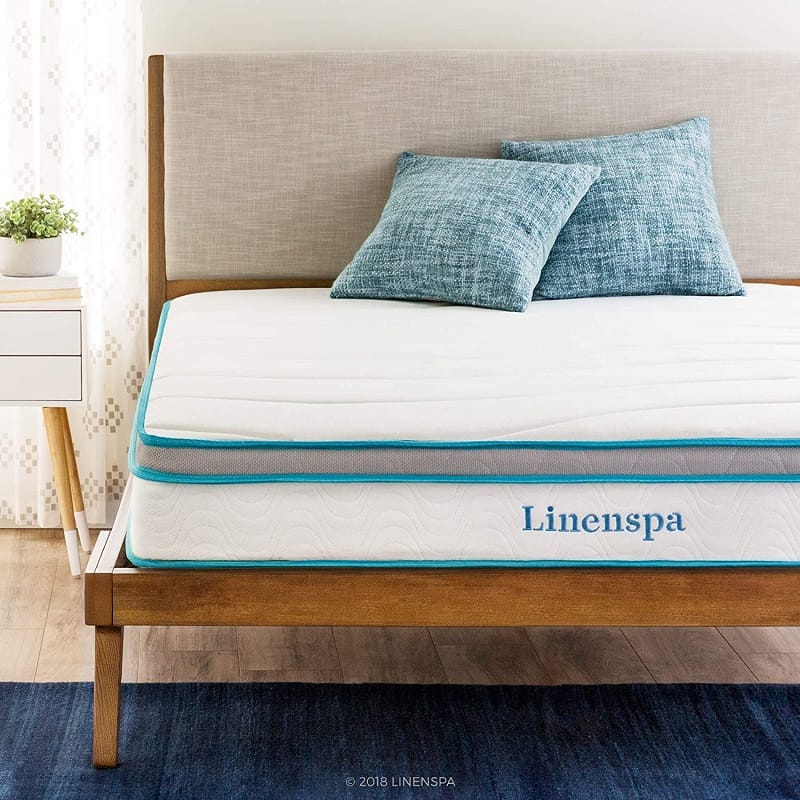 When it comes to shopping mattresses, you can get quality options on all parts of the price spectrum, with everything from sub-$100 beds to options that retail for several thousand.
However, with trundle beds, since they often feature as add-on bed space with occasional usage, it becomes especially essential to squeeze out as much value as possible from every extra dollar.
Few mattress options fit the bill as the Linenspa 8-inch hybrid mattress that brings a bed with superior support, reliable comfort, and as much bed as you can fit easily in a trundle frame for only a hundred bucks.
Since they entered the market, Linespa has been turning the industry on its head, offering a line of ultra-affordable low-profile sleep products that can hold their own against most of the competition. Nothing emphasizes this dominance more than this 8-inch mattress, which is currently the best-rated twin mattress on Amazon and an instant hit with college students, teens, and kids.
The Linenspa Hybrid Mattress is an 8-inch hybrid mattress that features a foam construction up top and an array of steel springs at its core for reinforcement and increased body support.
This base of 6-inch tempered steel springs adds a significant amount of bounce to the bed, which helps to counteract any sinking feel from the top memory foam layer. The coils also include generous spacing that enhances airflow and ensures you sleep cool every night.
Unlike most hybrid mattresses that use a pocketed coil system, with this mattress, Linenspa opts for an open coil design, which allows for more airflow and is more akin to the setup you will find on a traditional innerspring mattress.
Directly on top of the springs is a thin felt pad that should help cushion the feel of the steel coils, but in practice doesn't do much. The real firmness moderation comes from the 1.5-inch comfort foam layer.
This comfort layer is a slab of Linespa's patented adaptive foam, which is a modified form of memory foam, improved to reduce sink and heat retention. The polyfoam layer also adds a soft feel to the mattress, significantly reducing how much of the coils you feel when lying down.
Plus, encasing the entire structure is a cozy cover with a half-inch layer of memory foam knitted in, which adds a supple touch and completes the experience. However, the cover is non-removable.
With this Linenspa Hybrid Mattress, you get a medium-firm bed that excellent support for petite to medium-weight people. Thanks to the bed's innerspring system, you get a bouncy and super responsive mattress with minimal sink, despite the memory foam toppings.
However, if you weigh closer to 225 lb, you may still experience some sink with this mattress, as for you, the bed will register as more on the softer side.
Nevertheless, thanks to the incorporation of open coil design, the bed will sleep extremely cool for most, and a fan in the background should provide all the airflow you will ever need with this mattress.
While this mattress may fall a bit short for heavy-set sleepers, if you have a low to average BMI or you are buying for kids and teenagers, this bed offers some of the best value you can get anywhere for this low price tag.
The Linenspa Hybrid Mattress also ships with a 30-night trial period and a 10-year warranty.
Key Features
Hybrid mattress with comfy adaptive memory foam, and a traditional innerspring setup for intense support
Knitted cover with memory foam insert adds much-needed pressure relief
Premium-level high-end construction at an inviting price point
8-inch height profile is perfect for most trundle beds and bunk beds
Comfy medium firmness level
Robust edge support
30-night trial period with 10-year warranty coverage
Excellent for petite to average-sized back and stomach sleepers.
Mattress for a Trundle Bed: More FAQs
What Size Mattress Fits A Trundle Bed?
Trundle bed frame sizes can vary from product to product. However, the most common dimensions you will find out there are those that fit a twin or a full. Height is also another crucial parameter when it comes to trundle beds, as most frames will only work with mattresses that are 8 inches or less in the trundle.
Can Adults Sleep On Trundle Beds?
Most petite to average weight adults can make a trundle bed work for a few nights. However, prolonged use of such slim beds can lead to discomfort as you do not get enough support as you would with a regular mattress.
Trundle beds are best for overnight guests, teens, and children. Furthermore, these beds can be particularly inconvenient for the elderly or people with back issues, as their low profile means that you exert excessive pressure on your back when getting in or out of bed.
Can Trundle Beds Be Used As Storage?
While the traditional use of a trundle bed is for added sleeping space, you could easily customize the trundle frame to provide additional roll-out storage units.
Are Trundle Beds Worth It?
Trundle beds shine in homes that need to sleep multiple children or the occasional visitor yet suffer from a shortage of floor space. Otherwise, additional storage in the form of bed storage drawers or a roll-out storage unit would provide significantly more utility.
Do Trundle Beds Work On Carpet?
Yes, but the carpet has to go from wall to wall. Most trundles need the bed and the rest of your floor space to be on the same level to allow them to roll out properly.
Hence, to use a trundle with a carpet, the carpet must extend to the trundle's resting position and its entire path when rolled out.
How Much Weight Can A Pop-out Trundle Bed Hold?
The carrying capacity of a trundle can vary from brand to brand. However, you shouldn't have weight problems sleeping on most trundles, as the most common weight rating is usually around 400 lbs.
Nevertheless, if you are more heavy-set, you should consider opting for one with reinforced corners for enhanced supporting power.
How Do You Keep A Trundle Bed From Moving?
Opt for trundles that have locking casters or add them to your current trundle bed. Locking caster wheels let you fix the bed to a stationary position once you have it set right.
Can A Trundle Fit Under Any Bed?
For a bed to fit a trundle, it must be high enough to match the size of the trundle frame as well as the mattress. If your main bed frame is too low for the trundle, you can consider raising your bed.
Note: Make sure to pick a mattress for your trundle that is similar in appearance to your main bed to ensure uniform aesthetics
Other Mattresses We Also Reviewed
In our search for the perfect trundle bed, we found several other quality offerings that did not make the cut for our top 5 list but are worth a second look.
DynastyMattress CoolBreeze RV Mattress
The DynastyMattress CoolBreeze RV Mattress is a robust option that guarantees reliable all-round performance in all departments. This deluxe foam mattress packs a 3-inch layer of high-density foam as its support layer as well as two extra sheets of comfort foam on top that measure 2 inches each.
The mattress also features an eye-catching white and brown suede cover that adds a premium look and a 4-way zipper cover that facilitates easy maintenance.
100 percent Viscoelastic comfort foam for superior pressure relief
Luxurious removable cover
Durable construction
20-year warranty cover
CertiPUR-US Certification
Sunrising Bedding 8-inch Natural Latex Hybrid Mattress
With choosing trundle beds, one of the biggest challenges is finding a bed that provides enough support yet is slim enough to fit. One efficient way of solving this problem is opting for latex. This mattress takes things a step further, combining a bouncy latex slab with a sturdy metal skeleton of pocketed coils.
The Sunrising Bedding Mattress offers superb support despite its slim 8-inch build, thanks to its natural latex construction and steel inner coil reinforcements.
Plus, you also get a plush mattress cover with a cotton/wool blend, a cotton fiber fireproof lining, and 20-year warranty coverage, in one inviting offer.
Tip: While natural latex offers some of the best pressure relief of any bed material type, latex mattresses are a risk factor for people who have latex or other related allergies.
is one of the best materials to relieve pressure points.
Hybrid latex and steel construction for ultimate support
Super responsive
100% natural hypoallergenic latex
Compatible with adjustable bases
Live and Sleep Classic Mattress
A common complaint about memory foam mattresses is their notoriety for trapping heat. With the Live and Sleep Classic Mattress, you do not have to worry about this, as the bed incorporates an open-celled design that allows for significantly more airflow than your regular memory foam mattress.
The bed features a tri-layer setup, with the top double 2-inch memory foam layers providing frame-perfect body conforming properties. In contrast, a 4-inch high-density foam layer brings all the support you will ever need.
Tip: The live and sleep classic mattress is an excellent pick for lightweight to average size sleepers. However, for people who weigh over 180 lbs, especially side sleepers, they may experience prolonged pressure around the elbows and lumbar region.
The porous open-celled design brings optimal airflow to memory foam
CertiPUR-US and OEKO-TEX certified
Works with adjustable bases
Hypoallergenic
Sweetnight Gel Memory Foam Hybrid Mattress
If you have a trundle bed that fits full-size mattresses, one of the best options you can get is the Sweetnight Gel Memory Foam Mattress. This hybrid bed features a combo construction that includes both memory foam and wrapped innerspring to bring you the perfect balance of support and softness.
Plus, the quilted cover on this mattress is an eye-catching masterpiece that looks more premium than the mattress's price point, and that is sure to impress.
Luxurious mattress cover with hypoallergenic material
30-day trial period and 10-year warranty
CertiPUR – US Certified