Getting an innerspring mattress used to be the most common type of mattress for everyday consumers. However, with more and more new types of materials and technology used in an attempt to manufacture the "perfect mattress", innerspring mattresses were put aside in favor of other choices like memory foam and latex, whereas more recently a trend is to use a combination of different materials, like specialty foams on top of springs.
Still, innerspring mattresses are well-preferred among buyers, as it seems that people enjoy the particular feeling of comfort and support offered when laying on an innerspring mattress. If you do fancy innerspring mattresses, then you will be happy to hear that innerspring are still considered great and in fact manufacturers design them now using more advanced and variant technologies, like pocket spring and coil to coil technology, so you can enjoy more perks than with a traditional innerspring.
Let's find out all about innerspring mattresses and the 5 top picks we have in mind for you.
What is an innerspring mattress made of?
An innerspring mattress also referred to as spring mattress, consists of a steel coil system. You will find that the shapes, designs, gauge, and the number of coils in an innerspring differ, however, there is usually a pattern in terms of the layers used which goes something like this:
On top of everything sits the fabric cover, which is usually made of some kind of fabric in different colors, patterns or material. While usually this is made of polyester yarns, if you are willing to spend more, it will come with a blend of polyester and cotton or rayon and even wool.
A top comfort layer of padding or upholstery materials like foams or fibers is set on the top surface of the mattress for comfort purposes. The most commonly used materials include polyurethane foam, viscoelastic or gel memory foam. It is likely in cheaper mattresses to find polyester or cotton on top.
What follows is the support layer, which is the main body of the mattress made from hundreds or maybe thousands of steel springs, or coils as they are called. This layer determines whether a mattress is soft or firm and if it will cost much.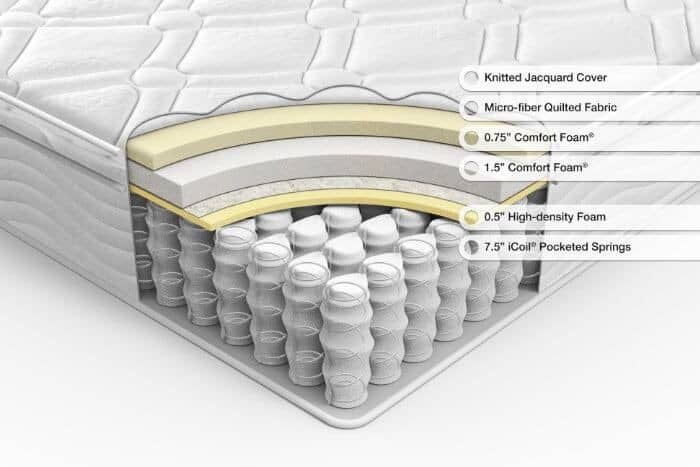 Types of innerspring mattresses
The 4 most typical types of coil pattern and style in a spring mattress are Bonnell (open coils), offset coils, continuous coils, and pocket coils.

Let's go through each of them in more detail to know what to expect if you come across them.
This system features the traditional and oldest type of coil system, usually found in really cheap mattresses. It features a number of hourglass-shaped steels, which are made of tempered steel which is laced one next to the other. This type offers average durability, whereas it performs equally average in terms of motion transfer and support. The next designs featured below offer better results in these areas and reasonably, cost more.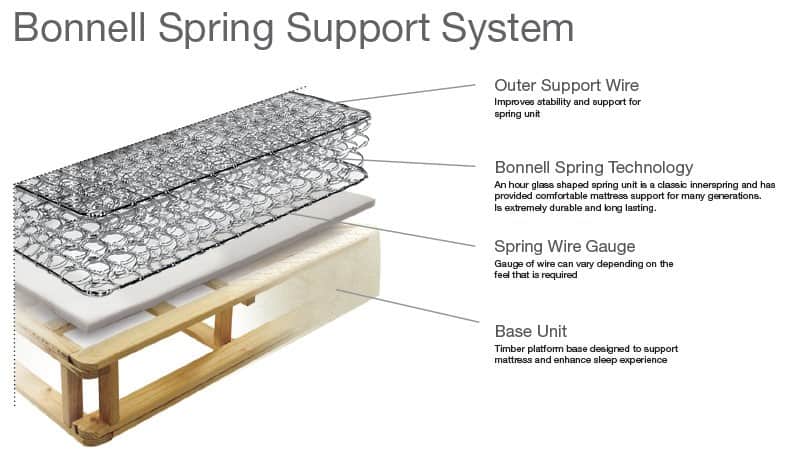 This type of spring mattress will usually come at a higher cost compared to a Bonnell mattress.
While they feature a similar structure, each spring is hooked together in an offset coil design, therefore leading in performing better as far as motion isolation and improved body contouring. This is why this kind of spring mattresses are priced higher.

This kind of system is made of springs put in rows using a single long tempered steel wire, which is transformed into springs that run across the full length or width of the bed.
This type of mattress will usually cost something between low to mid-priced, as it doesn't leave much room for motion transfer and provides better than average body contour.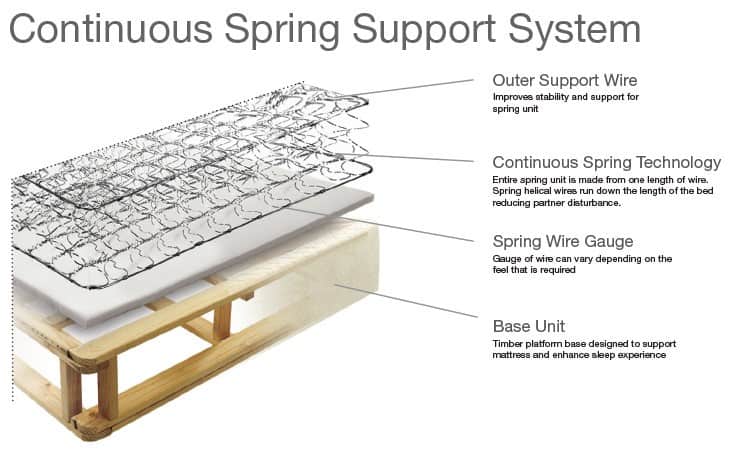 Pocket coils are usually made of hundreds and sometimes even thousands of individually wrapped springs which come encased, or pocketed, as it is called due to the way the coils are placed one next to the other, yet acting independently.
This offers many benefits like the fact that coils don't contract on each other and so you get a more evenly distributed weight on the sleeping surface.
This coil system is considered as one of the very best if you want a spring mattress and so it is usually the most expensive of the four options, while it is preferred more and more by manufacturers.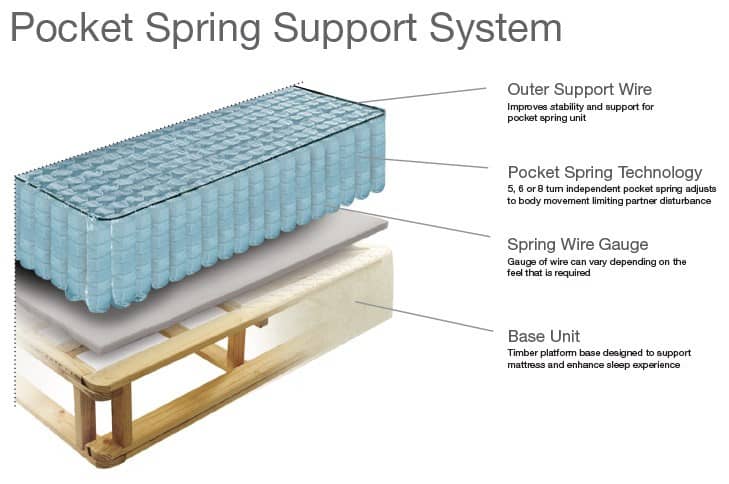 Drawbacks of innerspring mattresses
Generally speaking, a traditional innerspring mattress can adequately relieve pressure, and provide support, however, it has its limitations, like:
Despite the above hold true, as more advanced technology is used to design sophisticated coil systems like pocket coils, some of the common concerns when it comes to innerspring mattresses have been overcome and so it is best advised that you choose them over the traditional Bonnell type which has its well-manifested drawbacks.
Why are pocket coils considered best?
Pocket coils are thought to be the best options for an innerspring mattress since they offer some particular benefits like:
Better back support
Improved and targeted pressure relief, since it ensures that the weight is evenly distributed across the mattress surface
Excellent motion transfer
Easier to clean
No need for an extra mattress topper, as it feels comfortable already
Don't wear off altogether over time – extended lifespan for a spring mattress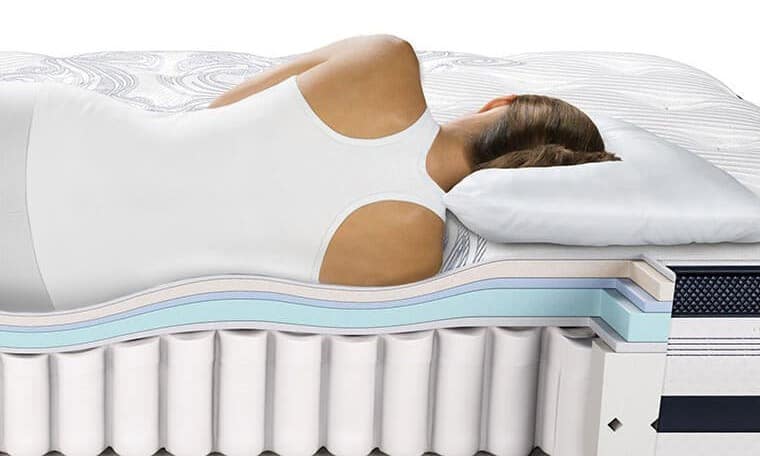 Top 5 best innerspring mattress 2022
1. Zinus Sleep Master Ultima Comfort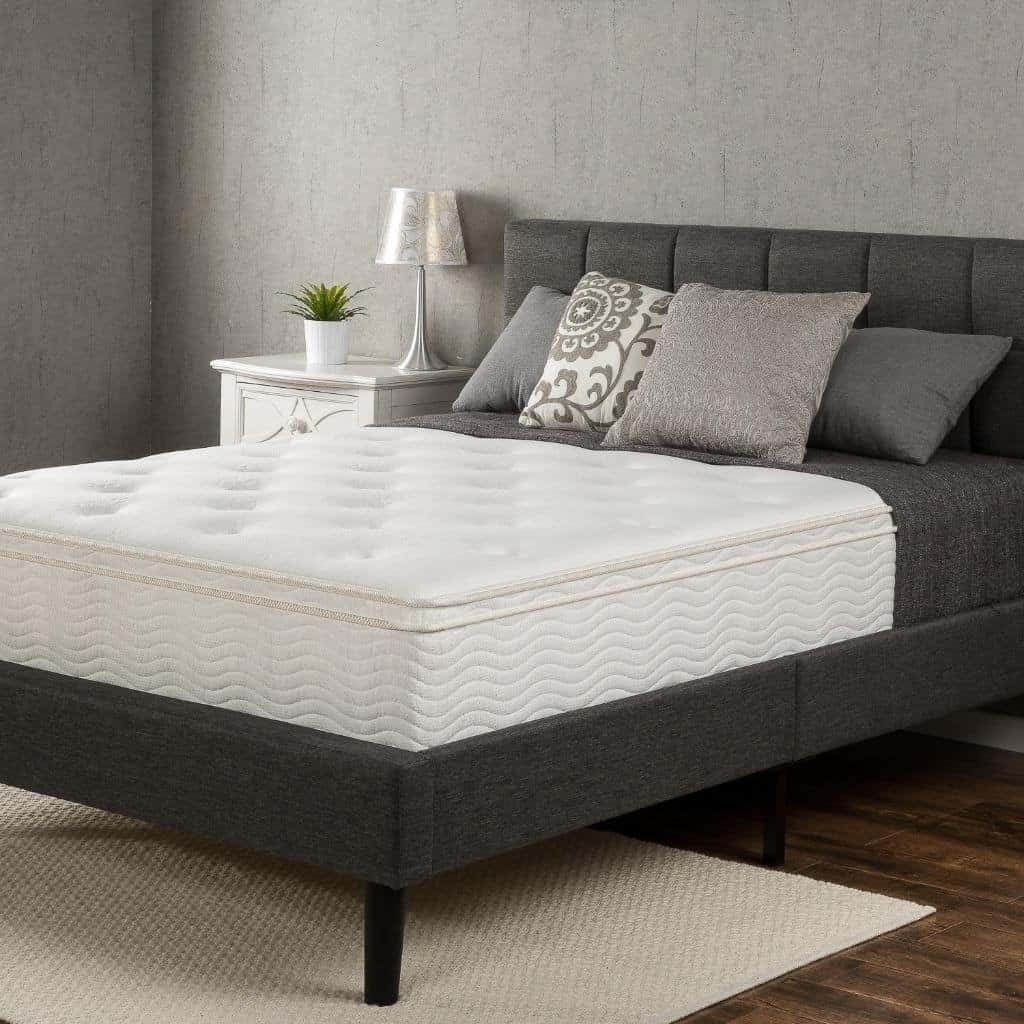 Overview: Zinus is renowned for creating exceptionally comfortable mattresses made from premium materials at amazing prices. The 12 inch Master Euro Box Top Classic Spring Mattress is a premium innerspring offering by the firm, which will deliver big in every aspect.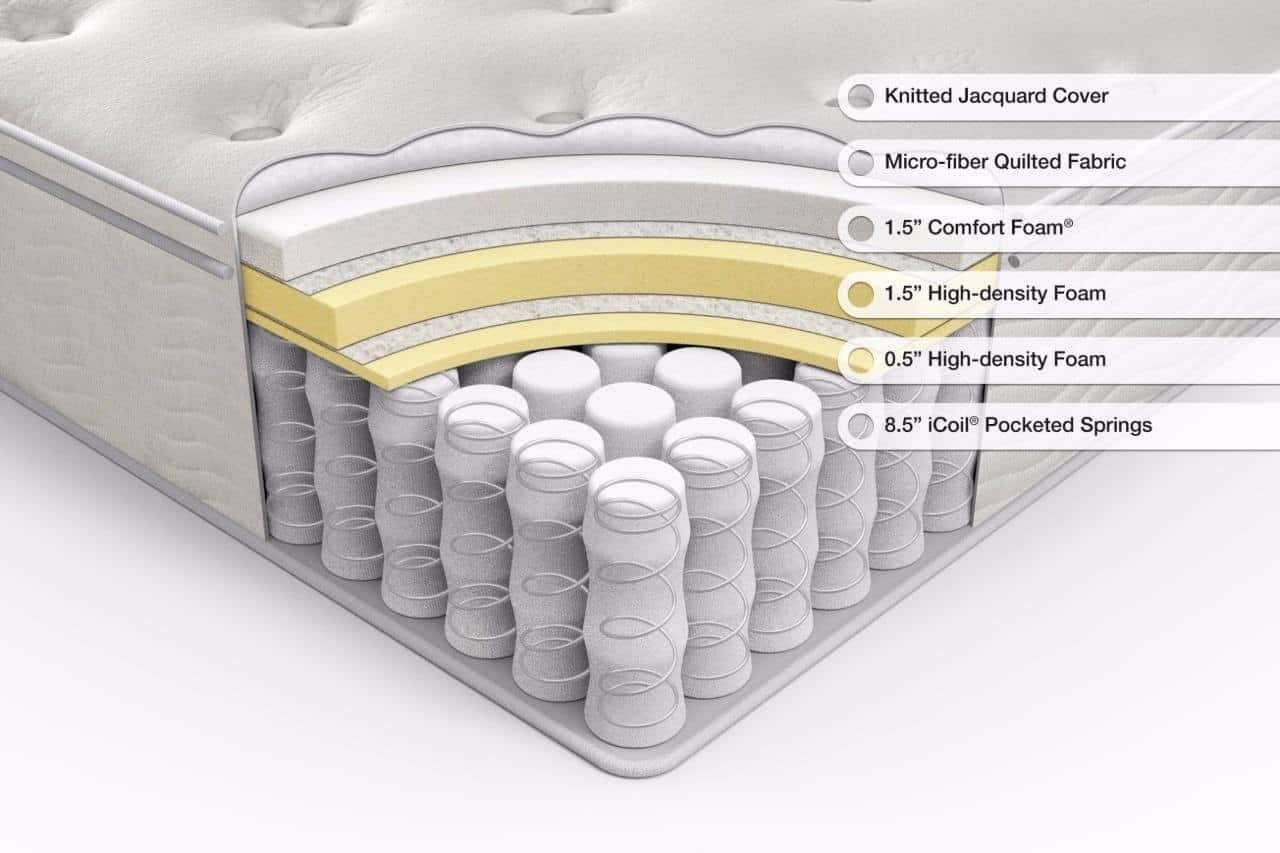 The Zinus Sleep Master is 12 inches thick (also available in 8, 10, and 13 inches) and features a knitted jacquard cover and a comfort foam layer followed by two layers of high-density foam and 8.5" iCoil pocketed springs.
You could place it as belonging to hybrid mattresses, yet this spring/hybrid mattress is such a worthy mention and features the kind of specs you should not overlook and makes the cut in this list if you are looking for a great innerspring mattress.
Believe us when we say it is not easy to find such an elegant mattress which comes with 768 coils for a Queen and the kind of enhanced support and minimal motion transfer that everybody would love.
It all comes in an exceptional price which will amaze you, and without lacking at all in terms of succeeding to offer proper spine alignment and pressure relief, thanks to the comfort foam layers above the coils.
The perfect example of balance between comfort and support, this Zinus Sleep Master is a personal favorite.
PROS:
Great contouring and pressure relief
Independently wrapped iCoil system for optimum support and motion isolation
CertiPUR-US approved foam
Premium knitted jacquard cover which is breathable
Backed by a 10 year limited warranty
CONS:
People complain of depression following extensive use and feeling the coils of the mattress
Signature Sleep Contour 8 Mattress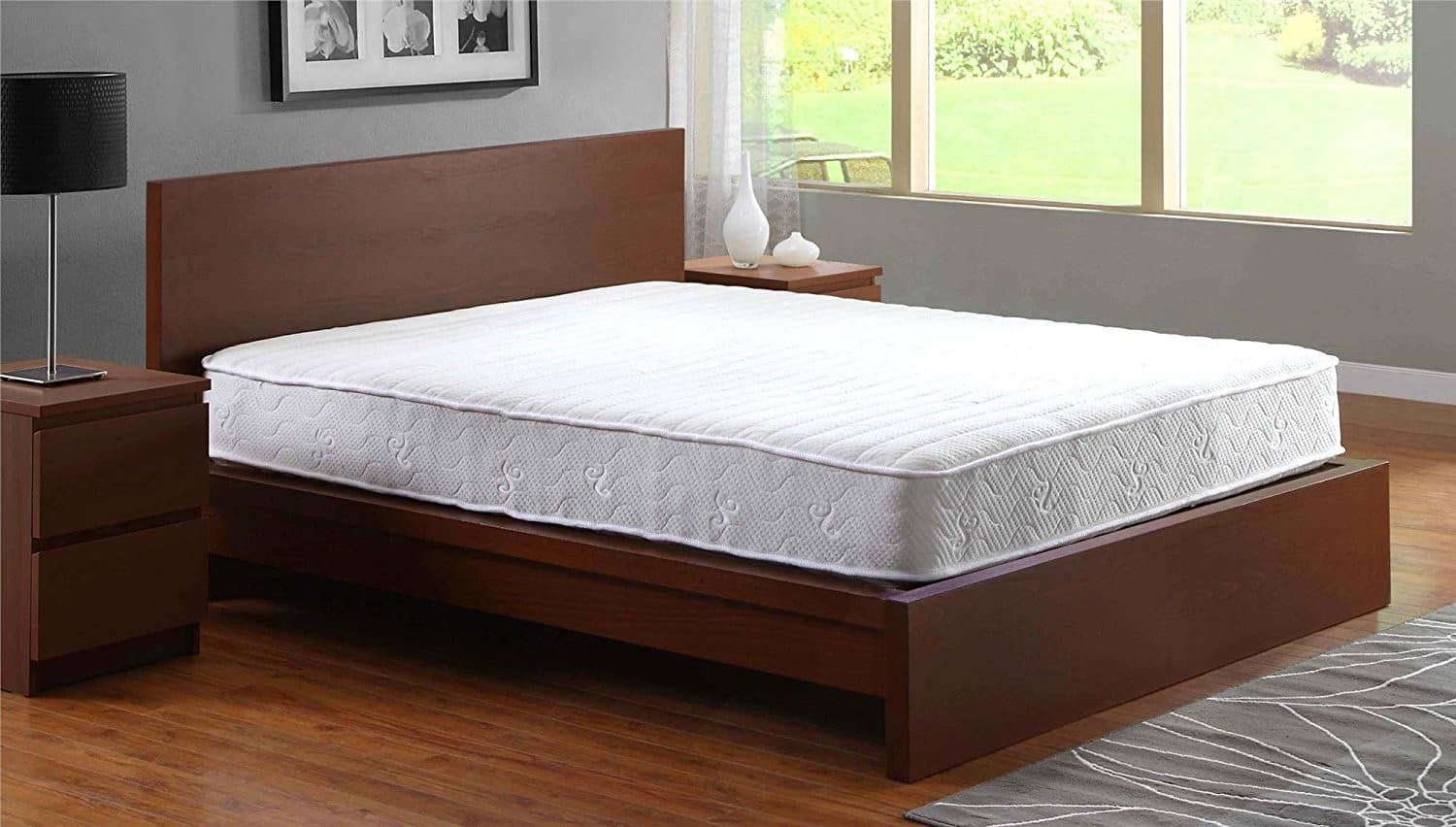 Overview: This mattress may look modest yet delivers big in terms of dealing with lower back pain or stiff neck. You should rest assured that it is a great innerspring option at this amazing price tag.
Product Features
No need to wonder about getting an expensive innerspring mattress to be on the safe side since the Signature Sleep Contour 8 Mattress features premium coil technology supported by a comfort layer of quality memory foam. The memory foam on top serves for contouring purposes and has the ability to conform to your body's natural curves.
The high-density support foam extends in the bottom part of the bed to substantially relieve your sensitive areas with its 3 zones Pressure Comfort system.
Note that the mattress comes with a comfort insulator pad which is found above the individually wrapped coils which feature 15 coil gauge and come encased for better edge support.
Overall, this Signature Sleep model provides the kind of solid, restful and comforting sleep with little to no signs of motion transfer, making it ideal for couples.
The pocket coils are the perfect companion for the optimum support you seek, whereas the mattress is appropriate especially if you sleep on your side, as it comes with medium-soft firmness.
Overall, this bed-in-a-box mattress is a perfect choice for a budget-friendly, good value for money innerspring mattress by a reputable brand.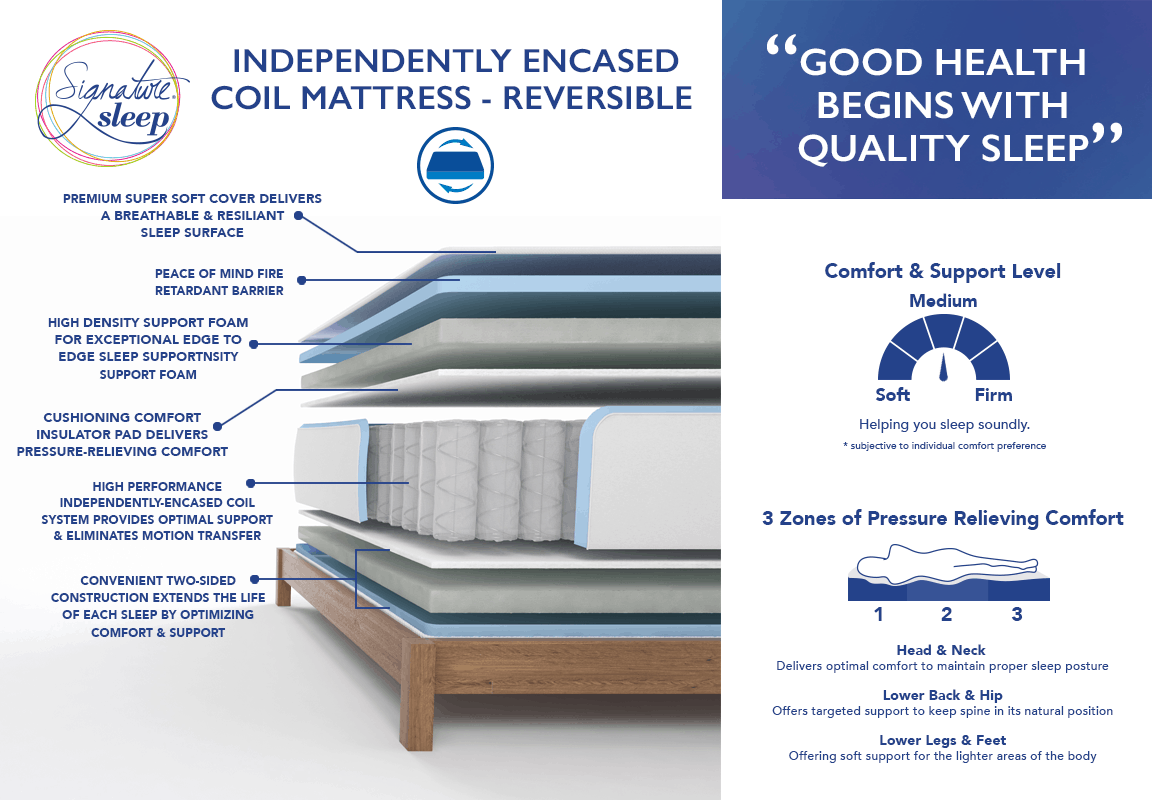 PROS:
Minimal signs of motion isolation
Love the contouring effect it offers
Particularly suitable for side sleepers
Super soft breathable cover
Great value for money
Encased pocket coil system
Two-sided construction for increased lifespan
Pressure relieving comfort system made of 3 Zones
CONS:
Comes with some sort of smell
Requires a foundation to function
Comes with a 1-year warranty
3. Swiss Ortho Mattress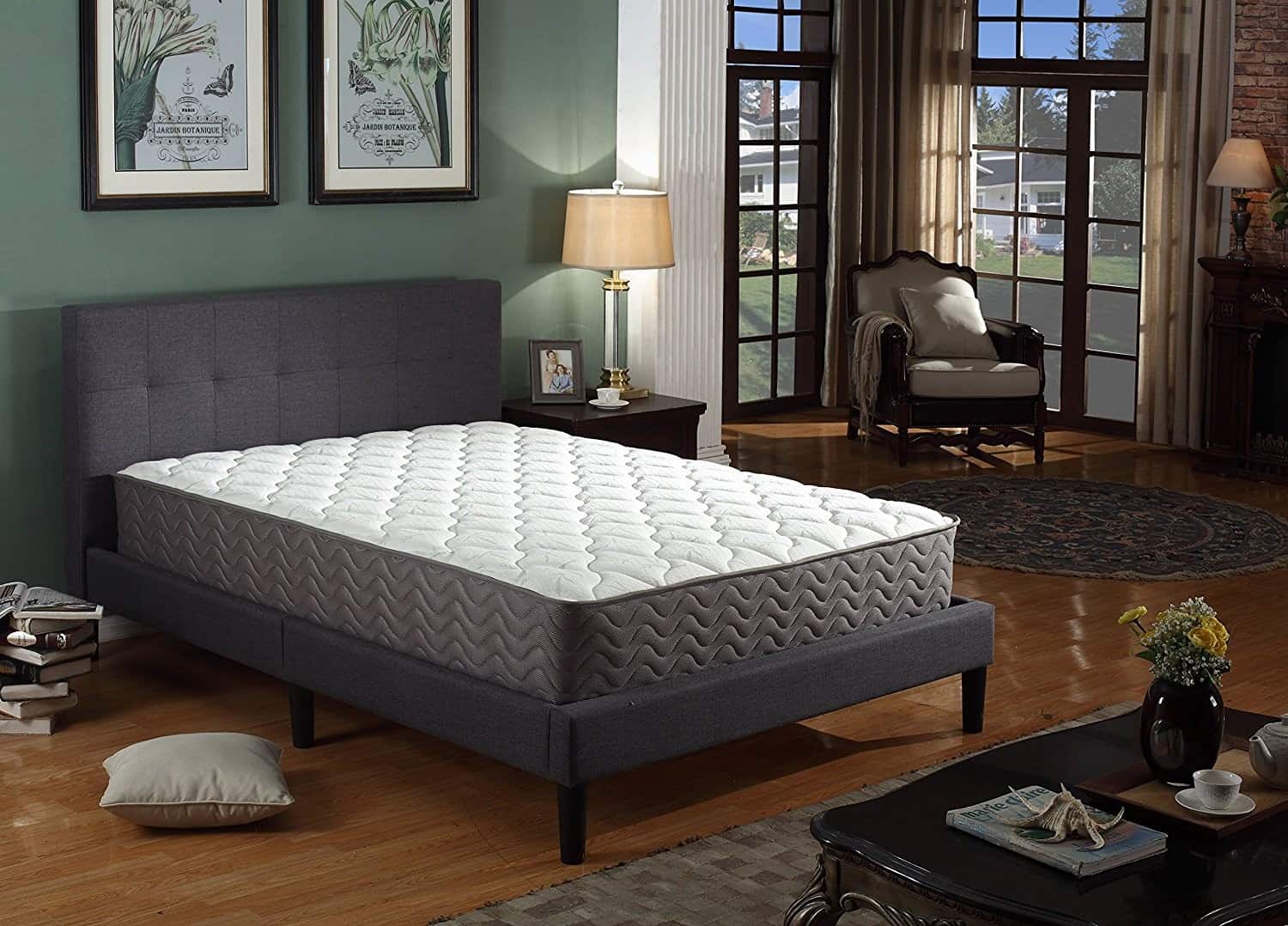 Overview: This Swiss Ortho Sleep mattress is a great option if you are looking for an innerspring mattress that costs quite cheap and still offers a better than average sleep, all thanks to its special features used throughout.
Product Features
This 12" mattress comes packed with all the attributes you need to ensure a restful sleep in a simple, yet beautiful looking mattress.
Starting from its cover, the Swiss Ortho mattress features a bamboo cover which is hypoallergenic and breathable, so together with the coils used makes for a cool sleeping surface. It is therefore ideal if you tend to sleep hot.
What is more, the 13 gauge individually wrapped coils offer optimum support specific to your body areas that need it the most, while limiting motion transfer to a minimum. In this case, it makes the Swiss Ortho a great option if you sleep with a partner.
The pocketed coil system comes with enhanced features in terms of pressure relief and is also proved to be good for better blood circulation and overall airflow in the mattress.
The structure of the mattress is such that it makes it durable and resilient, which shows in its 10-year warranty.
It is no wonder that this is one of the bestselling mattresses in the series by Swiss Ortho, as it offers premium comforting and supportive sleep, at a fraction of the price compared to its competitors.
PROS:
Exhibits little to none motion transfer
Individually wrapped coils for enhanced support and targeted comfort
Breathable sleep surface that doesn't sleep hot – features a bamboo cover
Appropriate for all kinds of sleepers
Offers well above average pressure relief
Makes the perfect solution for a durable mattress
Good value for money
10 years warranty
Convenient golf-style packaging
CONS:
Consumers complain that they feel the springs after some time of use
4. Signature Sleep 13" Mattress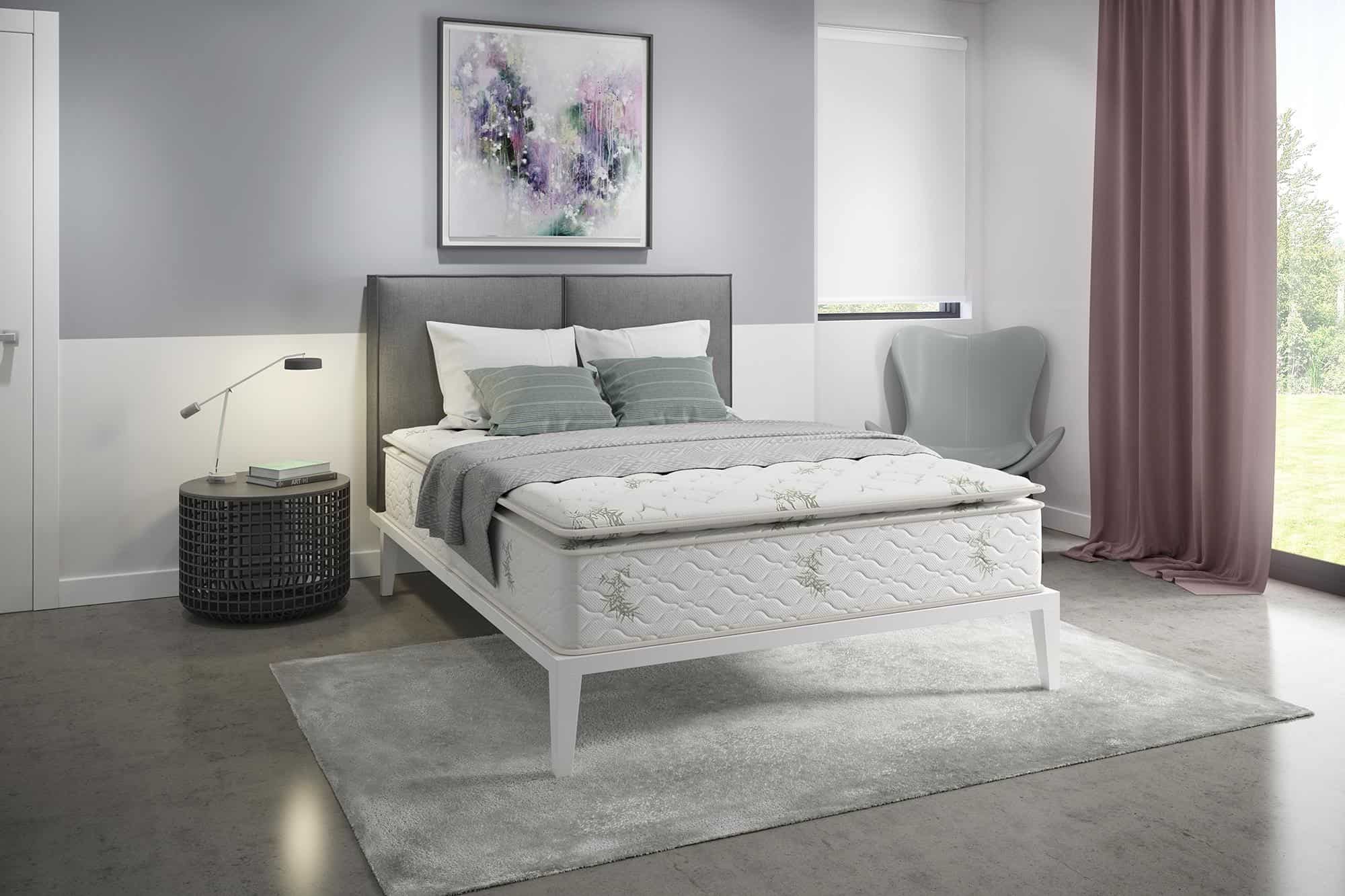 Overview: So, you are looking for a great innerspring mattress at a reasonable price; look no further than the elegant and luxury feeling 13" Signature Sleep.
Product Features
This Signature Sleep model features a 13" thick mattress compiled from the following sophisticated structure: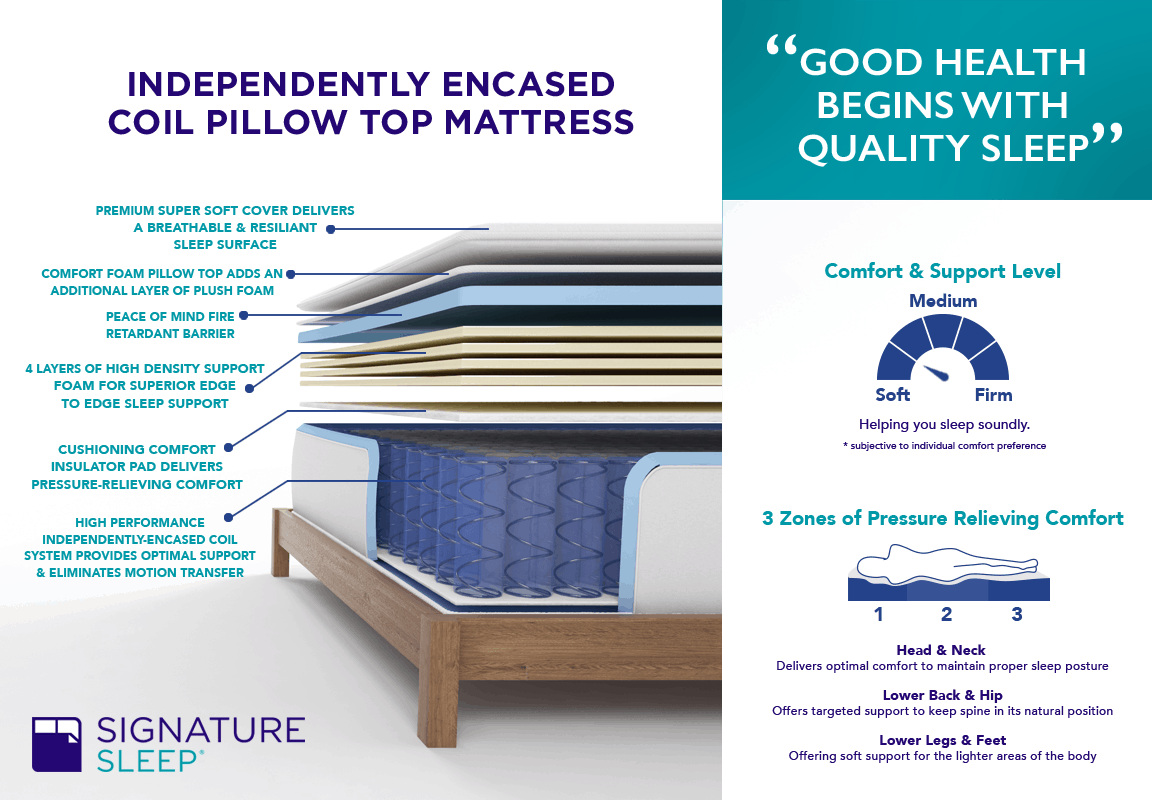 The top cover is made of a super soft bamboo ticking which looks really good and even comes with hypoallergenic properties. It is also quite breathable.
The comfort pillow top adds a layer of plush, whereas a layer of fire barrier comes for safety reasons before 4 layers of high-density support foam come with added edge support and comfort.
The main core of the mattress is made of 10" individually wrapped pocketed coils which feature 13.5 gauge and count 744 coils in a Queen. This type of gauge makes for a medium-firm mattress, yet with the 1.6" pillow top it comes off as plush.
The Pressure relieving comfort 3 zoned system, means you are well supported without feeling the springs in the mattress and also you can rest assure it leaves no signs of motion transfer, making it ideal for couples as each partner sleeps undisturbed.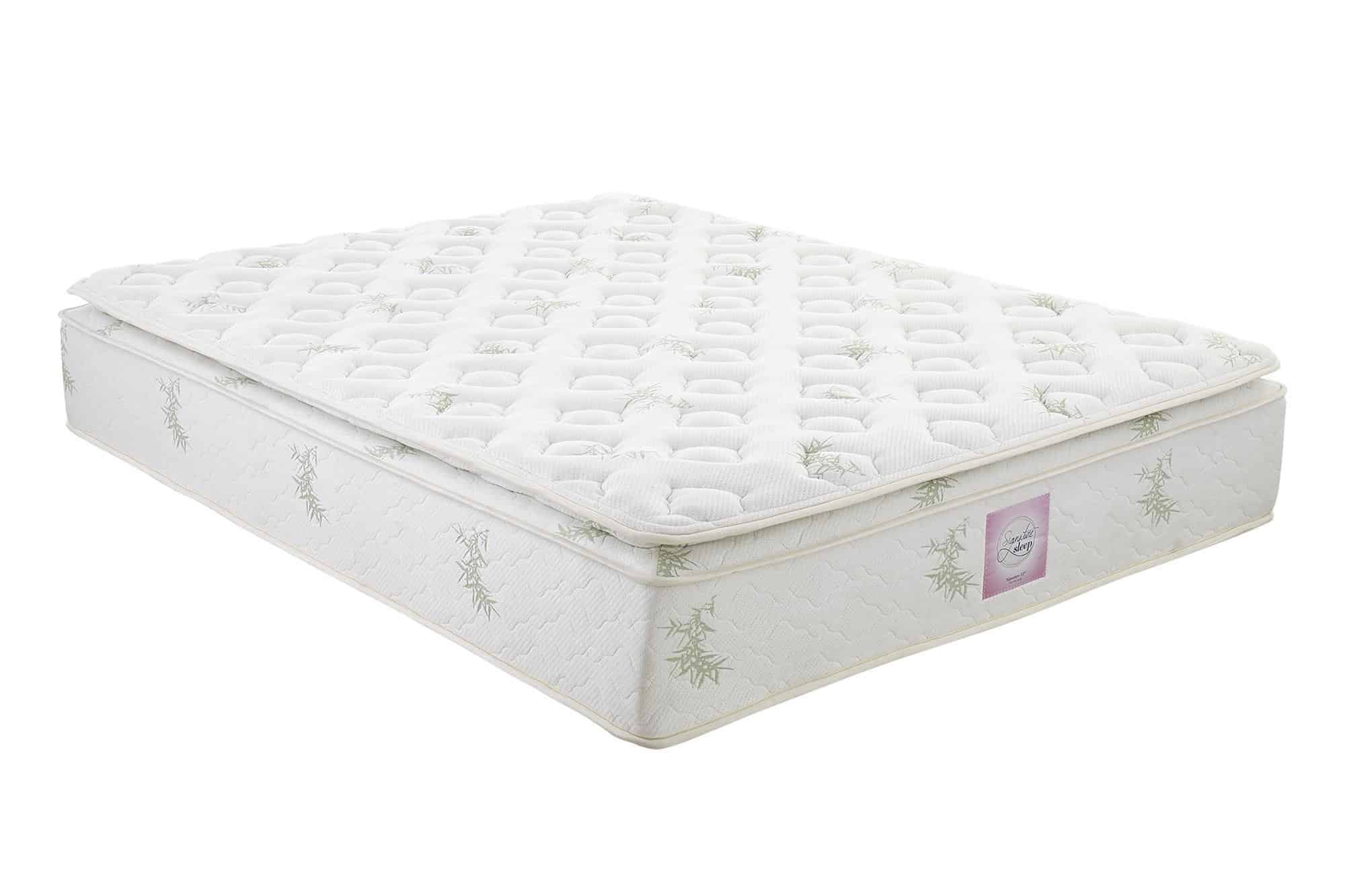 Don't think this is a soft mattress, the kind of gauge leaves it feeling firmer than you would expect, and this is a common complaint among users. So, overall a great mattress for any sleeping position and perfect if you are on a budget as it comes at a great price.
PROS:
Bamboo cover which is soft, hypoallergenic and breathable
Soft pillow top – plush feel
Strong edge support
It enables exceptional motion isolation
Excellent contouring effect
Can suit any sleeping position
Breathable sleeping surface
Durable and resilient structure
3 Zones pressure relief system
Works on most surfaces
CONS:
Feels firmer than expected
5. Englander Finale 10-Inch Innerspring Mattress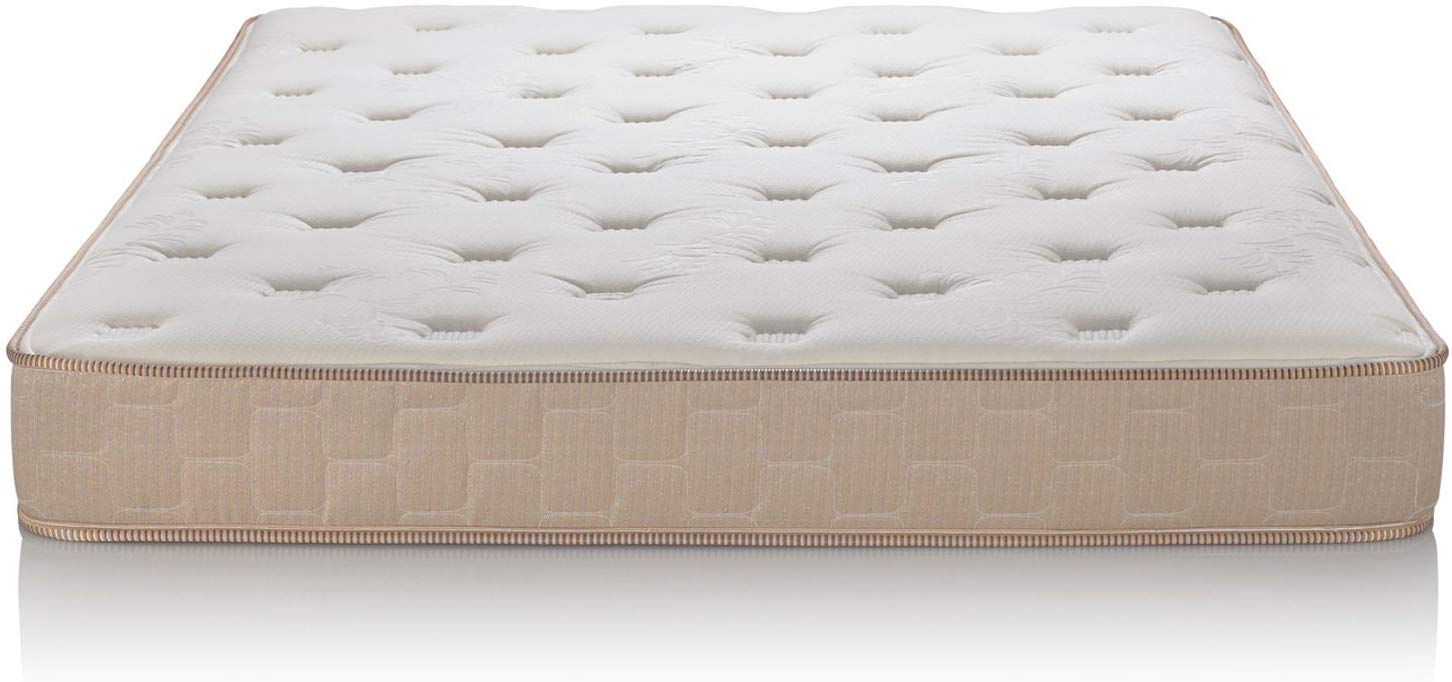 Overview: The Englander Finale 10" mattress is a genuinely g
good spring mattress, as it will offer you looks combined with practicality, at a really great value for money.
Product Features
The Englander Finale is packed with lots of cool features that you should be looking for from your spring mattress, and any mattress for that matter if you want to get healthy and restful sleep.
Take for instance it's built. It is made with premium materials like the CertiPUR-US approved foam in between the cover and the coil system. This ensures the mattress does not emit toxic chemicals, whereas it emits low VOCs.
In addition, the top plush polyester and polyester blend cover looks beautiful and is quilted, made for a comfortable sleep that will cater the needs of back and side sleepers best as it is medium-firm.
An added advantage is how the mattress comes in two colors, so you have some level of choice as it is found in grey and beige, which can hopefully match your bedroom.
You will be glad to hear that this mattress doesn't have any particular odor upon unpacking, so it is ideal if you are sensitive to smells. The actual mattress sizes available are also quite accurate, so no issues there.
This mattress is generally well-received among consumers, with lots of positive ratings and feedback, making it a great option if you are on the lookout for a great looking mattress that won't cost a fortune and still will deliver the balanced feel of comfort and support you need to relax after a long day.
Definitely, a highlight, is the 3 Zone Support System made of individually wrapped coils, which features a 14.5 gauge support in the head and foot parts, while the middle is made of a 14 gauge support system.
This 3 zoned system offers overall a reinforced lumbar support so that you avoid lower back pain and provides with plenty of accurate support for sensitive areas of the body and performs excellently in terms of pressure relief.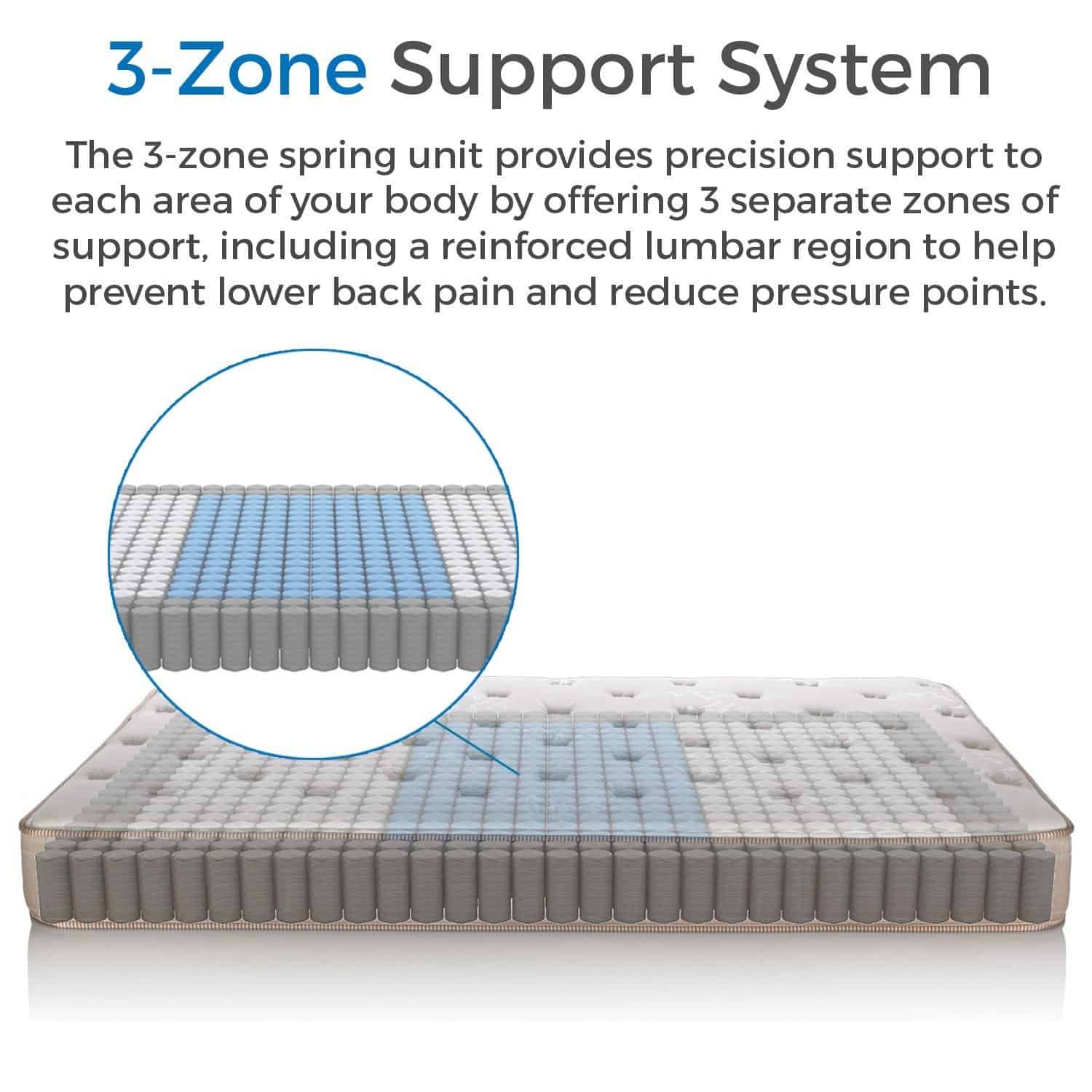 You will be glad to hear that this mattress doesn't have any particular odor upon unpacking, so it is ideal if you are sensitive to smells. The actual mattress sizes available are also quite accurate, so no issues there.
PROS:
Adjusts to body shape and structure – great contouring effect
Great for back and side sleepers
CertiPUR-US approved foams
Individually wrapped coils for minimal motion transfer
No off-gassing or smell
Accurate sizing
3 Zoned system for premium pressure relief
Reinforced lumbar support
Great for people who suffer from back pain
Available in grey and beige
Great value for money
Made in the USA
CONS:
Perhaps feels somewhat softer contrasted with its competitors
1-year warranty
Key takeaway
If you have read through this article carefully, we hope you feel by now well-informed on all the features of an innerspring mattress and know which the top recommendations are for the best innerspring mattresses out there, based on our own testing and research.
Of course, there are so many options out there for spring mattresses, and different types, shapes, and designs, combining springs with foams, which mostly feel like buying a hybrid mattress, yet we tried to figure out which mattresses are closer to the genuine spring feel and still perhaps accommodate for a modern, restful and supportive sleep all around.
That said, we would suggest that you choose between a few of the quality options featured above if you are budget-conscious but still want comfort and support. Zinus and Signature Sleep are some of the most well-known brands offering extremely affordable mattresses at great prices.
We would suggest that you review the specs of any innerspring mattress you decide to buy since you want to be careful to get a spring mattress which comes with some sort of advanced coil system, like individually wrapped pocket coils for example, which will ensure you get plenty of pressure relief and motion isolation.
If your spring mattress sits on top of a quality foam layer, then even better as you don't want to lose on comfort.
All things considered, innerspring mattresses are affordable and although they don't seem to last long, they now come with more advanced features and improved coil systems that will make them last. As long as you enjoy the feel and know its perks and downsides, a spring mattress can prove your ideal companion.