Are you tired of waking up with back pain? Nearly 80% of the population experiences some sort of chronic pain in their back at some point in their lives. From a constant dull ache to incapacitating chronic pain, the problems can be many.
Most of the time, our lifestyle is to blame. While there can be physical causes of back pain, stress and not being fit often cause the physical issues to occur.
One important factor which affects whether we will experience back pain is the type of mattress we use. The wrong mattress can cause pain and increase existing pain. A supportive mattress helps your back recover by allowing your muscles to relax and heal while you sleep.
If you suffer from back pain problems then, it seems that a reasonable decision would be to get a mattress that is designed for your bad back.
How to Find The Best Mattress For Back Pain
Now, there are basically two major characteristics that you should look for when you choose a mattress suitable for both back support and sleep comfort.
Firmness
In the past, hard beds were recommended to patients with back pain in the lower back area. Recently "medium-firm" mattresses are considered more appropriate for people dealing with this type of health issue.
Although it is mostly a matter of personal preferences, as general guidelines, you should remember that the bed should be firm enough to support your lower back if you are a back sleeper, and at the same time being soft enough to contour to your body.
You don't want your bed to be too stiff or too soft. Thus a medium-firm mattress is ideal (Like the Nectar bed with its Forever Warranty and 365-night sleep trial or Nolah with a 120-night free trial).
However, if you are a side sleeper, you might do better a mattress with a slight softness to cushion your shoulders and hips.
Stomach sleepers, on the other hand, need a firmer mattress (Like Layla's firm side) to keep them from sinking in too much.
Physical workings:
Usually, it is best to avoid innerspring mattresses since they have hard coils spread throughout the frame which don't allow even weight distribution. Foam mattresses are the best option because they support each area of the body based on the way your body is contoured.
Modern foam beds have an advantage over conventional innerspring mattresses as they reduce cycles of uneven sleep, allowing you to sleep deeper and longer. They are ergonomic mattresses which come in a wide range of densities.
The best advice is to opt for a medium-firm foam mattress as it cradles the body's curves while being firm enough to support the back's muscular and bony structures.
Overall you are looking for a mattress which can support the natural curves and alignment of the spine. This will reduce muscle soreness in the morning. In this sense, memory foam mattresses are considered the best option.
When it comes to the best mattress for any back pain, the beds selected below help alleviate back pain.
7 Best Mattresses For Back Pain 2022
1. Layla Bed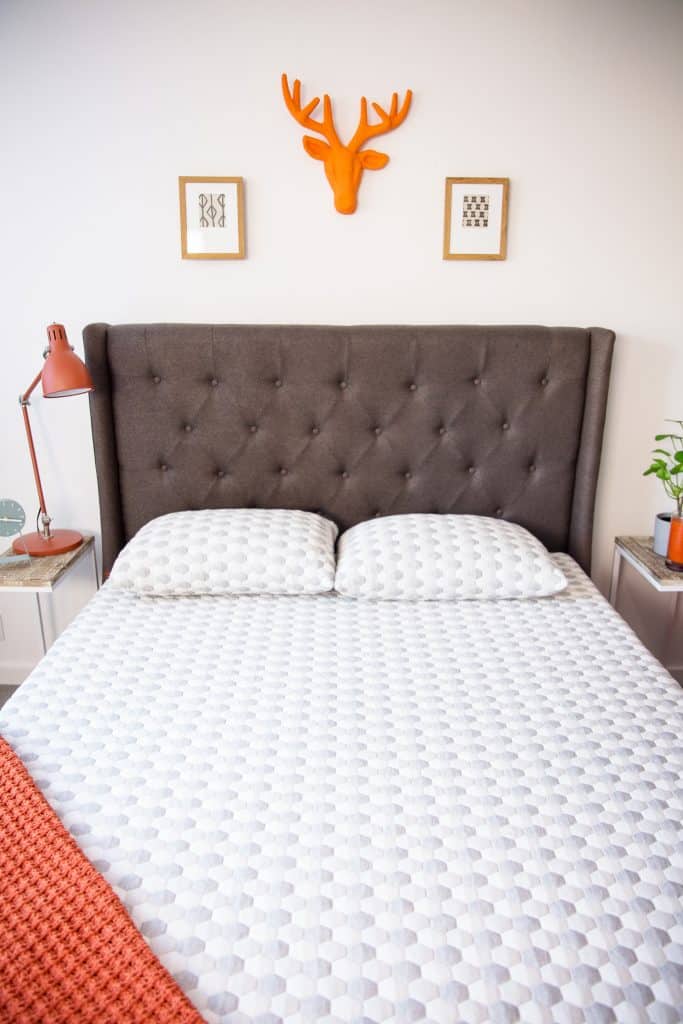 Definitely a top choice and a great addition in this category, Layla is specifically designed to deal with rheumatoid arthritis and osteoarthritis. It is the first ever dual sided copper-infused memory foam mattress.
Copper infusion is excellent for improved blood circulation, reducing joint inflammation, and easing joint pain and stiffness in general.
This mattress, with its combination of copper and Thermogel technology, offers a cool and relaxing sleep.
Among its highlights, is how Layla mattress has two sides; if one is too soft, you can flip it over and there you have it, a firmer side to sleep on. In their overwhelmingly positive reviews, many of Layla's customers express delight that their pain is lower or eliminated after they switch to Layla.
In addition, it has almost zero motion transfer making it ideal for couples,  especially if one of the two partners tosses around all night.
PROS:
Cooling effect
Promotes blood circulation
Offers comfort and pain relief
Great mixture of copper and memory foam
Soft and Firm in the same model (double sided)
CONS:
A bit of initial, first-day smell
Relatively new company
2. Level Sleep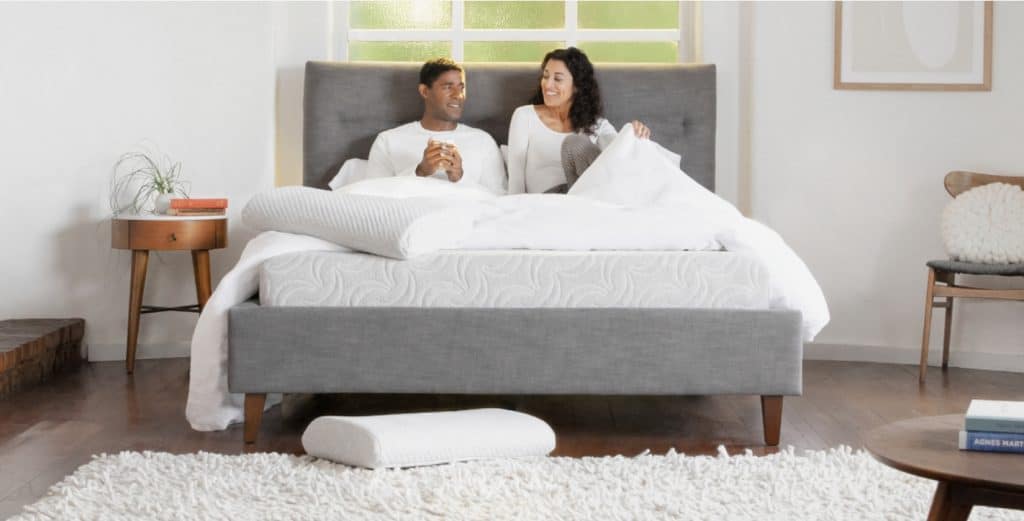 Level Sleep was designed by researchers who set out to create a mattress that would alleviate back pain. Our bodies are not straight; a flat surface that provides the same amount of given across the entire mattress means that lighter areas of the body rest higher on the bed than heavier areas. This can cause the spine to curve during sleep which can result in increased pain as well as morning stiffness and achiness. When you aren't comfortable, you don't sleep as deeply and you wake up more often.
Level Sleep's patented TriSupport® provides a soft mattress where your head and shoulders rest, a medium firmness for your hips and legs, and firm firmness for your lower torso. The result is a mattress that reduces morning stiffness by 54% in clinical trials and a 62.5% reduction in dysfunction during the day due to poor sleep at night.
While the science was all about reducing back pain, they didn't forget about sleeping cool or reducing motion transfer. Sleep deprivation can increase back pain because it causes inflammation so they made sure you would sleep sounder. Coolness and not being disturbed when your sleep partner moves both contribute to the quality night's sleep you will have on your Level Sleep mattress.
PROS:
Endorsed by doctors and chiropractors.
Proven pain reduction in clinical trials.
Scientifically designed and tested.
365-night sleep trial and Lifetime Warranty.
CONS:
Might not be the best for stomach sleepers although a slim stomach sleeper might like it.
More expensive than some other options but who can put a price on reducing pain without drugs?
3. Bear Mattress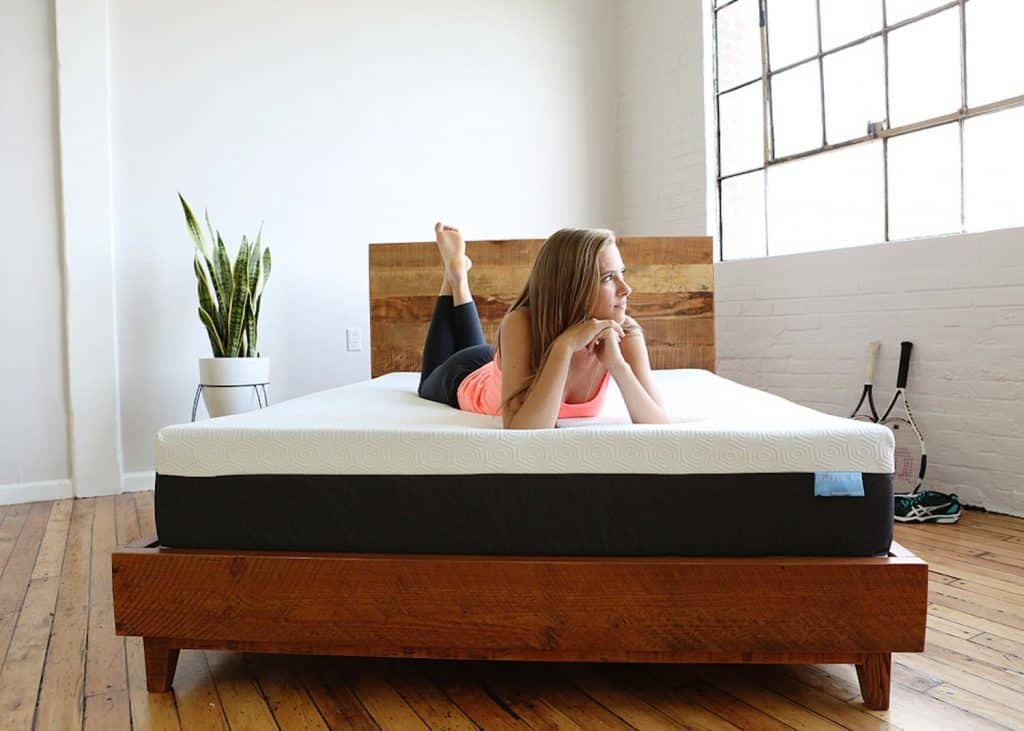 Priced below $1000, the Bear mattress consists of a top layer which is 1″ of graphite gel infused with memory foam. Graphite infused gel helps keep memory foam cool so you don't sleep hot.
The 2.5" middle layer provides responsive support while we sleep.
The foundational layer is 6.5" and gives the mattress deep compression support.
The exceptional element of Bear is a Celliant® receptive material technology that assists athletes in recovering while they rest and this is why it is preferred by people with an active, busy lifestyle. Celliant® speeds healing of muscles in scientific tests.
PROS:
Offers pain relief and diminishes the recovery time of muscles of athletes which in turn enhances performance.
Reduces heat-retention and keeps the surface cool and relaxing.
Great combination of graphite gel infused with memory foam and tested Celliant®.
Great price –below $1000.
CONS:
Relatively new company
More expensive than similar mattresses without Celliant®.
4. Ghostbed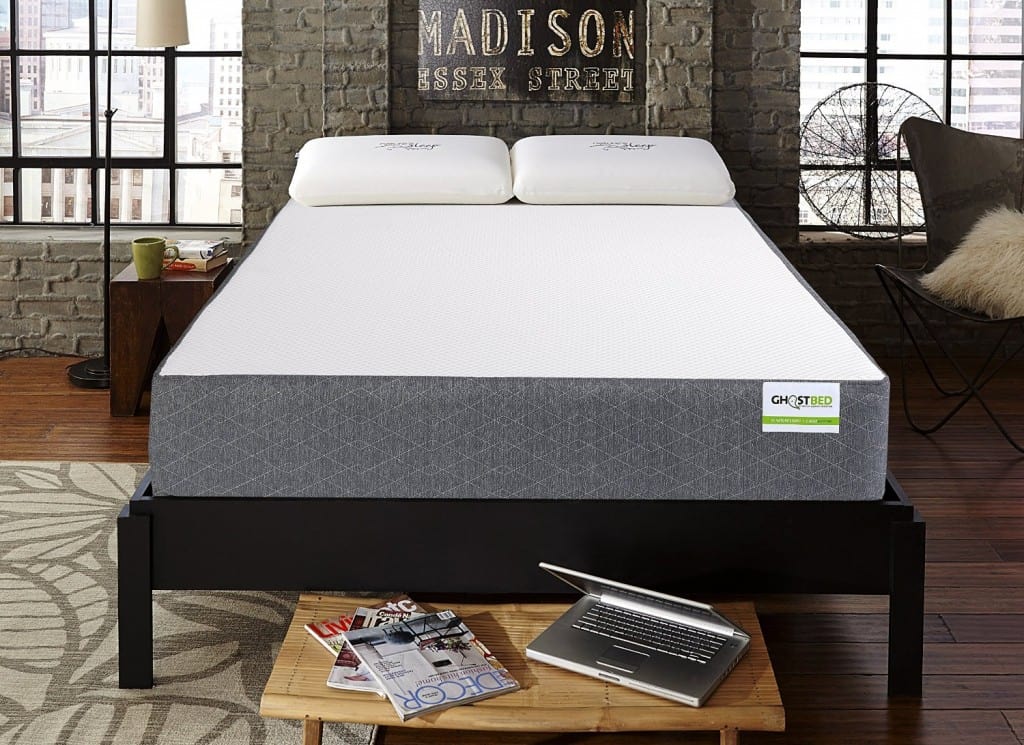 The GhostBed is a somewhat unusual addition to the family of foam mattresses. By adding together half inch to their consoling foams (2 inches gel memory foam layer and 1.5 inches latex foam top), it offers support and better deep compression for sleepers. Plus, it doesn't give in to the bottom.
The mixture of cool gel foam under the aerated latex facilitates cooling and gives a bounce to the bed.
It is also a great combination for a quick recovery and is quite breathable.
All in all, you will love the feel of it! This is also one favorite of mine since I've never seen another mattress as awesome as Ghostbed at the same price level.
PROS:
Offers quick recovery and residual bounce more than any of its type
Takes the shape of your body
Handles heat-retention and keeps the surface cool and relaxing.
Great combination of gel memory foam and latex foam
Great value for money –below $800
Awesome customer service
CONS:
Synthetic cover
They increase sales price recently ($50 each most size)
5. Nest Bedding Alexander Signature Hybrid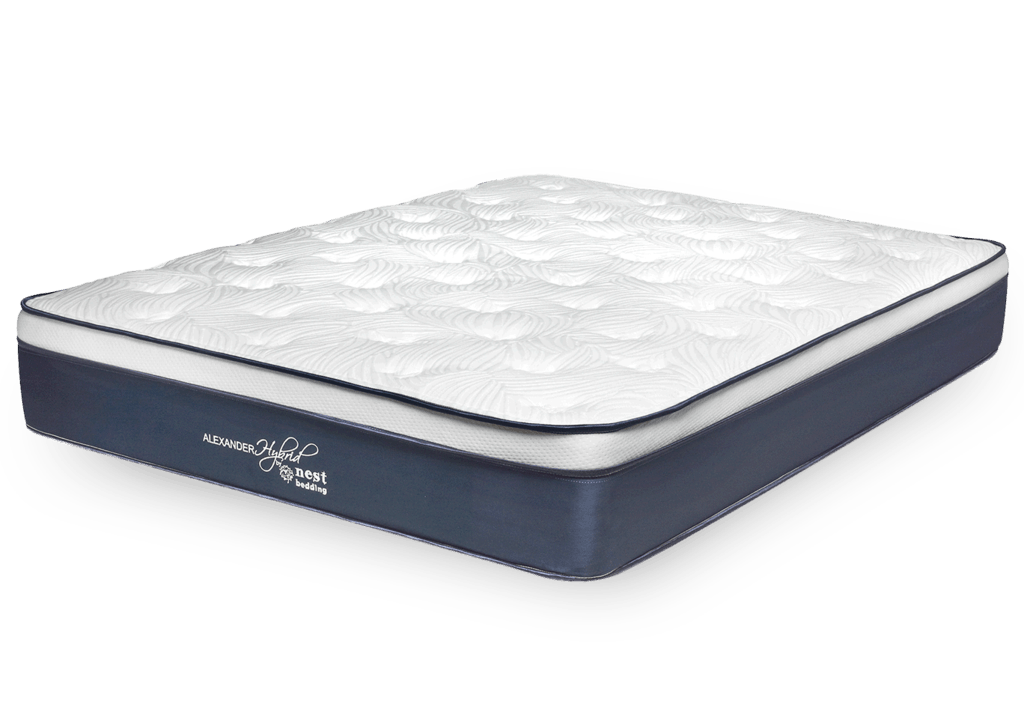 The Alexander Hybrid Mattress from Nest Bedding is a combination of medium, breathable foam over a supportive, zoned, pocketed coil that provides proper support and air flow. This creates a mattress that has the following characteristics:
6. Amerisleep AS5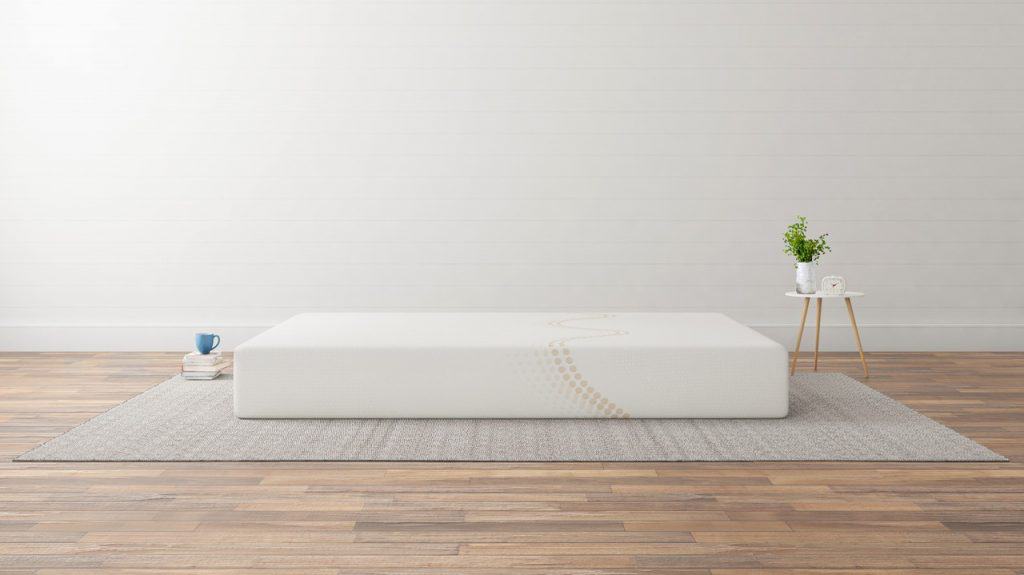 Amerisleep is medium-firm and is slightly thicker as compared to other options. It is one of the best options for stomach sleepers. TheBio-Pur™ and Bio-Core™ layers of foam provide relaxed and stable sleep.
In fact, these support providing mechanisms relieve all kinds of body pains and is therefore suitable for people with back pain and less than even sleep cycles.
One of the highlights is how this mattress has an excellent motion transfer which means you go to sleep faster don't wake up abruptly when your partner moves.
Its Variable Pressure Foaming process allows air to circulate without any hindrance while it has less petroleum and thus is a good ecological choice.
PROS:
Support mechanism for pain relief and extra comfort
Excellent quality materials and motion transfer
Facilitates air flow and sleeps cool
It is an established firm with great reviews
A ecological option
CONS:
Only one firmness level
Price is almost the highest in this list
7. Eve Mattress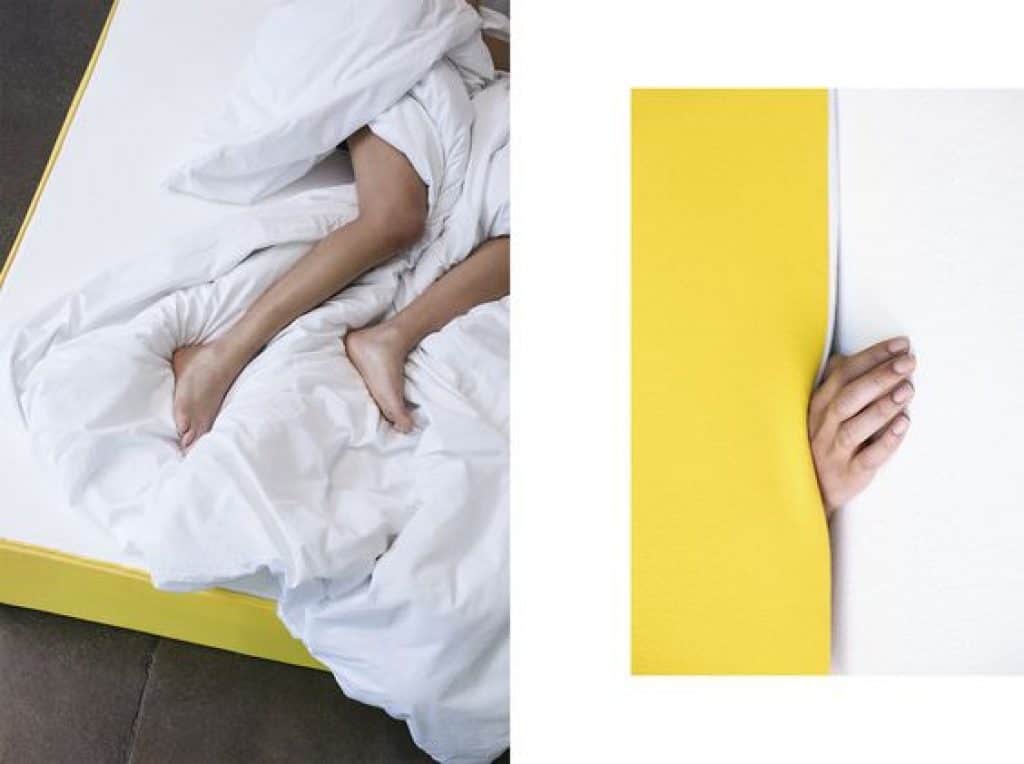 This is the mattress to go for if you want a cool, relaxed nights' sleep. It has a smooth cover which is washable and provides a soft surface. The medium feel of firmness is always a good option.
It has an average side support which is facilitated by its many layers. The top layer consists of 1.6 inches memory foam for huge pressure release and support.
The middle layer is made of 1.3 inches of polyurethane foam with a lower density for better breathing and proper air flow to avoid heat retention. The foundational layer offers 7 inches of support foam in high density for maintaining a good shape.
Eve mattress is a very successful UK brand which recently extended its business to the USA.
PROS:
Fantastic structure for an amazing and lasting cooling effect
Facilitates proper air flow to avoid heat retention
It is an established firm with great reviews
Offers pressure release and support
High quality at a great price – below $900
CONS:
Only one firmness choice
No in-room delivery
Price is not so attractive when compared with other brands
Our Verdict For Best Mattress For Back Pain Reviews
Although any of these mattresses could be perfect for someone suffering from back pain, with a number of positive reviews from real users, there are differences between them. Want to take a look at other mattresses highly rated by us? Just drop by our top 17 best list, we picked them from over 50 online mattresses we reviewed.
The following table summarizes our assessment. Feel free to comment and share this post.