One of the most decisive factors, when people embark on their mattress purchase, is whether a mattress is soft, medium, or firm, i.e. the level of firmness it offers. Of course, while this is a matter of personal preference and taste, there are some generally accepted rules and a scale of firmness which is used to help you decide whether you should get a soft, firm or any of the in-between options like medium soft or medium firm.
In case you are wondering, choosing the right level of firmness is critical for your health, as it will ensure a restful sleep. On the other hand, if you choose a firmness level that is not appropriate for you, then it is likely you will toss and turn a lot during the night, experience discomfort and pain, which can become chronic if you continue sleeping on a mattress that has the wrong firmness for your needs.
In this sense, it is important to be well-informed about mattress firmness before buying your next mattress, so as to avoid any disappointment. This mattress firmness guide is about to give you insights into some basic industry rules on how to tell whether and how firm or soft is a mattress, as well as to decide which suits you best.
So, get ready to know all about:
What does mattress firmness mean?
Mattress firmness refers to the feel or touches you experience upon laying on a mattress. Sensing that a mattress is cushioning enough or a bit too stiff, are all indications of how firm a mattress is. Generally speaking, you should not be looking for an overly soft or overly firm mattress, as either can harm your joints or back, causing pain and discomfort. In this sense, you should avoid extremes in terms of mattress firmness.
It is always important not to stay with an overly worn out mattress, whose firmness has changed over time, alongside other features like comfort, support etc. While you save a few money in the short-term, it leaves much room in the long run for serious health issues which can cost far more.
So, be prudent and get a great mattress with just the right amount of firmness. Softness or firmness is determined mostly by the comfort layer in your mattress, which could consist of a vast array of materials including memory foam, latex, innerspring, poly-foam, gel and a combination of different kinds in a hybrid mattress. Finding the perfect firmness will ensure the so much needed comfort.
Difference between firmness and support
Firmness doesn't equal support. Many people tend to confuse the two terms, however, it is important to distinguish them in order to be clearer on what you are looking for when you search for the best mattress for you.
To set things right, firmness is mostly about how you feel when lying on a mattress, how soft or firm it feels. Support, on the other hand, refers to how well a mattress succeeds to maintain your spine in proper alignment and relieve pressure points, and this is regardless of how soft or firm it feels.
The most suitable mattress for you is the one which caters for both appropriate support and just the right amount of firmness for your individual needs. For instance, you should consider how well a mattress contours to your body's natural curves in the position you sleep.
Generally speaking, firm mattresses tend to provide more substantial support, whereas a softer mattress is likely to offer support with fewer pressure points.
Firmness Scale
Firmness is subjective and varies depending on the manufacturer many times. To help ensure consumers choose the best firmness for their needs, mattress experts have come up with a firmness scale, which includes a measurement on a scale of 1 to 10, where 1 refers to a feel as soft as a pillow, and a 10 is stiff as a rock.
Extremes are usually avoided by manufacturers, yet it is best to be familiar with the firmness scale so as to know where about a mattress sits in.
Below is our overview of a firmness scale, ranging from very soft to very firm, with explanations and a table accompanying the text on how each level feels and corresponds to certain mattress characteristics.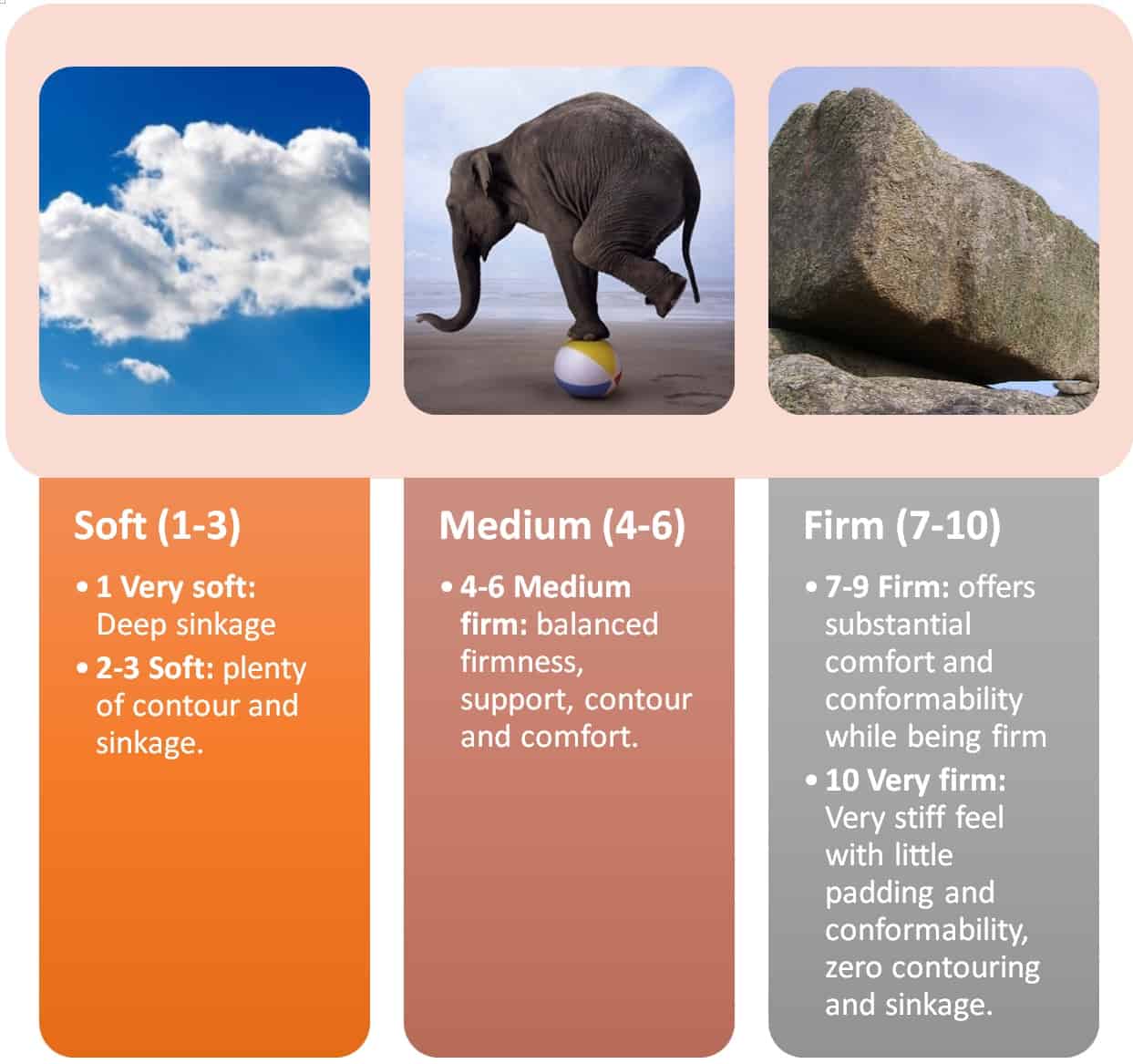 What is Universal Comfort?
When talking about firmness, it is often the case that you will hear the term "universal comfort". This is an attempt of manufacturers to produce a mattress that will accommodate everyone's preferences and sleeping positions.
It is not easy to succeed so, however most "bed in a box" brands now adhere to this policy as the universal comfort model seems to appeal more consumers, in response to the saying "one size fits all".
Despite claiming to offer universal comfort, which means a firmness somewhere between 5-7 out of the firmness scale, as a medium to medium firm feel, it is often the case based on our experience and personal testing that manufacturers design mattresses that feel firmer or softer than expected.
Noticeably, universal comfort does not only refer to the firmness level, but also the comfort, support, weight distribution, contour, bounce, and responsiveness of a mattress. A great universal comfort feeling mattress strikes the perfect balance between all of the above features.
In this sense, the universal comfort model was made to cater for varying needs of a majority of sleepers.
See for example Leesa mattress
Dual firmness or multiple options
Given the difficulty to provide just the kind of firmness each individual needs, some high-end brands do not follow the universal feel model and instead offer the option to choose your preferred level of firmness.
This versatile design which usually includes a medium and a firm option, namely a dual firmness, is a great choice if you want to customize your firmness level to get it right.
Some manufacturers can go as far as accommodating for different firmness options in the same mattress. This is exceptional if you are a couple for instance and each partner has different firmness preferences. Just choose between the different brands offering such personalization in terms of firmness, like Helix does, and you will end up with just the appropriate firmness for each sleeper.
Dual firmness options: Tomorrow Sleep mattress, Amore mattress, Dromma Bed mattress, Layla mattress
Multiple options: Brooklyn Bed mattress, Nectar Bedding Alexander Signature mattress, Helix mattress
Which firmness option is best for me?
Is there such a thing as right mattress firmness? The simple answer would be not really; the best mattress firmness is the result of a combination of different factors you need to consider in order to decide which firmness level is ideal for you. The figure below shows the four basic factors which determine the best firmness for each person.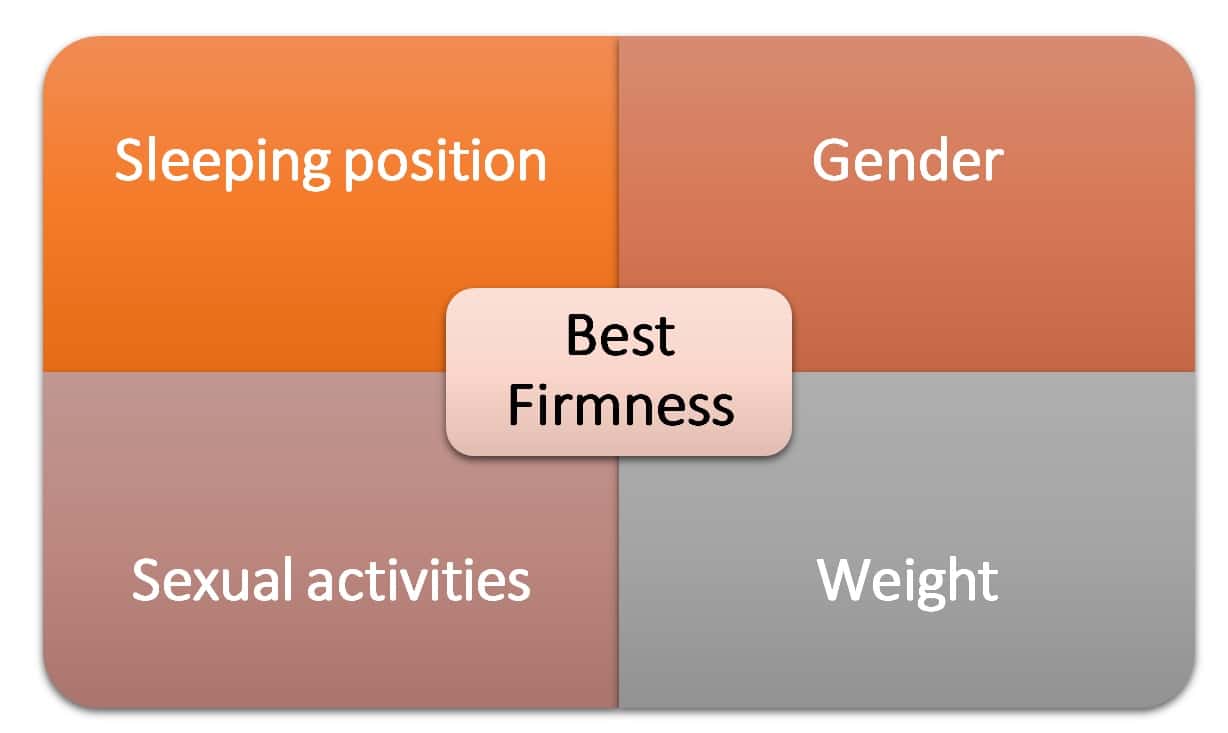 The above, are the most crucial elements which determine which firmness is most suited to your needs. Of course age and budget are also important, however, the aforementioned are the most important and here's how they play out, depending on whether you choose a soft, medium, or firm mattress. So, read carefully, before you decide which type of firmness you prefer.
Soft       (1-3)
Support: Soft mattresses can offer proper support, yet they are not as easy to find. Look for the perfect balance between softness and support.
Conforming: Definitely, an area where soft mattresses excel. You can be certain you will sense ample of contouring and hugging of your body's natural curves.
Sleep positions: It is more likely that you will appreciate the contouring effects of a soft mattress if you are a side sleeper.
Gender: Best suited for men as it will exceptionally support their back, contour to their curves and offer plenty of pressure relief. Women will not find a soft mattress as beneficial since it will not offer great support for them and uneven weight distribution.
Sex activities: Not appropriate for intimate activities, as they do not offer enough responsiveness and you will sink too much into the bed.
Weight: Although soft mattresses are best suited for lightweight people, as they will feel as if they are floating in their bed. A softer bed is often preferred by average sleepers who want the contour and sinking into the mattress.
Examples of soft mattresses: Nolah mattress,
Medium (4-6)
Support: Get proper support without feeling the mattress is too firm or stiff
Conforming: Balanced contouring and hugging of your curves, without sinking too deep into the mattress
Sleep positions: Suitable for any type of sleeper (side, back, and stomach)
Gender: Best suited for women as it will offer the proper amount of support and pressure relief. This is also a great option in a medium soft or medium firm for a man, as it will substantially support their back.
Sex activities: This is the ideal firmness level for sexual activities. You will benefit from the comfort, bounce, support, and responsiveness of a medium mattress, in a way that you will enjoy sex.
Weight: Medium mattresses are best suited for average to heavier sleepers, as they offer a balanced level of comfort and support. Lightweight sleepers and heavier sleepers could also choose a medium firm mattress depending on their preferences.
Examples of medium mattresses: Leesa mattress, Nectar mattress, Eight Smart mattress
Firm      (7-10)
Support: Since the excellent support of a firm mattress
Conforming: Less give, adequate yet not excellent conformability
Sleep positions: Best suited for back sleepers
Gender: Neither men nor women can fully benefit in general from a really firm mattress
Sex activities: A firm mattress is not the best choice if you are a couple since it does not offer enough bounce and comfort, while being stiff means it allows plenty of motion to be transferred to the bed frame, causing unwanted noise.
Weight: Heavier sleepers will benefit the most from the support a firm mattress has to offer.
Examples of firm mattresses: IKEA Haugesund Mattress, Tuft & Needle
So, which firmness is best for you? Compare your needs in the table below and see what suits you best.
Soft (1-3)
Medium (4-6)
Firm (7-10)
Support
Gentle
Balanced
Excellent for spine alignment
Feel
Plush first feel
Moderate level of plushness
Less give
Conforming to the body
Excellent
Good
Not ideal
Sleep Positions
Side
Side, Back, and Stomach
Back
Gender
Could cause lower back pain for women

A soft mattress is good for men as well

Ideal for females

A medium firm is also good for men

Not great for either women or men in general
Sexual activities
Not suitable
Ideal for couples
Not a great choice
Weight
Light (130 lbs or less)

Below average BMI

Average (130-230 lbs)

Average BMI

Below average BMI

Heavy (230 lbs or more)

Above average BMI
Key takeaway
Based on the information listed in this article, it seems that mattress firmness is quite significant and does matter. However, how you feel when you lay down in a mattress is mostly subjective, and despite there is a general firmness scale from 1-10 which gives an idea of how soft or firm a mattress is, each person experiences firmness differently.
If there is one thing to remember from reading this article, is that firmness is not the same as support, and generally speaking, there is no such thing as the perfect firmness for all.
The ideal firmness for you comes down to a few basic factors, like weight, gender, sleeping position, sexual activity, and of course it is also a matter of your budget. However, here are some basic rules to follow in order to be on the safe side before you choose your next mattress firmness.
Tips for finding the best mattress with the ideal firmness:
Keep in mind that a mattress takes as much as 30 days to break-in and sense the actual firmness level that the mattress will have. So, don't get confused by what you try in retail shops.
Be careful when you buy a soft mattress, as when it is not adequate, it really is bad!
Don't go to the two extremes: avoid either too soft or too firm mattresses can cause discomfort and pain in the long run.
If you are uncertain about which firmness is best for you, get a medium firm mattress as it will likely accommodate your needs.
Choose a firm mattress only if you don't mind motion transfer: be ready to deal with plenty of disturbance if your partner tosses and turns, as movements are not easily absorbed by firm mattresses. They offer little give and no motion isolation in general, so movement transfers on your partner or bed frame.
Try to cater for both partners' needs: if you are a couple, do consider what both sleepers prefer and if necessary, choose a mattress with split firmness, so that you ensure a night of restful sleep for all since firmness determines also conformability, responsiveness and overall comfort in a bed.
Hopefully, this mattress firmness guide will offer the kind of information you are looking for so you can get the mattress of your dreams! Until next time, take care.