Given the hectic rhythms of our busy lives, we come to highly appreciate a good night's sleep. If this is a concern of yours as well, then you should know that there are some sleeping positions that could provide a more restful and healthy sleeping experience.
Unfortunately, sleeping on your stomach does not make the cut as a healthy sleeping position to hit the sack. In fact, the bad news is that if you are the stomach sleeper, this is thought to be the worst position for you, following back and side sleeping.
Although it reduces snoring and minimizes sleep apnea, yet, on the other hand, it is taxing for your back and neck. The previous can highly affect the quality of life you experience as you might experience discomfort during the day or not be able to perform as you please during your daily activities.
Especially if you are pregnant, sleeping on your stomach should be avoided as it can cause different health issues for both you and the embryo.

If you don't want or can't change your sleeping preference, still there are some solutions. Finding a quality mattress which can suit your sleeping preferences should come first.
To take some of the hustle away, we have researched and presented you a review here, which are considered the rarest of the bunch. According to the National Sleep Foundation, stomach sleeping is the preferred option for merely 7% of adults. In this sense, it is rather difficult to find mattresses that will accommodate their needs.
Why sleeping on your stomach is bad for your health
Although it might feel comfortable, still there are far more negatives than positives that come with it. Stomach sleeping might minimize snoring, and provide relief for some sleep apnea sufferers in this sense as it has been reported.
On the other end of the scale, however, it could be detrimental if you experience sleep apnea, although it reduces snoring.
It is also a bad choice if you have chronic back pain since sleeping on your stomach puts additional pressure on your lower back.
Most sleepers find comfort in resting their head on the side, yet this position can be hard for the neck.
Unfortunately, there are more downsides that come with stomach sleeping. For instance, it is thought to speed up the formation of wrinkles, as you crush on the pillow. You can try a silk pillowcase or no pillow at all, to relieve from this counter effect.
Remember also that sleeping on your stomach means you face downwards and your spine is resting on your guts, while your neck is twisted to the side to breathe. This causes such neck strain and flattens the natural curve of your spine, which could be the cause of lower back pain.
Whether you turn your head or bend your neck, still neither is good for your health. Our advice would be to train yourself to sleep on your back or side if possible, otherwise, consider the tips provided in section 4 of this article.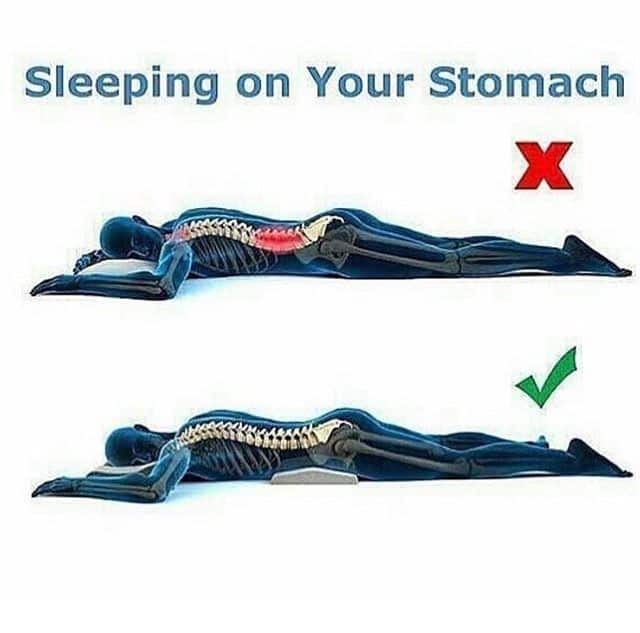 Note: If have to, remember to place a flat pillow under the stomach and pelvis area, it  can help to keep the spine in better alignment
What would be a good mattress if you sleep with your stomach?
The best mattress would have to be one that can relieve the many pressure points created during the night sleep. These include kneecaps, ribs and such, which are generally not used to pressure.
Of course, the right mattress for sleeping on your stomach should have to cater for your neck and back, which also suffer due to improper spine alignment.
That said, our experiences says that a perfectly medium one would not be the best option for a stomach sleeper. Getting a mattress that is too firm is not right either since it causes uncomfortable high-pressure points and your spine won't fall to its natural place. On the other hand, a very soft mattress can cause back and neck pain, as you sink further into your stomach.
The conclusion is that most stomach sleepers need a firm mattress to get sufficient support and pressure relief.  In this sense, a memory foam mattress would probably be the best choice. There are of course those who prefer latex or any other type of mattress. Still, you must keep in mind that coil spring mattresses should be avoided and instead prefer a thin and firm comfort layer.
4 best mattresses for stomach sleepers
There are a number of mattresses which claim to be appropriate for stomach sleepers. Based on my research, here are our 5 favorites.
Remember: The above mattresses may not rank #1 in our overall mattress reviews, however, they do seem to perform the best when it comes to stomach sleepers.
So get ready to hear all about it. Keep in mind that the most innovative of all options come with Layla's copper-infused technology, while Avocado is the best eco-friendly solution and Avaya offers a luxury feel at an affordable price tag.
#1 Layla mattress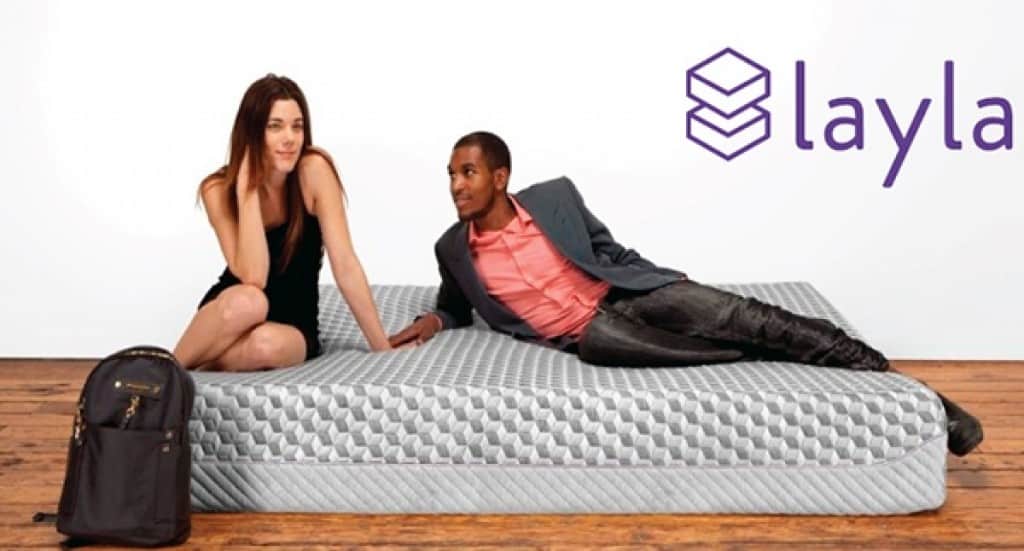 Overview: Layla is among the world's best mattresses with a dual-sided copper infused structure that sets it apart from the rest.
Layla is a great choice if you have to deal with back and neck pain, as it is often the case with stomach sleepers. Definitely, the highlight of this mattress should be how it is the first ever dual sided copper-infused memory foam mattress.
Copper has been found to be a good thermal conductor and promotes blood circulation, while it facilitates a cool and relaxing effect while you sleep. It is also an excellent material to use for pressure relief, reduce joint inflammation and stiffness overall.
Mixed with memory foam, the creators of Layla designed and manufactured a mattress that can retain heat with better results than most of its rivals.
Another cool innovation feature is how Layla comes with dual firmness options, a soft and a firm in the same mattress. If you are a stomach sleeper, prefer the firm side which will soothe your pressure points and keep your spine as neutral as possible.
PROS:
The enhanced cooling effect due to the use of copper
Promotes blood circulation and increased airflow
Offers comfort and pain relief
Great combination of copper and memory foam
Soft and Firm in the same mattress (double sided)
CONS:
Difficult flipping the mattress over
Some first-day smell
#2 Aviya mattress: Best hybrid innerspring mattress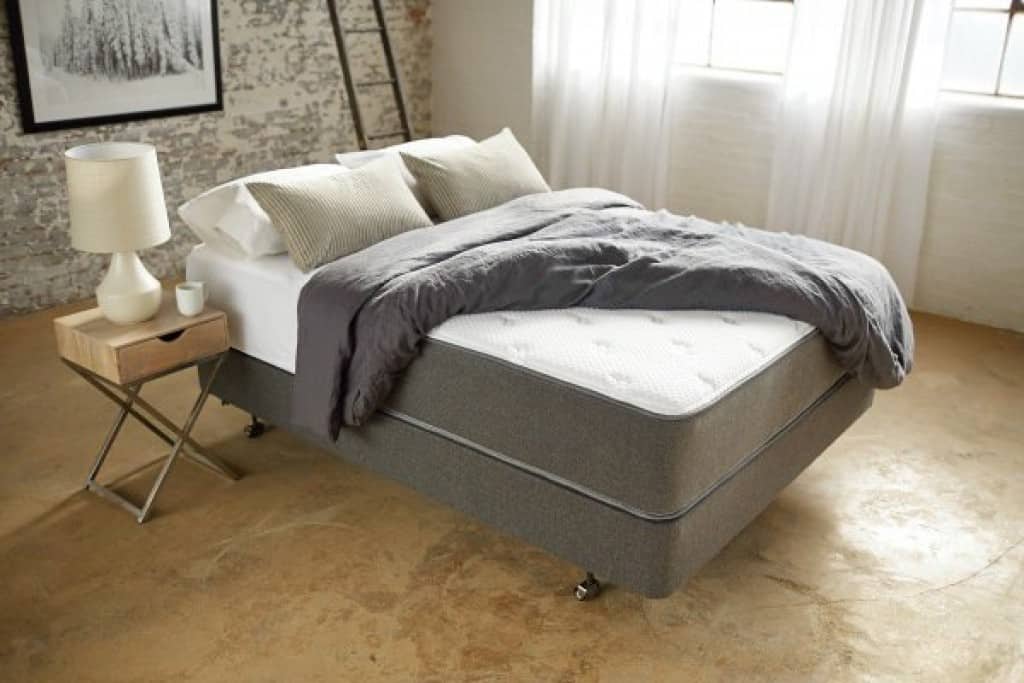 Overview: Aviya is the only mattress of its kind that combines such quality with a great price.
Key specs:
Aviya exceeds the industry standards to provide additional 2 inches making it is highly durable
The 3 inches edging foam cater for extra edge support
There are 3 firmness options available with supportive innerspring for maximum responsiveness
Aviya sleeps very cool thanks to its special 1" Cooling Comfort Foam
A highlight of it, the high-density polyurethane foam cushioning acting as a true'upholstery grade foam,' will enable the support and comfort you need.
Aviya combines high-end luxury materials to make for a remarkable result with its hybrid structure, featuring 3 layers of high-density foam and supportive wrapped innerspring coil system (Marshall System). Rest assure that Aviya will offer the strong edge support and reinforced lumbar alignment necessary for your stomach.
As already discussed in this post, if you are a stomach sleeper, the optimum choice would be to get a firm mattress. Aviya offers this firmness option (Firm) alongside two others (Luxury Firm – Plush/Soft). Despite it has innerspring in it, the memory foam will make up for the comfort feel and so it is still a good option if you sleep with your stomach.
Aviya mattress has a minimal odor after unpacked which quickly dissipates so you don't have to worry about it; in addition, you will be happy to hear that the mattress is made of eco-friendly polyurethane foams blended with soy so non-toxic materials are used in the production process.
PROS:
Added 2 inches for extra comfort and durability beyond the industry standards
Nice blend of foams and wrapped coil in one mattress
Unique five layers structure
3 firmness scales to choose from
Offers great edge support system
Eco-friendly materials, Certi-PUR Certified
CONS:
Perhaps a bit slow delivery
#3 Ghostbed mattress: A great supportive mattress for its money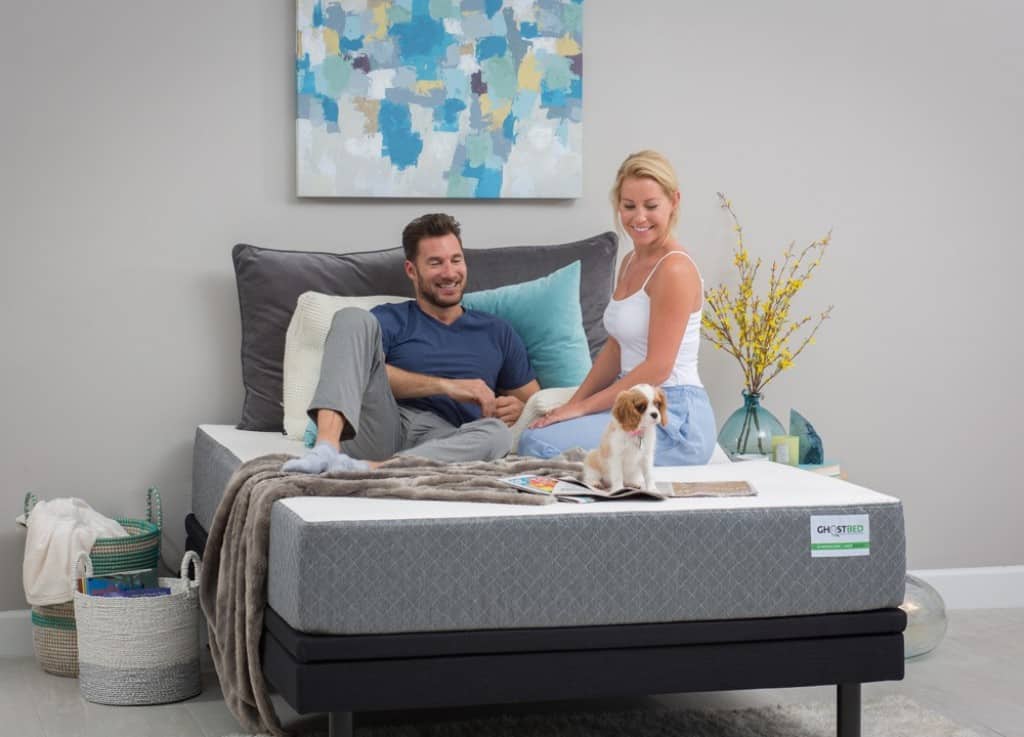 Overview: The GhostBed mattress is not your usual addition to the family of foam mattresses but it is definitely winning the hearts of consumers!
Key specs:
GhostBed have gone a step further to create a mattress by adding together half inch to their consoling foams
The 2 inches gel memory foam layer and 1.5 inches latex foam top make for a mattress that provides substantial support and better deep compression to sleepers, a feature which is essential for stomach sleepers
Plus, GhostBed has a highly breathable cooling system.
A really cool characteristic of GhostBed is how it has the cool gel foam under the aerated latex, as this facilitates cooling and gives a bounce to the mattress.
All things considered, we think you will love the feel of it! This is one favorite of mine since I've hardly experienced another mattress as amazing as Ghostbed at the same price level.
PROS:
Provides quick recovery and residual bounce unlike most of its competitors
It has the ability to contour to the shape of your body.
This mattress deals really well with heat-retention and sustains a cool and relaxing surface.
Great mixture of gel memory foam and latex foam
Awesome value for money –below $800.
A reputable company with over 15 years of experience and great customer service.
CONS:
#4 Avocado Gwen mattress: Best organic hybrid mattress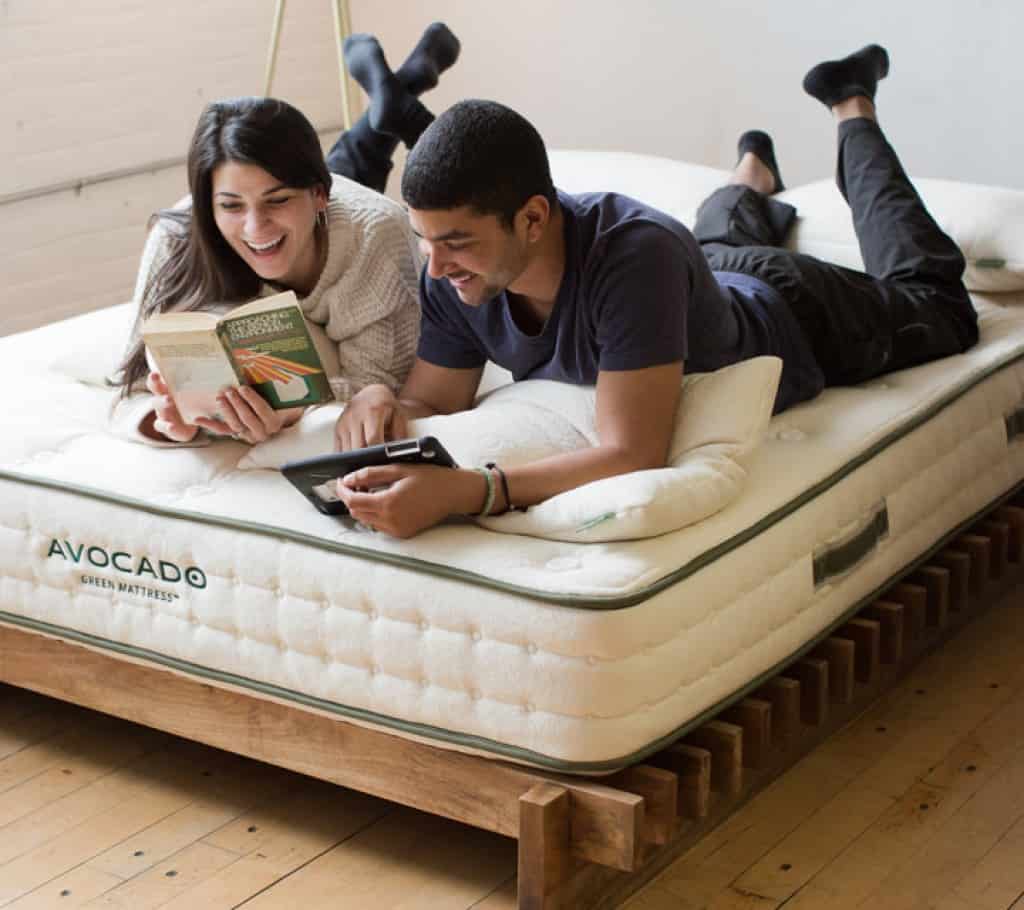 Avocado Gwen is your go-to choice if you are looking for a hybrid deluxe mattress that is purely organic, at a relatively affordable price.
Key specs:
Avocado Gwen is made of 100% natural materials
Since it is 13 inches thick, it is considered highly durable compared to other mattresses
The mattress provides 2 firmness options, while there is also the possibility to add the pillow top
Avocado Gwen sleeps very coolly, in particular, due to the high-quality eco-friendly materials used throughout
It appears to be quite bouncy/resilient which makes it ideal if you love this kind of mattresses
Avocado Gwen is the ultimate green mattress, consisting of 100% organic Dunlop latex, certified by the eco-INSTITUT in Cologne. In addition, the mattress construction is as follows:
100% Pure Joma® New Zealand Wool
100% Recycled Steel Support Coils spread in 3 Zones
a GOTS certified organic cotton layer sheet, which is handmade with button tufted and makes no use of adhesive chemicals.
A highlight of Avocado Gwen is the top layer of 2" latex Euro-Style pillow which ensures a nice sense of balance, softness and firm feel. The optimum stability and no sinking is an added advantage which is great for stomach sleepers as you don't want to sink to deep in the mattress.
The Avocado Gwen mattress comes also at a medium firm feeling which is towards the firmer side of the firmness scale and thus has earned it the seal of approval from the Congress of Chiropractic State Associations® for back and spinal health.
This organic mattress overall will provide the necessary support and comfort you need if you are worried about your health as a stomach sleeper, while also care about the environmental footprint you leave.
PROS:
Eco-friendly 100% organic Dunlop latex
100% pure Joma New Zealand Wool
Nice touch with the Euro Pillow Top design
Handcrafted mattress and components of high-quality standards
Offers support to help remove your old mattress for free
CONS:
Minimal motion transfer
Due to its premium eco-friendly materials used, Avocado costs rather more than other mattresses
Should I try to change my sleeping position(And what's the best?)?
Having heard so much about the negatives of stomach sleepers, probably makes you wonder if you must change your sleeping preference at any cost. Experts recommend that you should prefer the position you feel more naturally inclined to when you snooze. In this sense, you don't necessarily have to change your sleeping position, unless your doctor suggests so for medical reasons.
If you do experience, however, some of the downsides of sleeping on your stomach but still won't give it up, consider some of the techniques described in the next few lines and you will feel some relief for sure!
Get rid of that thick pillow
If you slept on your stomach all your life, and don't want it otherwise, avoid the complications by using a thin pillow or no pillow at all under your head. The thinner the pillow, the less angled your head and neck will be.
Add extra pillow/pillows
Have you tried placing a pillow under your pelvis? If not, you should consider it as it keeps your back in a more neutral position and relieves some of the pressure on your spine. Alternatively, you can lay flat on your stomach, put the extra pillow under your hips and snooze. Adding an extra pillow to your nighttime routine is a great solution to the challenge of keeping a neutral spine when sleeping on your stomach. By propping up your hip area, you drastically reduce your lower back curves.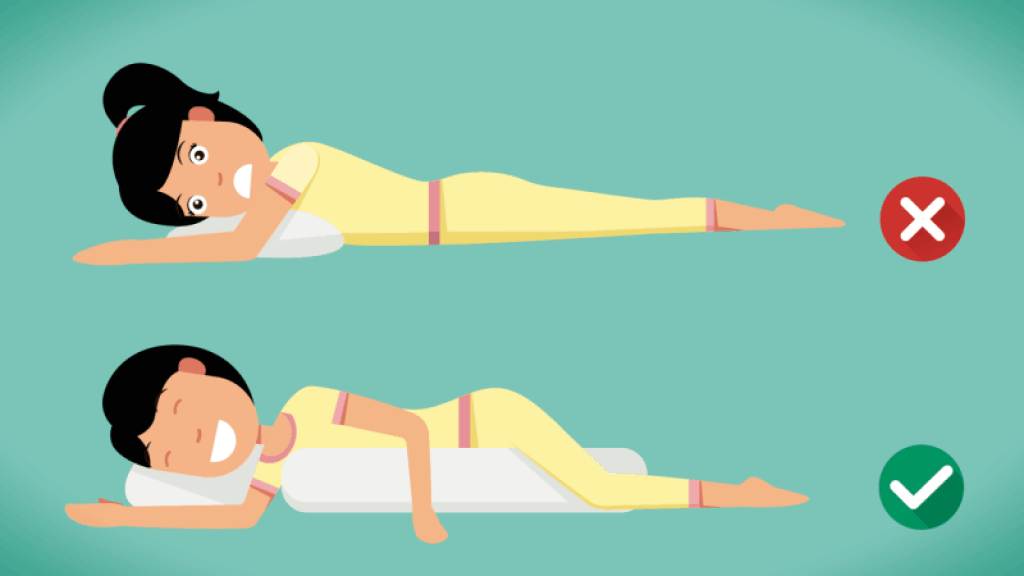 Get a special pillow
Stomach sleepers can greatly benefit from special pillows, sold on Amazon.com for example, including pillows for pregnant women.
Stretch in the mornings
Try a few minutes of stretching every morning to get your body back in proper alignment and strengthen supporting muscles. Don't forget to warm up before you start stretching, and be gentle with yourself!
The key takeaway for the stomach sleeper
Don't hesitate to invest in a great mattress. You might not be many, yet you do count and we have put considerable thought into finding the kind of mattress which could support your posture and provide the right amount of support and comfort for you!
Thankfully, if you look at what's available in the industry, there are ample of choices which can make the cut for stomach sleepers, since technology is progressing and the mattress industry improves.
In this post, we have provided our recommendations on what would likely be the best mattress for stomach sleepers, based on unbiased reviews among hundreds of mattresses. Layla and Avocado are only two of the mattresses in this list which are set apart from the crowd due to their special built.
Of course, GhostBed which is the best-selling mattress in our site is also a great choice and Aviya is also one other option at an amazing price which you will find offers the sort of luxury and support you need. Plus, you can choose Hyphen for exceptional pressure relief and deep compression support. Generally speaking, memory foam and latex work best to our opinion, however, you should not exclude other options.
Whatever your budget, if you are a stomach sleeper, you will find a mattress that suits you so you shouldn't be disappointed. One thing is for granted, you don't want to choose a mattress that below average, since it won't cradle for your body curves, not will facilitate a healthier sleep. Therefore, take a closer look at the mattresses suggested in this post and you won't be disappointed.