There's nothing better than a good night's sleep, but selecting a new mattress? That's not so fun.
Whether you've just moved to a new house or are looking to replace that old, saggy excuse of a mattress in the guest room, we've got a recommendation for you.
According to the American Chiropractic Association, back pain affects up to 80% of the population, with half of all working Americans experience the symptoms of back pain.
Bed Times Magazine carried out a survey in which 85% of people said, "sleeping on a bad mattress will cause serious back problems in the long run."
And, if that wasn't enough, the Journal of American Medical Association found that lower back pain costs Americans $100billion in health care costs each year.
And despite all that, Tuck's research shows that most Americans won't spend more than $1000 on a mattress.
Crazy!
Choosing the right mattress is incredibly important – regardless of the price tag. Back pain is just one example. The effects of a bad night's sleep can stretch from poor motivation at work to a weakened immune system.
So, how do you choose the right mattress? Don't worry! We've got it all covered here in our ultimate guide to choosing a mattress.
17 Best Mattresses in 2022: Detailed Reviews
#1. The Nectar Memory Foam Mattress – Best Overall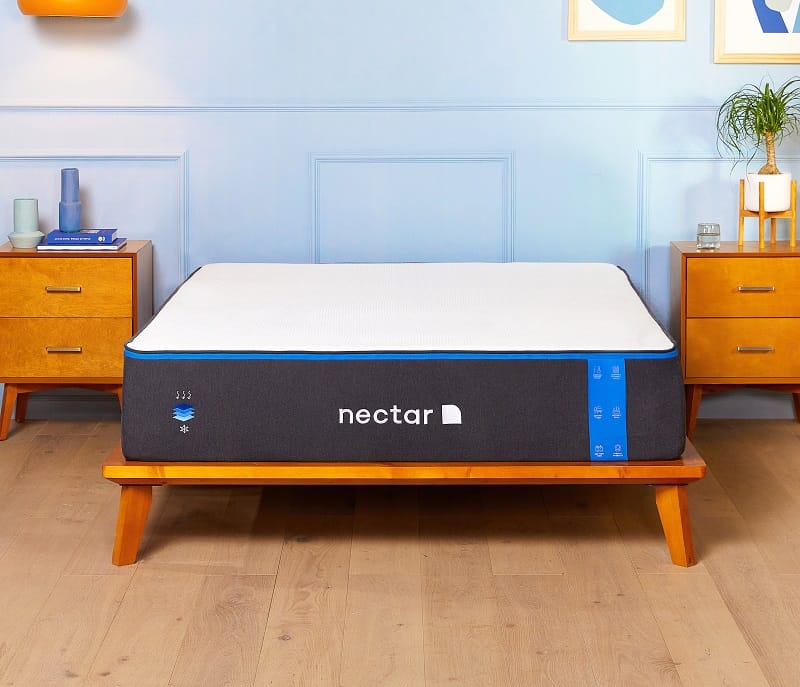 The best mattress for all sleeping positions and medical conditions with supreme comfort
Built up of 5 layers of memory foam that adapts to your body shape and sleeping position
Nectar are extremely accommodating. The mattress works on all bed frame types and has a super lengthy trial period
Our #1 choice is the Nectar Memory Foam Mattress! It ticked all the right boxes and, most importantly, was unbelievably comfortable. It hits just the right spot with a balance between firm and soft that's ideal for all sleeping positions. On your side, you'll find the correct contour support to keep your spine aligned, but roll over to your stomach or back and the firmness of the core mattress layers prevents you from sinking into a foamy death!
Starting from the bottom, there's a breathable base layer so your body heat can dissipate right out from the mattress. On top of that is an adaptive memory foam that rebounds to support your body as you sleep. Next up is the thin layer of gel memory foam to keep you cool and evenly distribute your weight onto the core.
Finally, the top layer of memory foam is quilted for extra cushioning and to create channels that allow your body heat to gently roll away, for a calm, cool night's sleep.
All of this is held together in the Tencel cooling mattress cover. This material circulates air and wicks away your body heat.
To summarize, it keeps you comfortable and cools no matter your bedtime activities!
If we haven't already convinced you that this is perfect, check out the trial period and warranty on the Nectar memory foam mattress!
Best For: comfort and support for all sleep positions
Type: layered gel memory foam
Bed Sizes: twin, twin xl, full, queen, king, Cal king
Shipping: free for contiguous US states, additional costs for Alaska/Hawaii
Trial Period: 1 year
Warranty: forever
#2. Idle Sleep Double Sided Hybrid Mattress – Runner-Up Best Overall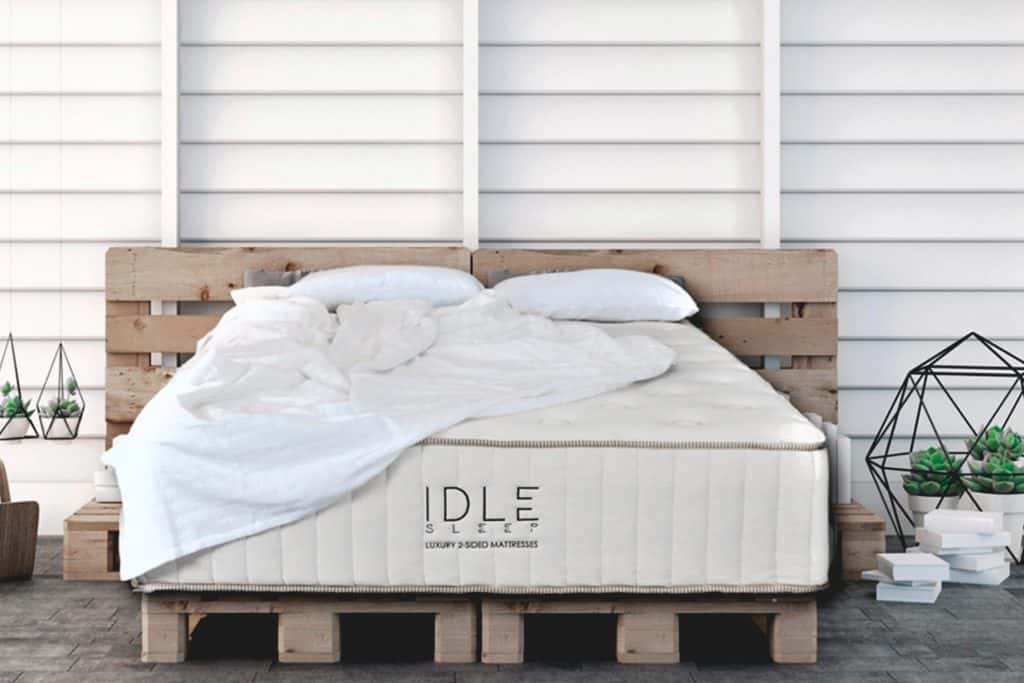 Double sided mattress improves longevity – but you have an eternal warranty anyway!
Hybrid mattress with natural/CertiPUR-US certified foams and pocketed coils
To firmness options for those that like a very firm mattress
Once you've picked up your Idle Double Sided Mattress, you could be sorted for life. Just flip it over and it's like a whole new bed, doubling the life of your standard mattress. This hybrid is ideal for stomach and back sleepers who love a firm base to sleep on. Furthermore, the coils will really bring the bounce back to your sex life!
It's manufactured with 7 layers and a thermocool smart fiber fabric cover to transfer your heat away from your body as you sleep.
The central layer is made of 6-inch quantum edge-to-edge pocketed coils. Besides giving you a good bounce, the coils provide excellent support right up to the very edges of your mattress. On either side of that, you've got 2-inches of cooling buoyancy foam – not to be confused with memory foam – to provide pressure relief on your spine.
On either side of the buoyancy foam, there's 1-inch of air-flow foam, which does exactly what it says on the tin. Finally, before you hit the cover, you have that last 1-inch layer of quilted foam which is so comfortable! It's like laying on a gigantic pillow all night.
It's quite pricey, but if our all-round mattress doesn't sing to you then you simply must try out the Idle!
Best For: stomach and back sleepers seeking support
Type: hybrid foam and pocketed coils
Bed Sizes: twin, twin xl, full, queen, king, Cal king, split king
Shipping: free for contiguous US states, additional costs for Alaska/Hawaii
Trial Period: 120 days
Warranty: forever
#3. The Layla Mattress – Best for Side Sleepers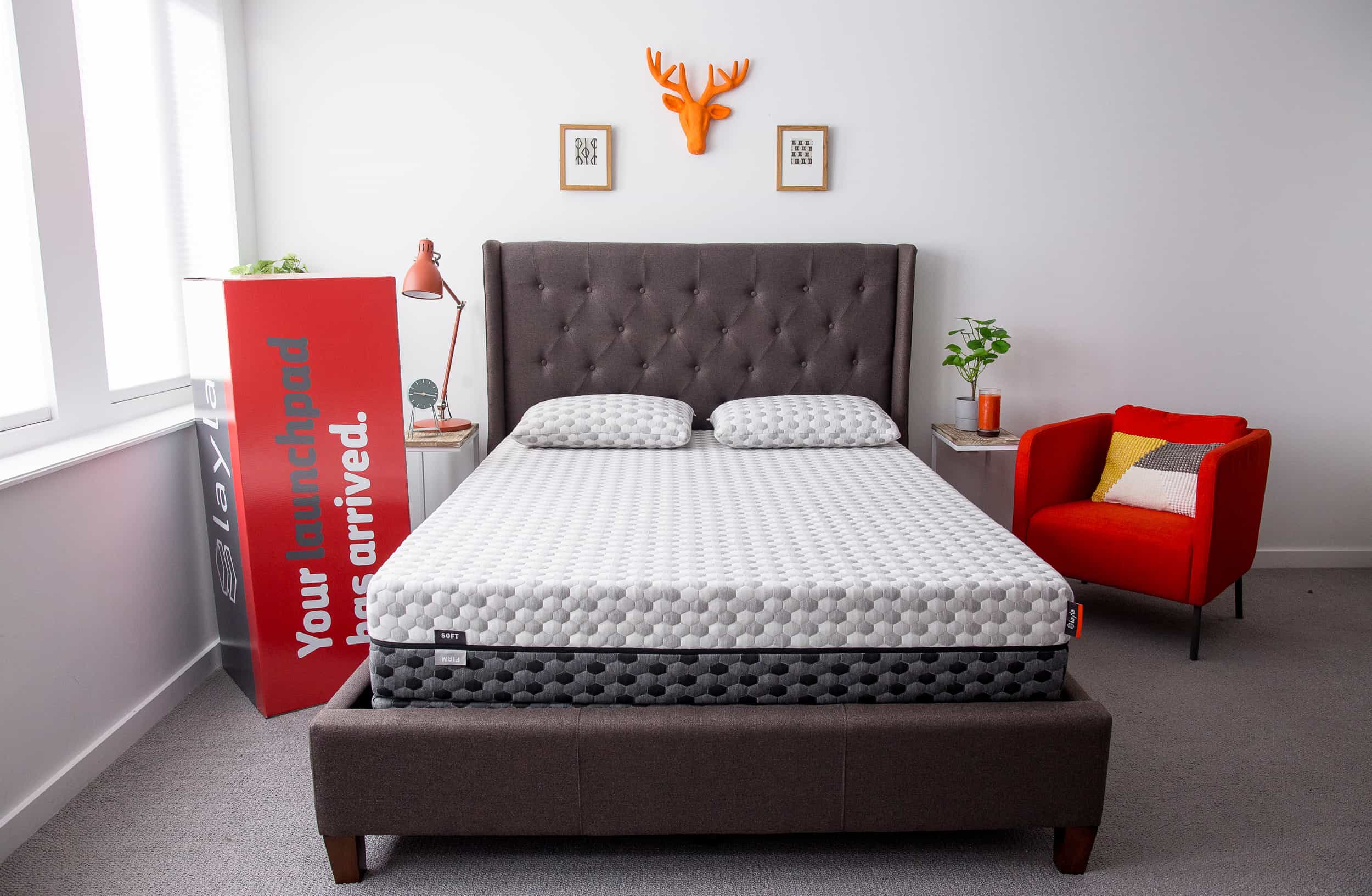 4 layer foam mattress combines copper-infused foam and memory foam
Ideal for side sleepers with superb contour support for your body
Anti-microbial copper-infused layers keep you cool, comfortable and free from bacteria
Our top pick for side sleepers is the Layla mattress, thanks to its excellent foam structure and unparalleled contour support for your hip, shoulder, and spine.
It holds 4 layers of memory foam, starting at the top with 3-inches of copper-infused memory foam. This layer is all about keeping you cool atop your mountain of foam. Underneath is a convoluted air-flow foam which allows air to flow through the mattress, keeping you cool throughout the night and providing a little bounce!
Below that, you've got a 4.5-inch base foam layer. This high-density foam is the core of Layla, it allows your body to sink in while still being supported to keep your spine straight, which is essential for side sleepers. It also prevents motion transfer when you or your partner roll around or get up in the middle of the night. Finally, you've got another 1-inch layer of copper-infused foam at the base for extra support to ensure the whole mattress molds to your body.
Now.
Here's the best feature.
You can flip the mattress over! If you're not keen on the super spongey air-flow foam feel, just flip the mattress over. That 1-inch of copper-infused memory foam on the base provides a firm feel for those that prefer a firm one.
Best For: side sleepers
Type: layered copper-infused memory foam
Bed Sizes: twin, twin xl, full, queen, king, Cal king
Shipping: free for contiguous US states, additional costs for Alaska/Hawaii
Trial Period: 120 nights
Warranty: forever
#4. Level Sleep Mattress – Best for Back Pain

Recommended for back pain by doctors, chiropractors and us!
3 zone design for ideal lumbar, shoulder and hip support
Made entirely from supportive memory foam in 2 layers
At first glance, this mattress doesn't seem impressive. Just 2 memory foam layers and a premium mattress cover – nearly all mattresses on this list can boast that!
However, what this mattress boasts above all else is support for back pain. During our tests, it was simply unrivaled for supporting our backs. For side sleepers, back sleepers, stomach sleepers, and combination sleepers, the support you need is there. It eases our back pain and lets us get a good night's rest.
The Level Sleep mattress has a base layer of high-resilience foam. This sturdy 7-inch layer provides support regardless of your bed frame type. On top of that, you have a 3-inch top grade premium foam. This layer is comprised of 3 different density areas designed to support your shoulders, back, and hip in just the right way. It's also open-cell and completely non-toxic for a breathable, cool sleep experience.
Finally, there's the rich premium fabric cover. It's woven with 4-way stretch technology so no matter which way you roll in your sleep, your mattress will accommodate you.
The Level Sleep mattress is light enough for slatted bed frames yet sturdy enough that you still feel the cushioning on platform bed frames.
Best For: back and joint pain
 Type: layered density foam
Bed Sizes: twin, twin xl, full, queen, king, Cal king
Shipping: free for contiguous US states, additional costs for Alaska/Hawaii
Trial Period: 365 nights
Warranty: forever
#5. Bear Mattress – Best for Athletes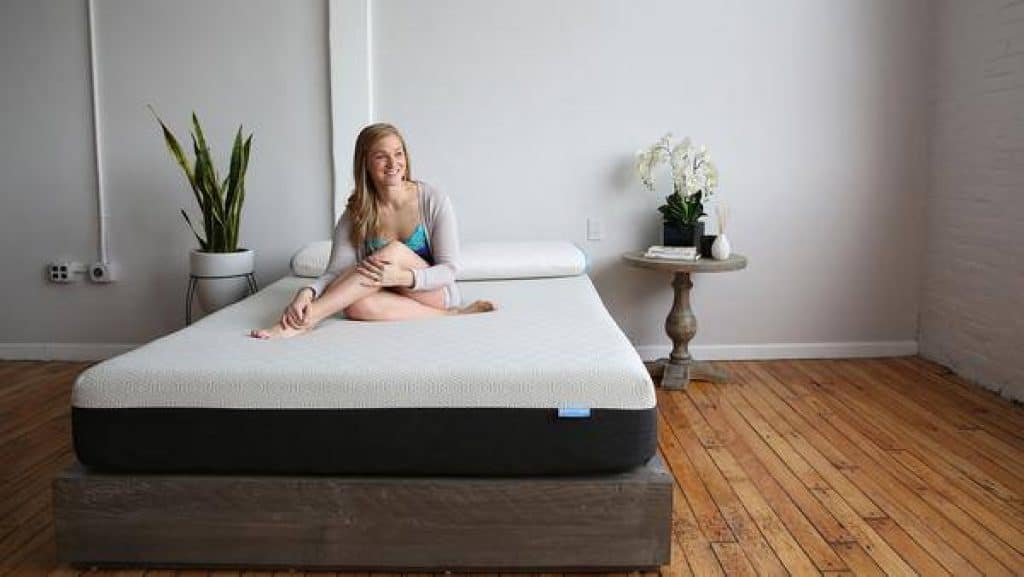 Made from environmentally friendly materials, the Bear Mattress is a layered memory foam mattress
Multi-layer foam structure with cooling graphite gel memory foam
Breathable Celliant cover gives you a faster recovery and increased energy when you wake
Our top pick as the best mattress for athletes (or anyone who enjoys exercise activities), is the Bear mattress. It's a layered memory foam mattress with cooling and energizing properties to revitalize your body and ensure you get plenty of rest. Spend a night on the Bear mattress and you'll wake up ready to start the next day head-on.
At the base you have the standard high-density support foam – this makes up the bulk of the mattress and provides firm support for your spine. Next is the transitional performance foam that provides contour support and relieves pressure points along your back or side. Following that is the responsive comfort foam for extra bounce and cushioning. Finally, the last layer of foam is cooling graphite-gel memory foam to remove excess body heat.
The mattress itself is encased in breathable Celliant fabric that's clinically proven to give you a faster recovery time and help you wake up energized and ready for the day. It does this by transforming your body's natural energy into infrared light.
To be honest, we're not entirely sure about the science behind this mattress… but we can confirm that it does the trick! If you live an active lifestyle and feel like your current mattress doesn't leave you feeling rested and restored, try the Bear!
Best For: athletes, muscle pain
Type: layered memory foam
Bed Sizes: twin, twin xl, full, queen, king, Cal king
Shipping: free for contiguous US states, additional costs for Alaska/Hawaii
Trial Period: 100 nights
Warranty: 10 years
#6. Zinus – Best Cheap Mattress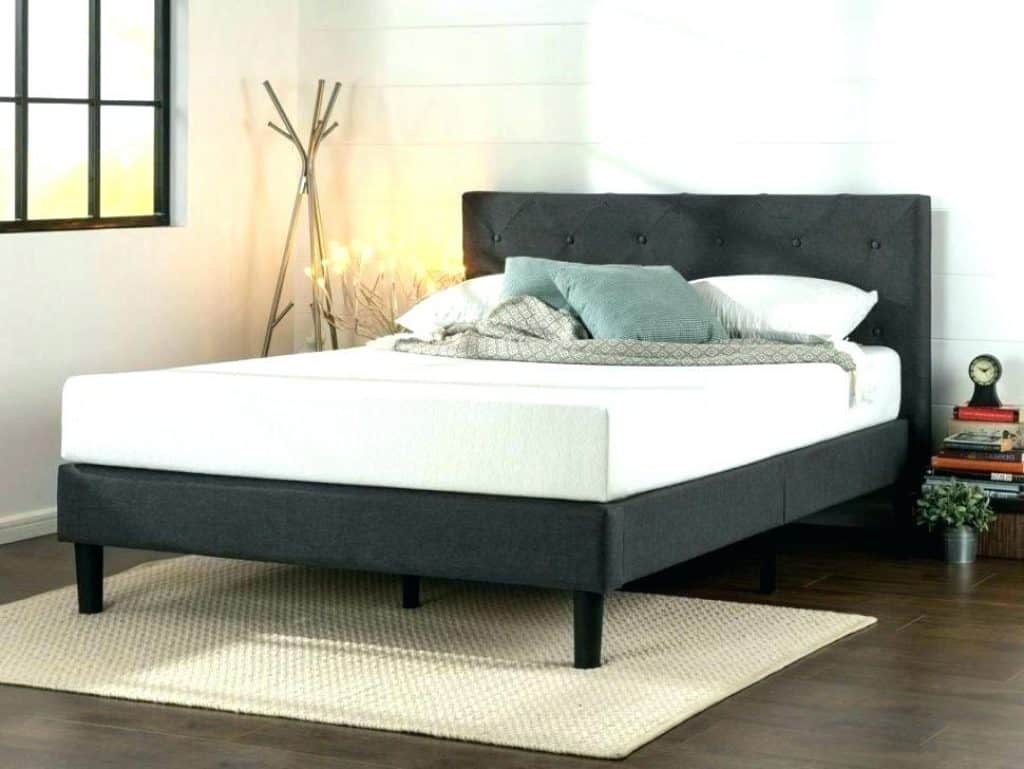 Cool and comforting memory foam infused with green tea gel
Hypoallergenic and yet completely affordable!
Contains ActivCharcoal to absorb moisture away from your body and dispel odors
The Zinus Memory Foam mattress seriously surprised us! For such a cheap price (one-third of the price of most mattresses on this list) you get some very unique features that highlight it from the rest of the market.
The Zinus has a firm memory foam base, followed by an air-flow density foam, 3-inch comfort foam and finally the gel layer.
It's an impressive gel layer! It's infused with green tea extract and castor natural seed oil which naturally inhibits bacteria and odors. It's also very good at maintaining your body temperature while you sleep.
It's not the most comfortable on this list in terms of softness, but for those used to a coil bed or need a firm bed for their back, it's perfect! You also have a 100 night trial in case you just can't get accustomed to it.
This mattress is available on Amazon, which does give you a few advantages. Firstly, it ships all over the world (although it won't be free outside the US) and you also have more support, both from the seller and from Amazon.
A word of warning, this mattress can take up to a week to decompress after you've unpacked it. Ours took around 48 hours but you should definitely have a backup plan in case it takes longer!
Best For: budget conscious, hot sleepers
Mattress Type: layered memory foam
Bed Sizes: twin, full, short queen, queen, king
Shipping: free via Amazon
Trial Period: 100 nights
Warranty: 10 years
#7. The Big Fig – Best for a Bigger Figure
Supreme foundation support that's 5x the weight of standard mattress bases
ThermoGel cooling technology keeps you calm and cool all night long
Extra high-density foam hybrid with super strength innerspring coils
We love this mattress! It's designed perfectly for people with a bigger figure, longer figure, or just a beautifully curvaceous body! Your shape should never get in the way of you getting a good night's sleep.
The Big Fig features 1600 thick gauge pocketed coil springs, which is one of the highest counts on our list. These are designed to support your back and neck, curving to your contours and straightening your spine. This mattress doesn't give. It's perfectly manufactured to provide support no matter your body shape or weight.
What impressed the bigger built mattress testers on our team was the level of comfort. Sometimes mattress manufacturers end up making their beds for bigger people overly firm. That's not the case here. Big Fig has perfectly coordinated spring support with foam contouring. It hugs your body like a good mattress should.
It's also designed to be ultra-cooling to channel away your excess body heat. The ThermoGel top layer of foam is quilted to allow the heat to be absorbed away from your body and expelled through the mattress and out the sides.
The mattress is compressed and tufted in 16 places. This does mean that your mattress layers will stay firmly in place, but it can also be a bit uncomfortable. Pair this mattress with comfy sheets and you'll be loving your bed again!
Best For: plus size and hot sleepers
Type: hybrid innerspring with pocketed coil springs
Bed Sizes: twin, twin xl, full, queen, king, Cal king
Shipping: free
Trial Period: 120 nights
Warranty: 20 years
#8. DreamCloud's Premier Hybrid Mattress
15-inch mattress built of 8 premium layers
Hand-tufted cashmere blend cover for luxurious comfort
5 distinct comfort zones with different densities for ultimate contour support
The DreamCloud Premier Hybrid mattress is one of the most luxurious on our list. Honesty, we were almost salivating at the thought of trying out this mattress!
All foams are CertiPUR-US certified and come with lifetime warranty. If something goes wrong, whether it's this month or 2 decades from now, DreamCloud is at your service.
From top to bottom, this mattress has; cashmere blend cover, gel memory foam, quilted memory foam, hypoallergenic natural latex, high-density memory foam, supportive memory foam, pocketed micro-coil zoned foam, high-density base foam layer.
Those coils are buried so deep within the thick (yet breathable) layers of foam that they're completely soundless! But you'll still feel their benefits. The coils are zoned, so you get the support for your back, shoulders, and hips just right. They also provide pressure point relief with supportive latex.
The real standout feature is the cashmere. If you've ever worn a cashmere sweater, you'll know what all the hype is about. If you thought memory foam was cloud-like, buckle up for the night of your life on a cashmere-covered mattress!
The only problem we have with this mattress is the height. It's 15-inches tall and requires a super strong bed frame to hold it. It's not compatible with adjustable bed frames and we'd recommend against placing it on slatted bed bases.
Best For: back pain, luxurious comfort
Type: hybrid latex, coils, high-density memory foam with a cashmere top
Bed Sizes: twin xl, full, queen, king, Cal king
Shipping: free for contiguous US states, additional costs for Alaska/Hawaii
Trial Period: 365 days
Warranty: forever
#9. Avocado Green – Best Eco-Friendly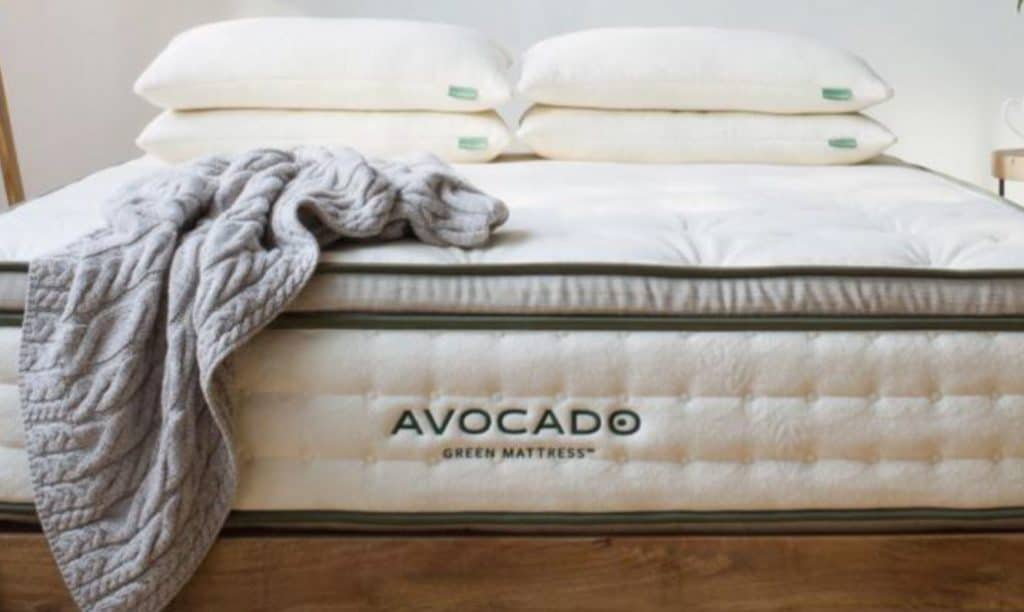 Made entirely from natural, certified organic, non-toxic materials
Lengthy 25-year warranty and 100-night trial period
Perfect back support for back sleepers, side sleepers, and combination sleepers
This is our favorite eco-friendly mattress for 2022. The Avocado Green Mattress isn't green, smooth or have a large, uncomfortable pit in the middle… but it is loved by people all over by America! This is a hybrid latex and coil mattress that's ideal for combination sleepers.
The comfort and core base layers are made from Dunlop tree-tapped, sustainable latex from Asia. It's naturally anti-microbial and effective at venting away excess body heat.
Sandwiched between you'll find up to 1414 individually wrapped, upcycled steel coils. These are arranged in different zones, for your hips and shoulders. This provides better support for side sleepers and is organized so you can rotate your mattress and still have support in the right places.
The steel coils are wrapped in food-grade polypropylene fabric to aid airflow and allow the premium springs to move independently, reducing motion transfer across the mattress.
For the extra white glove delivery service, you need to pay almost $200 extra… but they do remove your old mattress and recycle it for you. We'll leave it up to you to decide if the delivery price is worth it!
Best For: firm back support and the eco-conscious sleeper
Type: hybrid latex and coil springs
Bed Sizes: twin, twin xl, full, queen, king, Cal king
Shipping: free for all US states, including Alaska and Hawaii
Trial Period: 100 nights
Warranty: 25 years
#10. Plushbeds Botanical Bliss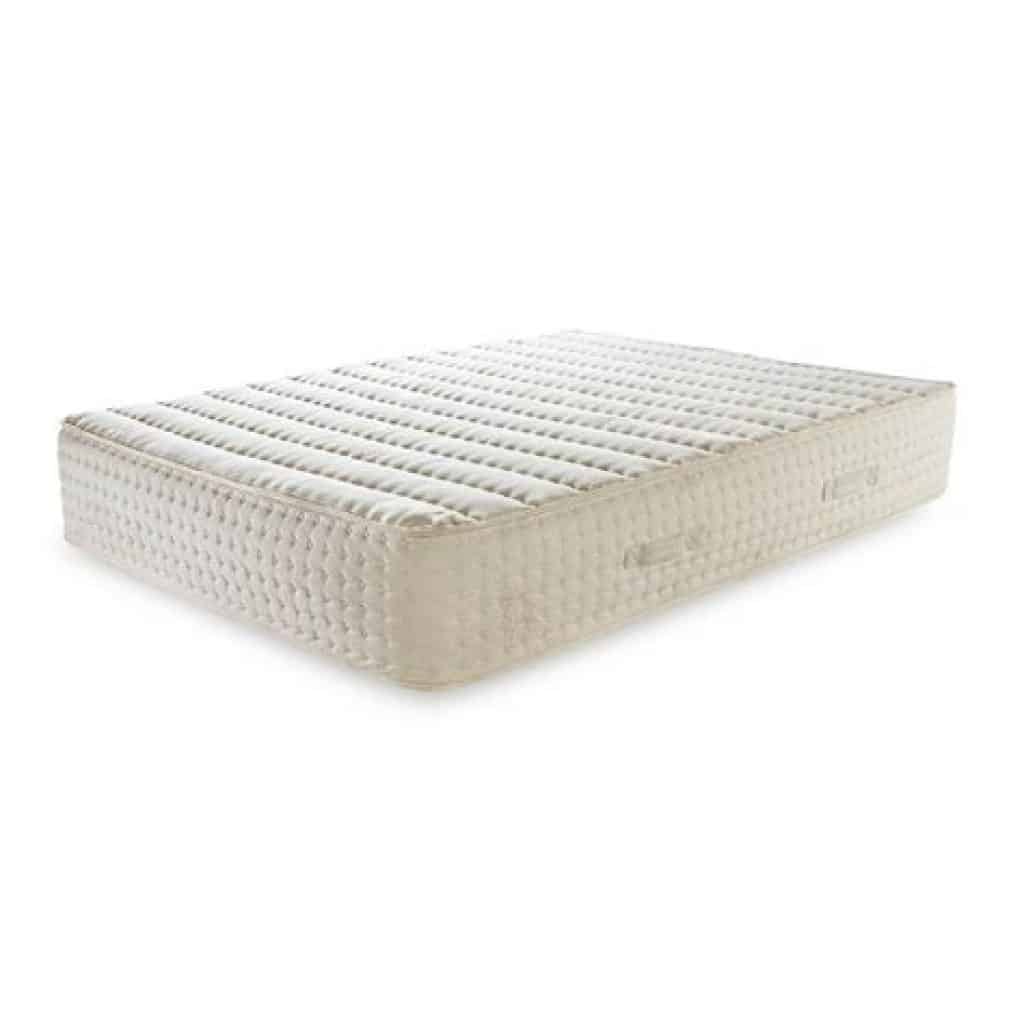 100% organic, natural latex mattress that can be calibrated for different firmness layers
Organic wool from New Zealand for cushioning comfort and breathability
Moisture-wicking organic cotton cover
Plushbeds' Botanical Bliss mattress features a range of organic, natural materials to make your sleep toxin and allergy free. You might think that organic wool would make you sweat and irritate your skin, but actually, it's very breathable compared to synthetic materials.
The wool is the second layer, hidden underneath a soft knitted organic cotton cover. Under the wool, there are several layers of organic latex. These layers will differ depending on the firmness level you choose (medium or firm) and whether you want a split mattress for different firm levels for you and your partner. This mattress is customizable!
You also have the option of making your mattress thicker. This is something you should consider if you're a side sleeper. You have a choice of 9 inches, 10 inches or 12 inches (includes an extra layer of latex).
Overall, we were impressed with the comfort and breathability of this mattress. You have a lot of customizable options to choose from, which does mean you'll probably go back and forth between models during the trial period. A good mattress for hypoallergenic concerns and those that need breathable comfort!
Best For: hypoallergenic requirements, breathable comfort
Type: natural latex
Bed Sizes: twin, twin xl, full, queen, split queen, king, split king, Cal king, split Cal king
Shipping: free for contiguous US states, additional costs for Alaska/Hawaii
Trial Period: 100 nights
Warranty: 25 years
#11. The New Purple

A versatile mattress that adapts to all sleeping positions and supports pressure points
Free in-home setup and old mattress removal
Unique, hypo-allergenic, non-toxic mattress layers made in the USA
We love The New Purple Mattress because of its superb versatility! The Purple Smart Comfort Grid is made from a hyper-elastic polymer that behaves similar to coils but with better motion isolation and adaptable support. The grid flexes to the pressure points of your body, whether you're a side sleeper, back sleeper or stomach sleeper.
Furthermore, the grid design allows for better temperature control. It allows air to move freely through the mattress, transferring body heat away to keep you cool and comfortable all night long.
Underneath the grid, you have individually wrapped coils, for extra support. On top you have a breathable stretch fabric cover – nothing special, but just what you need to stay at the perfect temperature.
We particularly liked the side panels that prevent the grid from compressing too much and also giving you excellent support right up to the edges.
If you choose the first-class delivery option, Purple will also install your new mattress and remove the old one. It can be used on any bed frame base apart from box spring. If your bed frame has slats, they shouldn't be more than 3-inches apart.
Best For: hypoallergenic requirements, hot sleepers
Type: hybrid coil and grid
Bed Sizes: twin xl, full, queen, king, Cal king
Shipping: free for contiguous US states, additional costs for Alaska/Hawaii
Trial Period: 100 nights
Warranty: 10 years
#12. Nolah Original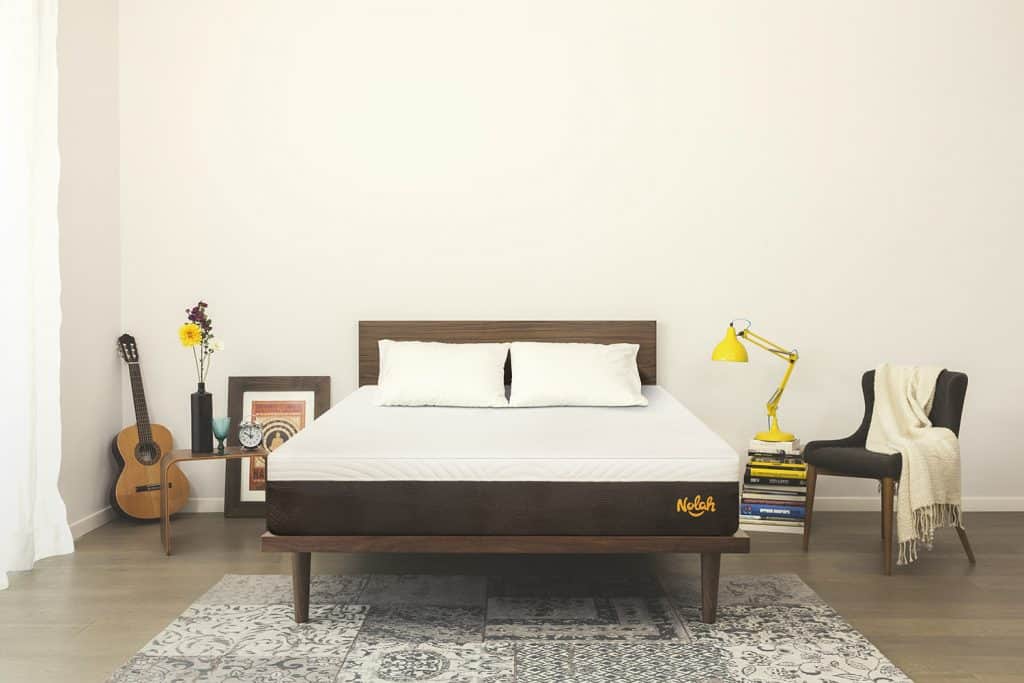 AirFoam mattress with cooling layers
Improved pressure relief on your shoulders and hips
Suitable for all bed frame types, including adjustable beds, without losing structural integrity
The key feature of the Nolah mattress is the AirFoam. Nolah is very quick to point out that their AirFoam is not memory foam. We put it to the test to see if it really is superior to a standard foam mattress.
There are 3 AirFoam layers, just like a memory foam mattress. A cooling top layer, deep and supportive middle layer and a 7-inch high-density base layer.
That's an unusually dense base layer, yet the AirFoam structure doesn't lock in the heat. In fact, we had some of our coolest nights of sleep on this mattress. We also noted that it contoured better to our bodies, rather than simply letting us sink in like a cloud. This extra support turns this into a combination sleeper-friendly mattress, unlike many standard foam mattresses that only suit side sleepers.
We eventually came to the conclusion that the AirFoam is indeed superior to memory foam and at an affordable price.
Overall, we recommend this mattress for combination and side sleepers who love the feel of a foam-based mattress but can't stand getting hot overnight.
If you want to use this mattress on a slatted bed frame, make sure they're no further than 4-inches apart.
Best For: hot sleepers, pressure relief, and back support
Type: layered foam (AirFoam)
Bed Sizes: twin, twin xl, full, queen, king, Cal king
Shipping: free for contiguous US states, additional costs for Alaska/Hawaii
Trial Period: 120 nights
Warranty: 15 years
#13. The Saatva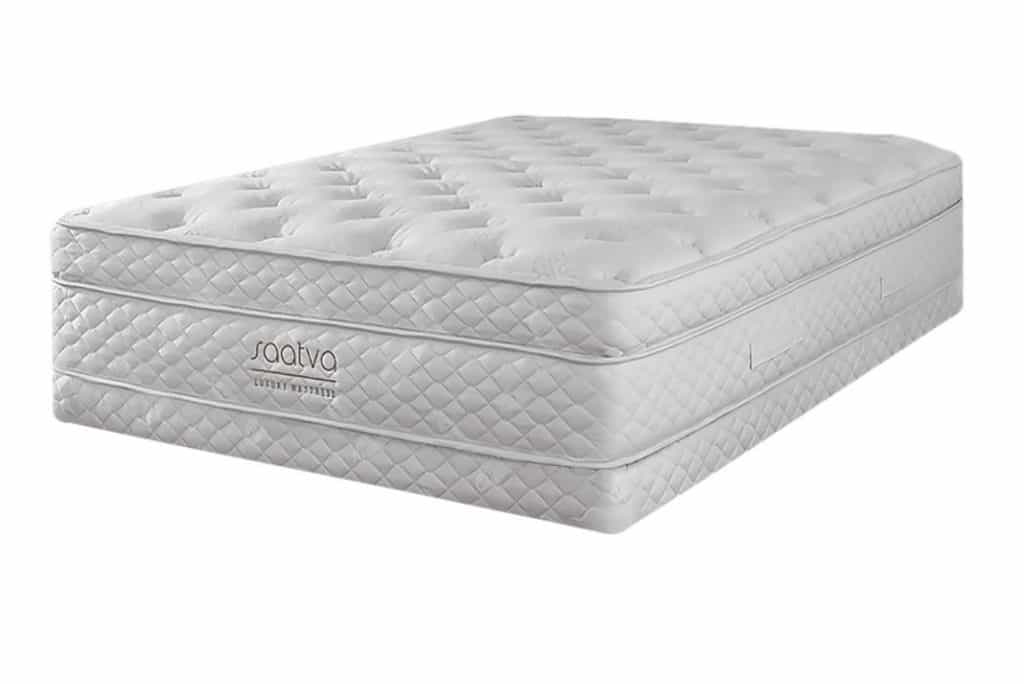 Excellent hybrid mattress for back pain and targeted pressure relief
Crafted from eco-responsible materials
Free white-glove delivery deal with installation and old mattress removal included
The Saatva Mattress, the signature mattress from all divisions of Saatva (check out their Loom & Leaf mattress below too), is one of the best for pressure relief and back pain.
The mattress has 5 key components. The top layer is a cushioned pillow top covered in botanical, anti-microbial, organic cotton to inhibit bacteria and provide premium comfort. Under that, you've got a lumbar support enhancement layer of memory foam that wraps around the coils and provides additional pressure relief.
Then we get to the coils. The top coil layer is made of individually wrapped, oven baked (seriously), 3 times tempered coils that move individually to reduce motion transfer. Under that, there's the lower coil layer made of hourglass tempered steel to provide sturdy support.
We found these support layers ideal for back sleepers. While it does have minimal motion transfer, it's not 100% silent like memory foam. If you're used to a standard coil mattress but need to take your back support and pressure relief to the next level, we highly recommend the Saatva!
The shipping is standard for contiguous US states and, if you're lucky, you may even strike a deal for free white glove delivery. Scroll to our mattress guide to find key dates you should look for deals.
Best For: back sleepers, support, back pain, and pressure relief
Mattress Type: hybrid coil and memory foam
Bed Sizes: twin, twin xl, full, queen, king, Cal king
Shipping: free for contiguous US states, no shipping options for Alaska/Hawaii
Trial Period: 120 days
Warranty: 15 years
#14. Loom and Leaf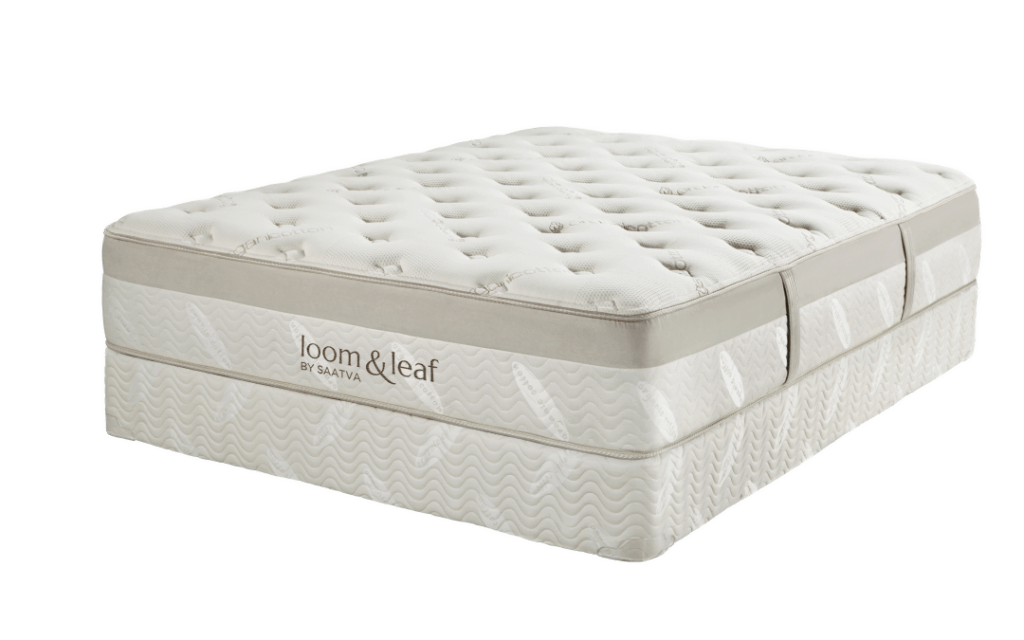 Foam mattress for supreme support wrapped up in a quilted organic cotton cover
Spinal zone gel foam layer provides spine support
Extended 120-day sleep trial and a 15-year warranty on this quality mattress
Loom and Leaf is a product of Saatva, who already have their mattress confirmed on our list. The level of quality and ease of ordering are not lost!
This mattress is all about keeping you cool and safe while you sleep. From the cotton cover to the firm foam base, this mattress is allergen resistant and flame retardant. It's also designed to flex with adjustable bed frames, so it's perfect for those with poor mobility or sleep apnea. It can keep you upright while you sleep without losing structural integrity.
The spinal zone gel foam layer is designed to be cooling and breathable while also adding some extra structure and support. So much support, in fact, that we found the firm version of this foam mattress to be supportive enough for back sleepers!
If the firm feel isn't to your liking, you can return the mattress in the 120-night trial and switch it up for the "relaxed firm" option. This has a medium firm feel with more cushioning from the memory foam. It's great for combination sleepers but those that are used to deep memory foam comfort might still find it a bit too firm.
Best For: soft, breathable support
Type: layered memory foam and gel foam
Bed Sizes: twin, twin xl, full, queen, king, Cal king
Shipping: free for contiguous US states, no shipping options for Alaska/Hawaii
Trial Period: 120 nights
Warranty: 15 years
#15. TEMPUR-Cloud Supreme Breeze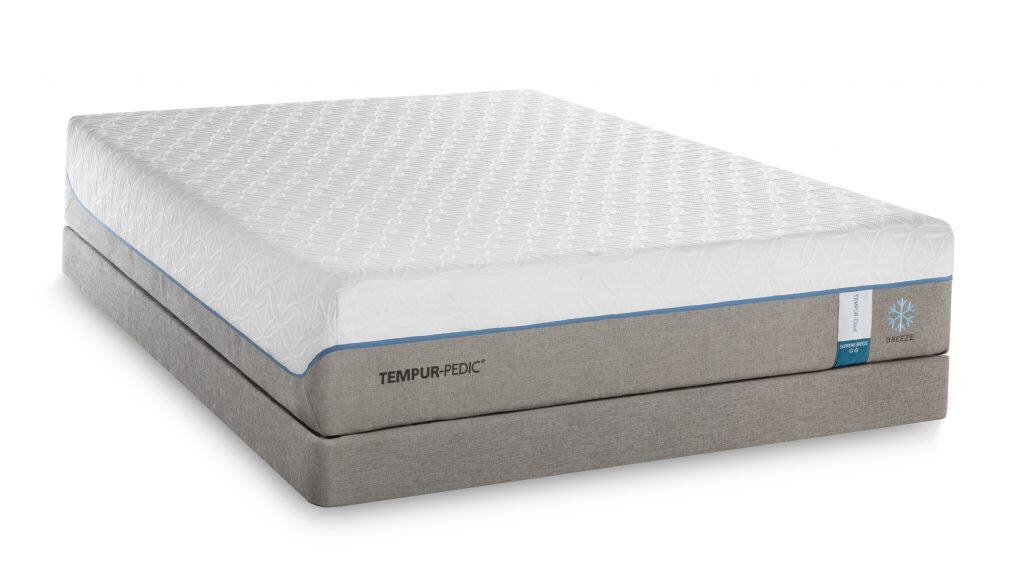 4 layers of extremely soft, cushioning TEMPUR foam
Supercooling and light feel to sleep on, plus antimicrobial treatment applied to the mattress foam
Short 90 nights trial period but a good 10-year warranty
For a super soft, 100% foam mattress, this provides a surprising amount of support! This is one of TEMPUR's best cooling mattresses. It's built up of 5 different foam layers, starting with 2 heat dispersing base layers. Next is the support layer to evenly distribute your weight and stop you sinking right down into the bed base!
Finally, you've got an extra-soft TEMPUR-ES foam layer made with PureCool™ and a top layer cooling cover made of a breathable, cooling fabric.
Prices start at $3299 for a twin long. Besides the eye-widening price tag, you've also got a strange selection of bed sizes. There's no standard twin and split mattresses are only available for king and Cal king – not queen or double. It's also only suitable for a solid base, power base or extremely sturdy bed foundations.
Overall, this is a great mattress for those that can afford it and crave the comfort of foam but get too hot and sweaty on a standard foam mattress. You need to make sure that you really want this mattress before you buy it, as you only have a 90-night trial period.
Best For: side sleepers and hot sleepers seeking cool comfort
Mattress Type: layered TEMPUR foam
Bed Sizes: twin long, double, queen, king, split king, Cal king, split Cal king
Shipping: free for contiguous US states, additional costs for Alaska/Hawaii
Trial Period: 90 nights
Warranty: 10 years
#16. Leesa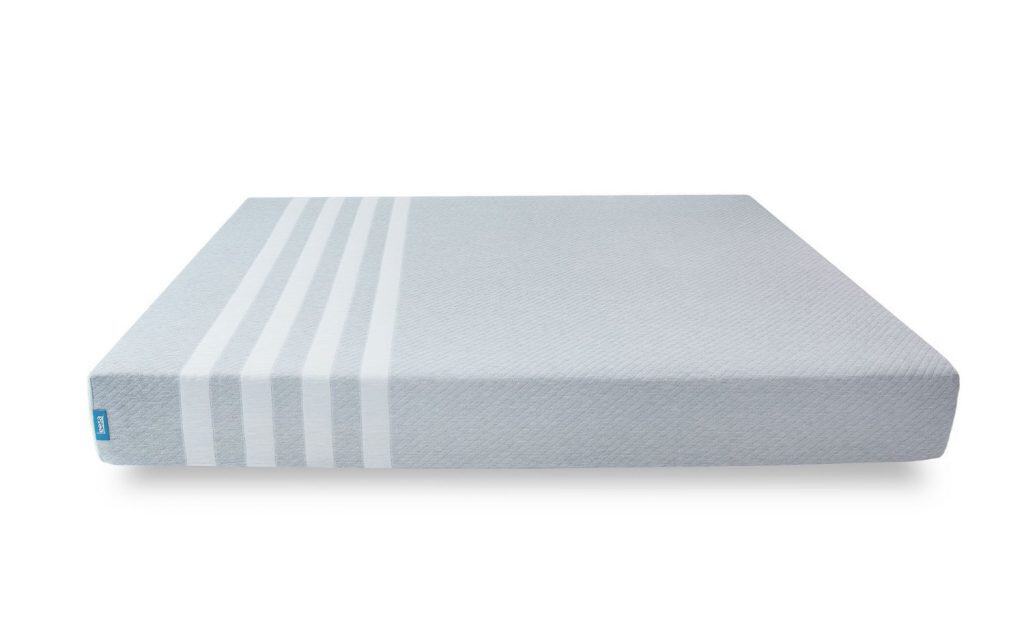 Multi-layer premium foam mattress perfect for pressure relief and contour support
Seamless, breathable cover and microcell foam structure
Free delivery to all US states
The Leesa is surprisingly firm for a foam mattress! So firm, in fact, that we'd recommend it for back sleepers as well as side sleepers. It features 3 layers of foam; a 6-inch base layer of very firm core support foam, a middle layer of 2-inch contouring memory foam to flex around your curves, and finally a 2-inch cooling foam layer that cools AND provides support.
By having the least dense, most flexible foam layer in the middle, you have a unique firm contour support. It dips well for side sleeper curves, but for back sleepers, the firm top layer will keep your spine straight.
Despite it being made without heavy metals (lead, iron…), volatile organic compounds, ozone depleters, and other harmful chemicals, it does still have a distinctive odor when you first unpack it. It takes a few days to waft away so you might want to hang onto your old mattress for a while.
One thing we did note was that the motion transfer was very minimal – great for sharing a bed with a restless sleeper, but not so great for sex.
Best For: back and side sleepers
Type: layered memory foam
Bed Sizes: twin, twin xl, full, queen, king, Cal king
Shipping: free for all US states, including Alaska and Hawaii
Trial Period: 100 nights
Warranty: 10 years
#17. The Casper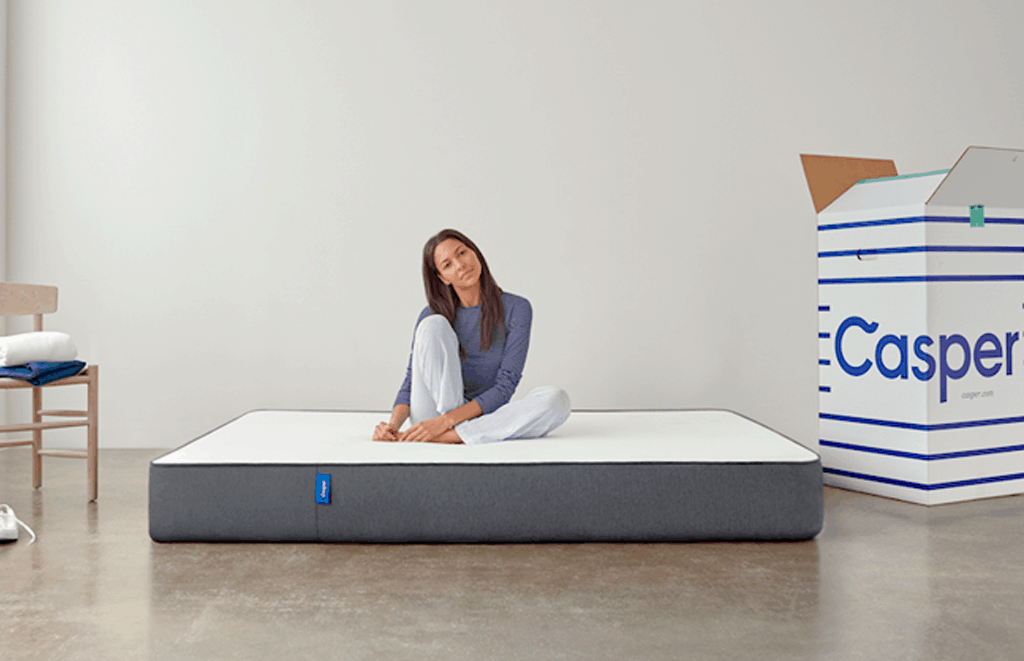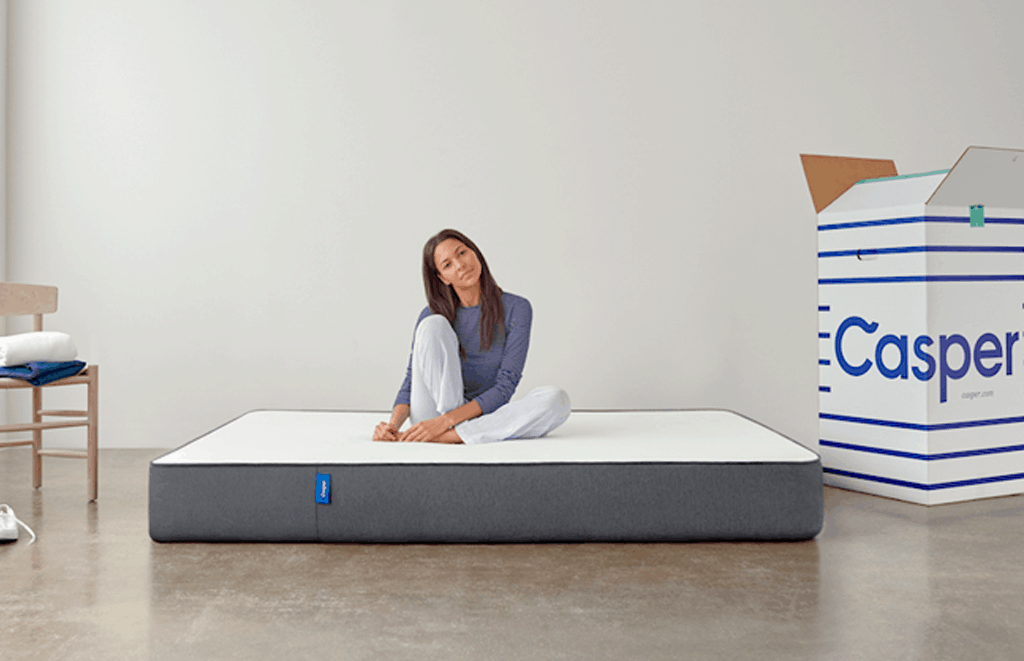 Zone support to give better support for side sleeper hips and shoulders
Open-cell foam for improved breathability and temperature control
4 layers of CertiPUR-US certified foam
The key features of the Casper mattress that we love is the zoned layer of foam. This layer has zones of high-density and low-density foam, perfectly sculpted together. This allows extra support for side sleepers, dipping down to make room for your hip and shoulder while rising to meet your torso in between.
Your other 3 layers are a durable support foam at the base, high-density memory foam, and finally a breathable open-cell foam. It doesn't keep you as cool as a gel foam layer, but it is noticeably cooler than standard memory foam.
Casper recommends a solid platform base or slatted bed frame for this mattress, but you could get away with other bedframe types so long as they provide good support. A poor bed frame will make the mattress sag quicker than usual.
The mattress is encased in a soft material cover that zips off for easy cleaning. It also improves the durability of the foam mattress, keeping it all together and in the right shape to reduce sagging.
Overall, we highly recommend it for side sleepers with back pain and general body aches. This mattress would be unsuitable for back and stomach sleepers, however.
Best For: side sleepers, comfort, aches, and general body pains
Type: layered memory foam
Bed Sizes: twin, twin xl, full, queen, king, Cal king, plus European sizes
Shipping: free for contiguous US states and Canada, additional costs for Alaska/Hawaii
Trial Period: 100 nights
Warranty: 10 years
What We Take into Consideration While Ranking?
Besides catching some zzzzzs, we tested each mattress thoroughly and carefully. Our reviews are unbiased and written by a team of mattress experts all with different sleeping positions and mattress requirements. Our main criteria were:
1). Quality of Materials
We compared the materials used to similar mattresses in the market. If it's an innerspring mattress, we looked at the coiled metal – will it easily dent out of shape? Will the pocket materials be able to hold the springs well? Does the mattress compromise quality of materials for eco-friendly qualities?
These are all questions we asked when judging if the mattress materials used were suitable for the mattress design.
2). Compatibility
Not all mattresses are compatible with every sleeper and every bedframe. Before looking at mattresses, you need to find out what bedframe you have:
Panel bed frame – could be wooden or metal and has panels at the headboard and base of the bed. This might restrict your mattress height.
Canopy bed frame – could be wooden or metal and has 4 columns on each bed corner to support a canopy of fabric and curtains from above. This can make installed a new mattress tricky.
Platform bed frame – a very simple platform, usually with a headboard, with slats of wood or metal. A budget platform bed frame will not be able to support heavy mattresses, like The Big Fig.
Sleigh bed frame – to be classified as a sleigh bed frame, the headboard and footboard need to be curled at the top, like a sleigh. These generally are heavy duty frames that can withstand a sturdy mattress.
Box frame – a simple, solid box for the mattress to sit on top. Often these frames have built-in storage too!
Take a look at the slats in your bed frame – a high number of thicker slates will allow you to support a bigger mattress while making a thinner mattress feel firmer.
3). Comfort
Our first impressions are important, but you can't just jump on a mattress in the store and instantly know if it will be comfortable all night long. That's why we tested our mattresses for at least one full night – and consulted reviewers and customers that have tested the mattress out for far longer.
Importantly, we considered if mattresses were comfortable for those that were likely to buy them. Was the Big Fig comfortable for our plus-sized reviewers? Were our side sleepers comfortable on the top latex mattresses?
4). Support
Sleep is so important for relaxing and resetting our bodies for the next day. If your mattress doesn't support your body, you're going to wake up as achy and uncomfortable as the night before. We looked at how each mattress supported each sleep position – and how long that support will last. Some cheap memory foams sag in just 3 years, so in-depth research was required to find out which mattresses offered long-term support.
There's also the issue of sagging around the edges of a mattress. If sleeping close to the edge, or even hanging one leg out, is your natural sleeping style, you need strong support from one edge to the other, not just in the center.
5). Movement
Honestly, no. We did not test each mattress by having sex on them. But we did give them a thorough movement test! Short of jumping up and down on them, we rolled, bounced, tossed and turned overnight to see how the mattress coped.
Would we wake up our partners by rolling over? Is it embarrassingly noisy? Is bouncing easy or hard on the knees? You'd be surprised how important movement is to find a suitable mattress.
6). Cooling
Even if you aren't a hot sleeper, changing mattress to a memory foam can be a sudden heat change. We looked at how each mattress kept us cool or retained heat. A mattress that retains heat isn't necessarily a bad thing – if you live in a cold climate, it might even be desirable. However, mattresses that are both heat retentive and make you sweat is a bad combination. For the mattresses on our list that do retain heat, we carefully analyzed how breathable they are and whether it disturbed our sleep patterns.
7). Durability
It might surprise you to know that some mattresses didn't even pass the movement test without something going wrong. Durability is a key component. With several of our best mattresses surpassing $1000, we had to make sure that they will last you a decent amount of time!
We looked at durability in the short term and long term – could we turn the mattress to extend the lifetime? Are the springs going to wear through the fabric cover? Could this handle the extra weight, for plus size people or pregnant women?
8). Delivery
With so many mattresses on the market using very similar materials and structures, sometimes it really does come down to the delivery policies. We took a close look at where each mattress can be delivered to, how it's delivered and what the return policy entails.
Most mattress manufacturers will charge extra to bring the mattress into your home – others will just leave them on the curb. You also need to think about what you're doing with your old mattress. Some companies can arrange to take it away, but your new mattress may need a day or two to unfurl from the packaging. Knowing how the delivery will take place and when you can use your new mattress is essential before you buy.
9). Trials and Warranty
All mattresses on our list have a trial period – during that time you can return the mattress for a full refund if you just don't like it. Bear in mind that some mattress companies will also require you to test the mattress for a minimum number of days. This is because it takes time for your body to adjust.
Warranty is also a consideration – you want this mattress to last for at least a decade, right? Warranty is also a good indication of how confident the manufacturer is in the mattress. Our top mattress picks all have lifetime or infinite warranty.
We also consulted customers and experts for their opinion on the mattress in the long term. By pulling all this information together, we scored and ranked our list.
Ultimate Mattress Buying Guide (From A to H)
A). Types
Mattresses, although most look identical, are actually quite varied. It's what's on the inside that counts! Many of the best mattresses are what we call hybrids, meaning they contain layers or segments of different mattress types. The sellers will try to tell you that their hybrid is the best, but the truth is that every mattress layer has its pros and cons. These are the most common types you're going to come across:
Memory Foam
This is probably the first type that springs to mind when you think about mattresses (sorry, we can't resist a good mattress pun). Memory foam, like the name suggests, is a foam mattress that remembers your sleeping position. Typically, it will last for 7 years. It is dense and thick, but very comfortable – like sleeping on a cloud. Since memory foam hit the market in the 1990s, several different types of foam mattresses have appeared (we're going to cover those next) but the plain memory foam remains the most popular.
PROS:
Incredibly comfortable
Back and contour support
Won't jostle you as your partner moves
CONS:
Retains heat
Poor bounce, terrible for sex
Prone to sagging
Polyfoam
Before we had memory foam, we had polyfoam. This is one of the oldest and cheapest foam mattresses you can find – and it's still popular today. Polyfoam is made purely from synthetic fibers and can be adjusted during the manufacturing process to be firm, soft, or anywhere in-between. Although it is cheap and comfortable, it won't hold shape as well as memory foam, typically lasts for 5 years, and there's also some concern over the chemicals used to make the mattresses.
PROS:
Affordable and easy to find
Adjustable firmness
Fiber structure keeps you cool
CONS:
Concern over chemical irritants
Poor back support
Breaks down quickly
Gel Foam
Gel foam is the biggest rival to memory foam. It combines the soft comfort and support with gel beads for cooler sleeping. Usually, gel foam is a thin top layer on a foam mattress. Not only does it cool more than memory foam, but it also improves breathability and distributes your weight evenly. Typically gel foam mattresses last 7 years, the same as memory foam. A thin layer of gel foam on a normal foam mattress can be affordable.
PROS:
Adds a breathable layer
Bounces back quickly
Evenly distributes weight
CONS:
No big advantage over memory foam
Cooling effects won't last all night
Noticeably more expensive
Copper-Infused Memory Foam
By infusing memory foam or latex with copper, mattresses have improved antimicrobial properties. From fungi to bacteria, copper inhibits micro-organisms that grow and fester in mattresses. Copper also transfers heat, which can cool down memory foam mattresses. Typically, the life of these mattresses depends on the base material, whether it's latex or foam. Consider this a neat added extra!
PROS:
Light cooling effects
Antibacterial and antimicrobial
Same quality as memory foam
CONS:
Too soft for stomach sleepers
Can be pricey
Poor edge support
Innerspring
Innersprings are one of the most popular mattress types, they typically last for 5 years. These contain the classic metal springs, also called coils. The coils are lined up close together and will compress as you get onto the mattress. There are different types of innerspring mattresses; Bonnell coils are the cheapest with an hourglass shape and reinforced design. Offset and continuous wire coils are helical too, but these are much more resilient and therefore more expensive. The most expensive, however, is the pocket/wrapped coils. These coils are individually sewn into pockets to reduce the noise and provide extra support. Regardless of the innerspring type, the same pros and cons apply.
PROS:
Suitable for a range of budgets
Great bounciness for sex
Cool enough for hot sleepers
CONS:
Quite noisy
No contour support
Prone to sagging at the edges
Latex
Latex mattresses are made of a rubber material, either sourced naturally from rubber trees or made synthetically with polyfoams and other materials. They typically last for 8 years. A pure latex mattress will be solid from top to bottom, but very flexible! Latex mattresses offer the most contour support and will curve to the shape of your body, making it excellent for side sleepers. Natural latex is also popular with people who are eco-conscious.
PROS:
Contour support for side sleepers
Cool and hypoallergenic
Bouncy yet quiet
CONS:
Highly expensive
Bad odor at first
Awful for stomach sleepers
Water Beds
Waterbeds are, although super fun at first, inferior to other mattress types. They haven't made the list, but you might still be considering buying one. Here's what you need to know:
You can choose from soft waterbeds and hard waterbeds. Both need specialized frames, but the soft waterbed is sturdy enough to hold up at the sides by itself.
Although they're a foam mattress injected with water, they will still leak everywhere if pierced.
They're more expensive than most mattress types but will last up to 25 years.
Not everyone can adjust to the feeling of floating.
Not suitable for anyone that likes a firm, supportive.
Air Beds
Like waterbeds, airbeds did not make our top 17 list. They are great spare mattresses however, especially if you don't have space in your home for a permanent guest room. Keeping them topped up with air for use every day is not practical. Furthermore, unless you're ready to empty your wallet, you won't find a durable air mattress that can withstand long-term use.
Specialized Layers
Besides the basics, you're also going to come across specialized and unique mattress layers in our top 17 list. The New Purple Mattress, for example, has a unique grid structure layer to aid breathability and keep you cool, while still supporting your body as you sleep.
The key is to not get caught up in the technical names – we went through each unique feature to decide if it really does set it apart from the rest of the crowd, or if it is just a gimmick.
Covers and Top Layers
You can, of course, purchase mattress toppers, but the best mattresses don't need it! Besides the layers within your mattress, you should also look at the top layer of your mattress – the fabric holding everything together. Avocado Mattress is encased in a button tufted certified organic cotton cover, for example. While that may be super soft on your skin, you also need to consider the button tufts, which might prove uncomfortable if you have thin bed sheets.
We tested each mattress for ourselves: just read through our reviews to find out how the mattress filling and cover will feel!
B). So, Which Mattress Is Best for Me?
It all comes down to personal taste. The right mattress for you should be the one that helps you sleep best. Your sleeping position will, in most cases, be the first consideration for finding a mattress. Scroll down a bit to find out which sleep position mattress you need.
However.
If you have a medical condition that affects your sleep, you need to consider that first. These are the most common conditions that impact sleep, and the mattress type you might need as a result:
Back Pain
Most back pain comes down to spine problems, usually where it's curving or under pressure. The best mattresses to ease your back pain are medium-firm. You need a strong, sturdy base that will keep your spine in line, with enough cushioning that if you roll over your spine will still hold straight. Choose a mattress based on your sleeping position below, then up the firmness a little!
Sleep Apnea
Sleeping flat on your back is not recommended – it can block up your airways and cause your tongue to roll back into your throat. The best position is to sleep on your side, therefore a memory foam mattress or innerspring with a good layer of cushioning will give you the support you need to sleep comfortably like that. If you must sleep on your back, you might need a custom-made mattress that elevates your back and keeps your airways open. Try a split mattress if your partner can't sleep in the same position!
Insomnia
You don't just need a mattress that makes falling asleep easy, but a mattress that doesn't wake you up in the middle of the night. Make sure that once you're asleep you won't be waking up before you're ready – consider gel-infused foams and breathable mattresses with deep cushioning to support your body and keep it cool all night.
If you've not got a medical condition and you know exactly what mattress type your sleeping position needs, you only have a couple more things to think about: budget and suitability, e.g. is it good for your active sex life or is it easy to get on and off?
More: How to Fall Asleep Fast (30 Scientifically-Proven Strategies)
C). Will A Mattress Solve My Medical Issues?
In some cases, yes. In most, probably not. And did you know your back pain and aches can actually be partly psychological? Harvard Health Publishing explores this in more detail.
Easing sleep problems from back pain to insomnia might be as simple as changing your mattress, or might be a sign that you need to change your lifestyle.
What else can I do to ease my sleep problems?
Consider cotton sheets and high-quality feather pillows. Breathable, non-sweaty materials can help you sleep sounder. If you have sensitive skin or experience headaches when you try to sleep, you might want to look at hypoallergenic mattresses with organic fillings.
Other lifestyle changes could include losing weight, de-stressing before bed and changing your sleeping patterns.
Sleeping Positions
There are so many sleeping positions, from the soldier to full-blown starfish, but all can be roughly categorized into 3 segments; side sleepers, back sleepers, and stomach sleepers. You might have heard that certain sleeping positions can cause you back pain or make your medical conditions worse – that's not true!
If your back pain is getting worse, that means you're sleeping on the wrong mattress for your sleeping position. You're not getting the right body support when you're asleep, and it's causing problems.
If you notice your mattress is uncomfortable in your favorite sleeping position, you might need a different mattress type!
Side Sleepers
By sleeping on your side, whether you're curled up (fetal position) or stretched out (log position), you're putting a strain on your shoulder and hip.
You need a mattress that will curve to the contours of your body. A soft, flexible mattress that will dip for your shoulder and hip while meeting your torso in-between, will distribute your weight evenly. This reduces the strain you put on your shoulder and hip while keeping your back straighter, supporting your spine.
Side sleepers should try latex and foam mattresses with around 3-inches of support, avoiding very firm mattresses that won't curve with your body.
Back Sleepers
Doctors and experts recommend this as the healthiest sleeping position… but it's also the position many people find the most uncomfortable. Although sleeping on your back might do your spine a world of good, if it damages your sleep routine and leaves you waking up as unrested as when you went to sleep, is it worth it? With the right mattress, sleeping on your side or stomach doesn't have to be damaging.
For those that genuinely do find it comfortable and relaxing to sleep on their backs, you can pretty much pick any mattress you like! You'll typically find firm mattresses, like an innerspring or very thin foam top (1 inch), offer you the most support and keep your spine straight.
Back sleepers tend to snore more too so you might want to invest in some thick pillows to block the noise!
Stomach Sleepers
Sleeping on your stomach causes you to turn your head in one direction or another, so besides the mattress, you should also look for supportive, high-quality pillows.
You might think that the soft stomach side of your body should be met with a soft, comfortable mattress. It's actually the other way around.
A firm mattress that holds its shape will give your stomach support and prevent your spine from curving inwards. Stomach sleeping can also overextend the lumbar area (lower spine) causing back pain if the stomach is not adequately supported.
Take a look at innerspring mattresses with a thin layer of foam (1-2 inches) to cushion your bones.
Combination Sleepers
Do you find yourself changing your sleeping position from one night to the next? Or do you start on your stomach but wake up on your side or back?
You need to work out what your deepest sleeping position is first. Side sleepers need around 3-inches of cushion at the deepest, back sleepers can get away with an inch or less of cushioning.
Combination sleepers will like layered foam and layered latex mattresses. These have a firm, supporting center that will keep your back or stomach straight when you apply your weight evenly, but when you roll onto your side the soft cushioning in the top layer will be able to curve to your body.
Also Read: Best and Worst Sleeping Positions
D). Mattress Anatomy
We've gone through mattress types, from memory foam to innerspring, but how are mattresses built up? Most of our mattresses are hybrids, which contain multiple layers of different materials:
Top Cover – often made from breathable fabrics, like cotton, this top layer is closest to your skin and separates you from the potentially irritating memory foam or uncomfortable coils.
Cushioning Layer – this layer is the cushioning between you and the firm structure of the mattress. A firm mattress may have a 1-inch layer of memory foam, while a soft mattress might have up to 3-inches.
Cooling Layer – gel-infused or copper-infused layers (might be combined with the cushioning layer) keep your mattress breathable and cool while you sleep.
Core Layer – this is what provides the firmness of your mattress, whether it's a thick layer of memory foam or dense innerspring coil layer.
Base Layer – a sturdy, firm layer that can support your weight and spread it evenly across your bed frame. Some mattresses may be turn-able, meaning they have more layers here for when you flip the mattress over.
You can also find split mattresses where one half is different from the other. This is a good way to cater to both your and your partners sleeping positions if they're different.
This is a good way to compare the firmness of different mattresses, but it won't necessarily tell you how comfortable they will feel.
E). Where's the Best Place to Buy A Mattress?
You might think that shopping for mattresses in-store is the best way to find a mattress that is comfortable – after all, you can test them out for yourselves.
But actually, shopping online is far more convenient and offers you a much wider range of choices for mattresses. It can take up to a month to get accustomed to a mattress, so spending 5 minutes on a mattress at your nearest retail park isn't an accurate way to test comfort levels.
Don't forget that you have a trial period and warranty when you buy online – if it isn't comfortable, you can arrange to send it back.
Buying a mattress through third-party websites, like Amazon, has advantages and disadvantages. You might have the option to add extra warranty as sold by Amazon, but there are also fake-name brands that sell through Amazon.
Stick to the official websites and sellers we link to in our list and you won't go wrong.
F). When's the Best Time to Buy a Mattress?
The best time to buy a new mattress is when your old one is worn out! If you start waking up during the night or find yourself aching, in pain or stiff more than usual (and there are no other possible causes), it usually means your mattress is no longer providing the support you need.
But you still want to grab a good deal, right?
These are important dates when mattress sales are likely to go live:
Martin Luther King Day (21st January)
President's Day (18th February)
Memorial Day (27th May)
Independence Day (4th July)
Labor Day (2nd September)
Columbus Day (14th October)
Veterans Day (11th November)
Cyber Monday (2nd December)
May is a good month to find mattress sales too, as June is typically the month when new mattresses are released. Mattress sellers use this month to get rid of old stock!
Furthermore, Amazon Prime day falls sometime in July, so keep an eye out for Amazon deals on mattresses. This sale typically lasts just 36 hours – make sure you check the warranty and returns policy in your rush to catch a deal!
G). How Much Does A Mattress Cost?
A cheap, budget mattress can cost as little as $300, while a top of the range mattress can cost as much as $4000.
That's a significant investment that could not only cost you a lot of money but many nights sleep too if it wears down or is damaged. That's why we strongly recommend getting a warranty and making sure you don't do anything to void it.
Mattress Add-Ons
Many of our top mattresses for this year come with optional add ons. Here's what you need to know about them:
Foundation – like a bed frame, this is usually a solid box (sometimes with legs) that you can put your mattress on. If you already have a bed frame that can hold your new mattress, you don't need this.
Mattress Protector – if they'll chuck a mattress protector in for free, definitely take it! Protectors prevent dead skin cells, bacteria, mites and dust from settling into your mattress, causing skin allergies and irritating your lungs. You can also find waterproof protectors. You don't need a protector, but the benefits are a nice addition.
Topper – an extra layer of foam to cushion your body, usually no more than 1-inch thick. A good choice for combination sleepers who want a removable layer of cushion for switching from side to back/stomach.
Pillows – this is where your head will lay. If you're like us, memory foam cushions are just too much. Work out if you prefer soft or firm pillows and only opt for the add-on pillows if they'll be genuinely comfy.
Sheets and Covers – buying covers from the mattress supplier guarantees that they'll fit like a glove… but they might not be the highest quality. Search around before settling on the standard sheets and covers.
Are There Maintenance Costs?
Unless you damage your mattress, there aren't any maintenance costs you need to worry about. Although we wash our bed sheets once a week, we rarely put much thought to cleaning the mattress… but actually, cleaning your mattress is something you should do!
We recommend cleaning your mattress once or twice a year. You can wash stains and spots with a damp cloth and disinfectant spray. Make sure you leave plenty of time for the mattress to dry before making the bed again.
For a general mattress cleaning to freshen up your bed, spray it lightly with white vinegar and wait for it to completely dry. Next, sprinkle on baking soda and let it sit for a few minutes, and finally vacuum that up with your vacuum cleaner (hand-held is easier).
H). 3 Mistakes to Avoid
Check the Delivery!
Unless you want to end up stuck in a staircase with your friends, hopelessly screaming "pivot" make sure you check the delivery.
Standard delivery will usually just include delivering the mattress to your front door. Not inside, not in a safe place, but quite literally out on the curb.
If you want the deliverers to come into your home, set up the new mattress and remove the old one, you need to pay extra. Most companies call this their 'white glove service' and will charge up to a couple of hundred dollars. It's not cheap!