Air mattress has become a popular alternative to expensive foam and latex mattresses, especially if you're often on the go. Not only they're more affordable compared to other mattresses, but they are also portable and easily installed or stored away. After all, it's not easy meeting the demands of every individual sleeper. Air mattresses come with a lot of features and benefits to overall rest. In this article, we'll review the best air mattress for everyday use and give a compilation of reasons why you should buy one.
What is an air mattress?
Also known as an airbed, this type of mattress doesn't come with coils, springs or memory foam. Instead, it's built mostly with polyvinyl chloride and filled up with air. Many manufacturers now use textile-reinforced urethane plastic. The best thing about them is that they're affordable and easy to fold up and store away. That makes them more eligible for smaller apartments and rooms.
Many thought they can't be used daily, but a new level of comfort and adjustability make it suitable for everyday use. Different air mattresses use different inflation techniques and so, there are models that are equipped with a built-up pump, as well as those that just have a valve for inflation.
Can air mattress be used for everyday use?
Many people suggested that air mattresses are extremely uncomfortable and in addition to comfort bring various back, shoulder or hip problems. But, it doesn't have to be that way. If the mattress is firm, reliable and strong enough, it can be a great sleeping companion and children's playground during the day.
There are a few advantages of using air beds daily:
You have a small apartment or live in a small bedroom and you can't afford to have a large bed, neither financially or spaciously.
You have children who play the whole day and you don't want them to sit on the floor. Instead, they can have a bouncy surface for playing and napping when necessary.
Overall blood circulation is improved, promoting better rest and healthy habits.
It can last much longer than on average if you take proper care of it.
When you're traveling you can take it with you.
It's convenient and easy to use and store away when not in use.
Is it healthy to use air mattresses in the long-term?
The problem with air mattresses is that there are no springs, or conforming memory foam that keeps your body curves snug. Instead, there is air, and you can adjust the firmness yourself by inflating or releasing portions of air. However, that can get exhausting after some time, so it's best to have the mattress with a built-in automatic pump that notices when the mattress begins to deflate.
How can I make my air mattress last longer?
Air mattresses aren't best known for their durability, and while memory foam mattresses come with warranties from ten to 30 years and are known to last as much, air mattresses boast anywhere between one and three years of warranty support. Anyhow, with proper maintenance air mattresses can last much longer. Proper maintenance includes regular on-spot cleaning, airing, storing safely and carefully when you no longer use it, checking the pump for malfunction and other.
How to prevent deflation of your air mattress?
There are a few ways to prevent deflating. Deflating happens either when the mattress bursts or the air in the airbed gets cold. There are a few ways to prevent that. If the declaration of the product states it's safe, it's a good idea to keep a portable heater close enough to keep the air warm, but not too close so it wouldn't damage the mattress. Another good method is to inflate the mattress a few hours before you go to sleep, if possible.
Can sleep on an air mattress everyday cause back pain?
Air beds that work properly can be extremely firm and hard. Firm beds have a lot of benefits, but in some patients, they can cause, prolong and even intensify back pain. According to one study, it causes air to get trapped between the sleeper's body and the air mattress, causing intense back pain. If you have an ongoing back condition, consult with your physician doctor or a physician about this issue.
Risks of using an air mattress for everyday use:
Despite various benefits to using air mattresses, there are a few disadvantages and risks that can come with them.
As much as they are durable with proper maintenance, they are also very easy to start leaking air if they don't get proper care and maintenance.
Because it's difficult to keep the mattress warm on the floor at all times, which leads to temperature regulation problems. That can lead to getting sick or some more serious chronic problems.
There are problems regarding support. As mentioned in the Q&A, sleeping on a mattress like this for an extended time can lead to health problems.
After some time, and soon if the air bed is low quality, the air will begin to leak out, which can get annoying and demands regular inflation.
Related:
Best Air Mattress For Everyday Use
High Range ($$$)
Mid Range ($$)
Affordable ($)
#1 Best Overall: SoundAsleep Dream Series Air Mattress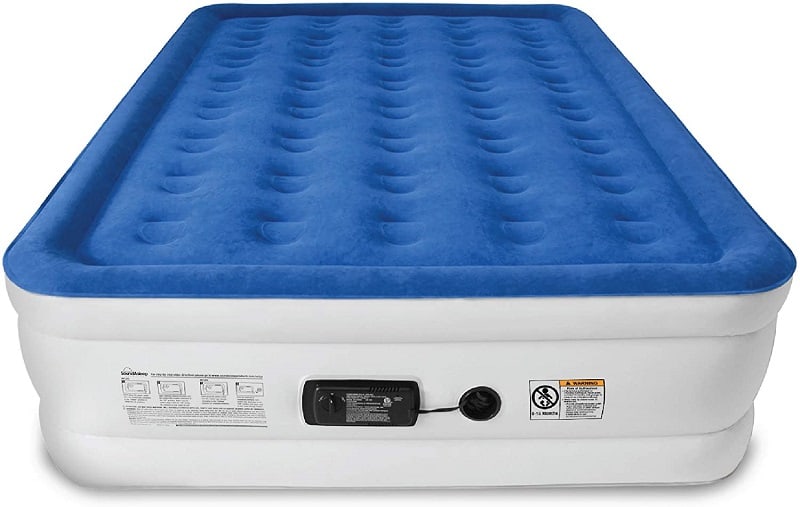 See Today's Deal
When you're searching for the best air mattress for everyday use, you have a lot of criteria to fill. When we compare all the features from SoundAsleep air mattress, we found that it corresponds to all criteria we requested. That said, it's our top pick for everyday air mattress. Here's why.
SoundAsleep is a company that uses premium industry-leading design, with comfort, value, and durability in mind. That said, this model is no exception. It uses ComfortCoil Technology to make sure that the mattress feels firm, balanced, yet convenient to use. In addition to that, there is a SureGrip bottom which ensures the mattress will sit stable and won't move around as you turn and change positions. ComfortCoil Technology also ensures you won't slip or slide off the mattress because it makes better edge support.
When it comes to inflating, Dream Series air mattress sports amazing and intuitive internal pump, that will inflate your mattress with just one click. The mattress will reach its full size within four minutes, with durable material that will keep the bed firm and filled up for days. When you feel the mattress is starting to lose its firmness, you can inflate it in seconds.
Lastly, it boasts a waterproof flocked top, which makes the overall sleeping experience more comfortable and reliable. It uses eco-friendly PVC design which strongly resists puncture. It will last a long time, and there is a one-year warranty ensuring its quality.
Key features:
ComfortCoil and SureGrip technology will make this air bed feel firmer, edgier and more stable on the ground.
The pump is fast and powerful, takes only four minutes to completely inflate.
PVC, eco-friendly design ensures that the mattress is durable and will have a long lifespan.
The waterproof flocked top means that the mattress is spill-resistant.
The mattress is super-comfortable and offers breezy night rest after which you'll wake up rested.
Note: We can't help but not notice that the mattress is on the higher end of the price range. The price isn't significantly higher and should withstand any wallet. What we did notice is that this model comes with only one year warranty. We expected it to be around three, which would truly make this mattress impeccable.
#2 Runner Up: King Koil Queen Air Mattress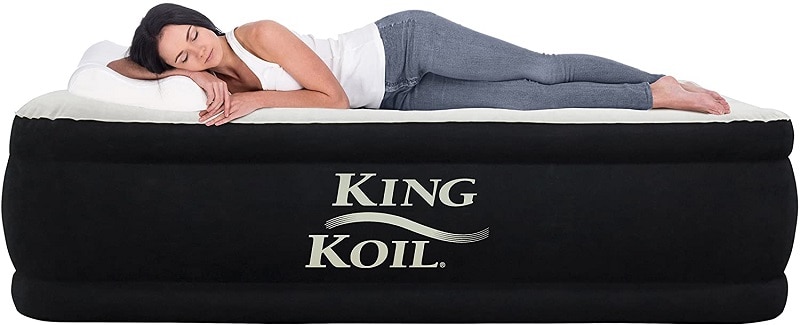 See Today's Deal
King Koil air mattress will give you a luxurious and relaxing night rest of the kings and queens. The reason it's our runner up is that we couldn't decide which one was better. This 20-inch thickness design is loaded with so many features we had so much fun and knowledge reviewing it.
The mattress came in a durable packaging and boasts extra-thick and durable quilt top which is patterned in a way to offer extra spinal support and firmness. It's good for improving your sleeping posture, as well as sleeping in any position. The comfort top is waterproof and spill-resistant.
It ships with a built-in AC pump which should help inflate the mattress in under two minutes. It's durable and puncture-proof, but knowing accidents happen, the company included patch kits that will help you fix the problem in no time.
The air mattress is more than just an assisting sleeping surface for your guests, friends, family, and campers. It was designed to provide superior support for the neck, shoulders, back, and hips and deliver an amazing sleeping experience. The soft flocking layer provides the support you need and the built-in pillow is just as good as the real one. The mattress comes with a year warranty, but with patch kids coming with the mattress, you shouldn't worry.
Key features:
Its built-in AC pump can inflate the air mattress in under two minutes.
It is easy to store and put away.
The waterproof flocking surface which delivers unprecedented quality and assists you while resting.
It has a built-in pillow, ensuring sufficient support for your neck and shoulders.
It is equipped with patch kits in case a puncture happens.
Note: We didn't like that the warranty is only one year long, but the reliable patch kids comforted us. Another thing we disliked is that this mattress isn't available in all sizes but only twin, queen and California king.
#3 Best Budget: Intex Comfort Plush Mid Rise Airbed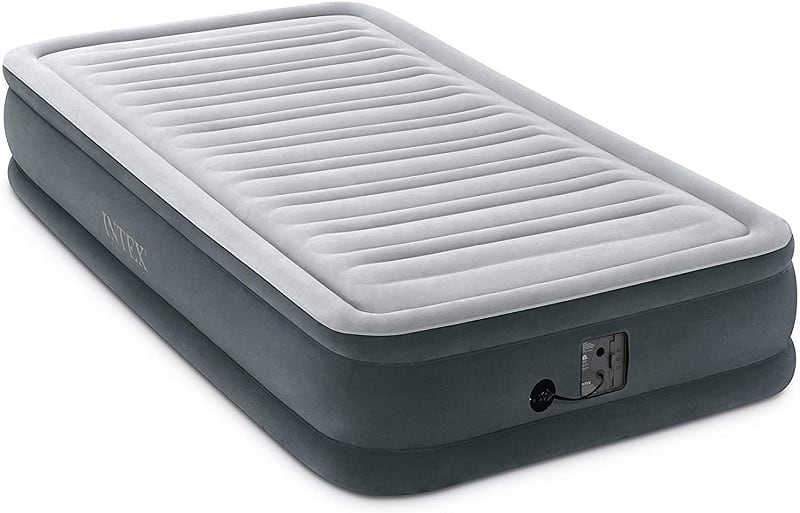 See Today's Deal
It's hard to find a quality budget-friendly airbed in the sub-$50 range. However, this air mattress for everyday use is a perfect solution for people who've just moved in and can't have building beds in time yet. Intex is a well-known brand for budget-friendly airbeds, and this model impressed us for multiple reasons.
Primarily, it can inflate fast, within three minutes from pressing the switch of a button on the built-in panel. That's incredibly fast for a mattress that is on the more affordable end of the price. It can be used for multiple purposes, but it stands out at providing trustworthy and long night rest. Couples can sleep on it without any problems, while small children will enjoy playing on it with warm support to sit or lounge on.
It has a weight capacity of 300 pounds which is a little low, but it can easily be stored away and transported if you move often. The thickness of the mattress measures 13-inches, so it may not be the stablest if you weigh more.
Its pump can inflate the airbed super fast and lasting, as the air stays in for days.
It has a weight limit of 300 pounds.
Ideal for small rooms or children who like to play with toys on the floor.
It's extremely affordable yet offers great quality for the price.
Note: We don't like that this air mattress for everyday use boasts a thickness of only 13-inch meaning it won't offer a sufficient amount of support for people with back pain. Also, the weight limit is sort of low.
#4 Best Firm: Noble Queen Air Mattress
See Today's Deal
If you're looking for a firm air mattress that will make you feel royal, Noble queen mattress is equipped with strong materials that deliver firm and reliable support. This air mattress boasts the premium PVC material with flocking on the top. Additionally, it uses Coil Beam Airbed Technology, with added cloud flocking layer that improves the overall support.
It pumps relatively fast, thanks to the built-in AC pump. It will inflate the mattress from three to five minutes, preparing a perfect sleeping surface. There are 18 inches of thickness which is more than enough for both lighter and heavier sleepers. It's easy to maintain, store away on spot clean. Additionally, it can be used by children and guests alike.
Key features:
Boasts higher thickness, making it eligible for both light and heavier sleepers.
Cool and balanced sleeping surfaces to reduce turning and promote healthy sleep.
It's incredibly easy to maintain and if you no longer need it, you can easily store it away.
The electric pump works efficiently.
Note: The electric pump can at times be too loud and it is the first component to usually die in the mattress. Additionally, we feel like it'd be too firm to be used by people who have heavy chronic pain while sleeping.
#5 Best Plush: Fox Airbeds – Plush High Rise Air Mattress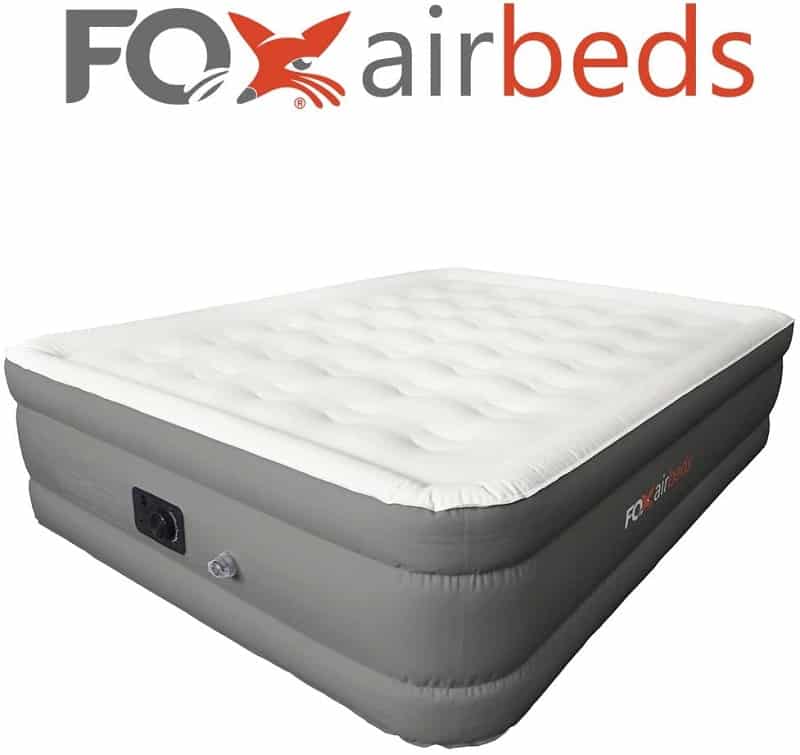 See Today's Deal
The idea of For Airbeds high rise air mattress is to ensure superior night rest, reliability and durability. The warranty may be short at only one year, but the company is confident that the materials used in this mattress for everyday use are stronger than the punctures.
The mattress is equipped with an electrical pump that effortlessly inflates the airbed in a matter of minutes. It can be used on the floor, on a mattress holder, with a mattress topper and other sleeping equipment. It additionally uses a thick layer of vinyl to provide better support for people who are experiencing chronic issues. Additionally, the same layer protects the mattress from punctures.
It's worth mentioning that this mattress boasts an extra valve that allows the use of an external pump in case there's a situation of an emergency and you can't use the built-in pump. All in all, it's worth the price, it can be used daily and it doesn't take too long to get used to its level of convenience.
Key features:
It boasts an additional valve for an external pump.
A thick layer of vinyl for more durability and long-lasting quality.
It takes little time to inflate to its full firmness.
It feels plush and soft giving the sensation of sleeping on a cloud.
Note: Some people won't like that it's too soft and will get a feeling that they are sinking. Also, it tends to lose air after a few days of standing in a spot.
Tips: How to improve comfort on an air mattress?
Still, if your pick is an air mattress, there are ways to make it more comfortable for long-term rest and everyday use.
Transform it into a real bed – The vinyl-like material of air mattresses can either feel hot or cause rashes, you can invest in a padding, sheets, and nice linen to transform your airbed into a high-end mattress in no time.
Buy a mattress stand – To escape the problems with temperature regulation and cold winters, a mattress stand will not only keep you cozy and snug, but it'll also add more support similar to that of bed.
Buy a mattress topper – Mattress toppers are a great investment for sagging mattresses. But, did you know they can be used for air mattresses for added support? If you're feeling too firm to the point it hurts, a mattress topper will easily hug you to sleep and help you have a relaxing night rest. We have a compelling guide on best mattress topper for back pain and best mattress topper for hip pain.
Inflate regularly – As we said, air mattresses can lose their firmness due to leaking air. That said, keep a regular basis on maintenance and inflating to always keep the mattress at a top form.
The reason we highlighted these tips is because we also reviewed a few models that don't correspond to our top five at the same level of quality. They may have a few drawbacks or simply lack something we consider crucial, yet they are still a good option. With these tips, you'll be able to pick a good air mattress while being able to maintain its stability.
We also reviewed (Good but not great)
#6 Coleman Air Mattress
Coleman Air Mattress is a budget-friendly investment with a just-right level of firmness and reliability. In all honesty, this mattress is the best pick for children because its ergonomic build doesn't make it appear too big regardless of the size you pick. It has a velvety plush top which delivers more comfort, making it ideal for lounging, napping and even sleeping.
Key features:
Despite being super-affordable, this air mattress for everyday use is 18 inches thick, making you feel elevated and away from the ground.
It uses coil constructions for more trustworthy edge support.
Ideal for children and simple loungers in front of the TV.
It's leak-free, thanks to the dual-sealed valve.
Drawbacks: Similarly, to the Intex air mattress, this model also doesn't support high weight, so it's not recommended for heavy sleepers or couples, regardless of size. Also, it's not available in all sizes.
#7 EnerPlex Premium Air Mattress
This high-end mattress is equipped with features you'll easily fall in love with. This option is durable, equipped with cutting-edge technology and simply futureproof. The premium quilt top flocking adds up to the comfort if the 18-inches of thickness don't ensure the unprecedented comfort and convenience. It can be used for extended sleep times, embracing different sleep positions and having perfect motion control.
Key features:
It can inflate within only two minutes, making it faster and more effective than other air mattresses.
The company offers a 30-day money-back guarantee, as well as a 2-year warranty.
It's equipped with EnerPlex Airbeds which were designed to be durable and futureproof.
Special coil beams work to ensure better edge support and superior comfort.
Drawbacks: There are a few things that we disliked. The mattress is well over that price range that we consider normal for this type of a mattress, with some real mattress options open for this budget. Additionally, if the mattress isn't stored away, it'll begin to deflate after a few days. That said, you'll constantly need to fill it to the max.
Conclusion
Air mattresses most likely can't replace the lasting quality of real bed mattresses. However, air mattress for everyday use is a thing and will continue to develop in the years to come. Air mattresses are great because they are versatile and work in different setups and functions. In this article, we covered mattresses with the best potential to last and make for quality and undisturbed sleep.
Still, we offer other options too. There are high-end air mattresses you can find in the best adjustable air mattress comparison. Alternatively, if you think that air mattress isn't the best pick for you, we wrote many other reviews about mattresses, worth checking out.