Whether you're moving into a new home or buying a brand new bed or even if you're just doing a bit of home improvement, a new mattress should be given serious consideration. A new mattress can provide relief from back pain, side aches, shoulder, and hip pain. Buying a new mattress can seem confusing.
Out of the wide variety of products available, latex mattresses are one of the best kinds. They are eco-friendly but also durable, firm, and comfortable. Latex is made from natural ingredients. Natural latex is made using the sap from rubber trees. Synthetic latex is made with a combination of manmade and natural materials.  Latex has a reputation for being highly durable, especially in comparison to other types of mattresses.
Top 5 Best Latex Mattresses 2022
Now it is time to introduce our top 6 latex mattress recommendations. Each mattress on our list is a high-quality product; each is the best for specific purposes. All are available to purchase online with detailed information to read online at their official websites.
If the idea of buying a mattress online concerns you, let me tell you why it is the best way to buy a mattress. There are many reasons:
Mattress stores almost never provide a sleep trial. If they do provide a sleep trial, the fine print will not be favorable. They won't allow a return where you can get your money back if you don't like the mattress. At best, they will provide a one-time exchange option. More than likely, they will have a restocking fee on exchanges and the new mattress won't have a warranty.
Scientific research has demonstrated that laying on a mattress in a mattress store does not improve the comfort of the mattress people choose. The best way to choose a mattress that works well for you is to sleep on it and use actigraphy (such as a FitBit) to measure the quality of your sleep.
Almost all online mattress manufacturers provide you with the opportunity to try their mattresses in your home with no risk. They pay to ship to you and, if you decide you don't like the mattress, they refund all your money and pay the return shipping. There aren't any stores that offer you the opportunity to try the mattress in your home and get all your money back without incurring any transportation charges.
If you could get a better chance at furniture or mattress stores, I would tell you but we've researched dozens of stores and all of them make the customer assume the risk in the event the mattress doesn't work.
Now you're ready to look at our top picks for latex mattresses.
1. AWARA – Best Overall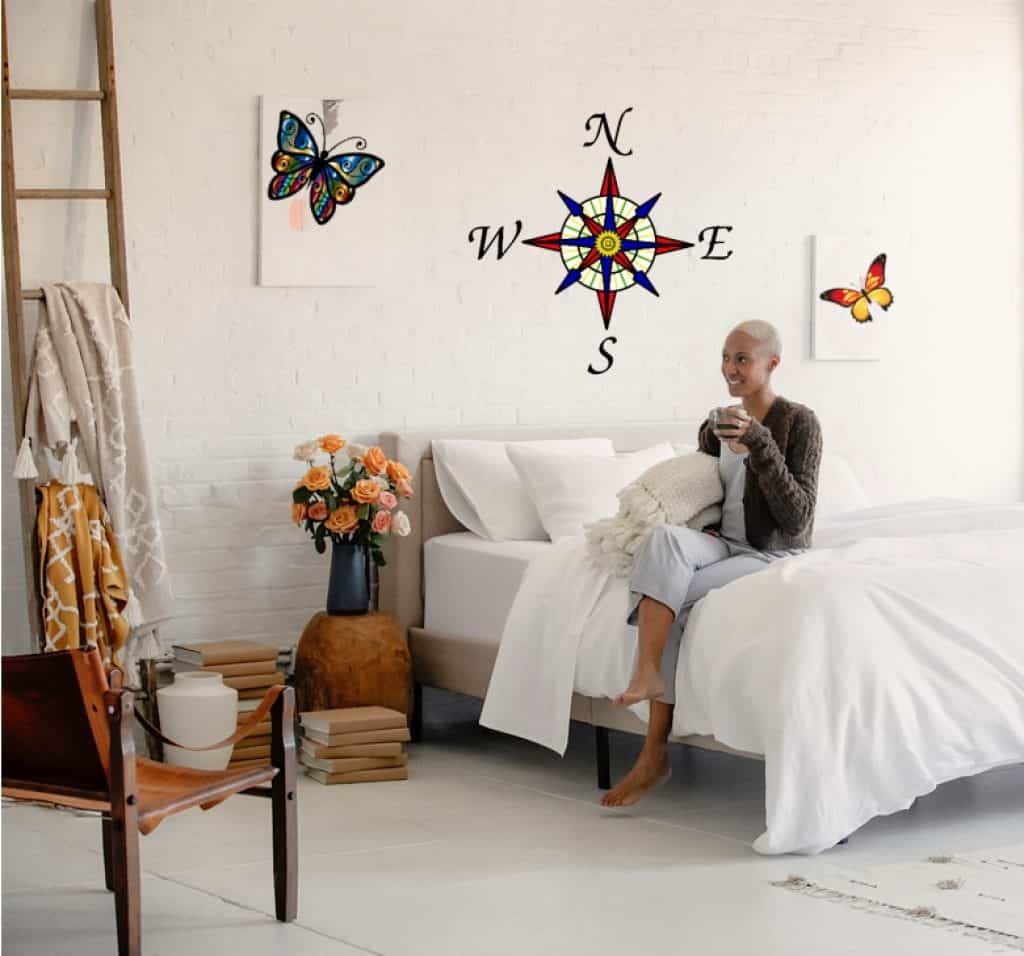 Designed to provide enduring comfort, AWARA uses 100% natural latex to provide cushioning for your body and support that allows every part of your body to relax. It's a great combination of healthy and durable materials.
AWARA is a Hybrid latex mattress created by combining 4" of pure and natural Dunlop latex with a 100% organic cotton cover that includes wool to wick moisture away. The latex rests on top of strong and supportive 9-inch coils that allow the mattress to support your body well throughout the night.
AWARA uses 4 inches of Dunlop latex, a very eco-friendly product, and combines it with the support of 9" steel springs in a five-zoned micro coil compression system designed to provide the perfect amount of support for every part of your body.
With the most popular firmness level of Medium-Firm, AWARA will be comfortable for about 80% of the people. The latex top provides soft support while the innerspring provides a strong base.
AWARA absorbs the motion of your sleeping partner so you won't be disturbed. We placed a glass of water on the bed and had one of our sleep testers who weighs in at close to 200 pounds roll back and forth to see if the glass would move; it didn't.
Latex mattresses are considered good for sex. When you add innersprings to the mix, you get a bed that is great for sex. The latex relieves pressure so you can sleep comfortably in any position without experiencing pressure points in your shoulders or hips if you're a side sleeper. AWARA's five zones make the mattress ideal for any sleep position which is essential for anyone who sleeps in multiple positions.
The upper layer of latex provides the ideal bed surface for cozying up in bed with your partner. Knowing that the mattress is healthy makes it a place where the whole family can cuddle.
AWARA is not inexpensive but it is far from the most expensive mattress on the market. But when it comes to the value you get for the money, it's hard to beat. The manufacturer tells you to expect the bed to last a lifetime! I'd consider that an outlandish claim but they back it up with a lifetime warranty so they're backing their claim with an impressive warranty. In addition, latex is the most durable type of mattress which makes it a believable claim.
AWARA is impressive. It will have a place on many of our best-of lists because it performs so well for so many people under a variety of situations. It is eco-friendly, medium-firm which is perfect for 80% of sleepers and the 5-zone system makes it suitable for side, back, and stomach sleepers. It has good bounce for sex, doesn't cave in toward a heavier partner, and it does an excellent job containing motion transfer. The only people I wouldn't recommend AWARA to are those who like a very soft mattress and those who like a very firm mattress. I might still recommend it to someone who likes a soft mattress if they add a soft topper.
PROS:
Excellent warranty and sleep night trail.
Sleeps cool.
Eco-friendly latex is good for you and the environment.
Good support and great durability.
CONS:
The natural materials make it a little more expensive that some mattresses.
2. Avocado Green Mattress – Best Eco Friendly

Sporting an 11-inch thickness, the Avocado Green Mattress is a comfortable and durable product made from the finest materials available. The Avocado Green Mattresses is made from Dunlop latex rather than Talalay latex which require more processing and is not as eco-friendly.
The 11" Avocado Green Mattress sports a three-layer construction which is seamless. On the top is the 2-inch Dunlop latex layer which adds a gentle firmness and adds to the heat distribution mechanism of the product. The middle layer is 3-zones constructed of Quantum Edge® Elite Combi-Zone® in 16, 17, and 14-gauge coils to provide zoned support. The premium springs improve airflow and provide spinal support for the spine. The base layer is an inch of latex that supports the coils.
The Avocado Green effectively distributes heat within the mattress using natural materials including cotton, wool, and latex that provide a great deal of coolness and heat distribution.
On a firmness scale from 1-10 (with 10 being the firmest), the Avocado Green Mattress can be rated at a 7. This level of firmness is neither too soft or too firm. It is best for side and stomach sleepers as it provides the optimum level of firmness and comfort. If you want a firmer feel or a softer feel, you can add a latex mattress topper that will change the feel of the mattress.
The Avocado Green Mattress features an 8-inch thick support base which is made up of over 1000 support coils which help to reduce Motion Transfer. These coils are made from recycled steel and help support the back, hips and, shoulders. It also provides a reinforced perimeter which helps reduce the feeling of falling off from the edge.
The Avocado Green is a very bouncy mattress. This is verified by the fact that if you move around on the bed, the surface will come back to its original place and form. The bounce adds comfort and relieves you of the pressure and pain. It helps to alleviate stress and will always keep you feeling comfortable.
Since it is made from organic material and has a layer full of innerspring coils, the comfort of this product is about as good as it gets due to the combination of latex and spring coils. With its set of latex and coils, you get a supportive mattress which will leave your body feeling relaxed and on Cloud Nine.
The Avocado Green comes with a 25-year limited warranty. In the price range in which this product is available, it offers several amenities and features which are not very common in this price range. It's a lot of mattress for a relatively average price and it also offers a trial period of 100 nights.
This mattress is definitely ideal for sleepers who want an eco-friendly mattress at a reasonable price. They even offer a vegan version that doesn't use wool.
PROS:
It uses the fully organic material so manufacturing the mattress dosn't harm Mother Nature.
The innerspring coils make it a supportive mattress.
The Avocado Green Mattress comes with a 25-year limited warranty.
It helps to alleviate stress and gives you a comfortable sleep.
CONS:
It may feel too firm for some people. (But you can purchase a mattress topper to change the feel.)
3. Spindle Mattress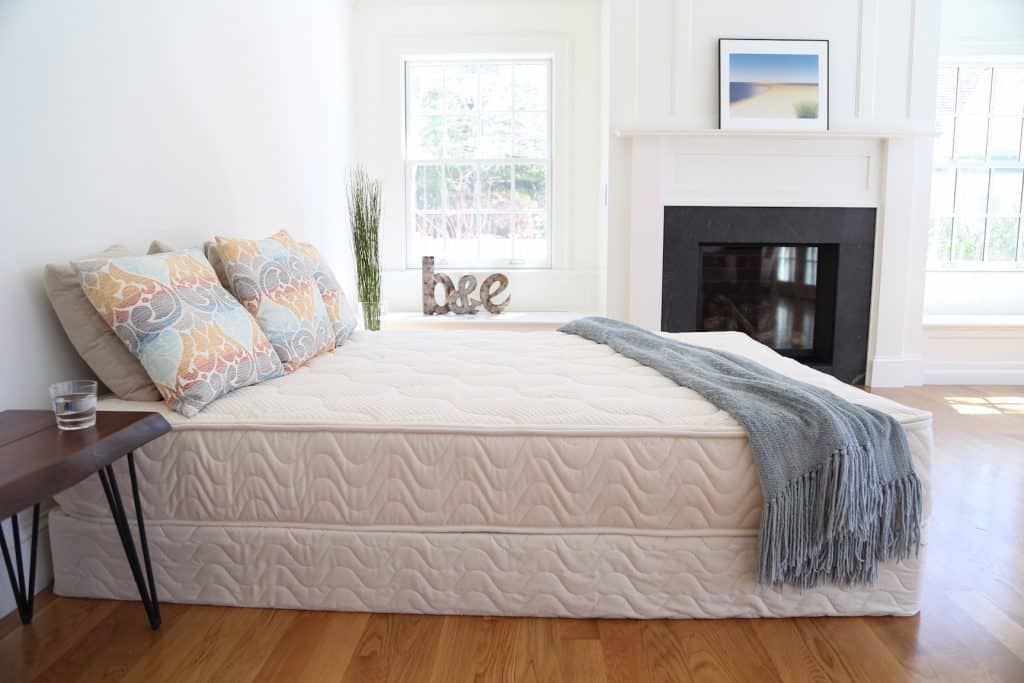 The Spindle is one of the most organic and top-of-the-line product. Made from pure Dunlop latex and sporting 9 inches of pure organic latex, the Spindle is a one-of-a-kind mattress which is sure to add comfort and reliability to your life. The unique structure and construction of the Spindle allow you to choose your own level of comfort and ease.
The structure and construction of this product is the highlight of this mattress. It boasts a 3-layer structure made completely of Dunlop
latex
. Each layer is 3 inches thick and offers different levels of firmness and bounce. This is one of the greatest features of this bed. The cover is made of organic cotton and wool.
The Dunlop latex in the Spindle is made using a process that has been used for almost one hundred years to take natural latex and form latex mattresses. The latex used in the mattress is a top-quality latex which has been arranged in 3 layers and provides different layers of comfort and firmness.
The firmness of the Spindle is not fixed. Each layer  of latex can be moved to a different order to change the feel of the mattress. This allows the mattress to be customized to suit back, side, and stomach sleepers.
The latex has a natural elasticity which aids in reducing the transfer of motion. It is t   effective in absorbing impact and is able to prevent your tossing and turning from bothering your sleeping partner.   So, even if you are sharing the bed with someone and let's say they shift and turn, you will hardly notice it.
Latex without innersprings won't provide the bounce someone who is accustomed to innersprings expects. However, latex does provide great pressure relief.
With the Spindle, you will be able to arrange it in a comfort level that you enjoy.    The adjustable layers are innovative and make getting the mattress perfect for you easy and convenient.   It will not matter what kind of sleeper you are, you will always feel comfortable with this mattress.
The Spindle comes packaged with a 10-year warranty but a 25-year comfort guarantee which is better than some of its competitors 25-year limited warranties. The comfort guarantee allows you to replace a layer of foam at a deep discount to renew the feel of your mattress or change it, if your needs change. A completely natural latex mattress is definitely worth your money.
The beauty of this product is that it is ideal for anyone and everyone! However, I would not recommend it if you sleep hot because a hybrid latex will sleep cooler due to increased airflow.
PROS:
The latex used in the mattress simultaneously generate bounce and limits Motion Transfer.
Three layers of latex foam which can be adjusted to suit your preferred firmness level.
It is made with using eco-friendly materials.
Good warranty and sleep trial.
CONS:
You may need more than 2 people to assemble.
4. Essentia Stratami – Best high end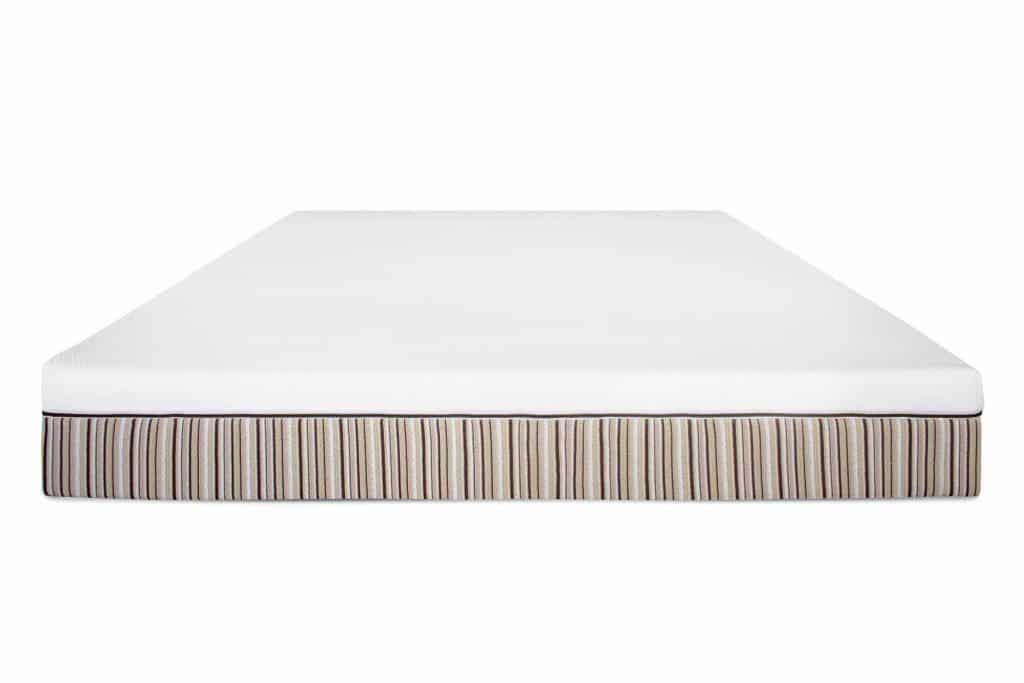 The Essentia Stratami is definitely one of the best latex mattresses on the market. Not only are they moderately firm, they also offer back, shoulder and hip support to aid you in your sleep. They are an overall dynamic mattress which provides the eco-friendly solution to all your sleeping and comfort problems.
The Essentia Stratami mattress comes with 2 layers of natural latex. . The top layer of latex has a dome design that provides firmer support for your torso and softer support for your hips and shoulders.  They've found a way to make latex behave more like memory foam. The bottom layer is a 5" support core that ensures proper spinal alignment.
It uses uniquely shaped ridges to ease pressure points and alleviate stress and relieve pain.
Most of the latex mattresses on the market tend to add a layer of wool or cotton on top to add a level of firmness or softness to the mattress, however, this is not the case with the Stratatmi. The firmness level of this product is just above 7 which is ideally firm.
The Stratami tends to delve right in when it experiences an impact, however, it efficiently recovers and is able to handle Motion Transfer effortlessly.
Although the mattress has been made to offer a sense of comfort, it may be a little too firm for some people as the firmness level is quite high. Some of you may experience some back pain because of the firmness, however, rest assured, this is only temporary as the mattress needs some time to adjust to your weight and shape. The mattress is specially designed to wick heat away from the body, keeping it a healthy 7 degrees cooler than the core body temperature.
The mattress is not extremely efficient in warding off back pain or stress, however, it does tend to give a level of comfort which may help you to sleep without pain or stress. While other mattresses may create pressure points in certain areas, this mattress will not.
This product is one of the more expensive products because of its structure and material. It offers a warranty of 20 years and a 60-day trial period.
This is the best for stomach and back sleepers as it is somewhat firm and will provide support.
PROS:
The Stratami has an above-average lifespan and is highly durable.
Highly resistant to wear and tear
It takes years for the mattress to sag in the middle.
CONS:
It is not very efficient in reducing pain and stress.
The price is higher than hybrid latex options.
5. Ghostbed Mattress – Best for the money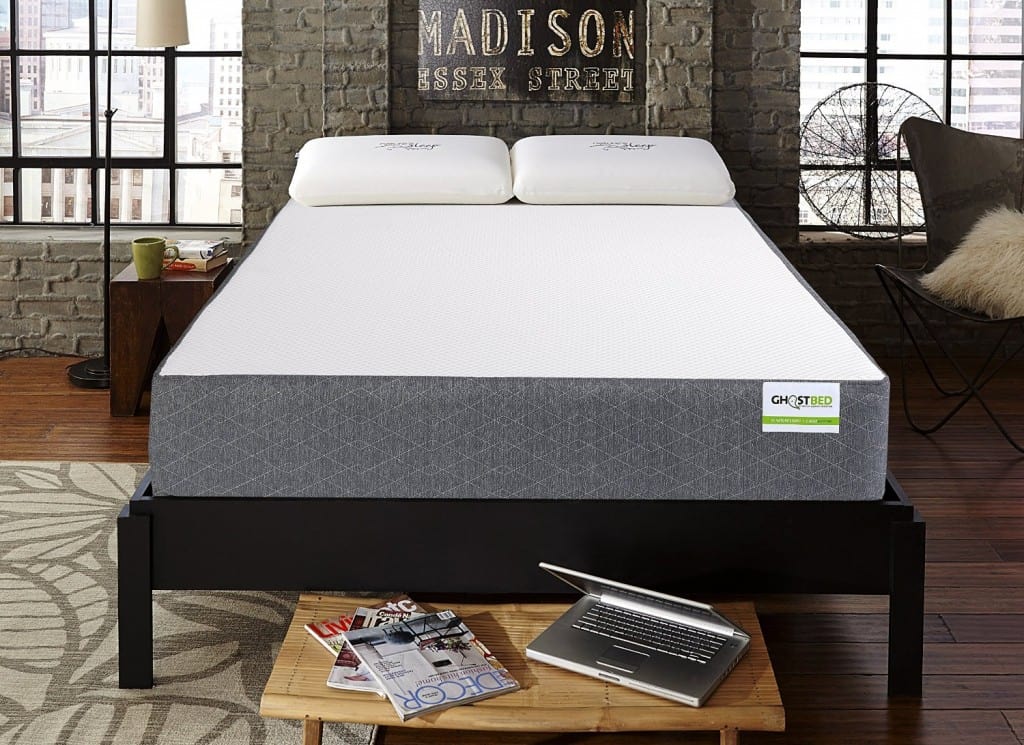 GhostBed is a modern take on the otherwise conventional mattress which only aims to provide comfort. The GhostBed yearns to alleviate pain, relieve stress, and also give comfort and keep you at ease while you sleep. It is a highly revolutionary product which has stood the test of time.
GhostBed is a hybrid mattress that combines latex and memory foam. A 1 ½ inch layer of aerated foam is right under the plush cover. It is designed to pull heat away from the body. This layer works with the next level, a 2" Memory Foam layer that also helps the mattress sleep cool. Both layers are supported by a high-density 7 ½ layer of core foam to ensure your back is properly supported.
The GhostBed uses a nice combination of latex and memory foam to help you sleep cool.
The GhostBed stands at a firmness level of 6.5 which is just the right amount of firmness. It is neither too firm and hard nor too soft and plush-like. It fits perfectly with every body's weight and size.
The special layers in this bed aid in Motion Transfer as it is medium-firm. The Motion Transfer will feel flawless and effortless as compared to other mattresses in the same range.
The GhostBed is immensely comfortable due to the memory gel and aerated latex used in this product. Not only does it provide great breathability and coolness.
GhostBed is comparatively affordable and clearly stands out from the other products in the same price range. It features a 25-year of warranty and a 365-night trial.
This is the best bed for people who get too hot during the night as the aerated latex will help them sleep cool.
PROS:
It has been Certi-PUR certified which mean it is durable and offers great comfort.
Highly operative in relieving pain and discomfort.
It uses a special hybrid mix of latex, foam, and gelto distribute the heat.
CONS:
It is quite firm and may not suit people who tend to like softer beds.
Latex Mattress Buying Guide
Buying the best latex mattresses can be a cumbersome job and, if you aren't sure what you need to know, it can be scary and confusing because mattresses are a large dollar purchase for many families. Don't worry, you've come to the right place. This buying guide will alleviate any confusion and tell you everything you need to know so you can make a good decision for you and your family.
I'm a hot sleeper, will a latex mattress help?
Definitely. These products are manufactured in a way that adds natural breathability. Latex doesn't hold onto your body heat so you won't sleep too hot on a latex mattress. Less than 14 percent of latex users report sleeping hot on these mattresses. The mattress will definitely keep you cool during the night.
Will there be a problem with off-gassing with latex?
There is very little to no off-gassing with latex mattresses as they are made from the natural sap from rubber trees. Naturally made products produce little to no smell. Synthetic latex can off-gas but natural latex won't have this problem.
I've heard latex mattresses are too firm, is it true?
Latex mattresses can be made in a wide variety of firmness levels. There's a pervasive myth that latex is always the same firmness level. Latex can be designed with any firmness level from soft to firm.  The holes you see in the latex are from dowels that hold the sap in place during the production process.
Larger holes can create a softer mattress. Some mattresses have consistent holes while others have different size holes in different zones to provide customized support for different areas of the body.
Unlike foam mattresses that need to be broken in, latex mattresses do not need to be broken in. They will maintain a consistent feel for more than a decade. That's why they are so durable.
What is the difference between Dunlop and Talalay latex?
Without getting into a lot of manufacturing details, Dunlop is made with the original manufacturing method.  Talalay is a more recent manufacturing development that uses reverse pressure to expand the sap in the mold and then freeze dries it before baking the latex. The expansion allows a larger mattress to be made with the same amount of latex. Mattresses made with the Dunlop method are always 100% natural latex. Mattresses made with the Talalay method can be infused with air during the expansion processor with natural or petroleum products. If you want 100% natural latex, look for it in the product description.
Latex is a very eco-friendly material for making a mattress; it's the go-to material for individuals who care about the environment.
Are glued products any good?
In general, a lot of complaints that you see about latex mattresses complain that they have shifted. Latex that is not glued together is simple to put back in place if it shifts. If the layers are glued together, shifting means they have torn apart. The glue is not necessary and can cause more harm than any good they contribute.
When you purchase a mattress that isn't glued, you can replace a layer instead of replacing the entire mattress which can save you a great deal of money.
Are latex mattresses durable?
With latex products, one can rest assured of their durability because they do not wear out and they do not sag or tear easily.