Whether your core body temperature naturally stays hot or your diet makes it hot, either way, a mattress does not help in distributing the temperature well. A normal mattress makes sleeping, lying down or even sitting on the bed an awful nightmare. It is imperative that people find alternatives to these conventional products which do not provide the comfort nor the functions which are necessary for a comfortable sleep.
A cooling mattress not only makes for a great product for the tropical and southern areas where the temperatures are normally high, it also provides comfort and convenience for the user.
As a Hot Sleeper, What to Consider Before Buying?
What material should be used in the top layer for an ideal cooling mattress?
The number of layers in a mattress determines whether it will be efficient or not. The support layer made of coils make the mattress cool. The top-most layer should ideally be of latex for the cool gel as it alleviates the hot temperature.
What is the ideal thickness to be labeled as a cooling mattress?
The ideal thickness of the foam should be above 9-inches. Anything lower than that will neither be durable nor have the features and technology incorporated into it to make it the cooler and you will probably have to settle on a trade-off sooner or later.
Does hybrid or aerated latex really help in cooling down the body for hot people?
The aerated or hybrid latex helps in clearing out the heat that builds up while you sit or lay down on the bed. The aerated latex is designed to have special holes on the surface to help reduce heat gain and distribute the temperature evenly across the foam.
How does gel memory foam helps to maintain a cool temperature?
The gel memory foam helps to reduce back pain and neck pain. It also helps in distributing heat evenly across the product to prevent excessive sweating. The gel memory foam adjusts itself to your body weight and body shape wherein it also remembers the kind of comfort and firmness you require.
Is a product containing micro-coils any good for cooling effect?
Micro-coils are very efficient for people who emit more heat than normal people do. They provide room for air to pass through and reduce the heat levels. The micro-coils also help in shipping the product as they can easily compress a 12-inch foam into only an inch.
What is the ideal firmness level for a cooling mattress?
We feel that this is a subjective question as different people are subjected to feel comfortable in different levels of firmness. But we believe that 5-7 are good ranges for firmness as it ensures a medium firmness which is ideal for most people.
3 Best Cooling Mattress 2022
We take 10+ into consideration firstly, but finally, we decide only feature 3 of them, that's the best of the best
#1 The Nolah Mattress – Best Overall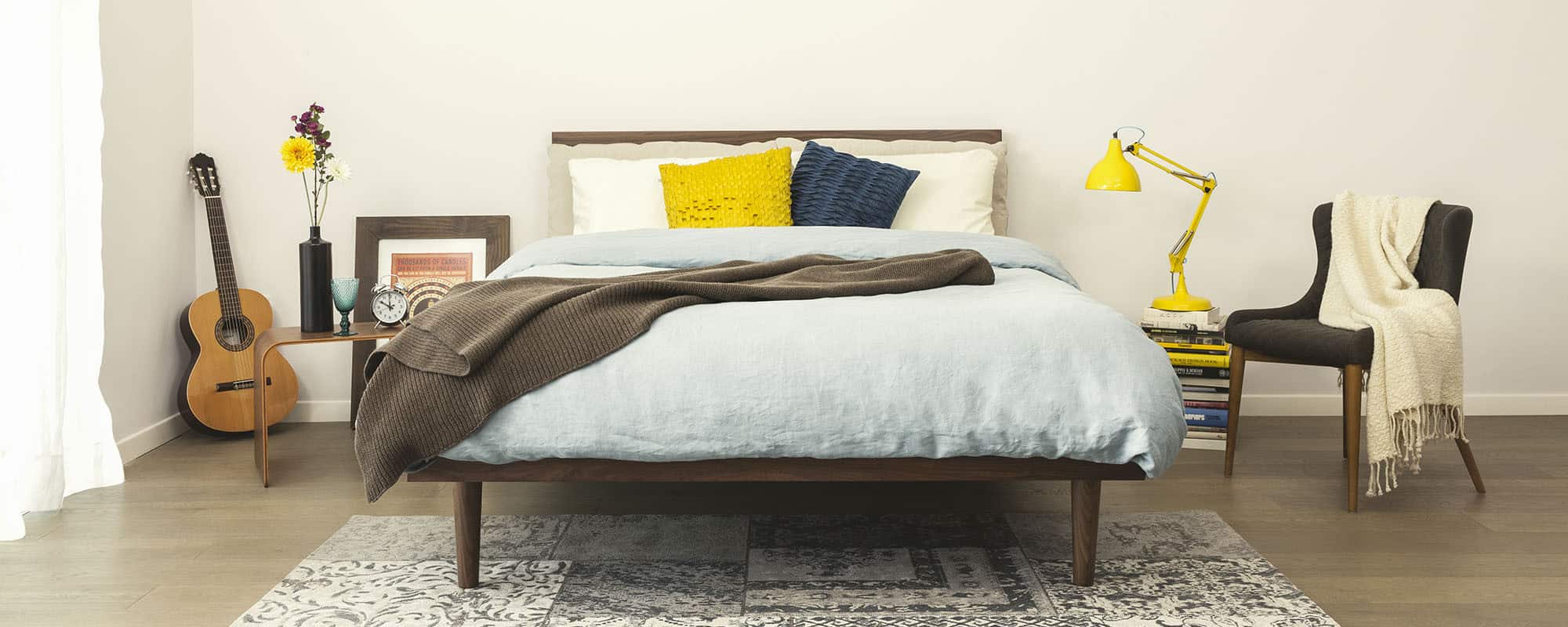 If you are concerned about the memory foam you have been using and think that you sleep hot in it then don't worry Nolah has got you covered. Nolah mattress will do a fine job while providing you with a cool sleeping surface with its Nolah AirFoam top layer.
You will only experience slight heat retention by the mattress on rare occasions but that is quite a common thing to expect from an all-foam bed. However, with that being said you won't sleep hot in it and wake up sweating the next morning.
The company uses its exclusive AirFoam technology instead of memory foam and latex, which is the most advanced foam technology of the current time. This layer contributes a lot to sustain your body temperature and it makes Nolah the best mattress for those who sleep hot.
The covering sheet also has a significant role to play here. This sheet can accumulate body moisture and regulate the overall temperature enabling you to sleep with relaxing comfort and wakeup active the next day. Nolah has a competitive advantage over other brands because you can sleep very cool and calm in them.
In addition to the AirFoam technology, Nolah is also equipped with Avena Foam support layer in the middle, the bed has plenty of airflows and it does not retain any heat at all. The Nolah AirFoam technology keeps you cool because it is not made with any heat-trapping substances or chemicals and for this reason; it sleeps cooler than any other memory foams.
The technology also equips the mattress with superior pressure relief up to four times in areas such as hips, back, and shoulders as compared to any other memory foam. Moreover, the supportive layer also contributes to responsive bounce without any motion transfer so that you and your partner can enjoy sound sleep together.
Another aspect that contributes towards the cooling features of Nolah is its natural viscose cover. This cover is made from the best yarn to ensure an extra bit of softness. The sheet is made from natural viscose fibers that have moisture-wicking properties and also dissipate any excessive body heat to ensure the sleep that you want to experience and make you comfortable throughout the night.
All these features make Nolah the best-suited mattresses for those who sleep hot. Nolah will not only sustain your body heat but will also give a cloud-like feel when you sleep on your mattress.
PROS:
Natural Viscose cover dissipates excessive body heat and gives you a cool sleep feel.
Avena foam support in the middle of the mattress allows plenty of airflows to keep the mattress cool.
Supportive layer of the mattress gives you a perfect bounce
Ideal for side sleeping position and hot bodies.
Great design and beautiful cover.
Great customer service.
CONS:
Maybe a little soft if you're looking for a very firm model
Not the choice if you're looking for a luxury model
#2 Avocado Green Mattress – Best Eco-Friendly Choice


The Avocado Green Mattresses are the result of using only the finest and organic materials present. These boast content made from Dunlop latex from sustainable and natural sources.
The base layer consists of 6 gauge pocket innerspring coils which provide support and durability to the entire product. The base layer has a 3 zone split design and layout that provides appropriate support where you want it most.
The middle layer is a 2-inch all-natural Dunlop latex, which adds to the comfort of your body and adjusts themselves to the body weight and size. The Dunlop latex helps in maximum removal of body heat and sweat.
This mattress offers the users soft & tender contouring while delivering an optimum firmness. It has added to the fame of this quality foam.
The technology used in the Avocado mattresses ensures that the product is eco-friendly and utilizes the Dunlop latex to ensure maximum breathability of the product.
The comfort level of this Avocado mattress is beyond expectations and proves to be a fairly bouncy and convenient level.
Although the product is pricey, it does not fail to deliver the amenities which come in this price range. It provides a 100-night sleep trial and a 25-year warranty.
PROS:
It strongly reduces back pain and neck sprains
The side handles provide ample convenience.
Motion transfer reduction and bounce levels are superb
It is eco-friendly.
CONS:
If you're lightweight, it can prove to be a little firm for you
The price is extremely high
Not the choice if you don't like latex
Note: Avocado is also featured in 5 Best Latex Mattress 2022
#3 The GhostBed Mattress – Best Hybrid Choice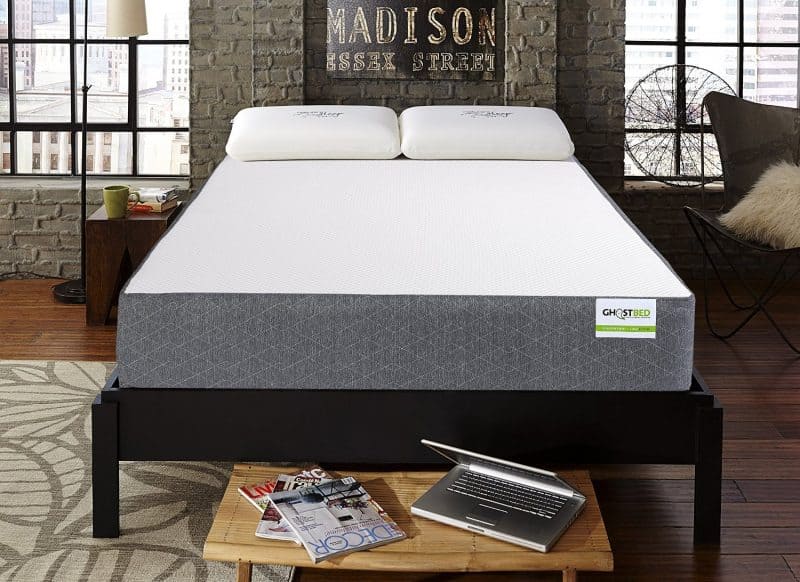 The GhostBed Mattress is a revolutionary product that aims to reduce back pains and shoulder pains by providing the best features and functions which a mattress can potentially provide. The GhostBed is a luxurious product that is astoundingly on the right side of the firmness level.
This 11-inch GhostBed makes for a firm and reliable product which provides ample features to maintain a healthy life. At the bottom of this thick product rests the 7 ½ -inch base layer which is a support foam. The middle layer comprises a High Technology Proprietary Gel Memory Foam; this gel memory foam is essential for a comfortable and sound sleep at night.
The top-most layer uses Advanced Cooling Technology with Continuous Airflow made from aerated or hybrid latex which is efficient in combatting problems related to heat diffusion.
Sleep experts and users have deemed the GhostBed as medium-firm giving it a rating of 6.5 out of a possible 10.
The GhostBed uses a state-of-the-art hybrid latex that maintains and regulates body temperature while also fending off potential sweat breakouts due to increase in core body temperature.
With 3 layers of foams, the GhostBed is bound to provide all the comfort and convenience which one can ask for. The GhostBed is comfortable and firm while also being cool and heat-resistant.
The GhostBed is relatively affordable and still proves itself to be of premium quality. Compared to other products in this price range, the GhostBedclearly stands out. It provides a 25-year warranty with a 1-year trial.
PROS:
This product uses aerated or hybrid latex to reduce heat dissipation.
It has just the right amount of firmness; neither too hard nor too soft.
Certi-PUR certified for its durability and comfort.
Highly effective in relieving back pain due to its structure.
CONS:
After-sales services are not up to the mark.
If you like softer beds, then this product is certainly not for you as it is quite firm.
Note: Ghostbed is also featured in 7 Best Hybrid Mattress 2022