If you are shopping for a new mattress online, you are almost certain to have encountered the Nectar brand. The Nectar Mattress is one of the most in-demand direct-to-consumer mattress brands in the U.S., and since their launch in 2017, they have grown into something of a household name.
This all-foam, memory foam mattress often gets praise for its soft feel, cradling embrace, and intense pressure relief. However, like most other bed options, this mattress is not for everyone.
Tag along, let's figure out if this bed-in-a-box is a fit for your sleeping needs.
Nectar Mattress Review: Overview
Memory foam is one of the most popular materials for making mattresses, and for good reasons. Memory foam beds come with some of the best conformability, making them prime candidates for people who want a cradling embrace all night long.
However, with this frame-hugging form comes the potential for excessive sink and overheating, common problems you will find, especially with older memory foam mattress models.
The Nectar mattress aims to be that advanced memory foam option that fixes all of these issues, yet retains that cuddly memory foam feeling that all seasoned users know and love.
Here, you get a medium-firm three-layered all-foam mattress with two specialty comfort foam layers that bring extreme coziness, superior motion isolation, and a cool sleeping surface. Plus, the Nectar mattress offers one of the best price-to-value ratios on the market.
| | |
| --- | --- |
| Best For | Bad For |
| People who love that snug memory foam feel | Individuals who need some bounce in their bed |
| Couples, for its excellent motion isolation and edge support | Persons who tend to sleep hot or uncomfortably with even minimal sink |
| Value seekers | Extremely heavy-set or lightweight folks |
| Folks who want an extended warranty coverage | |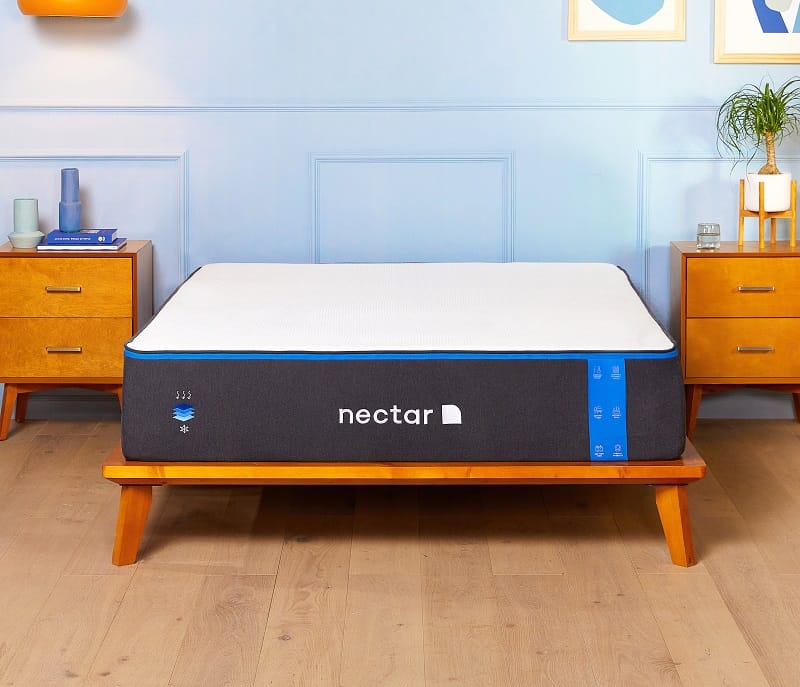 See Today's Deal
Design and Construction
With the Nectar mattress, you get an 11-inch mattress that features three memory foam layers and an eye-catching tencel-blend cover.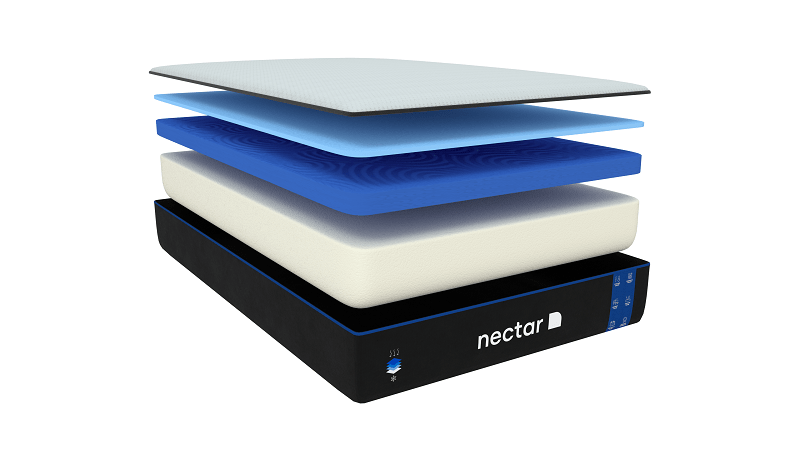 Base Layer: At its core, the Nectar mattress packs a base layer of 2.2 PCF polyfoam. This slab of high-density polyfoam creates a firm foundation for the softer layers of the mattress and balances out the conformability of the comfort layers with its exceptional support.
Transition Layer: Next up is a 3-inch secondary layer that helps to ease out the toughness of the sturdy base layer. Here, you get a slab of gel-infused memory foam that offers some conformability, yet is dense enough to prevent excessive sink. This part of the mattress is responsible in part for the intense pressure relief and spinal support and alignment that Nectar fans love.
Comfort Layer: Next, you get a 1-inch top layer that completes the experience. This thin sheet of gel-infused memory foam conforms to your body fully, offering a soft feel and one cradling embrace. However, since the layer is only an inch thick, you do not have to worry about sinking in too deep. This comfort layer comes quilted into the mattress cover.
Cover: Wrapping things up is a removable lyocell-cotton blend cover that adds a premium look and a plush touch, further enhancing the soft feel of the bed.
Tip: While the mattress cover is removable and machine-washable, like we would with most mattresses, we recommend you spot clean it instead.
Firmness
With three memory foam layers, you get a bed with the characteristic, dense feel you will expect from any memory foam mattress.
However, there is one little twist—unlike most standard memory foam offerings, the Nectar mattress packs a relatively high firmness level, and it takes a few seconds for the foam to contour around your frame.
Consequently, with this bed, you get a medium-firm mattress, with even weight distribution, and less sink than your regular memory foam option.
For most average-sized folks, the mid-level firmness of the Nectar mattress will be as close you can get anywhere in terms of balancing support with sink. However, some petite sleepers may find this bed a tad bit too firm, while heavy-set sleepers may consider it too soft and experience too much sink.
Sleeping Performance
Provided you are comfortable with the feel of memory foam; the chances are that the Nectar Mattress will work for you, irrespective of your sleeping style.
For Side Sleepers
For most side sleepers, the Nectar Mattress will be a dream come true. Thanks to the ample thickness of the top, comfort layers, with this bed, you get enough sink to provide adequate conforming to your hips, trunk, and shoulders, bringing proper spinal alignment and all the pressure relief you will ever need.
However, for petite sleepers who weigh under 110 lbs, this bed will feel considerably firmer, detracting from the pressure relief, and potentially making for a less enjoyable sleeping experience.
Furthermore, people who weigh over 250 lbs may have an issue with this mattress, too, and may consider it too soft, providing inadequate support. Here, you are better off opting for a dedicated mattress for larger people.
For Back Sleepers
Back sleepers typically prefer firmer mattresses that provide exceptional support to help maintain proper spinal alignment. However, while support is not Nectar's strongest suit, this bed still packs enough carrying capacity to hold up most petite to average-sized sleepers.
Nevertheless, more heavy-set sleepers may have a problem here too, potentially sinking in too deep, throwing their spine out of alignment.
For Stomach Sleepers
Stomach sleepers are the most likely to report poor sleeping performance with the Nectar mattress, especially if you are on the heavier side. Heavy-set sleepers may experience excessive sink, and consequently, improper spinal alignment.
For Couples
For petite to average-size couples, the Nectar mattress has all the makings of a perfect bed. Provided both partners are fine with a memory foam feel, you shouldn't have any complaints about this mattress.
The Nectar mattress delivers some of the best edge support and motion isolation of any all-foam beds, providing a sleeping surface that completely deadens any movement from your partner or unruly pets.
More: 4 Best Mattresses For Couples 2022
For Lightweight Sleepers
For individuals and couples who have a petite to average weight, the Nectar mattress is one of the best options you can get. With this bed, you will get all the support and comfort you need for perfect sleep.
For sleepers in this category, another big plus is the fact that this mattress excels whether you are a side, stomach, back, or combination sleeper.
However, if you weigh under 120 lbs, you should expect a slightly firmer feel with this bed.
For Heavy-set Sleepers
Many heavier folks will have issues with these mattresses and will be better off with an innerspring or latex bed that offers even more support. Since the Nectar mattress provides a considerable amount of sink, people who weigh at least 250 lbs may find it quite constricting.
Sleeping Temperature
Memory foam beds have a bad reputation of conserving heat, no thanks to the full body conforming properties.
However, the Nectar mattress bucks this trend, thanks to its use of gel-infused memory foam layers, which increases the rate of heat dispersion, and ensures a cool sleeping surface through the night.
Furthermore, since this mattress provides far less sink than your average memory foam bed, here, you get a mattress that doesn't hug you as much and minimizes body heat conservation.
Others You Should Know As Well
Available Sizing Options
Like most other online mattress offerings, the Nectar mattress is available in six standard sizing options from Twin to California king. Here are the exact dimensions for each model:
| | | |
| --- | --- | --- |
| Size | Width (inches) | Length (inches) |
| Twin | 38 | 75 |
| Twin XL | 38 | 80 |
| Full | 54 | 75 |
| Queen | 60 | 80 |
| King | 76 | 80 |
| California King | 72 | 84 |
Read More: Mattress Size Chart And Dimensions
Pricing
For many potential buyers, it is the pricing scheme for this product that will seal the deal. The Nectar mattress provides some of the best value for money of any other competing beds.
The queen-size version of this mattress currently retails for around 800 bucks, which is at about $200 cheaper than the average industry pricing for products of this caliber. Furthermore, the fact that this price tag includes two free pillows and a mattress protector contributes to making this deal a hard one to refuse.
Like many new bed-in-a-box brands, Nectar achieves this aggressive pricing model by going direct to consumers, cutting out the traditional, middlemen-heavy mattress sale model.
Warranty and Shipping
Free shipping is pretty much standard practice now with online mattress companies, and Nectar is no exception. The bed ships for free and arrives compressed and rolled into a vacuum-sealed protective bag.
Tip: With bed-in-a-box mattresses, for the best user experience, you should allow at least 48 hours for the product to expand and off-gas thoroughly before use.
Straight out of the box, you get an extended 365-night trial period that completely dwarfs the offers from most of the competition. Plus, you also get a lifetime warranty with each purchase.
With Nectar's "forever warranty," the company offers a no-questions-asked exchange policy for the first ten years of use. Beyond that, you also get lifetime coverage on any material failures or manufacturing defects.
Accessories
There is no accessory shortage with the Nectar mattress, as the bed works with almost every standard frame and base. Plus, you do not need box springs with this mattress unless you want one.
Whether on the bare floor, flat platform, slatted bed frame, or on box springs, you shouldn't have any issues with this bed.
Furthermore, the Nectar mattress works with adjustable bed frames too, and you can even get a matching electronic adjustable base from the company.
Nectar Mattress vs. Close Competition
In terms of its build and feel, one of the closest competitors to the Nectar mattress is the Casper mattress. With Casper, you get a similar three-layered design that promises a balance of comfort and support.
However, unlike the Nectar mattress, the Casper mattress swaps out the second memory foam layer for one of alternative foam. This slab of alternative foam mimics the properties of latex, creating a bed that is significantly more supportive than what you get with the Nectar mattress.
Consequently, you get a bed that offers more lift that will benefit back and stomach sleepers, especially those slightly on the heavier side, who could do with the extra support.
Nevertheless, expect to pay a significant premium for that extra bit of lift, as the Casper mattress retails for almost $300 more than a Nectar bed of matching size.
Plus, for most petite to average-sized sleepers, the Nectar mattress should provide enough lift.
Verdict
Overall, there is a lot to like about the Nectar mattress. Despite its competitive price, you get one of the best beds on the market and, arguably, currently the best price-to-value ratio in the industry.
However, to get the best experience with this bed, you have to weigh under 230 lbs and appreciate the peculiar feel of memory foam.
Frequently Asked Questions
Where is the Nectar mattress manufactured?
In China. However, the company runs quality check operations from plants here in the U.S.
Is The Nectar Mattress Chemically Safe?
Yes, as safe as any high-end product on the market. This bed is CertiPUR certified to be free from harmful substances like lead and mercury.
How long will a Nectar Mattress last?
With the Nectar, you get the typical lifespan of the standard all-foam mattress—expect your Nectar bed to be in its best condition in the first seven years of use. However, this timeframe can vary significantly, depending on other factors like the weight of the sleepers.
Does the Nectar mattress get softer with age?
Yes, you will get this issue eventually with all all-foam mattresses. One way to mitigate this problem is by turning the bed over every few months to reduce the chances of erratic sagging.
How Much Do The Nectar Mattress Weigh?
The largest Nectar mattress size, king/California king weighs 89 lbs, while the twin comes in at 45 pounds. Hence, you should have issues pairing the Nectar mattress with most standard frames.
Do you need box springs with the Nectar mattress?
No, this mattress will work with most frame types.
Does Nectar Ship To Hawaii and Alaska?
Yes, albeit there is no free shipping to either region.