If you are considering a mattress that offers the best in term of foam quality, innerspring and affordable price, considering a WinkBed mattress is a deal. This review is not looking at how old the manufacturer is, but the product and commitment to providing value for money mark the consideration. What most informed buyers of mattresses out there would want in luxury bed are combined in winkBed mattresses. Read the detailed review below and see for yourself.
A quick view
Winkbed is 15" in thickness and provides dependable support no matter your weight
Highly responsive and contour to your body
It's soft, comfortable and provides balanced sinkage for awkward-free sleep
Breathability for optimal cooling through its gel
It does not shrink and remains as new over time
Each mattress is handcrafted and produced to order in the US
Winkbed only sells its products online and has friendly return terms, very encouraging to buy
The mattresses are an affordable luxury bed for everyone; it costs a third of its price
Free delivery to your home (Installation is not included. If in need, they provide a white glove service to remove your old bed and install a new one, but you need to pay extra for it,  I guess it's $99)
It offers 101 night trial period (you have to try at least 30 days since you need time to adapt to the new mattress)
Structures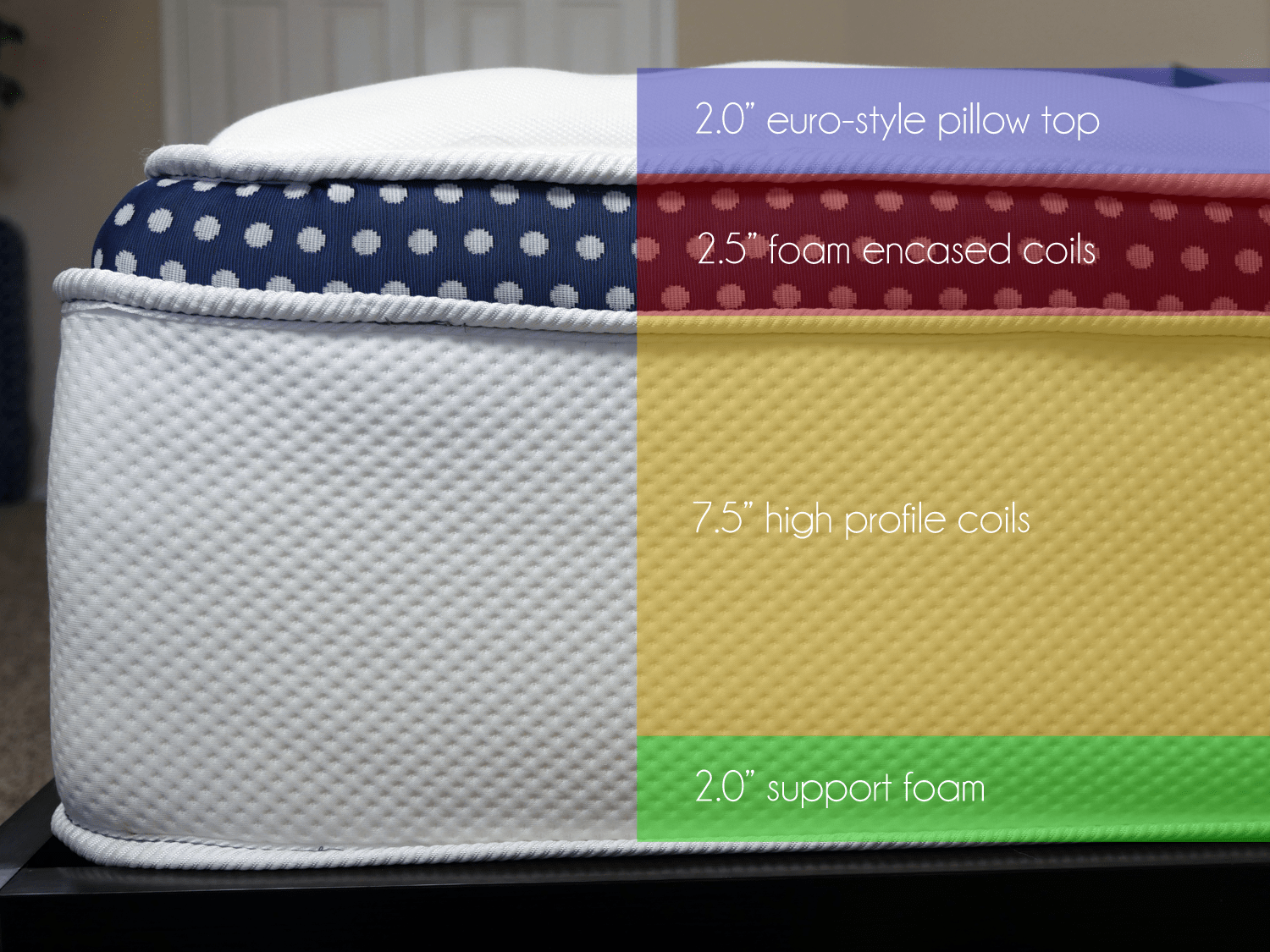 One of the most important considerations in bed quality is of the structure. WinkBed Mattress has a 15" coil-on-coil innerspring with 5 layers of comfort distributed as follows:
pillow top – 2.0″
foam encased coils – 2.5″
high-profile coils – 7.5″
support foam – 2.0″
WinkBed structure is engineered to meet all types of users need as outlined below:
The first layer
The construction is high quality featuring euro-style pillow top on its top layer; this is the sleep surface area. In term of aesthetics and durability, Euro-style is a top ace. This surface area contains hypersoft foam and gel to provide the luxury comfort anyone needing a luxury lifestyle would get. With this structure in place, a WinkBed mattress guarantees:
Comfortable time in bed
Cool and clean surface with causing heat that makes you sweaty and uncomfortable
No feeling sink in bed as inner coils provide needed support to make you comfortable
The layers and quality of foam promote breathability and cooling through the gel
Its contour balanced and keeps your shape for relaxed time in bed
The Second Layer
Winkbed has 1,358 coils in a Queen Size mattress. The coils are encased in the second layer of 2.5." the coils provide the support and the more, the merrier for more rugged support. Compare the traditional mattress of the same size; you get approximately 850 coils. That explains the difference in quality and usability. The second layer provides the following services in the mattress:
Make the mattress breathable and makes airflow easier
Dispel any building moisture without discomfort to the user
Uninterrupted all night sleep due to the comfort provided
The Third Layer
The third layer provides the edge support that strengthens Winkbed's stability. It has 14-gauge tempered individually pocketed, steel coils with high density 4.0" support foam designed to do the following:
Gives you the pleasure of sleeping anywhere in bed without any part of the bed giving way
Provide a firm sitting place on edge without collapsing or throws you out
Keep the bed firm to carry any weight
The Fourth Layer
The fourth layer features high profile tempered steel coils and designed to provide:
Constant stability
Spread weight evenly and accommodate body shape
Provides more support under heavier weight
The coils are noiseless as they are wrapped with cotton mesh for quietness
Base layer
This part has thick, high-density foam scaling 2" to support the base for more stability and sustainable. The base makes the bed able to stand firm to provide the foundation for the bed.

WinkBed Mattress Cover
The entire structure of the mattress is wrapped by a cover sheet made from Tencel fibers, a natural absorbent for double assurance of no sweaty or wicking moisture when sleeping. The cover sheet also contributes to the coolness that sleepers experience when in it.
Firmness
I would rate Winkbed as 6/10(10 is the hardest) for the firmness scale,  this neither too soft nor too firm, so should be good to go with 80% of people, for the customer with special requirement, they manufacture firmer or softer versions of mattresses for discerning customers.
Edge support
Winkbed uses a 4.5-inch wide 65-ILD foam with a 1.5-lb density. All these numbers translate to "yes." Their bed has very firm edge support and is strong enough to sit on without any sagging whatsoever. Unless you're an NFL lineman. Then no guarantees I guess.
Overall Feeling
Starting from the look, WinkBed looks compact, neat and beautiful. On touching, one is tempted to lie in it. Its softness is tempting and quite inviting, feels bouncy when you put pressure on it and looks solid when one sits.
Warranty, Free trial, and Price
Shipping – free, compressed in a box, arrives within 7-14 business days
Warranty – 10 years, this is the industry standard.
Trial Period – 101 nights,  1 day more than the industry standard.
Weight – Queen size mattress weighs 79 pounds
Made in the USA
| Size | Price(Before coupon) | Weight(lbs) |
| --- | --- | --- |
| Twin | $649 |  58 |
| Twin XL | $799 |  60 |
| Full | $999 |  70 |
| Queen | $1,299 |  79 |
| King | $1,499 |  93 |
| California King | $1,548 |  93 |
Who may like it
If you want quality and high-end product at an affordable price
If you want a pillow top mattress, you can see the difference per pillow top vs non-pillow top mattress.
If your budget is above $1000, I would suggest you take a look at our top 3 mattresses under 1000.
If you want improved health that comes with getting sound sleep
If for health reason, you need to get a bed that offers more stability
If you want value, good value for your money
Who may don't like it
If you are the seeing is believing type; WinkBed is sold online, no way to try it before buying
If you want a neighbor's recommendation; WinkBed is a new company you neighbor hasn't used it
If you want a memory foam mattress, since Winkbed is based on coil-on-coil structrure, I would suggest you take a look at our top 16 best memory foam mattress 2022
Final verdict
When you consider luxury and price, WinkBed takes the day. It feels good to be able to order to taste and have it delivered right to your home. All the features carefully put together to make an excellent quality bed sure worth it. It's good knowing the mattress you are going to be using compares favorably with the high-end mattresses in luxury homes.
On top of it all, it is comes with so sweet a price that when you compare what you are paying for to the traditional bed, you have been using; it just feels good you made the right choice. WinkBed is the real deal; I recommend it to anyone who desires comfort and want it on his their terms!