When someone mentions a premium mattress with a luxurious feel, what does it remind you of? A lot of people looking to buy luxurious beds are quick to give up due to skyrocketing prices that can easily make you dizzy. However, if you're someone looking to get rid of a sore neck and aching back in the morning, alleviate morning headaches and migraines and improve your comfort and sleep quality, perhaps the DreamCloud mattress is exactly what you need.
We wrote this review, focusing on the design, comfort, and value the DreamCloud mattress offers. We tested it and tackled the reviewing process to the tiniest details, so our readers would get the equal impression of it as our readers did.
The DreamCloud is the veteran of sleeping equipment. There are a lot of products on their website that can help your sleep. The DreamCloud mattress series is the only mattress available, however. DreamCloud's parent company Resident Home owns a few more known names in the sleep industry including Awara, Nectar, and Level Sleep.
Let's say a few words about the DreamCloud mattress series. The company used to sell only DreamCloud mattress, which is slightly thicker than the one we are reviewing today and offers a few more features compared to this one. It used to be the trademark of this company until the mattress we're reviewing in this article showed up.
Earlier this year, the company renamed DreamCloud mattress into DreamCloud Premier and showcased a slightly more affordable mattress that uses this name today with a Hybrid suffix. For a better understanding of the two mattresses, we will compare them briefly.
The DreamCloud vs DreamCloud Premier Mattress
Probably, the first thing you noticed is that the DreamCloud Premier is pricier than the DreamCloud. The price varies from $200-$400 because the company often hosts discounts and promotions to make both options more approachable.
We first noticed the price difference too, which prompted us to explore the reasons behind that. Here's what we found.
We noticed that the DreamCloud Premier mattress is 1 inch thicker compared to the DreamCloud. The company added that one inch at the top, so the difference is mainly noticeable at the quilted pillow-top texture, also known as the euro-top. With that in mind, the Premiere option may offer a little more bounciness over its luxurious top, while also being more suitable for heavier sleepers.
The additional inch consists of a memory foam layer, making it a total of 6 layers as compared to 5 layers. The layer hasn't affected the firmness of the mattresses which remains the same. It may be more suitable for stomach sleepers, while the DreamCloud is better for side sleepers.
Now that we gave a comparison of the DreamCloud and DreamCloud Premier, let's dig into the review of it, and see what in its composition makes it so good to take over your slumber.
DreamCloud Mattress Review: Design
Before purchasing a mattress, it's important to get to learn more about what it's made of and how those features can affect your sleep. For example, you can't buy a mattress that's not compatible with your bed frames and so on. Let's look at the dimensions, weight, materials, and other aspects of design.
Dimensions
DreamCloud Mattress comes in six different dimensions. That said, anyone can sleep on it, starting from children and single sleepers, to adults and couples. The available dimensions are:
Twin mattress 38 x 75-inches
Twin XL 38 x 80-inches
Full 54 x 75-inches
Queen 60 x 80-inches
King 76 x 80-inches
California King 72 x 84-inches
Twin and Twin XL are mainly used by children or teens, as well as adult single sleepers if they're sleeping on twin XL. A full bed has the width that is more than enough to accommodate two sleepers, while the Queen and other larger mattresses are suitable for couples.
Unfortunately, DreamCloud Mattress doesn't feature a Split King mattress, which consists of two sleeping surfaces that are compatible with adjustable sleeping frames. However, that shouldn't be a dealbreaker as most of the luxurious mattresses in this price range don't come with this dimension.
Weight
Regardless of which option you choose, DreamCloud Mattress is extremely heavy, so you could probably use a hand, or two to help you place it on your frame and help you position it properly to expand faster. The weight varies from size to size.
Twin– 45 lbs
Twin XL – 48 lbs
Full – 68 lbs
Queen – 74 lbs
King & California King – 89 lbs
Materials
As its name suggests DreamCloud Mattress is a hybrid mattress. That means it incorporates memory foam as well as other materials together with innerspring core. Innerspring mattresses are better when they are surrounded by memory foam or some other foam, for better motion isolation and bounciness.
Let's take a look at the materials that this mattress uses and see how it all contributes to its overall design.
Memory Foam helps create a hugging and cradling sensation on the mattress. Usually, it comes in a package with other types of foam that ensure edge support and base. This particular model, aside from the foam also boasts pressure-activated gel memory foam. That means that the "cooling technology" or a mechanism activates when pressure is applied, or a person lays in bed. More about gel memory foam will be said below.
Innerspring System consists of individually encased coils that ensure that the mattress is firm and doesn't sink. The innerspring core is important for a mattress because it ensures that it's durable and long-lasting, while also providing the support of many sides and stomach sleepers need when laying.
Polyfoam allows for more contouring, especially for heavier sleepers. In this case, polyfoam surrounds the innerspring core. While it does provide that cradle to sleep sensation, it is there to prevent sinking to the point where the sleeper is feeling the innerspring core, and with that discomfort.
Construction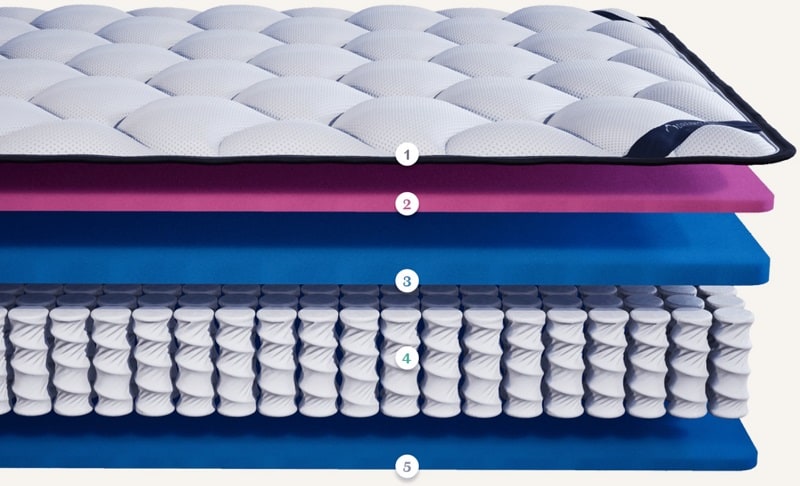 Understanding the construction and layer distribution will also help you understand how all these layers work together to hug sleepers and help them start a day after a great night's sleep.
As we said, there's a 5-layer design. It starts with a base foam which prevents the coils from breaking out, while also adding a layer of support towards the end of the mattress. The coils are strong, durable, and robust, so their casing shouldn't break out even if the mattress is taking some beating and stress.
The surrounding foam layer of polyfoam that sits just above the coil system ensures that you don't sink in too much. What more, it ensures that there is a perfect balance of how bouncy and responsive the mattress is. That said, the coils are noise-isolated, but what's more important is that they won't bounce too much.
This is extremely important for peoples who sleep on the bed. You won't feel or hear if your partner turns around or stands up. Some mattresses have poor motion isolation, so you can wake up just from your motions. This isn't the case with the DreamCloud Mattress. Other than that, there is a layer of gel memory foam, and finally, the euro-top quilted pillow top made out of cashmere.
The company used cashmere in because it's an extremely breathable material and feels more cushion-like. It gives that bouncy yet, sinking feeling as if you're using a mattress topper. Euro top mattresses have become extremely popular, and they just add more to the comfort and serve as a two-in-one investment.
Firmness
The DreamCloud Mattress measures as a medium-firm mattress with the firmness of 5-7. The company's product page features its firmness meter where we can see that the mattress measures at 6.5, as a luxury firm. This mattress can be suited for everyone.
However, people who don't weigh much may feel like they're bouncing rather than sinking into the foam. On the other hand, this mattress feels ideally firm yet plushy to people with moderate and higher weight. That said, the mattress is soft enough to let you sink in and contour according to your body's shape. At the same time, the mattress has enough firmness for the pushback effect, so you can turn and change positions without sinking too deep.
Medium-firm mattresses are extremely popular among the elderly. A study discovered that having a firmer mattress can reduce the lumbar and muscular pain in the elderly.
Note: If sleeping on a firm mattress causes you difficulties because you're lightweight, there is a way to make your mattress even softer by purchasing a mattress pad or mattress topper.

A lot of people question validity of mattress topper over a pillow-top mattress, but there are a lot of models that are compatible. Check out our mattress topper reviews to learn which toppers can go together with pillowtop mattresses.
Thickness
The DreamCloud Mattress measures 14-inches in height, which also accounts for its thickness. It's thicker than most of the mattresses we reviewed and ideal for all body types. Back sleepers may not notice a significant difference between sleeping on a 10-inch and 14-inch mattress. On the other side, those who sleep on their belly, or side, could benefit more from having extra-height.
A good amount of memory foam density, as well as thickness of the material also adds up to the overall firmness of the mattress in the box. Heavier sleepers will also benefit from sleeping on a thicker mattress.
Performance
We saw what this mattress is all made of. But, now it's the time to see how its build and robust construction affect the comfort and sleepers as well as sleep quality.
Comfort
Taking all the specifications into the matter, the DreamCloud Mattress should be extremely comfortable. The sleeping surface over the quilted Euro-top feels smooth and sinks as you apply pressure to it. It is comfortable for all sleeping positions, while the best performance is enjoyed by the side and stomach sleepers.
The mattress doesn't bounce as you move on it, and neither does it make any noise. The edge support system around the mattress is robust and reliable, so you can both lay and sit by the edge without feeling like you're sinking into the core of the mattress or slide off.
Its construction and comfort feel are also great for people who suffer from back and lumbar region pain, as well as people who have arthritis or osteoporosis. The memory foam hugs your curves to sleep in a way that is weight alleviating and pressure relieving.
Both pressure and weight are distributed equally across all the sleep zones while working to relieve the pain. Muscles and enflamed ligaments and bones feel instant relief, while you'll wake up rested, fresh, and ready for the next day.
Cooling
As we have mentioned earlier, the DreamCloud mattress review boasts a gel memory foam layer. It's no secret that memory foam is a synthetic material and tends to get extremely hot, especially during summer months. As such it can cause sweating and hot flashes that often make it hard to sleep.
DreamCloud used several approaches to address the heating problem.
Quilted Euro-Top uses cashmere which is more breathable than other materials and allows excellent airway exchange between the mattress and the environment.
Pressure-activated gel foam works in a way that as soon as you lay, the foam works its wonderful ways to make it cooler and breezier for you.
We love the cooling technology of DreamCloud mattress. If you're investing in this mattress and you tend to sleep hot, you can wave goodbye to annoying tossing, turning and frequent waking up at night just because you're too hot.
Safety
Every mattress made out of memory foam, or any foam that is synthetic for that matter, should meet the strict regulative standards for distribution. DreamCloud Mattress boasts the CertiPUR-US certification, the most important mattress manufacturing standard.
It ensures that the mattress is safe from toxic emissions fire retardants, ozone depleters, mercury, or heavy metals. More importantly, the company vouches for safety in terms of low VOC emissions. Still, you may feel some off-gassing while the mattress is expanding into its full shape. Some people are extremely sensitive to the odor, so it's important to give a heads up.
Allergies
The certification also ensures that this mattress is free of all allergens, especially bacteria, dust mites, and mold, which can often compromise your night rest. You can sleep relaxed and soundly, knowing there is no creepy crawlies in your bed.
Policies & Warranty
DreamCloud mattress is listed as a mid-range mattress. Still, the company offers easy and flexible financing plans which make it even easier for purchasing. In addition to being versatile with the financing, the company also offers free shipping.
When it comes to care and maintenance, this mattress can only be spot cleaned, which is a common rule for all in-a-box mattresses. Nevertheless, the company promises a forever warranty, meaning that you can use this mattress for its lifetime. There is also a 365-night sleep trial, so you have an entire year to decide whether this mattress is a true fit for your standards and sleeping preferences.
Who is DreamCloud Mattress for?
If our compelling review wasn't enough to convince you who should use this mattress, here's our recommendation.
People who can't spend $2,000+ for a luxury feel mattress.
Side and stomach sleepers who need more firmness but want to enjoy the sinking sensation at the same time.
Heavier sleepers who have difficulties sleeping on plushier beds.
Sleepers who tend to get sweaty and hot flashes and need a cooler sleep surface.
There are a lot of reasons why someone would want to sleep on a mattress that is like DreamCloud. However, most of those are personal preferences. Perhaps, they need a silent and motion-isolated mattress, they simply prefer sleeping on a firmer mattress and much more.
Benefits & Drawbacks of DreamCloud Mattress
Here we'll highlight which features are the most beneficial to sleepers, as well as some drawbacks, as nothing is perfect.
Key Benefits
Medium-firm level of firmness flatters to the vast majority of sleeping preferences
High-quality memory foam with a cooling gel that helps sleepers stay breezy.
Excellent motion isolation, you won't wake up if your partner is moving
High thickness level ensures that even heavier sleepers can have a sound night rest.
Robust construction and edge support for people who like risking sleeping on the edge.
Impeccable comfort level, body contouring, and support for all sleeping positions.
Low VOCs, hypoallergenic materials, and safe to sleep on.
365-night trial and forever warranty!
Potential Drawbacks & Risks
While the mattress is safe to sleep on, there may be a slight off-gassing odor once you unpack it and place it on your bed's frame.
It can take up to 72 hours to fully expand, the process may take longer if you live in a humid ambient.
The mattress is considerably heavy, especially the larger options, so make sure not to carry it alone.
How to Set it Up?
The DreamCloud mattress is extremely easy to set up, as long as you don't do it alone, as the mattress is extremely heavy and could lead to injuries if you have back or hip problems. With that in mind, get a household member, or a friend to assist you in placing it.
The mattress arrives in a giant pouch with the DreamCloud branding and logo. After removing the pouch, you can easily cut off the nylon cover and ties that keep the mattress rolled. After that, place it on your bed (DreamCloud mattresses are compatible with all frames including box spring, traditional frame, and adjustable base) and unroll it.
The mattress may look squished and saggy, but give it up to 72 hours and it'll expand. In perfect conditions, it'll expand with ease, and even faster. After that, you can start using the DreamCloud Mattress and enjoy its benefits as much as we did while reviewing it, and even more!