Good mattresses that allow us to sleep well at an affordable price can be difficult to find. Polysleep is a new entrant to the quality at an affordable price mattress category. Their flagship mattress is ideal for side sleepers and combo sleepers who occasionally sleep on their back or stomach.
Adults, from age 18 up (yes, seniors, too) need between seven and nine hours of sleep a night. This means restful sleep. If your mattress doesn't allow your body to relax, you won't sleep as deeply, and you may wake up feeling sore or achy. The number of people who blame their morning aches and pains on their age instead of their aging mattress is astounding. We are too quick to assume our bodies are deteriorating.
It's common to hear youngsters in their 30's and 40's blaming their morning aches and pains on their bodies. Even at older ages, it may be the mattress. My dad had lived with morning aches and pains for years before he bought a new mattress when he was 69-years-old. He's more than a decade past that now and still doesn't ache the way he did in the morning with his old mattress.
I get it. With mattress stores selling many of their mattresses at $2,000 and up, a mattress is a major investment for most families. Buying a new mattress is often something people put off. That's one reason I'm excited about the transformation of the mattress industry to an online shopping experience. No-risk sleep trials in your own home are far superior to the in-store experience of trying a sample mattress that might not feel the same as the one that is eventually delivered to your home. With free shipping, even on returns, you don't have anything to lose when you buy online.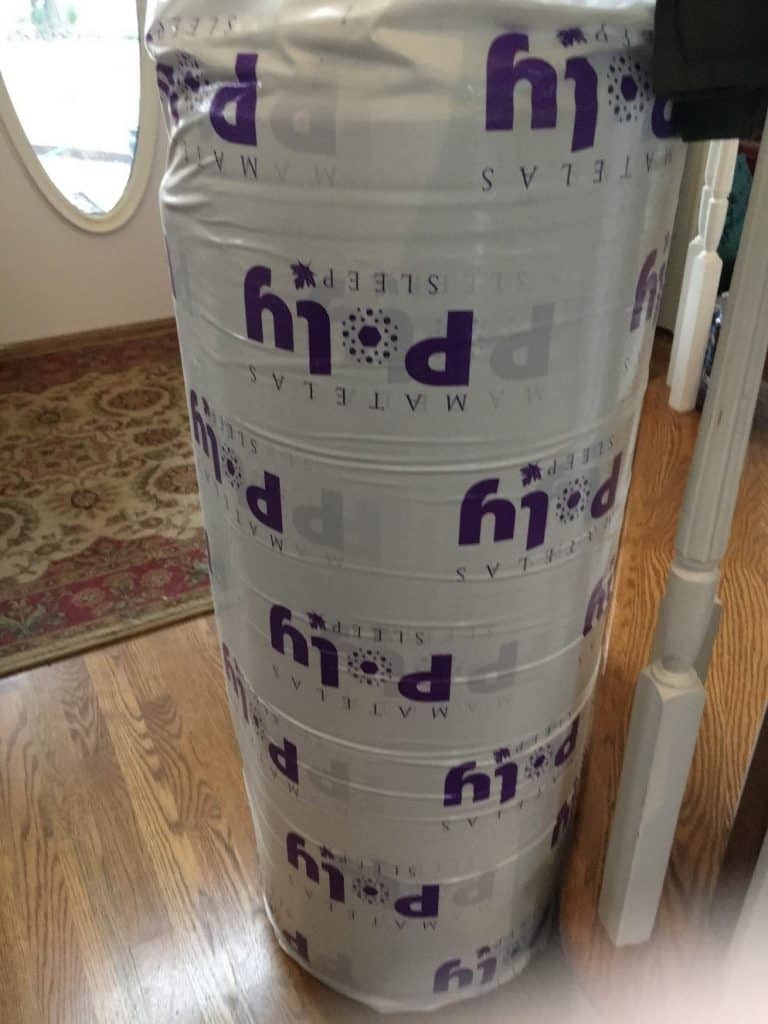 Many mattress stores make customers reimburse them for the cost of free shipping if the customer exchanges the mattress for mattress sold by the same store. Almost no mattress stores allow returns where you can get your money back—even for defective mattresses.
Online mattress retailers provide much more transparency and that means their policies have to be consumer friendly. Online stores offer free, in-home trials. Polysleep is delivered right to your door in a box. Once you take it out of the box, it is wrapped in thick plastic. Place it on the bed and use the enclosed cutting tool to remove the plastic. The mattress doesn't off-gas and it was at its full-size within minutes after the plastic was removed. You won't have to wait to sleep on your Polysleep mattress.
Memory foam mattresses were developed to contour to your body's curves and provide the support you need to relax completely, so you can sleep deeply. Polysleep's mattress contours well without creating pressure points that can make you come out of a deep sleep to change positions.
Polysleep allows you to try their mattress in your home for up to 100-nights. If you don't like it, return it and get your money back. Before you try it, you should consider whether you like a mattress that is on the soft side. This mattress is between 5 and 5.5 on a 1 – 10 scale with 10 being like laying on concrete and 1 being as soft as a big feather.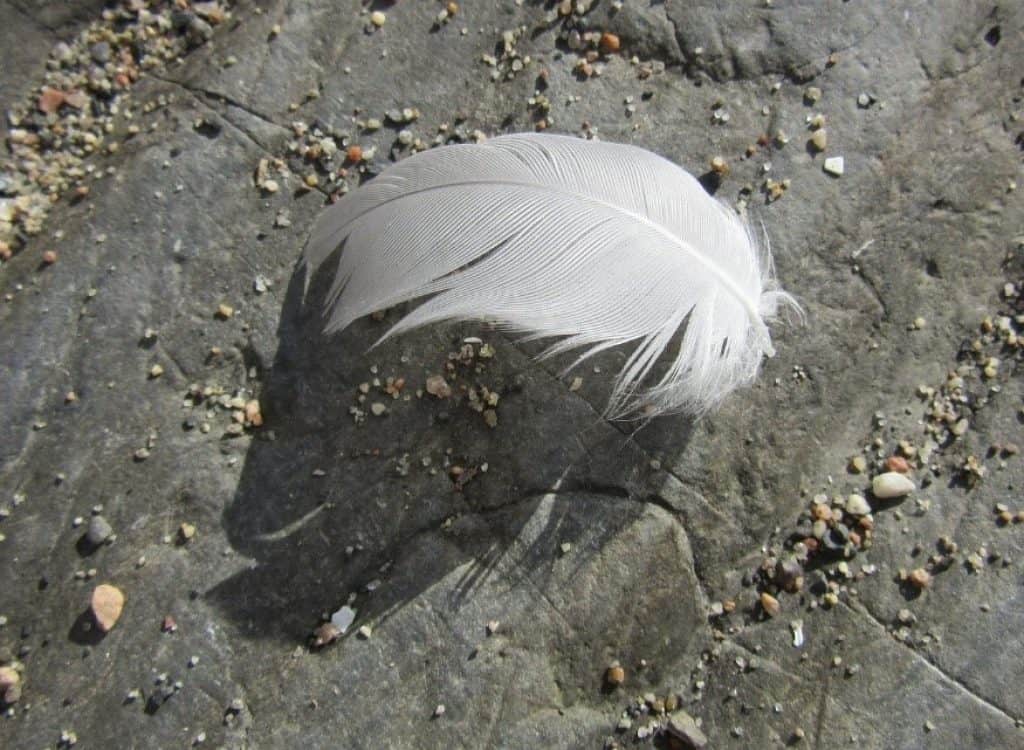 If you decide Polysleep is a good mattress for you after trying it in your home, you'll have a 10-year warranty on the mattress that covers defects in materials or workmanship. The warranty will also replace the mattress at no cost to you if it has a visible depression of 1" or deeper during the warranty period. Most mattresses require a 1.5" depression before the defect is covered by the warranty.
That means Polysleep will give you a restful place to sleep for at least ten years which works out to be .21¢ a day if I round up, or $6.27 a month if you look at the cost over the minimum life of the mattress. Although you can't stretch your payments out over the full ten years, you can finance the purchase. If you pay it in full within six months, it is interest-free.
Some of the features I really like about this mattress are the water-resistant cover. You never know when you might spill, or a child or pet will have an accident. I wasn't sure what to expect from the cover. I was pleasantly surprised by how soft it felt. It doesn't feel like plastic.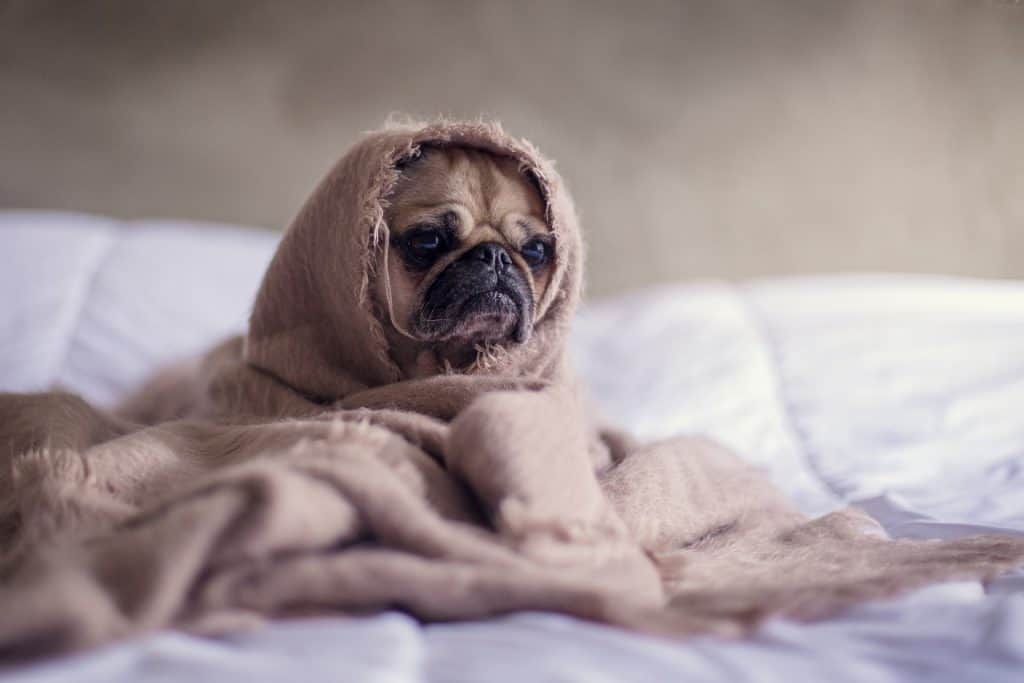 The mattress doesn't sleep hot like most memory foam mattresses because it is vented with air holes and the side of the mattress that doesn't get wear and tear are made from thinner fabric that allows air flow to keep it cool. Polysleep is cooler than an innerspring mattress I sleep on frequently. You won't sleep hot on this mattress.
You don't need support for heavy duty handles on the side of the mattress because the queen mattress only weighs 62 pounds, so it is easy to handle.
Back and stomach sleepers may think the mattress is too soft, but they would find it surprisingly supportive because of the way the foam contours to their body. If a couple is looking for a mattress that will satisfy a side sleeper who wants a soft mattress and a back or stomach sleeper who wants a firmer mattress, they should consider trying Polysleep.
The other aspect of this mattress that is great for couples is almost perfect motion control. The mattress doesn't move even when someone is moving quickly on another area of the mattress. The only way we were able to get a water glass to tip was by placing a knee next to the glass. When someone was laying down, they were able to roll around on the mattress and the water glass did not move at all.
There are two additional benefits for couples who choose this mattress. It might even be three. Memory foam is not known for having great bounce, but Polysleep uses a hybrid memory foam that has more bounce than a traditional memory foam which would be good for their intimate moments. The water-resistant cover could come in handy as well. If they move around a lot during their intimate moments, or one person feels crowded in the bed, the superior edge support will make the bed seemed bigger.
WHO IS A SUITABLE BUYER FOR POLYSLEEP?
Any side sleeper who wants to rest without pressure points.
Sleepers who want plenty of time to try a mattress in their own home instead of laying on a mattress in a furniture store. You'll have up to 100-nights to decide if Polysleep is right for you.
Those who want strong edge support, whether it's because you want to feel more secure while you sleep on the edge, or for individuals who need edge support to transfer to a wheelchair.
For customers looking for quality at a budget price.
Couples who love the feel of sleeping on memory foam but want more bounce in the bedroom.
Sleepers who live in the continental US or Canada where shipping is free.
Buyers who want to save even more on an affordable mattress. In the United States, use our discount code GBM50 to save an extra $50. In Canada, use GBM70 to save $70 Canadian dollars.
WHAT IS INSIDE THE MATTRESS?
Polysleep uses four different foams to provide a mattress that feels safe and secure wherever your body is on the mattress. The top layer is a hybrid memory foam that contours to your body so you can relax while you sleep. The second layer is the beginning of the support layer and somewhat firmer than the memory foam layer. There's a very strong 5 and a half inch deep supportive base ensuring that the mattress can support your body. Around all 4 sides of the mattress is a firmer layer to provide superior edge support.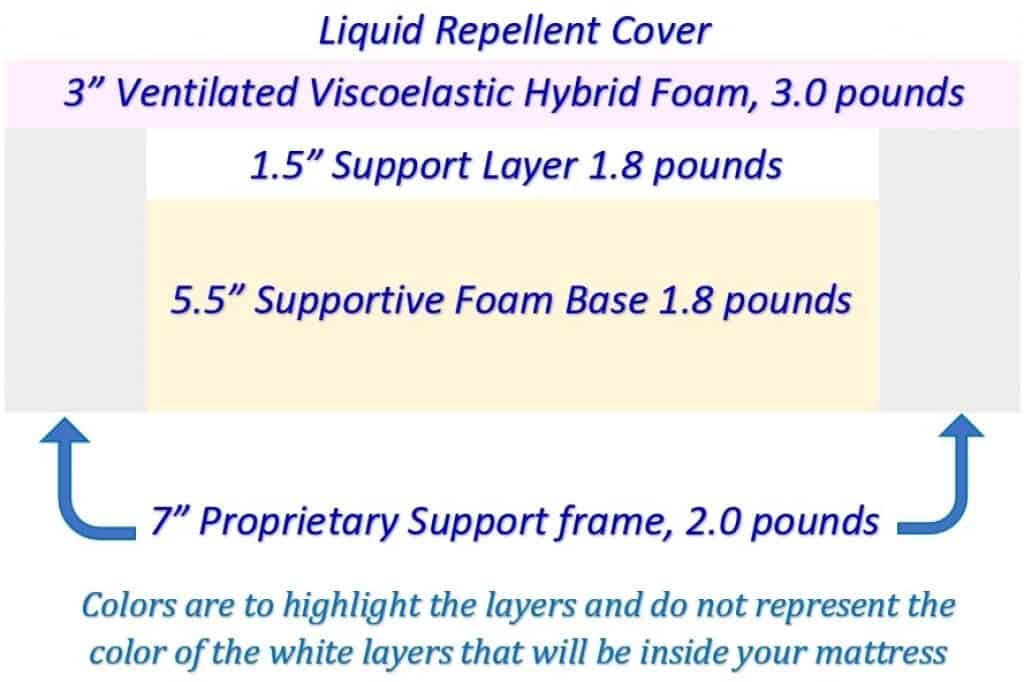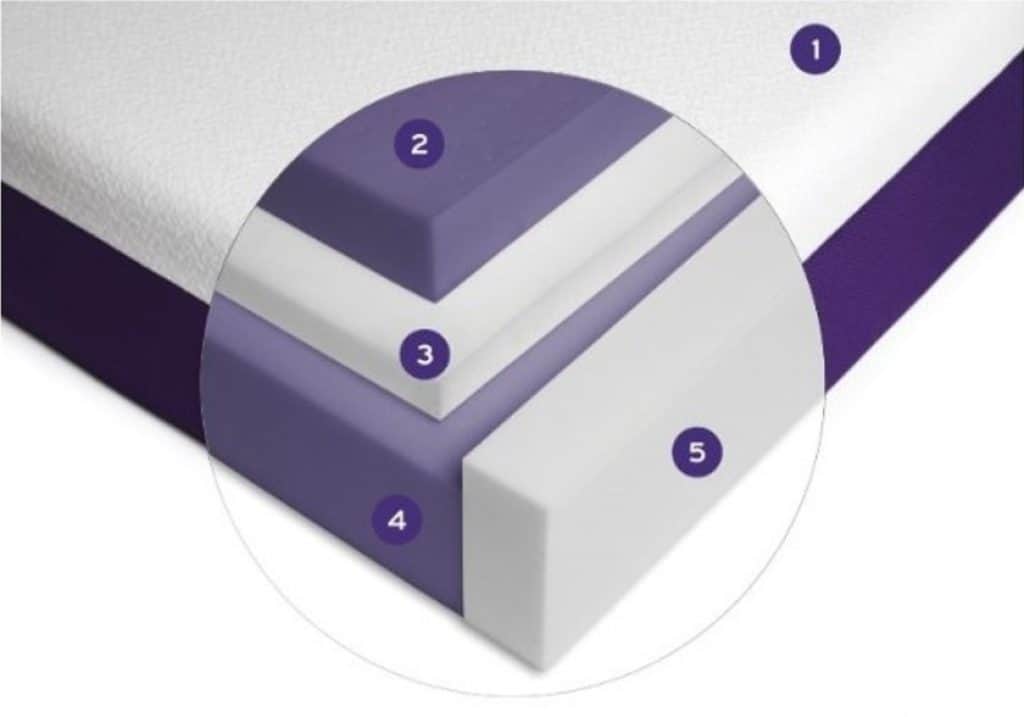 Liquid – Repellent Cover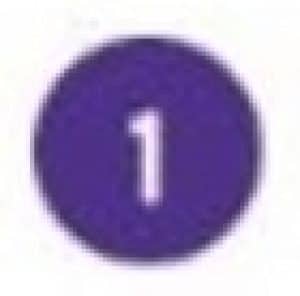 The cover is soft and cool to the touch. It is liquid repellent, so spills won't damage your mattress. The sides of the mattress are mesh so it can breathe easily.
Ventilated Viscoelastic Hybrid Foam – 3.0-pounds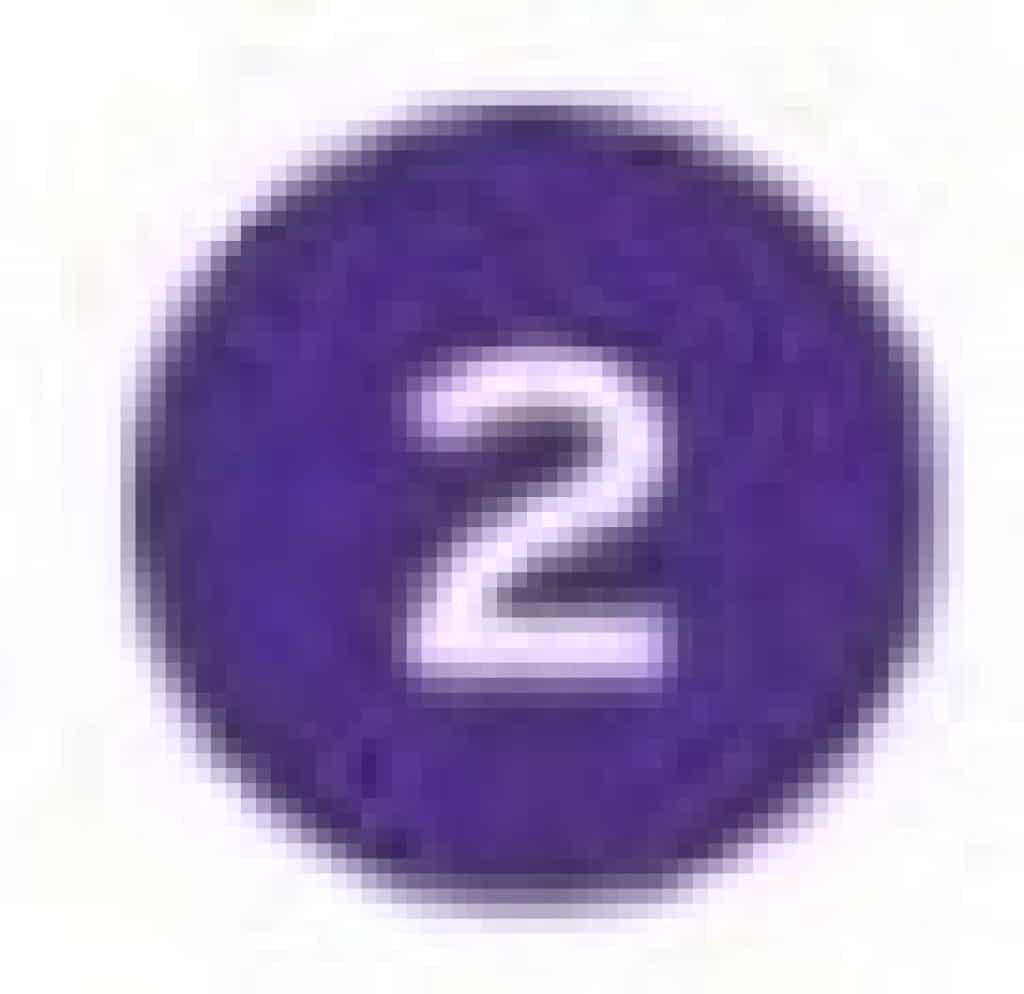 The memory foam layer is anti-microbial which will keep the mattress cleaner and fresh longer. It is designed to allow air flow and whisk moisture away to keep you cool. The memory foam provides support without creating pressure points.
                  Support Layer – 1.8-pounds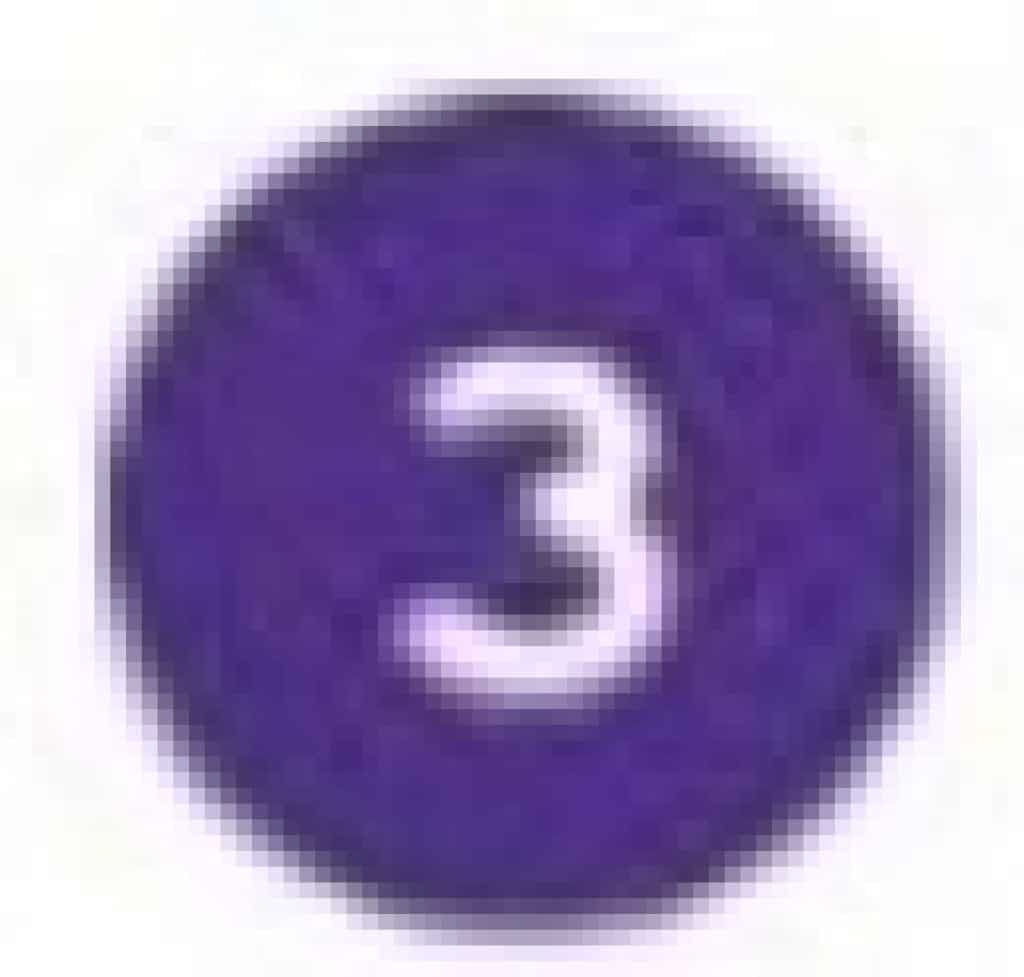 This layer provides a transition between the memory foam on the top layer and the core support layer. Your body will partially compress this layer if you weigh enough.
Supportive Foam Base 1.8-pounds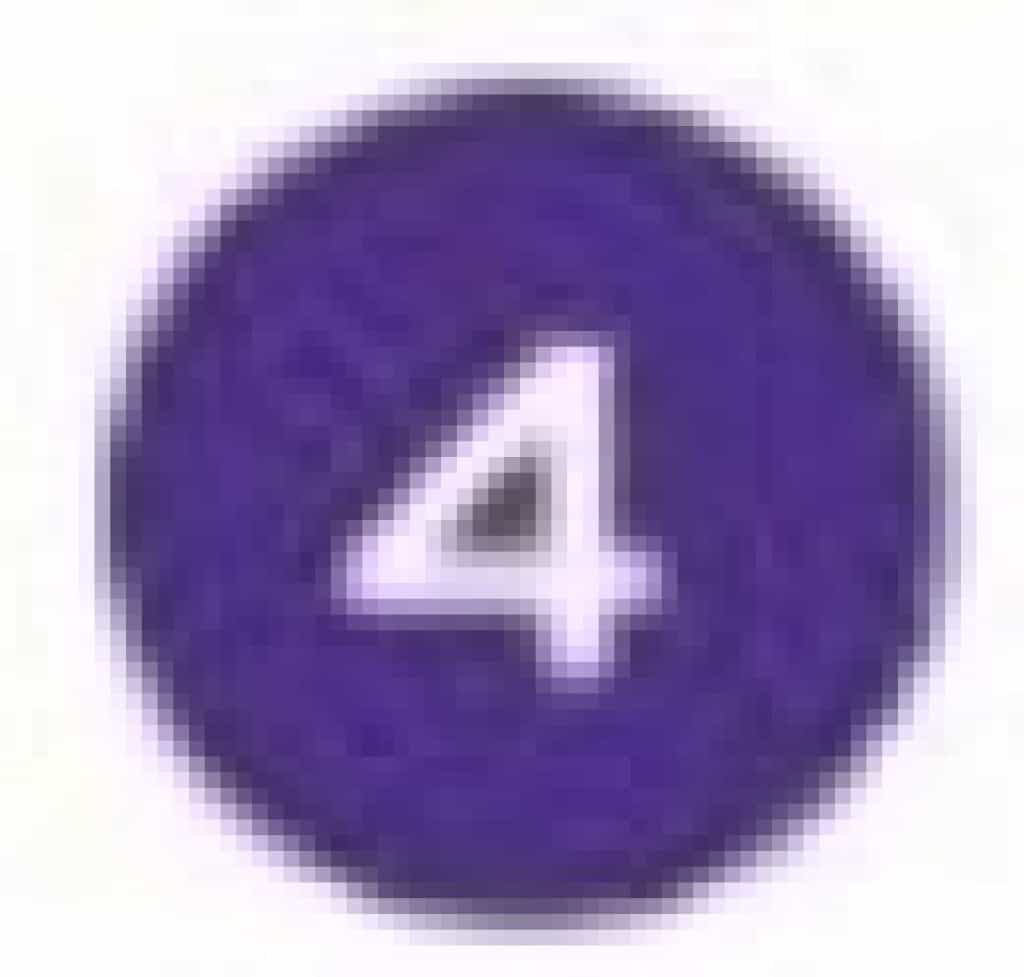 This high-density layer supports the entire mattress, giving it stability and durability while it supports your body.
Proprietary Support Fame 2.0-pounds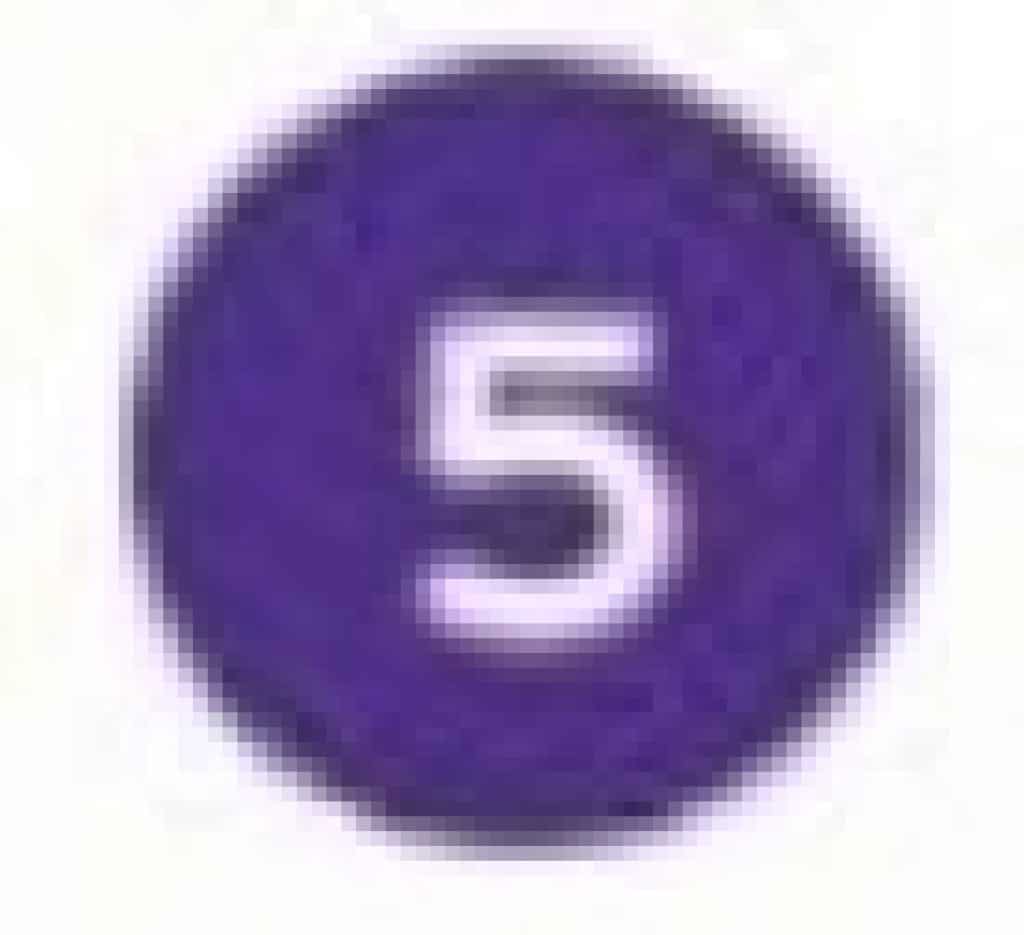 A band of strong foam around the outer circumference of the mattress reinforces the edge so you can sleep on the edge. Being able to fully use the top of the mattress makes the mattress feel larger.
TOP COVER
Enjoy breakfast in bed with confidence with the spill-resistant cover. The cover is so soft to the touch you'll want to sleep right on it.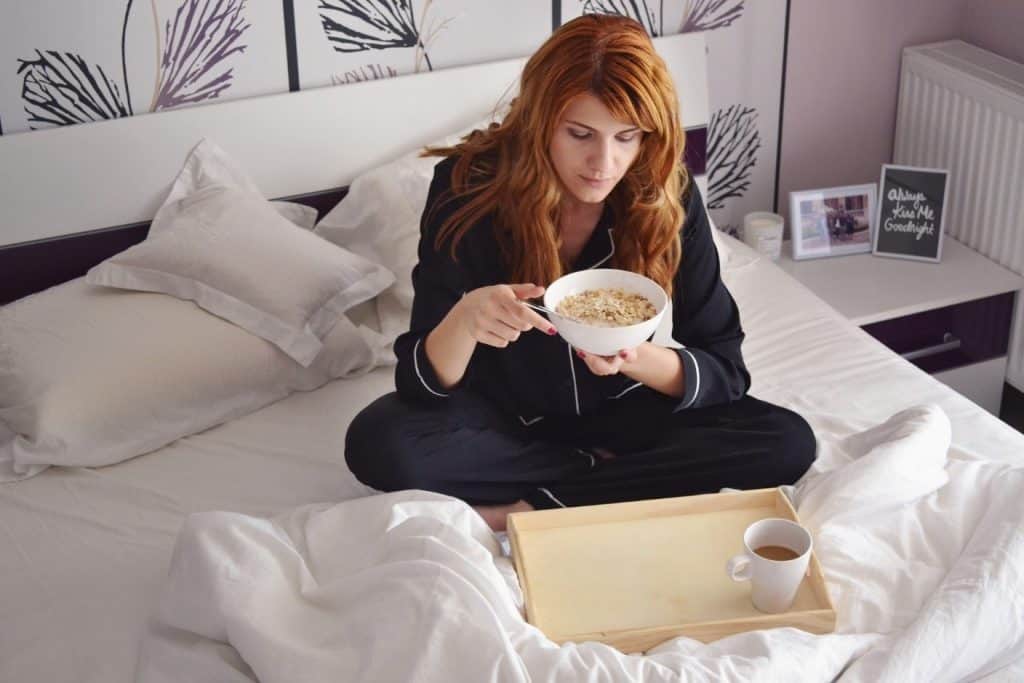 BED FRAMES

You can set your mattress on your existing box springs, a slatted base, or a flat platform. You're not limited to one style of bed frame.
FIRMNESS SCALE AND COMFORT
It can be hard for a couple who sleep in different positions to find a mattress that pleases both of them. This mattress is wonderful for side sleepers, and the contouring effects will make it surprisingly good for back and stomach sleepers who usually need a firmer mattress. On a 1 – 10 scale with 10 being rock hard, this mattress is between a 5 – 5.5.
One of the reasons memory foam is so popular is the contouring effects support your body without requiring you to sleep on a firm flat surface.
SAVE EVEN MORE ON POLYSLEEP
There are many payment options including credit and debit cards, Visa, MasterCard, Discover, Amex, PayPal, Shopify, Discover, and even credit through Klarna to qualified buyers.
Size
USA Price

(Before coupon)

Canadian Price

(Before coupon)

Twin
495
595
Twin XL
535
675
Full
575
695
Queen
650
795
King
765
895
California King
765
895
Click the coupon for the country where your mattress will be delivered. Transactions on the US site will be in US Dollars; transactions on the Canadian site will be in Canadian dollars. Or jot down GBM70 for the Canadian site and GBM50 for the USA site so you can use them later if you're not ready to make a decision.
If you're still considering your options, you may want to look at our buying guide.
SHIPMENT, WARRANTY AND TRIAL TIME
Shipping is fast and free. They deliver the mattress to your front door. Currently, deliveries are taking less than a week to be delivered. When you're buying a mattress online, one thing you want to look for is whether you will incur any costs if you decide to return the mattress. Return shipping is free with Polysleep so the 100-night trial is at no risk.
The 10-year warranty is solid. You really have to dig into the details of a warranty. Just looking at the number of years can leave you with a false impression. Some warranties charge the customer when they use the warranty and others are long but pro-rated which means that after a short period of time, only part of the price of replacing the mattress is covered by the warranty. There are as many variations on the terms of a warranty as there are companies. I read the Polysleep warranty and it was straightforward, which is exactly what you want to see.
HOW DOES IT SLEEP?
Polysleep immediately feels cozy and cool to the touch when you lay down on it. Even after a full night's sleep, it doesn't heat up the way older memory mattresses did. It was so cool I needed to add a blanket to stay warm enough.
The feel is soft yet supportive. Even though it is soft, the memory foam provides plenty of support to ease aches and pains in your back and keep your spine aligned. I typically sleep mostly on my side because sleeping on my back makes it ache. On Polysleep, I woke up on my back and wasn't in pain.
When your partner gets up or comes to bed late, you won't feel them get in bed with you because the motion transfer control is so wonderful in this mattress. I found myself not wanting to get up, not because I was tired. I was just so comfortable I didn't want to move.
FINAL VERDICT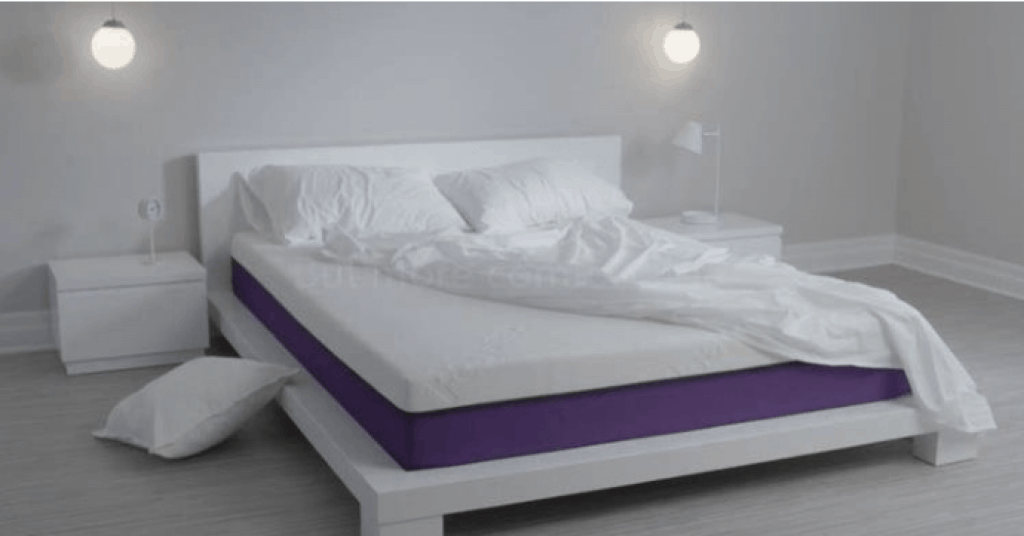 If you've tried Nectar and found it too firm for your preferences, Polysleep is a good alternative in the same price range that will be a little softer. Or, if you're looking for antimicrobial properties and a water-resistant cover, try Polysleep first. Polysleep is a great option for Canadians who are looking for a budget-friendly memory foam mattress. It is great for Americans who are looking for an affordable mattress similar to but softer than Nectar.
If you need great motion control, you should consider Polysleep. If you want an anti-microbial mattress with a spill-resistant cover, Polysleep provides it.
If you'd like to look at other memory foam mattresses, check out our Best Memory Foam Mattresses article.