Layla sleep mattress has earned multiple awards since it was introduced a few years ago including recognition from Forbes and Good Housekeeping and they've just upped their game even more in response to feedback from customers. Layla provides a high-quality product with remarkable sleeping performance. It isn't just trusted resources like Forbes and Good Housekeeping that sing Layla's praises, customer reviews are overwhelmingly positive.
We are proud to share the high-quality features of this bed. It comes with state-of-the-art technologies, such as: copper infused memory foam, convoluted support foam designed to increase air flow, and the THERMOgel cover which adds the third cooling feature.
There is no better place to rest after you give your best all day long than on your Layla sleep mattress. This bed comes with two remarkable firmness feels: soft on one side and firm on the other. This is quite convenient for the side, back, stomach, and combinational sleepers.
In this guide, we will explain in detail why Layla should be your first mattress of choice. We will elaborate on the technologies used, the structure, the feel and the comfort level of the mattress. Continue reading to learn more.
Who Is Suitable for Layla Mattress?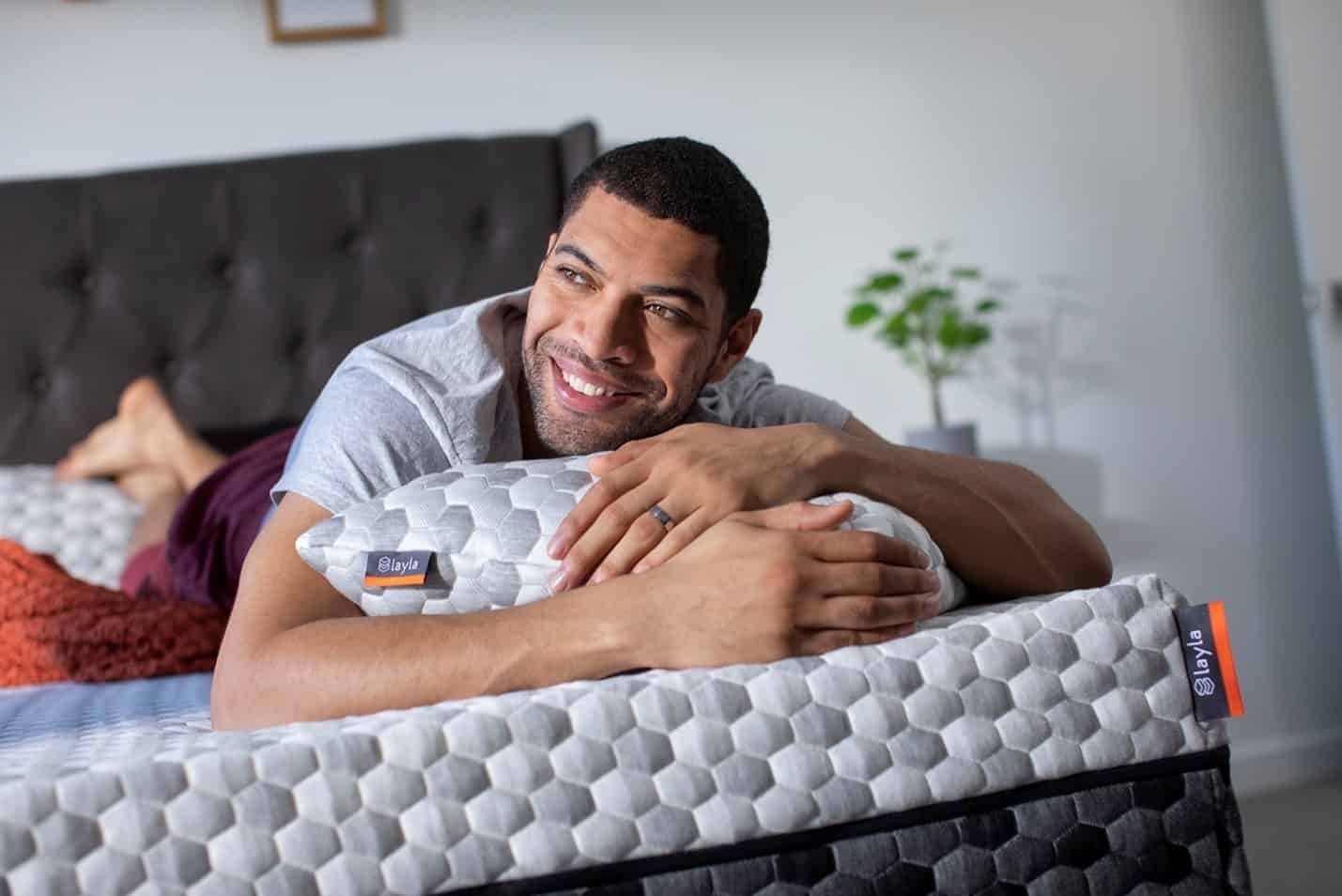 Layla is a versatile mattress. The soft side is excellent for side and combination sleepers who prefer a softer mattress. Layla's four layers provide excellent support while eliminating pressure points that can make sleeping on your side painful to your shoulders and hips.
The firm side provides the support back and stomach sleepers need for a good night's rest.
If you love the feel of memory foam but tend to sleep hot, Layla's 3-part cooling system solves the problem by allowing you to sleep cool on memory foam. Beginning with the THERMOgel cover and adding copper infused memory foam that conducts heat away from your body and a layer of foam that increases air flow, Layla created a memory foam mattress where sleeping cool is possible.
Like most memory foam mattresses, Layla mattress is very good at absorbing movement so your partner's movements don't wake you up. This makes Layla an excellent choice for people who sleep with a partner or with pets. Copper is antimicrobial; which means microbes won't be able to set up house in your mattress.
Two firmness levels in one mattress provide more options than a mattress with only one firmness level. If you want a different firmness level temporarily, such as during a pregnancy, following an injury, or after surgery, you can simply flip the mattress to change the firmness level. Two firmness levels in one mattress is a great benefit in the guest bedroom if you like your guest to stay a while.

Who Is Not Suitable for Layla Mattress?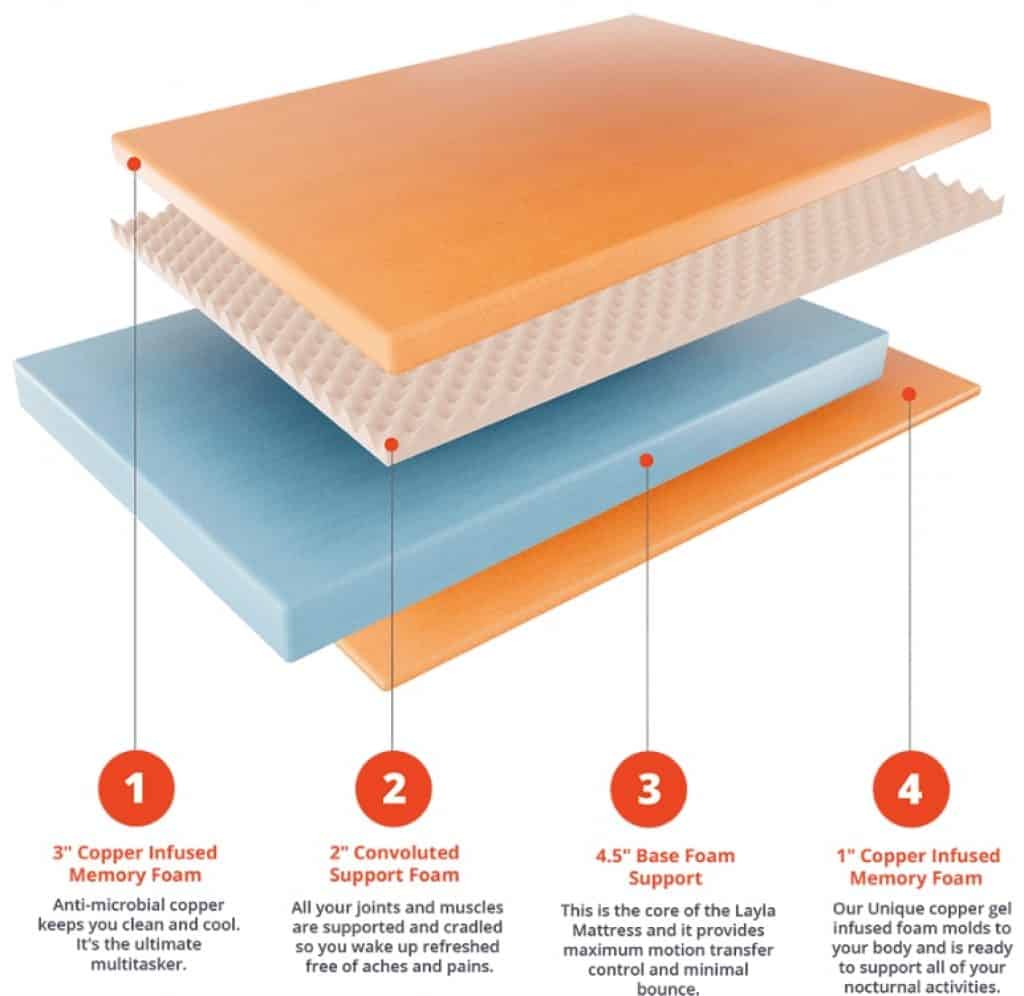 Layla is not suitable for co-sleeping with an infant. Memory Foam mattresses are not recommended for co-sleeping.
If you love your innerspring bed, you may prefer it to the feel of a memory foam mattress and you may miss the bounce provided by the springs. On the other hand, you might like it and you can try it without risk so I wouldn't write it off until I'd tried it.
If you need to sit on the edge of the bed when you get up, memory foam mattresses, including Layla, do not offer 100% edge support. You may sink in more than you want to or feel like you'll slide off the edge, especially when sitting on the edge.
The Layla mattress requires a foundation or box spring, which can add to the cost. If your budget is tight, you'll want to consider the total price. Therefore, this means the Layla may not be the best choice for people who want edge support and bounce from their mattress.

Structure of Layla Sleep
Layla mattresses are unique. Their structure is different from other memory foam mattresses. The structure includes four high performing layers made of premium materials that work together to provide you with a sensational sleeping experience.
To assist you in understanding the structure, let's get into the layers:
Soft Layer
Three inches of copper-infused memory foam provides the first layer of softness on the soft side of the mattress. This layer hugs the sleeper as it contours to their body, relieving stress and pressure points side sleepers tend to experience in their hips and shoulders.
The copper draws heat away from your body allowing you to sleep cool. Copper contains antimicrobial properties that prevent microbes from living in your mattress, including viruses and bacteria. Ancient Egyptians credited copper with pain relieving properties. Given the number of people who report the elimination or easing of their pain after just a few nights on a Layla mattress, we think they might have been onto something important.
Over time, the build-up of bacteria can cause odors. The antimicrobial properties of copper provide assurance that bacteria won't infest your mattress and become smelly.
Airflow Layer
This is the second layer made of two-inch convoluted support foam. This part features cooling pockets and, wavy dips which improve breathability and air circulation. This layer works with the copper-infused memory foam to increase airflow and dissipate heat.
Base Layer
This layer is made of 4.5-inch base support foam. Its thickness provides great support to both sides of the mattress This is the level that ensures you never sink in too far while you sleep or enjoy other activities on your Layla mattress.
Firm Layer
This is the last layer, which is situated on the firm side of the bed. It is made of 1-inch copper infused memory foam. It provides all the benefits of the 3" copper infused memory foam on the other side of the mattress while providing firm support for back and stomach sleepers.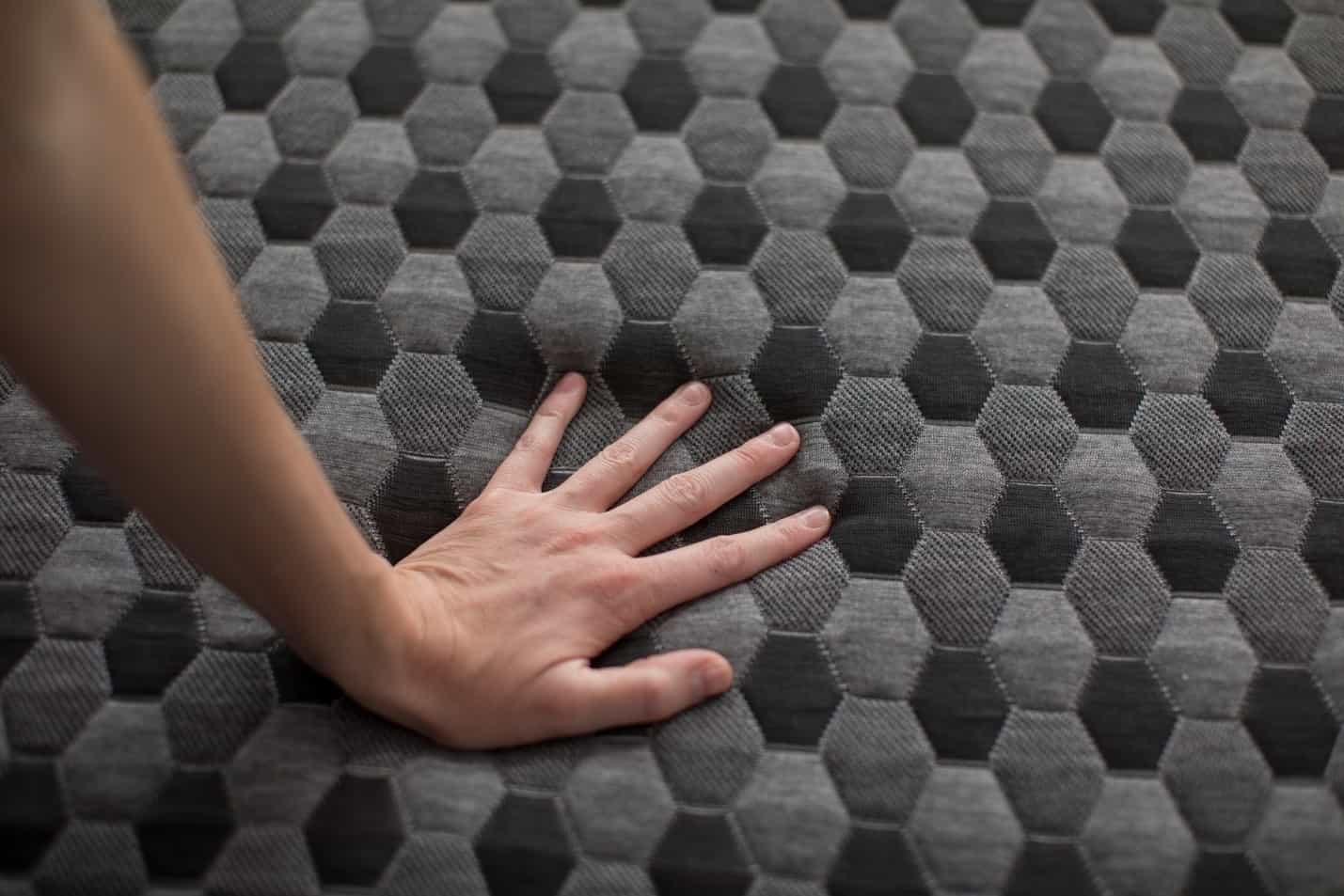 Firmness and Support
As we have mentioned earlier, Layla provides two firmness levels in the same bed. We estimate the soft feel to be around 5 and the firm side to be approximately 6.5 to 7 on a scale of 1 to 10, ten being the firmest.
Normally, most of the beds you'll see include only one choice of firmness, which is not always the best choice for everyone. Layla provides two firmness options in a single mattress.
Although the mattress is labeled "soft" and "firm," the soft side is more of a soft medium than "soft" which is considered more desirable. Layla doesn't stick you with one size fits all when it comes to the firmness of your mattress. As we mentioned earlier, the soft medium side is a good choice for side and combinational sleepers, while the firm feels is perfect for back and stomach sleepers.
you could get a topper to give sleepers two more additional firmness options.

Sleep Experience
The amazing sleeping experience of this unique mattress is mainly attributed to the copper technology infused in the memory foam layers. The infused copper creates a thermal surface that does a great job of drawing the heat released by your body away so you can sleep cool.
The infused copper is so supportive. When you sleep on the bed and your weight is exerted on the mattress, the copper cells interact to deliver variable support and a plush, soft feel. The variable support is what you will love most if you are a side sleeper.
The copper material stays cleaner after a long sleep. The antimicrobial properties kill bacteria, viruses, molds, and fungi. This ensures that the top surface stays odor-free. The pillow is also infused with copper; so, do not worry about drooling.
The Layla sleep experience is designed to give you the rest you need to be at your best every day. If you have big dreams, getting a great night's sleep every night will help you achieve them.
Price (Coupon) & Free Shipping
Shipping is free to every state except Alaska and Hawaii. Shipping to Canada is not free. A flat rate of $125 is required for delivery in AK, HI, and Canada.
You can finance your Layla in case you cannot afford to pay for it at once. You can pay monthly based on transparent terms and real-time approval decisions. You can sleep now and pay later without stress (0% APR financing).
You can pay monthly over three, six, or twelve months with interest-free financing.
There are no hidden fees. The financing arrangements are straight-forward if you decide to use them.
| | |
| --- | --- |
| Size | Price (After coupon) |
| Twin | $499 |
| Twin XL | $599 |
| Full | $799 |
| Queen | $899 |
| King | $999 |
| Cal King | $999 |
Warranty, Trial, and Returns

Many benefits come with the Layla Sleep mattress; one of them is a lifetime warranty. The company assures you that their product is free from workmanship and material defects. The warranty on the cover is only for the original buyer.
Apart from the original buyer, there are other limitations. The company expects you to use a proper bed frame and foundation. This will prove that you used the bed thoughtfully and you did not abuse it. The warranty does not cover your personal comfort preferences.
With Layla, you have 120 risk-free night trial to decide whether or not the bed is ideal for you. You are advised by the manufacturer to give the mattress enough time to adjust to your body before you make your final decision. Memory Foam mattresses can have an adjustment period during the time a body that isn't accustomed to the support it provides adjusts to the feeling.
The trend of Layla's reviews is very positive. Few people choose to return the mattress after they try it. However, if for any reason you are unsatisfied, there is a 100% money back guarantee during the 120-night sleep trial.
The Wrap Up
Finally, an all-foam mattress that offers two choices of firmness in the same mattress. Just flip the mattress to switch the firmness. With this bed, you get the best and most recent foam technologies, including copper-infused memory foam and convoluted foam that increases airflow.
You do not have to pay exaggerated prices to get the comfort you deserve every time you go to bed. The Layla mattress is engineered to transform your sleeping experience. The mattress's core support is excellent and rated to provide support for up to 900 pounds of combined weight.
It does all this without the drawback of sleeping hot that people tend to experience on many of the other memory foam mattresses.
Layla deserves all the accolades it has received. Layla is responding to customer feedback and making their already great mattress even better. We expect they will continue winning public awards and private praise from satisfied customers.