In the modern era, everything is researched thoroughly before bringing something to the market that benefits the user. Mattresses are not left behind in this quest for perfection. If you are in a relationship or married, then you will need a one that is made for couples.
We have compiled the top 4 best mattresses for couples to help you in understanding the best products in the market. The buying guide will help you in understanding the focal points in the products and having a better idea of the purchase.
4 Best Mattresses For Couples
1. AWARA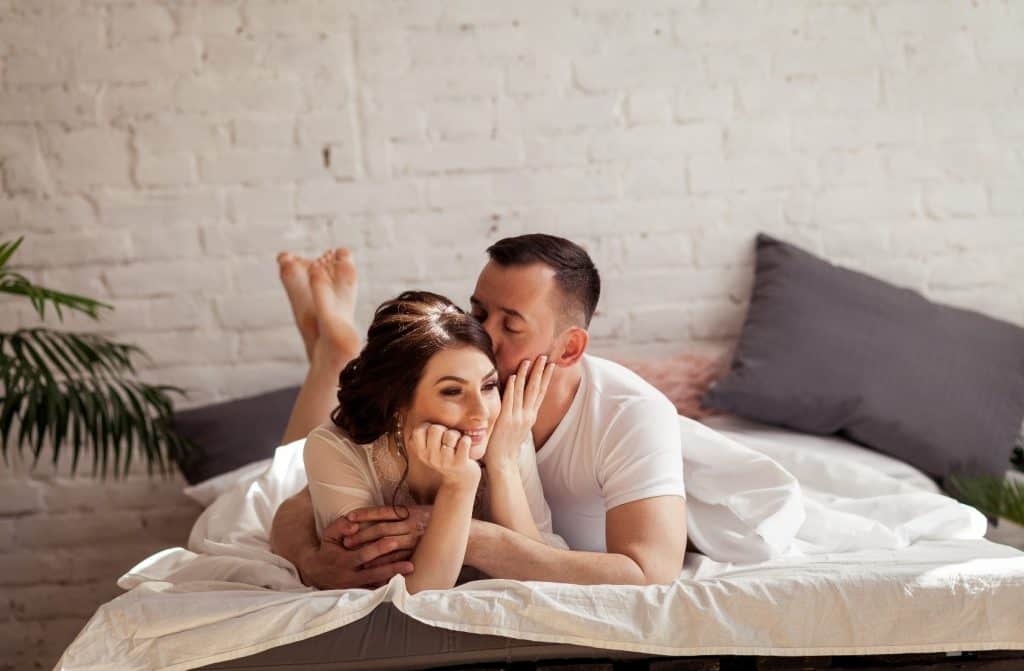 AWARA is a wonderful mattress for couples because it is designed to suit side, back, and stomach sleepers and its 9" coils provide enough bounce. The latex cushioning is deep enough to prevent bottoming out.
Features
Four inches of Dunlop natural latex rest on top of 9" zoned springs to provide comfort and responsiveness for sleepers of all types. The mattress is covered with 100% organic cotton and wool which will wick away moisture and help to keep you cool.
As a hybrid, the AWARA has the best of both worlds. Latex is cooler than memory foam and the innersprings provide great airflow throughout the mattress as well as enough side support that you won't worry about sliding off the side of the bed on your head when the action moves about on the bed.
During sleep, the motion isolation will help you sleep like you are alone as you won't feel your partner getting out of bed. The coil system provides edge support and reduces motion transfer. Latex is generally considered better for sex than foams because it has greater resiliency (bounces back faster). When added to a micro coil support system, it provides contour for sleep and bounces for sexual activities.
PROS:
The cover and built-in airflow will help you cool down after your exertions and sleep cooler throughout the night.
It is 100% natural and organic latex and cotton combined with natural wool and steel springs.
The sleep trial gives you a full year to test it out.
There is a lifetime warranty and a comfort guarantee.
It is medium-firm which is considered the firmness preferred by most people. There is a good chance both partners will find it comfortable.
It is very durable.
CONS:
It is very heavy so it will take two of you to move it upstairs. It is not the least expensive mattress on the list but it may be the best buy overall due to its expected durability.
Everything you want in a couple's mattress, other than dual firmness levels, is provided in AWARA. It's healthy, offered at the most popular comfort level, great motion transfer, edge support, and cool sleep while providing enough bounce. The warranty and the trial period are impressive.
2. Helix Duxe Luxe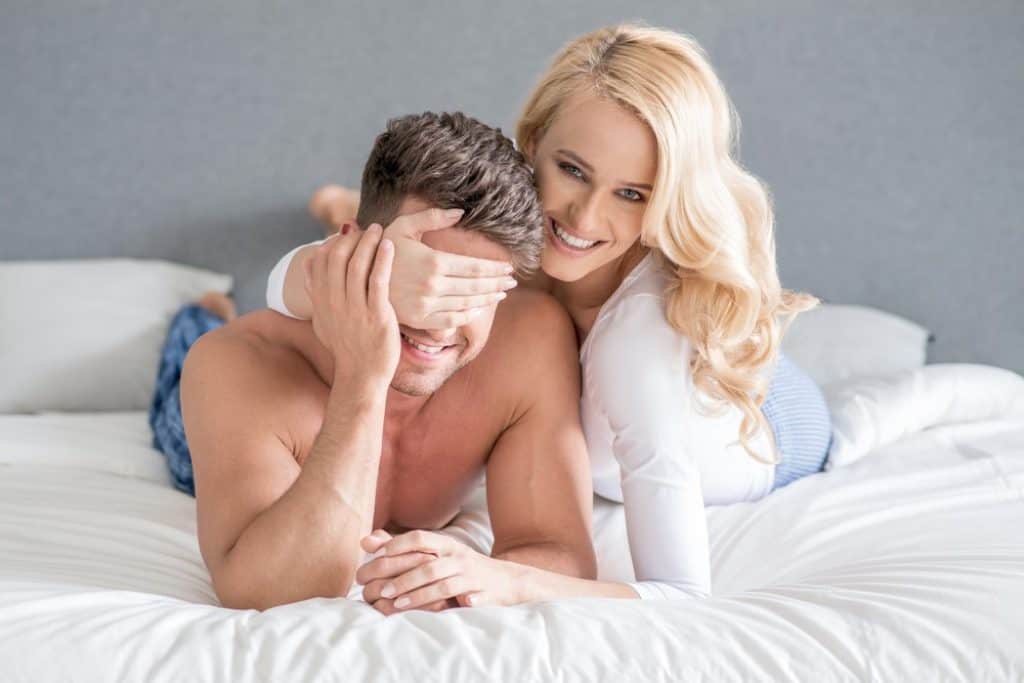 Helix Duxe Luxe creates a bed designed just for your sleeping styles. Each side of the bed can be made with a soft, medium, or firm feel so couples who prefer different firmness levels don't have to compromise on sleep quality.  Having attempted to find a bed that would suit someone with a bad back who needed a very firm bed and a side sleeper who preferred a soft mattress and run into expensive options that started at over $3,000, this bed is a great deal.
Features
They use the special helix dynamic foam which contours the shape of the body and helps in keeping the mattress cool and well ventilated.
Small pocketed micro coils inside the mattress help in targeting pressure points and keep it well ventilated and help in reducing the movement in case one person moves around. High densities of poly-foam can be chosen in accordance with the comfort level of the user.
One nice aspect of this is that soft mattresses can sink in too much for sexual activities and having a firmer mattress on one side provides a firmer platform that will be better for sex.
These beds are more expensive than ones that only have a single firmness level, but the comfort of your bed isn't where you should compromise in your relationship.
PROS:
Dynamic foam helps to give the body of the mattress structure
Pocketed micro coils help in reducing the transfer of motion
Polyfoam of different densities can help in determining the comfort level
Can be customized to provide different firmness levels on each half of the mattress
CONS:
It does not have the capability to regulate body temperature which may increase because of two people sleeping
It is not reversible; you'll have to switch which side of the bed you sleep on if you rotate it.
It is worth the purchase for couples who want different firmness levels.
3. Amore 12″ Hybrid Foam / Coil Mattress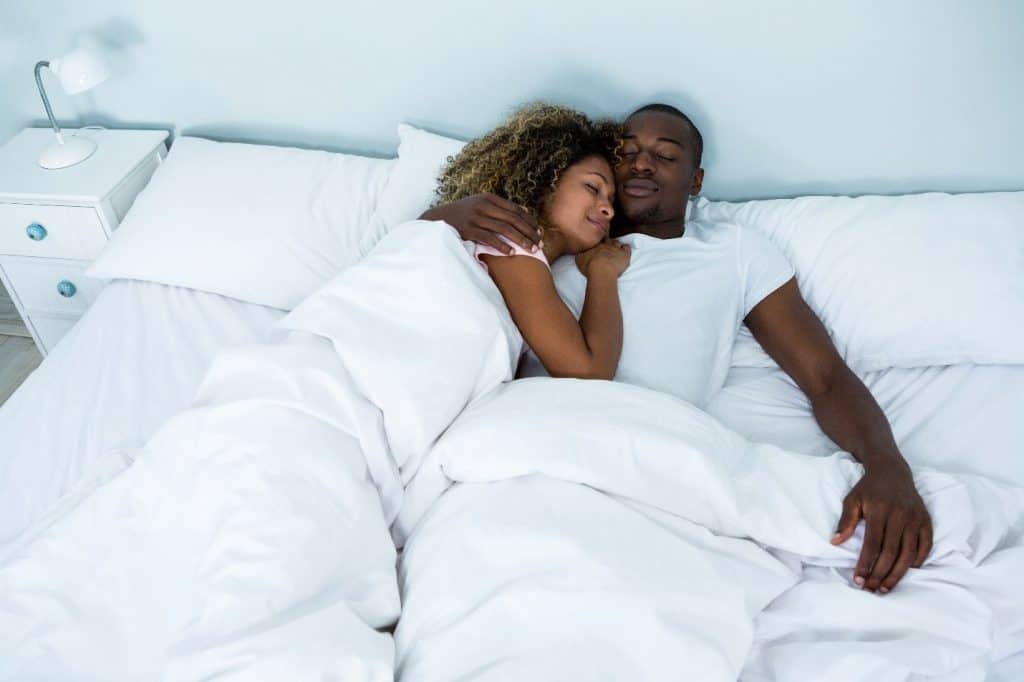 Out of many other products on the market, we find the Amore12″ Hybrid mattress offers features that are so good it earned itself a place on our list. It's a hybrid that can be created with a different firmness level on either side to please both partners for a small additional charge. Foam and individually wrapped support coils work together to provide a mattress both of you will enjoy all night long.
Features
These beds combine multiple different materials to make something great for consumers. The coil technology helps in providing all over support for your body while the graphite infused gel memory foam helps in relieving pressure around the body. The optional copper infused cover dissipates heat away from your body.
The eight layers work together to make you feel like you are sleeping on a cool cloud. The coil technology reduces motion transfer.  By allowing you to customize each half of the mattress to suit your sleeping preferences, Amore created a mattress that doesn't make you compromise.
The gel memory foam takes the shape of your body keeping the spinal cord and other muscles of the body aligned along with helping in keeping it as cool as possible.
CertiPUR-US certified the foams used in this product.   It's designed to provide lumbar support and relief for pressure points.
PROS:
Coil and graphite infused gel memory foam are both used in this product
Ability to get each half of the mattress in a different firmness level
An optional cover infused with copper ions
Less transferred movement in the whole mattress
CertiPUR-US certified.
CONS:
It is not flippable (it is a one-sided mattress).
If you rotate it, you'll have to sleep on the other side of the bed to have the firmness you prefer.
One of the biggest advantages of this product is that it is CertiPUR-US certified and you don't have to compromise when it comes to the comfort you prefer if your partner prefers a different firmness level.
4. Nectar Mattress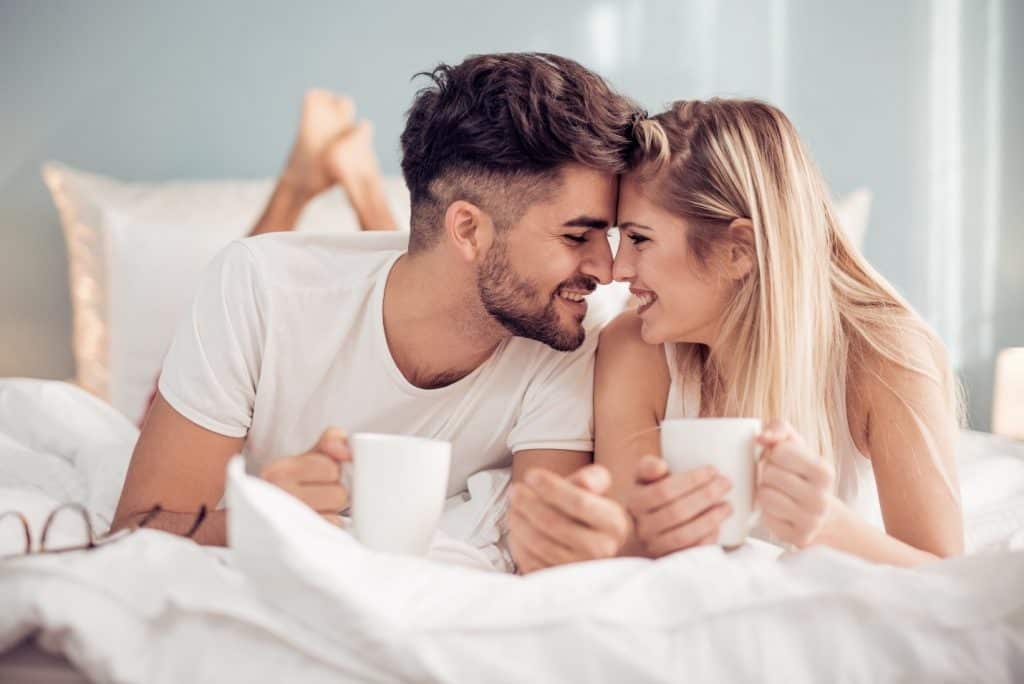 Nectar foams are made with unique and functioning technology which makes it a part of the top 5 best mattresses for couples list. The Tencel cooling cover provides better air circulation along with making the foam resistant to bed bugs and other allergens.
Features
The Gel memory foam in the mattress makes weight distribution easier and provides custom support to each spouse. It prevents excessive bouncing by providing a rebound factor with the new adaptive hi core memory foam.
Nectar focuses on making a mattress that feels perfect, in the medium-firm zone that 80% of sleepers prefer. It's not too soft for good sexual activities.
One of the best parts of the bed is that in every layer, extra care was taken to provide comfort and contour which helps the sleeper enjoy a much better sleep.
Their amazing 1-year home trial allows you to be more than confident of your purchase which is surprisingly at a very reasonable price.
PROS:
There are five different layers and each layer helps provide better contour
Each layer contributes to keeping the mattress cool and comfortable.
Gel memory foam allows even weight distribution on each side
CertiPUR-US certified
CONS:
The foam does transfer motion much which means it may be better for sleep than sex
Ignoring the cons, you may find this product to suit you. The price is very good and it is worth every single penny.
How to find the best mattress for couples (Guide)
Take a look at the focal points of mattresses for couples to ensure that you buy the perfect one to satisfy your sleep and sexual needs.
What is the difference between a regular and couple's mattresses?
The same mattress can be used by a single sleeper or a couple. Couples mattresses are discussed separately because considerations that aren't as important for a solo sleeper can be very important to couples.
What features are more important in a couple's mattress?
Several features are more important in a couple's mattress. Some of the differences pertain to sleep comfort and others pertain to how well the bed performs during sex and whether it holds up to the impacts of sexual activities.
For sleep comfort, a mattress that accommodates different sleep preferences can be very important when a side sleeper sleeps with a back sleeper. Then there is the issue of heat retention. If you cuddle with your partner, the wrong mattress can be too hot. If one of you is large and the other is small, you don't want a mattress that conforms too much and makes the lighter person feel like they are rolling down a hill against the larger body. If you're both on the large size, you want a mattress that is built to last.
Then you'll want restricted motion transfer. This refers to how much the other side of the bed moves when a second sleeper moves or gets into or out of the bed. Ideally, you'll be able to sleep through your partner's nighttime movements.
A bed that is good for sexual activities is very important. If your bed doesn't work well during sex, you might end up on the floor which won't be very comfortable.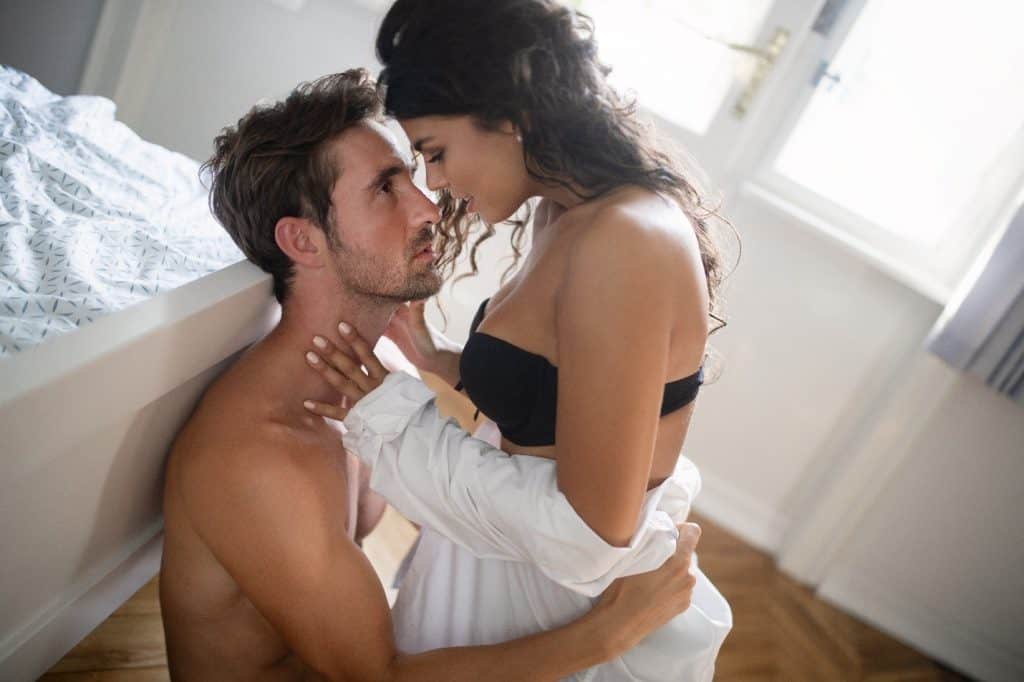 For sexual activities, you want good edge support. You want to be sure the base layer is strong enough not to bottom out when both of your weight is concentrated in the same part of the mattress. You'll generally want some bounce and not too much sinking into the mattress. Strong edge support can also be important if you tend to move around the mattress during intimacy.
You'll also want a mattress that isn't noisy. You don't want noises from your bed to wake your children or alert the neighbors to your activities.
What is the nontransferable movement technology and do I need it?
If you are going to share your bed, then you will need one that doesn't transfer motion for better and more comfortable sleep. There are several ways to restrict motion transfer so you don't disturb others who are sharing the bed when one person moves.
Are half and half mattresses a good option?
Most people don't share a bed with someone who has the same mattress preferences they have. In the past, this often led to compromises that meant neither person got as good of a night's sleep as they would on their preferred type of mattress. Many factors affect the firmness someone prefers in a mattress as well as the need for heat transfer. A side sleeper who sleeps with a stomach or back sleeper is not going to be happy with the firmness their partner needs to keep their spine aligned.
Today there are new options with more manufacturers making mattresses with a different firmness level on each side. In the past, consumers who wanted this option often ended up spending several thousand dollars, usually $3,000 – $5,000, or buying two twin XL mattresses and sleeping with a ridge in-between them that wasn't very comfortable during sex or cuddling afterwards.
The new options for split firmness mattresses are much more affordable and comfortable.
Do I need sleep trial and warranty?
Yes. This is one of the most important features. If a mattress doesn't provide a sleep trial or a warranty, run, don't walk, away. There are definitely better options that come with a sleep trial.
Companies provide sleep trials and warranties to their customers to increase the trust level. Sleep trails are important so that you can see if the mattress delivers the comfort it promised.  Being stuck with a bed that isn't comfortable can have negative effects on your mental and physical health. That's not a risk anyone should take when there are so many trustworthy companies that offer generous sleep trials.
Warranties are always good so that you have some kind of security while buying it. Make sure to check the warranty terms and conditions.
What is CertiPUR-US Certification and does a foam mattress need to have it?
CertiPUR-US is a non-profit that certifies foams used in a mattress are made without ozone depleters, PBDSs, TDCPP, TCEP ("Tris") flame retardants, mercury, lead, and other heavy metals, formaldehyde, phthalates that have been banned, and that the mattress has low VOC (Volatile Organic Compounds) emissions.
Mattresses that contain polyurethane foam and do not qualify for CertiPUR-US certification may be less safe for you and your family. However, it is important to note that this certification is only available when a mattress contains polyurethane foam. If the mattress doesn't contain polyurethane foam, the absence of this certification does not indicate anything about the safety of the mattress. For example, a 100% latex mattress or a latex hybrid won't have the certification because the mattress won't contain any polyurethane foams.
You may also like: Best mattress 2022 (Guide And Reviews)
Conclusion
After reading the buying guide you may have had an idea of the different aspects that people should focus on when buying the best mattress for couples. The product reviews are the result of considering many mattresses and narrowing down the list to ones we believe are the best options for couples.
For us, we have picked Awara as our winner since it has qualities of a comfortable sleep along with the comfort of the person you are going to be sharing it with. It also brings the technology into play and tracks your sleep quality. Good sleep quality is important in maintaining a good relationship. The price has come down since it was introduced, and we liked it at a higher price. The features are too good to deny which makes the product our first choice for couples.