Are you considering buying the Luxi Mattress? Well, in this Luxi Mattress review, we take a look at the different features of the Luxi Mattress. The Luxi Mattress is made of four distinct layers whose order you can change. It is the various properties of these layers that give you a soft, medium or firm feel. Depending on your preference, you can change the Luxi Mattress feel. The other feature of this mattress that you will find to be of interest is its cover. The cover not only keeps the layers in place but also moves them helps to regulate body temperature at the points of contact between your body and the mattress.
THIS MATTRESS IS NO LONGER AVAILABLE FOR SALE.  CHECK OUT OUR 
MATTRESS REVIEWS PAGE
 FOR A FULL LIST OF OUR MATTRESS REVIEWS.
Luxi Mattress Construction
The default Luxi Mattress design is meant to give you medium support. The four layers form a 10″ thickness which can support you without being too firm or too soft. They also help to keep your body at its normal body temperature by conducting away excess heat. The layers and their features are as follows:

Poly-foam is the foundational layer and is firmer compared to the rest of the mattress. It gives the mattress its shape and prevents excessive contouring. If you flip the mattress and make this the top layer, you will get a very firm feel. This layer can be ideal for you if you have back problems.
This layer relieves your body of excessive pressure as you sleep. It provides a transitional zone between the foam heads and latex heads, which form the third layer.
Dunlop Latex is the top layer and provides both cooling and support. The latex provides breathability through its aerated structure. The latex naturally does not create hot spots and is, therefore, the best top layer if you spend long hours in bed.
High-density support base foam 4″
This layer allows the mattress to compress, provide pressure relief, and contour according to the body shape and weight. This layer also allows smooth curving of the mattress to avoid hurting your body.
The cover is made from three types of materials to create a strong fabric that can provide comfort, breathability, and durability. The three materials are polyester at 73%, viscose at 23%, and spandex (elastane) at 4%. The cover is also quilted to 1/2 inch foam to give extra softness if you decide to flip the mattress and sleep on the polyurethane base layer. The cover does not have a straight edge; instead, it has a "waterfall edge." The waterfall edge allows the mattress to maintain its aesthetic looks when you swap the layers. It also prevents tearing at the seams which are common with straight edges.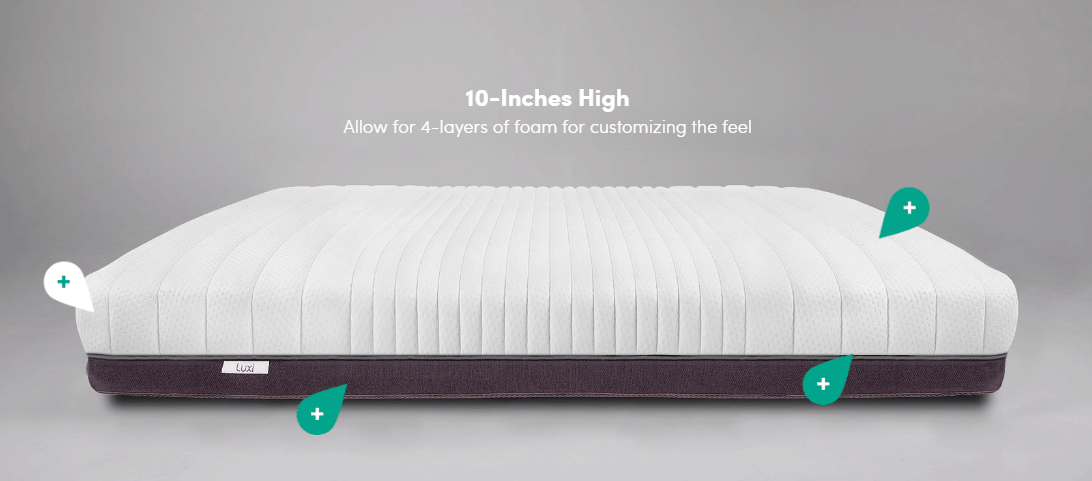 3-In-1 Adjustability: Soft, Medium & Firm

The Luxi Mattress uses a firmness scale of "1" to "10"; where "1" is very soft while "10" is very firm. The Luxi Mattress is designed to give a firmness of 3.5/10 if you prefer to a soft feel, 5.5/10 if you prefer medium firmness (its default feel) and 8/10 if you prefer a firm feel. To change the firmness level, you can change the top layers, or you flip the mattress to get the firm feel.
A firmness Scale of 3.5/10
If you like to sleep on your side or back but with a preference for a plush feel, then this is the best scale for you. Stomach sleeper should avoid this firmness scale as sinking too might arch the back too much. They should go for a medium or firm scale. If you want to achieve a medium level of firmness, the top layer should be memory foam squares, followed by memory foam, followed by latex and finally poly-foam at the bottom.
A firmness Scale of 5.5/10
This firmness scale works very well for everybody. It combines just enough firmness and comfort to be soft enough for side sleepers, and stomach sleepers find it to be firm enough. This scale is ideal for guest bedrooms where you may not know each guest's particular preference. It is however not perfect for everyone; some people prefer a softer feel and others a firm feel. However, it will not give anyone extreme discomfort so as to cause lack of sleep. To get this medium firmness, the latex layer should be at the top followed by the foam squares, and then memory form, and finally the poly-foam should be at the bottom.
This is the best scale for back and stomach sleepers. The firm support minimizes excessive arching, which is known to cause back problems. It offers some padding for comfort while maintaining a relatively firm surface. If you have ever experienced back problems, you should not choose a firmness scale that is lower than 8/10. The firmest feel is achieved by having the polyform at the top, followed by memory form squares, the memory foam, and the latex at the bottom.
Mattress Feel, Performance, and Sleeping Experience
In this Luxi Mattress review, the mattress sunk to 1.5″-3″ while I was spread my weight evenly across the mattress and lay on my back. As I rolled over to my side, the sinkage was maintained at 1.5″-3″ and did not change when I maintained that position.
When sitting on the edge, though slightly inward, the sinkage increased to 3.5″, though I spread some of my weight onto my hands. The sinkage increased to 4.5″ when I sat aggressively, concentrating all my weight on one spot.
When I move to the middle of the bed, the weight increased to 6″-7″. My weight is 137 pound and depending on how your body weight, you may sink or more or less.
Overall, this mattress also gives you a springy feel because of the latex. The zip feature of its cover that allows you to swap the layers makes it an awesome addition to your home. If you are not sure whether you want a firm or medium feel, then this is the mattress to choose. You can test three possible options and choose the one that best suits you.
Warranty, Free trial and Price
Shipping – free, compressed in a box, arrives in 3-5 business days
Warranty – 10 years, this is the industry standard.
Trial Period – 1000 nights, awesome, the industry standard is 100 nights, Luxi is very confident with their products and provides un-believable 1000 nights free trial.
Discounts – use code

HOLIDAYZZZ 

and save $200
Weight – Queen size mattress weighs 80 pounds
Made in the USA
| Size | Price(Before coupon) |
| --- | --- |
| Twin | $799 |
| Twin XL | $849 |
| Full | $949 |
| Queen | $1,099 |
| King | $1,299 |
| California King | $1,299 |
Who should buy Luxi mattress
The one who wants a mattress who has more than one firmness scale – you know, most of the online mattresses only has 1 firmness scale: medium, it may satisfy most people, but for the one with special behavior like pure side sleeper or the one with serious back pain, they may want more choice.
The one who wants a risk free purchase – as we mentioned before, you can return Luxi mattress for free within 1000 nights,10 times longer than industry standard (100 nights), I can't believe my eye when I first saw this.
The one who wants a comfortable and good design mattress – Luxi is a hybrid memory foam mattress, you can enjoy the bouncy and cooling of latex, as well as the hug feelings of memory foam. And different from other mattresses who only has 2 layers or 3 layers, Luxi is constructed by 4 layers, which delivery better sleeping experience.
 The one who wants an easy delivery – Luxi is compressed, rolled and packed in a box for easy delivery. It will ship within 3-5 days after your order.