The mattress industry is very complex, both for consumers and reviewers.
A low price mattress may always mean low quality and low sleeping experience and durability. But a high price mattress doesn't always mean perfect sleeping experience. They are overpriced.
Why are mattress so expensive?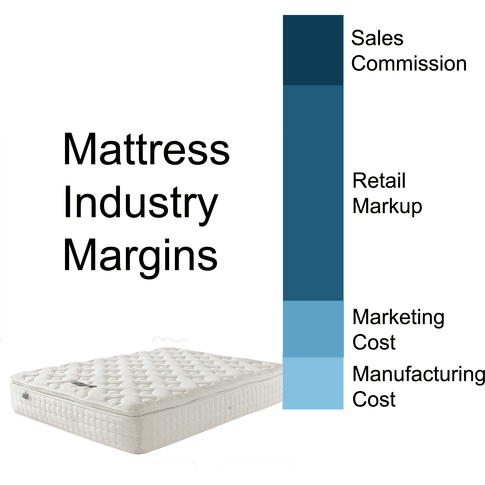 Manufacturing cost, it's only small part of the sales price, it includes the materials, works' cost, technologies. If a mattress sales at $4000 in the retail store, the manufacturing cost may only $400. The basic mattress materials are inner springs, foams, latex and out covers.
Marketing cost, both traditional mattress companies, and online mattress companies have this cost, they need to do advertisement on both online and offline. Or no one knows their brand. This cost is almost the same as manufacturing cost.
Retail store cost, this is very huge, the cost of the retail store is very high, the high rent fee, the high employee fee, and if they need to set up show center in a department store, the cost is very high. And in order to broadcast their brand, they need to create the retail store in some small market areas.
Salesman commissions, the salesman commission is very high, that's why when you enter a showroom, they will try their best to make you believe you are sleeping on the best mattress in the world. They won't tell you the pron and cons of their mattress, and won't do the objective comparison on their competitors.
What is the best mattress
The best mattress should be motion isolation, take innerspring for example, the best mattress should have individual innerspring, if not, any movement from your side may impact your partners. Memory foam or latex foams have a congenital advantage compared with innerspring mattress, that's why more and more online mattress band abandon innerspring.
The best mattress should be awesome for pressure relief. It must be designed to adaptive to your body's curve. Take back sleeper, for example, your hips should sink into it, while your shoulder and legs shouldn't, a good mattress can make sure deep sleep, while a poor design mattress always caused you wake up several times during sleeping. The best material for deep sleep is memory foam, the innerspring can only provide support and durability, but foam can delivery comfort.
The best mattress should be friendly to any kind of sleepers, most people don't have fixed sleeping positions, they may sleep with their back firstly, then change their position into stomach or side during sleeping. This is especially important for couples with different behaviors.  Most back or front sleepers prefer medium to the firm mattress, while most side sleepers prefer soft feelings.
Online mattress industry get rapid progress since 2014
Their appearance of online mattress companies is to resolve two problems.
The first is the high price on the mattress. As we mentioned firstly, the material cost only takes a small part of the sales price, if manufacture sells mattress to the customer directly, without the middleman and retail store, the price would be very attractive, a mattress sells over $3000 in a shopping mall, may only sells less than $1000 online.
The second is the congenital defect type of innerspring mattress, only the individual pocket spring can delivery best sleeping experience, but the design and manufacturing are very complex, so the cost is high. So most of them decide to abandon innerspring and instead with foam or latex. Some of them use memory foam, other choose latex, or mix them together and create new foams with their own technology, like add gel into it to delivery cooling sleeping experience.
The core competence of online mattresses
Sells online, save the cost of middleman and retail store. Most sales price are under $1000.
Made up of foam or latex, can delivery comfort, cooing, bounce back, durability.
Made in the USA, all of the materials are made in USA(some from European countries), designed in the USA and manufactured in the USA.
Long time for free trial, most are over 60 days, some over 100 days, 10 minutes of trial sleeping in a retail store can not make sure a no regret decision.
Compression packing, the mattress is compressed into a small package and delivery to your house, when you open it, it will back to normal in several hours. Thanks to the high-density form structure.
Only one model, yes they have several sizes from Twin to CA King, but most of them only have a firmness scale. Which is medium or medium to firm. This can't suitable for everyone, but will be suitable for most people. It saves time for choosing, you can try at home if good keep it, it not good enough, return it for free.
Good customer service, because their mode is the online sale, so most of them pay much attention to customer feedback, if you are not happy, tell them and they can answer your questions or resolve the problems for you most times, no matter exchange, return or free gift like Yogabed mattress.
Long warranty, most of them are 10 years, some may as long as 15 or 20 years.
Free shipping, most of them are free shipping, as mentioned before, they will deliver a compressed package into your house and you can install it easily, some even provide service to remove your old mattress like Loom&Leaf and Saatva mattress.
Online mattress comparison
Who is suitable to buy the mattress online
The one who prefer memory foam mattress, most of the mattress manufactures in our list produce memory foam mattress. Except for Saatva, who use their only coil on coil structure, which is designed for the one who loves tradition innerspring mattress. But he created loom&leaf mattress, it is treated as one of the best luxury memory foam mattresses by Forbes.
The one who prefer save money, as we mentioned before, same materials and design, you need to pay double or even triple price in a mattress store, online mattress companies sell their product at an unbelievable price because they cut the middle man and extra cost on the retail store or show center.
The one who wants to save time on buying a mattress. There is too much mattress for your pick up on the market, if you don't have enough knowledge and time, you can never pick up the best mattress for you. You paid for it, but the return is less. Most of the online mattress we listed have only 1 model for your pick up. The medium firmness scale suit for most people, any sleeping position.
The one who want long time trial period. Yes you can trial mattress in the retail store, but the time is limited, you can't sleep there for several hours, sleeping on different positions, and your partner may not come together with you. And you'll have no chance to know if you still feel great 1 month later. The best solution is to sleep at home, with enough time then you know if this is the best mattress for you.
The one who want good customer service, tradition mattress manufacture don't have good customer service, they don't think it very important, but online mattress companies are different, most of them are very young, they know good customer service can not only bring high satisfaction but also bring extra sales chance. So if you have any problem, you can contact them per email, phone or submit the contact form, they will work together with you to get it resolved very quickly.