Loom & Leaf is the new creation from Saatva, who is the pioneer of online mattress industry, but different from other Saatva products, Loom & Leaf focuses on memory form mattress, while Saatva focus on traditional innerspring mattress.
Since 2014, several online mattress companies like Leesa, Casper, Tuft & Needle get such rapid grow process, and all of them focus on memory foam mattress. And Saatva decide to extend their business and delivery a "better" version, that's why Loom & Leaf comes out.
For L&L, its competitor is Tempur-Pedic, who is the best seller of memory foam mattress in NA, but the price of Tempur-Pedic is very high, not every family can afford it. So L&L's goal is to deliver comfortable, affordable, safe, green luxury memory foam mattresses.
Structure of Loom & Leaf Mattress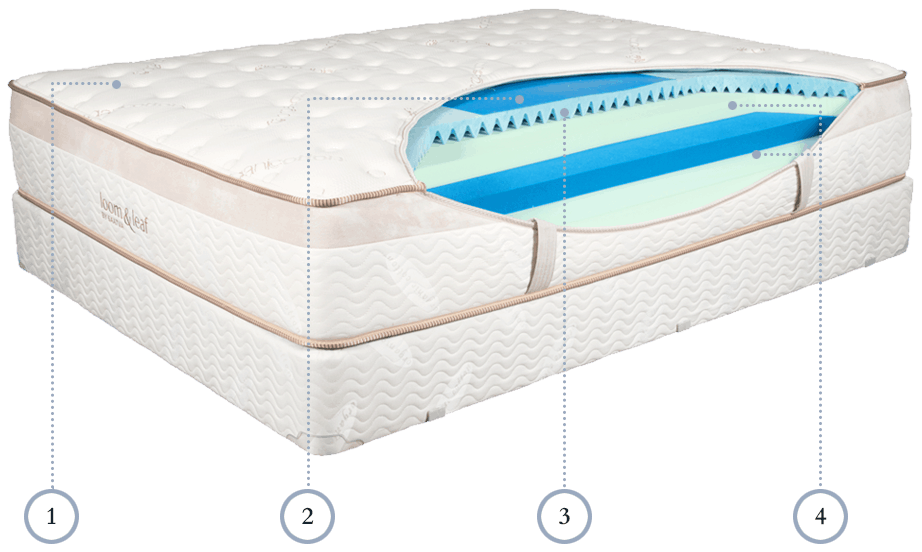 Unlike some products of Saatva, which are in a coil on coil structure, Loom & Leaf is in a gel on gel structure.
1. Organic cotton and quilt package, this is made of original cotton, and it is quilted with a 5/8" foam layer and a natural thistle flame retardant barrier; actually, not just the cover, but also the foundations are flame retardant. This reflects L&L's idea, safe and green.
2. Top gel layer, as we know, memory foam is very soft and comfortable, but you'll feel hot if sink into it. To overcome this, L&L adopts a gel on gel solution; this top gel layer is to provide cool sleeping experience.
3. Bottom gel layer, this foam layer uses an inverted foam tip design which allows greater air flow and circulation. The total height of gel layer is 2".
4. Memory foam layer, this layer is another key point of mattress, actually you can see from image it has two layers as well:
At the bottom is the base layer, 5.5", this is high-density foam core which acts as the foundation and support for the layers above;
The top layer is 2.5" 5 lb visco-elastic memory foam, the core or "heart" of the mattress, and the layer that gives your body that deep contouring support.
5. Actually between top layer and base layer in item#4, there's another 2" transition loft pad,  this layer works vertically to provide "transition or transfer", and helps the layers above and below work together, providing support, conforming properties, and healthy comfort.
Scale of Firmness

Different from other online mattress memory foam mattress companies, who only have 1 firmness to pick up, Loom & Leaf offers two choices. Relaxed firm and firm.
Relaxed firm, the firmness scale is 5-7(10 is hardest), this firmness is suitable for most people, no matter you are a back sleeper, side sleeper or stomach sleeper. This firmness is suitable for couples who have different sleeping positions, or the guy who changes sleeping position frequently during sleep;
Firm, this is a little firm for most people, but if you have back pain or other reason and have to sleep on firm mattress, you can pick this model.
The firmness scale is different based on person, based on weight, height and temperature, never mind you can trial at home, if not comfortable, change for another one, Loom & Leaf provide 75 days of free trial. This is a risk free action.
Size, Foundation and Price

There are 6 sizes available for your pickup, each at different price. You may or may not need a foundation and frame, when you check out the system will confirm with you.
It's up to you to buy an extra foundation or frame, you can use existing one if good enough, different from Casper or Tuft & Needle, the mattress comes together with workers of L&L, they will install it for you. If you don't need your old mattress any more, they will take it away for you as well, but you need to pay extra $39 for this.
It seems the price is a little higher than Tuft & Needle or Casper, but this mattress is thicker, totally 12", with a gel on gel structure. This is its advantage. However, because of this unique structure, it can not be compressed into a small package, so it will have extra job during movement, this is the disadvantage.
Loom & Leaf vs Tempur-Pedic
| Mattress | Loom & Leaf | Tempur-Pedic |
| --- | --- | --- |
| Thickness | 12'' | 13'' |
| Firmness | 4.5-9 | 3 |
| Price(Queen) | $999 | $4699 |
| Back | very good | good |
| Side | good | very good |
| Stomach | very good | good |
| Warranty | 15 year | 10 year |
| Shipment | 7-15 days, $99 | 10-21 days, free |
| Cover | organic cotton | moisture wicking material |
Conclusions
Loom & Leaf mattress is one of the best memory foam mattress around $1000, it provides two firmness scales for your selection, works fine for both back sleepers and side sleepers.
This mattress is made in USA with good quality, all materials are eco-friendly and can last for as long as 10-15 years. Good choice for both primary bed and guest bed.