Saatva is the first online mattress company, or we can say the first successful mattress company. Because of the success of Saatva in the online mattress industry, we have Leesa, Casper, and Tuft & Needle since 2014.
But compared with other online mattress companies who focus on latex form mattress, Saatva is more traditional, it just sells innerspring mattresses, with a special coil on coil sleep system. Another difference is you have more choices on mattress firmness, from plush soft, medium firmness to very soft depending on your requirement, while others only have one model, medium firmness.
According to research from Consumer Report, most people prefer a medium firmness mattress, because it suits almost on all sleep positions, with your back, stomach or sleep on side. That's why the online mattress companies mentioned above only have one model to pick up.
But for someone who loves the feeling of being wrapped by foam, or one who has to sleep on a very firm mattress, maybe because of back pain, this medium firmness mattress may not cover their requirement. Multiple-choice offer is, therefore, one of the advantages of Saatva mattress.
Because of the first successful step in the online mattress industry, especially latex form mattress, Saatva decided to extend his business, so he founded another online mattress company, called Loom & Leaf, focusing on memory foam mattresses, also sold online with 2 types of firmness available.
[wpsm_titlebox title="Saatva mattress bad reviews" style="1″] Saatva is one of the earliest mattresses I reviewed, it seemed to be a good first eye, but after some period I got some critical feedback, here is a summary on Saatva bad reviews and complains. Read it before making your decision.
Both Saatva and Loom & Leaf have been one of the best mattress brands and you should take into consideration before buying.

Structure of Saatva Mattress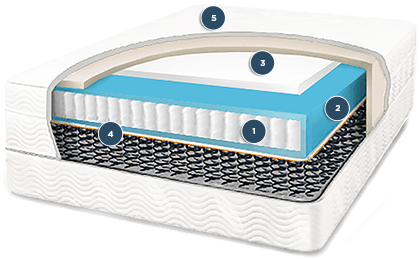 As mentioned above, Saatva mattresses are manufactured in a coil on coil sleeping system, and from the official site, they are 100% made in the USA.
Top coil, this layer is designed to respond and contour to any body shape, and each individually wrapped coil is separate, making sure you won't disturb your partner on any movement.
The edge support system, per consumer report, after 8 years of simulated use, Saatva mattress showed little change in performance, including original shape, height, firmness, and sinkage. So we can claim Saatva is one of the most durable mattresses;
Lumbar support, this layer is made of memory foam, which provides additional pressure relief for the lower back.
Base coil, this layer is designed to provide exclusive support, as well as long-lasting durability, and prevent sagging.
Organic cotton cover & Euro pillow top, both cotton cover and euro pillow top are eco-friendly materials. They offer not only neater and cleaner look, but the healthy experience.
Saatva Mattress Comfort Level
Saatva offers 3 comfort levels, plush soft, luxury firm, and firm for your selection.
The push soft is for sleepers who prefer a "hugging" mattress. The comfort scale is 3 (10 is hardest)
The luxury firm is the standard comfort level, which provides the perfect balance of "cushion firm and contouring support". The comfort scale is 5-6 (10 is hardest)
The firm-level is for sleepers who prefer firm support. The comfort scale is 8 (10 is hardest)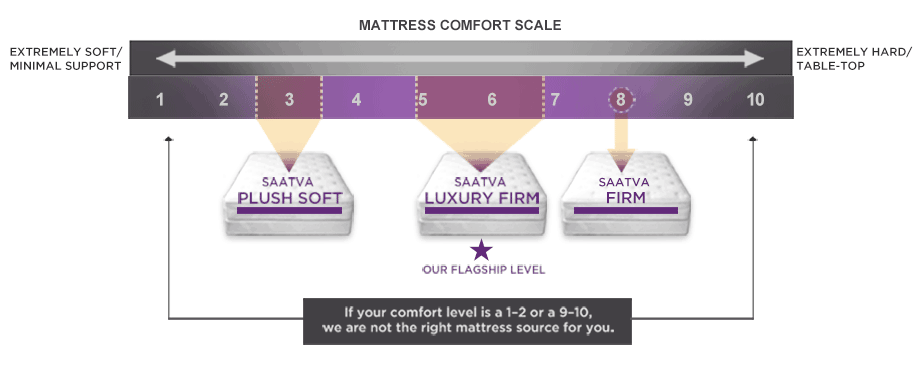 Choose Plush Soft
If you prefer to sleep on your side and sometimes your back
If you like to feel enveloped in your bed and linens
Have trouble with your arms falling asleep before you do
If you prefer a soft mattress
Choose Luxury Firm
If you prefer to sleep on your side, back or stomach
It's the perfect mattress for couples with different sleep needs
If you are looking for a Goldilocks bed. Not too firm. Not too soft
If you switch sleeping positions often in the night
If you are looking for the luxury hotel experience at home
Choose Firm
If you prefer to sleep on your back or stomach
Prefer a mattress that you float on top of instead of sink into
If your health professional recommends a firm mattress
If you prefer a firmer mattress
Installing Saatva Mattress
Saatva provides 6 sizes for your pickup, from twin to California king, one important tip is when you check out, you'll find you have 2 choices for thickness, 14.5″ and 11.5″, actually they are the same price, for example. Queen size, both 14.5″ and 11.5″ are $899, so what's the difference between them?
The lower steel base coil unit in our 11.5″ model has two fewer turns. The 11.5″ and the 14.5″ models have the identical coil count; the difference is only within the height of the lower coil unit making this purely an aesthetic decision.
The same difference on foundation, Saatva does provide a foundation as well if you need. After you purchase their mattress, they won't just deliver a package to you like Leesa (Read Leesa mattress review here) or Casper, instead they will come to your house and install it for you, one reason is their mattress can't be compressed like latex form, the other is they can provide better service.
There are two thickness options for foundations, 4.5″ and 8.5″, you can choose based on your height and behavior. They are the same price. As for your old mattress, you can even request them to remove it for you.
Twin Size Mattress 38″ x 75″
Twin XL Mattress 38″ x 80″
Full Size Mattress 54″ x 75″
Queen Size Mattress 60″ x 80″
King Size Mattress 76″ x 80″
California King Size Mattress 72″ x 84″
Price
The price ranges from $599 to $1299 for mattress only, this is a little expensive than Tuft & Needle or Leesa, but Saatva provides you with more choices and better sleeping experience. Compared with other innerspring mattresses in a retail store, I believe you can save at least $1000, with the same quality and sleeping experience.
Size
Mattress
Price
Price with
Foundation
Dimensions
Twin
$599
$749
38″ x 75″
Twin XL
$699
$849
38″ x 80″
Full
$849
$1049
54″ x 75″
Queen
$899
$1149
60″ x 80″
King
$1299
$1599
76″ x 80″
Cal King
$1299
$1599
72″ x 84″
Free Trial and Warranty
Saatva provides 75 days of free trial, begins from the date of delivery, not the date of purchase. If for any reason you are not completely satisfied with their mattress, they will come to pick it up and refund all your money excluding the original delivery charge.
The warranty is 15 years, as we said, this mattress is very durable, and in most cases, it will last for 10-15 years. This is better than other online mattress companies.
Saatva compare with other mattresses?
Recently we posted a compare chart on Saatva vs Helix mattress vs Dromma bed, Click to see who is the best mattress.
Conclusion
For those who prefer innerspring mattresses, who want a luxury sleep experience, who are mid-range shoppers or high-end shoppers, Saatva is a good choice for both primary bed and guest bed.
They provide you 3 firmness levels to select, and also good service on bed installation and removal. Compared with a retailer store shopping, you can save a lot and enjoy a 75-day risk-free trial. Worth a shot, huh?
For those who prefer latex form mattresses but not innerspring, I would suggest you take a look at Tuft & Needle, Casper or Leesa.