Meanwhile, it is recommended that you check out the following basic characteristics of Haugesund mattress before embarking to your next buy. This information will help you decide if this is the best mattress for you.
The following are some of the key characteristics of Haugesund Mattress:
Made with Polyurethane foam and pocketed springs, it is ideal for average or petite and young sleepers, take for instance children who require less support.
Choose between various sizes and two firmness options.
Considerably less expensive compared to many of its competitors(Like Denver mattress, Costco mattress ).
Comes with a 25-year warranty, which is one of the best you can get in the industry(Except for forever warranty brand, such as Nectar, Layla, and Qomfort).
Designed as one-sided only.
Having taken you through some of the basic characteristics of this mattress, it's time we consider a more detailed review of each of the features which make a difference in a mattress. This review will give you a deeper understanding of the Ikea Haugesund mattress and will help you decide on the particular product and whether it suits your needs and your budget too.
Haugesund mattress is a good choice if you
Haugesund mattress is not the best deal if you
Company
IKEA is a reputable home furnishing store with a massive impact on the furnishing industry in the 20th and 21st century. Given its focus on quality at low cost, the company has gradually included several products among its line of mattresses, one of which was reviewed here. The company gives emphasis on retail in-store sales than online platforms, and it is advised that you try your potential mattress from up close.
Construction
Mattresses are constructed using a variety of materials. The Haugesund mattress is made of polyurethane foam and 594 individually wrapped pocket springs for a Queen. This combination makes for a good supportive and comfortable mattress.
The mattress is constructed to be one-sided and it comes with stretch fabric on top of the mattress that moves with you to maximize comfort.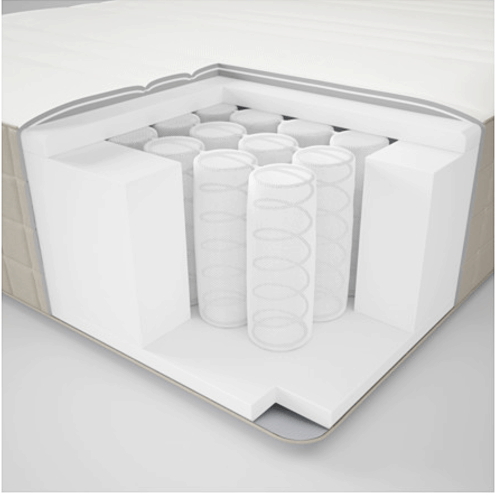 Durability
Haugesund Mattress won't last long if put under intense regular use. This doesn't mean you have to exclude it as an option for your future mattress. Just keep in mind that it won't last as much as a regular mattress of another brand would, which comes at a greater cost though.
Having this in mind, we would suggest that it is the ideal mattress for your guestroom or children who don't weigh as much. 
Comfort
Although it provides with the option of choosing between firm and medium-firm, you may need a mattress topper to create the level of comfort you would need to enjoy a comfortable sleep night after night. This is due to the fact that most consumers complain the mattress feels a bit too firm in either firmness option.
This is a common concern with IKEA mattresses, however, it features a soft filling(Like Novafoam ) that conforms to your body shape to give support and comfort to your back, neck, and shoulder while you sleep soundly all night. In this sense, it may actually be a decent mattress as long as you keep in mind its downsides.
Support
Haugesund Mattress provides sufficient plush support for back and side sleepers and especially good support for lightweight people and children. However, if used extensively by heavyweight people, the mattress might exhibit some sagging.
This mattress is made of individually wrapped pocket springs that allow the mattress to move independently to adjust to your exact body shape. This feature, combined with the soft filling, gives you proper support and comfort all night without being disturbed by your partner's movement.
Its side handles make it easy to move, will it offers good edge support.
Sleeping cool
This mattress, similar to other IKEA mattresses (like Morgedal collection) which are built with poly-foam and springs, will not sleep hot for sure . Whether you are a hot sleeper or not, you will enjoy a cool, restful sleep, as the materials used to deal well with heat retention. In addition, the cover comes with 67% cotton, which creates a breathable top surface.
Motion isolation
The Haugesund is comfortable for couples, as the individually wrapped pocket springs, allow for superior motion isolation. Hence, your movement will not disturb your partner's sleep.
This structure can conform to your body shape to give sufficient support and comfort that keeps you rested all through the night and wake up in the morning ready for your daily activities.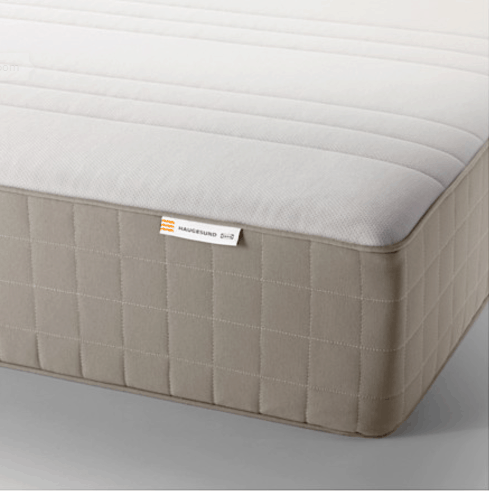 Value
Haugesund Mattress offers sufficient value at a far less price compared to its competitors. Of course, it offers great value for your money given that you are of average weight. The mattress comes at the following sizes and prices:
Twin mattress $169
Full/Double $229
Queen $249
King $349
Shipping
This mattress, as well as any of the IKEA series, will come at your place at your own expenses. The IKEA HAUGESUND is designed to be used on one side only and need not be turned around. The mattress is roll packed, hence will arrive at your doorstep easily. It requires about 3-4 days before it's ready to be used.
Return policy/warranty
You can enjoy the ease of mind with the 25-year warranty on this product. This is a great warranty overall which exceeds industry standards of 10 years. This warranty is even more important, considering how this mattress is not as durable and supportive as one with significantly more cost. In this sense, you want to be sure that the company will have you covered in case you need to replace your mattress if it is within the reasonable requests and the product warranty.
This mattress, similar to all mattresses by IKEA comes with a 365-day trial period so you don't have to worry if you change your mind and want to return your product within a year of purchase. As long as you know it is going to be exchanged only for another product and no money refund, you are good to go.
The Verdict
No doubt, the IKEA Haugesund mattress presents a great opportunity for anyone looking for an affordable and firm mattress. It will help you save hundreds of dollars you would have spent on other products of similar value.
However, you should keep in mind that the Haugesund mattress is not as durable and supportive as some of its competitions out there that sell at a bit higher prices. Although it provides a unique 25-years warranty and a 365-day trial period, there is a good chance you will need to take advantage of these great offerings as the mattress won't last prologue everyday use.
All things considered, this is not for sure the best mattress out there, not a high-end option that can promise to offer luxury. Still, it is a reasonable choice if you are seeking for a good-value-for-money mattress, without spending a fortune.