Overview
: This mattress is a polyurethane foam
mattress with enhanced cooling
attributes and a firm supportive surface with great resilience. It is an ideal mattress for both back and stomach sleepers.
Company
IKEA is one of the biggest home furnishings stores in the world. It has over 15 different mattresses in its lineup. So, you have to be sure of what you want to buy so you won't get confused. The company focuses more on its retail in-store to push out sales than the online platforms. However, shipping is not free and the cost is dependent on your location.
The IKEA Morgedal mattress comes in four basic sizes, namely; Twin, Full, Queen, and King sizes. Now let's consider a review of some their products available and their prices.
Key Characteristics of IKEA Morgedal Mattress
When buying a mattress, including Morgedal mattress, it is important to check out the basic features of the product so you know exactly what you are paying for. Here are some of the features you might want to know about this product before bringing out your wallet.
Available in many sizes and you can choose between medium-firm and firm.
Made with two layers of polyurethane foam, it features a 7.1 inches thickness which may not be supportive enough for heavier individuals.
Budget-friendly memory foam making it ideal for people who seek for an affordable solution.
It takes approximately four days to fully expand to its full shape.
Comes with the removable cover that can be machine washed. However, some users may find the cover to be too thin; hence, an additional protective mattress cover may be needed.
The company offers a recycling program in which they help to recycle your old mattress for free after delivering the new one.
All IKEA mattresses, including Morgedal, are designed and built at the IKEA factory in Sweden.
Morgedal mattress is worth considering if you
Need a mattress for the guest room
Want a mattress for your child/children
Are couple
Prefer firm feeling mattress
Want a product that comes with a long-term warranty
Are not overweight
Morgedal mattress is not the ideal choice if you
Construction
So, what is the IKEA Morgedal mattress made of?
The mattress is constructed using two layers of foams; the high resilience polyurethane (top layer) and the standard polyurethane foam.
The mattress comes with viscose (rayon) fiber wadding lining which further enhances the comfort you get from the mattress. Its cover is made from a combination of cotton (64%) and polyester (36%) to provide a cool and breathable surface.
The comforter soft fillings enable the mattress to provide sufficient support and comfort for your body without eating hard into your wallet.
Firmness
The Morgedal mattress has a 7-inches thickness with firm and medium-firm options. The intention was to create two types of firmness so that the mattress works fine for all sleeping positions. However, its extreme firmness feature makes it most suitable for back or stomach sleepers.
In fact, 8 out of 10 users believe the medium-firm is nowhere near anything soft. So, it is only the people looking for firm support that should consider this mattress as an option.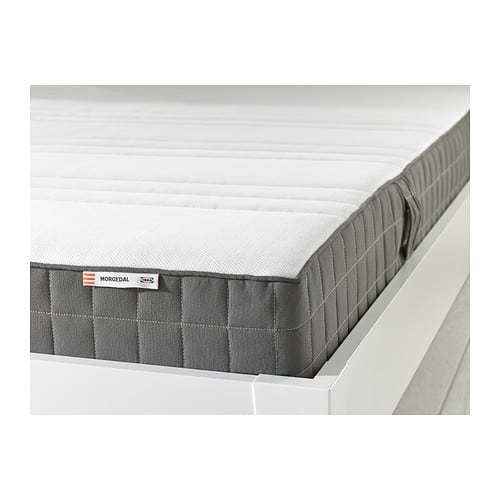 Durability
If used sparingly in a guest room or for the children's room, IKEA Morgedal's mattress could last, so no need to worry it will wear off quickly or become saggy.
The cover of the IKEA Morgedal is thin by design and contains both cotton (36%) and polyester (64%), so it will last. This mattress cover is also machine washable and features a zipper so you can easily clean it. Caring for your mattress helps to lengthen its lifespan.
For best use, it is recommended that you rotate the mattress every 3 to 6 months to prevent creating permanent body indentations.
Comfort
This mattress provides a very amount of comfort for a far cheaper price compared to other online mattresses or even Denver Mattress. Still, it is not as comfortable as a plush luxury mattress would be.
Support
The Morgedal mattress is available in medium firm and firm and is characteristically supportive. Its resilient nature enables the mattress to absorb the movements of your body giving you tremendous support and a comfortable restful night. This is because the mattress adjusts conveniently to your body contour with adequate support and relief for your back, hips, neck, and shoulder, which makes you sleep deep like a baby.
Morgedal mattress can also be the ideal choice for children and for occasional uses. The support may not be sufficient though if you are overweight. This is so because the mattress is not thick enough at 7 inches. Hence, the mattress cannot substantially support frequent and extensive uses by heavier adults.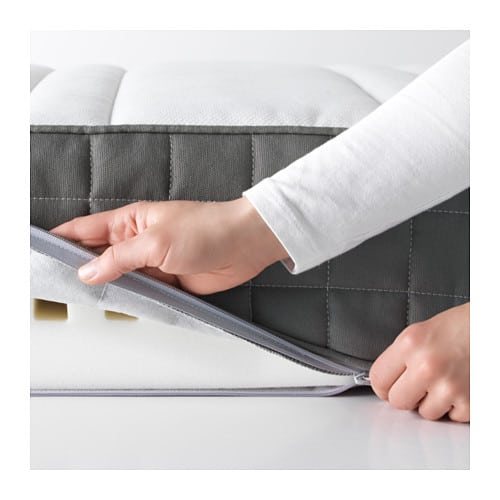 Cooling effect
This is a poly-foam mattress with good cooling effect. It will ensure you sleep cool whether you are a hot sleeper or not with its thinner cover and soft-filling top of the poly foam, as these combine to provide a cooler sleeping environment for a comfortable sleeping experience altogether.
The cotton used in the cover contributes to improved breathability and therefore, one thing you don't need to worry about is cool sleep with the Morgedal mattress.
Motion transfer
This mattress is ideal for couples due to its motion isolation and high-resilience features that allow partners to have sound sleep without disturbing one another.
Value
IKEA's Morgan's mattress is a budget-friendly foam mattress compared to other similar based products out there on the market. It is a reasonable choice for anyone looking for inexpensive versatile foam mattress that can serve occasional needs in the guestroom.
Of course, it offers a great value for your money if you are not heavily weighted. The mattress comes at the following sizes and prices:
Twin mattress $199
Full/Double $279
Queen $299
King $399
Shipping
One significant difference when it comes to mattresses like the Morgedal is that shipping costs for IKEA mattresses are not free. The costs depend on your location or on whether you're purchasing online or at any of their distribution outlets.
Once it arrives rolled and compressed, it requires about 3-4 days before it's ready to be used.
See below how to unpack this mattress.

Return policy and Warranty
The reputable company backs up their mattresses with a generous 25-year warranty. You will find that this is a great offering by IKEA, given that the mattress does not withstand systematic everyday use, so it is good to know there is a good warranty that comes with it. Most mattresses come with an average of 10 years warranty.
IKEA Morgedal offers a 365-day trial period with all of its mattresses. So, you can return your mattress within the one year from the day of purchase and exchange it for another product within the IKEA lineups.
The Verdict
In summary, the Morgedal mattress is, no doubt, one of the several mattress models from IKEA that offer great comfort for a much cheaper cost. You have the advantage of choosing between firm and medium-firm, so choose which one suits your needs best.
The downside, however, is that this mattress can withstand everyday rigorous usage or work well to support heavier individuals. So, it will be an ideal mattress for your guest room and for the kids, rather than for every day prologue use.
Without the doubt, the IKEA Morgedal mattress offers great value for an extremely low price. They provide a unique 25-years warranty and a 365-day trial period. Ultimately, what you pay is what you get with this mattress. A good choice if you are on the restricted budget, but you should not expect it will last extensive use without losing its stability.