The Dromma Bed mattress is a top choice for people who enjoy the comforts of a memory foam mattress, but demand high quality at an affordable price. Although memory foam is not a new concept, This particular mattress has been constructed with new technology that makes it a cut above many brands of its' type. This is what we discovered in the Dromma Bed mattress review.
THIS MATTRESS IS NO LONGER AVAILABLE FOR SALE.  CHECK OUT OUR 
MATTRESS REVIEWS PAGE
 FOR A FULL LIST OF OUR MATTRESS REVIEWS.
Dromma Bed Mattress Construction Layers
Update on 11/08/2017 for the top layer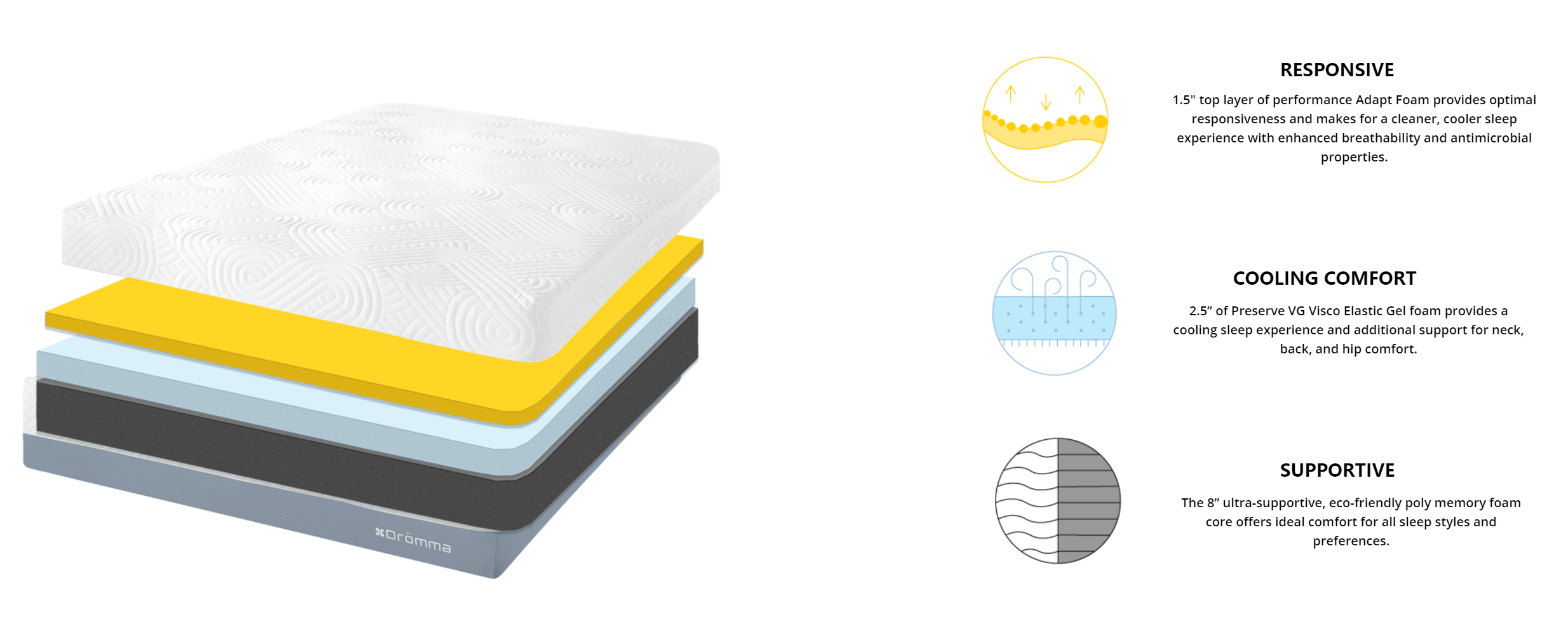 While some mattresses depend upon inner spring cores or corrugated materials. Dromma has identified a few flaws in the ability of these designs to deliver maximum comfort. The features which set the Dromma apart are the triple layer construction and high quality materials.
Top layer
The top layer features 1.5 inches of natural soy based latex memory foam(See our top 5 best latex mattress here). These materials are environmentally friendly and do not cause harm to the environment. The natural foam adds just the right amount of bounce with intermittent air holes to promote better air circulation. Air movement helps to draw heat and moisture away from the body for greater comfort during rest. The unique design of this mattress provides comfort when getting up or entering the bed, but motion waves are limited to the immediate area being used. Anyone sleeping with a partner will have the freedom to move around without moving the other side of the mattress.
Update on 11/08/2017,  Dromma bed updated its product construction recently,  they used adapt ultra-responsive foam to replace latex memory foam as top layer.  Personally I don't feel too much different between them,  both of them can provide bouncy&support, and include open cell technology to increase air circulation to keep you cool during sleep.

Middle layer
2.5 inches of Preserve VG Visco Elastic Gel memory foam provide hip, back and neck comfort with additional support that promotes spinal health. This material also helps to dissipate body heat and keep the top of the mattress cooler.
Bottom layer
The final layer is made of 8 inches of poly memory foam core that is also eco friendly. It has a total of 12 inches of layered memory foam design in graduating degrees of firmness that provides comprehensive body support. It forms to the contours of the body to provide the maximum possible comfort.
Dromma Bed Firmness Scale
Because everyone has their own preferences, the Dromma bed is available in medium soft of medium firm choices.
Who is this mattress for?
The Dromma bed is for anyone who wants the comfort and support of a high quality memory foam bed, but requires it at a reasonable price. Everyone has their own preferences with regard to firmness, so the manufacturer has made two options available so more of the population will have a suitable option.
People who have a preference for extremely hard mattresses or very soft versions may need to look for an alternative as Dromma bed mattresses land somewhere in the middle of softness and firmness.
If you are a side sleeper or prefer soft feelings, I would recommend you pick up the medium soft model.
If you are a back sleeper or suffer from back pain, medium firm will be more adapt to you.
What makes Dromma bed mattresses different?
Additional foam height increases the overall comfort and integrity of the mattress. It is more durable than most other brands for longer life. The Dromma Bed mattress is guaranteed to maintain its support and integrity for a period of 12 years. If the mattress loses its original shape and comfort, a refund will be given.
In addition to improving comfort, the design team saw a need to address issues happening to our environment. They went to the drawing board to find more eco friendly solutions to the traditional processes used in the manufacturing of memory foam. They developed a process that nearly eliminates the use of potentially toxic materials yet still delivers on quality in materials and construction. The new and improved processes also help to reduce the amount of waste that is generated during construction.
Common problems associated with poor quality mattresses
Feelings of tiredness or aches and pains that have no identifiable basis may be caused by a poor quality mattress. Few people realize the impact that night time discomfort can have on energy levels and overall health. The ideal mattress will provide good support for your spine while offering a comfortable base that conforms to the contours of your body at rest.
Comparisons with other memory foam mattresses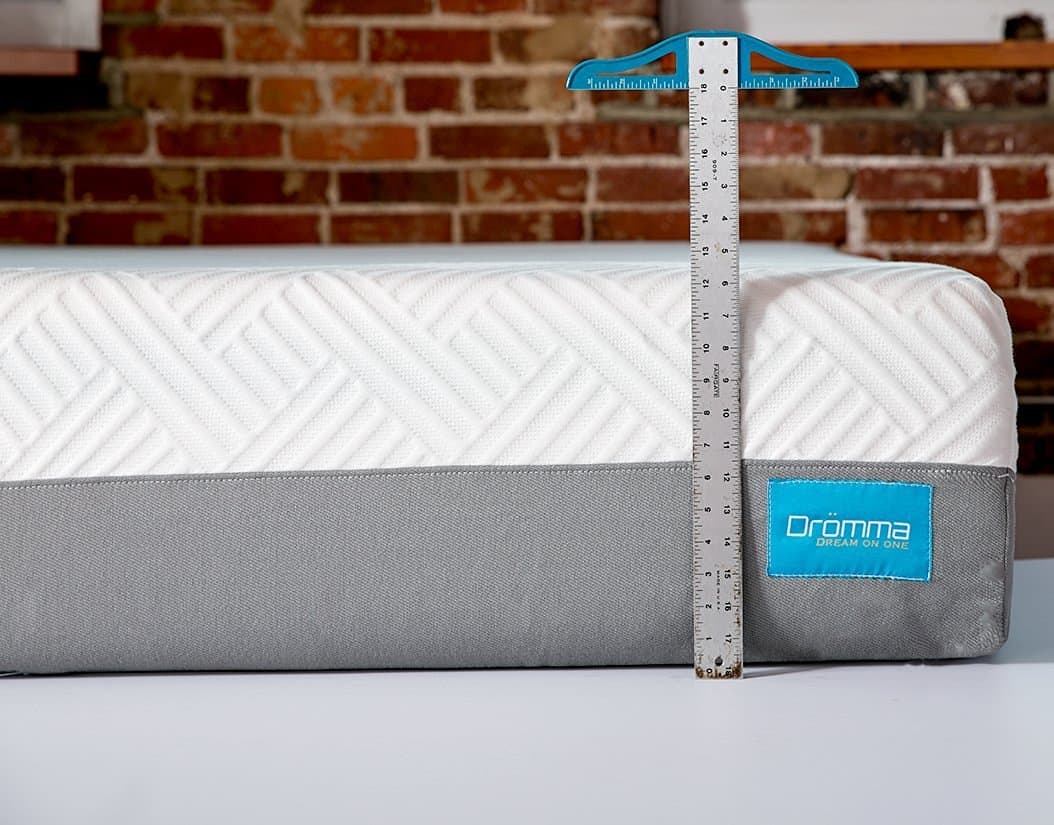 When compared with the majority of competitors, the Dromma Bed memory foam mattress is ahead on a few different fronts. The use of eco friendly materials use is advantageous for a healthier approach to manufacturing. The process difference means that toxic fumes are not trapped in the fibers of the mattress and users will not breathe them in at night.
The first highlights is the mattress length, the totally height of the dromma bed is 12 inches, 2 more inches than the industry standard, but
The second highlights is the Dromma bed provided 200 night free trial. You know I was really shocked when I first seen it, I thought I see it by mistake, the industry standard is 100 days, some maybe less like Loom&Leaf, just 75 days. some maybe longer, like Ghostbed 120 days, but 200 days, that's very very long, if the  dromma bed don't have strong confidence on their product, how can they make this decision.
The third highlights is the warranty, the industry standard is 10 years, but the warranty of dromma bed is 2 years more, thanks to its thick base layer, in provide not just comfort but also durability.
Drawbacks For Dromma Bed
There were very few negative comments associated with this product. Some users found it to be on the heavy side when moving from one place to the other. In some cases, a mild odor was detected immediately upon upackaging. All odors dissipated within a few hours and were no longer noticed.  This is one of the common problems of memory foam, no need to worry about it too much I think.
Feelings and sleeping experience with Dromma mattresses
People who purchased and used the Dromma Bed Memory Foam mattress have given it well above average ratings for its high quality and the comfort that they experienced. The overall response has been a 4.83 out of a possible 5 for nearly perfect marks. The majorityof users were satisfied report that the memory foam has improved the quality of sleep. In addition, using this mattress has helped to relieve body aches and pains for many. Energy levels have also improved as a result of switching to the Dromma Bed mattress.
Where to buy
Either from Amazon or official site, take queen size for example, amazon sells at $850, official site sells at $849, and you can even save extra $75  now, just click this link and input code "GBM100" when check out to save.
Another difference is on warranty, as we mentioned before, the dromma bed provide 200 days free trial, but this only take effect if you buy from official site, if you buy from amazon, you can only enjoy 30 days free trial which is provided bu amazon.
Final verdict of the Dromma Bed Memory Foam Mattress review
We found that the Dromma Bed mattress is a unique brand that offers outstanding features that make it one of the best memory foam mattresses on the market. It offers luxury comfort and support found in many of the high end models with a more reasonable price tag. The green approach is an additional feature that makes this mattress a good choice for people who value conservation and preservation of the ecosystem. User testimonials support this as a memory foam mattress that has value for increasing comfort and sleep quality while helping to reduce common body aches and pains. The Dromma Bed is highly recommended by satisfied users for being a good value and an exceptionally high quality product.