According to the Arthritis Foundation, by conservative estimates, roughly 54 million adults in America suffer from Arthritis. The organization opines that osteoarthritis is the most common type affecting an estimated 31 million people in the United States.
Statistics from the same organization show this condition is the leading cause of disability among adults in the country. This is an indication that the implications of arthritis on individuals, families, employers and the country at large are far greater than many people realize.
Characterized by external and internal joint stiffness, pain and swelling, arthritis affects any number of joints of the body. It affects everyone differently.
How Arthritis Affects Sleep?
There is a very strong link between non-restorative sleep and chronic joint pain. If you have had a hard time staying or falling asleep because of pains and aches, you might experience mood swings, trouble focusing, and fatigue during the day.
Generally, you need a mattress that offers a flat and even surface as well as close conforming to reduce pressure and alleviate pain in the sensitive areas.
Those that suffer from certain kinds of arthritis such as infectious arthritis might equally experience symptoms that make it challenging to fall asleep. Such symptoms include noise, motion transfer, and sensitivity to temperature.
What Causes Arthritic Pain As You Sleep?
As aforementioned, arthritis affects everyone differently. Personal size and weight contribute to your distinct needs for general comfort. Often, your personal preference in terms of sleep position might be a contributing factor why you wake up with pains and aches each night.
It is important to be aware of the various issues that surround arthritis discomfort to pick the right mattress to manage your condition better.
Which Mattress Firmness Level Is The Best For People With Arthritis?
'Firmness' simply refers to how firm or soft a mattress feels. Some mattress models come in various firmness options while others in only one firmness. Here is some crucial information on the firmness categories that are best for arthritis sufferers:
Soft – Soft mattress fall in the 1-3 range. With these mattresses, most sleepers sink deeply. Soft mattresses are a comfortable option if you weigh below 130 pounds. Those who weigh above that might experience excess sinking, which may not only reduce mattress support but can also lead to more pains and aches.
Medium – Medium mattresses fall in the 4-6 range. Such mattresses provide adequate support for numerous weight groups. However, those that weigh over 230 pounds might still sink deeply and experience more pain and pressure.
Firm – Firm mattresses fall in the 7-9 range. Countable sleepers can sink deeply into these mattresses. They are excellent options for those that weigh over 230 pounds. If you weigh less than 130 pounds, you might not experience any conforming, which can lead to more pressure and pain.
Read More: Mattress Firmness Guide
12 Best Mattress For Arthritis 2022
Nectar Mattress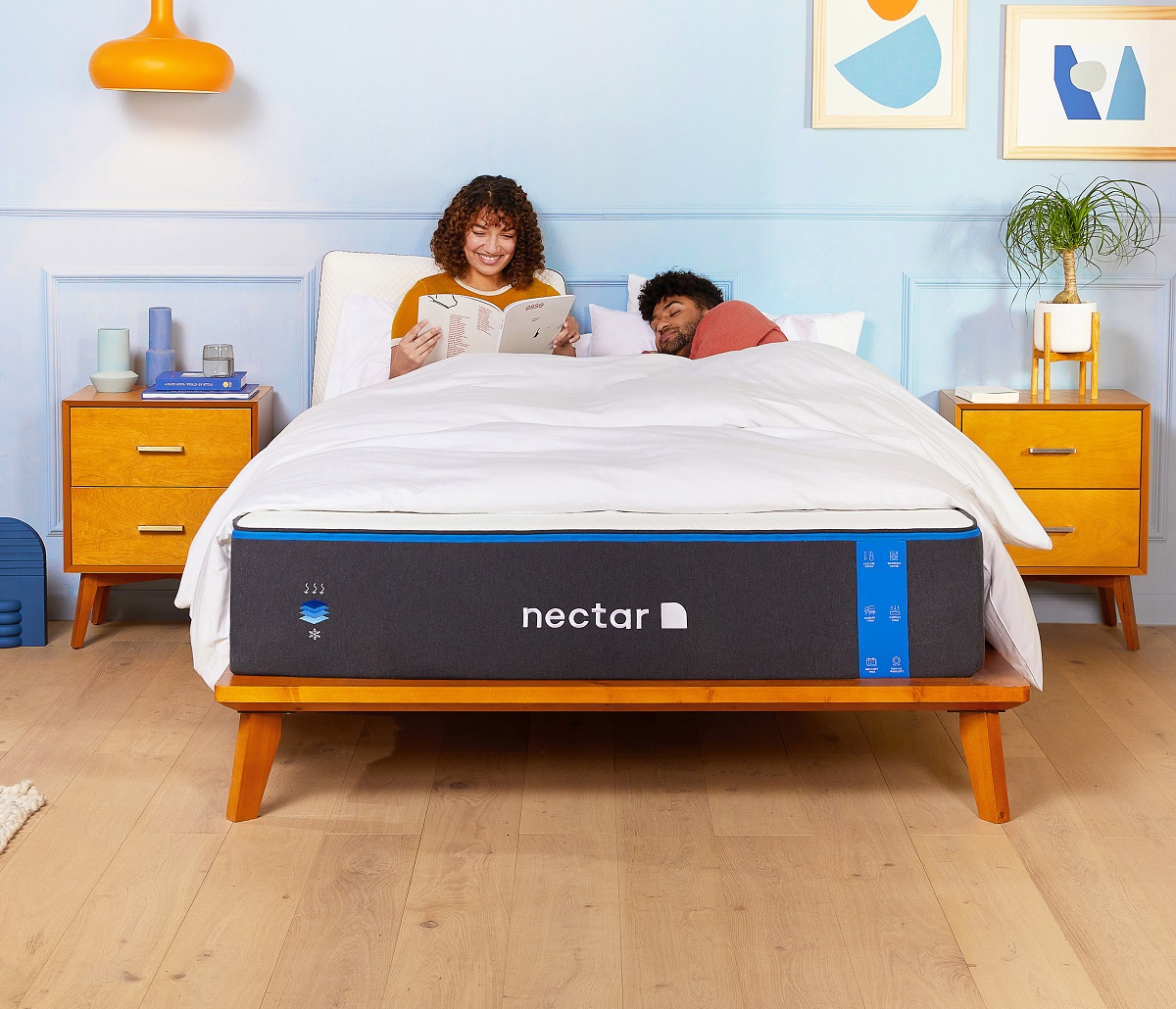 Nectar mattress has medium-firm softness with great support and comfort, making it a perfect pick for eliminating arthritis discomforts. It is made up of sinking retardant materials that offer a cozy feel. Its price is at the same level as high-end mattress brands, but from experience, it is worth the investment.
The Nectar Mattress comes with memory foam made from a high-quality gel layer that does an outstanding job of eliminating pressure spots. It is placed just below the Tencel cover designed to wick out moisture creating a very cool sleeping surface. The mattress has a motion isolation system and a high-density polyfoam that prevents you from sinking while still providing full support.
These layers complement each other by creating good airflow and prevent heating. You get the option to choose from a variety of sizes, depending on your bed size and foundations. You also enjoy a lifetime warranty and a 365-night trial period to see if the mattress is best for you.
Pros
Great comfort and support
An excellent fit for all types of sleeping positions
Good motion transfer technology
Cons
It takes time for the smell to fade out
Puffy Mattress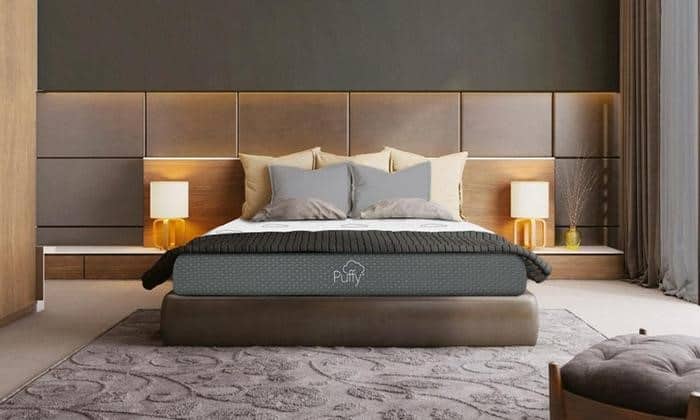 Puffy Mattress brand is the best option for people experiencing arthritic related back pain. Famous as the most comfortable mattress, the Puffy Mattress is designed to provide excellent spinal alignment and pressure relief, good body support, and comfort. It features four distinct layers of high-grade memory foam that regulate sleeping temperature to keep you fresh.
It has a memory foam cooling cloud that is designed to dissipate heat away from your body, thus preventing you from sleeping hot.
The Puffy mattress comes in three models
First is the Puffy mattress, which is a 10-inch thickness foam with a medium feel. It has a comfort scale of five on a scale of 1- 10 and made up of heatproof foam.
The second model is called the Puffy Lux, which has 12-inch memory foam. It has a high-density foundation and polyfoam of a medium feel
The third model is the puffy royal designed for a luxurious experience. It has a temperature-regulating gel and motion transfer layer with a high-density foundation as well as support provision.
Pros
Perfect for spinal alignment
it has a pressure relief system
Dissipates body heat for a very relaxed sleeping environment
Cons
Avocado Hybrid Mattress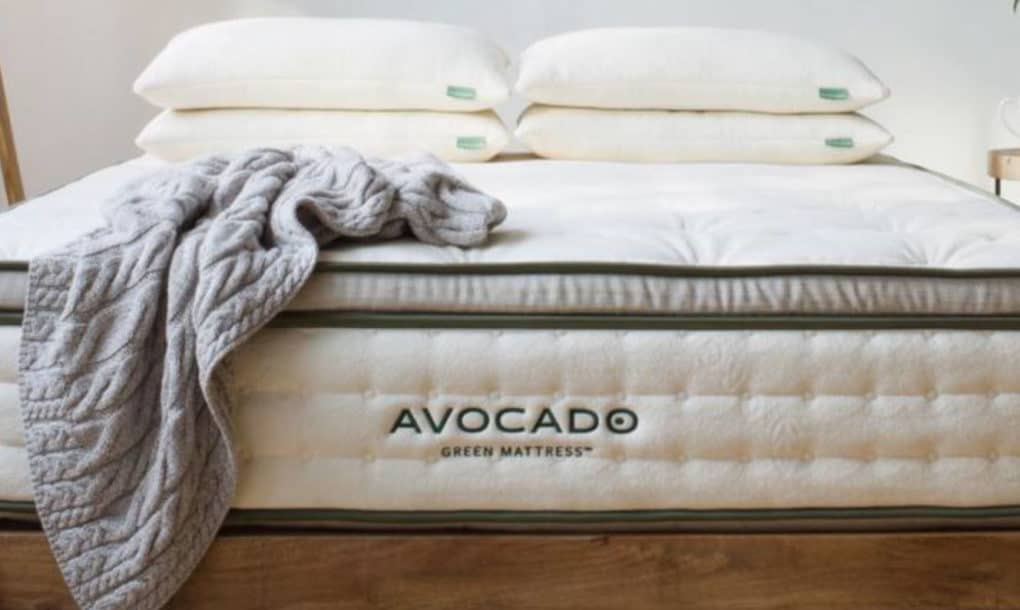 As the name goes, this is an eco-conscious product. The Avocado hybrid mattress has a shoulder, hip and back comfort regions that provide required support for each zone. It allows little contour sinking at the same time, reducing pressure spots hence eliminating discomfort caused by arthritic pain. It also has a double 2-inch latex layer accompanied with a pocket coil inner system that applies a weight isolation technology.
It utilizes a latex construction certified by the eco-institute, an assurance of perfect performance and quality. The certification also proves that the latex used in the development and processing of the mattress is safe for consumers.
The Avocado hybrid mattress has a one-side comfort surface accompanied by a soft pillow for proper pressure reduction. It pays close attention to heavy sleepers by providing full stomach and back support. It has a motion isolation technology that transfers pressure spots for spinal alignment, which in turn prevents sleep discomfort.
Pros
A well-designed pressure relief system
A high-density comfort layer
Ten-year warranty
100-night sleep trial
Cons
May feel to firm for some users
My Green Mattress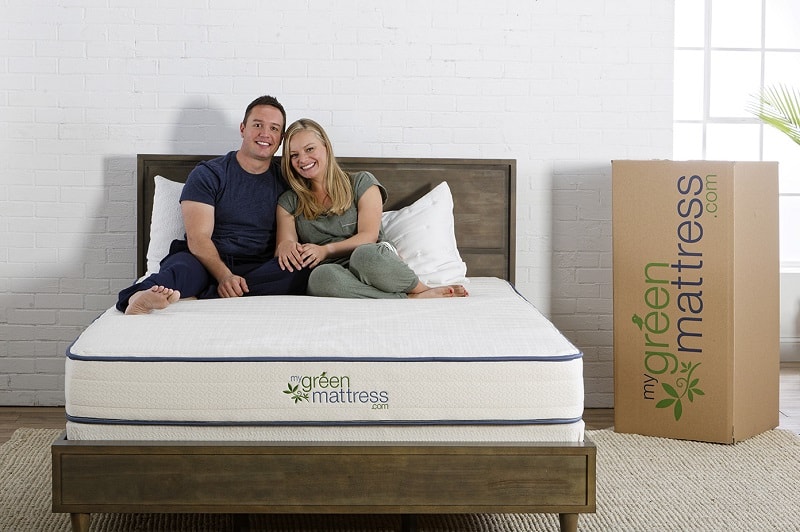 My Green Mattress Natural Escape Hybrid is an excellent option for ailing arthritis patients. It is the right choice for patients experiencing pain from hip and back arthritis.
It has a perfect innerspring and an exemplary latex layer accompanied by a pocket coil structure. It does not have a sink likeness of the actual memory foam but applies a motion transfer technology that ensures proper weight distribution. The latex adapts itself to the shape of the sleeper body to provide support on the parts that apply more pressure than the rest. The coil thickness varies strategically to provide support for regions around the hip, shoulders, and back.
You get a selection of comfort variations during the purchase from a range of medium density mattresses. All models of My Green Mattress Natural are GreenGuard Gold compliant, meaning they maintain the highest possible standards in the market. It has a pressure relief system that creates uplifting support for heavyweight people.
Pros
Applies motion transfer technology
Perfect support for heavyweights
Good air ventilation
Cons
It has a limited sleep trial period
Helix Hybrid Mattress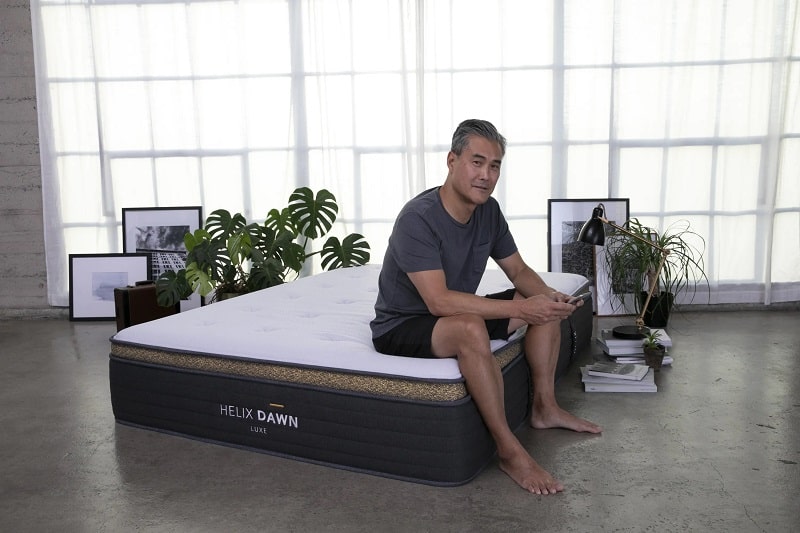 Helix Hybrid Mattress team has a particular way of handling the customization process. They undertake a thorough inspection of what you need before suggesting the best option suitable for you. They take into consideration several factors, such as disabilities, what you like, before concluding the best sleeping mattress for you. The extensive process pinpoints a unique need that guesswork cannot solve.
Helix Hybrid Mattress has a hybrid innerspring that integrates two layers of foam, original helix-shaped foam with a complimentary standard foam layer. It also has a pocket mini coils that generate an adaptive surface when you sleep while at the same time providing proper support. Helix Hybrid Mattress team is very confident about their product. They offer their customers a whopping 101-night trial. If you are not satisfied with their product, you are free to contact them for a free pick up.
Pros
Has a high-density comfort layer
Its softness is easily customizable
Has a ten-year warranty
Cons
Not ideal for persons above 500 lb
DreamCloud Premier Mattress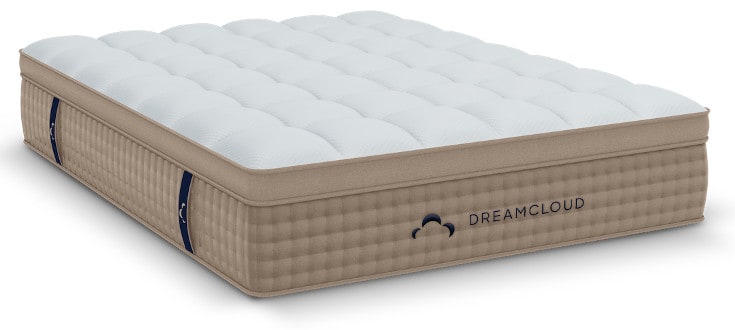 If you have a taste for luxury, then DreamCloud Premier mattress should be in your mattress-shopping list. Despite it falling in the luxury class, it very affordable. It has a unique design with comfortable memory foam layers enveloping a five-zone pocket coil system. It comes with gel for keeping the surface fresh and conducive for excellent air ventilation. Enclosing the gel foam layer is a cashmere tuft cover for comfort and pressure relief system.
DreamCloud Sleep Company gives its mattress a comfortable score of 6.5. This score renders the DreamCloud Premier into a medium-firm experience, a perfect fit for people with arthritis. It is designed to keep you comfortable regardless of your sleeping position. Therefore, whether you are a back, stomach, or side sleeper, you will find the mattress accommodating.
It has a lifetime warranty and 365-night sleep trials. DreamCloud Sleep team also offers a free delivery service, which is fair compared to other options with delivery costs.
Pros
No off-gas odor
Has a cool sleeping feel
Motion isolation technology
Provides both comfort and support
Cons
Loom & Leaf Mattress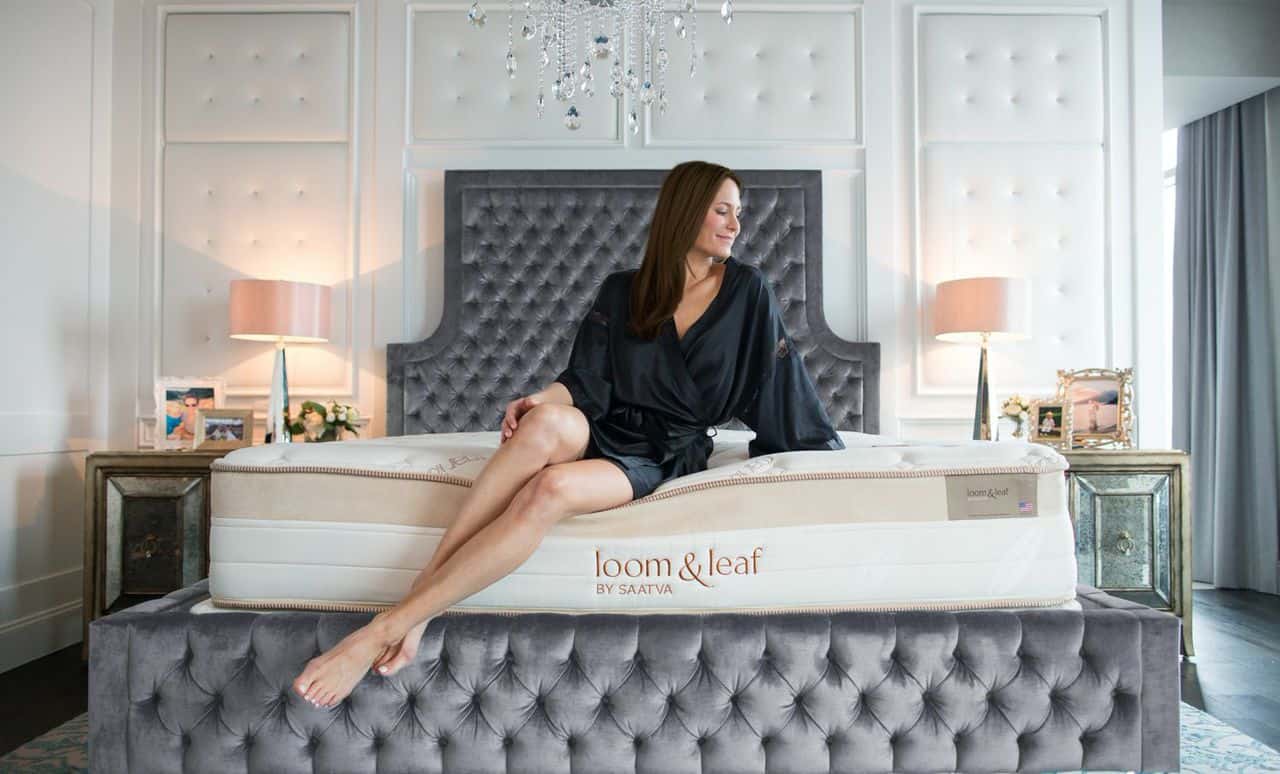 The Loom & Leaf Mattress has its price mark above your regular mattress, and here is why; it a high-grade mattress designed from premium foams manufactured by a high-end US company creating real value. The Loom & Leaf Models comes in two distinct levels of firms. First is the most popular, relaxed firm, which is preferred by most sleepers since it supports both side, back, and stomach sleepers.
The second model is called Puffy Firm, which is an excellent selection for individuals who prefer a no nestling design. The Loom & Leaf Mattress is few inches thick due to its five complementary foam layers. The base layer has a 5.5-inch high dense polyfoam topped by a motion transition layer called the loft pad. On top of it is visco-elastic memory foam for contour support and pressure relief.
The last and topmost layer is about four pounds, 2-inch thick gel-swirl memory foam. This layer is the one responsible for giving you that cozy soft, warm, safe feeling.
Pros
Have a 120 night trial period
Two layers level for comprehensive support and pressure relief.
Air ventilation support
Cons
Could use more edge support
Alexander Signature Memory Foam Mattress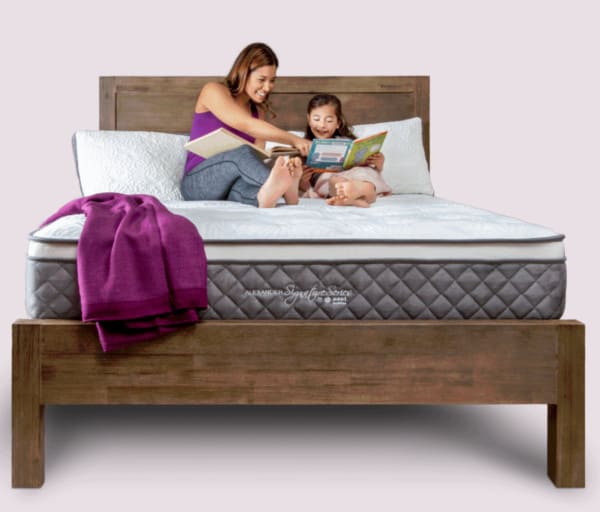 The Alexander Signature mattress is a multi-comfort medium density mattress. It is specifically designed to provide support for side and back sleepers. It offers full-body support with well spinal cord alignment and joint contouring. It has coverlet foam that helps in eliminating pressure spot pains, making it the best option for people with arthritis. Its weight distribution system utilizes a 4-inch memory foam beneath the first layer.
It strikes a perfect balance between an extreme depth and sinking contouring. Both combinations make it the right mattress for anyone who has movement complications with memory foam preferences. The motion transfer system is perfect for dampening movements in case someone else sleeps in the same bed.
The Alexander Signature mattress is 11-inch thick with a weight distribution of 4lb per cubic feet accompanied with a density layer for comfort and support. They provide a 20-year warranty and an 80-night trial period
Pros
It has a 6-inch comfort thickness
Does not off-gas
Strong edge support
Adequate support for the edges
Cons
Amerisleep As5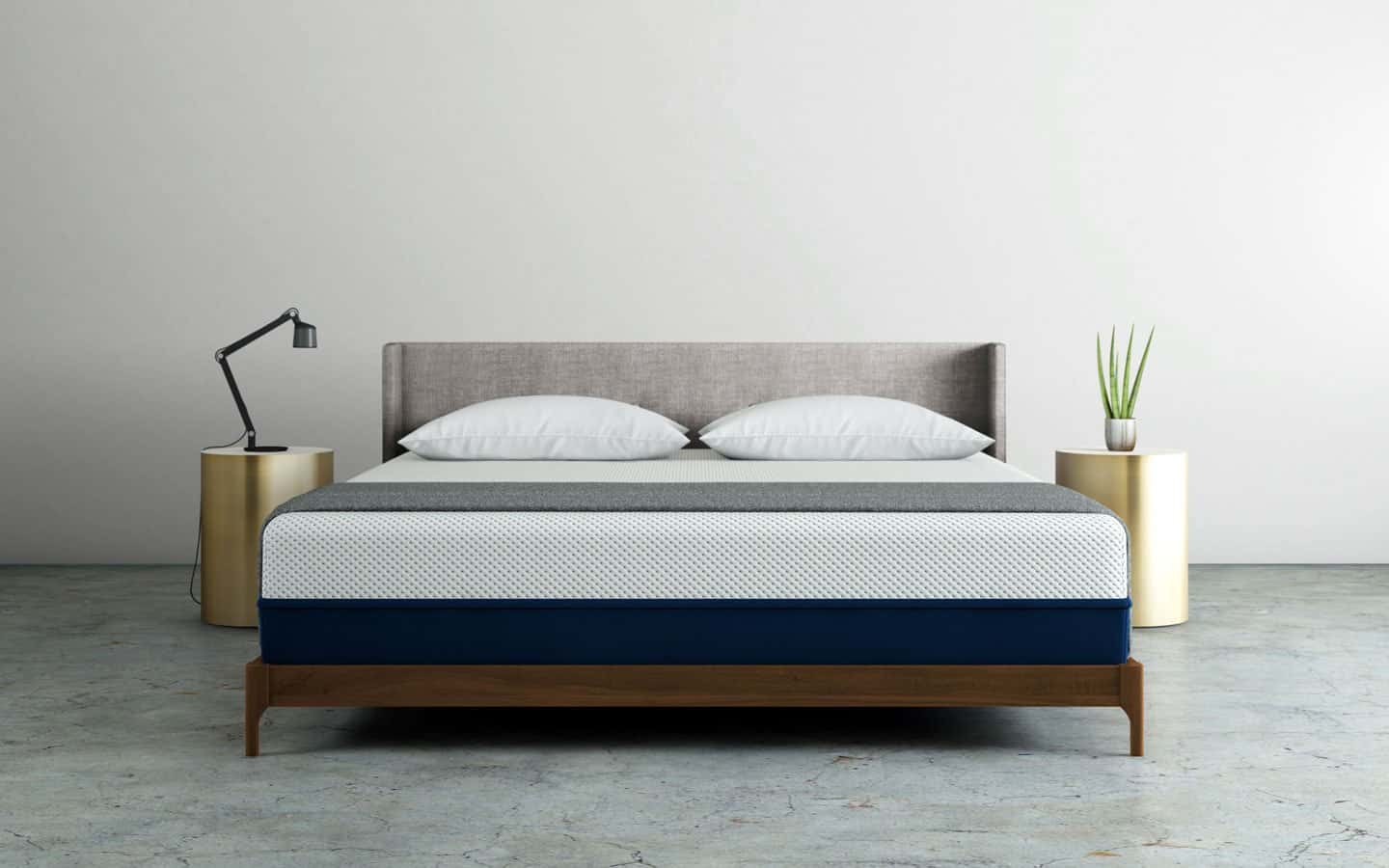 For conscious environmental community, Amerisleep As5 Memory Foam Mattress is a great choice that provides quality sleep to arthritic patients. It has a heat retardant cover that recycles body temperature and a high-quality layer to eliminate body pains and discomforts. Their primary material is bio-based, with the sole aim of providing support and accelerates the healing process.
Real-time customers who have purchased it recommend it for arthritic people since it helps to eliminate hip and back pains. It is designed to provide full support whether you sleep in the side or with your back. It has a small memory foam sink that applies a motion dumping system. It means that there will be no disruptions when turning during sleep or getting out of bed.
In some isolated cases, it tends to be warm for some sleepers. However, it is a top-notch choice if you want back support and in case you have a sleeping partner who prefers a different sleeping position support.
Pros
No off-gassing
A good option for motion transfer
Has a 20-year warranty
A good density comfort layer
Environmentally Friendly
Cons
Tend to be a bit hot for some users
Novosbed Memory Foam Mattress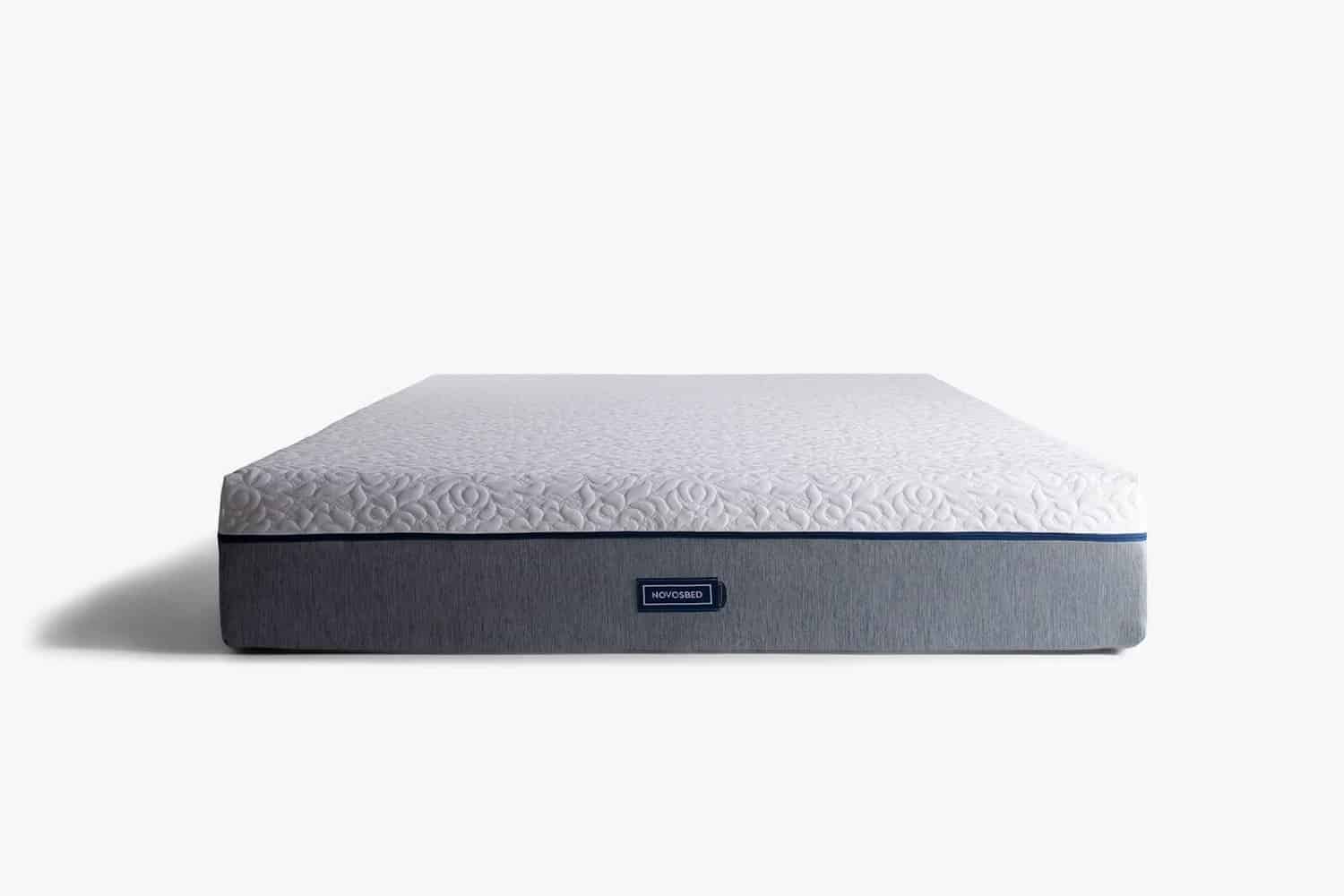 Novosbed Memory Foam Mattress comes with a fully customizable comfort kit. It allows you to switch between medium, firm, and soft levels until you get what suits you at no additional cost. It provides users with a tranquil option to try out different comfort iterations that alleviate sleep discomfort related to arthritis.
It also comes in varying sizes of twin XL, queen, CA king as well as twin XL. The density comfort layer handles the weight of up to 5lb per cubic feet, thus supporting a good number of heavyweight sleepers. The Novosbed Memory foam is an 11-inch thick mattress that comes with a full 15-year warranty and a 120-night sleep trial.
It also has a 4-inch comfort surface split into two equal slices designed to allow proper ventilation. It makes the cover breathable providing a very cool sleeping surface.
Pros
Proper air ventilation
Customizable comfort surfaces
No off-gassing
Cons
The edges are not that well supported
Dreamfoam Ultimate Dreams Mattress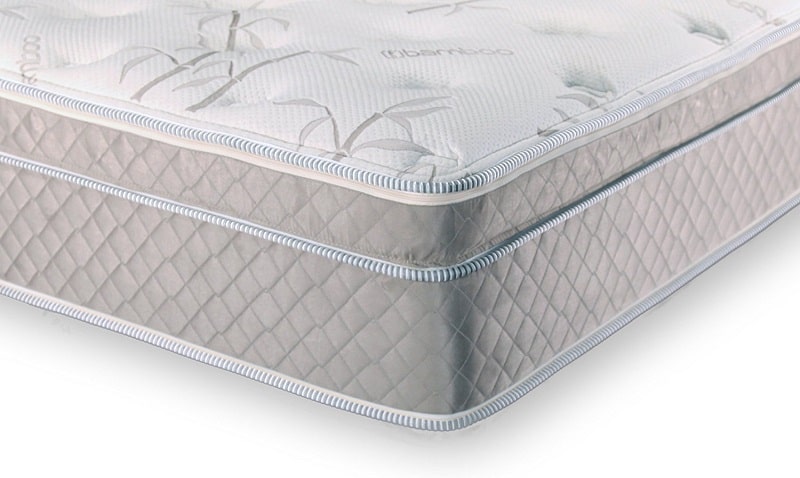 The good thing about the dream foam mattress is that they have a direct factory delivery. It means that you get it at a first price without the evil exaggerated retail prices. It has a 12.5-inch thickness with a three-inch Talalay latex layer. It also has a 4 inches thick layer contouring designed for even weight distribution. It provides an excellent complementary pressure relief system that takes away joint pressure. For this reason, it is the right mattress for arthritic patients.
Dreamfoam Ultimate Mattress Company has a unique sense of customer satisfaction that provides several options to customize the mattress softness. Their customer care will work with you to determine the exact customization to suit your needs. In case you are not okay with the customization, you are free to exchange it with the right one free of charge.
You will get a 90-day trial sleep period and a reassuring ten-year warranty on your purchase
Pros
It's designed to keep a well-ventilated sleeping surface
Its softness is fully customizable
Has an additional Eurotop cover for extra comfort
Cons
Has weak support for the edges
Spindle Natural Latex Mattress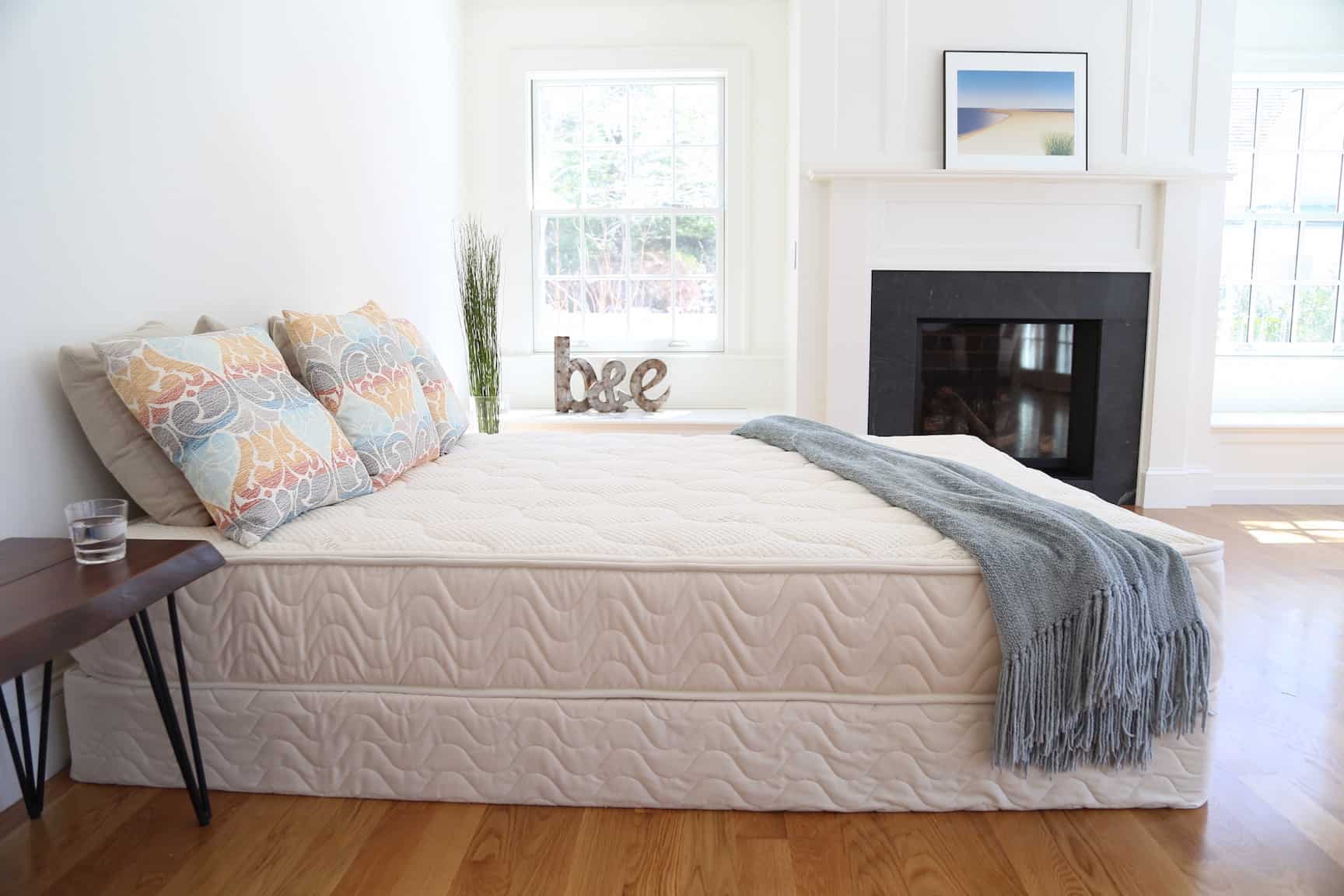 Spindle Natural Latex Mattress is another good option to pick from when shopping for the best mattress for arthritis. They base customization on what you say and hand you a comfort kit to test it to your satisfaction. In case you feel uneasy about it, you are free to contact them and get a new package at any moment. They also provide extra comfort layers and toppings to complement the customization process at a fee.
Spindle Natural Latex Mattress customer care is thorough with their customization process. They will ask you several questions to get to know you better. The sole purpose is to ensure they cover everything they need to know before deciding the best mattress for you.
Their latex has natural Dunlop and continuous pour, which tend to make your investment go for a very long time. With their customization process, it is an assurance that if you have an arthritic condition, you will get a solution.
However, it arrives unassembled. Therefore, if you have an issue with mobility, it might be a challenge during installation.
Pros
Fully customizable
Motion isolation technology
Pressure relief system to alleviate pain
Cons
A tendency to feel hot for some users
Extra Sleep Strategies For People With Arthritis
On top of keenly researching and comparing various mattress models – which we have already done for you – in to land the best option, arthritis sufferers, can improve their sleep quality further by using a mattress topper and choosing the right pillows.
Mattress Topper
A mattress topper adds a layer of cushioning to your mattress. Although some toppers are tailored to make your mattress feel less firm, others increase firmness to an excessively soft mattress. Some models improve support.
For arthritis sufferers, a mattress topper adds the recommended three inches to your mattress.
Latex or memory foam mattress toppers are the best ones as they conform closely to your body for a targeted pressure/pain relief and enhanced spinal alignment. Such types are a great choice if you suffer from arthritis.
Others such as convoluted polyfoam hardly offer the same levels of pressure relief and comfort. Check out our best mattress topper guide for more information.
Pillow
In terms of thickness and 'loft', pillows vary. If you are a sleeper with arthritis, choosing a pillow based on loft makes a huge difference. The right loft helps alleviate pains and aches in the sensitive areas of your body including the head, shoulders, and neck. Too thin or thick pillows have the opposite effect.
Memory foam, latex, and buckwheat are some of the models that are common with people suffering from arthritis. Other pillow types like polyfoam and down alternative might not be as suitable since they offer below-average support. additionally, they do not conform as closely as need be. Some of them might sleep excessively hot. Our best pillow guide sheds more light on how to choose the best pillow.