Does your pillow make you wake up in the morning with a stiff neck? Do you find yourself increasingly uncomfortable while sleeping? If so, it may be time to invest in a new, fresh pillow. Support for your head, neck, and shoulders while you sleep is essential to a good night's rest and avoid pain in those areas.
Having a good sleeping posture is vital for having a healthy back, so make sure you have the best pillow to ensure a properly aligned back. Not sure of where to begin?
Check out the list of the Top 15 choices below, followed by a Buyer's Guide and Frequently Asked Questions.
15 Best Pillow in 2022
1. Layla Pillow – Best Environmentally Friendly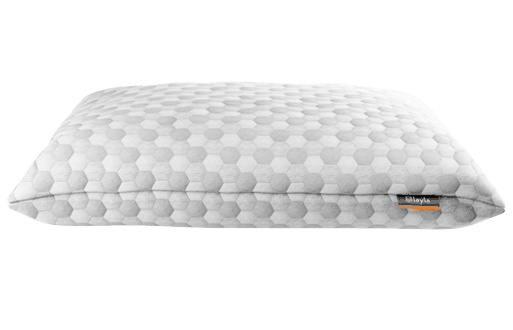 Filled with a mix of memory foam and Kapok, a cotton-like substitute
Woven with copper-infused thread called CuTEC® to draw heat away from your head and keep you cool
Pesticide Free and 100% Natural
The Layla's soft cushioning from Kapok and Memory Foam cradles your head and is extremely fluffy. Per Dennis Pork, the CEO and Founder of bestmattress.reviews, this pillow will give your head and neck all of the support it needs when you're sleeping. You won't wake up with a stiff neck, as the memory foam molds to the shape of your head and neck giving you the perfect, custom support for the way you sleep. This is easily one of the best memory foam options around. Because of this, all sleepers, no matter the position, will benefit from using the Layla.
If you've ever looked at your pillow without its protective pillowcase on, it's likely that you saw some intense discoloration. These stains can form from dead skin cell buildup, saliva, and other materials that may interact with the cover while you sleep on it. To avoid this buildup, the Layla comes with an anti-microbial cover made out of copper-infused fibers. This technology, called CuTEC®, protects it from nasty things that it may encounter. To clean, just unzip the zipper and wash normally.
The Layla tops the charts due to its fully-customizable depth. If you feel that it's too high for you, you can open the zipper and remove some of the fillings manually. This is great for individuals who are unique sleepers or heights and need to alter aspects of it to suit them. This one-size-fits-all option is sure to help you sleep soundly and comfortably through the night.
2. The Leesa Pillow – Best Cooling Foam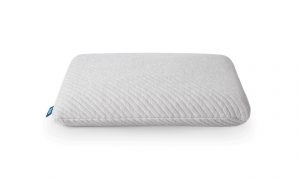 One piece of Avena Foam for comfort and support
Plenty of ventilation channels to allow airflow
Easy, removable and cleanable cover
No matter what kind of sleeper you are, the Leesa will form to whatever shape you need it to be. The Leesa, though, is unique in that it is not filled. it's one sheet of Avena Foam. Avena Foam is the perfect combination of firm and plush, and best suited to back sleepers. Additionally, since it is one solid piece of foam, you'll never have to fluff your pillow again!
The design works well for sleepers who prefer to stay cool at night. If you've ever woken up in a sweat in the middle of the night having to flip your pillow, you'll appreciate the ease and cooling ability of the Leesa's hundreds of ventilation channels that allow airflow through them.  Stay comfortable and sleep easier not having to wake up in the middle of the night with the Leesa.
The Leesa   makes keeping it clean easier than before  with an easy to remove cover. Just unzip and remove the cover from the Avena Foam insert piece and throw the cover into the washing machine on cold. Keep in mind not to wash the foam, as the water buildup can damage it permanently. If there are stains on the foam, be sure to spot dab with cool water and let it air dry.
3. The Nectar Pillow – Most creative memory foam construction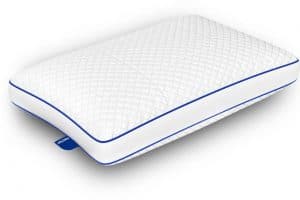 Unique design
Fully customizable pillow height and fill quantity
Airflow channels for increased ventilation
The Nectar is on this list because of its unique and comfortable design. Nectar uses an innovative pillow-in-pillow design. A removable memory foam insert allows you to easily adjust this style without the mess of moving pieces of foam other adjustable models require.   It is made with memory foam and has a quilted pattern. The adjustable nature makes this pillow suitable for different sleeping positions. No matter what position you sleep in, the memory foam will contour and shape to your body giving you the exact comfort you need while sleeping. You'll never have to wake up with a stiff neck again!
If you like having the ability to customize the height, Nectar is a great option for you. Built with the everyday customer or consumer in mind, it gives you the ability to open the zipper and remove the internal padding so you can get the perfect height for your sleeping position. This makes the Nectar truly a one-size-fits-all choice.
Standard pillows can trap heat from both your body and your surroundings making for a warm and uncomfortable night. The Nectar is on this list partially because of its quilted pattern which acts as air channels to keep it cool. With added airflow through the surface, heat will not be easily trapped, and it will be a cooler, more comfortable sleeping experience. You won't have to wake up in the middle of the night to turn your pillow over, as it will stay cool! The Nectar is great for sleepers who want a fully customizable experience without sacrificing the ability to stay cool at night.
4. The Idle Pillow – Best Design for Cooling Gel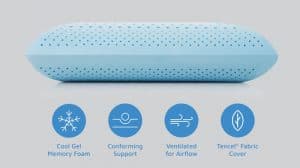 Made with cooling memory foam
Ventilated holes keep it cool
Equipped with different "zones"
The Idle Cooling Gel Memory Foam Pillow made this list due to how individually unique and innovative it is. Most of the time, when you think of a pillow, you think of the classic filling that needs to be fluffed. The Idle takes a new approach to improve this classic invention.  It's made with blue, cooling memory foam.
This creates a softer, more cushioned touch, and allows heat to leave and not become trapped. Gel memory foam is scientifically proven to trap less heat than original memory foam . Stay cooler at night with the Idle Cooling Gel Memory Foam.
The Idle is innovative, with its use of hollow holes throughout the structure. These channels allow for air flow that keeps it even cooler. This, in combination with the gel memory foam, makes the Idle one of the best cooling choices on the market. The holes hold pockets of air and allow you to keep your head and neck as cool as can be at night. This product is great for those with sensitive skin and problems with temperature regulation issues because of the cooling technology and the ultra-soft bamboo pillowcase that comes with it. You won't have to wake up to flip it over!
It uses a unique zoned technology having smaller holes on the outside perimeter of the pillow, yet larger channels where your head should ideally lie. These help to cradle your head and help the shape perfect, so it seamlessly supports your neck and head. The holes create a cushioning and space for the pillow to "deflate" slightly, allowing for optimal comfort.
 5. Casper Pillow – Best fiber designed
Dual Pillow Design with separate inner and outer forms
Cotton on the outside and inner polyester microfiber fill
Easy to care for
The Pillow by Casper was designed with the study of many individuals and their  and styles. With the data the researchers collected, they tried to identify the best solution to the common issue of pillows being useful for only a single sleeping style. With their research, The Pillow was created. It is dual-layered and considered to be a pillow-in-pillow design. The innermost pillow is easily moldable due to nearly a billion microfibers in the inner layer. The outer layer is made of a breathable and soft cotton. Having these two pillows layered helps remain comfortable all night in whatever position you'd like. It is for a good option for combination sleepers.
The materials and fibers used in the manufacturing of this pillow are directly and proportionately related to its high quality and performance capabilities. The cotton outer layer provides ultimate breathability and cooling powers. Cotton is a natural fiber that is very lightweight and one of the most breathable fibers on the market. This cotton exterior will keep you cool. The interior pillow is created from a polyester microfiber fill to make it pliable. Its flexibility makes it a good choice for combo sleepers.
The exterior can be cleaned regularly. Be sure to only clean the outside in cold water and let it air dry. You shouldn't put the inner pillow in the washing machine and should spot clean. This is because the tumble of the washing machine could ruin the product. Always be sure to wash the cotton cover frequently to avoid oil and dander buildup. The Pillow is a great fiber pillow on the market and will satisfy the needs of many individuals.
6. Nest Bedding Pillow – Best Tencel Blended Fabric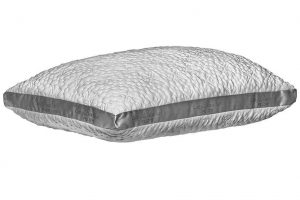 Made with a soft Tencel blended fabric that breathes
Adjustable height and fill depth
No animal products used and all materials were made in the U.S.
Many people love the feel of a soft down fabric but don't want to invest in a full down pillow. Thankfully, the Easy Breather has you covered. The covering is made of a Tencel blend fabric. For those unaware of what a Tencel blend is, it is a synthetic and sustainable fiber known for its high breathability. This fabric is able to closely mimic natural down and its lightweight properties. This helps cradle your neck and head allowing you to sleep better, more aligned, and breathe easier. When you sleep, depending on the position you lay in, your airways can compress making it difficult to breathe. When you sleep in the right position on your back, your airways are able to relax, and open fully making for a great, fulfilling night's sleep.
The inside of the Easy Breather is composed of shredded memory foam. Most memory foam pillows use a full block of foam, but this uniquely utilizes shredded foam. When shredded, memory foam has the same distinctive ability to mold to your own personal shape, but it is much lighter and can be more effective. If you want to be able to customize the loft, , this comes with a zipper to remove any extra memory foam to lower the loft to suit your needs.
For those who care about animal cruelty, you'll be happy to hear that this product is animal cruelty-free and does not use any form of animal products. This means that all materials are either natural or synthetic based on materials that are not synthesized from various parts of animals. Additionally, it is made in the United States, so outsourcing and unfair labor were not used during the production of your Nest Bedding Easy Breather. Sleep soundly on the Easy Breather, especially suitable for back sleepers.
7. Tempur-Pedic Pillow- Great for Those New to Memory Foam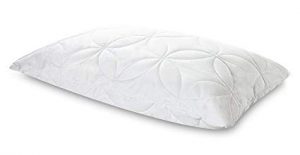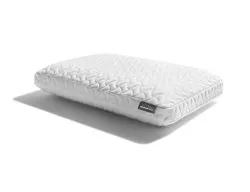 Made with a memory foam developed by NASA technology
Easily Washable
Made in the United States
If you are new to memory foam pillows and are looking for a great quality one to try out, check out the Tempur-Pedic models designed for your size and sleeping style. Plenty of options are available, but one thing remains the same – the material used. Tempur, the now patented name of the memory foam used in the Tempur-Pedic, was created by NASA, or the National Aeronautics and Space Administration. This material was originally made to cushion astronauts during their travels, and especially during lift off. Because the best, most intelligent people in the nation developed this for the safety of one of the largest funded projects in the United States of America, you know you'll be softly supported. Tempur-Pedic materials are soft, durable, and mold to your body in whatever position it may take at night. Different styles are available.
The Tempur-Pedic is housed in a removable and machine washable casing. They are made of mostly polyester and cotton depending on the pillow. Because of this, you can easily put the cover in the washing machine on cold and air-dry so the size does not alter in the dryer. Remember to not wash the inside, as it can damage the manufacturing technology of the Tempur.
Tempur-Pedic has vowed to honor and support the United States of America. Because of this, all of their jobs are based out of the United States. You can sleep and rest easy knowing that nobody in a country where labor is mistreated worked on your pillow. Tempur-Pedic will always support American based jobs and families to increase the American employment rate and the internal economy.
We really like that Tempur-Pedic developed styles based on the sleeper's size and sleeping position. Details like this matter and can lower pain and prevent injuries.
8. Ghostbed pillow  – Best Combination of Cooling Designs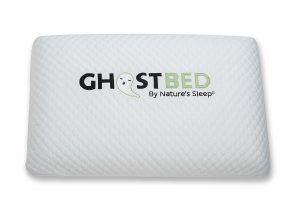 Utilizes multiple forms of cooling technologies
Provides great support of head and neck
Ergonomic design
The Ghost is perfect for individuals who get warm at night and would benefit from the use of advanced cooling technologies. This style has four different forms of cooling materials.
The first one is the innermost section which is made of a gel memory foam. Gel foams are known to take and release heat from one's body to keep you cool.
The second form of temperature cooling technology is the inner aerated mesh cover which allows air to flow better throughout the structure. The more light, porous materials in the interior, the lighter and cooler it will be. T
he third layer of protection is the performance cooling side, made from GhostBed's Proprietary Phase Change Material. This material adjusts to the level of your body heat and pushes the thermal energy out of the pillow.
Lastly, the cover is the fourth layer of protection. It is made from their Ghost Ice Fabric and is known to change hot air to cool air and neutralize it. GhostPillow is capable of giving excellent support as well.
People with neck and back pain may suffer from poor alignment of their back while sleeping. To fix this, the inner gel memory foam conforms to the exact shape of your head and neck providing full support.
The resistance that is applied stiffens slightly so the support will not collapse or flatten on you while sleeping, thus providing you with the proper neck position for the whole night.
The ergonomic design allows you to sleep comfortably and keep your spine and neck aligned. Many pillows don't offer enough support, but this one prevents neck extension and lowers the amount of strain you place on your body just while you sleep. Enjoy a great night of sleep with the GhostPillow's advanced and layered foam technology.
9. Coop Home Goods Pillow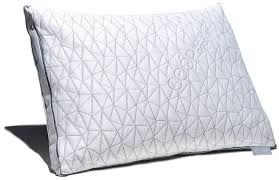 Adjustable Memory Foam Fill
Hypoallergenic and dust mite resistant cover
Perfect form for every type of sleeper
Those who prefer adjustable foam styles are sure to love the Coop Home Goods Original. The amazing technology within the design allows filling to be removed if you deem it to be too tall for you. Coop Home Goods knows that overfilling can cause your neck to strain upwards and leave lasting, harmful effects such as neck pain on one side of your neck the following morning. Alternatively, if you take out too much filling through the incorporated zipper, your neck can become strained in the opposite direction and may cause you to wake up in discomfort during the night. The perfect alignment of your neck and head will be produced with the correct loft for your sleeping style and body size. You'll know your pillow is filled appropriately if your neck is parallel with your bed. The Coop Home Goods Original is perfect for a customizable sleep system.
If you have allergies that cause you to wake up in the night or sleep restlessly, the Coop Home Goods Original has you covered. Made with bamboo derived and treated fabrics, this pillow is dust mite resistant and hypoallergenic, which means it will help reduce allergic reactions. Additionally, to prevent allergic reactions even more, the pillow was designed with a removable and washable cover. Just toss the pillow case in the washing machine on cold. After it's washed, let it air dry to prevent shrinkage. Make sure to never put the actual pillow in the washing machine, though, as it can damage the performance of the shredded memory foam internally. If your pillow itself gets dirty, spot clean with warm water.
Whether you're a stomach, back, side, or any other kind of sleeper, this pillow will benefit you. Because it is adjustable and made with memory foam, you can set it up to be comfortable in whatever position you sleep in and the Coop Home Goods Original Pillow will form to your shape. Don't worry about tossing and turning at night, as every time you move the memory foam bounces back to its original form. The Coop Home Goods Original Pillow is a welcome option for shredded foam lovers.
10. Sleep Artisan Latex Pillow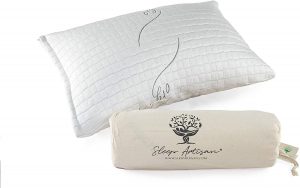 The Sleep Artisan is ideal if you're prone to allergies. If you wake up in the middle of the night with sniffles, congestion, or watery eyes, consider investing in a hypoallergenic pillow like Sleep Artisan. It is naturally resistant to common allergens including dust mites, mold, mildew, and microbes. Avoiding these allergens will ensure your immune system doesn't go into a reactive mode that causes you discomfort. You'll sleep better and feel healthier. The cover is a luxurious soft organic cotton, polyester, and hemp blend that can easily be cleaned in the wash machine. With no toxic chemicals to worry about, you can sleep easy knowing your head rests on safe and comfortable support.
The Sleep Artisan's loft is easily adjustable so you can find the ideal height to support your body's posture while you sleep. The Okeo-Tex® 100 Certified natural latex ensures the quality of the materials used to construct your resting place. The Sleep Artisan is a wise choice for individuals with allergies, and sensitive skin and for picky people who want their pillow to be just right for them. The adjustable firmness provides the ability to customize it until it is perfect for your needs.
11. Digital Decor Pillow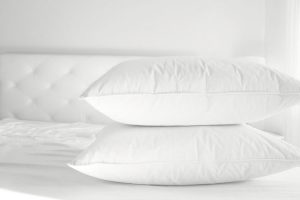 Synthetic and hypoallergenic virgin polyester filling
Best for back, stomach, and side sleepers
Available in three different fill weights
The Digital Décor Hotel Down Alternative is the most affordable synthetic filled option in the market today. The fill is made with a 100% hypoallergenic virgin polyester filling and available in a variety of lofts, so they have one that is right for your sleeping style. Polyester is a form of synthetic resin-based material which has properties such as aversion to water, wind, and environmental resistance.   Polyester filled pillows have a combination of great comfort and resistance. If you move around on this pillow or toss and turn at night, you'll never have to wake up with a stiff neck again, as the fill will continuously support your head and neck.
Among the different versions, one will be just right for back, stomach, and side sleepers. With this pillow, no matter which position you sleep in, the polyester filling will form to your head and neck. Crooks in your neck are caused by either over or under extension of your neck compared to the position of the rest of your spine. This misalignment leads to back and neck pain, so thankfully with the Digital Décor Home Down Alternative, you can choose to the style that is designed for your sleeping position.
The Digital Decor Hotel Down Alternative comes in three different fills. They are Gold, Platinum, and Silver. This means that the fill is medium, firm, and soft, respectively. Digital Décor knows that no single person sleeps exactly the same, so they couldn't possibly make one pillow for all sleeping types. Three different fill options allow the customer to choose the comfort level that suits them. Remember, you always want your neck and head to be parallel to the bed. If your neck is pointed in any direction, you could wake up with pain, so be sure to choose your fill based on this aspect.
More: Best Pillow for Combination Sleepers
12. AmazonBasics Pillow – Great for Stomach and Back Sleepers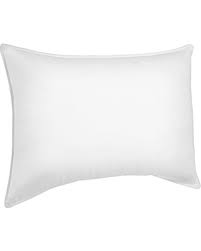 100% polyester blend is plush and hypoallergenic
Microfiber pillow case
Best for stomach and back sleepers
The AmazonBasics Down Alternative Bed Pillows are one of the   most affordable for those with allergies and who prefer a plusher feel. The 100% polyester blend mimics down but is synthetic so no animal parts are used. Additionally, polyester is better than down for pillows in various ways, including being cooler.
Air is allowed to pass through the polyester fill easily. Increased airflow means a cooler sleep and less need to flip it over. One other benefit to having a polyester fill instead of down is its hypoallergenic nature.  The hypoallergenic nature of polyester pillows makes the AmazonBasics Down Alternative Bed a great option for those who experience allergies with down.
Sleeping on a soft, porous surface can increase your comfort while sleeping exponentially. The AmazonBasics comes with a 100% microfiber pillowcase. Microfiber is a fine, soft material. Microfiber is also a strong material, so you won't have to worry about wear or damage over time. You can wash it in the washing machine and dry on low.
This pillow is a good budget option for stomach and back sleepers. When stomach and back sleepers lay on their pillow, their neck is almost in the perfect parallel position to the bed. If your pillow is too overfilled, strain can cause your neck to overextend itself. If it is underfilled, your head can sink, and your neck can strain from being under extended. Stomach and back sleepers need just enough support but not too much. These are plusher than they are firm and therefore aren't too high for the back and stomach sleepers.
13. Utopia Bedding Pillow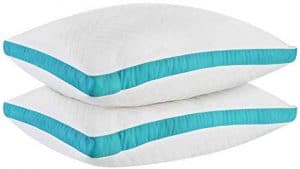 Plush, microfiber fill
Best pillow for side sleepers
Microfiber external pillow case
With a uniquely plush microfiber filling, the Utopia Bedding Gusseted Quilted Pillow is comfortable, supportive, and the best side sleeper pillow. The 750 GSM fiber filling cushions all of your vital pressure points allowing your body to relax when falling asleep. This product is easily moldable and will conform to the shape of your body.
Having proper support is necessary when looking to have a great night of sleep, and this pillow provides it. Additionally, the fiberfill is breathable and can keep you cool at night. You won't have to worry about turning your pillow over to reach the cooler side. Additionally, it's the best travel pillow since it is can be easily compacted. Never leave your favorite pillow home during a vacation again.
The Utopia Bedding Gusseted Quilted Pillow is a comfortable and effective option for all kinds of side sleepers. This pillow is on the market as the best pillow for a side sleeper. Side sleepers tend to lay with one side of their head touching the pillow and the other facing the ceiling. The human body is not engineered for this unique position and requires neck cushioning.
If you are a side sleeper and your pillow is underfilled, a crook in your neck can form from being underextended. The opposite will happen for a pillow that is overfilled. The perfect medium of a pillow for side sleepers is firmer than other kinds. This is so your head is brought up to the correct height to become parallel to your mattress.
The Utopia Bedding Gusseted Quilted Pillow is the best pillow for neck pain because its filling is centralized in the middle of the pillow to ensure a comfortable night's rest for side sleepers.
This pillow comes with a microfiber pillowcase that is plush and soft enough to feel fully comfortable sleeping with. This is perfect for individuals who have sensitive skin, as microfiber is soft and supple, unlike other pillowcases which can be rough and damaging. The Utopia Bedding Gusseted Quilted Pillow is a great option for those who sleep on their side and want a comfortable night of sleep.
14. Sable SA-BD013 – Great for Guest Rooms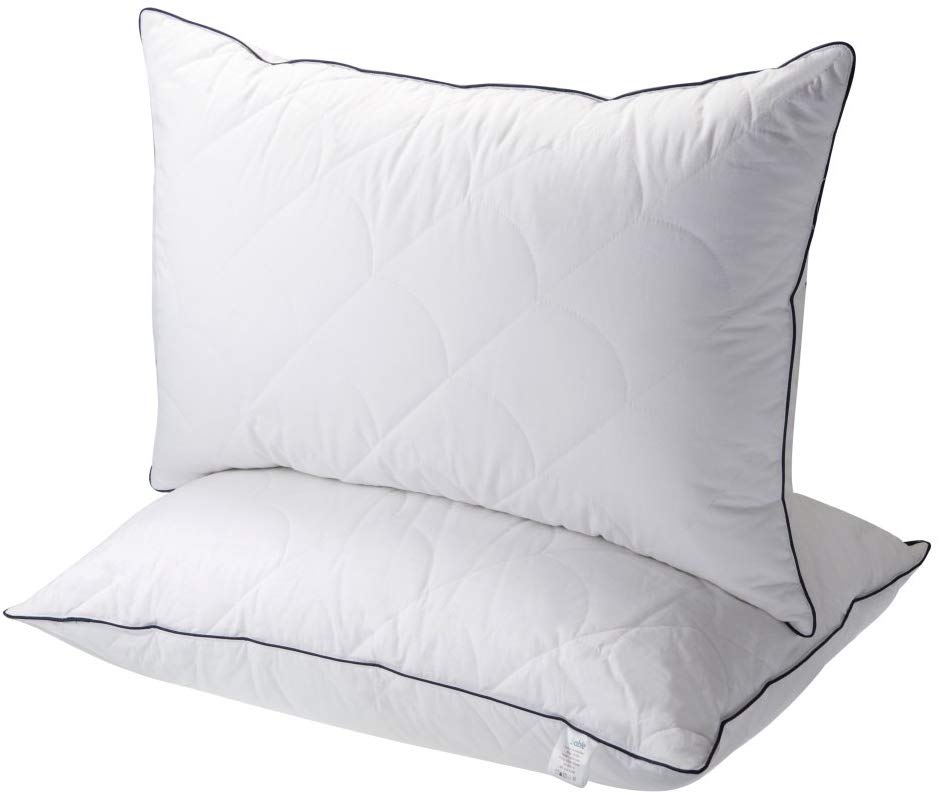 Adjustability makes it great for all sleeping positions
Synthetic filling and outer pillow case treated with hypoallergenic and anti-bacterial properties
Fully customizable pillow height
The Sable SA-BD013 Goose Down Alternative Bed Pillow was engineered with the general population in mind. You can add or remove filling to adjust the loft to suit your sleeping position and body size. Many people do not stay in one position while they sleep. Changing pillows when you change position reduces the likelihood of sleep related injuries and cricks in the neck from sleeping in positions that don't properly align your neck and spine. This might mean using two pillows when on your side and shoving one off to the side when you roll onto your tummy or back.  With the ability to adjust the height, you'll be able to have one that is comfortable in every position you sleep in.
The pillow is easy care. The whole thing can go into the washing machine which makes it easy to keep clean. The unique design qualifies it to be registered with the Food and Drug Administration (FDA) as a Class 1 Medical Device.
The flexibility of the Sable makes it great for a guest room where you'll have people with different sleep styles since you can adjust the loft of the pillow to fit their individual needs.
15. Birch Latex and Wool Pillow – Great for Side Sleepers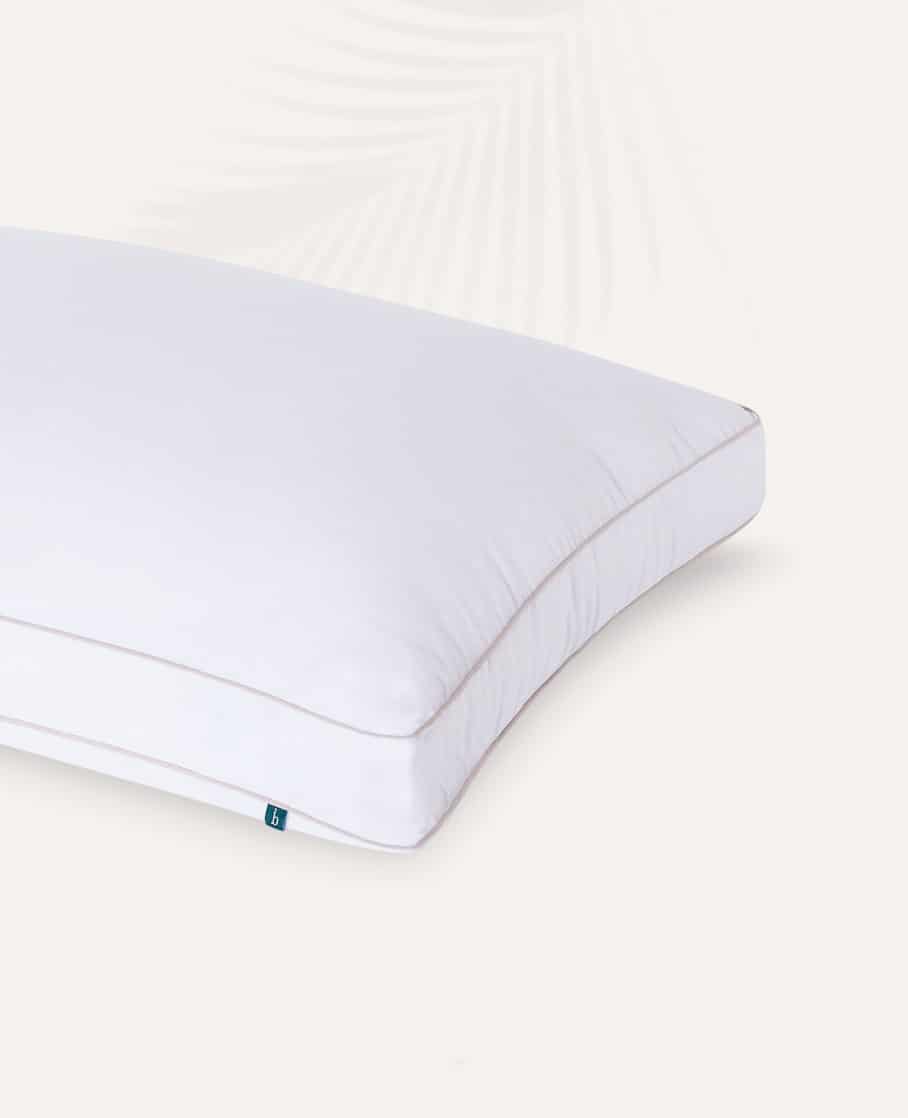 100-night sleep trial
GREENGUARD and OEKO-TEX® certifications ensure quality
Best for Side Sleepers
Latex is highly durable and won't compress the way polyester and down fills will, ensuring that side sleepers will enjoy the higher support they need to maintain proper alignment of their spine. The most important aspect of a pillow for a side sleeper is maintaining the height required to keep the spine aligned. The in-home sleep trial allows you to see how well you sleep on this pillow without risk. If it doesn't work well for you, simply return it for a full refund.
Birch is handmade in the USA. Latex is made from the sap of rubber trees, so it is a sustainable eco-friendly product that is good for the environment. The natural fire-retardant properties of wool ensure there aren't any chemical fire retardants in your pillow. The ingredients are naturally anti-microbial.
The loft can be ordered with heights between 4 – 6 inches. A petite side sleeper would be comfortable with four inches while a broad-shouldered person would enjoy the 6-inch height. The wool is a great natural temperature regulator that will keep you cool in warm weather and warm in cool weather. The 3-year warranty shows that they stand behind their product.
How We Picked The Best Pillows (Ultimate Guide)
We are sleep experts. Every week, we work full-time keeping up with the latest research on sleep health and innovations in sleep products. We reach out to experts in physiology, doctors, chiropractors, and physical therapists to bring our readers thoughtful, evidence-based practical information they can use to improve the quality of their purchases and, ultimately, the quality of their lives.
Pillows are one of the most important products you buy because you spend about 1/3 of every day in close proximity with your choice. Good buying decisions aid good posture and bad ones can cause injuries and chronic pain. Our specialists choose sleep products based on a variety of factors including safety, sleep physiology, quality, durability, value, and reviews.
The market is flooded with choices which can make finding the best pillow for you intimidating. Our sleep specialists spend hours evaluating sleep products and know which factors immediately disqualify a pillow from consideration. For example, we've noticed a new trend from manufacturers pushing pillows that are "dry clean only." This immediately disqualifies it from our consideration because dry cleaning a pillow is not a good idea nor will it remove water-based stains. Another trend we've seen is seller's marketing pillows as perfect for every position when the pillow isn't adjustable. Each sleeping position requires a different level of support.  This Buyer's Guide will highlight important things to consider when shopping for a pillow so you will be prepared to make the best possible decision.
Some things to consider when looking to purchase a new pillow include:
What Kind of Sleeper Are You?
Type of Fill
Do You Have Allergies?
Are You a Warm Sleeper?
Environmentally Friendliness
Let's take a deeper look into each of these criteria to look out for when purchasing.
What Kind of Sleeper Are You?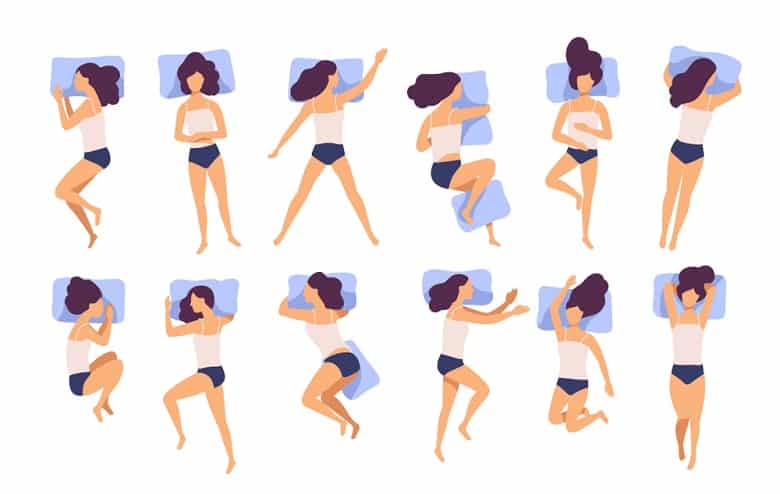 The three most common sleeping positions are side, stomach, and back sleepers. Different kinds of sleepers benefit from different lofts. Loft is the height of the pillow. Stomach sleepers may do better with no pillow. If they use a pillow, it should have a low loft (no more than 3 inches). Back sleepers need a little more loft, up to five inches.
The loft they need will vary based on their size. Side sleepers need the most loft to keep their neck and spine in alignment and to keep weight off their shoulder, between 4 – 7 inches, largely depending on the width of the sleeper's shoulders.
Combination sleepers often do best when they use more than one pillow. Using a combination of a medium loft firm pillow and a softer, lower loft pillow near the head while on the side provides the needed support in that position.
When they roll over onto their back, they can push the higher pillow aside and just use the lower loft pillow. The consistency of having the same pillow next to the head will be less disruptive to sleep than completely changing pillows when you roll over.
This strategy has the added benefit of allowing one arm to rest between the pillows which satisfies the desire to raise the lower arm without requiring too high of an angle or the pressure of your head resting directly on your arm.
Type of Fill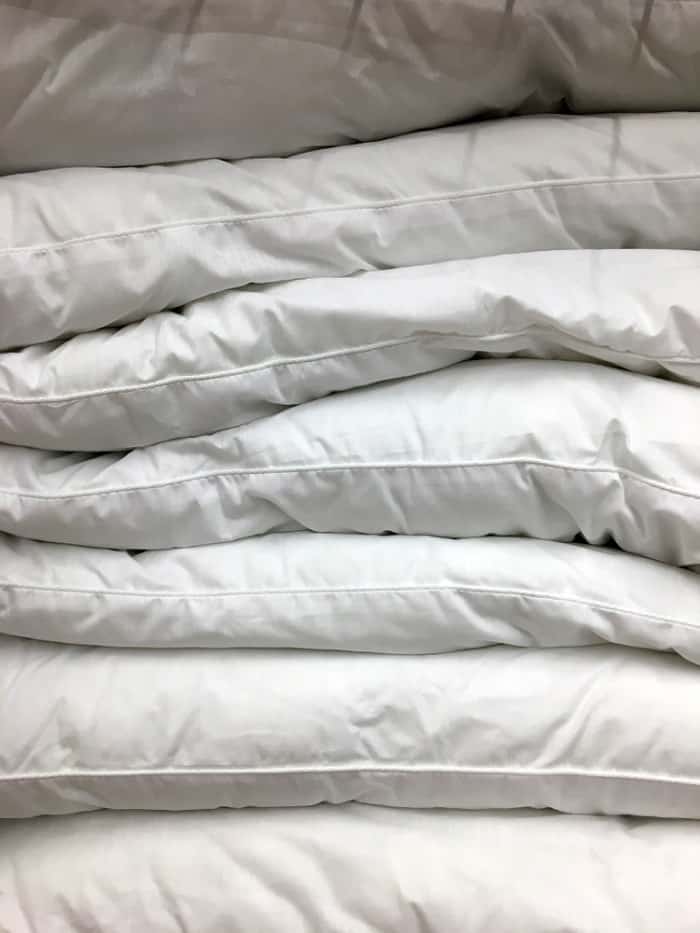 Innovative fills have flooded the market during the past decade including down, fiber, memory foam, latex, gel foam, Kapok fiber, and synthetic polyester. Each have their own benefits. For example, down is very plush and insulating. Fiber fills are often adjustable and breathable.
Memory foam contours to your body and can provide you with soothing compression of pressure points. Synthetic polyester mimics the feel of natural down but does not use animal products in their making and is much more breathable. Latex and Kapok are eco-friendly. Latex is naturally anti-microbial. Gel foams help you sleep cool.
The best fill for your choice depends on your priorities, which are usually dictated by your biggest pain points. If you suffer from allergies, hypoallergenic will be a high priority. If you sleep hot, sleeping cool will be important.
Keep this in mind in combination to what kind of sleeper you are. For example, if you are interested in a down fill but are a side sleeper, you may want to use the 2-pillow method to ensure you have adequate loft while enjoying the soft down near your face.   If you are a back sleeper and want a fiberfill, make sure to remove some of the fiber through the zipper and adjust it to a height where your neck is parallel to your mattress.
The type of fill you use is an important aspect of choosing the right product because it determines your overall comfort level and contributes to the durability of the product
Environmentally Friendliness
Some products are made from petroleum or pollute the environment during production, or they aren't recyclable at the end of their life cycle. Latex and Kopak fiber fillings are eco-friendly, sustainable, and recyclable.
Some manufactures have carbon neutral facilities, some use solar or wind power, and others donate to eco-supportive charities or plant a certain number of trees for every product sold. The choice of eco-friendly products has expanded exponentially during the past decade. You will be able to find an environmentally conscious product that suits your needs if you want one.
Vegan Friendly
If you are a vegan, products with animal products won't do. Find cra pillow that is made of synthetic material. Natural fibers like Down are taken from geese and ducks. If you feel strongly about veganism, consider using a pillow made of synthetic material or memory foam. These do not use animal products and can provide you with just as much comfort.
Conclusion
Purchasing a new pillow is a very personal task to complete. When you decide it is time to get a new pillow, consider the qualities and characteristics you need your pillow to have and what materials would best suit you. To best avoid back pain, you must identify what kind of a sleeper you are.
All back sleepers should be conscious of an overfilled pillow, as these can significantly damage your neck over time. Look into using the Layla pillow, as you can adjust the fill until you have just the right amount to cushion your neck.
Another adjustable option is the Coop Home GoodsOriginal. This will allow you to remove as much fill as you'd like and have a fully customizable sleep experience.
Sleeping on your side is the most common and healthiest sleeping position but it requires the most support to maintain alignment. Individuals in any position can develop kinks and pain in their neck and spine if they sleep in a position that doesn't support alignment of their neck and spine.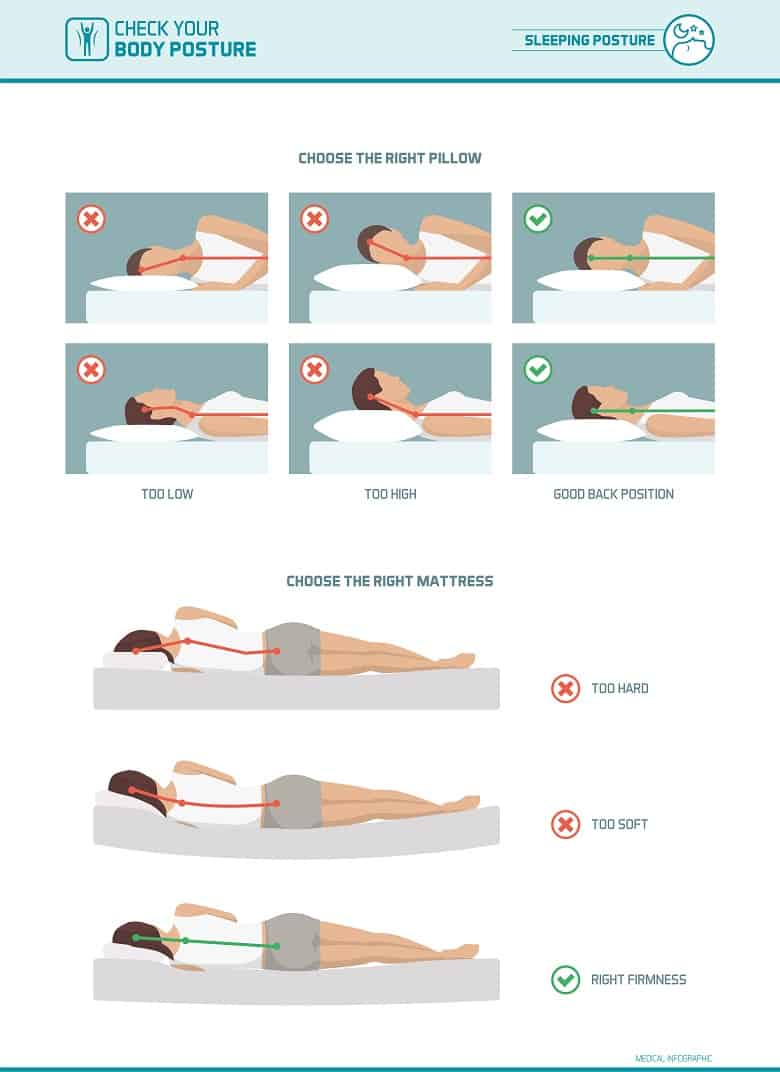 Side sleepers need 4 – 6 inches of loft. Consider treating yourself to the Birch pillow.
Stomach sleeping is the least healthy sleeping position and many experts recommend retraining yourself to a side sleeping position. Sleeping on your stomach means that your neck must be twisted to the side which can lead to numerous painful issues as well as breathing problems.
If you must sleep on your stomach, a low loft pillow or going without a pillow will minimize problems. A higher loft pillow would exacerbate them. AmazonBasics Down Pillow might work well for you or opt for an adjustable firmness model. You can store the excess stuffing and use it to replace the fill when your pillow begins to age.
Also, consider purchasing a Tempurpedic, as they have various kinds of shapes that may be best for you.
More You Might Like: