Most people change their sleeping positions throughout the night. Combination sleeping is the term used to describe such sleepers – they hardly sleep in a side, stomach or back position. Rather, they find themselves changing among the three positions during the night. Because of this, their pillow requirements for comfort and support for every adopted position differs.
Is There A Difference Between A Combination Sleeping Pillow And A Normal Pillow?
If you are a combination sleeper, can a normal pillow give your neck and head the firmness and support they need? No! Unlike a combination sleeping pillow, a normal pillow not only features a standard firmness and thickness, but also brings with it a flat surface. Not all these might be useful when switching from one position to another.
Here is the deal …
When you are lying on the bed by your side, you definitely need a pillow with higher sides to adequately support your neck. However, what if you happen to change your sleeping position from side to back at some point in the night? In such a situation, you need a pillow with a lowered center. On top of that, it must be firm enough to enhance proper spinal alignment.
A great feature of combination sleeping pillows is that they are designed in such a way that they are highly moldable to perfectly contour to the shape of your head and neck regardless of your sleeping position. Some of them even already feature a contoured surface to combat spinal alignment issues.
How Firm Should A Combination Sleeper Pillow Be?
A variety of factors can impact pillow firmness. For instance, the materials used in its construction, just as you will learn later on in this primer, have a huge effect on pillow firmness. The other major determinant of firmness in a pillow is the amount of filling inside. For example, firmer pillows tend to have more filling compared to softer ones.
The most important thing to note is that there is no specific firmness level that suits every combination sleeper. While that is the case, generally, a medium-firm option works for most people. This is especially true if it features an adjustable filling, which you can remove or add for a custom feel.
Types of Combination Sleeping Pillows
The different types of combination sleeping pillows include:
Down Alternative Pillows
If you are allergic but still desire the qualities of a down or feather pillow, down alternative pillows are the best choice. Similar to down and feather pillows, these also tend to get lumpy. They are not long lasting. Nevertheless, a higher fill count can make your down alternative pillow more durable.
Down Pillows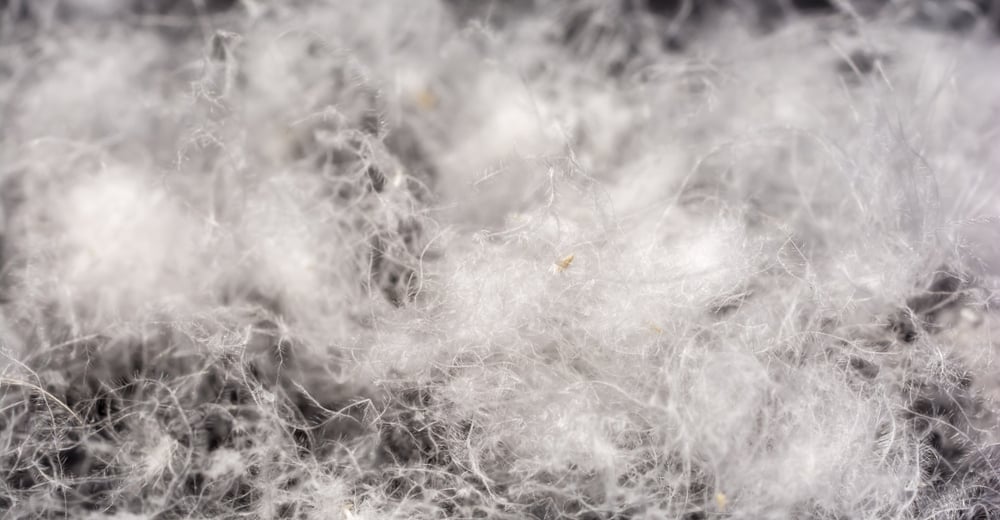 Down pillows are durable, lightweight, plush, and effortlessly moldable. Their soft interior feathers make them costlier than feather pillows. They can get lump from time to time. These pillows are ideal for allergy-sensitive combination sleepers.
Feather Pillows
Feather pillows are cushy and soft. You can easily shape and scrunch them. They are less costly compared to down pillows. While they perform almost the same function as the down pillows, they are not long-lasting. Because they get lumpy, you need to re-fluff them often.
Shredded Latex Pillow
This is a hypoallergenic, firm, as well as a mold-and-mildew proof pillow. It supports and contours your body. On top of that, the pillow is firm and has a high loft. Shredded latex pillows do not lose their shape. In addition to being heavy, they are also expensive. Are you a back sleeper that desires maximum firmness? Then you might need to settle for a one-piece latex pillow.
Hull or Buckwheat Pillows
Buckwheat pillows are not only breathable, but they also keep ''hot sleepers'' cool. They provide continued support and comfort as you reposition throughout the night. While they have more lofts, they are not overly firm. These pillows are easy to adjust and shape. Their only drawback is the fact that they tend to make noise when you adjust or move them.
Memory Foam Pillows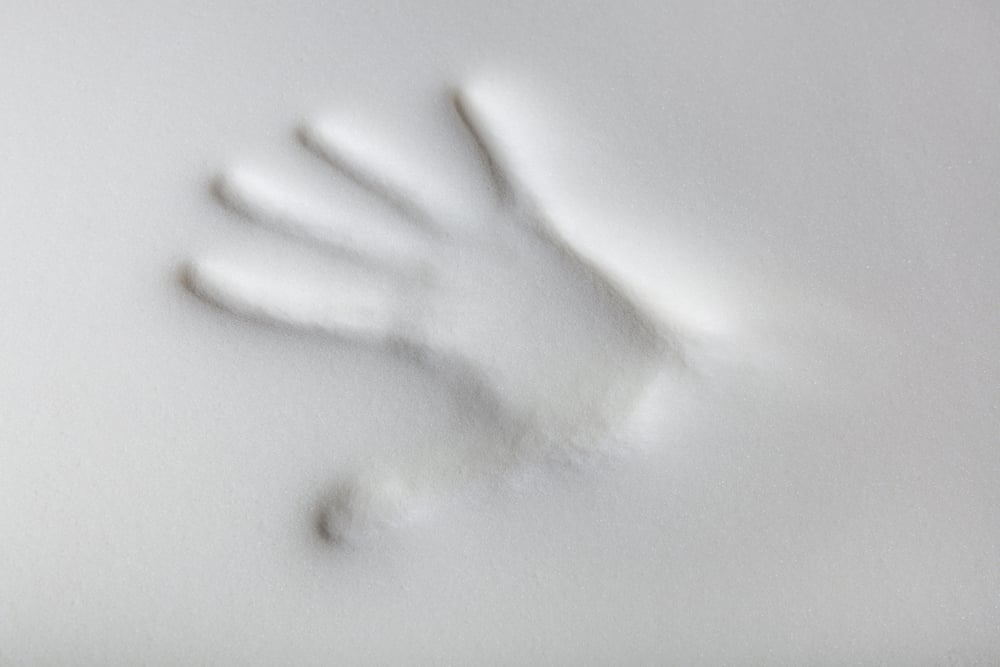 Memory foam pillows mold perfectly into your body contours. They boast a higher density that retains heat. Different manufacturers have come up with various ''breathable pillow'' designs to make shredded memory foam pillows the most comfortable, responsive and moldable on the market.
Note: Single-piece memory foam pillows are not ideal for combination sleeping because of their general firmness and high loft.
Bamboo Pillow
A bamboo pillow brings with it an outer casing that is made from bamboo fibers. It is not only super soft but also allows more airflow than normal. If you are a combination sleeper in a warmer environment, then these are a great option.
10 Best Pillow for Combination Sleepers
#1 WonderSleep Premium Adjustable Shredded Memory Foam Pillow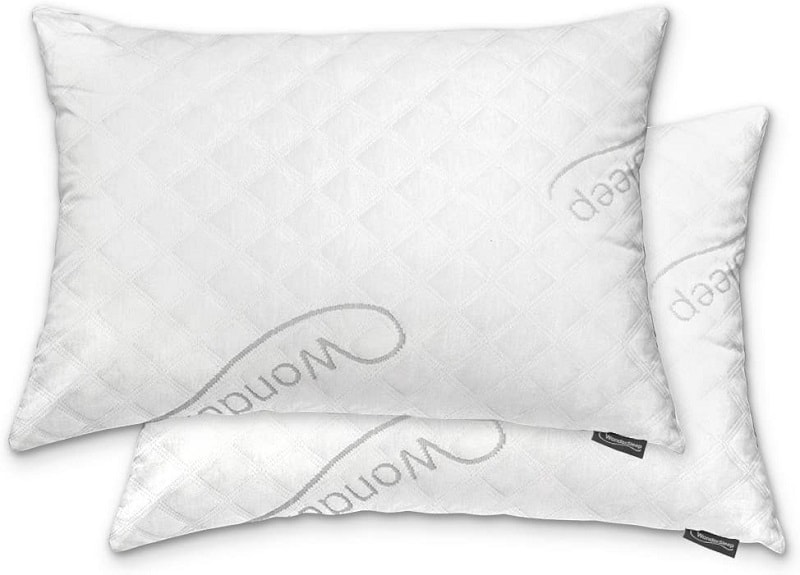 The WonderSleep premium pillow is of high-quality and affordable. It is stuffed with shredded memory foam, which feels cool on hot nights. Though shredded memory foam tends to sleep warm, this pair of pillows does not absorb heat from your body. The high-quality bamboo cover that wraps the pillow is highly breathable to keep the pillow cool all night long.
This pair is designed durable and maintains its loft even after months of use. Its bamboo covers are easy to remove and are machine washable. Even better, the inner cover of the pillow is washable too. If you need your pillow to feel malleable, you can remove some of the fillings. If you need a firmer pillow, you can buy shredded memory foam and add. The shredded memory foam conforms to your body shape making the pillow ideal for any sleeping position.
The only downsides to this pillow are the chemical smell of memory foam and the shifting of memory foam inside the pillow.
Pros
Highly durable
You can customize the firmness of the pillow
Washable inner and outer cover
Affordable price point
Cons
Chemical smell lasts more than a few days
#2 The Snuz Pillow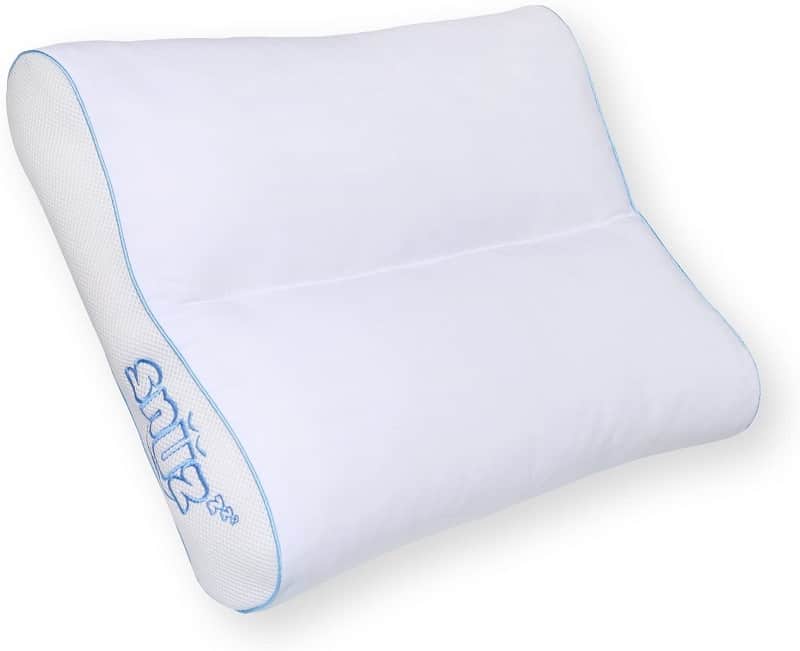 According to the manufacturer, this pillow was designed to keep you sleeping all night long. It features a simple construction where two pillows are joined together to form one. This dual-chamber design allows the pillow to maintain its shape throughout the night making it ideal for combination sleepers.
This shape will accommodate the shape of your head and the curve on your neck. Even after months of use, the pillow will still maintain its shape. It is filled with polyester microfiber that stands up to repeated use. Its cover is made of 100-per cent cotton. The cotton has a thread count of 300 making it breathable and comfortable. Even better, you can remove this cover and wash it in a machine.
The pillow feels soft and may not be ideal for those who need a firmer mattress. While the pillow is great for combination sleepers, its rigid shape may not be ideal for those with a short neck.
Pros
Highly breathable and washable 100-per cent cotton cover
Comfortable design for combination sleepers
Dual chamber design looks unique
Affordable price
Cons
Not ideal for users with a short neck
#3 Marnur Contour Memory Foam Pillow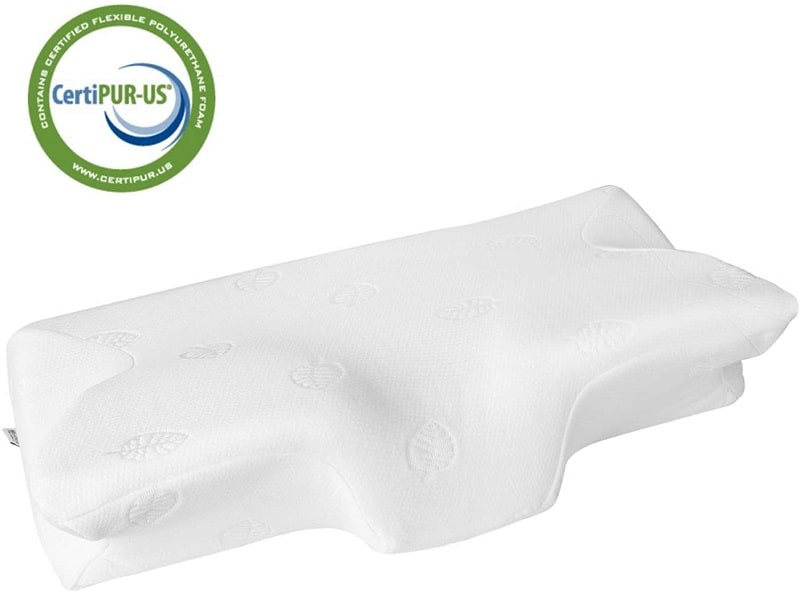 At first glance, this pillow looks uncomfortable – it sports a unique shape that may not appeal to some users. However, the shape of the pillow was created to ensure it performs excellently for combination sleepers. Its strange look makes it ideal for combo sleepers. When you are sleeping, the pillow presents you with different surfaces – this way, it can satisfy every user. Not only do the different parts of this pillow look different but they also have different levels of firmness and thickness.
Because the pillow is made of memory foam, it conforms to the shape of your head and neck and returns to its normal shape immediately after use. The pillow is wrapped in a bamboo polyester cover that is durable and easy to wash. This cover enhances the breathability of the pillow on hot nights.
Pros
High-quality construction
Unique shape offers different surfaces for combination sleepers
Soft but supportive construction
Wrapped in a breathable and high-quality cover
Cons
Pillow absorbs a lot of heat
#4 UTTU Sandwich Pillow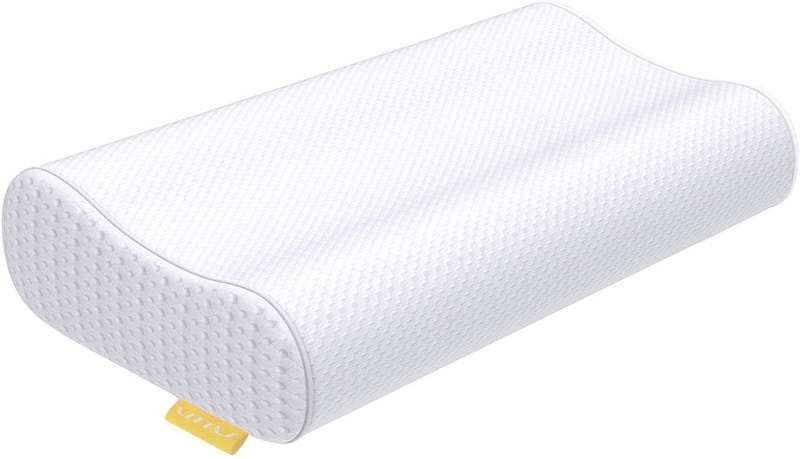 The Sandwich pillow from UTTU sports an inconspicuous look. However, its design is great, making the pillow ideal for combo sleepers. Inside, the pillow is stuffed with three different memory foam layers. One layer is sandwiched between two layers and hence the name. You can remove the middle layer if you need to adjust the thickness and loft of this pillow. When in use, the pillow conforms to the shape of your head allowing the pillow to hold up irrespective of the loft you choose.
This pillow maintains its firmness in hot and cold weather. Its bamboo-based cover and its memory foam layers are designed to last long. If you need a pillow that offers support, this might not be it. Again, it might absorb heat during hot weather. Overall, the pillow performs just right for combination sleepers.
Pros
Adjustable design – adjusts thickness or loft
Firm pillow and conforms to the shape of your head
High-quality cover
Durable construction
Cons
Absorbs heat during hot nights
#5 OXA Spring Bed Pillow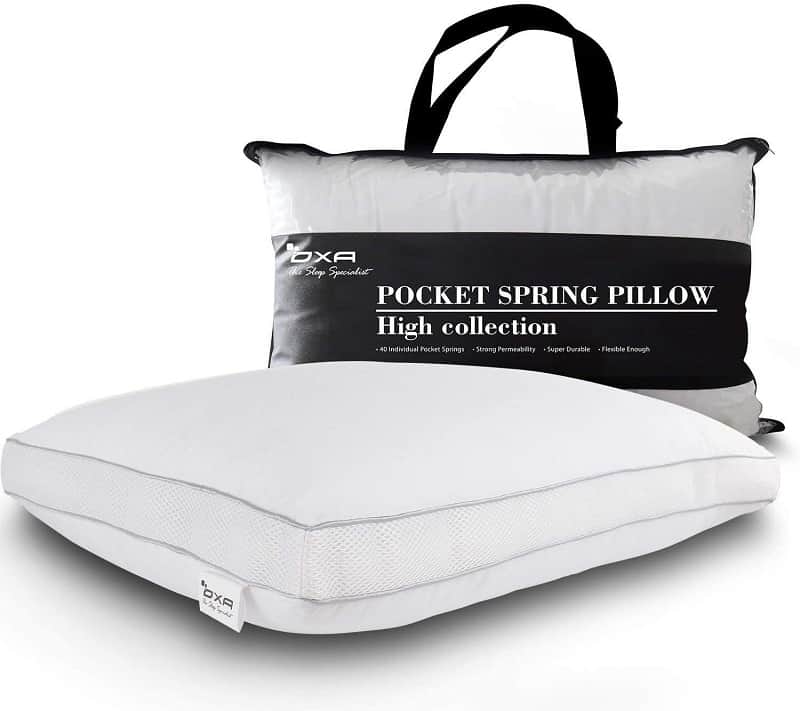 Spring mattresses are great thanks to their great balance between comfort and support. Now, this is a spring pillow designed to offer the same balance between comfort and support. While spring pillows might sound odd and uncomfortable, this pillow feels great for combination sleepers.
With metal springs, the pillow is durable. These springs are wrapped in cotton – there are forty encased coils. When sleeping, you will not feel the coils. Its spring-based construction coupled with its breathable cover allows you to sleep cool all night. Even on hot nights, the pillow will not absorb heat. You are offered a 90-day free trial. The pillow feels firm and consistent.
Pros
Firm design to offer enough support
Sleeps cool all year round
Durable construction
Generous 90-day free trial
Cons
Does not conform to the shape of your head
#6 Core Products Tri-Core Pillow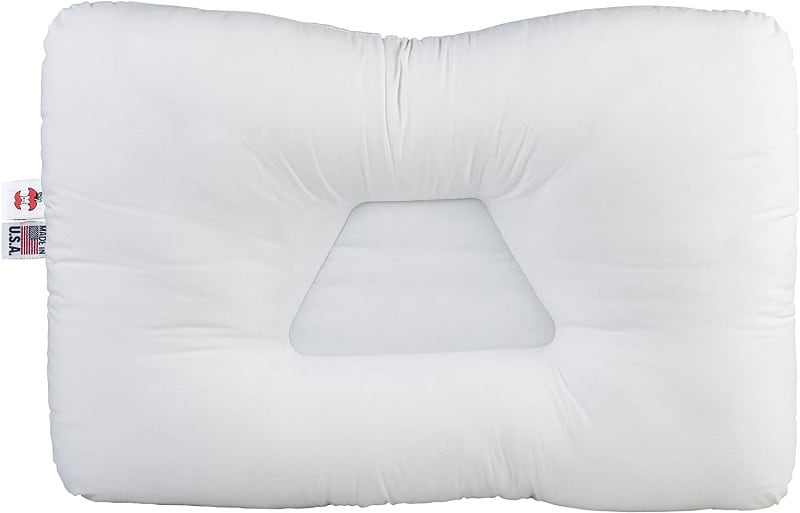 This pillow features orthopedic support, which makes it ideal for users with neck pains. The pillow sports the shape of a dogbone pillow with a depression in the middle. When you are sleeping with your head in the middle of the pillow (sleeping on your back), the depression on the pillow ensures your head and neck are well supported. While in that position, your spine will be well aligned. When sleeping on your side, you tend to sleep on the edge of the pillow; the sides of this pillow are firm enough to accommodate that.
The pillow offers enough and consistent support. After a short adjustment period, the pillow will start to feel comfortable. The pillow filling and cover are designed breathable to sleep cool all night for all months of the year. The manufacturer offers this pillow in different sizes and different firmness levels to meet your needs.
Pros
Available in many firmness levels and sizes
Great price-quality ratio
Provides enough support for combo sleepers
Designed with a simple orthopedic shape
Cons
The cover doesn't feel soft
#7 Roscoe Cervical Pillow
This is another pillow with a dogbone pillow shape. The depression in the middle of the pillow ensures both your neck and your head are well supported. Unlike other pillows with this orthopedic shape, this one is offered at an affordable price.
The sides of the pillow are fairly firm to offer enough support to combo sleepers. The firmness lasts even after repeated use. This pillow is light in weight and highly breathable. Irrespective of the season, the pillow sleeps cool. However, one downside is that the pillow does not feature a removable cover. With is awkward shape, most standard covers will not fit well. While it performs well, the pillow is challenging to clean.
Pros
Sports a great orthopedic shape
Great price for its quality
Firm and supportive stays cool all seasons
Ideal for users with neck pain
Cons
A removable cover not offered with the pillow
#8 Arc4Life Neck Traction Pillow
The Neck Traction pillow from Arc4Life sports a standard design but with slight improvements to make it better. For starters, the pillow ensures a smooth transition between the side used by side sleepers and the middle meant for back sleepers. Its bottom section, which is meant for neck support is different from its top section, which supports the head when you are sleeping on your back.
The pillow offers a comfortable feel thanks to its innovative shape and construction. The pillow has a shorter adjustment period compared to other pillows. Inside, the pillow is stuffed with polyester. Its overall construction enhances its durability and allows the pillow to sleep cool all night. When shopping, you can pick from three different sizes to meet your needs. The pillow feels soft and comfortable but offers less support to your head and neck.
Pros
Durable thanks to its high-quality construction
Great shape and three available sizes to match your needs
Stays cool in all seasons
Cons
Offers less support and its price is relatively high
#9 Mastertex Down Alternative Pillow
This pillow sports a normal shape but it feels comfortable for combination sleepers and comes at a great price. It is filled with a down-like microfiber that feels plush. This filling does not retain heat even on very hot days. Again, the filling will not cause any allergies. On top, the pillow is wrapped in an incredibly soft 100-per cent cotton cover with a thread count of 300. This cover is hypoallergenic and adds to the breathability of the pillow.
Sleeping on this pillow feels like sleeping on a cloud. While the pillow feels comfortable, it does not offer support and hence not ideal for those who need a firm pillow. You might need to fluff the pillow before going to sleep since it loses its loft after a period of use. Overall, the pillow performs incredibly.
Pros
Plush and very comfortable
Hypoallergenic and breathable
Durable construction
Fairly affordable
Cons
Loses its loft and might need fluffing before use
#10 Beckham Hotel Collection Pillow
This gel pillow is designed to feel as soft as a cloud. Even better, it is made highly breathable to ensure that you sleep cool all nights throughout the year. Inside, the pillow is filled with poly gel fiber, which does not absorb or retain any heat. This filling, coupled with a soft cotton cover, ensures the pillow stays cool irrespective of the time of the year. The filling adapts to your body when you sleep and when you shift positions in bed. This makes the pillow ideal for combination sleepers.
The mattress will comfortable but it is not supportive. Those who need a firm pillow might need to look elsewhere. However, the pillow does not lose its loft even after repeated nights of use. It is available at a competitive price.
Pros
Available in a soft, breathable, and washable cover
Ultra-plush and very comfortable
Conforms to your body shape to keep you comfortable
Stays cool all seasons of the year
Cons
#11 Comfort and Relax Ventilated Memory Foam Pillow
While many memory foam pillows stay hot on summer nights, this pillow was designed to feel comfortable on hot nights. The pillow does not absorb heat. The pillow was created using AirCell technology and the memory foam it uses is hole-filled to enhance airflow and alleviate issues of heating up. You will get all the benefits of memory foam, including comfort and support, without issues of heating up.
The memory foam is wrapped in a silky, polyester-based cover that adds to the breathability of the pillow. On one side of this cover, it features 'ice fabric, which stays cool no matter the heat outside. On unboxing, the pillow will have a memory foam smell that disappears after a few days of airing. Overall, the pillow performs well contouring to the shape of the user – this makes it ideal for comb sleepers.
Pros
Does not absorb heat
Conforms to the shape of your head and neck to keep you supported
Offers enough support in all sleeping positions
High-quality construction for durability
Cons
Strong memory foam smell the first few days of use
#12 Classic Brands Reversible Double Sided Pillow
The Classic Brands Reversible Double Sided Pillow is designed uniquely to accommodate the needs of combo sleepers and anyone else. It is designed to stay cool with still offering the many benefits of memory foam. During hot months, the pillow stays cool. On cold months, the pillow absorbs a little heat to keep you warm.
The gel and memory foam fillings are covered in a washable mesh knit. Whichever side of the pillow you sleep on, it conforms to the shape of your head to keep you comfortable all night. The filling is soft but still offers enough support.
Pros
Soft but supportive
Sports a gel side and a memory foam side for different seasons
Highly durable
Conforms to your body
Cons
Final Words
When choosing a pillow based specifically on one sleeping position, you can follow some helpful guidelines to ensure you pick the perfect one. However, what happens when you are a sleeper that enjoys all positions?
Well, you certainly need an all-round pillow. Just like with any other sleep accessory, it takes a little experimentation and research to land a pillow that best matches or meets your combination sleeping needs.
In this guide and review, we took ample time to keenly research the best pillows for combination sleepers. You can rest assured that all the pillows we have featured here suit the lifestyle and sleeping habits of a combination sleeper.
More: 15 Best Pillows 2022