A husband pillow is designed to assume the shape of a man's chest. When you rest on the pillow, it allows you to feel comfortable as it provides you with exceptional lumbar support. It is commonly used by people who like to take their books in bed and read a few chapters before sleeping.
Although it is not a maternity pillow, pregnant and nursing women find it ideal thanks to its soothing and accommodative shape. The reason it's called husband pillow is in the way it takes care of everyone in the family without having to compromise the person's favorite seating position.
Additionally, with this pillow, you can comfortably enjoy resting your head as it has a convenient neck design that allows you to feel relaxed without straining your muscles.
Construction of a Husband Pillow
This pillow looks like a backrest with a lot of padding for support and comfort. Most constructions of husband pillows also contain armrests, which enhance the pillow's promise of comfort. The main purpose of this pillow is to offer support while you sit upright in bed. Its design does not support you sleeping on it but rather keeps your back cradled while you are seated.
The pillow boasts extra padding that makes it much firmer than the usual head pillow. Its padding is evenly spread to ensure it is uniformly firm and does not expose your back to unexpected injuries or pain.
Other designers also have improved their skills in constructing these pillows to ensure they are inclusive and accommodative to everyone. For this reason, there are husband pillows on the market with extra whistles and bells, which makes them more luxurious and great pieces. Also, other designs feature pockets, headrests, and cup holders. All these designs are geared towards ensuring that you feel restful while leaning your back on husband pillows.
More: Best Pillow for Combination Sleepers
Uses of a Husband Pillow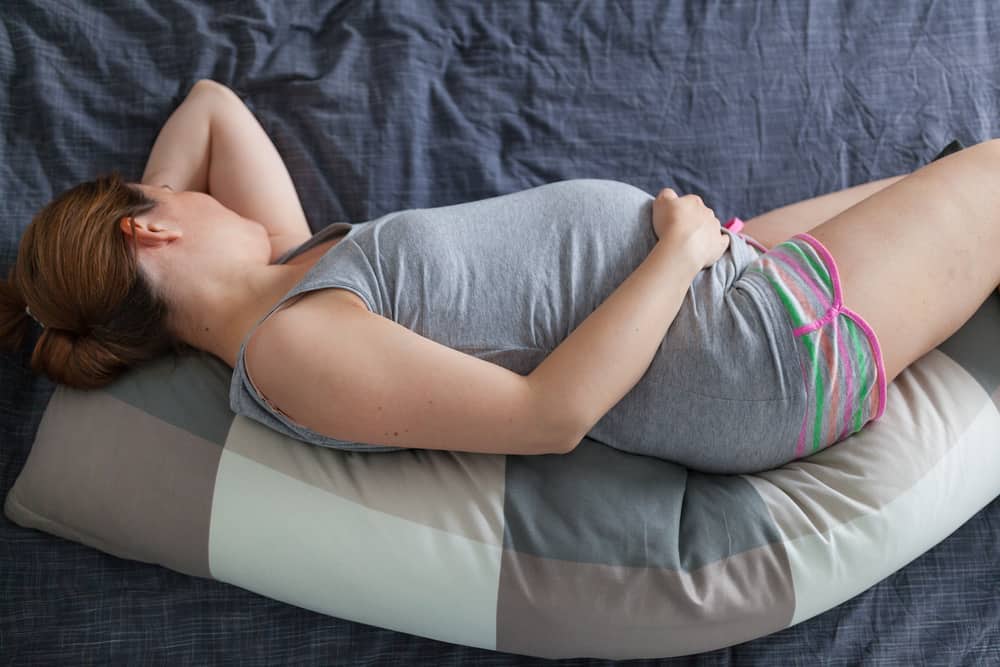 Husband pillows can be used in various ways. For starters, this pillow has been commonly used by pregnant and nursing women due to its maximum comfort and back support. It allows a woman to sit uprightly and does not encourage back strains all through. However, that does not limit its use to pregnant and nursing women only since it is not the same as the maternity pillow.
The pillow is quite functional, and it can be integrated into any use by anyone. It is highly portable, which makes it a great improvement for any environment you want to be. When you want to read a book but don't feel like sitting on your couch, it comes in handy to offer the support you require while in the comfort of your bed.
The main objective of a husband pillow is to ensure it supports your back. You can use it to pad a hard headboard. Unlike a regular pillow, it will not slip behind you. Other people who find this pillow useful are those who spend more time in bed due to their respective challenges. This way, it will be easy for them to take on responsibilities or activities that they can handle comfortably while in a seated position.
Alternatively, if you have an infant that is learning how to sit, the pillow can serve as a great aid for the job. It will offer the necessary support to keep the child in a balanced position, and the armrest will prevent the baby from falling sideways.
More: Best Pillow For Ear Pain
Boyfriend Pillows vs. Husband Pillows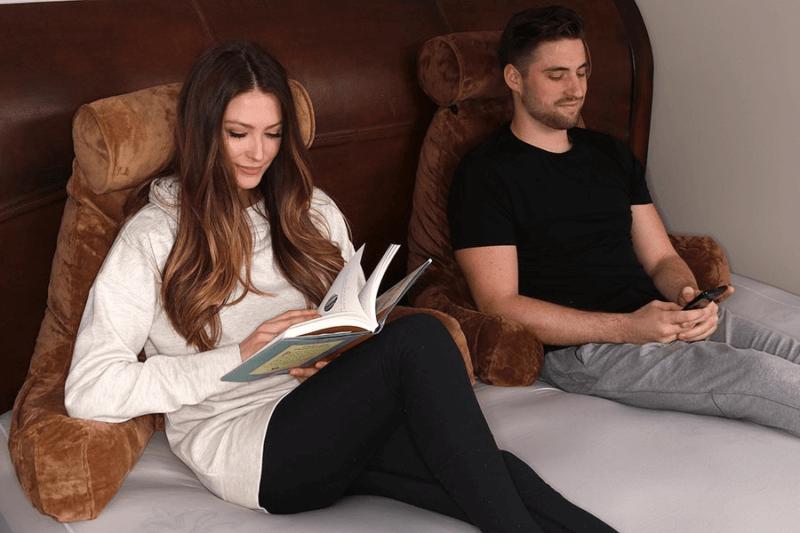 Husband pillows are often called boyfriend pillows. Although both names portray masculinity, when it comes to pillows, there is a vast difference between a boyfriend and a husband pillow.
The so-called boyfriend pillows have a man like the design. They are made with a half-man torso and an arm. These pillows are commonly used by ladies who want to mimic snuggling up to a boyfriend in bed. Another difference between the two is that boyfriend pillows can be used for night sleep while husband pillows are used for sitting support.
Wedge Pillows vs. Husband Pillows

Husband and wedge pillows almost have the same uses. People often refer to them as reading pillows. However, although a wedge pillow will support you while reading, it is not designed to prop you perfectly as though you are sitting on a chair.
If you have a wedge pillow, it only offers a slight elevation to support your head thanks to its doorstop shape. It can also be slept on and still keep you comfortable all night. A wedge pillow is commonly used as a sleep pillow by people who suffer from acid reflux or snoring.
On the other hand, a husband pillow offers general support on your back, side, and arm. But it is not ideal to sleep on for a night rest.
10 Best Husband Pillow Recommendations
#1 Linenspa Shredded-Foam Reading Pillow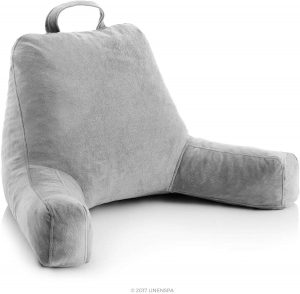 The Linenspa Husband pillow was designed for tall and short people alike. It is filled with shredded foam that offers you great support and corrects your posture when you are reading. Unlike other foam pillows, Linenspa designed this pillow not to heat up your back. The shredded foam allows enough air circulation to keep you comfortable.
Each pillow is fitted with elongated armrests where you can place your arms after a long period of sitting. The armrests rise slightly towards the elbow side to ease the tension that builds up on your hands when you are reading.
Linenspa offers this pillow in three sizes including standard size, an extra-large size, and simple extra-large size. The extra-large size comes with a neck roll for added comfort. The sleek design of this husband pillow makes it ideal for use on your bed or on your couch or any other place in your home. When shopping, you can select between a navy or a stone gray cover to match your home décor. On top of the pillow's backrest is a handle that allows you to move the pillow from one spot of your home to the next.
Pros
A supportive armrests
Plush covers in a choice of two colors
Tall body for maximum back support
Cons
Produces strong memory foam smell the first few days of use
#2 Milliard Reading Husband Pillow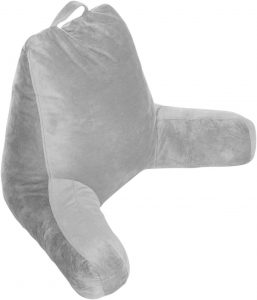 The Milliard Reading Pillow sports a design similar to Linenspa's reading pillow. Inside, the pillow is stuffed with shredded memory foam, which allows it to breathe and conform to your shape.
You can choose from three sizes including 18 inches standard tall pillow, 24 inches extra-large pillow, and a 14 inches petite pillow. Before shopping, you need to measure how tall you need your pillow to be to make the right order. Its armrests are designed sturdy to add to the overall comfort of the pillow.
Besides choosing the size of the pillow you shop, you can choose how firm you need your pillow to be. The pillow comes with a foam insert from where you can add or remove foam – add foam to make it firmer or remove to make it malleable. Each pillow comes with zipped velour cover that you can easily remove – this makes it easier to clean.
Pros
Pillow's firmness can be customized to your liking
Armrests are very supportive
Zipped cover for easy cleaning
Cons
Feels flimsy for tall and heavy users
#3 Husband Pillow with Big Backrest and Headrest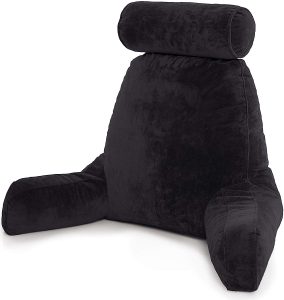 If your budget allows, you can use a few dollars more and get this extra comfortable pillow. It is designed relatively big making it more comfortable and allowing it to accommodate large users.
The pillow stands at 31 inches tall offering full back support and allowing your head to rest comfortably. On top of the backrest, the pillow features a detachable neck roll that supports your upper back muscles, your neck, and your head. It is ideal when you want to sit for long periods.
Inside, the pillow is stuffed with shredded memory foam. The shredded memory foam allows it to adapt to your shape to give you the correct posture. Again, the plush cover coupled with the foam makes the pillow feel like a warm soft cloud.
You can customize this reading pillow to your liking. Add the filling to make it firmer or remove the filling to make it malleable. At the top of the pillow is a built-in handle that makes it easy to transport the pillow. Its soft cover is easy to remove – unzip it, remove it and wash it in your washing machine. Even better, the cover has side and back pockets where you can store small books, phone, remote control, or any other small item you might have with you.
Pros
Supportive but comfortable full body pillow
Firmness can be adjusted to the user's liking
Features back and side pockets to hold items
Cons
#4 Brentwood Shagalicious Husband Pillow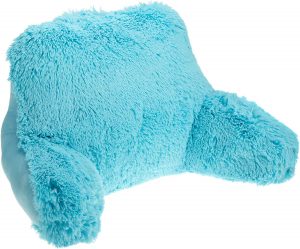 This Brentwood pillow was designed for use on a bed but it can also be used in other places too. It sports a unique look. Its 70s inspired design adds an impressive pop of color to any room.
The pillow stands at 18 inches tall making it ideal to support kids. Its built-in armrests are ideal when you need to rest your upper back muscles, shoulder, and ease the tension on your arms.
Instead of foam, the pillow features soft, malleable polyester filling which makes it ideal for people who do not like firm pillows. At the top of the backrest is a built-in handle that you can use to move the pillow from one room to the next. Better yet, the pillow is relatively less bulky and you can take it when going for a vacation. Its shag-like cover is not removable. Ergo, you can only spot clean the pillow.
Pros
Great pillow for children
The compact design makes it easier to transport
The retro design adds color to any room
Cons
Only supportive enough for children and smaller adults
#5 Arlee Micro Mink Bedrest Pillow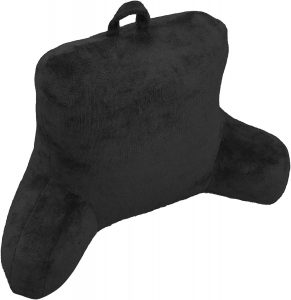 If you need a tall and sturdy husband pillow, Arlee Micro Mink Lounger might be a good choice. Its tall backrest makes it ideal for tall and heavy people. While the pillow stands only at 18 inches, it features more curvature than other pillows allowing it to offer the feeling of a hug and making it feel much taller. This tall backrest is also thick to support your back fully.
It features a sturdy handle at the top, which serves as a great addition when you need to move the pillow. The pillow comes with a soft cover that you can easily spot clean when it gets dirty.
Pros
Supportive armrests on the side of the pillow
Soft but supportive polyester filling
The handle at the top resists wear and tear
Cons
Does not offer enough lower back support for heavy people
#6 MittaGonG Backrest Pillow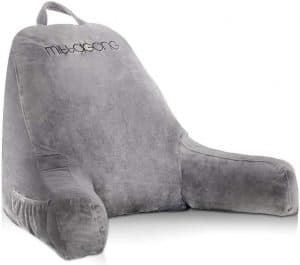 MittaGonG designed this pillow to accommodate big users. It sports a wide base and wide top and stands at 20 inches tall. The few added inches on either side of the pillow make it ideal for big users. It is especially great when you need reliable support for your upper and lower back. Its built-in armrests are sturdy enough to ease tension for users with shoulder pain.
With a tall back, most users might not need a neck roll as the pillow supports the neck. This way, you might not need a neck roll attached on top of the pillow. However, tall users might need an attached neck roll. The cover on this pillow feels soft on your skin. This cover is removable for easy cleaning – it is also machine washable.
Pros
Offers enough support for both lower and upper back
Removable cover is easy to clean
Tall backrest means no need for a neck roll for most users
Long and sturdy armrests to accommodate users with long arms
Cons
Comes with a chemical odor that lasts for more than a week
#7 BedLounge Classic Natural Cotton Husband Pillow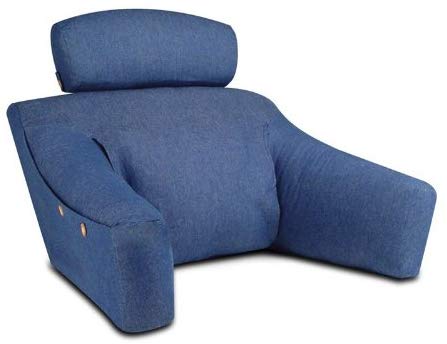 BedLounge Classic is a luxury pillow designed to offer you optimal comfort for your back. One thing that makes this pillow great is the fact that you can customize it in so many ways.
The classy blend of modern and retro designs makes the pillow look great against any décor. You can choose from a selection of 10 different colors to meet your needs. Again, you can pick the fabric you need between cotton, microsuede cover, and velour fleece.
Besides the wide choices, you can customize the height of the headrest to accommodate your height. Set the armrests as far apart of as close together as you wish to match your size. Just push the headrest up or down and the armrests in or out. The adjustability makes the pillow great when you are sharing it with other people.
If you prefer a firm pillow, BedLounge designed this to offer enough back support. When resting on the pillow, it does not sink – this can be good or bad depending on what you are looking for.
Pros
Customizable headrest and armrests
The zipped pillowcase is removable for easy cleaning
The modern and classic blend of designs look good against any décor
Cons
#8 Springcoo Shredded Foam Husband Pillow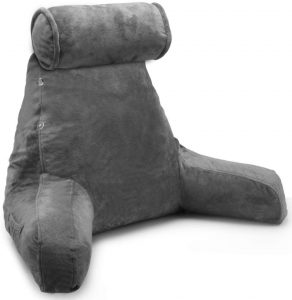 Springcoo reading pillow sports a simple design that offers enough back and neck support. While it is available at a relatively high price point, it comes with additional bonuses that make the price worth it.
For starters, the pillow comes with a detachable neck roll that you can adjust to match your height. Attaching and removing the neck roll is easy. Inside, the pillow is filled with shredded memory foam, which adjusts to your body shape to correct your posture. The more you use the pillow, the more comfortable it becomes. The pillow feels soft but you can make it firmer by adding shredded memory foam to your liking.
The armrests on the sides are sturdy to keep you comfortable when you are reading or watching a game. These armrests are fitted with two pockets that you can use to hold small items such as a phone, reading glasses, or remote control.
The soft suede cover is easy to spot clean. However, the cover is also easy to remove and can be washed in a machine. This way, your pillow will always stay clean.
Pros
The cover is removable for easy cleaning
Have small side pockets that conveniently hold small items
Adjustable neck roll for neck and head comfort
Customizable firmness to meet your needs
Cons
Original pillow might feel top soft before additional filling
#9 Brookstone Nap Bed Rest Husband Pillow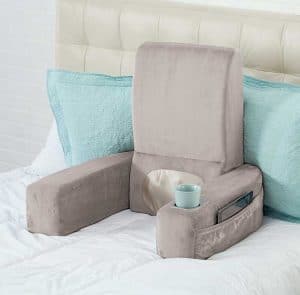 Brookstone Nap Bed Rest was designed to offer a perfect balance between comfort and support. Every feature is created to ensure the pillow supports you and eases tension on your lower and upper back during long periods of sitting.
The pillow sports an elevated back to accommodate your lower back, upper back and your neck. Its height ensures that you do not need a neck roll. If you need to correct your posture, you might like the straight back of this pillow.
Armrests attached to this pillow are long and thick. One of the armrests features a cup holder to hold tall glasses and mugs for those who love drinking while reading. On both sides of this husband pillow are pockets to hold small items such as magazines and remotes. Each pillow comes with a soft cover that is not removable. As such, you can only spot clean the pillow. When not in use, the backrest of this pillow folds downwards into a compact pillow that you can store under the bed or in a cabinet.
Pros
The elevated backrest offers enough support for lower back, upper back and neck
Features a cup holder and side pockets
The soft fabric feels great on your skin
Conveniently folds for easy storage
Cons
Straight back means you have to sit with a straight back
#10 Brentwood Originals Plush Reading Pillow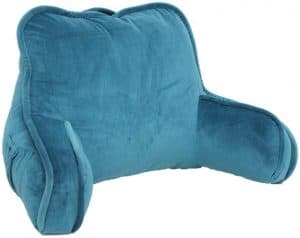 While most pillows focus on offering enough support for your back, this pillow is marketed as plush and comfortable. When resting on it, the pillow feels soft on your back.
On the outside, the pillow is made of soft material that feels plush on your skin. The padding on the pillow might feel soft but it is designed over a supportive filling. Its cover does not irritate the skin. However, this cover is not removable and therefore you can only spot clean it. At the top of the backrest is a sturdy and durable built-in strap that allows you to move the pillow wherever you wish.
There are two side pockets to hold small items. Each pillow stands 18 inches tall making it ideal for children and most adults. Users who are taller than average might need a neck pillow when using this cushion to support their neck and head.
Pros
Plush feel but still supportive
Long and supportive armrests
Convenient side pockets and a sturdy handle
The cover feels soft and does not irritate the skin
Cons
The pillow might be too short for a tall user