Roughly 37.5 million Americans aged 18 and above report having trouble hearing. The National Institute on Deafness and Other Communication Disorders opines this. Ear pain, whether as a result of surgery, infection or an object, can be excruciating. At night, the pain tends to be worse mainly because of poor sleeping positions.
You have two options. The first one is settling for a pillow with an indentation or hole on where you place your ear. The second option is buying a soft pillow featuring adjustable microbeads that reduce pressure on the ears.
Can A Pillow Cause Ear Pain?
No, a pillow cannot cause earache. What it can do is make the pain worse. To be on the safe side, it is prudent to prop yourself in your bed with a stack of specific pillows for ear pain such as the ones we have highlighted on this primer. By doing that, you can be able to ease both the pain and pressure in your middle ear.
Earache Terrible At Night or Daytime?
At daytime, the head is mostly in a vertical position. As such, air flows freely via the Eustachian tubes. Moreover, actions such as chewing and yawning, which tend to be common during the day, cause the Eustachian tubes to open wider helping to drain fluid from them.
When lying down at night, it is difficult for air to pass through. Tubes are not only unable to drain, but they might also become unblocked. This explains why your ear feels more pain during nighttime as compared to daytime.
More: Benefits of Placing a Pillow between Legs When Sleeping
Top Causes of Ear Pain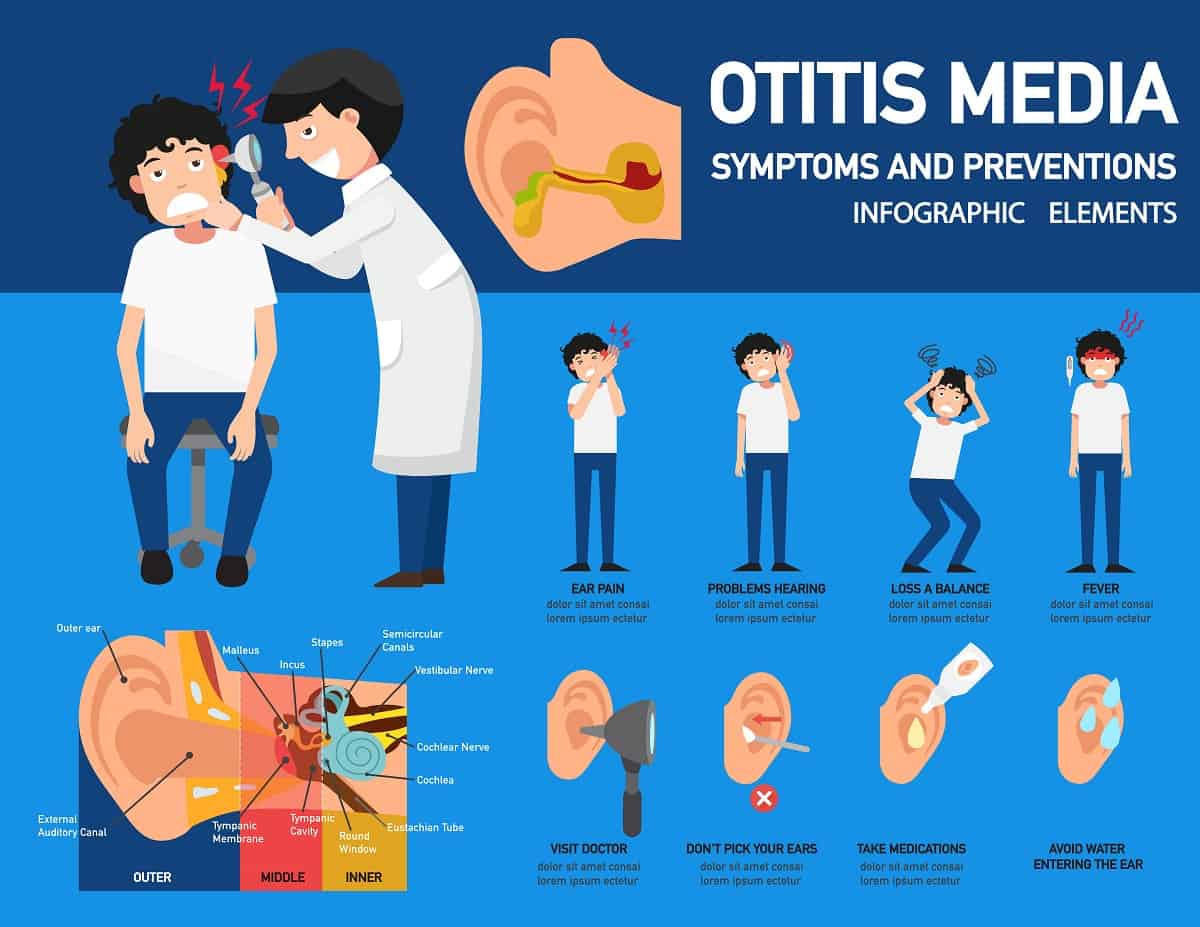 Although earache is most common in children, it also affects folks of all ages. Normally, it feels like a dull, burning, and sharp pain. Ear pain can be either constant or might come and go over time.
Some of the top causes of ear pain include:
Ear infections
A common characteristic of an ear infection is the presence of watery or pus-like fluid on the affected ear. Otitis media and externa are popular ear infections. The latter affects the middle part of the ear while the former affects the outer part. Otitis externa mainly causes inflammation of a tube located between the outer ear and eardrum. Otitis media causes the accumulation of fluid and/or inflammation between the eardrums.
Earwax buildup
Naturally, some people produce more earwax than others do. Excess production of earwax can block the ear canals, which might not only be painful but can also interfere with your hearing or worse still earwax plug.
Ear damage
Damage or injury to your ear by either poking or scratching can cause earache. Poking sharp objects into your ear can easily damage the ear canal or puncture the eardrum causing unbearable pain.
Jaw problems
In some instances, ear pain can be a result of a problem that is affecting your jawbone's joint.
Dental abscess
A bacterial infection is the leading cause of dental abscess. This health problem results in the build-up of pus that can form in your teeth or gums hence giving rise to an intense and throbbing ache in your affected tooth. Sometimes, the pain spreads to the ear.
Glue ear
Glue ear is a condition where there is the buildup of fluid in the middle ear. An earache comes about because of the pressure exerted by the fluid. Common in little ones, glue ear can at times be severe resulting in temporary hearing loss.
Throat infections
Earaches could be a symptom of throat infections like tonsillitis or quinsy.
12 Best Pillow For Ear Pain: Detailed Reviews
1. PainPureComfort Pillow
Say goodbye to earache with this pillow with an ear hole. It is specifically designed to protect your ears while sleeping and minimize any pain that may occur during the night.
The pillow is adjustable to allow you to set it according to your preference. You can either remove or add the elastic memory form to ensure you meet your specified comfort through the night.
It also features a soft proprietary construction with breathable fabric for comfortable sleep through the night. The manufacturers have designed the pillow for durability and reliability even with every night use.
This pillow is also machine washable for easy maintenance. It comes with a five-year warranty cover. Therefore, you are sure that it will provide you with outstanding services for many years making it a worthy purchase.
Pros
Convenient for sensitive ears
Easy to care
Five-year warranty
Adjustable elastic memory foam
Cons
More: Best Memory Foam Pillow
2. Remedy Contour Pillow
This full-body pillow offers pain relief. It is U-shaped to promote a healthy sleeping posture. The pillow also reduces any back and neck strain. It also comes with a built-in ear pocket on both sides. This means that you can position your neck and head safely on the pillow for ultimate comfort.
You will also enjoy how light and travel size it is. Therefore, you can take it with you to keep yourself from experiencing travel stress due to last of sleep or pain when you are sleeping. It will contour your body when you are sleeping, so you wake up feeling recharged.
As a side sleeper, you may find yourself needing multiple pillows. With this one, however, you can get sound sleep and reduced pain since the pillow is designed such that it cradles your body and helps you not to toss or turn as much. It will keep your shoulders, neck, and back aligned all night.
Pros
Zippered pillow for easy cleaning
Has two ear pockets
Affordable
Durable make
Cons
May not have enough stuffing for some people
3. Deluxe Comfort Microbead Cloud Pillow
It is a long-lasting and reliable pillow that will provide support and prevent ear pains. They are meant to pamper your neck and head. It also supports the delicate body parts like the ear and ensures you enjoy your sleep.
The microbeads are therapeutic and will cradle your spine because it takes the form of a contour pillow, which reinforces the vital anatomical parts of your body. This results in refreshing and quality sleep all through the night.
Like any other buckwheat pillow, it is fluffy and compact but also easy to move so you can t.ke it with you when you are traveling.
Pros
Lightweight
Durable
Is breathable and therefore allows for the perfect sleeping temperatures
Slightly smaller than the regular pillow and consequently great for traveling
Cons
Collects a lot of heat and you must shake the pillow in the summer to disperse the heat.
4. Purecomfort Side Sleeping Pillow
If you suffer from ear pressure and pain, you know how impossible it seems to achieve quality rest. This pillow features ear cutouts that aim are reducing ear pain when you sleep at night. This pillow also reduces facial pressure when you sleep. If you use CPAP, this may be a pillow you want to try out.
It is made of CertiPUR certifies memory foam and is a fully adjustable pillow. It comes will height inserters that tine the pillow to the height and comfort you need. This way, it can work for different people and reduce neck pain.
If you are allergic to dust and mites, this pillow comes with a soft bamboo cover that is resistant to dust and mites. You will also not experience any chemical smell because it is made without TDCPP, PBDEs, lead, phthalates, and formaldehyde.
Pros
It is machine washable
5-year warranty
Hypoallergenic
No chemical odor
Cons
Takes time to adjust to the pillow
5. Original Pillow
This pillow is made in England, which gives you a guarantee of the material and craftsmanship. It also comes with a zip that allows you to adjust the level of firmness you need to feel comfortable all night. You can easily do this by removing the filling to where you are most comfortable. The company has made this pillow specifically for CNH and ear soreness. Therefore, it is great for people who experience ear pressure and those who have recently had ear surgery. It facilitates faster healing and reduces the chances of re-injury.
It is made from 100% pure cotton so it is breathable and will keep you at the right temperatures both in the winter and during the summer.
Pros
The firmness is adjustable
Make In the UK
Has a hole at the centre for ear pain relief
Keeps you warm in cold climate
Cons
Has a slight chemical smell
6. Womfy Ear and Neck Pain Relief Pillow
The Womfy pillow comes with a bamboo jersey pillowcase that is filled with memory foam and gel. It is the perfect pillow for side sleepers because it does not press on your neck, face, or mouth. If you have sensitive earlobes, piercings, and painful earbuds, the ear hole reduces any risks of getting pressure in these parts. You also have the freedom to adjust the height of the pillow, depending on what you like. You can align your back, neck, and head.
The memory foam will mirror the shape of your head and therefore give you much more comfortable. Memory form also adjusts its heat so you have a pillow that will serve you adequately whether the weather is warm or cold.
Pros
Multilayers pillow that keeps you cool due to the gel foam
Easy to wash
Hypoallergenic
Made in the US
Cons
Its replacement costs are too high
7. Tri-Core Orthopedic Pillow for Ear Pain
It has an indentation at the centre that helps reduce any pressure to your ear. It also comes with a general and gentle support for the neck, head, and body. The filling is made of cotton blends that are lightweight and offer great comfort without lumps. You can choose from three available sizes depending on what your needs are. This way you can have one for traveling and one for home use.
It will also help to align your cervical curve as you sleep.
Pros
Extremely firm
Different size selection for both men and women
Corrects your form and posture
The centre is soft to prevent damage to the ear
Cons
May take weeks to adjust to this pillow
8. Deluxe Comfort Better Sleep Pillow
If you are a side sleeper, it gets challenging to find maximum rest when you have an ear problem. The donut design gives you comfort by supporting your neck and shoulders as well as giving your ear healing space. Therefore, you will not have to put on pressure on the ear while sleeping neither will you compromise your comfort.
With this pillow, you will not have to find other sleeping habits to enjoy your sleeping moments. It ensures to offer maximum comfort with exceptional alignment on respective muscles. It has orthopedic grade foam that assures you maximize on comfort while resting.
Additionally, the fabric is soft and breathable to guarantee maximum ear protection.
Pros
Perfect for side sleeper
Maximum support on neck and shoulder
Donut style construction
Easy to maintain
Cons
9. Nature's Guest Adjustable Cervical Pillow
One thing about this pillow is that it offers 100% satisfaction regardless of your convenient sleeping style. It has a zipper design for easy access to pillow form. Therefore, you can adjust it evenly to meet your specified sleeping expectations.
It is made of hypoallergenic premium quality material to ensure you enjoy maximum comfort all through. The pillow is suitable for both back and side sleepers too. Therefore, it will guarantee to care for your back as well as maintain exceptional ear protection.
The pillow is not only tested but also meets all the orthopedic and chiropractor standards for maximum comfort. With this pillow on your bed, it will relieve you from any neck pain and keep your ears protected all night long.
Pros
Dual zipper design for easy adjustments
Suitable for back and side sleepers
Hypoallergenic quality material
Breathable material
Cons
Does not support your back perfectly
10. Remedy Microbead Pillow
When sleeping, all your muscles should rest to allow you rejuvenate evenly. However, when you have an ear problem, your neck is likely to remain active, as every other part is relaxing. In return, you will not wake up feeling fresh and ready for the day as you should. But, this should not always be the case with the help of this remedy microbead pillow.
This guarantees that you do not have to work out your neck muscles as you rest. Its design also minimizes putting pressure on the ear, especially for persons with a sensitive or painful ear.
The cover is non-removable with 87% polyester and 13% spandex, which makes it highly durable. The microbeads adjust constantly assuring you that you will enjoy a cool rest all night. The adjustability design also guarantees to offer you maximum support for both neck and back.
Pros
Superior comfort and support
Non-removable cover
Supports neck shoulder and head contours naturally
Suitable for both back and side sleepers
Cons
You have to use an extra pillow cover for easy maintenance
11. Dreamhood Down and Feather Pillow
This pillow is designed in a standard size to offer maximum pain relief on your neck and shoulders. It is suitable for stomach sleepers who find it had to rest their shoulders and neck on one particular side.
With this pillow, you will not have to stress your ear, trying to find comfort through pain. Instead, it provides you with an exceptional resting session all night long. The pillow features a soft and comfortable foam with moderate density support. Therefore, it will allow you to sleep comfortably without increasing pain or pressure on specific parts.
Additionally, it is designed using quality material for durability and maximum support. For perfect pillow care, it supports both dry cleaning and gentle machine washing.
Pros
Easy to maintain
Proper neck and shoulder support
Quality material construction
Moderate density support
Cons
Comes with a higher price tag
12. SLEEPHI Collection Hypoallergenic Microfiber Pillow
This hypoallergenic microfiber pillow is here to not only allow you maximum comfort but also enhance your healing process. It is suitable for both side and stomach sleepers and will ensure to reduce all ear pressure are relieve pain.
Its unique design allows your ear to have suitable breathing space as well as keeping your neck and spine aligned together. Therefore, you will not have to stress your muscles at night when you should be resting.
The material is soft and cozy, allowing you to sufficient space to relax and relieve stress. This low-density pillow also assures you that it will minimize all the stress on your muscles, allowing you enough space to rejuvenate.
Pros
Hypoallergenic material
Suitable for stomach and back sleepers
Luxurious night comfort
Cons
Takes time to adjust to specific body contours
Top Remedies for Earache
Often, ear pain tends to go away on its own. Taking some painkillers such as paracetamol, acetaminophen, or ibuprofen can ease the pain.
During the initial 48 hours, certain home remedies can be handy at alleviating the pain. They include the following:
Place a drop of mullein or lobelia oil in your ears. Alternatively, you can put a few drops of olive oil or warm garlic. Whichever you choose, ensure you loosely plug them with cotton balls.
Water is also effective at easing earache. Before you go to sleep, sip some.
Place a warm flannel cloth or heat pack over the area when the pain emanates from for roughly five minutes. If the pain is because of blockage that is caused by the buildup of earwax, then the heat that radiates from the cloth should be handy at softening and draining the earwax.
Elevate your head using several pillows for ear pain. Placing a wedge pillow between your mattress and bed can also help.
More: Best Pillow for Combination Sleepers
Final Words
For most people, the best part of their days is the end of it when they have the opportunity to place their head on a pillow. However, many dread this time because of ear pain especially when any form of pressure is placed on the ear. Using softer pillows like the above ones might help. You can say goodbye to the stubborn and agonizing earache at night by buying and sleeping on the best pillow for ear pain.