As counter-intuitive as it might seem, snoring might have a positive effect on your well-being. Isn't it mind-boggling to know that there are countless benefits to those who snore? According to research, snoring can burn calories. Dr. Eric J. Kezirian and his team conducted the study at the University of California. They established that the more severe snoring is, the more calories one burns while resting. The study was published in the Archives of Otolaryngology-Head & Neck Surgery journal.
While that is the case and may seem like good news, snoring remains an unhealthy habit. Habitual snorers, just as we shall learn later on in this primer, are at risk for grave health problems related to diabetes and heart diseases. Approximately 37 million American adults snore regularly. You can find this and more snoring statistics here.
The culprits behind snoring are almost endless. Allergies, fatigue, obesity, inadequate pillow support are just a few of the reasons why you just can't stop snoring. The notion that snoring is normal and natural is misconstrued. If you or someone close to you has a snoring problem, the solution could be closer than you think. Try finding them a good mattress.
Finding the best mattress for snoring can help improve your sleep quality and maintain the best health.
How a Mattress Can Contribute to Snoring
Do you know that your mattress could be the leading cause of snoring? Without proper head and spinal support, muscles in the throat and jaw can collapse hence causing increased snoring. On top of that, old mattresses contain a build-up of dust mites and sweat that not only lead to congestion, and allergies, but also increased snoring. To maintain proper head and spinal support for both you and your partner, as well as reduce the impact of dust mites, it is prudent to replace your mattress after 6-8 years.
Snoring Risks
Sleep Apnea
Snoring is a common sign or symptom of having sleep apnea. Sleep apnea refers to a chronic disorder that happens with the blocking of your airway thus causing breathing to stop and start repeatedly during sleep. Snoring loudly and being tired even after many hours of sleep are some of the common signs of sleep apnea. This sleep disorder poses the risk of an irregular heartbeat, commonly known as arrhythmia.
More: Best Pillow For Sleep Apnea
GERD (Gastroesophageal reflux disease)
The constant stopping and restarting of breathing disturb the flow of air. As a result, stomach contents tend to come back via the esophagus resulting in GERD. Gastroesophageal reflux disease is common particularly to those who are overweight. Through dieting, you can resolve it.
Stroke
Snoring can be an indication that you are susceptible to stroke. One of the causes of snoring in heavy snorers is a plaque that causes the arteries inside the neck to narrow.
Heart Disease
The fact that snorers are prone to sleep apnea means that they are likely to suffer from cardiovascular problems. Often, they have coronary artery disease and high blood pressure. Eventually, these problems could result in a heart attack.
Which Type of Mattress is the Best for Snorers?
In terms of mattress firmness, medium-firm mattresses are the best as they adequately support your spine thus keeping your airways unblocked. The best types of mattress for snorers are:
Latex – A great attribute of a latex mattress is the fact that it features both anti-allergy and anti-dust properties. Additionally, it naturally supports the spine.
Memory foam – Memory foam mattresses respond to shape and body heat. They excellently mould around your body and provide proper support.
Pocket springs – Pocket springs prevent a mattress from losing shape. They offer advanced support.
12 Best Mattress For Snoring We Recommend
DreamCloud Mattress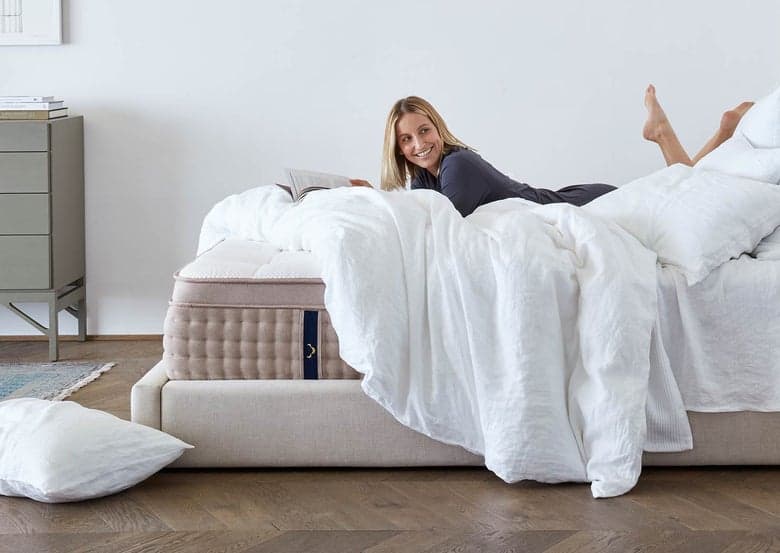 It is wrong to believe that a one size fits all mattress is adequate for different types of sleeping positions. Much less for people who may have a snoring problem. With this in mind, Dream cloud has employed intense effort and time to invent the best mattress for snoring.
Their tufted hybrid snoring mattress comprises of a mixture of poly and memory foam layers. Separating each layer are 8-inch pocketed coils. Many people confess to feeling like they were sleeping on the clouds the first time they used this mattress.
The Dream cloud mattress is made of premium, high-quality foam that is bound to give you years and years of service and value for money.
Pros
Made of premium, high-quality poly, and memory foam
Has 8-inch pocketed springs throughout the mattress to accommodate your weight and offer adequate support for your spine
Improved comfort
Cons
It needs frequent aerating in the sun every few weeks to avoid bad odor
Layla Mattress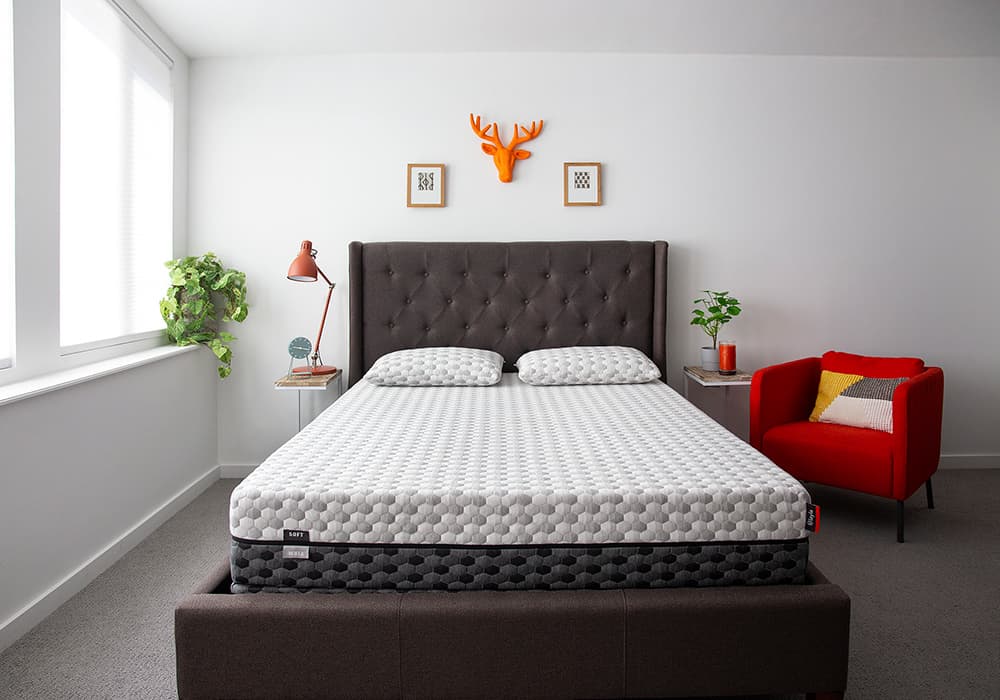 To stop snoring you not only need to choose a good mattress but you also need consistency. Many are the times when your brand new mattress works perfectly for the first couple of years only for you to later end up with a snoring issue right where you started.
You must agree that few have the patience and financial ability to replace their mattress every year. So, to save you all the unnecessary trouble, why don't you get yourself the award-winning Layla mattress?
You'll notice that the Layla mattress is a tad bit firmer than other mattresses. This is a deliberate move aimed at helping side position sleepers to reduce snoring. To eliminate and stop allergens from accumulating on or inside it, this mattress has infused antimicrobial copper inside the foam.
Pros
Has infused copper as part of its design. This protects against allergens
Provides additional pressure relief and support for side sleepers
Guaranteed convenience and quality
Cons
Might be biased against stomach and back sleepers as most of the adjustments seem to favor side sleepers
WinkBed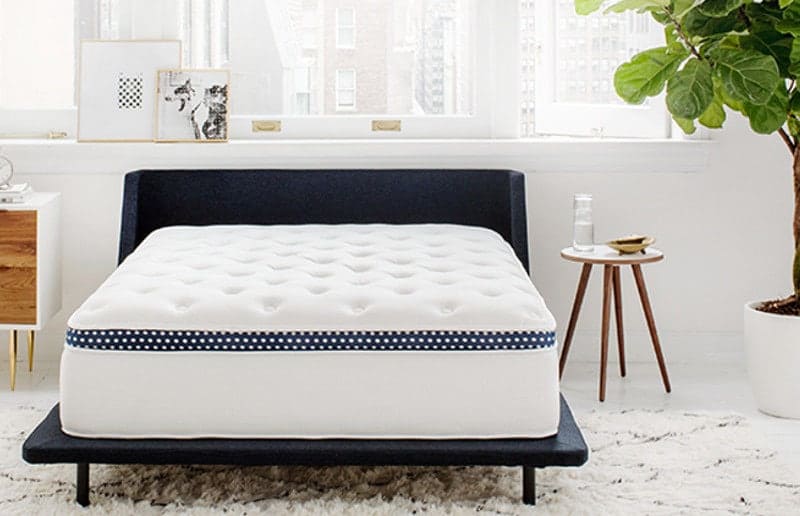 One of the main reasons behind snoring is your sleeping position. Sleeping on your back, stomach or your side can put pressure on your airway. This constricts the throat and nasal passages which, in turn, make it harder for the air you breathe to flow freely.
The ultimate solution for you would be to get a WinkBed snoring mattress and bid good riddance to the snoring for the last time. Its design incorporates zoned coils aimed at accommodating average weight to heavier bodies. It is firm and gives your spine adequate support to keep it from overarching during sleep.
If you're the type of person who gets cold or hot fast, the WinkBed mattress is built with its foundation to help eliminate temperature discomfort. This foundation adjusts temperatures upwards or downwards to keep you cozy and allow you to get restful sleep all night long.
Pros
Has inbuilt temperature controls to discourage overheating during bedtime
Ideal for all sleeping positions
It's designed with firm coils which provide optimum support for everyone irrespective of their weight
Cons
Some consumers may experience discomfort owing to how firm this mattress is
Loom & Leaf by Saatva

Longing for an embrace? What if the grant to your wish didn't lie in someone else's arms but on a mattress? The need for comfort is a never-ending quest for most human beings. A principle that the Saatva mattress company is well aware of.
A single stroke on the surface of their Loom & Leaf mattress unveils the softest feel. But wait until you sleep on it. This mattress is designed to cradle you by conforming to your shape as you sleep. The feeling is so good many compare it to a hug.
This mattress is made entirely out of memory foam and comes with an adjustable base. In the event, you still feel that the bed isn't giving you the support you need when lying down, you can adjust the base upwards or downwards.
Pros
Ideal for average weight and above-average weight consumers
Has an adjustable base for improved support and comfort
Made out of high-quality memory foam
Cons
May be too bulky and therefore hard to move around when airing it
Nectar Memory Foam Mattress
Invest in the Nectar Memory Foam mattress and get 11 Inches worth of some cushy goodness. So what exactly sets this mattress apart from the rest? Its design features many layers of foam. Each layer has its function. The top cooling foam layer is meant to regulate temperatures and keep you from overheating.
The inner layers feature different qualities all meant to offer you maximum support. Whether you are a back, stomach or side sleeper, you will never complain of muscle aches and fatigue caused by poor support from a sub-standard mattress.
This mattress gives you an experience like no other. Its comfort levels are unbeatable. It's the one mattress that has everyone ogling and yearning to own one. More importantly, you can sleep quietly and calmly with no more snoring incidences.
Pros
Made of memory foam which provides excellent pressure relief
Designed with multiple layers for increased support
Adequate mattress for all types of sleepers
Cons
Owing to the absence of inner coils, this mattress doesn't have as much bounce
Nest Bedding by Alexander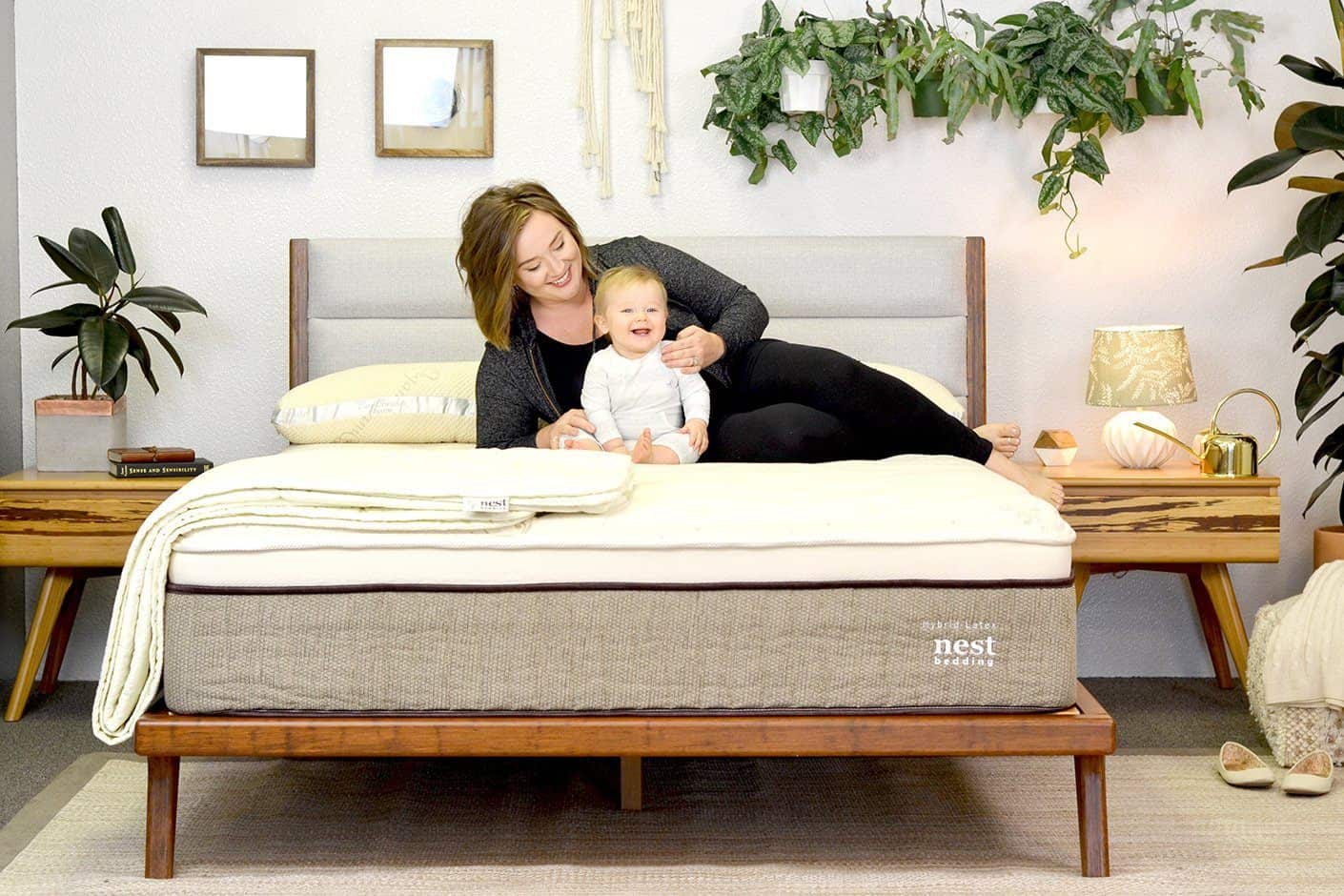 Most consumers go out looking either for a spring mattress or for a memory foam mattress. The best thing about Nest bedding by Alexander is that you get one mattress that combines both spring technology and memory foam. This explains why this mattress is also famous as the hybrid.
Its design features four layers including a quilted top cover layer and a copper-infused second layer. The third layer is made of flexible smart foam that cradles you when you sleep and bounces back into its original position once you leave the bed.
The fourth and bottom layer contains pocket springs which make a sturdy base. The bottom layer is designed to promote maximum airflow and increased bounce. There being a medium firmness and luxury firm Nest Bedding Mattress, you get to choose the one that suits you best. Note that both options are viable and equally helpful to people who snore.
Pros
Has copper-infused layers which keep allergens from multiplying inside the mattress
To satisfy unique needs, this mattress comes in two varieties and densities
Combines both spring and memory foam technology to give you best quality
Cons
When brand new, it produces a pungent smell that many may find uncomfortable
Luxi 3-in-1 Mattress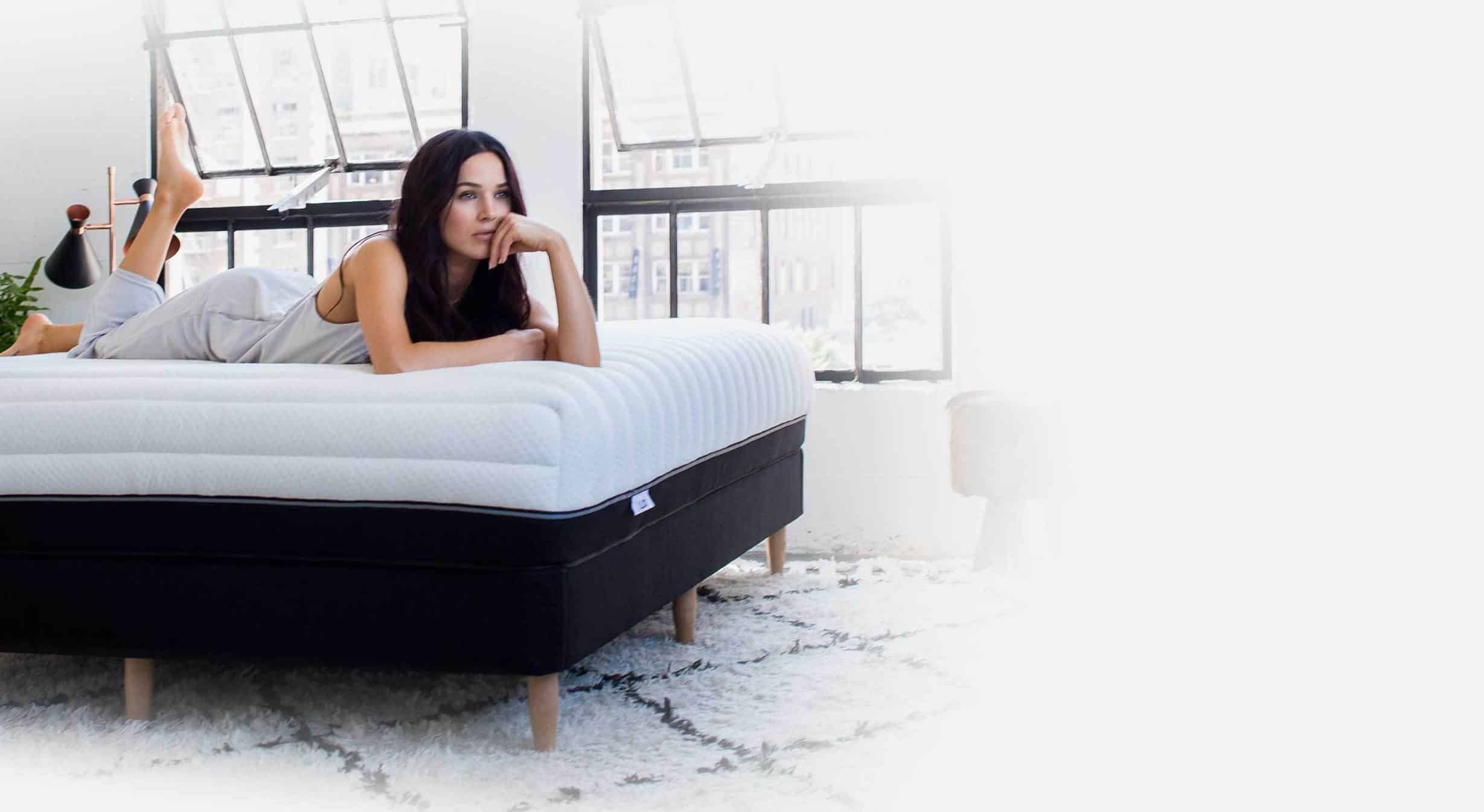 The Luxi 3-in-1 mattress is built to give your head and torso the support it needs during sleep. This way, your airway is always unrestricted and therefore no snoring during bedtime.
What stands out about this mattress? The Luxi 3-in-1 mattress has three different layers. The mattress has a zipper opening that allows the user to remove or configure these layers for added comfort.
As time advances, your needs change. To accommodate sleep specific needs, you could either adjust the layers to stay firmer or loose. The goal is to make sure you have the optimum pressure relief and spine alignment whenever you're lying on the bed.
Pros
Has a zipper on both sides for advanced adjustability
Offers increased pressure relief and adequate spine alignment irrespective of sleep position
A handcrafted, high-quality mattress
Cons
Owing to its ability to retain heat, this mattress may be uncomfortable during warm weather
Brooklyn Aurora Mattress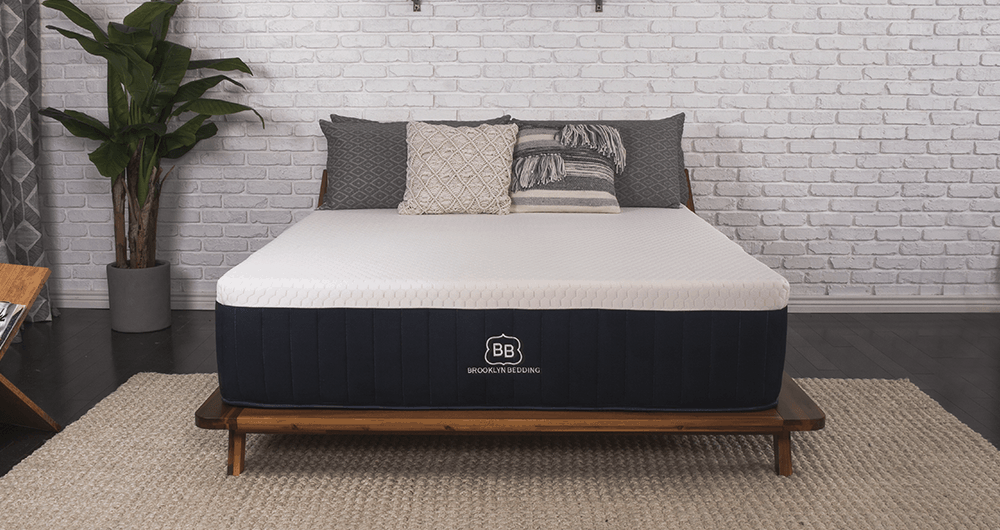 Measuring a whopping 13.5 inches, there's no use speculating whether or not this mattress has enough to give you the support you want. It's a sure bet. Going by the design, it's clear that time and energy went into making this a masterpiece.
With a 1.5-inch titan cool top layer designed for cooling and a second titan flex layer for enhanced comfort, what more could you ask for? The third 8-inch layer is full of coils to give you even more cooling and extra bounce and the last layer works as a base for the other layers.
Pros
Extra cooling effect
Extra thick for improved support
Enhanced flexibility for maximum pressure relief
Cons
This mattress may not be for you if you're looking for the satisfaction of an foam mattress
Tuft & Needle Anti-Snoring Mattress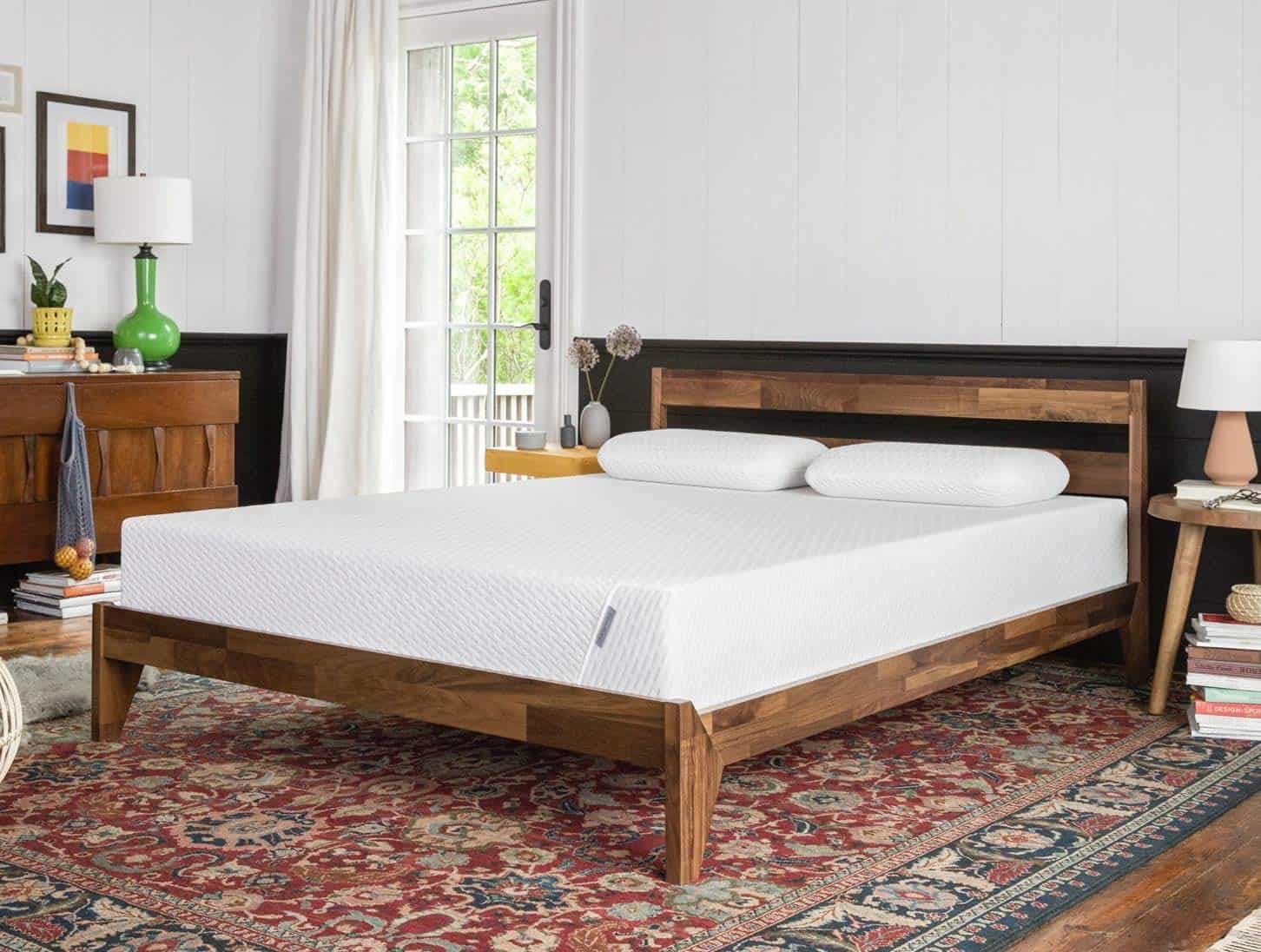 You'll be blown away by how sturdy yet soft this mattress is. Tuft & Needle anti-snoring mattress has a 3-inch top polyfoam layer designed to align the spine and relieve pressure. The effect is just the same as what you'll get from memory foam or a latex mattress.
The only difference is the cost of production. In this case, you'll get the same quality for much less when you purchase this mattress.
Consumers complain that a mattress that's either too firm or too flexible. Well, to suit every consumer's need, the Nectar Memory Foam Mattress comes in a medium-firm design of 6.5 units out of 10 units.
Pros
Perfect for side, stomach and back sleepers
Ideal for light, average or above-average weight consumers
Keeps body temperatures cool
Cons
This medium density mattress may not be for you if you're looking for an extremely firm mattress
Purple Hyper-elastic Foam Mattress

Excessive snoring can cause aches and pain in the upper chest and neck areas. This Purple hyper-elastic foam mattress not only helps relieve pressure but also alleviates pain. Its ability to offer the right amount of support in all your pressure points is unparalleled.
This helps open the airways to help you breathe better and ultimately stop snoring. It has a tight protective cover which not only keeps dust particles and allergens from accessing the inside but also helps regulate temperatures.
It's most likable qualities include a breathable cover and a strong polyfoam base. Even when you turn, this mattress does not move. It is designed to limit movement through motion isolation. A quality that comes in handy especially for a couple sharing the same bed.
Pros
Soft with an enhanced cooling effect
Guarantees adequate support required for spine alignment and pressure relief
Made of high quality, durable polyfoam
Cons
The durability of polyfoam mattresses is limited compared to memory foam mattresses
Natural Latex Pure Green Mattress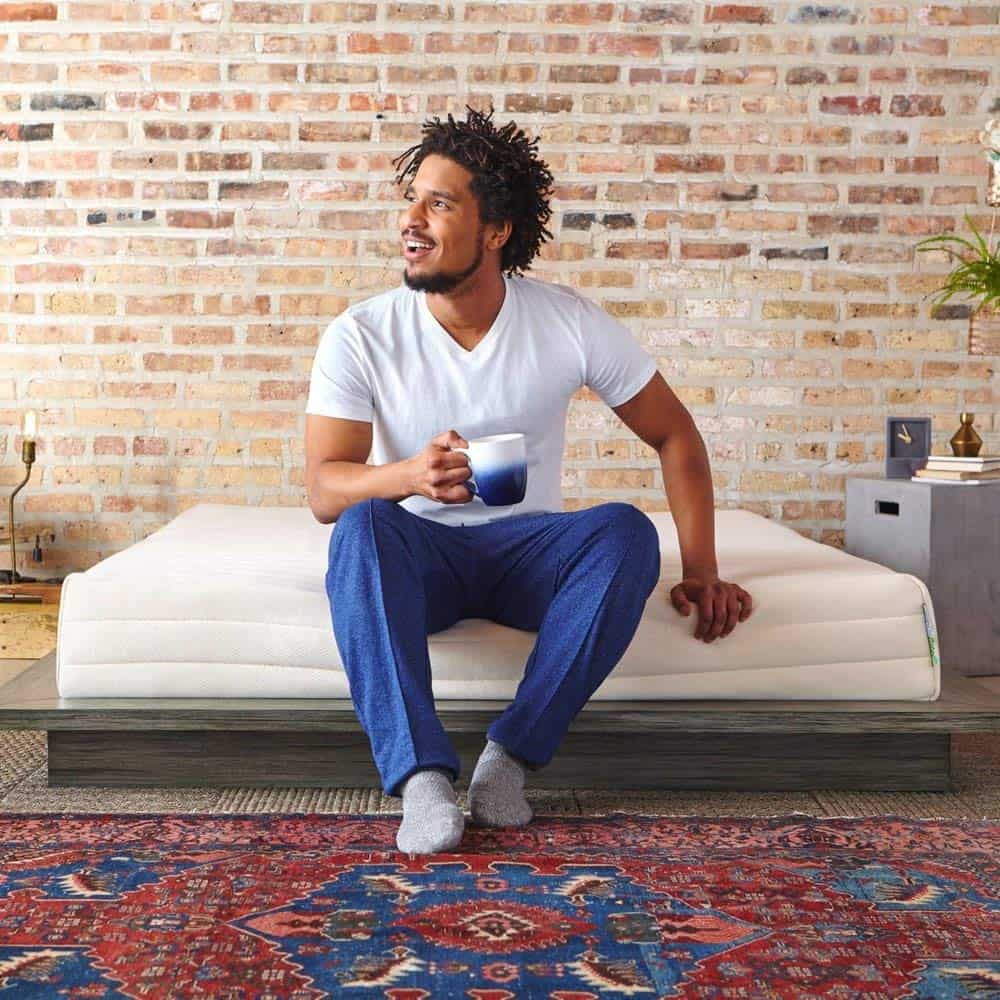 It may sound cliché but anything made of organic, natural materials is hands down the safest. If you're looking for a chemical-free option to stop snoring without forfeiting your need for comfort at night, then this Natural Latex Pure Green mattress is your best bet.
It has a pure cotton cover that allows easy circulation of air in and out of the mattress. An inner wool layer works to provide even support to the body and simultaneously align your back.
This Mattress offers consumers a total of three options. Depending on your preferences, health, and physical needs, you can pick the soft density, medium density, or high-density mattress. To figure out which density is best for you, you must take your body weight and sleeping position into account.
Pros
Made of natural latex material
Has a breathable cotton cover for enhanced comfort
Comes in three different density options
Cons
It may lack the bounce present in mattresses with pocketed coil layers
Zinus Memory Foam Mattress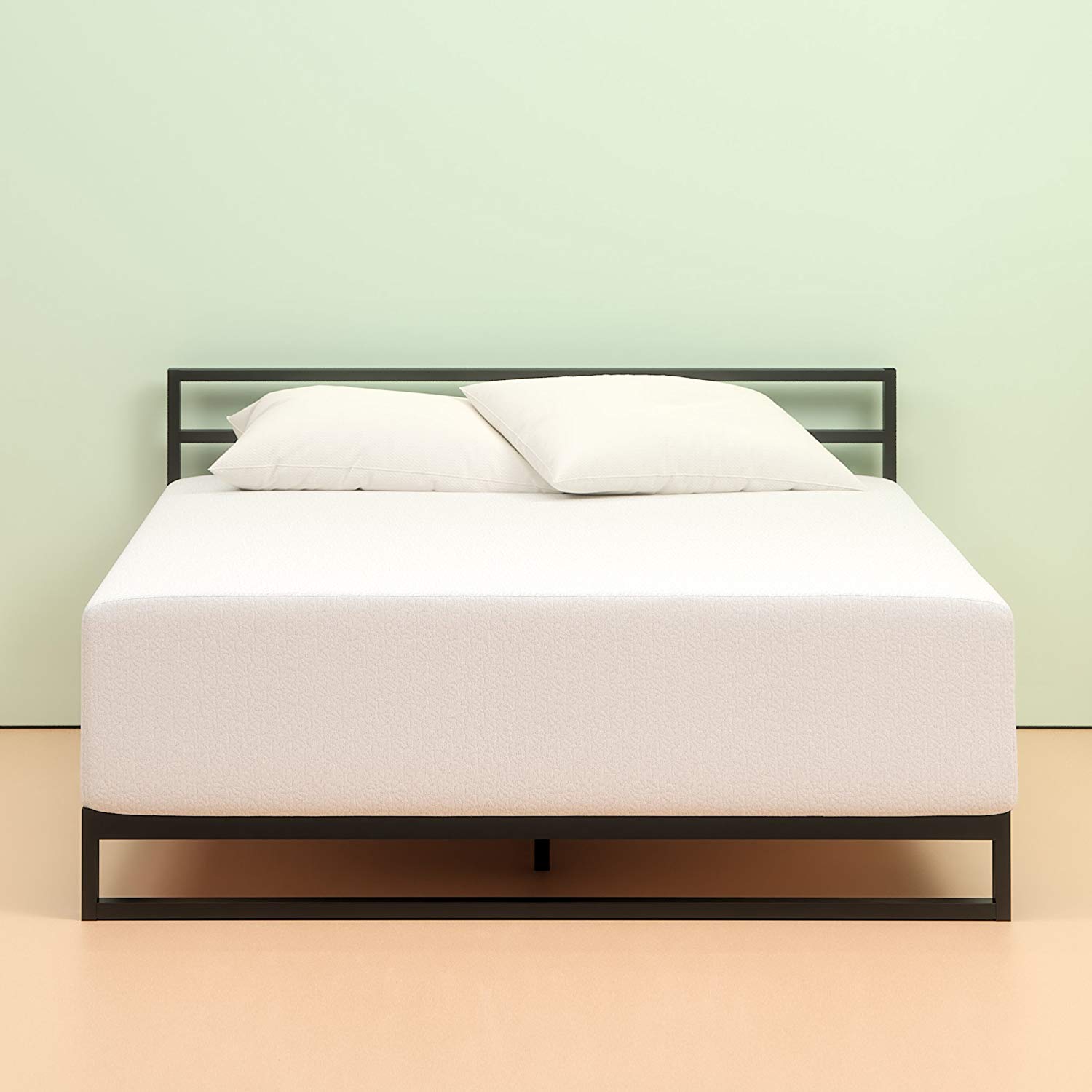 A trailblazer for other mattresses this Zinus Memory foam mattress has natural green tea extract infused deep inside its layers. This makes for a chemical-free, eco-friendly mattress that is always fresh. If your snoring could be as a result of an allergic reaction that blocks your airways, then look no further.
All 12 inches of this mattress guarantees unlimited airflow, comfort, support, durability, and value for money. Its memory foam layers mean that whether you are a back, side or stomach sleeper, your weight will be well accommodated. No more backaches and joint pain caused by poor quality mattresses.
Pros
Infused with green tea extract for enhanced freshness
Perfect for all types of sleeping positions
Has a 12-inch thickness and up to four layers for optimum support
Cons
You'll have to wait at least three days for the mattress to fully expand and to stop smelling
More: 17 Best Mattress 2020