With living spaces growing smaller each year, extra storage is becoming more and more of a scarce resource in many modern homes.
In such compact living conditions, your bed—which poses one of the largest footprints of any home item, becomes one of the critical choices you must get right.
From optimizing your bed dimensions for your room, incorporating floating bedroom elements, raising your bed to create extra storage underneath, to buying a bed that comes with built-in storage, there are many ways to gain more vital space in your bedroom.
However, what if you could fit an extra mattress underneath your bed?
What is a Trundle Bed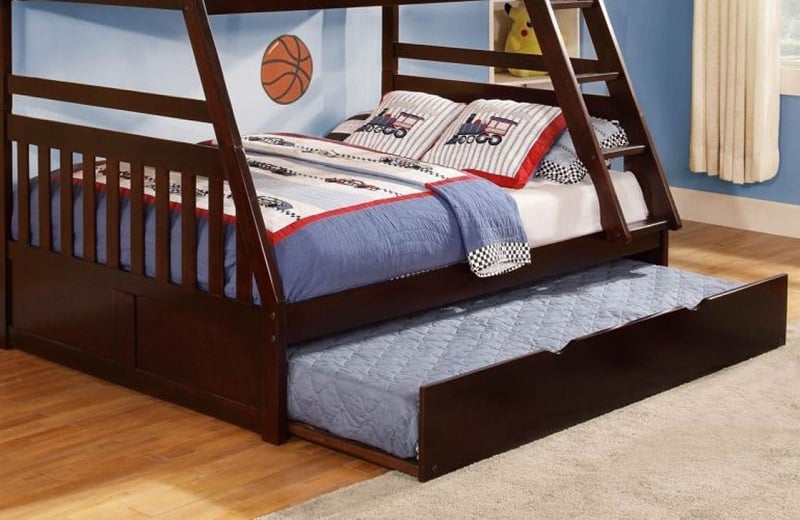 A trundle bed is a low bed that you store under the frame of your main bed. These beds come fitted with wheels that allow for easy mobility and offer an excellent form of extra bed space and a more space-efficient alternative for bunk beds and guest rooms.
When it comes to optimizing home spaces, one of the biggest causes for concern is that you have to factor in the occasional guest as well as kids' sleepovers.
Fitting extra bed space into compact spaces can be tough, and often, the two options most people default to are creating a dedicated guest space or opting for bunk beds—both choices with apparent drawbacks.
In compact spaces, creating a dedicated guest area is often not an option as it defeats the purpose of minimizing floor usage. Bunk beds, on the other hand, can take up valuable wall space, and they bring the added risk of an over-active sleeper (super common among children) falling off the top bunks.
With a trundle bed, you can keep the extra Mattress hidden underneath the bed frame during the day, only pulling it out when use is required. Hence, trundle beds provide one of the best options for people who want to regain maximum floor and wall space.
Consequently, trundle beds often feature in guest rooms, studio apartments, kids bedrooms, and other compact living spaces.
Recommendation: The DPH Bombay is an elegant and functional trundle bed that fits two twin beds. This bed set features a sturdy and eye-catching metal frame, with reinforced slats for enhanced durability and stability, and locking caster wheels on the rollout bed, so it stays in place every time.
Types of Trundle Beds
While all trundle beds follow a common design language—a lower bed that pulls out from under the main bed, the two most popular options you will find when shopping trundle beds are sleigh beds and captain beds.
Sleigh beds: Sleigh beds typically feature frames that are significantly taller than your regular bed frame. While many ships are equipped with trundle beds, others make a great starter bed for building a trundle and main bed set. Besides their height, one primary distinguishing feature of sleigh beds are their unique headboards and footboards that curl out to mimic a sleigh.
Captain beds: Captain beds make the most of their storage-saving theme by adding drawers underneath the bed and shelving space in the headboard. With captain beds that include a trundle pull-out, you get some of the best space-saving bed options on the market.
Furthermore, you can often find other types of bed like platform beds and panel beds that can fit a trundle bed provided they have a high enough frame. In some cases, irregular options like bunk beds or even daybeds can come with a trundle option.
When it comes to the layout of the trundle bed setup, you can get a standard trundle bed that sits lower than the main bed, or opt instead for a pop-up trundle bed, which lets you raise the lower bed after pulling it out, so it matches the height of the main bed.
Pop-up trundle beds often make for a better choice in guest rooms, as with this option, when the beds are fully extended, you get a setup that is akin to a large king-size bed.
Are Trundle Beds any Good?
Space Savings
Their streamlined design makes trundle beds some of the best space-saving options you can get for compact rooms.
Comfort
Since they have to sit under the main bed frame, trundle beds often only work with thinner mattresses as there is less space to fit one of standard regular height.
Consequently, with these beds, you often have to work with mattresses that offer less support that you are used to, and this can significantly impact your comfort levels. Hence, if you want to max out on comfiness, a trundle bed may not work for you, or you may have to opt for mattress options like Dunlop that offer exceptional support even with minimal height.
Ergonomics
Another potential problem that comes with the low height of trundle beds is their ergonomics. These beds can often present a problem for the elderly, as, since they are closer to the ground; they require more effort when climbing in and out of the trundle.
However, you can quickly fix this concern by opting for a pop-up trundle bed or limiting the use of your regular trundle to young adults, teens, and children, who should have an easier time with a bed of lower height.
Pricing
When shopping trundle beds, you can expect to pay a premium over a regular bed of the same size as you are getting a frame that sleeps way more people than your standard Mattress.
So, Should You Get One?
If you have limited floor space, a trundle bed represents one of the best options you can get (Here're ). However, be wary of the height parameters for the lower bed, especially when sleeping older guests or people with back problems.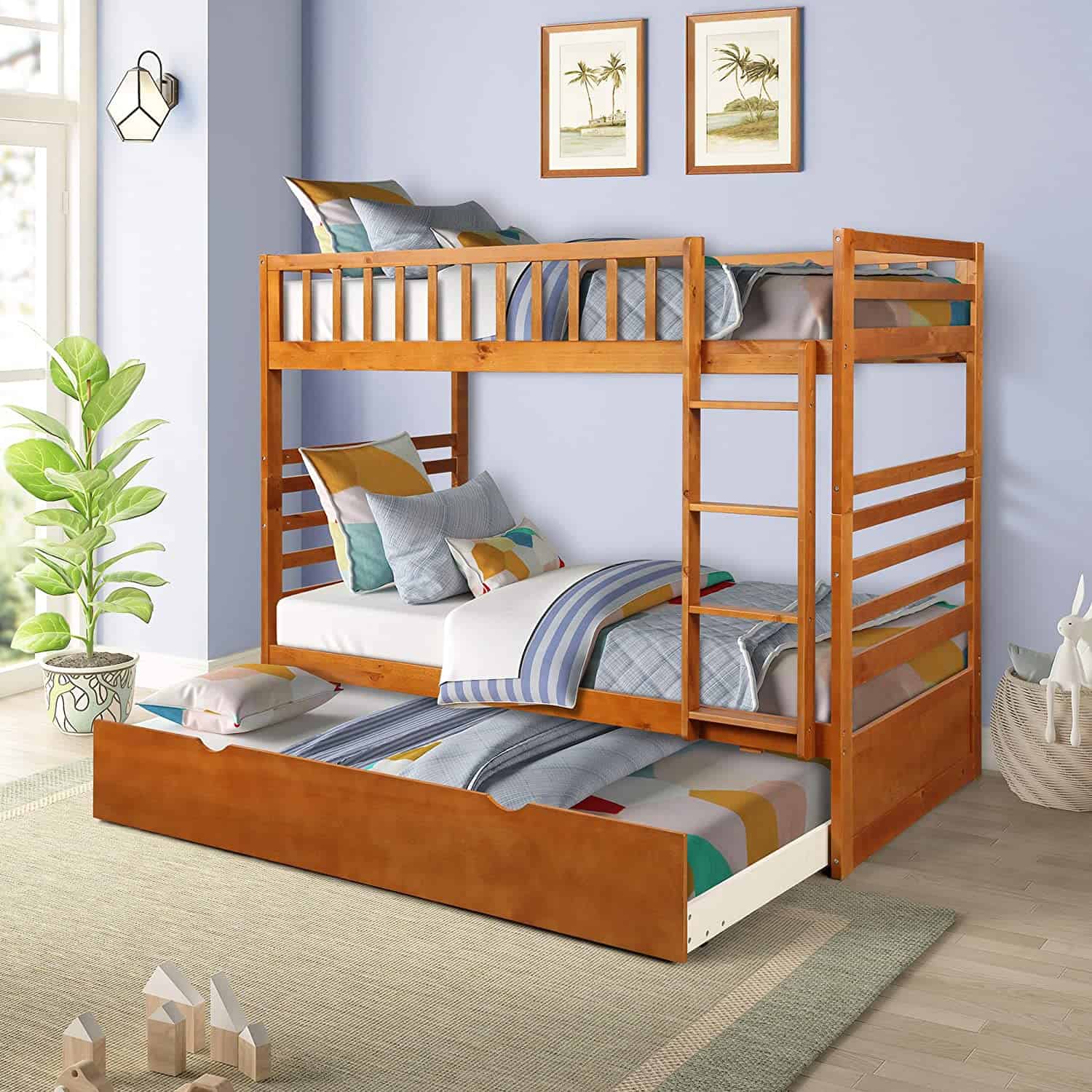 See Today's Deal
Other Things You Need to Know
What Size is a Trundle Bed?
While trundle beds come in a variety of sizes, the two most common options are frames that fit twins or full-size mattresses. You can pick configurations with matching top and bottom bed sizes or opt for one with a trundle that is smaller than the main bed.
Note: trundle beds that are queen size or larger are harder to find.
What Size Mattress will Fit in a Trundle Bed?
You need a mattress that matches the dimensions of the frame. However, with most trundle beds, the bottom frame only works with mattresses that are around 10 inches or lower.
With the main bed frame, however, there are no such limitations, and you can fit a matching mattress of any height.
Read More: 4 Best Mattress for a Trundle Bed in 2022
Can a Trundle Fit Under Any Bed?
It depends on the height of your bed and that of the trundle. Most trundles will require a bed with a space of at least 10 inches vertical underneath.
Are Daybeds and Trundle Beds the Same Thing?
Daybeds (Here're some choices for daybeds with mattresses) are a type of sofa that is large enough to work both as a regular sofa or as a makeshift bed. However, some daybed sets like the Zinus Eden Twin Daybed and Trundle Set can include a trundle option that provides extra room for sleeping.