The Azza Mattress comes in the thickness of good 10-inches. It contains a heavy-duty high-density base layer of 6-inches thickness made up of polyurethane foam. This base defines the strength and durability of your mattress while providing you back support. Above this solid foundation, there is a smart layer of 2-inches made up of Visco elastic memory foam that offers comfortable feel and stiffness at the same time. On top of the mentioned layers, there is again a thin 2-inches layer that controls climatic condition. It is made up of dual-phase change gel to regulate the temperature.
Key Characteristics
The Azza Mattresses come in a wide variety of sizes to let you enjoy a comfortable sleep on different bed sets. It possesses all necessary features that make your sleeping experience an amazing one.
The Azza Mattresses assist you in getting rid of your chronic or other pains and aches. Your pains will start vanishing as soon as you start resting on these mattresses because its high-density memory foam layer aims to make your back well-aligned through its support.
With its memory foam layer, it contours according to your body shape and curves. It offers adequate stiffness where it is required.
It regulates the temperature throughout the night because of its dual-phase gel.
Because of its appropriate combination of stiffness and comfort, it can satisfy the requirements of both sides as well as back sleepers.

Why the Azza Mattress is best for you
Prefer sustaining right sleeping
Prefer keeping your mattress clean.
Are allergy sufferer
Have back/shoulder aches
Like using an odor-free memory foam
Are fond of USA products
Why the Azza Mattress isn't best for you
Are too heavy.
Wants to get pleasure from latex experience
Construction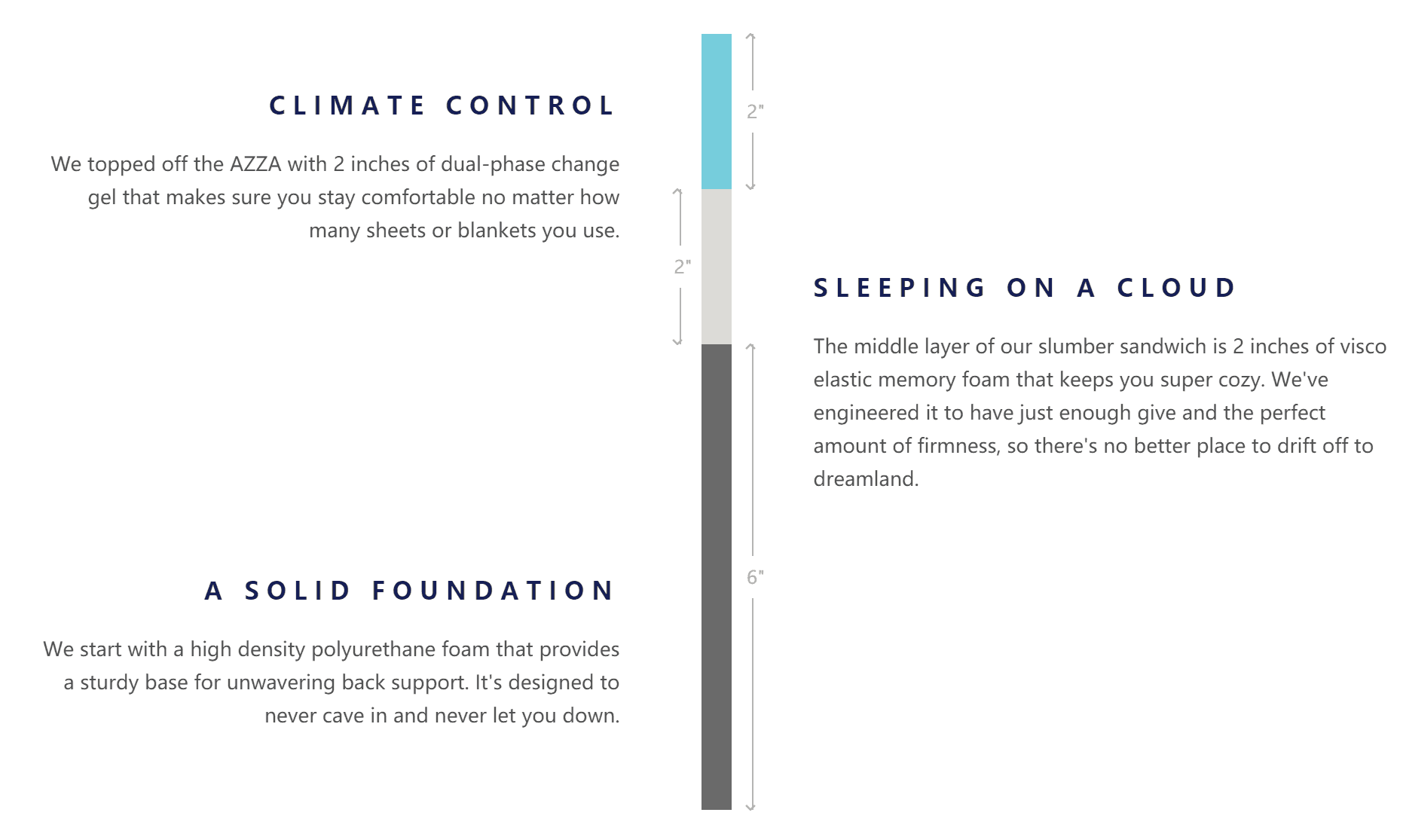 The Azza Mattresses are designed by using multi-layered manufacturing methodologies. Considering the features of single mattress type, being unable to fulfill all sleeping requirements, the company incorporated multiple layers with different types of foams. This thing ensures a super comfy and cozy sleeping experience for sleepers that are free of all types of aches. These mattresses comprise three unique layers.
A 2-inch dual-phase change gel layer as the uppermost layer.
A 2-inch Visco elastic memory foam layer that serves the purpose of the middle layer in this cozy sandwich.
A 6-inch polyurethane foam layer that is the lowermost layer and offers a solid foundation to the mattress.
The top layer serves a significant purpose in Azza Mattresses. With its latest technology, it ensures regulating the temperature to its optimum level. No matter, how many warm blankets you take, this layer keeps the hotness leveled to the perfect sleeping temperature.
The middle layer also serves a significant function in giving you your dream sleep. As it is Visco elastic memory foam, its high-density layer makes you feel cozy with providing an appropriate level of firmness and adequate support.
The lowest layer is a highly dense and the thickest layer of the industry that is manufactured with polyurethane material. It gives the mattress unbeatable and durable support that won't get saggy or uneven even after the rough usage for years.
Besides these foam layers, the top cover of this mattress is made up of durable fabric with hand-sewn fittings.
The combination of these three layers makes Azza Mattress able to deliver you high-quality sleep for an extended time period. The high-density layers offer firmness, comfort, and support, all at the same time.
Firmness, Comfort, Support
The Azza Mattress makes sure to provide its customers with just the right amount of firmness. It is neither too firm to feel hard while sleeping, nor it is too soft to make you sink into the mattress uncontrollably.
On the rating scale of ten points, firmness of Azza Mattresses can be rated at the middle level. Its adequate firmness offers great support for both back and side sleepers.
Azza Mattress is one of the topmost comfortable mattresses you will get in this price range. It offers you great comfort through its high-density memory foam layer to make you feel like sleeping in the clouds. Other than this, the top cover is made up of cotton and polyester material with custom hand-sewn features. Both these features combined, give an extensive comfort.
The lowest layer of the Azza Mattress serves the main purpose of offering great support. Its solid foundation makes your body properly aligned while you sleep, and reduces the pain or aches from your back and shoulders. With its enough firmness, it provides support on required body parts according to their pressure.
Value for Money
Besides offering unbeatable stiffness, comfort, support, and durability, the Azza Mattress also offers the latest cooling dual-phase Gel that eliminates the problem of having heated-up body during sleeping time. In this way, this mattress gives amazing value for your money, as you can't get all these features at such an affordable price range.
Additionally, the company supplies you mattresses right from its manufacturing place. This thing lets you avail high-quality mattresses without paying any additional amounts. These mattresses are available in a variety of sizes with different affordable price ranges.
Size                         Price
Twin                       $550
Twin XL                  $600
Full                          $800
Queen                    $950
King                        $1150
California King      $1150
Don't Sleep Hot, Smell
The uppermost layer of the Azza Mattress contains the latest technique that won't let you sweat during your sleep. This top layer contains Dual Phase Change Gel that maintains the mattress hotness to the perfect level. It not only keeps you cool but also regulates the temperature according to the external environment. With its gel, it will keep you free from the restriction of using required number of blankets or sheets. No matter, how many of them you use, mattress warmth will stay at ideal sleeping temperature.
Another significant feature of the Azza Mattress is the odor-free sleep. It is manufactured using high-grade material that produces very little to no smell at all. Additionally, the material utilized in the manufacturing is certified by OEKO-tex Standard 100, Class 1 which means, all materials utilized in this mattress manufacturing is completely safe not only for adults but for babies and toddlers as well.
This mattress is manufactured by keeping it completely free from chemicals like lead, or other heavy metals. Having safe products make this mattress smell free. You don't need to put your mattress open in the air for days before using. You can simply start using it after opening.
Durability & Longevity
The foundation of the Azza Mattress is made up of 6-inches thick high polyurethane foam layer with high-density. The base part of any mattress is considered as its strength that establishes its durability. Therefore, a bulky six inches base layer can describe its durability, strength, and longevity quite well.
You can spend years of daily use on this mattress, but it won't cave in from its any part. Besides the base layer, the top cover of the mattress is also manufactured from a sturdy material, and it is hand sewn as well.
Shipping, Warranty/Return Policy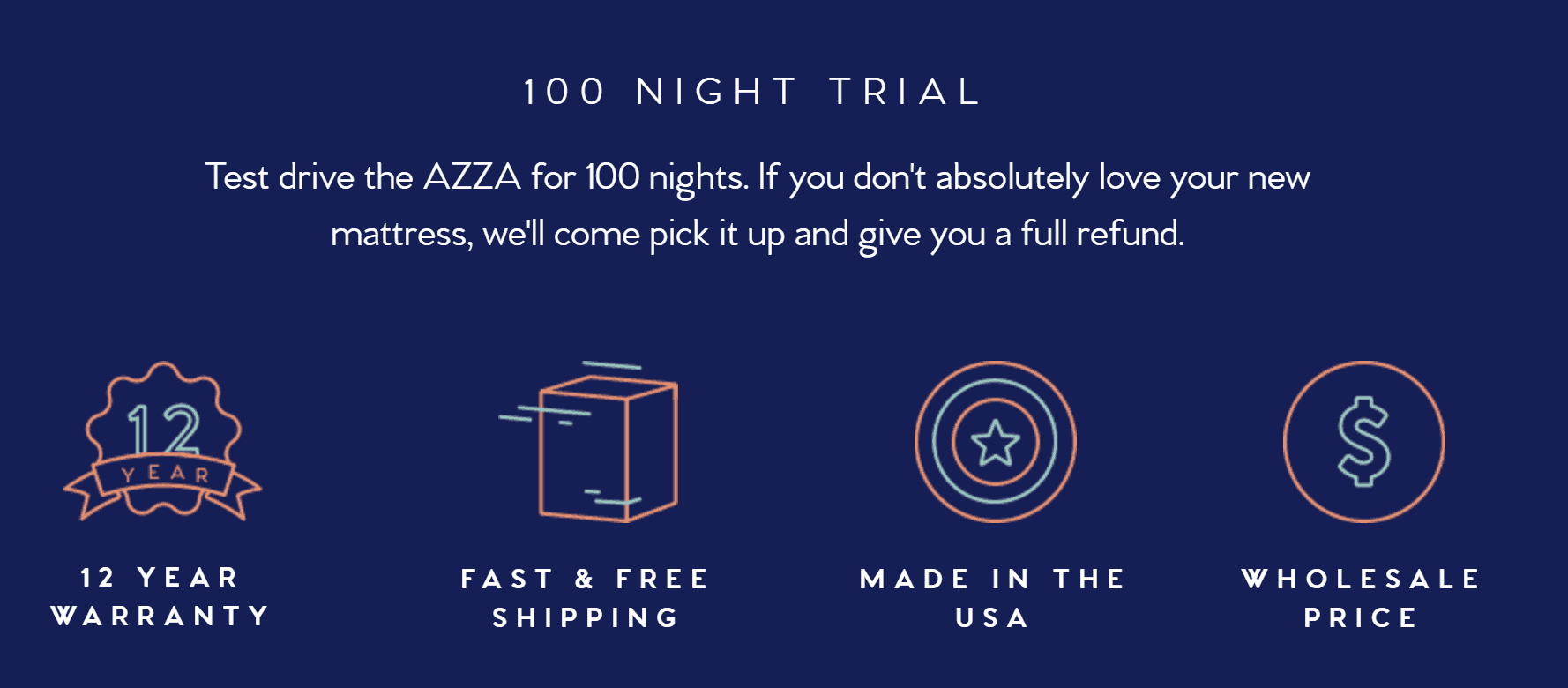 If you are ready to enjoy blissful nights with the Azza Mattress, then don't wait to order mattress today. The company offers free shipping at your doorstep. Your mattress will be shipped through Federal Express Ground or UPS Ground services. You will get your parcel within 3-5 business days.
The Azza Mattress comes with many distinguished features that will give you a complete restful sleeping experience. But in case, you are facing some confusion regarding its adjustment to your body type. Or, you are worried about its features being able to fulfill your requirement criteria; this company has a perfect solution for you. You can simply avail our 100 nights free trial offer.
You can test this mattress satisfactorily for 100 nights and can order it once you get used to it. Other than this, this company also offers a warranty of 12 years. The warranty covers the material quality and manufacturing of the mattress.
Eco-Friendliness
The Azza Mattresses are manufactured while keeping eco-friendliness as the highest priority. All materials used in its making are of extremely high quality. All procedures and detailing are made while staying true to all rules and regulations that can make this product certified from CertiPUR-US that is an international standard.
Additionally, our mattress is completely safe for adults, toddlers, babies and for other environmental entities. The foam of this mattress is made with 0% PBDE flame retardants, ozone depleters, formaldehyde, phthalates, lead, mercury, or other heavy chemical materials.
Highlight
The Azza Mattresses are manufactured with great quality materials along with a combination of multiple layers that fulfills almost all requirements that are mandatory for having restful nights. It offers a great value for support and firmness. Where one hand, it reduces your pain and aches, it also maintains an optimum temperature no matter how much cover you have taken up.
Additional Advantage
The Azza Mattresses are available in a variety of different sizes. So, whatever your bed size is, you can avail these amazing mattresses in the astonishing affordable price range. In these mattresses, you can get sizes of twin, twin XL, full, queen, king size and California king size. These mattresses can easily be adjusted on a variety of straight frames bases.
Final Verdict
The Azza Mattress comes under the category of topmost mattresses that combine the benefits of a variety of foams and incorporates them into one single cover. The worth mentioning features of this mattress include adequate firmness, temperature regulation, maximum support, extensive comfort, and availability at the affordable price range.