As the title suggests, this article will focus on the features of a mattress that will make your erotic time with your partner Better. Most mattress reviews don't consider this aspect of a bed. Since it is an important part of an adult's life, we want to give you the straight scoop.
It doesn't matter how adventurous a couple is, they almost always enjoy intimacy in their bed, at least some of the time. There are several factors that make a mattress good for sexual activities and some that make the experience suboptimal on some mattresses.
We developed our list of top 5 best mattresses that are best suited for sharing the love to help you buy a mattress that suits your sleep and sexual needs. We have also developed a buying guide for you to make sure that all your questions are answered when you are looking for information on the best mattresses for sex.
We'll begin with a discussion of what should be considered when evaluating a mattress for sexual activities.
5 Best Mattress for Sex 2022
1. Awara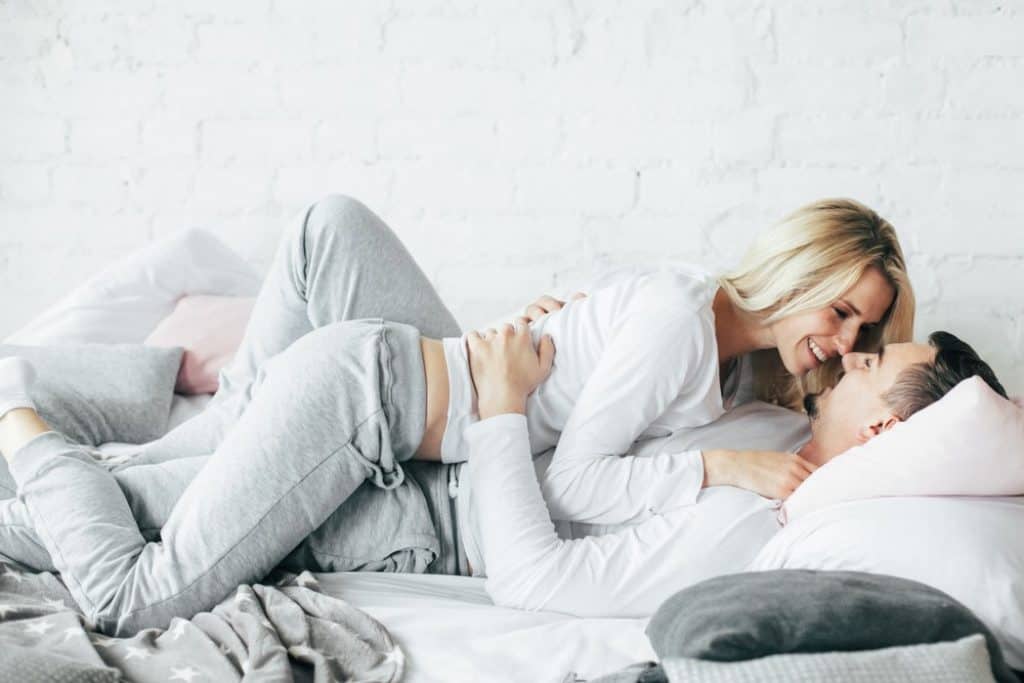 The AWARA mattress is a hybrid eco-friendly mattress made from 100% organic Dunlop latex, 100% organic cotton, and natural wool resting on top of 9" coils that give extra bounce to the mattress. Couples who were accustomed to enjoying sex on an innerspring mattress don't notice a difference in the way AWARA responds during intimate moments and the way the innerspring mattress performed.
A latex-coil hybrid is naturally cool because latex doesn't absorb body heat the way many foams do, and the innersprings provide plenty of airflow to help keep things cool and comfortable.
The 5-zone innersprings provide plenty of support right up to the edge of the mattress.
Latex has long been considered a good mattress material for sex because of its springiness. When added to the innersprings, the mattress will help you keep your rhythm.
The mattress is built to withstand vigorous activities. Its lifetime warranty assures you that the mattress is tough.
Latex is made from a renewable resource much like syrup is made from the sap of maple trees, latex is made from the sap (milk) from rubber trees. For the eco-conscious consumer, this mattress checks all the boxes. Latex also checks the boxes for health-conscious consumers.
You'll be able to sleep well after sex because the mattress controls motion transfer from your partners' movements to keep you sleeping soundly if they get out of bed or roll over.
PROS:
Nice bounce and responsive latex
Lifetime warranty
365-night sleep trial
Healthy and eco-friendly renewable latex
Good control over motion transfer
Sleeps cool
CONS:
It costs more for natural materials than some foam mattresses
Its heavy to move
2. Plush Beds – 8" Natural Bliss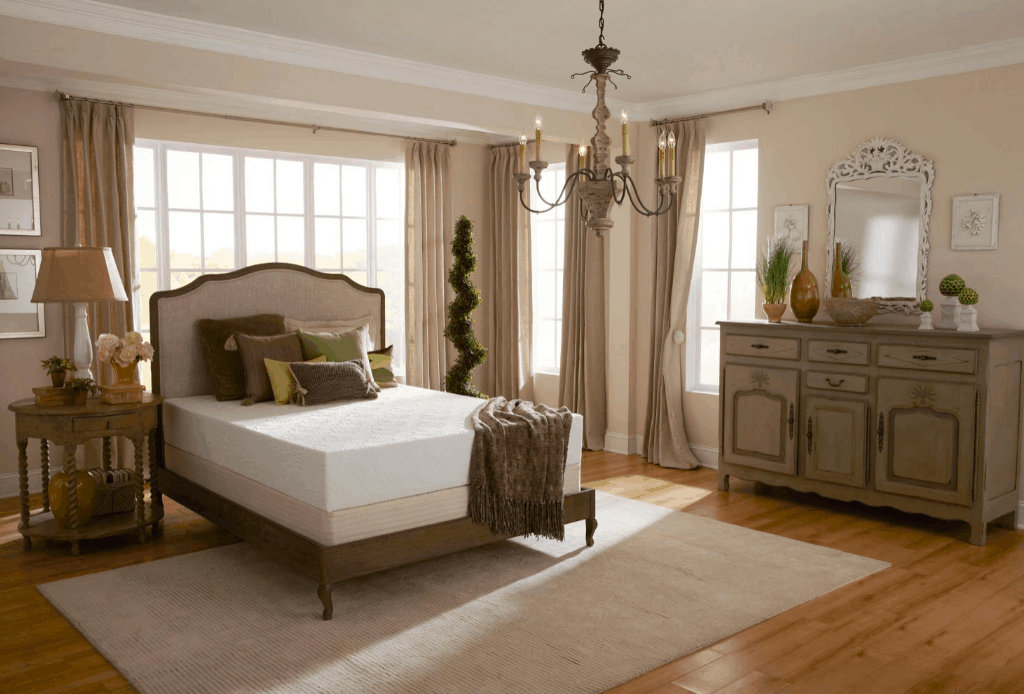 The 8-inch Natural Bliss from Plush Beds will satisfy the most demanding vegan. It is made of stretch certified natural and organic cotton and Talalay latex. These beds are accredited by different independent laboratories to ensure that the products meet all the quality standards for the strictest of chemical emissions standards across the globe.
When buying latex, you need to be sure about what you are buying. Dunlop and Talalay latex can be 100% natural, 100% organic and natural, or partially synthetic. Plush Beds uses only natural latex without any added petrochemical substances. Natural Dunlop and Talalay latex mattresses last longer than mattresses that have petrochemical ingredients because those mattresses degrade over time.
However, Plush Bed mattresses are made of 100% natural latex because it is not only luxurious in function, but it is also very healthy for you and your family.  Moreover, natural latex makes sure that your mattress stays with you for a long time as you can enjoy some romantic moments on it night after night.
The layers of latex do not make any sound while you are in full swing with your partner.
Natural latex is one of the preferred materials for bounciness in the mattress which makes it good for sexual activities.
PROS:
The company has made this mattress with 100% genuine and natural latex.
Eco-conscious, health-conscious, and vegan consumers will appreciate the ingredients in this mattress
It also features stretch organic cotton with Eco Fire Barrier
The mattress is equipped with 8-inch natural bliss layers to provide maximum comfort to your body. There is also a 10" version that heavier couples might want to consider
It also comes with 100 Night Free Trial and 25-year manufacturer's guarantee
CONS:
For some people, this mattress might be a bit too firm.
It is not a double-sided mattress.
3. GhostBed Luxe by Nature's Sleep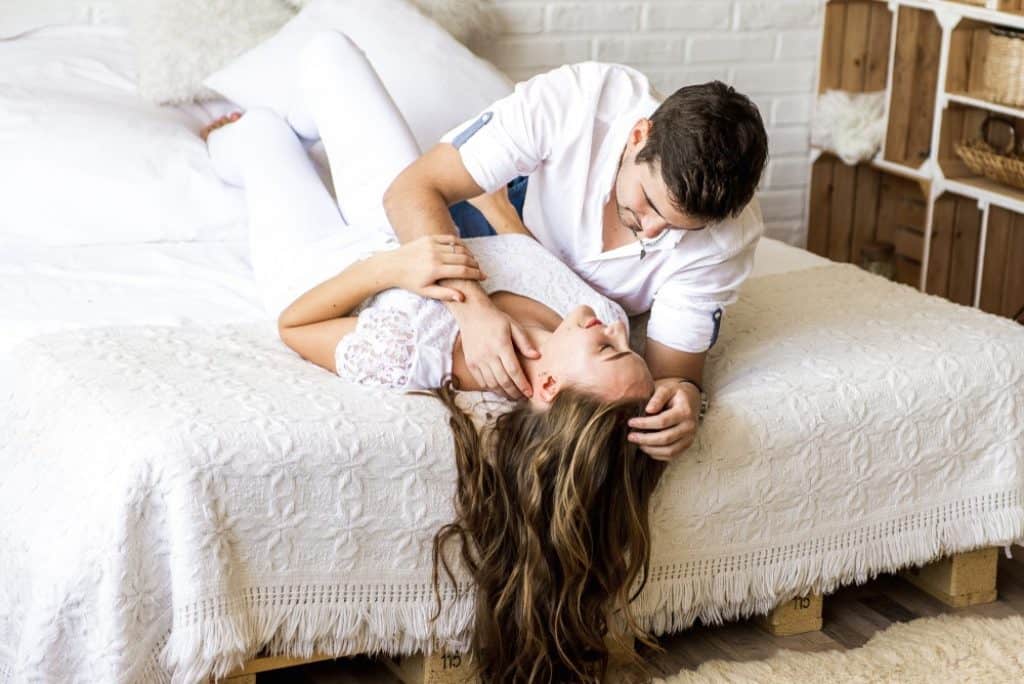 The GhostBed Luxe is the only mattress that you will find on the market that offers two different stages of cooling comfort. This feature will keep you comfortable and will prevent you from waking up sticky. The 13-inch mattress makes sure that you get a relaxed and comfortable place to enjoy those erotic times and sleep afterward.
Your natural body temperature is 98.6°F. Throughout the night, the heat your body creates can become trapped in your mattress, creating an uncomfortably hot sleeping environment.
That doesn't happen with the GhostBed Luxe. Its core includes a layer of Phase Change Material, which absorbs and dissipates large amounts of heat without raising the temperature of the inner foam layers. The result? A bed that sleeps cool all night long.
The GhostBed Luxe mattress is equipped with seven separate layers to ensure a peaceful time in the bed with your loved one. The first layer is a 1/2" Triple-Tech "Ghost Hug" Cooling Topper with cooling features that they have woven into the yarn fabric. Cooling fibers are woven in to keep you sweat-free during sleep. They can't stop your sweat during vigorous activities, but they can keep the mattress from contributing to how heated you become.
The second layer is combined with the first, adding one inch deep of gel memory foam to pull heat away from your body. Covering the top two layers is Ghost Ice Fabric that helps to keep you cool.
Beneath the layers that work together to form the top cover is the Ghost Ice Layer that is equipped with cutting edge technology that accumulates all the heat away from your body to give you're a pleasant experience during sex or sleep.
After that, there is another gel memory foam layer that is designed to absorb heat from the Ghost Ice Layer and dissipate it into the room.   It is designed so that fresh air passes through the foam and keeps everything cool whether you are making love or resting your back.
The next layer is one reason the GhostBed Luxe is on our best for sex list, the Ghost Bounce Layer is a lot like latex when it comes to resiliency which means it is responsive and responds to your movements, which comes in very handy during sex.
The final layer is 7.5" of High-Density Base foam that provides the support you want in a durable mattress. You won't bottom out on this mattress
PROS:
It is comprised of seven different layers that each has distinct functions.
It ensures that you don't sweat during because of the mattress during intimate moments or when waking up.
It comes with a 25-year of warranty for your mental satisfaction.
The GhostBed Luxe offers 101 Night Sleep Trial to test it out.
You can conveniently return your mattress free of cost if you are not satisfied with its performance.
CONS:
It might be slightly higher than standard mattresses, and some people might find it a bit difficult to get on the bed.
This mattress is not two-sided
4. Avocado Green Mattress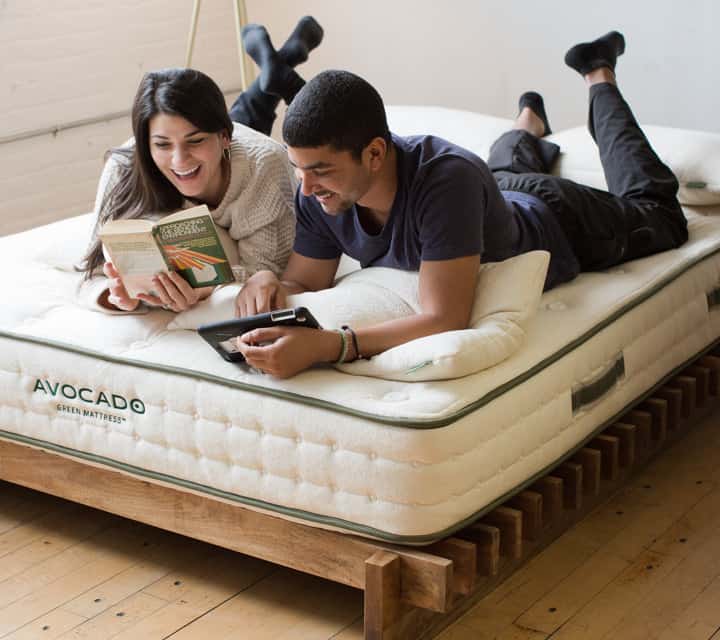 The natural mattresses form Avocado are equipped with 100% genuine latex rubber along with certified organic cotton, natural wool, and over 1400 coil support pockets. The construction of these mattresses doesn't include toxic fire retardants or polyurethane foam layer.
Avocado is a brand that is socially conscious and eco-friendly, just the way you like it. The mattress is Greenguard Gold certified, and it is made of organic and natural fibers. These beds are also attested by eco-Institut and include 100% natural Dunlop Latex that is made using sustainable and tree-tapped sources.
This non-toxic bed also boasts the best natural cushioning that, combined with internal zoned pressure point system for extra support, provides a great place for your love sharing and sleeping. The mattress guarantees durability and high performance for a long time to come.
The wool used in the making of this mattress comes from Joma, New Zealand which offers one of the best yarns in the world.   The bed also comes with ergonomic support coils, and it also features a separate 8-inch support unit that is equipped with a different number of loops ranging from 756 to 1414 depending upon the size of the mattress.
PROS:
The mattresses feature 100% natural latex rubber and wool from Joma New Zealand.
These are equipped with innerspring coils that range from 756 to 1414 count depending upon the different size of mattresses.
The bedding does not include any toxic fire retardants or polyurethane materials.
The brand is certified by Greenguard as well as the Eco-Institut.
You purchase is covered by a 25-year limited warranty and 100-Night free trial too.
CONS:
It doesn't include gel foam in any of its layers which makes it not an ideal option for off-gassing.
It might feel firm and warm if you are not used to sleeping on the latex foams.
5. Natural Latex Mattress by Spindle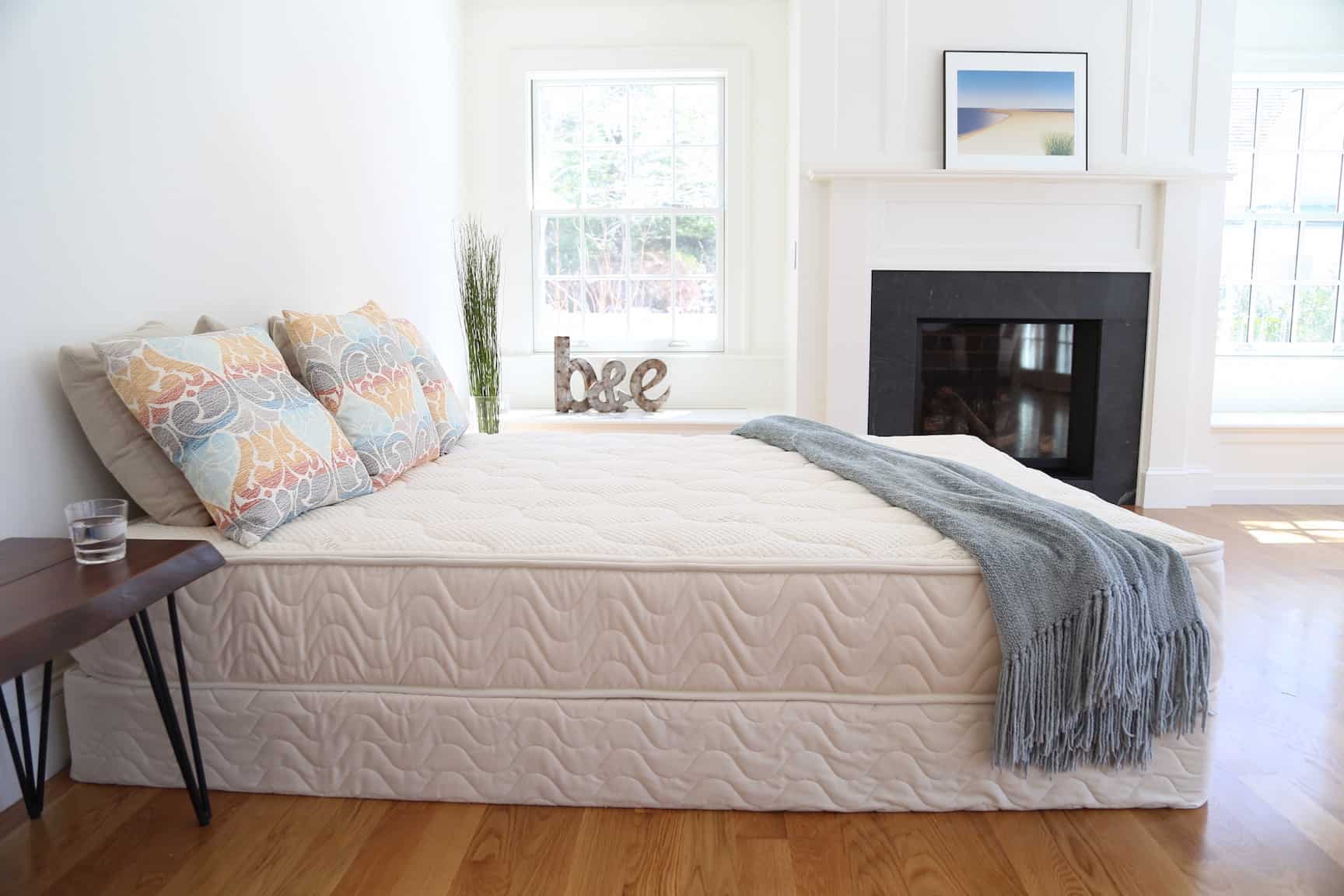 This natural Dunlop latex mattress from Spindle comes in soft, medium, firm, or extra firm. The comfort features of the latex make it a complete product for your nighttime activities.
The mattress is comprised of three different layers of natural latex, and all of these layers are made of continuous pour Dunlop technology methods from Pennsylvania. The bed is more durable and breathable than foams, and it is Oeko-Tex 100 Class I certified as well.
It is not produced with pesticides or other harmful chemicals, and the circular knitted materials keep the right latex feel as well. The wool used in the manufacturing comes from sheep grazing in the Pacific Northwest that is carded in California, and it goes through the strictest quality procedures, too.
The cover is made from cotton in South Carolina and the Dunlop latex is poured in Pennsylvania.
As we've already mentioned, latex is a superior product when it is used in a bed for sex because of its bounciness. This mattress is uniquely designed with three layers that are interchangeable so you can adjust the comfort level to suit your preferences.
PROS:
Your purchase is covered with a ten-year limited warranty.
You also get a 365-day free trial.
The product is entirely made in the USA
All the materials used in the making are 100% natural and organic
It checks all the boxes for those who are looking for an eco-conscious healthy mattress
It is available in various firmness levels for your convenience.
CONS:
Its edge support lacks longevity in performance.
It is more expensive than products made from less natural materials
How to Pick the Best Mattress for Sex
This buying guide will answer all your questions associated with buying the best mattress to share with your special one. We have made sure that all the characteristics that should be considered are highlighted in this guide to provide you a complete picture of the best mattress for this purpose. According to our assessment, the following features are must-haves for the best bed for sex.
Does responsiveness have any role to play in such mattresses?
Yes, it has a significant role to play because bedding with slow responsiveness will feel like you are making love in quicksand. Response time refers to how quickly the mattress adjusts to your body as you are moving on it. The best bed will promptly respond to your body's movements to support different positions. It will also provide a stable surface.
What is the purpose of the bounce of a mattress during sex?
The bounce of a mattress means the feel when the bed is compressed by your body weight. A mattress with an excellent bounce will rapidly rebound and will not absorb your body's impact. During sex, it will help you to maintain a rhythm that supports your movements and doesn't resist it which would give you a better workout but can distract you from your partner.
I am looking for a discreet mattress that doesn't make any noise; can I find one on this list?
We have carefully developed our list of top 5 best mattresses for sex; we included one mattress that doesn't create any noise. Although sex requires a certain degree of discretion and keeping the sound to a minimum to give you some privacy is often desirable, the quietest mattresses tend to be rated lower in other areas that are important for sex.
Yes, some sexual positions need stable edge support as it improves the activity. When the edges of the mattress collapse when pressure is applied can cause you to fall off or can distract one of you because you're worried you'll fall off. The best mattress for amorous activities requires supportive sides which also improves the quality of the mattress for sleeping.
What should I consider when it comes to comfort?
If your mattress creates pressure points on your body during sex that makes the activity uncomfortable, it will also reduce your desire and the time that you want to spend with your partner which isn't an outcome anyone wants to experience. The ideal mattress doesn't create any pressure points during those erotic times.
Conclusion
All the mattresses on our list are good for sexual activities and sleeping. When we consider all the factors, our assessment is that the Awara  Bed is the best option. It allows you to enjoy a comfortable sleep experience as well those love sharing moments with your partner. This mattress has the right kind of comfort and firmness that you need during sex and sleep afterward.
Let's face it, mattresses and beddings are mostly used for sleep and sex, so you should carefully consider both the aspects before buying a mattress. Considering these options will make sure that you enjoy the company of your loved one and share all the love for them and then allow you to sleep well so you can get up fresh the next day.