Overview: Eight Sleep is a relatively new NY start-up, promising to bring about a change in your mattress comfort by introducing affordable, smart technology solutions.
If you are on the search for a smart mattress, you should want to take a look at the Eight Sleep Smart Collection. We tried to break it down for you:
What do I need to know about Eight Sleep?
Eight Sleep is gradually making a name of themselves in the mattress industry by offering a Smart Collection which stands out from the rest for its affordable, yet premium mattresses featuring smart covers infused with over 15 sleep tracking functions.
Eight promises to help you sleep better with their innovative technology, taking a step closer towards the future. They not only measure your sleep, but improve it as well based on data-driven and comfort-wise approach.
Using durable, high quality foams and coils, the NY start-up sets the bar high, selling directly to the consumer bed-in-a-box style mattresses which are made in the USA according to safety regulations.
Eight Sleep Smart Collection: The Company offers 3 kinds of mattresses to choose from, Saturn, Jupiter, and Mars, all specially designed to cater for the majority of sleepers. Let's see what Eight mattresses have in common:
All three mattresses in the Eight Sleep mattress line are backed by the industry standard 10 year warranty. You can rest assure that these mattresses are made of premium durable materials, which last the test of time.
The mattresses are backed by a 100 night trial period, which means that if you are not satisfied by your new mattress, you can choose to return it and claim full money refund at no extra charge for the return.
Definitely a highlight, is that all mattresses come with the capability to be enhanced by adding the Sleep Tracker layer, an intelligent sensor cover which comes at an additional cost, and is featured in the + versions of the mattresses.
You should keep in mind that the Sleep Tracker Cover comes with only 1 year warranty.
The company offers free shipping and free returns for all of their products, which arrive in approximately a week's time from the moment you order.
This is the simple version of any of the three mattresses by Eight Sleep.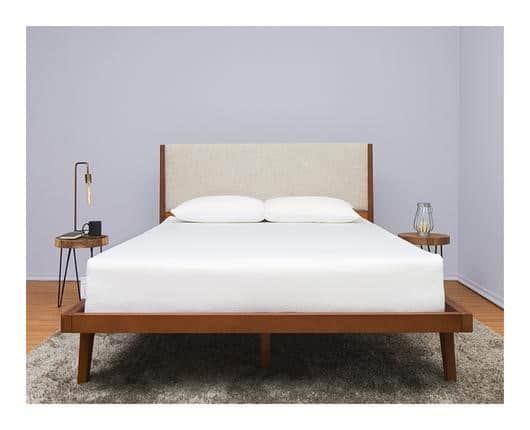 Here is the mattress with the Sleep Tracker cover.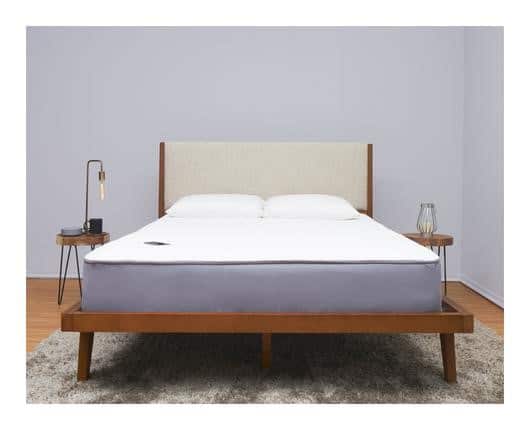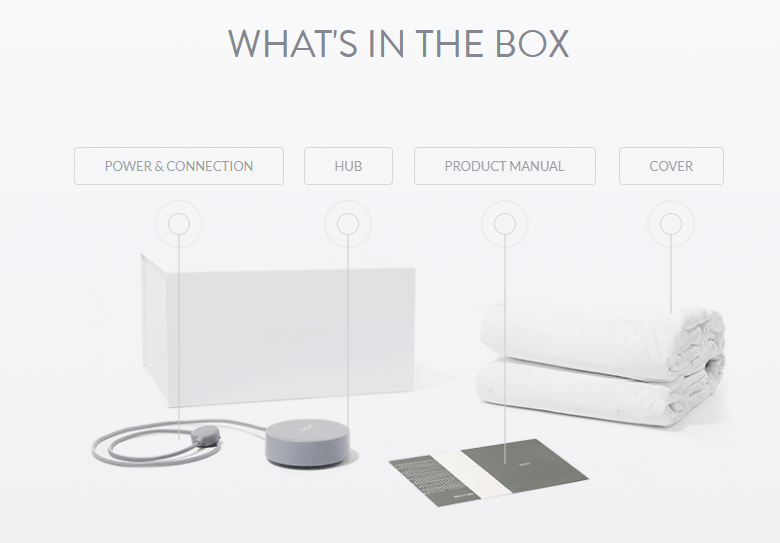 The advantage is you can use the Sleep Tracker with any mattress, so you don't have to buy the whole mattress if you don't want to. Just get the Sleep Tracker which costs $299 for a Queen, and place it on top of your existing mattress.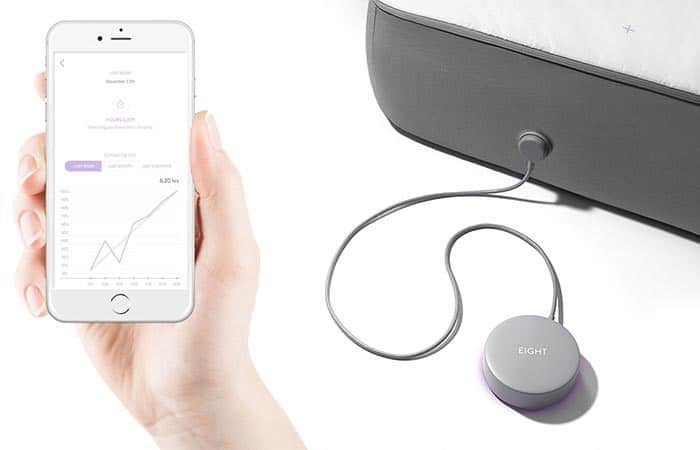 To activate your Sleep Tracker cover, just download the Eight Sleep App on your smartphone and make use of its multiple functions and get morning sleep reports on variant metrics, including:
Bed temperature: a cool dual bed warming function to adjust the ideal temperature for each side of the mattress.
Bedtime
Heart rate
Light and deep sleep
Respiratory rate
Room temperature
Sleep breaks
Time asleep
Toss and turns
Wake up time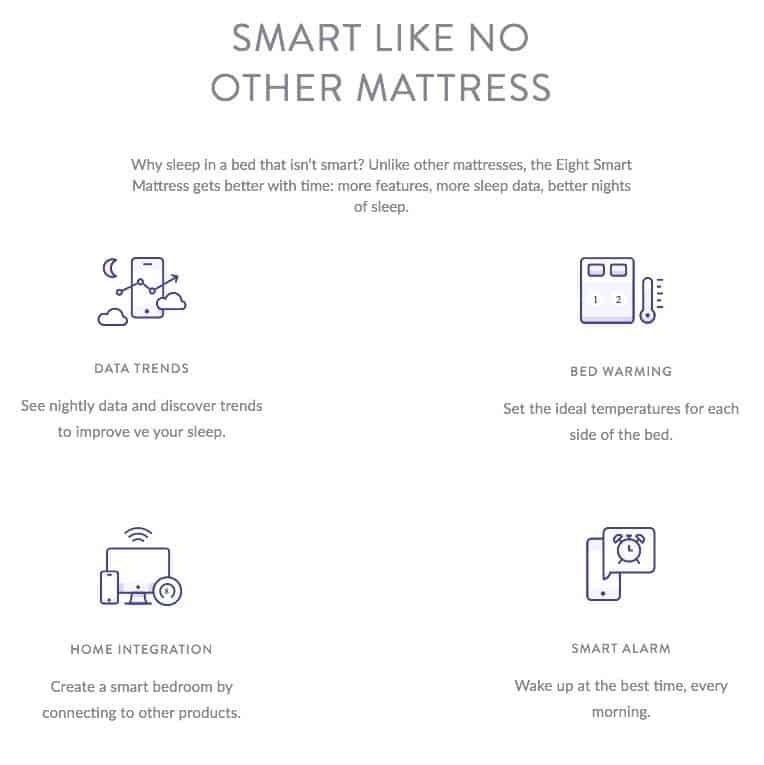 Let's compare Eight Sleep Mattresses
The following overview serves as your guide to all three of Eight Sleep's Mattresses. Note that all three mattresses have the option of adding the Sleep Tracker cover, at an additional charge, so for instance, you have Saturn, and Saturn +.
 
Saturn Mattress

Saturn Mattress +

Jupiter Mattress

Jupiter Mattress +

Mars Mattress

Mars Mattress +

Type
Foam
Memory Foam
Hybrid
Height
10″
10″
11″
Layers (besides cover)
2″ Responsive foam +

2″ Transition foam +

6″ Supportive foam

2″ Reactive foam +

2″ Memory foam +

2″ Transition foam +

4″ Supportive foam

2″ Reactive foam +

2″ Memory foam +

4″ Sleeved coils +

3″ Supportive foam

Cover
Breathable 100% polyester fabric
Breathable 100% polyester fabric
Breathable 100% polyester fabric
Firmness
Medium Firm
Medium Firm
Medium Soft
Motion transfer
Minimal
Minimal to none
Minimal to none
Price (Queen)
$599 Saturn

$799  Saturn +

$799  Jupiter Mattress

$999  Jupiter Mattress +

$1,099    Mars Mattress

$1,299  Mars Mattress +

Know more
Full review
Full review
Full review
The models
Saturn Mattress (and Saturn +)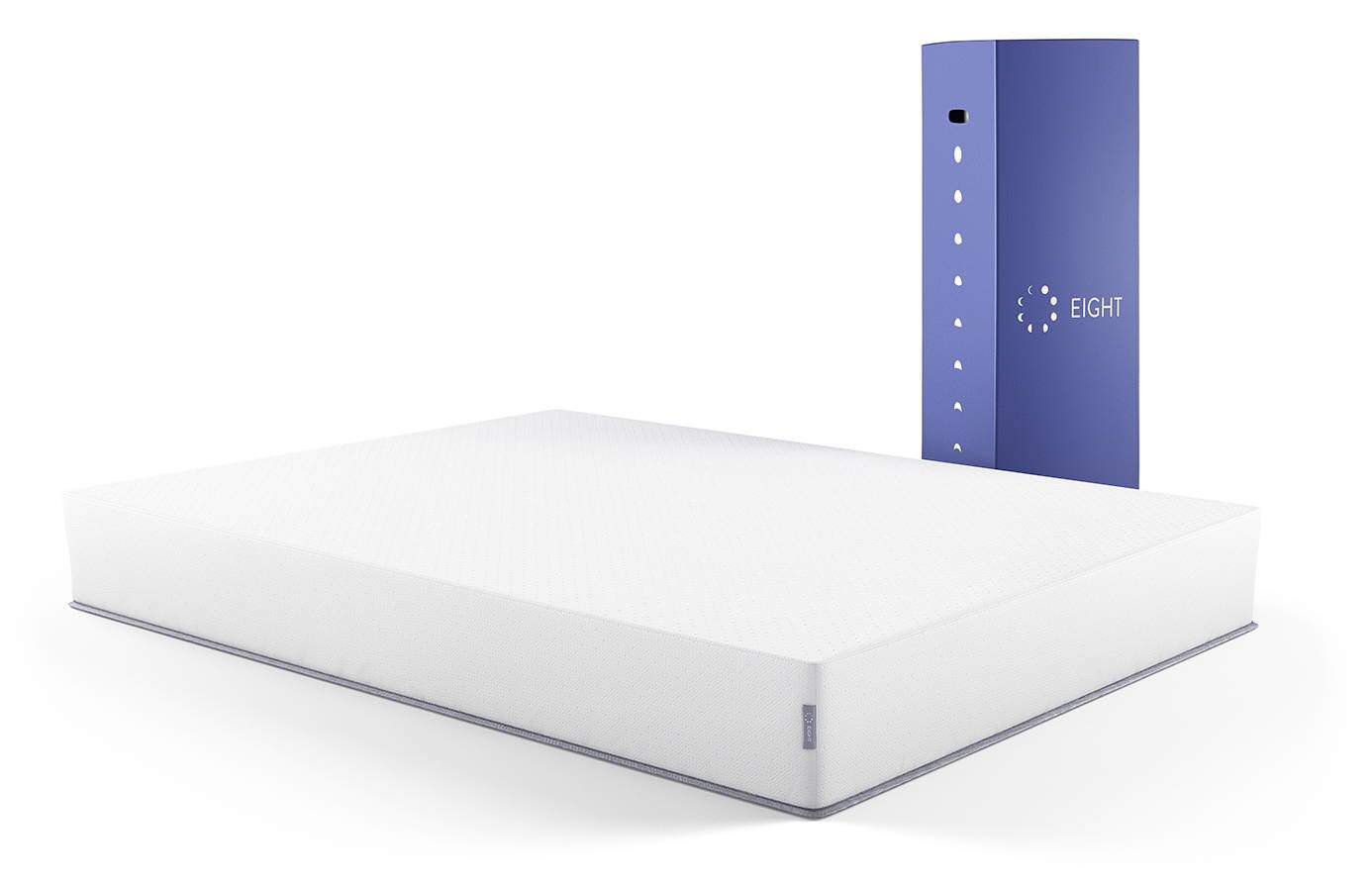 Overview: This mattress is the basic offering by Eight, which however has little to envy from its higher priced competitors. You can still get plenty of comfort and support, while also add the Sleep Tracker cover to get the most of your sleep.
Product features
This mattress is made of 2″ Responsive foam, 2″ Transition foam, and 6″ Supportive foam.
You may think basic means to settle for less in terms of quality, however we feel this Saturn mattress, especially when you get the Sleep Tracker cover for $799 for a Queen, is definitely worth considering and can deliver great results.
Above all, you will benefit from its different foams which offer plenty of pressure relief and conform perfectly to your body's natural curves. What is more, the Saturn mattress comes with a great ability to isolate motion, similar to what the other two mattresses in the Eight series have to offer. This means it forms a great choice for a couple, as you will sleep undisturbed.
The medium firm firmness levels means this mattress is mostly suited for back and stomach sleepers, as it is ranked at a 7 out of 10 and won't be ideal for side sleepers who may find it too firm.
All things considered, given that you don't tend to sleep hot, this mattress is overall far better than average, and although a new addition, we think can last long and is definitely a great investment. In case you are looking for something more extravagant or luxury, you should see the other two offerings by the brand.
PROS:
Both supportive and comfortable
Conforms to the body perfectly
Can adequately relieve any pressure points
Best for back and stomach sleepers
Succeeds to isolate movement
Best value deal
CONS:
Perhaps it feels too firm for side sleepers
May sleep relatively hot
Jupiter Mattress (and Jupiter +)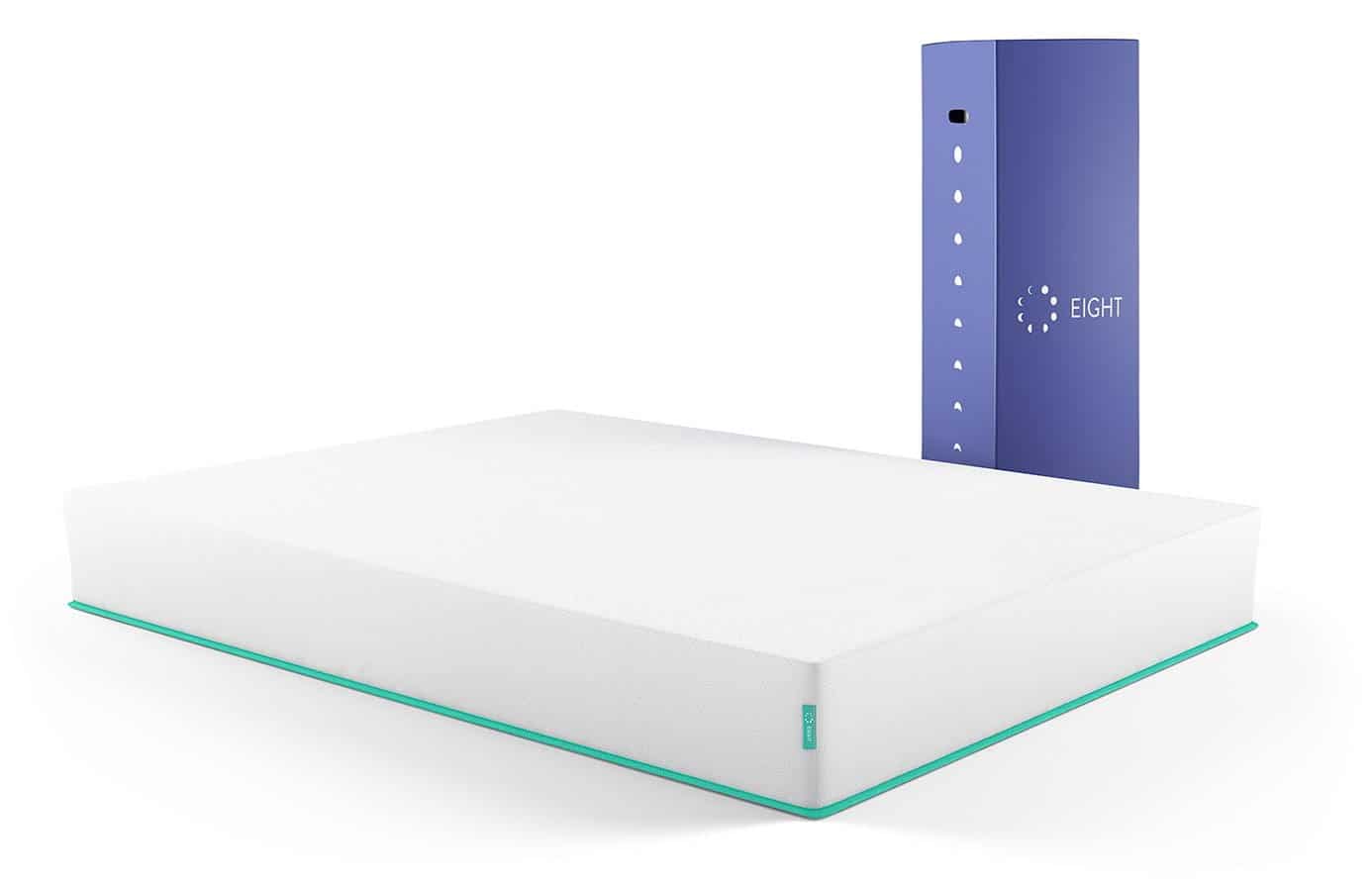 Overview: The Jupiter was the first mattress introduced by Eight Sleep to the public, and the one which is mostly known and praised so far given it has been around for a longer period of time. Consumers' feedback shows it is here to stay.
Product features
This mattress consists of 4 layers: 2″ Reactive foam, 2″ Memory foam, 2″ Transition foam and 4″ Supportive foam.
The Jupiter is a great mattress all together. It comes packed with cool features like a balanced feel of comfort and support, thanks to the interacting foams used throughout.
What sets it apart from the Saturn mattress, is the memory foam used in the second layer, which promotes some awesome body contouring and provides supreme pressure relief, which will leave you feeling comforted and well rested all around.
Since this mattress doesn't come enhanced with any cooling properties, it does shows some signs of heat retention and so it is not the best choice if you tend to sleep cool. Still, it provides a relatively cool sleep.
On the other hand, the Jupiter excels in terms of motion isolation as it doesn't leave movement to be sensed across the mattress. Despite this, it offers great bounce and has a relatively quick response time, thanks to the reactive foam found in the top layer.
Being a medium firm mattress, ranked at 6 in the firmness scale, it is probably the best mattress of the three in the Smart Collection if you don't have a fixed sleeping position. It is suitable for any type of sleeper, and will provide plenty of support, with minimal to none off gassing.
Overall, a quite comfortable and supportive mattress at a great value for money, which we would recommend for sure, especially if you plan to add the Sleep Tracker cover to take it to the next level.
PROS:
Minimal to none off gassing
Sleeps comfortably
Great bounce and responsiveness
Excellent body contour and conformability
Great hugging feel
Suitable for any sleeping position
CONS:
Perhaps not the coolest mattress you can find
Mars Mattress (and Mars +)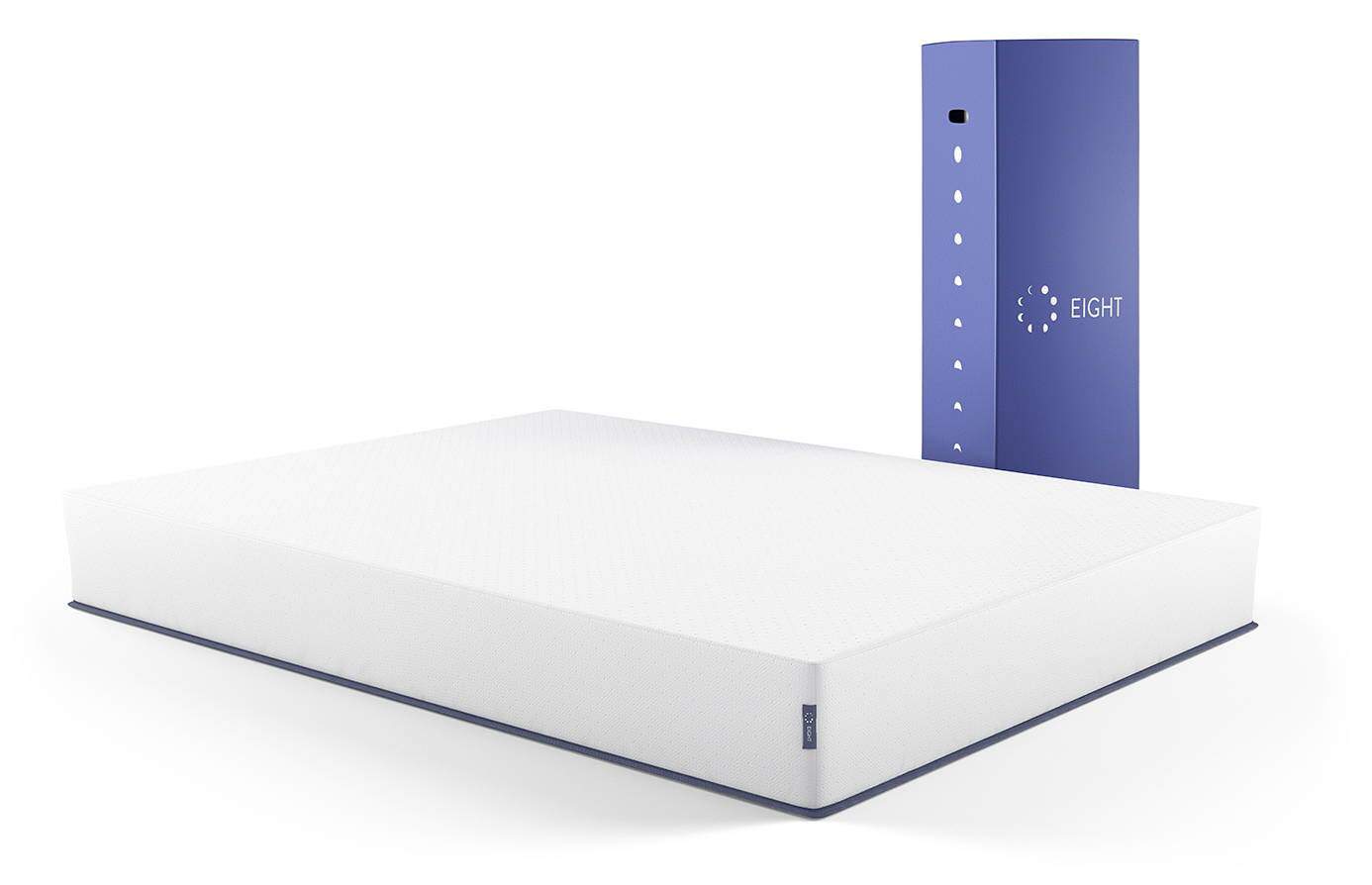 Overview: The Mars Mattress is the premium hybrid mattress offered by Eight Sleep, enhanced with cooling properties and a bouncy and quite responsive sleeping surface.
Product features
The Mars Mattress is 11 inches thick and differs from other two all-foam mattresses offered by Eight Sleep, as it features the addition of a layer of coils, making it the only hybrid solution by the brand. It is made of 2″ Reactive foam, 2″ Memory foam, 4″ Sleeved coils, and 3″ Supportive foam.
Laying on the Mars Mattress has without doubt a somewhat different sense compared to the other two options by Eight Sleep, which derives from the coils. You do get a sense of a more enhanced support across the whole sleeping surface, leaving little room to question its good built.
Sleeping on the Mars mattress means you won't sense any sort of discomfort as it provides better than average pressure relief and great lumbar support.
It is just the kind of mattress that seems to be suitable for any kind of sleeper, as it comes in a medium soft firmness, and it can be most supportive for back and side sleepers given that stomach sleepers may find it a bit too soft for their taste.
The mattress has been designed with special care for sleeping cool which shows, as it manages to dissipate heat rather easily, thanks to the coils and reactive top foam used in its construction. Combined with the top polyester cover, the Mars mattress is quite breathable overall.
The individually wrapped coils ensure even weight distribution across the mattress, whereas it has just the right balance of bounce and hugging. In addition, you can rest assure that there is no way you will be disturbed by your partner tossing and turning, as the coils and transition and bottom foams ensure limited motion transfer.
All things considered, this is a great mattress which doesn't cost tons, just over $1,000 when bought without a tracker, and priced at $1,299 if you include the Smart cover.
PROS:
Sleeps really comfortably and supportive
Provides the sort of pressure relief and lumbar support you need
Sleeps undisturbed with minimal to none motion transfer
Can cater for back and side sleepers best
Durable and resilient materials
Good bounce and response time
Can handle overweight and heavy sleepers
CONS:
Final Verdict
We hope this overview of the Smart Collection offered by Eight Sleep, provided with enough information to help you decide if this brand is made for you and which of the mattresses features in the line will suit you best.
There are obviously so many mattresses to choose from, and there is no perfect fit for everyone, however brands like this start-up are increasingly trying to create mattresses that meet the needs of most sleepers.
That said, we see the Smart Collection features three kind of mattresses to choose from: starting from the basic, Saturn is a decent and very affordable option ($599 for a Queen), even if you decide to get the + version with the Sleep tracker cover, $799 for a Queen. This all-foam combination is just what you need for a restful, comfortable and supportive sleep. It is definitely great value for money, so do go with the Saturn if you are on a budget.
In case you are willing to take a step further, price and quality-wise, the Jupiter, which was the brand's first mattress introduced to the market, is absolutely great since it comes at a reasonable price, at $799 for a Queen at its normal version and $999 in the + version.
Choose your version of Jupiter and take advantage of the 4 layered structure, including memory foam and 3 layers of supportive and transitional foams, all making a very sturdy, comfortable and pressure relieving surface which succeeds to contour perfectly to your body's natural curves.
Finally, if you prefer hybrids, the Mars mattress is the perfect fit for you, as long as you enjoy a medium soft feel. It comes enhanced with premium foams and coils combined to create the perfect balance of support and comfort, whereas it will leave you feeling rested as it can endure lots of pressure and relieve sensitive areas.
It is the best deal if you are overweight as well, since it can handle up to 300lbs, whereas the other two mattresses in the Smart Collection can take up to 250lbs. Note as well how it promotes a very cool and motionless sleep, so it is great if you tend to sleep hot and sleep with a partner.
All of these perks come without having to spend a fortune, as the plain version costs $1,099 for a Queen (Mars mattress), whereas you can top it with the cool Sleep Tracker cover for an additional $200, which means you will pay $1,299 for a Queen (Mars +).
If you still don't know for sure which Eight Sleep mattress is right for you, we recommend you take a look at the full reviews for each mattress, and also check our top recommendations for the best mattresses that you can get right now, including lots of discounts.
Be sure to comment and share if you found this article of value. Thanks for reading.