Eve Mattress
Leesa Mattress
Purple Mattress
Price(Queen)
$849
$890
$999
Type
Memory Foam Mattress
Memory Foam Mattress
Foam Mattress
structure
Contouring
memory foam+polyurethane foam+base foam
Avena foam+memory foam+base foam
hyper-elastic polymer+polyurethane foam+base foam
Firmness(10 is the hardest)
6/10
6/10
6.5/10
Height
10 inches
10 inches
9.5 inches
Sleeping cool
Excellent(Cooling cover and airflow polyurethane foam)
Excellent(Cooling cover and air flow avena foam)
Good(Smart-Comfort Grid)
Bouncy
Good+(polyurethane memory foam)
Good(Avena foam)
Good(Smart-Comfort Grid)
Cover
hand-sewn fabric cover
a single piece of fabric cover
Excellent( hyper-elastic polymer)
Warranty
10 years
10 years
10 years
Free Trial
100 days
100 days
100 days
Back sleeper
Excellent
Excellent
Excellent
Side sleeper
Good+
Good+
Good
Front sleeper
Good
Good
Good
Selling type
Online both in UK and US
Online in US
Online in US
Summary
An effective memory foam with lower price,very welcomed by young couple.
Not good as Eve mattress, and the price is a bit higher
The price is so high, an ordinary foam mattress, might not a good choice for you
Review
eve mattress review
leesa mattress review
purple mattress review
Price
From above, we can see that, for a Queen size mattress, eve mattress is the cheapest(it will even cheaper with the coupon code we provided, only costs $809 for a memory foam mattress), Leesa mattress is in middle, and the Purple mattress is the most expensive. For other sizes, the eve mattress is also the cheapest at the same size. So, for price, eve and Leesa will be your good choice.
Feel free to check our mattress coupon list we collected from manufactures.  By now, we got $40/£40 off coupon code for eve mattress, $75 off+ $25 gift card coupon code for Leesa mattress, purple doesn't have any coupon.
Structure and Firmness
The cover
The cover of eve mattress is hand-sewn(which is very unique for a mattress) fabric cover, which is very bright and can give you good emotion every day, eve is one of the most welcomed mattresses by children and young people. And the cover is very thin, makes it breathable to allow airflow around the whole mattress, to keep the sleepers cooling and comfort.
Leesa's cover is a single piece of fabric cover. It has 4 bars cut from the single gray piece cover. even it is a little thicker than eve, and its modern look gives it a bonus point.
The Purple has a whole white color cover, and I think it's the thickest in these three mattresses. Though Purple marked its brand name on both sides and the cover, the design makes people a heavy sight, and the whole white would easily to get dirty.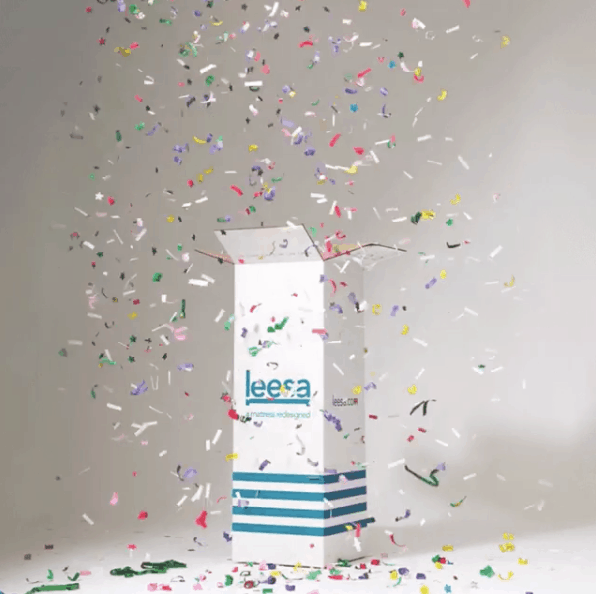 The layers
All of the three mattresses are made of three layers. eve and Leesa are 10 inches, Purple is 9.5 inches.
eve is a memory foam mattress with a 1.6" contouring memory foam layer+1.3" polyurethane foam layer+ 7" support foam layer. The memory foam they used is high-quality foam, which can balance weight and gives you a good spinal balance to keep you less tired. The high-density top layer also has good pressure relief, durability, and support.
Most memory foam mattresses feel hot, but eve's unique point is, the middle open-cell polyurethane foam, which is excellent of dispersing heat, worked together with the thinner top layer and the cover, can make sleepers cooling and comfort during sleeping. On the whole, eve is a good memory mattress I've tried for its comfort to my back and cooling feelings.
Leesa is different from eve with a 2″ Avena foam+a 2″ memory foam+ a 6″ support foam layer. The Avena foam is more like latex foam, can provide cooling, bounce, comfort, etc, which also can provide a comfortable sleeping experience. Well, as a memory mattress, Leesa is also a little bit lack of bouncy, and the deeper, thicker cover and a little bit higher price, it is not well as eve, but also a good choice for memory mattress lovers.
Purple is the lightest mattress in these three mattresses. It is a 2″ hyper-elastic polymer layer+a 3.5″ polyurethane foam layer+a 4″ polyurethane foam layer, totally 9.5 inches, the lowest in these three. This special foam of hyper-elastic polymer is designed by Purple itself, and softer and comfortable compared with eve and Leesa, that's why it's more expensive. With the soft touch, the bouncy is excellent for Purple but it is just an ordinary foam mattress whose support is not as well as eve& Leesa, so it might only fit for those sleepers who have light or medium weight, or those love much bouncy mattress.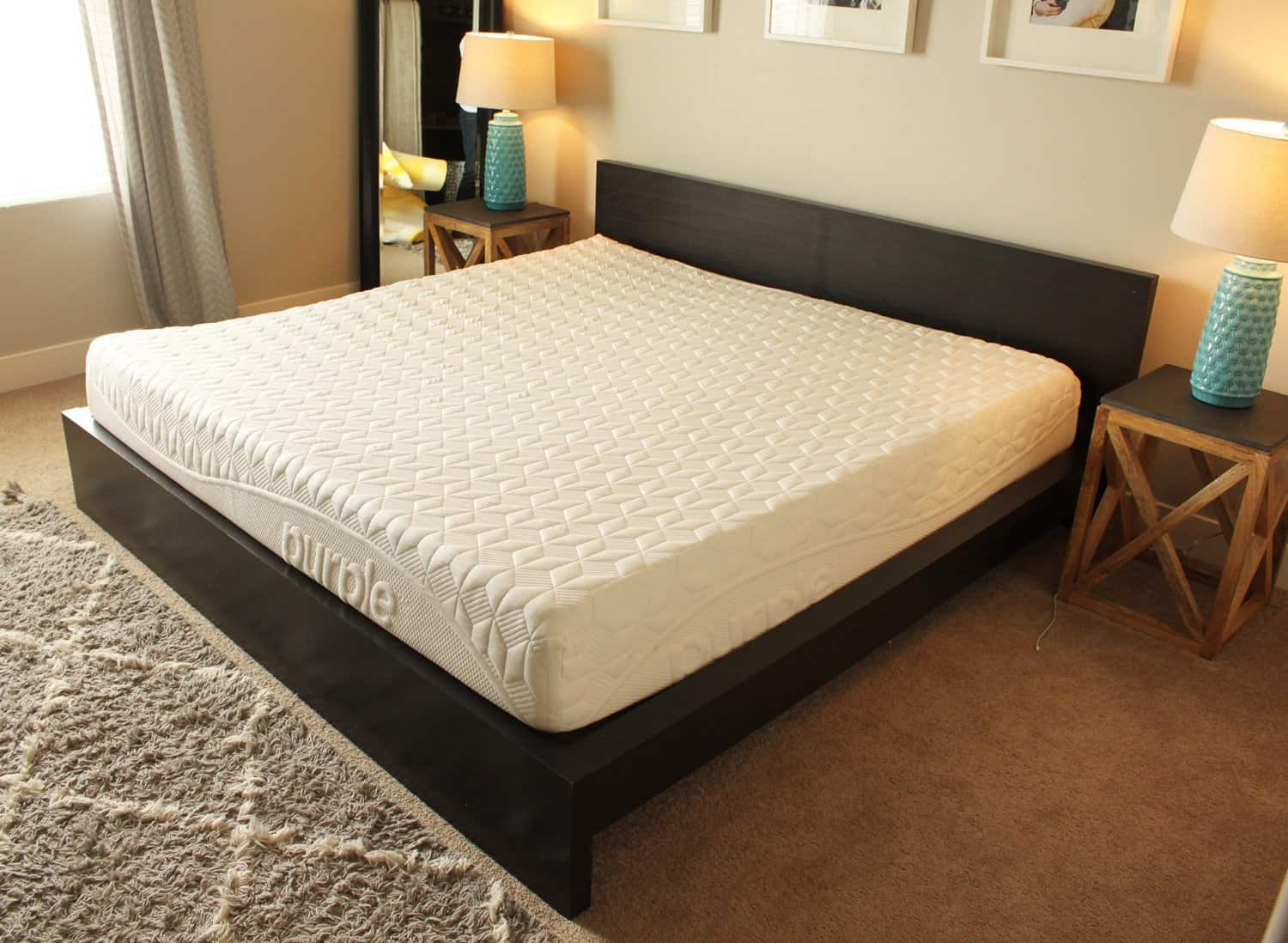 Firmness
Both eve and Leesa are 6 out of 10, which 10 is the most firm. The medium firm is fit for most sleepers, traditionally. But the combination of two thinner top layers and the firmer base layer of eve is better than Leesa, that would bring you more support with a sturdy foundation, but also not lose comfort and luxury with the softer tops. This balance of layers that allows us to do any poses.
Purple is firmer than eve and Leesa with 6.5 out of 10. The most advantage for this firmness is more suitable for those prefer back-sleep and stomach-sleep, it gives you a good relief for your pains.
Conclusion, for my feeling, eve seems more suitable for most medium or heavyweight people who search for better cooling, comfort and more sleep positions. Leesa is next. Purple is so expensive and sleeps hot, so is not in my consideration.
Other things
On selling type, all of them are sold online only and delivered totally free. The only difference is, Leesa and Purple are US companies but eve is a UK company. In order to satisfy most US sleepers' needs, eve has two official sites, one is for the UK and the other is for the US. I think this is the most successful point of eve. The two official sites solved many difficulties for eve lovers, such as different body type, different sleep hobbies, different mattress sizes of two countries, or even the different currency exchange, etc.
On sizes, eve and Leesa both provide 6 sizes for your pick up: Twin, Twin XL, Full, Queen, King, and California King. Purple only provide 3 sizes, Twin XL, Queen, and King. So eve and Leesa can meet more people's needs.
On the manner of packing, eve and Leesa delivered bed-in-box, which is the most popular way for mattress delivery. This package mode can extremely save your delivery spaces and cost, and their box is so light pretty and clean, children might like it if you have. But for Purple, is packed in a tightly-rolled purple package. Compared to bed-in-box, this package way seems heavier, not easily to moving, and the dark color makes a heavy sight.
On warranty, the three mattresses both have 10 years warranty and 100 days free trial, which means the companies would freely pick the mattress up back in 100 days test if you have any problem of the mattress. I think it has the same interest for most mattress companies of the warranty, so not much to say.
Eve vs Leesa vs Purple, which is the best mattress
Well, first for price aspect, I would not choose Purple as too expensive. And I am a heavy girl, the soft ordinary foam mattress is not much fit for me. And the thick sight of the cover, the deep sinkage, lacking airflow of Purple makes me uncomfortable as I would feel hot during sleeping. The firmness will also lack support compared to eve and Leesa.
As memory foam mattress, eve and Leesa did a great job for support and comfort But for pricing and cooling, Leesa is a little bit lose to eve, even though I prefer the modern sight cover of Leesa than bright one of eve. So, I think eve is an effective memory mattress to choose.
Conclusion
eve will be the best choice for a mattress searcher. The lowest price, the design of comfortable and cooling memory foam which is good for your wight&spinal balance, the unique hand-sewn fabric, the clean bed-in-box free delivery, the two selling sites both for UK and US, etc. would give you a good shopping experience and excellent sleeping night.
Leesa is another choice if you need a memory foam mattress, but the cover and cool feeling is not as good as eve,
The materials of the hyper-elastic polymer are designed by Purple itself, so it is more expensive than eve and Leesa. But this is the fatal for sleepers as they just want a cheaper and effective mattress. And Purple is just fit for light or medium weight, not suitable for most sleepers. And it is just an ordinary foam mattress, the comfortable and cooling are not as good as eve and Leesa. Well, I think Purple will not be your first mattress choice.