The mattress market is one of those industries where, at first glance, you seem to be spoilt for choice, but, on a closer look, the landscape begins to look more and more like a sea of sameness.
While you can now choose from over a hundred different mattress brands here in the U.S., with most options, you get a bed that features a handful of ubiquitous materials and sports a similar formulation to many other products. In some cases, you will even find several brands touting "unique features" when they all get their products from the same private label manufacturer.
In this expanse of blandness, it is not hard to see why the Purple mattress stands out, and is consequently, so popular.
The recipe with the Purple mattress is a mix of one unique material construction and arguably the craziest commercials of any U.S. mattress manufacturers.
However, can this bed hold its own against the competition when it comes to sleeping performance?
Purple Mattress Review: Overview
Off the back of their super successful debut product, Purple launched the new, improved Purple mattress, which retains the brand's unique selling point—an extremely adaptable polymer top layer, and adds an upgraded edge support system and a more beautiful cover.
This unique "Hyper-Elastic Polymer" layer is a grid structure that provides superior airflow, yet supplies adequate support.
Furthermore, due to the unique nature of this material—it has 15x stretchability; you get some of the best responsiveness you can find anywhere while enjoying a feel that is just as soft as foam.
However, with a mattress that is this different, you can expect a unique feel, and that is what you get. While Purple receives wide acclaim for its innovative product lineup, unsurprisingly, when it comes to using the beds, there is a massive split between consumers.
The Purple mattress is one of those beds you either love or hate, and over the years, the product has earned its fair share of devotees as well as critics.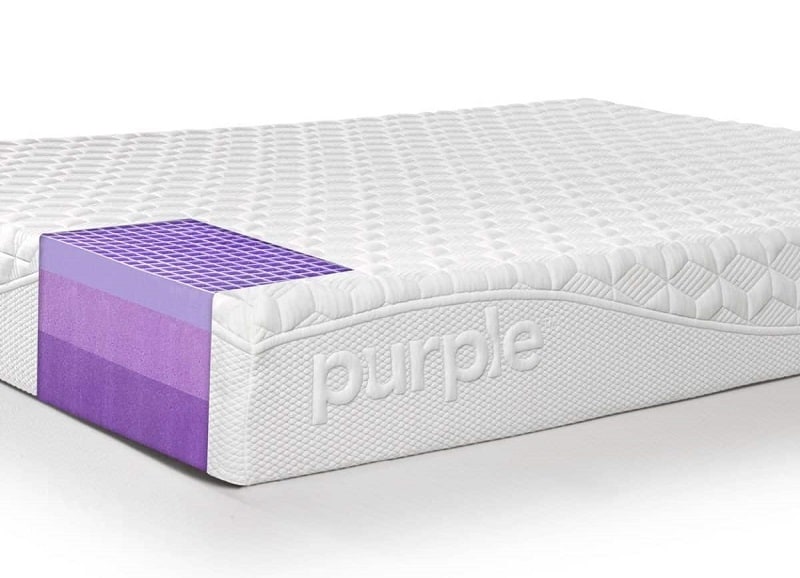 See Today's Deal
| | |
| --- | --- |
| Best For | Bad For |
| Broad-minded buyers who are open to a unique feel and sleeping experience | Extremely lightweight or heavy-set sleepers |
| Folks who sleep hot and want the best airflow they can get | People who prefer a more traditional memory foam feel |
| People who want the ultimate in pressure relief | Value seekers |
| Consumers with durability high up on their buying requirements list | |
Sleeping Performance
Provided you are not on either extreme of the weight scale, you should find that the Purple mattress provides adequate levels of comfort and support for most sleeping positions. However, you should factor in the fact that it may take you some time to get comfortable with sleeping on this unique grid structure.
For Side Sleepers
Side sleepers will get the best value from this mattress, as its localized pressure relief provides exceptional comfort to potential pressure points like your hips and shoulders while guaranteeing inch-perfect body-conforming.
Plus, since the collapsing of the grid is extremely targeted here, for petite to average-sized sleepers, the Purple mattress eliminates that excessive sink you get with some memory foam beds.
Consequently, the Purple mattress provides a robust memory foam alternative for side sleepers who want that soft feel, but don't want compromises in support.
Note: For people at the 240 lbs mark or heavier, the purple mattress begins to lose its localized support as you can end up with a full collapsed grid and a super soft feel. Here, your best bet is to opt for a dedicated mattress for larger people that packs a metal spring core.
For Back Sleepers
For back sleepers, since they exert a near-uniform pressure on the mattress, the Purple grid should stay mostly collapse-free, providing a flat, supporting surface. Here, the only pressure point where sleepers may experience some sink and pressure relief is around the hips.
Consequently, light to average sleepers should get the perfect amount of comfort and support.
For Stomach Sleepers
Stomach sleepers using the Purple mattress should typically report a similar sleeping experience to back sleepers—even support with minimal sink. Potential areas of grid collapse here are around the hips as well.
For Combination Sleepers
Thanks to the fact that it provides a decent performance in most sleeping positions, the Purple mattress will be an excellent pick for most combo sleepers. Furthermore, the high responsiveness of the polymer layer makes switching positions during the night an effortless endeavor.
For Couples
The unique feel of the Purple mattress is not for everyone, and you should consider that fact when shopping mattresses for a couple. Hence, the first step to deciding if this bed is the right fit for your home is ensuring that you and your partner are on the same page.
Then, you have to consider the motion isolation and edge support properties the Purple mattress has to offer.
First, with motion isolation, considering the extreme responsiveness of the polymer grid, you will be surprised at how good this bed is at dampening motion.
Thanks to its localized pressure relief, with the Purple mattress, movement around your pressure points will be restricted to that loci, while movement on the uncollapsed, firmer parts of the grid won't travel far.
Note: On the other hand, edge support with this bed is far less stellar. One of the most prominent complaints about the Original Purple mattress was its awful edge support due to the grid collapsing around the edges.
However, with the newer iteration of this bed, Purple has added extra foam rails around the Purple grid to reinforce the bed edges. Nevertheless, while this augmentation has added some edge strength to the bed, the Purple mattress still performs poorer than most of the top mattresses in this category.
Consequently, if you have your mind set on the Purple mattress as a couple's bed, we will recommend a king-size as it provides more room to roam and less need for exceptional edge support.
For Lightweight Sleepers
For petite to average-sized sleepers, the Purple mattress is almost guaranteed to become your new favorite bed. With its sturdy support, localized pressure relief, and superior performance with all sleeping positions, the Purple mattress stands ahead of most of the competition for sleepers in this category.
However, sleepers who weigh under 140 lbs should expect a firmer feeling bed, as they are less likely to activate the Purple grid, irrespective of their sleeping position.
For Heavy-set Sleepers
The Purple mattress provides excellent performance to sleepers until around the 230-240 lbs mark. People in this weight class or heavier will easily collapse the entire grid.
Nevertheless, even with the grid collapsed, heavy-set back sleepers and stomach sleepers will still enjoy intense pressure relief, and most will find the bed enjoyable still. However, if you are a side sleeper, you will find the support quite lacking, and you are better off with a bed that offers an innerspring core.
Sleeping Temperature
The average temperature of the sleeping surface is yet another category where the purple mattress outshines most of the competition. With the grid topper, you get a bed that packs more air channels most, and consequently, sports some of the best airflow efficiency of any mattress.
Furthermore, since the hyper-elastic polymer topper stays relatively temperature neutral, you get all of the conforming properties of memory foam without any of the heat-trapping.
Plus, since the bed includes a breathable cover that conforms to its layers, you get the full benefits of a mattress with over a thousand air vents.
Design and Construction
While the main USP with the Purple mattress is its unique build, the manufacturers do not entirely throw out the formula that works with most other offerings.
Like with many other popular beds, with the Purple mattress, you get a three-layer design that includes a dense support layer, a lighter transition layer, and a topper that completes the sleeping experience.
However, the main attraction with this 9.5-inch bed is that peculiar polymer top layer.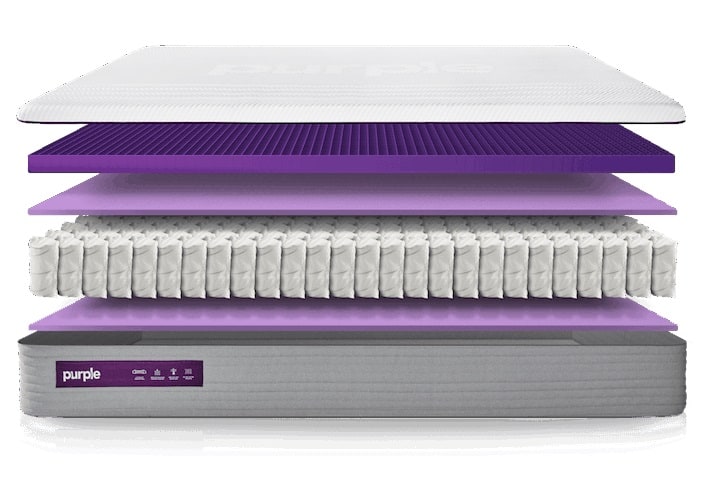 Comfort Layer
First up is one of the main reasons to consider buying this mattress—the 2-inch purple Hyper-Elastic polymer topper. The top layer on the Purple mattress brings a distinct look and feel that is hard to miss.
Here, you get a slab of an extra stretchy gel-like material set in a grid formation that leaves a mesh look up top. This setup offers a surface that is super soft, flexible, yet remains extremely responsive—a combination that is quite hard to match. Plus, the material provides an unrivaled level of full-body pressure relief.
However, while one would expect minimal support from a material that is this soft and responsive, here too, the purple mattress surpasses all expectations, balancing adequate body support with profound pressure relief.
Despite its exceptional flexibility, this comfort layer manages to provide exceptional support, thanks to an ingenious design. While the top grid creates an even, supportive sleep surface, with enough pressure, specific portions of that surface will collapse, creating a pressure-relieving embrace.
Consequently, you get a top plane that stays firm to hold up your frame but collapses only in regions around your pressure points, becoming softer there, offering more sink, and relieving any tension.
Furthermore, since this polymer topper is an extremely sturdy material, you don't have to worry about the top layer sagging anytime soon, and its toughness adds to the overall durability of the bed.
Edge Support System
One of the few and most common complaints with the original Purple mattress was it's subpar edge support performance, no thanks to its super soft top layer. With its newer products, Purple aims to solve this problem with a dedicated edge support system.
With the Purple mattress, you get a 3-inch thick foam encasement that surrounds the Purple grid, running around the perimeter of the mattress. This mass of dense poly foam adds some much-needed toughness around the edges and provides an improved sleeping experience for couples.
Transition Layer
Next up, you'll find a 3.25-inch transition layer that acts as a midway between the top elastic layer and a sturdier foam base.
This transitional layer is a dense slab of polyurethane foam that adds up to 1.8 pounds, providing a more robust platform for the topper, yet not being tough enough to detract from its pressure-relieving properties.
Support Layer
At its core, the Purple mattress packs a 4-inch layer of dense support foam that is akin to what you will find on most beds of this caliber. This study base brings all of the body support you need, serves as the bed's foundation, and adds some durability to the structure.
Cover
To wrap things up, Purple throws in a soft removable cover that completes the sleeping experience. Here you get a thin, stretchy piece that the company brands a "SoftFlex" cover.
This mattress case features an elastic polyester-viscose-lycra blend that matches the movement of the comfort layer, further accentuating its superior airflow.
Tip: While the cover is removable, we recommend you spot clean instead of machine wash.
Plus, if you have a living situation that puts your mattress at a high risk of dirt and spills, you are better off using a mattress protector with your bed, a no-brainer here, as the Purple mattress currently ships with a free protector.
Firmness
The Purple mattress is one unique mattress, with its original construction, its mix of unconventional materials, and its novel feel. Hence, it is no surprise that there are some peculiarities when it comes to the firmness of this mattress as well.
The amount of firmness you feel from any mattress can depend significantly on your weight, body type, and sleeping style, but with Purple mattress, these factors are especially important.
While the polymer grid top layer on this bed brings a soft, gel-like feel, the eventual firmness level for you will depend on how much pressure you exert on the mattress, and consequently, how much of the grid collapses.
For extremely lightweight sleepers, the Purple mattress will feel exceptionally firm as their body weight will be insufficient to collapse any portion of the grid. On the other hand, heavy-set sleepers may report a soft firmness level as they will typically activate significant areas of the grid.
For the average-sized sleeper, the Purple mattress will feel slightly firmer than average—around a medium firmness level.
However, irrespective of your body weight, to the uninitiated, sleeping on the grid may feel odd for the firm few nights and may take some getting used to.
Other Features You Should Know
Available Sizing Options
The Purple mattress does not have a twin model. Hence, your options here range from twin XL to California king. Here are the exact dimensions:
| | | |
| --- | --- | --- |
| Size | Width (inches) | Length (inches) |
| Twin XL | 38 | 80 |
| Full | 54 | 76 |
| Queen | 60 | 80 |
| King | 76 | 80 |
| California King | 72 | 84 |
Pricing
When you consider the innovative features the Purple mattress is packing, it is no surprise that you won't get any budget pricing here. The queen-size model of this bed retails for around $1100, which is a significant premium over offerings from more budget-conscious brands like Nectar.
However, even this price tag for the Purple mattress is nothing outrageous, considering the value you get and the fact that other luxury brands retail for significantly more.
Warranty
The warranty coverage with the Purple mattress is nothing special as you get a 10-year coverage period, which is pretty much standard in the industry today. However, considering the durable construction of this bed, we doubt that you will ever need to cash in on this safeguard.
Furthermore, with this bed, you also get a 100-night trial periods, free shipping and returns, and financing option.
Purple Mattress vs. Close Competition
Due to the unique design you get with the Purple mattress, it is significantly tougher if you try to pit its construction against that of a competitor. However, when it comes to sleeping performance, the Purple mattress will hold its own against almost every standard offering on the market.
Verdict
The Purple mattress is a capable all-around performer that offers a perfect balance of comfort and support to petite to average size sleepers, and some of the best response and adaptability on the market, making it an easy bed to recommend.
However, one area where this bed falters is in edge support, and if this feature is essential, you should consider an option that is sturdier around the edges.
Frequently Asked Questions (FAQs)
What frame should you use with the Purple bed?
The Purple mattress is compatible with most standard accessories, so you shouldn't have any issues pairing it with most regular frames. Furthermore, the bed also works with other support systems like foundations, platforms, slatted frames, and adjustable bases.
However, the manufacturer recommends that you don't use a box spring with this mattress.
Can you flip the Purple mattress?
No. Flipping the bed means you lose the therapeutic properties of the top layer.
How long do Purple mattresses last?
Thanks to their sturdy construction, with the Purple mattress, you should expect at least a 10-year lifespan.
Where are Purple mattresses manufactured?
According to the company's website, all their beds are made entirely in the U.S.