Purple mattress is very interesting, it's almost the heaviest mattress I've ever seen under $1,000. The queen size of Purple mattress is about 110 pounds. So it's a thick mattress? Actually not, this is just a three-layer mattress, totally 9.5 inches.
Purple mattress is designed neither too soft nor too firm, from the official site, their mattress suit to everyone, every sleeping position. While in my opinion, If you are a back sleeper, it's awesome, very comfortable with amazing support, it can even ease your back pain if you have. But if you are a side sleeper and light guy, I don't think you will have a  very good sleeping experience, it may make your hips and shoulders hurt.
If you are looking for a cool mattress but don't like gel memory foam. I'm good with gel memory foam, but some guy doesn't like it, they think the material is not good for their health, even they are CertiPUR-US® Certified. Purple mattress neither uses latex nor memory foam.  The key component of Purple mattress is polyurethane foam. Which is said to be more healthy and more comfortable and resilient.
The secret why Purple mattress is so cool is the top layer (Hyper-elastic polymer™ Smart-Comfort Grid), besides good support and bounce back, it's designed for free air flow and Sleeps Temperature neutral. So compared with traditional gel memory foam, it's more healthy, neither hot nor cold.
So in my opinion, Purple mattress is one of the best mattresses under $1,000, one of the coolest mattress and also one of the best healthy mattress.
Structure of Purple Mattress Review
So, let's take a look at why Purple mattress is the most healthy mattress. As we already mentioned before, this is a 3 layers mattress, totally 9.5 inches. Total weight is 110 pounds(Queen size). Most of the mattresses we reviewed before are 2-4 layers, 10-12 inches, 70-120 pounds(Queen). So we can infer Purple mattress is a high-quality mattress. They don't use cheap foam.
The first layer is 2 inches, Hyper-elastic polymer™ Smart-Comfort Grid. We've already talked about this before, they can provide support, pressure releasing, keep air flow, temperature neutral, in my opinion, this layer works as latex+memory foam.
The second layer is 3.5 inches 1.8 lbs density polyurethane foam. The third layer is 4 inches of 2.0 lbs density polyurethane foam. Why they use two different kinds of polyurethane foam? They don't explain, but from my experience, the higher density, the firmer, the density of the third layer is higher, because the key function of the bottom layer is support, so they need to be very durable and tough. But the middle layer is the transition layer, and it also needs to provide comfort as well, so they need to use low-density foam.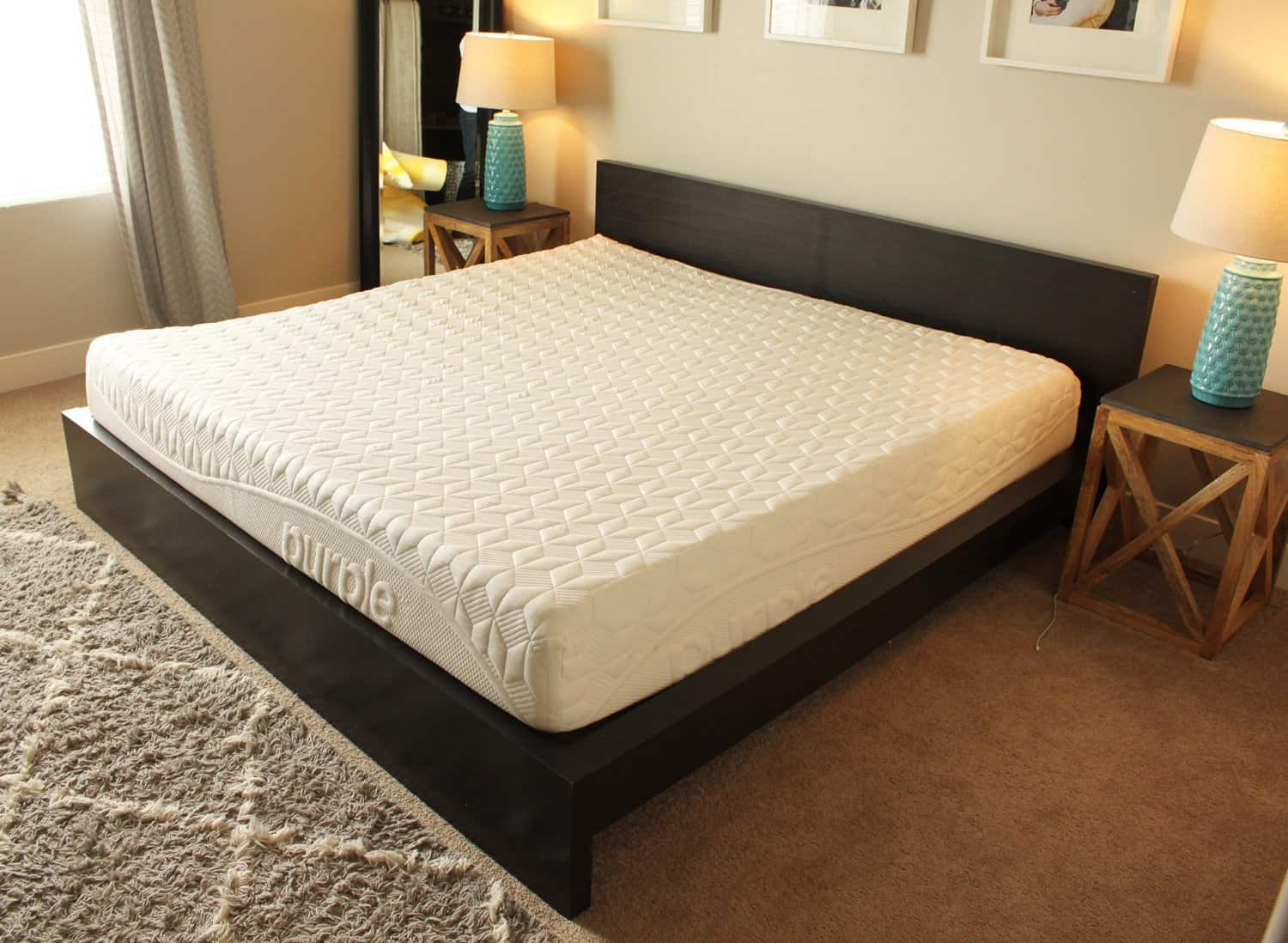 What you need to know before buying Purple mattress
If you are over 150 lbs and a total back sleeper, this is the best mattress for you, you don't need any hesitation. If you are 150 lbs and don't have a fixed sleeping position, you can also consider this mattress, it's not the best choice for side sleeping, but not too bad as well.
If you have back pain, thanks to the Hyper-elastic polymer™ Smart-Comfort Grid layer, it can ease your back pain, surely one of the best mattresses for back pain I've ever seen.
DO NOT USE TIGHT SHEETS of any kind this will completely negate any give the bed will give you. use loose sheets or stretchy sheets like jersey cotton sheets. unfortunately, this also means no mattress protection sheet.
This is a shorter queen, so might need a spacer to fill in the gap for most frames, but so far all queen sheets we use fit it fine.
Make sure the bed is unrolled with the right way up, otherwise you just get harder memory foam.
This mattress is heavy, very very heavy and kinda a pain to open. This will take 2 people to unpack even if you're really strong due to it being hard to manipulate between size and hard to find places to hold. DO NOT grab it on the top where the gel is. you might either break the gel or separate the gel for the top.
Size, Warranty, Price and free trial for Purple mattress
| Size | Price |
| --- | --- |
| Twin XL | $699 |
| Queen | $999 |
| King | $1,299 |
Shipping – free, compressed in a box
Warranty – 10 years
Trial Period – 100 nights
Made in the USA
Weight – Queen size mattress weighs 110 pounds.
Dimensions – 59.5″ x 79.5″ x 9.5″
Fire Retardant – Firegard® Knit Barrier
FAQs for Purple mattress
Does the Purple™ Bed need a box spring?
It just needs a sturdy surface to sit on, whether that's a platform, slats (3″ apart or less), box foundation, an adjustable bed frame, or even the floor — it all works just fine. Make sure your mattress won't be on a sagging frame or foundation and you're good to go!
How do I unpack my Purple?
There will be a great little Purple slicer – that looks suspiciously like a letter opener – included in the package. Use that to cut down the length of the plastic tube, (Yes, it will cut between the teeth of the zipper and through the fabric and plastic) and unroll the mattress from the several layers of purple fabric holding it together. Your bed will be ready to sleep on right away.
Summary
If you just go through my review on Purple mattress, you'll find Purple is one of the best healthy, comfortable mattresses. Especially if you are a back sleeper, around 150 lbs, Purple is your best choice. But if you are too thin and a side sleeper, Purple may not be your best choice, even official claim their mattress suit for everyone, but in my opinion, just good, not excellent in this case.
Compared with (gel )memory foam, Purple use polyurethane foam as their comfort|support layer(with different density), which is a combination of latex and memory foam, and more healthy as well.
But on the other hand, Purple is more expensive, queen size need cost $999(Queen size). While Hybrid(latex+memory foam) mattress like Ghostbed just cost around $750, Reference Purple mattress VS Ghostbed mattress.  And it also has 3 sizes to pick up, while most other mattress has 6 sizes.
If you insist looking for a comfortable memory foam mattress, I would suggest Nectar, who is very confident with their product and provide 365 nights free trial, I promise this is far better than Purple mattress.
So Purple is not a perfect mattress, and it will never be, but if you are the right guy, they will find this is the best mattress for you.