Overview: The Love & Sleep mattress by Nest Bedding is the new redesigned, improved version of the brand's former named Love Bed mattress. And all this at an affordable price, despite the high-quality natural materials it is made of.
Love & Sleep mattress is ideal if you
You prefer to choose the type of firmness your mattress will be – If you want a medium of firm feel mattress then you will not be disappointed with the Love & Sleep.
You have a tight budget – This mattress guarantees you will not pay loads of money for your new mattress. You can still claim a high-quality mattress at a very affordable price without leaving behind the comfort and luxury you are looking for.
You want a foam mattress but more responsive – If you love the foam feel but want quicker response times, then the Love & Sleep is perfect for you. Its top layer made of Energex foam means it will respond faster than most memory foam mattresses and similar to latex, although with less bounce compared to latex mattresses. Still, good enough bounce and response for couples who engage in romantic activities.
Seek for great pressure relief – The top layer of Energex foam is great in terms of pressure relief without pushing back too much so you will enjoy the initial soft feel and pressure relief as a whole.
Love & Sleep mattress is not the best option if you
Want a mattress that can provide really strong edge support – Although it will perform well in terms of edge support for sleep purposes, if you often engage in any type of activity which requires sitting at the edge of your mattress, then we would not recommend the ActiveX.
Prefer an innerspring feel –This is definitely not a smooth ride if you are into innerspring mattresses. Consider another option like Aviya mattress which is also very reasonably priced and eco-friendly as well.
Construction
So, what is the 'Love & Sleep' Mattress made of?
The 'Love & Sleep' Mattress is 11 inches thick and has slightly different structure composition depending on its firmness (Medium or Firm) as demonstrated below:

Medium-firm one:
Top layer – 3 inches: The top layer comprises of EnergexTM foam which is a combination between latex foam and memory foam. This provides extra comfort and cooling to the sleeper. It also has great bounce with just the right amount of hug. There is no excessive bounce which was there in coils and latex used earlier in mattresses.
Middle layer – 1 inch: The middle layer made of the SmartFlow Air Flow poly foam provides the requisite transitional support. While acting as a transition between the top layer of special foam and the denser base layer of foam, this layer provides ideal body support for side sleepers in particular. Polyfoam provides extra airflow in and out of the mattress so it enhances the cooling feeling overall.
Bottom layer – 6 inches: The bottom layer consists of Density Edge Support Base Foam which acts as the foundational base for the whole mattress.
When it comes to the Luxury firm option, this has a top layer of 2 inches of EnergexTM foam and 8 inches of Density Edge Support Base Foam.
Regardless of the firmness option, the Love & Sleep comes with a Thermic Phase Change Cooling Fabric. This type of cover enables better airflow and breathability to maintain a balanced and cool temperature all night long.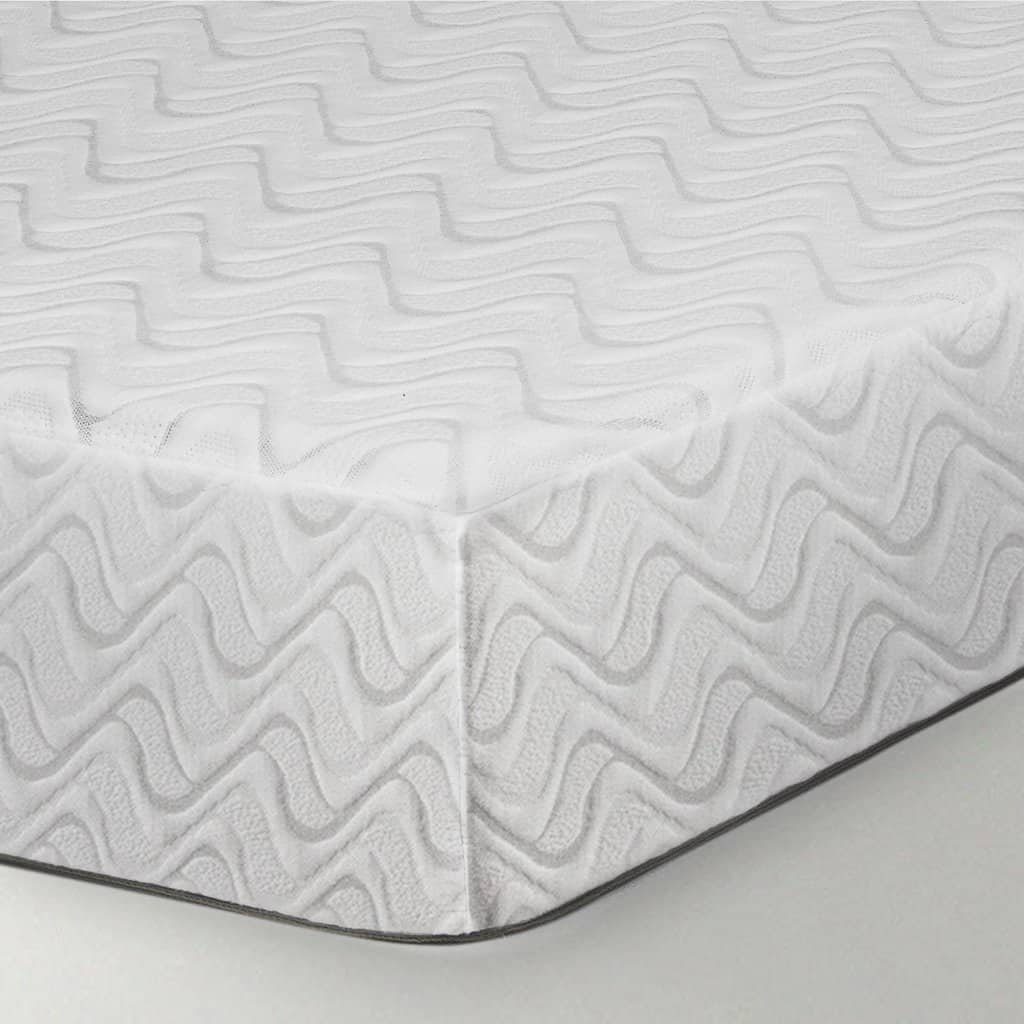 Firmness
The Love & Sleep as already stated, comes in two comfort levels: medium and Luxury firm.
The medium option is appropriate for all types of sleepers, and should work best if you like a supportive feel with a little bit of extra firmness. Testing the medium option, we think it feels more like a medium-firm and ranks somewhere between a 6-6.5 on a firmness scale where 10 is the firmest.
On the other hand, the firm option ranks somewhere at an 8 out 10 on the firmness scale. It is best if you are not a heavy person and perhaps it is more suitable if you sleep on your stomach and back. It is likely that if you choose the firm option, the base foam won't be able to support you well enough and for a prologued period of time if you are overweight. Instead, you can try the ActiveX mattress by Nest Bedding which is great for overweight people.
For a mattress at this price range, the Love & Sleep does a great job with the comfort and support it offers.

Comfort
It cannot be disputed that when you are buying a mattress, there are many factors that you need to consider. But, undoubtedly, comfort of the user and proper support to the sleeper's body are the two most important factors that you need to consider while making the final decision.
The top and middle layers of Love & Sleep mattresses from Nest Bedding are designed for your total comfort while sleeping or lying down on the mattress. Special EnergexTM foam in the top layer provides optimum balance between the bounce and hug.

Support
The contours of human body are kept in mind while designing a good mattress such as the Love & Sleep mattresses from Nest Bedding.
The middle and bottom layers of Love & Sleep mattresses have been manufactured following much research. While the middle layer provides the transitional support, the bottom layer acts as the base while providing support to the curves and arches in the sleeper's body. The result is that you wake up refreshed and smiling.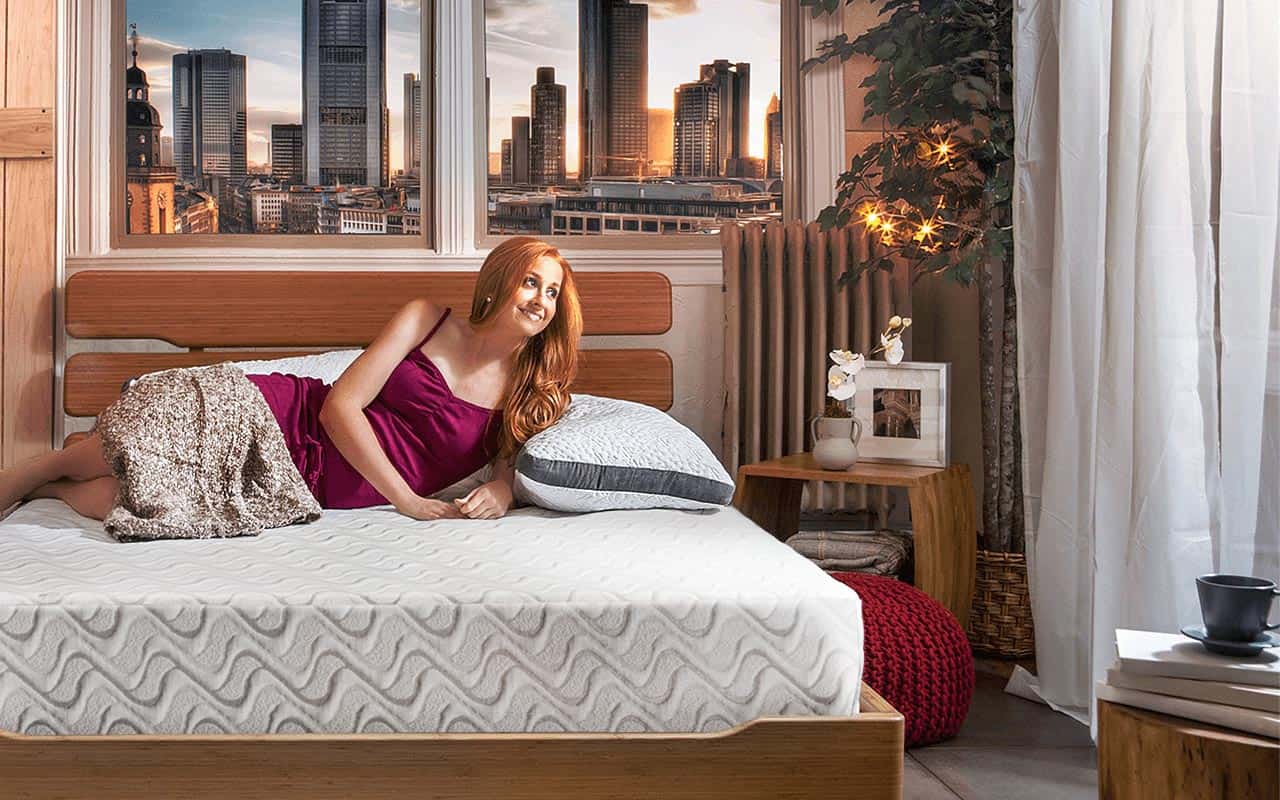 Edge Support
Especially if you tend to sit on the edge of your bed, then you will find this section interesting, although everyone should care about edge support when it comes to their mattress.
In this case, the Love & Sleep mattress does a good job based on our testing, although it is not exceptional. For sleeping purposes, it would do a fine job to support you all the way to the edge surface, yet if you want to do more with the edge, it will probably lack the necessary support.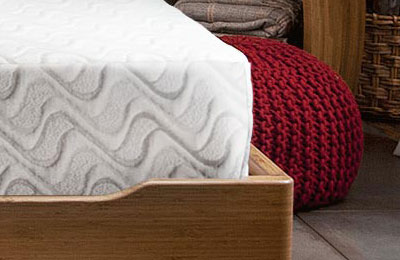 Value
Whether you are buying an expensive mattress or an economical one, as a reasonably prudent person, you do want to get full value for the money that you spend. Love & Sleep mattress from Nest Bedding gives you full value for every dollar of the $599 for a Queen size that you spend, both in terms of the product as well as the service that you get.
| Size | Price |
| --- | --- |
| Twin | $399 |
| Twin XL | $429 |
| Full | $549 |
| Queen | $599 |
| King | $749 |
| California King | $749 |
| Split King (1 side only) | $858 |
| Split Cal King (1 side only) | $858 |
Doesn't sleep hot
A new responsive foam named EnergexTM is used in the Love & Sleep mattress from Nest Bedding. This high-performance hybrid foam does not contain any latex and has a unique breathing property and is probably the highlight of this mattress.
It is also infused with different minerals and other materials in pre-determined proportions to deal with heat retention. For instance, Love & Sleep has an Air Flow Layer of foam which provides more cooling. This, of course, stands for the Medium option.
Therefore, the Love & Sleep mattress performs really well in terms of cooling.
Sinkage and Motion Transfer
All mattresses we review go through a sinkage and motion transfer test. As far as Love & Sleep mattress, our tests indicated that the mattress performs really well and doesn't sink in excessively.
In addition, there is minimal to no motion transfer felt as the different layers succeed to absorb vibrations and make the Love & Sleep ideal for couples. There is no need to worry about being disturbed by your partner with this bed.
Smell
Love & Sleep mattresses from Nest Bedding are completely odorless as exclusive virgin materials of superior quality are used in manufacturing these mattresses.
Materials used and durability
The Love & Sleep mattress from Nest Bedding, as all mattresses of the brand, is manufactured in the USA with CertiPUR-US approved foams and high-quality materials adhering to high industry standards.
Our research suggests that this mattress scores higher than average based on owner satisfaction and gets much positive feedback.
This mattress is quite durable and designed to give you a trouble-free service of anywhere between 9 to 15 years on the minimum, depending upon the actual usage.
Trial & Warranty
The Love & Sleep mattress comes with a 100-day exchange/refund policy of the company, and a 10-year warranty. It is a sort of free-trial facility for you that is completely risk-free and means that you can return your mattress no questions asked and claim a full refund in case you are not satisfied with your purchase.
The company stands behind its products and according to customers' feedback, the service and support you will receive are excellent.
Our research indicates that the Love & Sleep mattress has quite high ratings among consumers and seems to leave people overly satisfied. Most customers have been happy and satisfied after a sufficient period of time with their purchase of a Love & Sleep mattress.
They have stated that their long research and final short-listing was fruitful and worthwhile. Customers, in particular, have really liked the medium firmness of the mattress. This has been particularly mentioned by people who sleep on their sides.
The Final verdict
After carefully considering all the factors associated with a customer's research, choice and decision in respect to buying a mattress, it can be safely said that buying a Love & Sleep mattress from Nest Bedding would be a wise decision.
It might not be the best mattress out there, yet it is definitely a top choice for a $600 for a Queen! So, if you are on a budget and intend to buy a mattress for yourself, look no further and order a Love & Sleep mattress from Nest Bedding, now!