Overview: Advertised as My Pillow® Premium, its inventor Mr. Mike Lindell states, "I guarantee it's the most comfortable pillow you'll ever own!"
Having heard a lot about it, we decided to put it to the test and here is how it performed.
Construction & Materials
The My Pillow is made of outer cotton cover and 100% polyurethane foam filling. It seems that the foam inside the pillow is a standard poly foam which has been through a shredding machine.
The standard version of this pillow is 16.5″ x 26″. In addition, there are 4 loft / feel options with the classic My Pillow.
The My Pillow features a 100% cotton cover. There is no zipper on the pillow, so you cannot remove the interior filling. Although this is a downside of the pillow, the stitching of the cover looks fairly good. There were a couple of loose threads along the seams, otherwise the cover seems good enough and has a decent build.
As far as its looks, aesthetically speaking this pillow cover is nothing much. It has the My Pillow logo all over the front and back of the pillow. Personally, this design or the cover are not my favourites. In fact it feels kind of cheap and old fashioned, even reminds us of inexpensive pillows you can get at big retail stores.
The whole pillow including the cover is machine and dryer washable. When you unbox this pillow, it is recommended that you leave it an initial 15 minutes through the tumble dryer, as this will help to fluff the pillow up.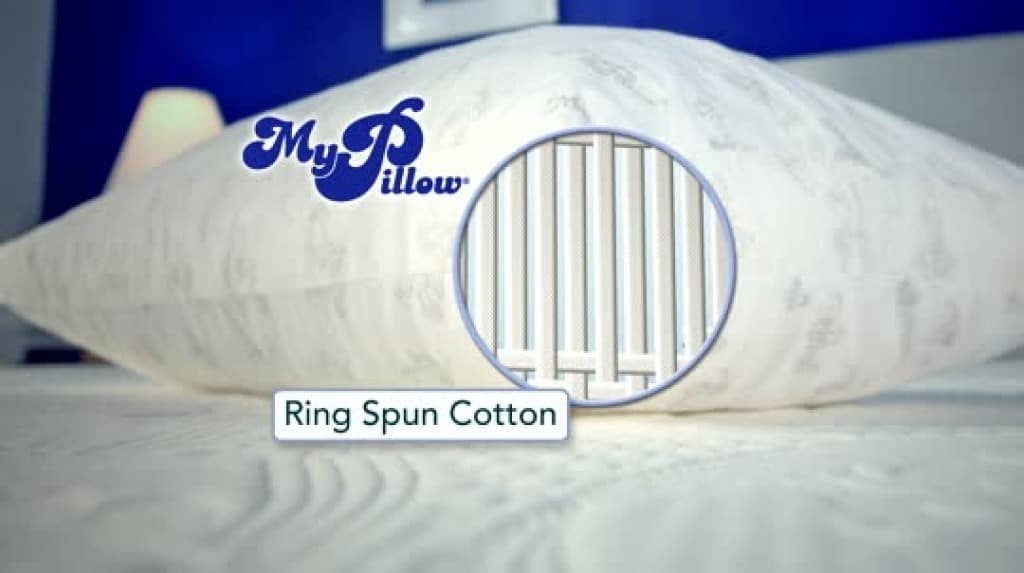 Firmness
There are a number of choices to pick from in terms of firmness as far as My Pillow. There have been claims from owners' though that the company's sizing chart is not quite precise and part of the issue has to do with the fact that sizing chart bases which color to get, based on your shirt size. We prefer another distinction though which is as follows:
| Type | Best Suit For |
| --- | --- |
| Yellow Level: (Least Firm) | Stomach Sleepers |
| White Level: (Medium) | Back Sleepers |
| Green Level: (Firm) | Side Sleepers |
| Blue Level: (Extra Firm) | Side Sleepers |
Support
With regards to the inner filling, it is supportive yet it is not overstuffed which results in difficulty moving it around as pleased.
Of the positives, is how this pillow cradles your neck and leaves you with no soreness in the morning.
In addition, it is good with temperature regulation since it is not a single piece of foam.
Not being able to adjust the amount of filling definitely takes away from the comfort level experienced. It would be nice to have a zipper instead and adjust or remove foam if you feel it is too firm.
We presume that the My Pillow will probably fit stomach sleepers best since they prefer or should go for a thinner pillow which can provide the necessary neck support and also easily moves around.
Pillow are very particular on what pillow they prefer and so it is difficult to say for sure what would suit an individual or a category for that reason. Nevertheless, it seems that My Pillow does a good job with support.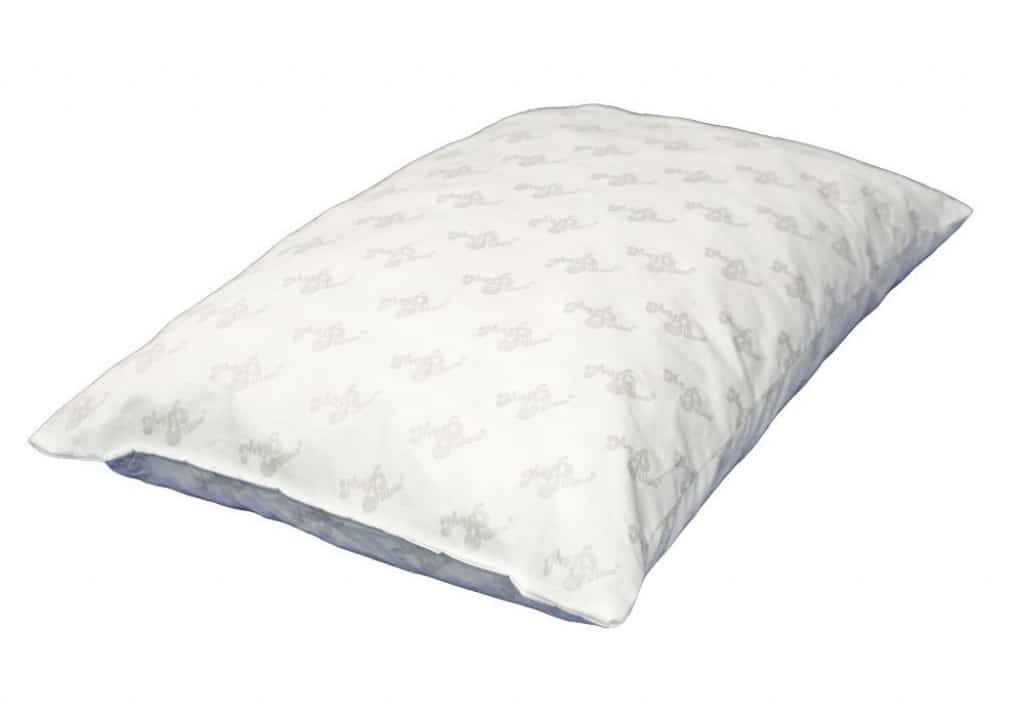 Breathability
As far as cooling, we were neither extremely happy nor very disappointed by the performance of My Pillow. It actually measures somewhere in the middle in terms of cooling. The shredded foam handles breathing well, yet the cover does not have the most notable airflow.
What is more, My Pillow suggest using none other than the cotton cover provided on the pillow. Otherwise, according to the company if you place any other material on the pillow, it will take away from the cooling properties. This is not necessarily true as far as we are concerned, since research shows other materials like performance polyester and tencel sheets are better cooling fabrics compared to cotton.
Overall feel, cooling and design
The My Pillow has an overall fairly soft feel. You will notice there is an average amount of sinkage when you lie your head on the pillow. You could say the My Pillow manages to cradle your head and neck, offering a moderate amount of support.
Still, the support was not impressive and it leaves you wanting more. If you are a back/side sleeper, the My Pillow is okay as an option, yet it does seem to require fluffing and adjustment of the interior filling quite frequently.
If you are a stomach sleeper, I don't think you would find it easy or comfortable to use. It is simply just too lofty and even if I tried to spread out and mould the fill accordingly, it was difficult and eventually gave up from trying to make it adapt how I needed it to. Rolling back to your side helps, however only if you are a side sleeper. Otherwise, stomach sleepers will not be pleased with this pillow at all I think! This is not to say that it works great for side sleepers, yet it is okay. We would suggest the My Pillow is best for those who sleep on their back. Since the pillow has a medium loft, it is possible to support the neck and back while sleeping on your back, quite more compared to when you sleep on your stomach or side.
It appears that the pillow is not the most quiet we have ever tested. The cotton cover feels more rough and courser than most other pillows we have put to the test. It is a kind of finish which creates more rustling when switching positions, and this means extra noise. The latter can be an issue if you or your partner sleep light since that level noise might become annoying.
There is nothing that sets this pillow apart from the rest. It is really like any other pillow you can get at a big retail store. The only difference is, you pay a high price for this one. It could be that you like the My Pillow if you set your expectations right. Otherwise, we think you might be disappointed. Finding the right pillow is not such an easy task so you should be patient and research a lot before making your decision.
Shipping and return policy/warranty
The My Pillow website has an offer which allows you to get 2 premium My Pillow pillows for $99.98. You can get free shipping if you use a promo code. Otherwise the shipping is on you.
Although they sell on Amazon, it is perhaps best if you buy direct from their site as you will get a 60 day money back guarantee vs. the standard 30 day guarantee from Amazon. However, the return shipping is your charge according to their return policy. The company offers also 10 year warranty similar to industry standards.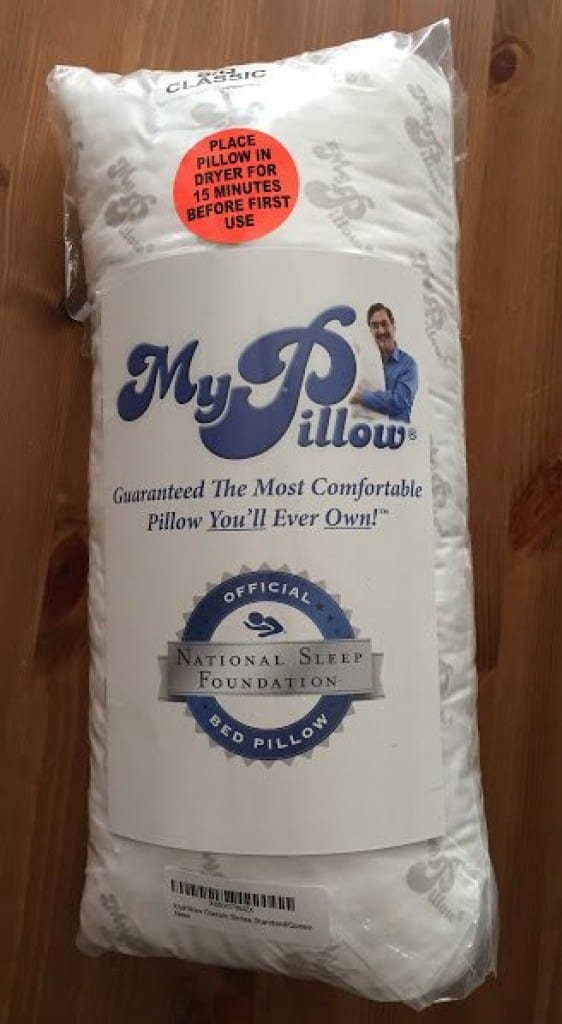 Final verdict
Our experience suggested that this is not the best pillow out there. Still, it is quite good with its cotton removable cover and shredded poly foam fill. You can find it in Standard and Queen sizes, while it is also available in 5 different levels of support for maximum comfort and adjustability.
Overall, My Pillow seems to be a rather average pillow. Although there is not something in particular negative about it, it does not impress. In addition, the price is way too much for the material quality and performance. We would recommend exploring other options if possible as it is probably the case that this pillow will not meet your expectations or its reputation.
Sleepers who will like the My Pillow sheets:
Overall, our perception is after testing the My Pillow for a number of weeks, that there are better options available. The support and quality is average to our view and when thinking of the price you pay, it definitely makes you wonder! We would expect far better material quality and performance from a pillow that costs over $50!
The My Pillow is an all-round average pillow, however when you look at its price tag, there are definitely far better options which will deliver far better. In this case, we wouldn't recommend getting the My Pillow.
Note: As of January 2017, the Better Business Bureau downgraded their rating of My Pillow to an F. This results from their buy one get one free offer which has been running for over a year and violates FTC rules.