Finding the ideal mattress at a reasonable price can be time consuming and overwhelming. There are many different brands and styles to choose from. You may try one that feels comfortable at first, but not all retain their original form and can become uncomfortable. A high-quality mattress can provide a comfortable night's rest with less tossing and turn.
The Zotto mattress is a completely new mattress brand, has just launched a successful campaign on Kickstarter in September 2015. Though it's brand new, their mattress designers and fabricators have been making foam bedding for over 30 years.
Structure of Zotto mattress
Zotto mattress is designed with 4 layers structure, totally inches. An extra transition layer(the third) worked between comfort layer and base layer.  This is similar to new Casper mattress. But Casper is a hybrid mattress(latex+ memory foam), while Zotto mattress is a pure memory foam mattress, all of the 4 layers are memory foam.
Comfort Layer
An outstanding feature that sets a Zotto mattress apart from others is the use of superior materials.
The top layer(2″) is constructed of high-quality memory foam that is copper gel infused. This offers medicinal relief for aches and pains. It also serves as an anti-viral and anti-bacterial agent to promote a higher resistance to illness.
In addition, it provides cooling comfort to lessen the collection of body heat collection on the mattress surface. Heat and moisture are drawn away for increased comfort.
Support Layer
The support layer(2") is slightly firmer than the comfort layer. It is specifically designed to assist in maximum airflow to dissipate mattress heat while providing support for healthy posture and spine alignment. It is constructed of slow recovery foam that allows the upper layer to conform to the contours of the body without becoming too soft.
Transition Layer
This layer(2″) is softer with the feeling of latex, but a little more bounce. Unique construction gives you the movement mobility needed without spreading across the mattress to your sleeping partner. You can freely get in and out of bed without disturbing others. And the Energex™ transition foam can also prevent you sinking in the middle.
Base layer
The bottom layer(4″) is made of high-density foam that gives the mattress strength and solid integrity for increased longevity.
Can cover removed?
Yes! That is yet another great feature of the Zotto. The cover can be removed and carefully washed (please follow exact washing instructions). If your Zotto cover ever gets stained beyond cleaning, torn or you want to give your mattress away, you can purchase another cover from the official site.
Firmness Scale
The Zotto mattress is built with a middle range when it comes to firmness. It is neither soft nor hard. It is recommended for people who prefer a mattress that is precisely in the middle between soft and firm.
But compared with Bear mattress and Leesa mattress, Zotto seemed softer, its firmness scale would be 5.5/10(10 is the hardest), anyway, this is very personal feelings and may diff per person.
Another young memory foam mattress we recommend is Nectar Mattress.
Durability
This product is constructed of high-quality materials with a design that promotes long life. The manufacturers have placed a 10-year satisfaction guarantee that ensures the mattress will maintain the original shape for at least this long. Customer feedback indicates that many of these mattresses exceed the warranty with regard to comfort.
Price, sizes, and others
| Size | Price |
| --- | --- |
| Twin | $550 |
| Twin XL | $600 |
| Full | $750 |
| Queen | $875 |
| King | $995 |
| California King | $995 |
The price is the same on both the official site and Amazon. But you can save extra $50 if buy from the official site.
Shipping – free shipping, compressed in a box, arrives in 2-7 days
Warranty – 10 years
Trial Period – 100 nights
Made in the USA
How are Zotto mattresses delivered?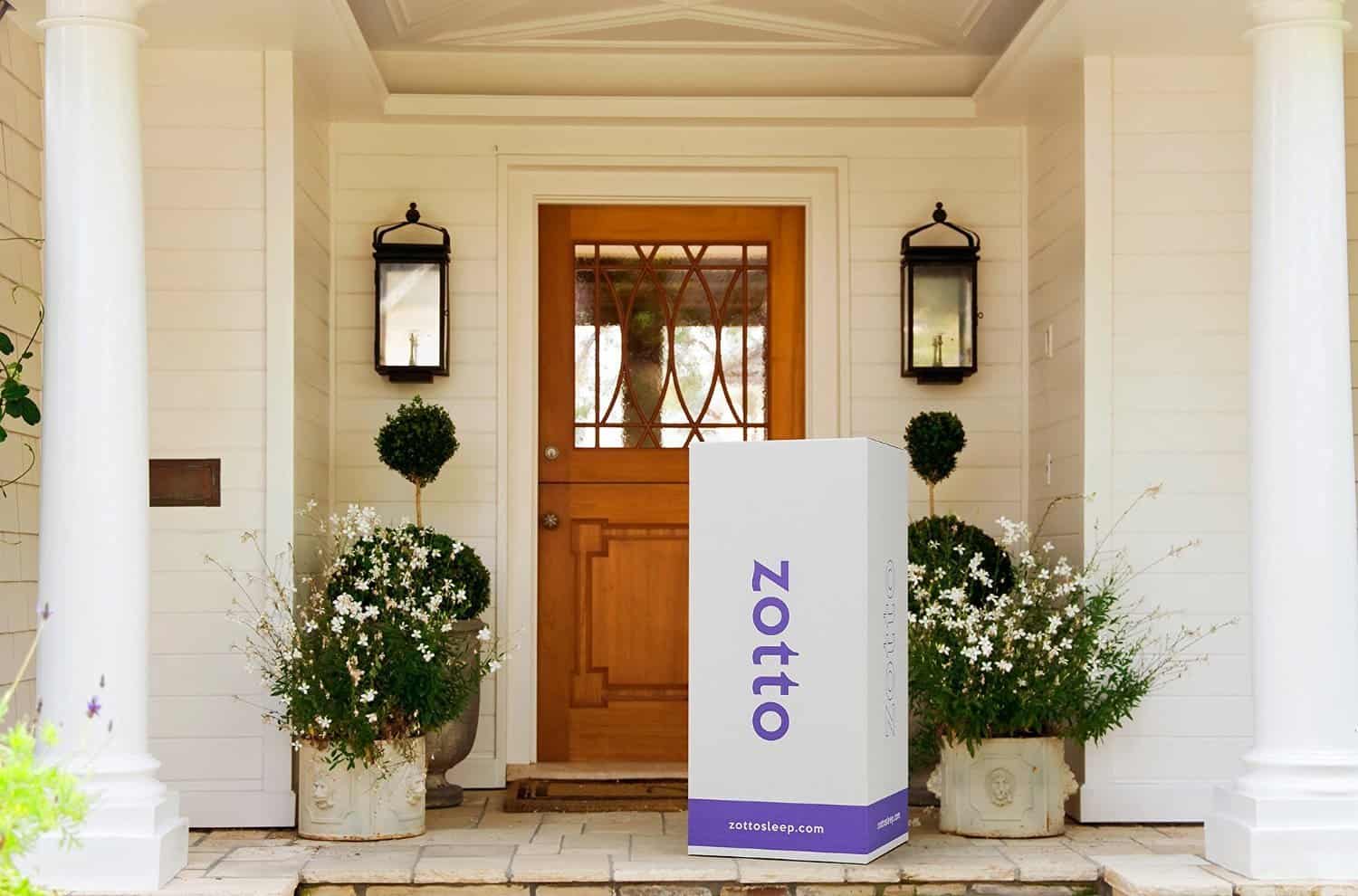 The mattresses are shipped directly to the address given at the time of purchase. They typically come via FedEx and are delivered to the doorstep. When Zotto mattresses arrive, they are compressed in a smaller size box. Upon opening and laying the mattress out, it will quickly absorb the air and arrive at full size within two to four minutes.
Feelings and sleeping experience
Zotto mattresses come highly recommended by people who have purchased and used them. The majority report an improvement in coolness and comfort as well as waking feeling more refreshed and energized.
Compared with other mattresses on the market show that the Zotto has superior support and offers users a greater level of comfort and restful sleep. There is less tossing and turning because the unique materials help to relieve body aches and pains during sleep. This can make a tremendous difference for anyone who suffers from arthritis or other types of joint pain.
Who is suitable for Zotto mattress
The one who prefer memory foam mattress., Zotto is a pure memory foam mattress, they don't use latex and coil.
The one who prefer medium soft feelings, Zotto only has a firmness scale, it's neither too soft nor too firm, and get adapt to any kinds of sleeping positions.
The one who wants a cool sleeping experience, they use gel memory foam+ cool flow memory foam to make sure you sleep cool the whole night.
The one who needs to clean the mattress cover regularly, in the past, the cover of mattress can't be removed and can only do spot clean, but Zotto is special, you can remove it and clean in the washing machine. This is the same as ghostbed.
Where to buy
From the official site or from Amazon, but I truly suggest you buy from the Official site because you can use this  $50 off Coupon if you buy from the Official site, Amazon can't use this coupon.
And if you buy from Amazon, you can't enjoy 100 days free trial from the official site, you can only enjoy 30 days free return from Amazon.
Final thoughts
Our Zotto mattress review has determined it to be the best memory foam mattress for several reasons.
The materials are high quality and conducive to comfort and improved health.
The design and construction eliminate common sources of nighttime discomfort for less need to reposition for comfort. Less tossing and turning means a more restful and refreshing nights' sleep.
Medicinal copper gel infusion is perhaps one of the greatest features of this highly comfortable mattress. Its ingenious use makes this product beneficial for anyone who deals with chronic pain.
The antiviral and antibacterial properties are also recommended for those who have weakened immune systems.
The thought and brilliance that has gone into the design and crafting of the Zotto mattress place it firmly at the top for the best foam memory mattress. We highly recommend it along with thousands of satisfied customers.